Membership for Magento 2
v1.0.1
Magento 2 Membership extension allows store owners to create unlimited membership levels with diverse incentives. This is supportive extension which increases loyal customers for online stores and enhance the shopping experience significantly.
Buy to get the Holiday Shopping Season Guide & Checklist for free
You've just added this product to the cart:
Membership
Great Benefits and Practical Case Studies of Membership
Mageplaza Membership helps to divide customers into different groups such as Silver, Gold, Diamond and more. Each group will different benefits and customer care policies so the stores can take care of their customers better and more effectively.
Magento 2 Membership helps the online stores to increase profitability by increasing the average dollar amount spent per order. The duration or incentives of a membership package will add extra value to the order considerably but reasonably.
With membership program, customers will remember to the store for the next purchase instead of visiting another shop. They are likely to make repeat purchases and stores have the chance to build up the good relationship with the customers.
With membership programme, customers will become committed to the store thanks to the membership duration, the special incentives they are offered. As a result, these shoppers are converted to loyal customers for a long time.
With membership level, customers are eligible to special benefits from the store such as discounts, extra service, and other priorities. Customers will get more better chances when they go shopping at the store.
If a customer feel interested in a store service (such as Gym), he can make one purchase for the total 12 months once instead of having to buy in many times. Hence, customers can save a lot of time while they keep using service without interruption.
When the shoppers are ranked as the upper customer class, they will feel self-important because they know they are notable. Besides, the service to membership customers are special, which brings customers better satisfaction and experience.
Various training courses around the world are applying membership to motivate learners. For example, language courses, drawing courses. The learners buy the longer courses will get better prices.
Membership programmes are applied spreadly in fitness clubs. The upper membership packages will offer more benefits to customers. For examples, Gold membership includes Gym, Yoga while Diamond membership includes Gym, Yoga, Group X and Swimming.
Game providers in the world are applying membership packages popularly. Diverse cards with different duration such as 2 days, 2 weeks, 1 months, 3 months, 6 months and 12 months are offered to game players with different benefits and prices.
TV watchers select to buy different membership packages to gain various film boxes. For example, with 3-month membership, buyer can view 100 foreign channels, with 6-month membership, buyers can view 200 foreign channels and get a Hollywood channel.
Easy to create unlimited membership products
Magento 2 Membership by Mageplaza allows store owners to create without limitation the number of special products which will lead customers to specific membership groups.
Store admins can add a newly-released item as a membership product or pick a current item depending on specific purposes or campaigns easily.
For example, if customers buy item SKU 002 or 007 or 010, they will be added to the Gold Membership Group.
Add multiple benefits for membership owners
When customers are eligible for particular membership, they will have specific benefits based on their membership ranks. Store owners can easily add multiple benefits for each membership from the admin backend.
For example, with a 12-month membership at a fitness brand, customers can use the service at every club and get a 20% discount on buying equipment. Store owners can add any benefits to any memberships as they want to motivate customers to make purchases.
Upgrade membership package with discount
The current membership owners can upgrade to the higher membership package from My Membership Dashboard at the frontend.
Customers are allowed to upgrade to the higher level when the current membership package is not expired. Admins can configure the price for upper level is full price or discounted based on the remaining time of the current level.
Add different price levels for one membership package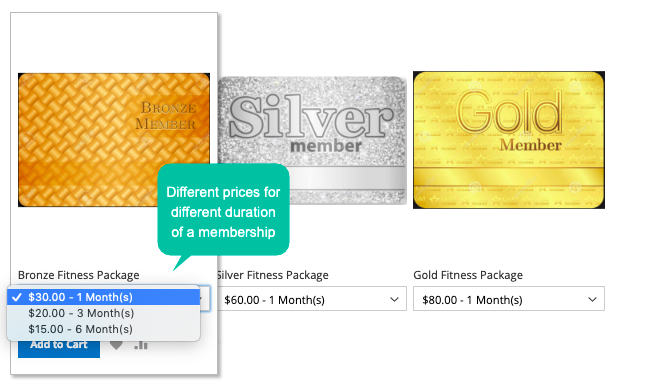 With one membership package, store owners would like motivate customers' commitment by offering a lower price for the longer duration. Therefore, Mageplaza Membership for Magento 2 allows store admins to divide the apply different prices for the same membership package based on the usage time.
For example, with the Gold membership package, there are three options: 200$ for 3 months, 150$ for 6 months and 100$ for 12 months.
Freely customize membership cards
To attract customers' notice, store admins can upload any images as the membership card. Also, the featured labels can be added easily to make the membership card outstanding. The colorful and attractive images, catchy labels can attract shoppers quickly and motivate them to make purchases.
Besides, the background of membership card (title, add to cart button) can be set color easily to match well with the card design.
Full Features
For store admins
General Configuration
Enable/ Disable the extension

Magento 2 Membership Module can activate by click Yes at the enable field in the admin backend. If they want to disallow this module, they can easily click No.

Select default group

When the membership package is expired, the customers will get back to default customers.

Allow overriding membership

Customers in Silver membership group can buy these products which are for Gold membership group.

Allow upgrading membership

Admins can allow customers to upgrade their membership packages from My Membership Dashboard at the frontend.

Select upgrading cost: Full or Deduct

Admins can choose the price for upper level whether it is full price or discounted based on the remaining time of the current level.

Show membership dashboard link at the Toplink

The membership dashboard link can be displayed on the Toplink after customers log in.

Select time to activate membership

Store owners can approve the membership after the customers create their invoice or complete their orders
Membership Page
Enable/ Disable the Membership Page

From the backend, you can turn on/ turn off the Membership Page at ease

Select to place Membership Page Link on: Menu or Footer Links

Admins are able to choose Menu as the position for Membership Page Link. They also can put Membership Page Link on Footer Links.

Input the route of Membership Page Link

It is easy to enter the source of Membership Page Link.

Use available Snippet code to place Membership Page Link anywhere

With the support of available Snippet code, Membership Page Link can be placed in any places to get more customer attention.
Manage Membership
Create new customer group to make a new membership (from Customer Group setting)

Store owners have ability to segment customers into new groups. Hence, a new membership package can be made.

Set status for the membership: active or inactive

From the admin backend, store owners can allow or disallow the membership packages.

Set the level for each membership package

With Mageplaza Membership extension, you can divide customers into different groups with different levels

Set default duration for each membership package

Store admins can choose the time for membership package to be expired.

Set the name for the membership

The membership packages can have any labels basing on the admin wants. The catchy name are likely to help the membership package more outstanding.

Upload image for the membership card

To make the membership card more attractive, store admins can freely upload any image.

Set the background color for the membership card and add to cart

Store admins are allowed to customize the membership card by selecting background color of the membership card and add to cart button

Set the sort order to display at Membership Page

The store owners can configure the sort order to show at Membership Page properly, with the aim to help customers more satisfied.

Set the benefits for each membership package

Each membership package has particular benefits and customers care policy. It is a good way for stores to show that store always well take care of each customer and make them fall in love with the store.

View current members of a membership

Store Manager can see the current members of a membership at ease, so they are able to keep an eye on store membership program.

View purchase history of a membership

It is convenient for store owners to know the purchase history of a membership from the admin backend. Consequently, store admin can more understand customers and give proper plans to motivate customers to buy more.

View all membership history: customers, membership packages, actions, durations, purchase date, activation date

From the admin backend, store owners can see all membership history. Therefore, they can manage their membership plans efficiently.
For customers
Gain more benefits when becoming membership owners

As membership owners, customers are able to get the special benefits from the stores such as discounts, extra services, etc.

Renew membership package when it expires

Once membership package runs out, it can be regenerated by customers from the frontend.

Upgrade membership to upper level

Customers are allowed to upgrade their membership packages whenever they want with full or discount prices.
FAQs
Not at all. The membership packages are built based on customer groups or product the store admins create. And there is not any restriction to the number of customer groups.
A current membership level can be upgraded when it is not expired.
The price of upgrade package depends on admin configuration. The price can be full or deducted based on the remaining time of the current membership.
Yes. From the admin backend, at the History section, admins can view all the membership updates including Buy New, Upgrade, Re-new
Yes. The extension support snippet code so you can place the link of Membership Page anywhere you want.
Yes, you totally can do. You can set the default duration for a membership level from Manage Membership section. In case a membership level has different durations, go to the Product > select Membership package > set duration as Custom > add different durations.
Can't find your feature?
Are you looking for a feature in Membership. Tell Elle your wants and needs.
Chat with Elle
Are you an agency?
Do you often visit us for purchasing extensions and technical support? Speak to April to learn about your exclusive benefits on Mageplaza
Chat with April