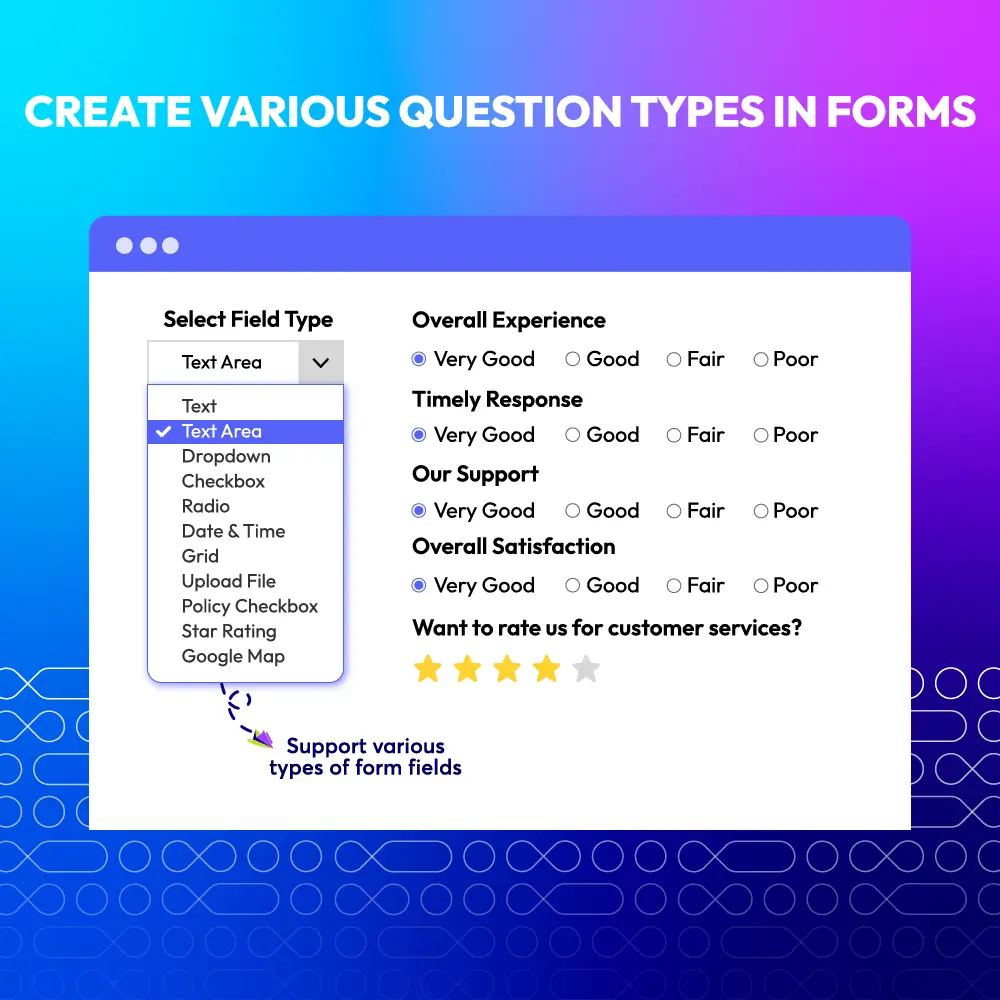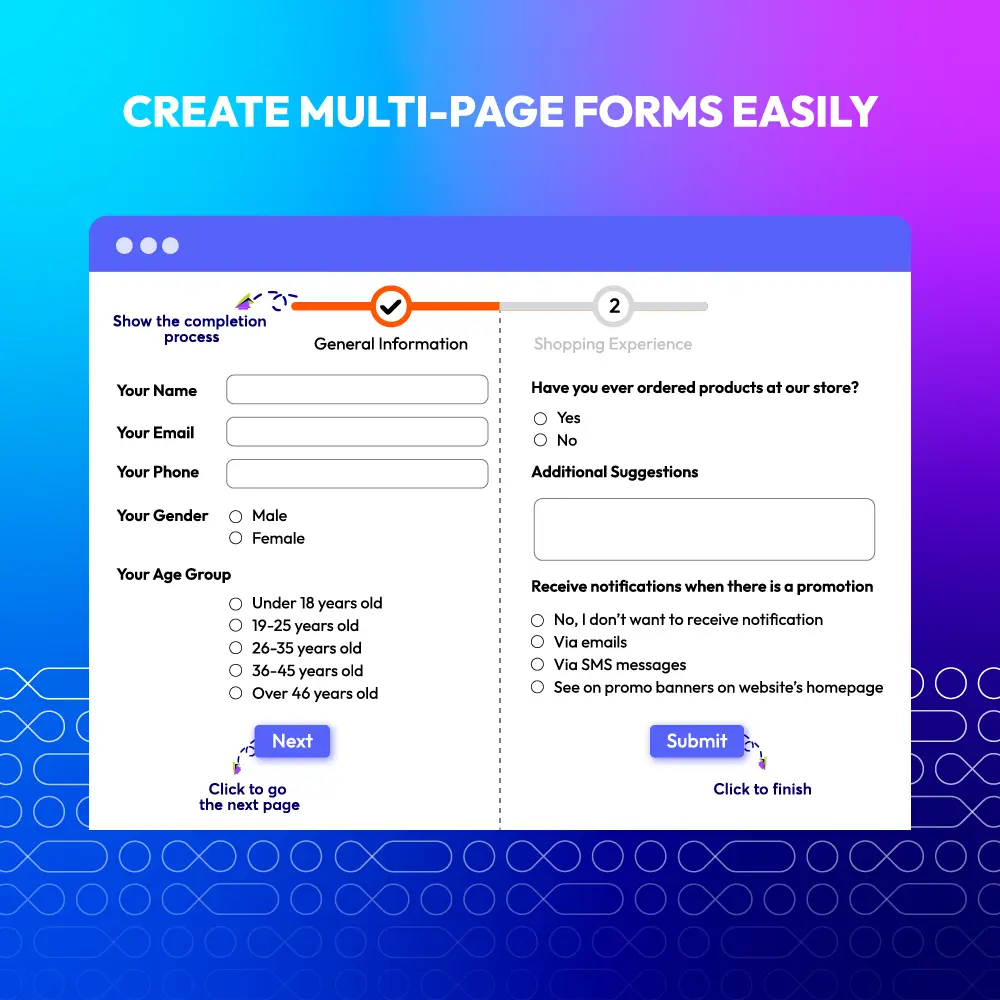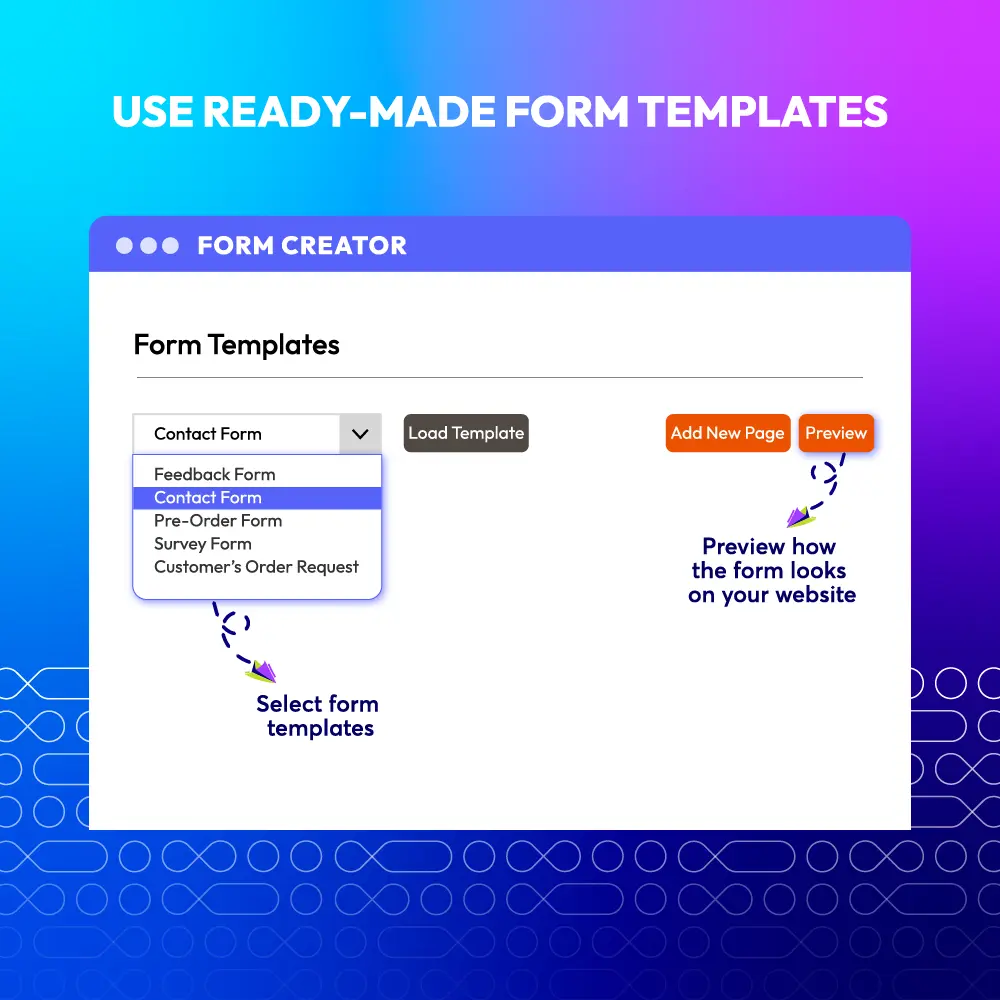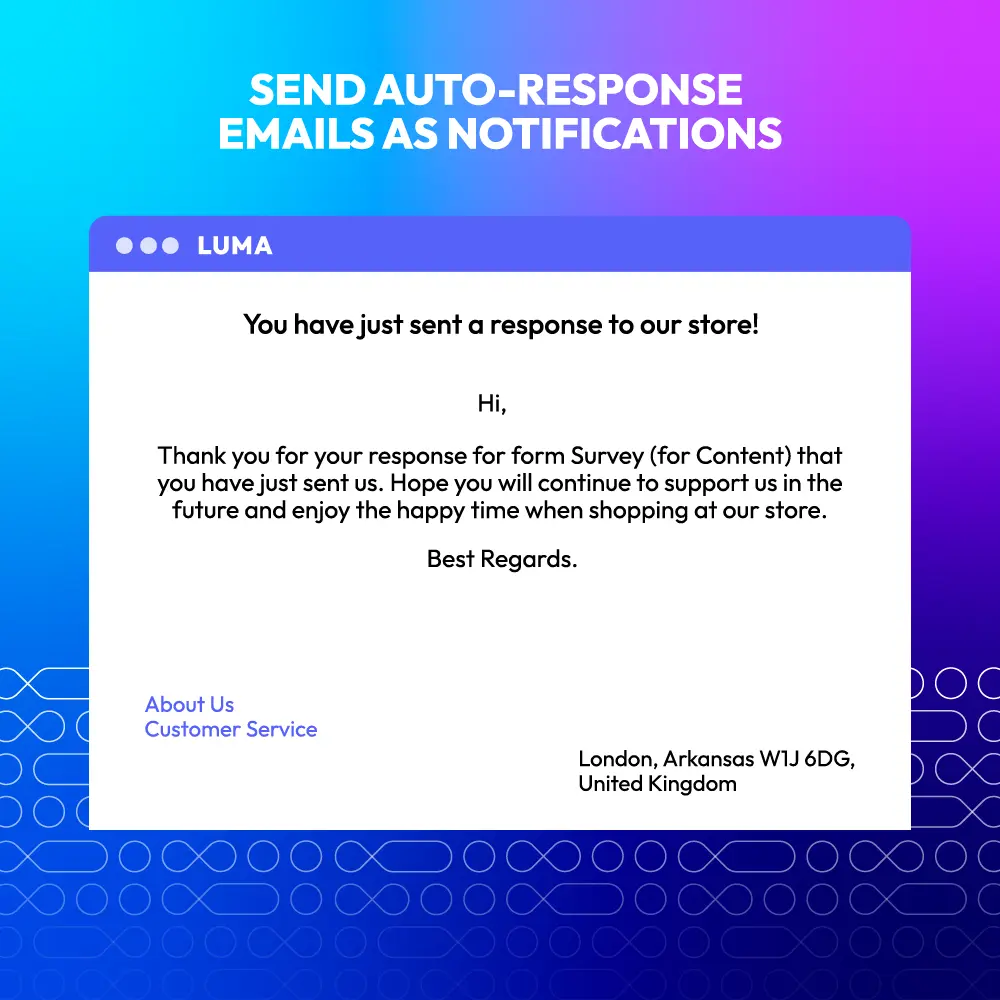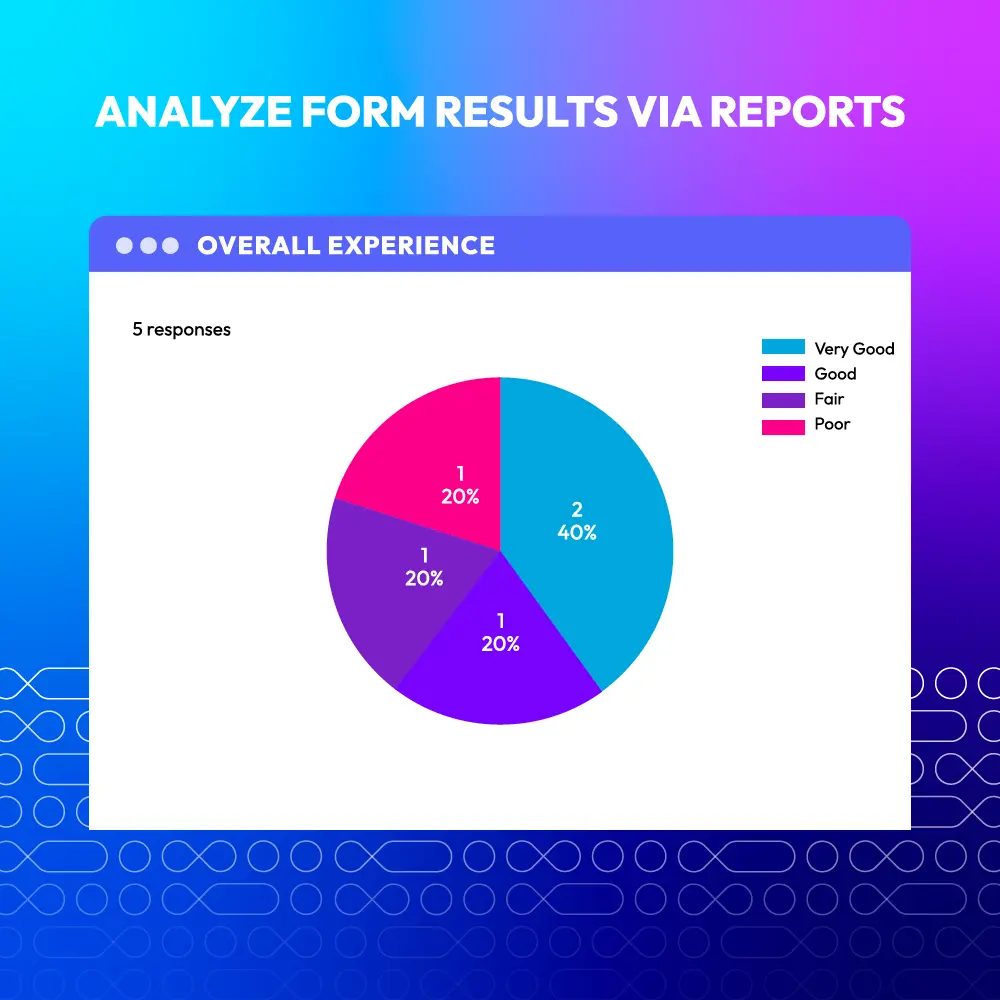 60-day Money Back
Frequent Update
365-day Support
Custom Form for Magento 2
v4.3.3
Custom Form extension for Magento 2 allows store owners to create any forms such as survey forms, contact forms, etc to collect customers' information on the store sites. 5 commonly used form templates are available in this extension. Custom Form extension for Magento 2 helps stores save costs and time for collecting customer data.
Admins can create unlimited custom forms with various input types, including dropdown, open-ended, closed-ended, rating, Likert, and multiple-choice questions. There is no limitation on how many questions are created in a form.
The form can be one-page or multi-page, and be placed anywhere on the store site with the support of snippets and widgets.
Need API/GraphQL for Magento 2 Custom Form? Chat now
Properly compatible with Google reCaptcha to protect the custom forms from bot actions.

CE/EE/B2B/Cloud/ Adobe Commerce 2.2.x, 2.3.x, 2.4.x
Chat now
Problems
When creating forms and handing them out, store admins often waste money on paper printing or travelling task to survey destinations, etc. Even though doing so online will solve these problems, with the default Magento 2, it still takes time to design forms and analyze the results.
Solutions
Cost and time saving for research
Easy to analyse
Easy to style
Always get ready to collect information
Support to make better stores
Easy to connect with store
Better chances to be better served
Have better experience
Custom Form Builder's Full Features List
For store admins
Customer notification
Enable/ Disable Auto Response sent to recipients:

It is able for store admins to allow or disallow auto-email sent to respondents by clicking to Yes or No option in the backend.

Select name of email sender

In the Customer Notification configuration from the backend, store admins can freely choose the name of the email sender.

Select email template

There are five templates supported in Custom Form Builder including Feedback Form, Pre-order Form, Survey Form, Contact Form, and Customer Order Request Form.
Show forms at frontend
Copy Snippet code (for CMS, Phtml, Layout)

The form can be displayed anywhere on site with the help of Snippet code which is available for CMS, Phtml, and Layout.

Create Widget

Custom Form Builder extension allows admin to quickly create Widget of form.
Manage Responses
View summary of responses from all forms via a grid

With the Response Summary, store admins can know how many responses for each field, answers, charts, etc. Hence, they can quickly assess the collected results and make the necessary comparisons.

View all responses for one form

From the backend, store admins can view all responses for one form with ease.

View details of one response

With the help of Responses Details section, each response from one customer can be viewed fully.
Admin notification
Enable/ Disable notification sent to admins

If store admins want to be noticed after form submission, they can allow the admin notification. If not, they can disallow this function with ease.

Fill in the emails receiving notification

In the Send To field, store admins can enter the emails which receiving the notification after the customers submit the form.

Select name of email sender

Magento 2 admins can choose the name of the email sender from the admin backend.

Select email template

There are many ready-to-use templates supported in the Admin Notification configuration.
Create and Manage forms
Set general information for a form: name, status, store views, customer groups, valid time

Custom Form Builder extension allows admins to set easily general information for the customs form.

Set form behavior: Form type (static or popup), custom CSS, actions after submitting form

In the Form Behavior section from the backend, admin can set the form behavior at ease.

Set admin notification: enable, sending email, email template

With the Magento 2 Custom Form Builder extension, store admins are able to set admin notification from the backend.

Set auto-responder: enable, sender title, email template, field of form to collect emails address, email planning (time to send response email after submitting form)

One of the most striking features of Custom Contact Form extension is allowing store admins conveniently set auto-responder as they want.

Select form template to use without any setting

The Custom Contact Form extension comes with five ready-to-use templates which assist admins to quickly create the form.

Create a new form: page title/ description, submit button text, field group name/ description, add fields with 11 type options

Instead of using form template, store admin can conveniently set a new form based on their demands.

Duplicate forms
Work well with a multi-store view
Compatiple with other extensions: Instagram Feed, Custom Checkout Fields, Table Category View, Store Pickup
For customers
Easy to connect with store
Gain better chances to be better served
Have better experience
Why choose Mageplaza Magento 2 Custom Form
Mageplaza provides consistent and customer-centric extensions for your Magento 2 store.
We don't sell products for one time. We provide lifetime solutions which help our customers thrive with their businesses.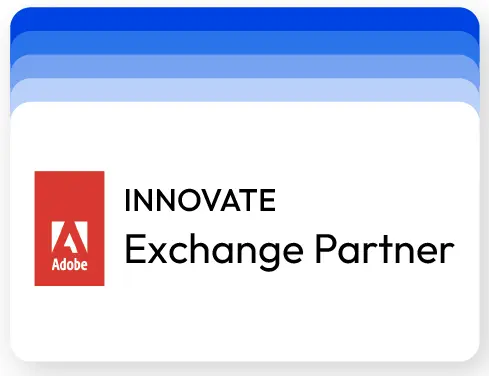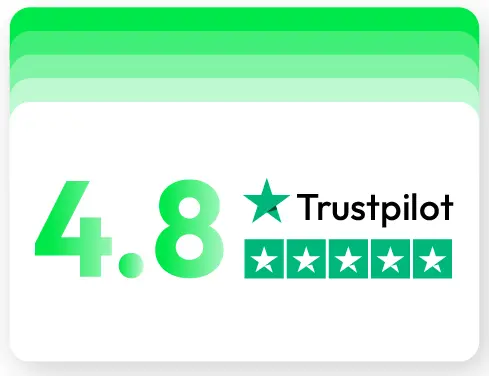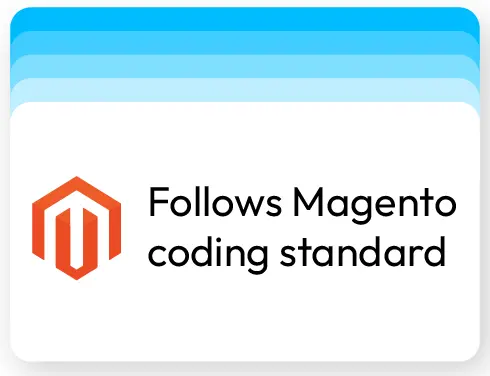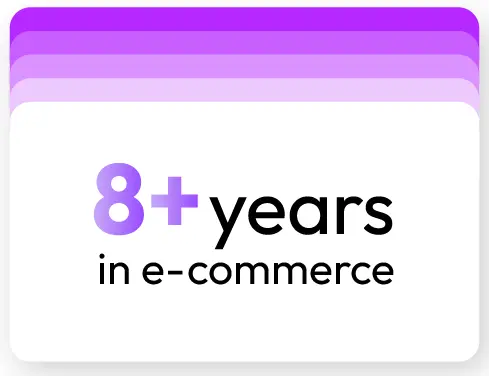 60-day Money Back
Extensive 60-day money-back period. You love it or get a full refund no questions asked.
Extensive Support Timeframe
Mageplaza provides support 16 hrs/day, 5.5 days/week to guarantee the seamless operation of our extensions on your store.
Install via Composer
Simple installation via composer helps you save time and eliminates technical issues during future updates.
Frequent Updates
Intensive update roadmaps ensure great performance, bug-free, highly compatible, and innovative extensions.