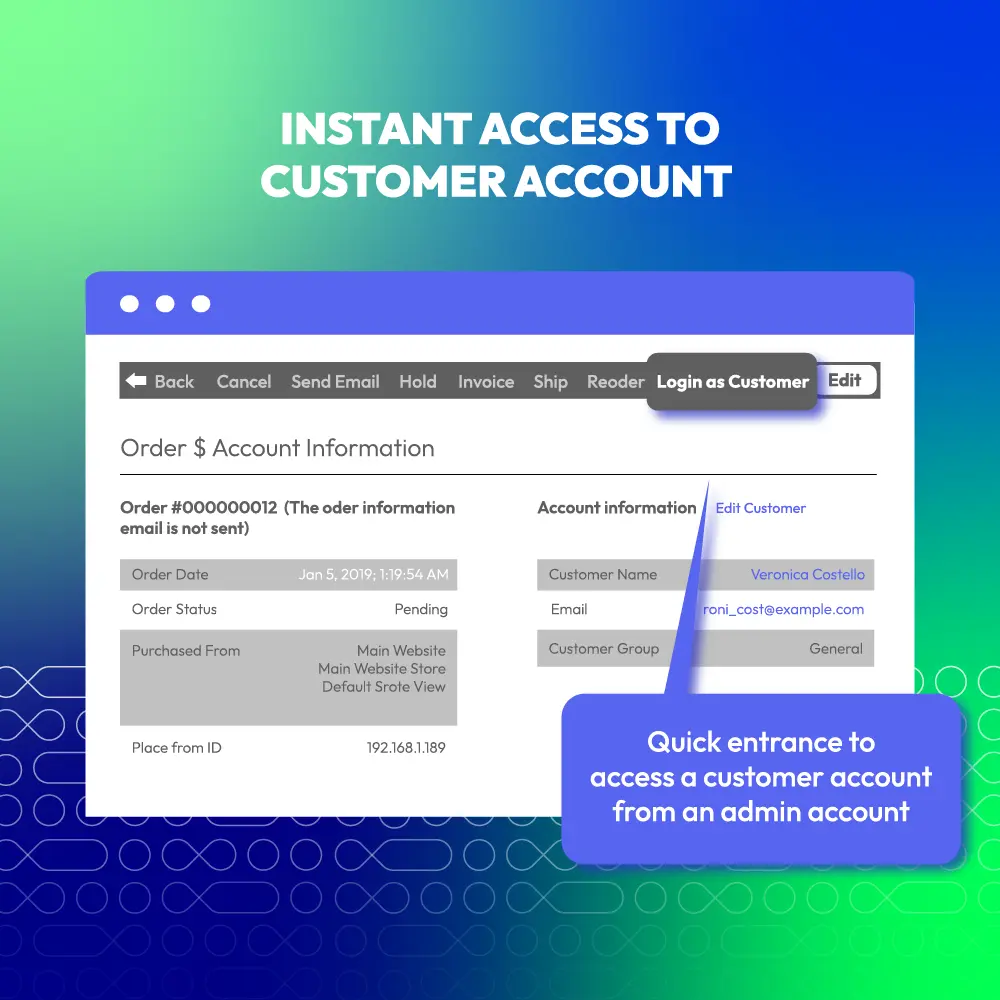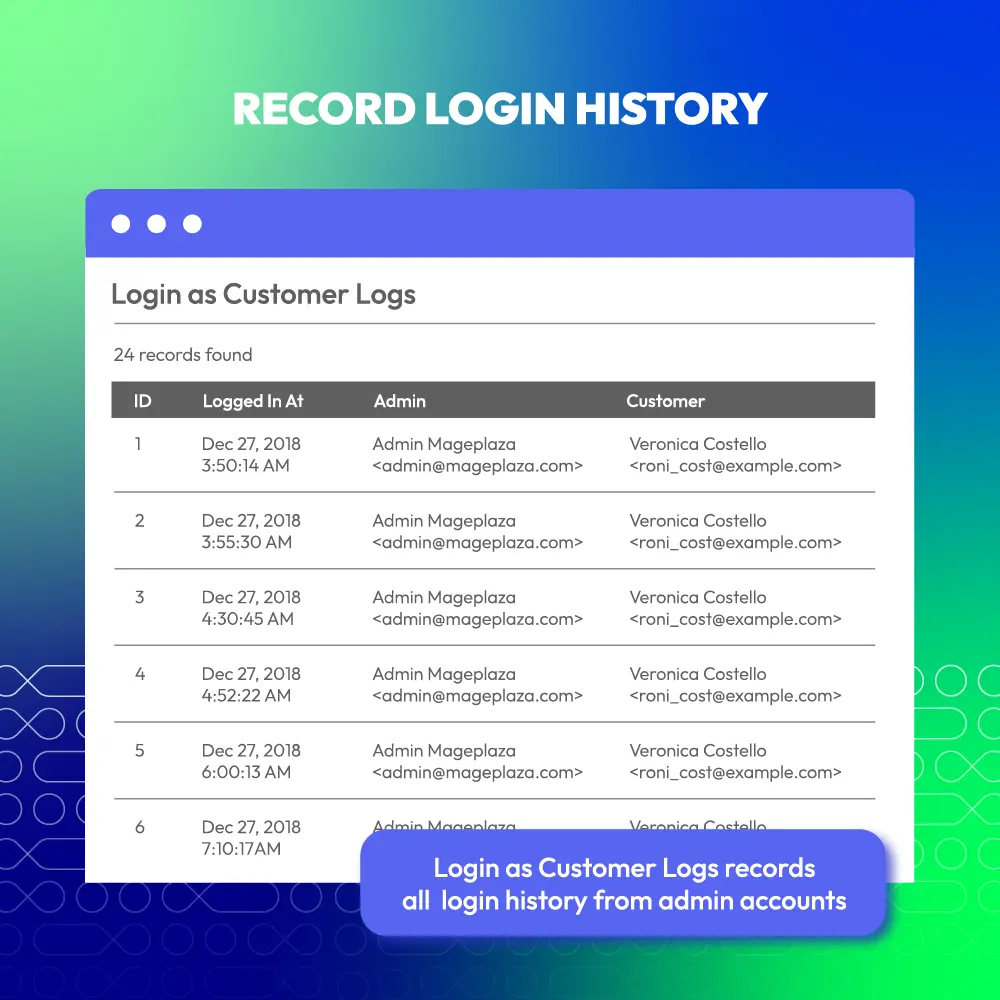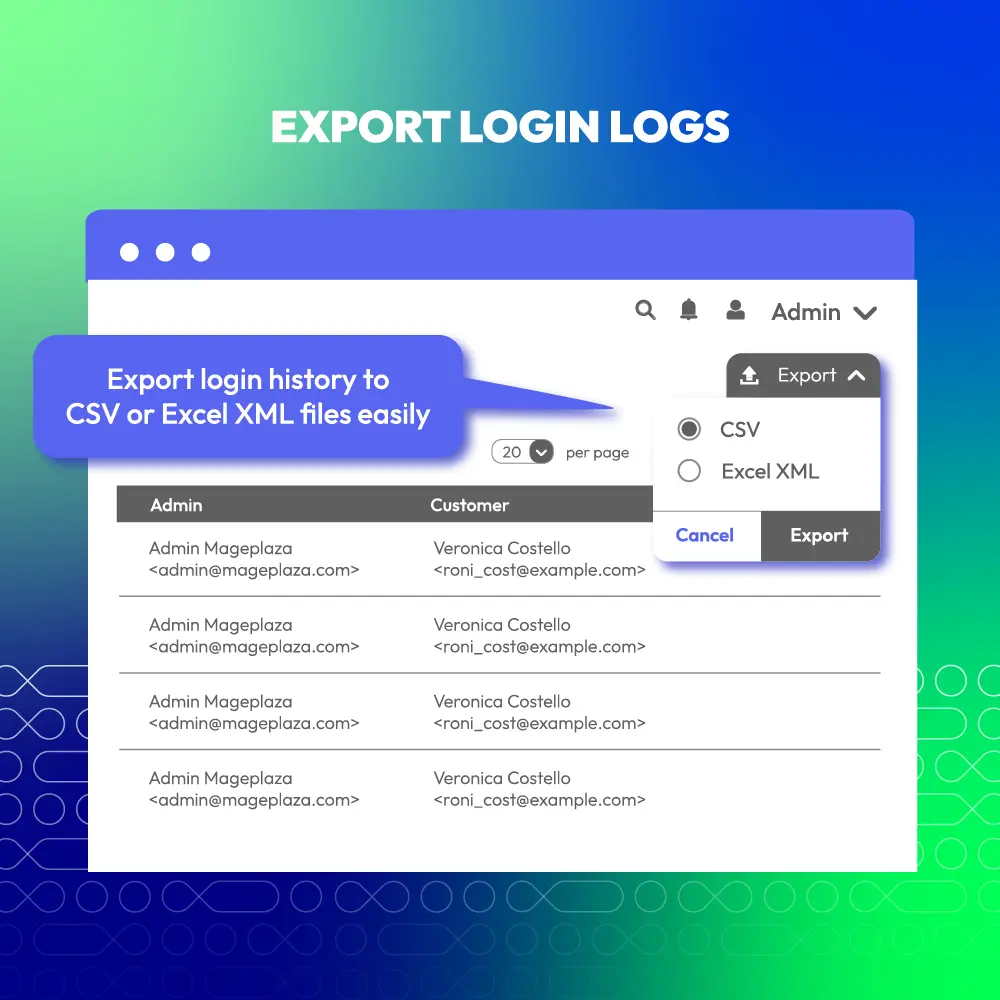 60-day Money Back
Frequent Update
365-day Support
Login As Customer for Magento 2
v4.0.3
Magento 2 Login As Customer is the helpful extension which provides store administrators the access capabilities the same as customers. This will support stores on behalf of customers to take charge of their accounts in specific necessary or urgent cases.
Need API/GraphQL for Magento 2 Login As Customer? Chat now
CE/EE/B2B/Cloud/ Adobe Commerce 2.2.x, 2.3.x, 2.4.x
Chat now
Problems
It is inevitable that there can be difficult cases which requires a store' support team to involve. This situation needs the access to customer accounts to edit or make any updates. Therefore, login as customer function is really supportive to both customers and store admins.
Solutions
Admins have the ability to login customer accounts to support customers when they are processing purchase and checkout easily. With the customers who are not familiar with online shopping, the help from admin is really necessary.
Quick and helpful involvement to support customers will help the store's customer service to become professional. As a results, customers will feel satisfied and gain better shopping experience.
Pricing

Choose your suitable edition
Community
Crafted for a great webstore start
FREE
Life-time extension updates
Technical support is NOT included, please buy support package if needed
Supports for Magento 2 Community Edition
Enterprise
Great for an enterprise solution
$

200

first year
Supports for Magento 2 Enterprise Edition
Highest priority support
You can easily login customer's account to see information from Order View and Customer View in the admin backend.
Yes, it can easily be done. From the report logs, click on Export button and select CSV or XML exported file.
The extension supports the store owner to view access history. From the backend, please select Report > Customer > Login as Customer Logs.
Great to have
Really useful in debuging user account issues.
JProfor
-
Verified Purchase
Nice module
Thank you for it , it is nice module and working fine
Thank you
Wonderful support and care. I asked a lot of questions but your team were so responsive to help. Thanks!
GREAT
Pretty straight forward configuration. Great support
Would have gladly paid for this
This extension has been sooo helpful. Customers call with issues and you can see exactly what the problem is and help them. Just installed it a few days ago and have already used it multiple times to help customers. Mageplaza is the first place I look for extensions.
merance
-
Verified Purchase
As intended
Simple and works as intended. No problems except that I had to validate it by submitting a name and email for support in Magento 2 backend. Little odd, but other than that +1
Now we're able to see the issues
With the help of this extension, we are now able to see what issue our customers are facing in their accounts. A must-have extension and obviously the support is just top-notch from Mageplaza once again.
Abhishek
-
Verified Purchase
It's all about customer service
In our other platform site, when needed, we utilize the included feature to log in as customers whenever someone is having issues checking out. Typically, the customers fall into 2 categories... not internet friendly or aged. Nonetheless, having the ability to quickly assist a customer with their order is important. Mageplaza's version is nearly identical if not better. Easy install and UI, you can't go wrong with this extension.
Easy to install and use
Nice plugin, didn't have to do much. The only dependency is the core module.
Avesh naik
-
Verified Purchase
Best feature
I love this feature. I'm not sure why I haven't been able to find this for a very long time. I came to Mageplaza for the Blog extension I keep hearing about and came across this and had to get it. I mean for free what's to lose. Thank you for this and will be using Mageplaza for all my paid extensions moving forward.
Lawrence
-
Verified Purchase
Great Job
This extension works perfectly. We have the ability to access customer accounts to support customers when they are processing purchase and checkout easily. And our customers are happier now. Recommended! Thank you so much Mageplaza!
Excellent Plugin I was looking for
I am a beginner at Magento Module Development I was stuck I searched for help and found that Mageplaza plugin I read its code and found a lot of materials which help me to solve my issues. Thanks a million, Mageplaza Team
Anwar Khan
-
Verified Purchase
Don't see the features you are looking for?
Request feature
Submit your feature requests below
Want to do extension customization?
Custom request
Let us know your requirements
v4.0.3 (Magento v2.3.x)

28 December 2021
v1.0.6 (Magento v2.3.x)

28 December 2021
v4.0.2 (Magento v2.3.x)

16 August 2021

Updated labels & content
v1.0.5 (Magento v2.3.x)

16 August 2021
v4.0.1 (Magento v2.4.x)

16 April 2021

Compatible with Magento v2.4.2
v4.0.0 (Magento v2.3.x)

23 March 2021

Supported Magento v2.4
v1.0.4 (Magento v2.3.x)

19 January 2021

Improved compatible with Magento v2.3.6
v1.0.3 (Magento v2.3.x)

18 June 2020

Improved compatible with Magento v2.3
Fixed login error when other customer is still logging in
v1.0.2 (Magento v2.3.x)

22 May 2019

Compatible with Magento 2.3.1
v1.0.1 (Magento v2.3.x)

21 February 2019

Compatible with Magento 2.3.0
Improved code style
v1.0.0 (Magento v2.3.x)

10 January 2019

Initial Release
Magento 2 Login As Customer's Full Features
For store admins
Login As Customer for admins
Login As Customer for customers
Be supported quickly by store's admins to edit any information related to order or customer information
Have more time to focus on the shopping experience
Why choose us?
Mageplaza provides consistent and customer-centric extensions for your Magento 2 store.
We don't sell products for one time. We provide lifetime solutions which help our customers thrive with their businesses.
60-day Money Back
Extensive 60-day money-back period. You love it or get a full refund no questions asked.
Extensive Support Timeframe
Mageplaza provides support 16 hrs/day, 5.5 days/week to guarantee the seamless operation of our extensions on your store.
Install via Composer
Simple installation via composer helps you save time and eliminates technical issues during future updates.
Frequent Updates
Intensive update roadmaps ensure great performance, bug-free, highly compatible, and innovative extensions.