Configurable Product Grid View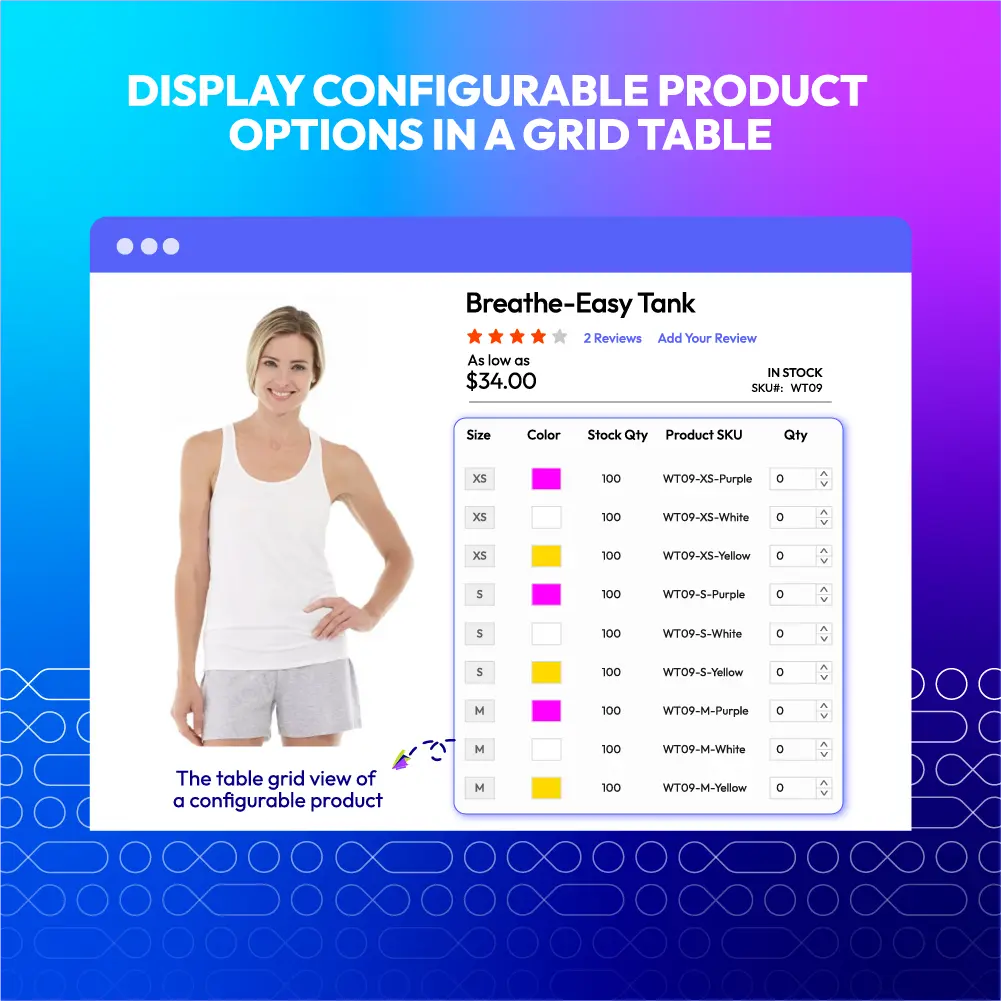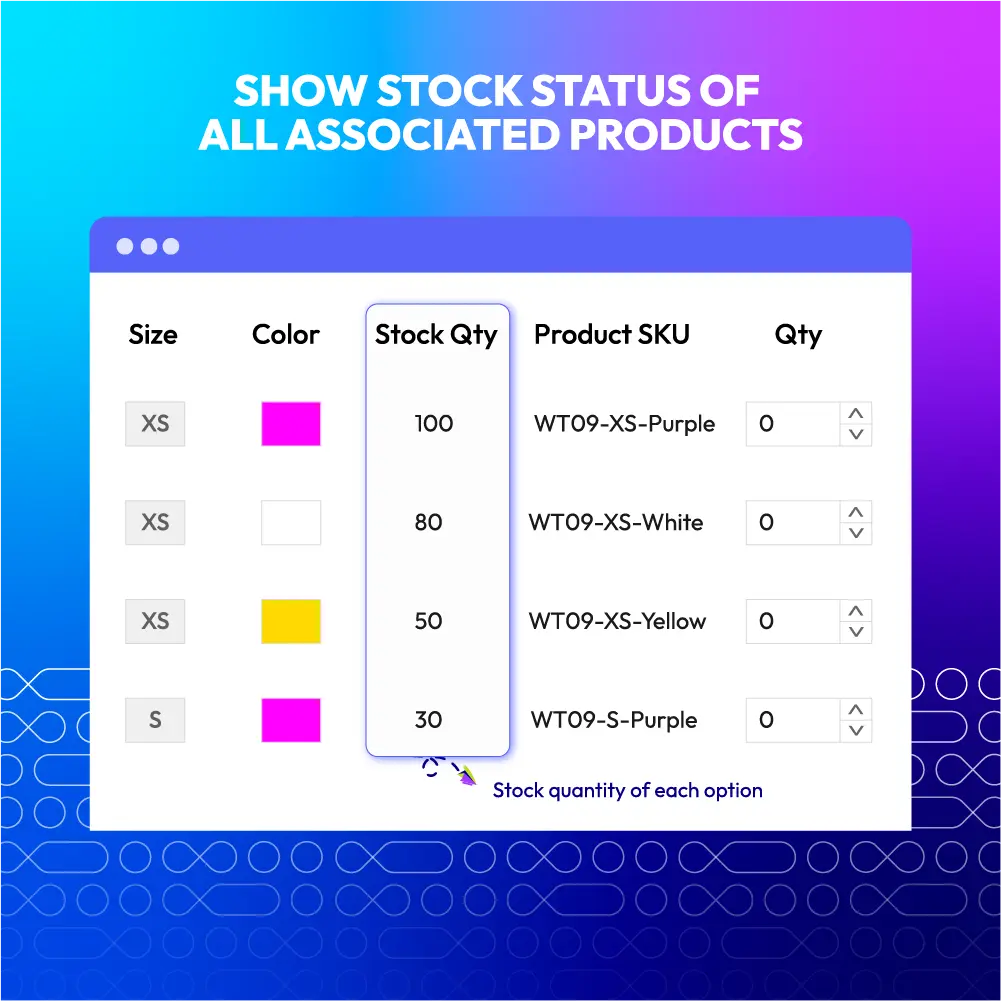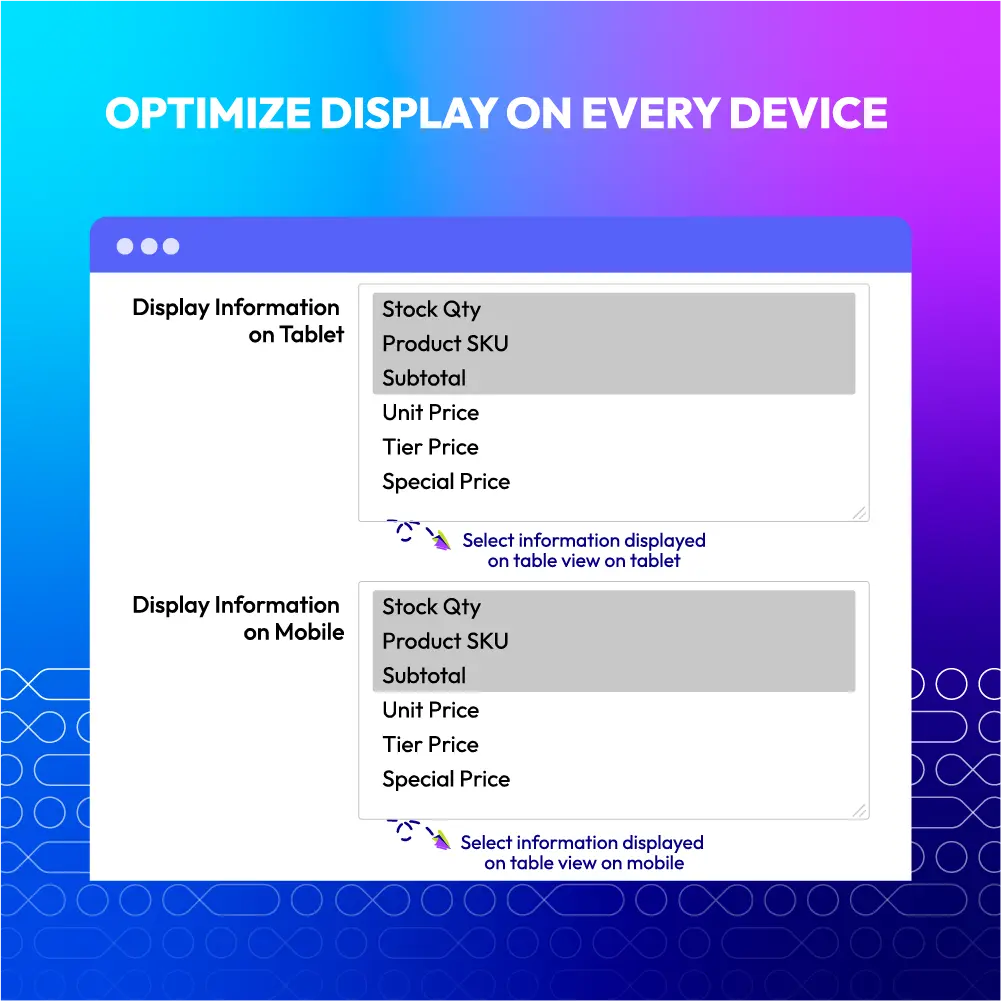 60-day Money Back
Frequent Update
365-day Support
Configurable Product Grid View for Magento 2
v1.1.1
Magento 2 Configurable Product Grid View is the helpful extension which displays all configurable products more clearly and fully in a table grid view. This special table facilitates customers to pick children products quickly and conveniently, supporting online stores to decrease abandonment and increase sales.
CE/EE/B2B/Cloud/ Adobe Commerce 2.2.x, 2.3.x, 2.4.x
Chat now
Problems
It takes time to select a configurable product. In Magento 2, the options of configurable products are displayed in the drop-down list. Therefore, to select a configurable product, customers have to select step by step one option of each variant. Therefore, with the children products generated by many options, it is very time-wasting for customers to complete their selection.
The reason for abandonment rate. The selection of configurable product is time-wasting so it is likely that customers feel impatient and leave the store site without making the purchase. This is the key leading to an increase in the abandonment rate of online stores.
Solutions
Improve configurable product display. Configurable Product Grid View extension improves the display of configurable products by showing all ready-to-select options available to customers in a table format. This type of display supports customers to view all options quickly.
Facilitate the purchase process. Because all options are shown clearly to customers as simple products, customers can pick multiple products simultaneously to their shopping cart.
Supportive for wholesalers. This extension is really helpful to the customers as wholesalers who mainly order a large quantity of children products. They can view all options, select quantity and add to cart at once, which is very convenient and time-saving.
Decrease abandonment rate, increase sales. With this improvement on the Product page, customers are facilitated during the shopping time. Picking configurable products to cart become much easier and faster than ever. As a result, customers are willing to complete their shopping with an order to stores.
Pricing

Choose your suitable edition
Community
Crafted for a great webstore start
$

89

first year
Supports for Magento 2 Community Edition
Enterprise
Great for an enterprise solution
$

289

first year
Supports for Magento 2 Enterprise Edition
Highest priority support
Yes, definitely. The table grid allows showing all types of price including unit price, special price, tier price.
Yes, at the backend, you can select the information you want to display easily on different devices (PC, Tablet, Mobile). For example, on mobile, you just show stock quantity, unit price of the children products.
Yes, absolutely. At the backend, enable the Add All To Cart button to allow the button to display at the frontend.
Yes, configurable grid table view can be applied to specific customer groups if you select them at the backend.
Exactly what we need
This is exactly what we need, clearer views for wholesale buyers. Will try other extensions from you soon.
Klarine
-
Verified Purchase
RIGHT DECISION
Intuitive interface. I was right when choosing this extension.
Ronald
-
Verified Purchase
Appreciate your effort
Very helpful support. Sticks with it until a solution is found. The very timely response even over new years holiday.
Adam Newlyn
-
Verified Purchase
So good to me!
Great support, very fast, and solved my problem quickly. Thank you!
Florian Schenk
-
Verified Purchase
Thump up for Mageplaza
Quick and clear response for my issues! Thanks
Junwei Cheng
-
Verified Purchase
Amazing support
The support team was very helpful and is amazingly quick to resolve any issues that we have faced. But most importantly, they all are extremely polite and professional. I'm willing to purchase more plugins from Mageplaza just for the fantastic support. Thanks!
Li Wei Ku
-
Verified Purchase
A very good extension
A very good extension, it makes our customers pick children products more quickly and conveniently. Thanks, Mageplaza, for providing us with such a good product. Good job!
Don't see the features you are looking for?
Request feature
Submit your feature requests below
Want to do extension customization?
Custom request
Let us know your requirements
v1.1.1

26 October 2021

Compatible with Magento v2.3.7
Fixed minor bugs
v4.1.1

07 May 2021

Compatible with Magento v2.4.2
v1.1.0

07 May 2021

Added sort by attributes
Fixed minor bugs
v4.1.0

07 May 2021

Added sort by attributes
Fixed minor bugs
v1.0.3

10 November 2020

Compatible with Magento v2.3.5
v1.0.2

16 July 2020

Compatible with Mageplaza Table Category View
v1.0.1

19 June 2020

Compatible with Magento v2.3.4
Compatible with Mageplaza Table Category View extension
Compatible with Magento Backorders
v1.0.0

26 August 2019

Initial release
Configurable Product Grid View's Full Features List
Configurable Product Grid View for store admins
Enable/ Disable the extension
Select customer groups able to view Configurable Product Grid
Select columns displayed on the PC version
Select columns displayed on Tablet version
Select columns displayed on Mobile version
Show total summary including the total quantity and total value of all selected children products
Show/ Hide out of stock products
Configurable Product Grid View for customers
Time-saving to pick any configurable products
Better experience at online stores
Supportive for the customers who make large orders of configurable products
Why choose us?
Mageplaza provides consistent and customer-centric extensions for your Magento 2 store.
We don't sell products for one time. We provide lifetime solutions which help our customers thrive with their businesses.
60-day Money Back
Extensive 60-day money-back period. You love it or get a full refund no questions asked.
Extensive Support Timeframe
Mageplaza provides support 16 hrs/day, 5.5 days/week to guarantee the seamless operation of our extensions on your store.
Install via Composer
Simple installation via composer helps you save time and eliminates technical issues during future updates.
Frequent Updates
Intensive update roadmaps ensure great performance, bug-free, highly compatible, and innovative extensions.