Configurable Product Grid View
Configurable Product Grid View for Magento 2
v1.0.0
Magento 2 Configurable Product Grid View is the helpful extension which displays all configurable products more clearly and fully in a table grid view. This special table facilitates customers to pick children products quickly and conveniently, supporting online stores to decrease abandonment and increase sales
You've just added this product to the cart:
Configurable Product Grid View
Problems and Solutions
In Magento 2, the options of configurable products are displayed in the drop-down list. Therefore, to select a configurable product, customers have to select step by step one option of each variant. Therefore, with the children products generated by many options, it is very time-wasting for customers to complete their selection.
The selection of configurable product is time-wasting so it is likely that customers feel impatient and leave the store site without making the purchase. This is the key leading to an increase in the abandonment rate of online stores.
Configurable Product Grid View extension improves the display of configurable products by showing all ready-to-select options available to customers in a table format. This type of display supports customers to view all options quickly.
Because all options are shown clearly to customers as simple products, customers can pick multiple products simultaneously to their shopping cart.
This extension is really helpful to the customers as wholesalers who mainly order a large quantity of children products. They can view all options, select quantity and add to cart at once, which is very convenient and time-saving.
With this improvement on the Product page, customers are facilitated during the shopping time. Picking configurable products to cart become much easier and faster than ever. As a result, customers are willing to complete their shopping with an order to stores.
Display configurable product options in a grid table
With Configurable product type, instead of showing all options of each variation as a drop-down or horizontal list and requiring customers to select one by one as Magento Default, Configurable Product Grid View displays all available combinations as simple products for quick selection. All children products are displayed very detailedly but neatly at a grid table on the Product page.
With this innovative format, customers no longer have to give many mouse clicks to complete their preferred combination. Selection steps are minimized as many as possible. Customers only need to decide the quantity of their preferred combination to add to the cart quickly.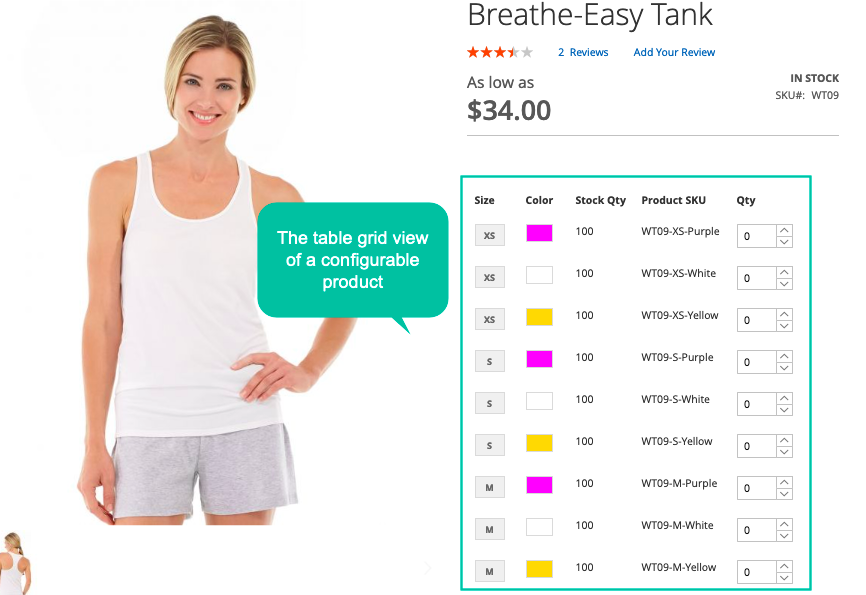 Add multiple children products to cart at once
If you are keen on multiple children products, you can add them simultaneously to the shopping cart. Because Magento 2 Configurable Product Grid View counts the options as single products, customers can pick multiple options and once click to add to their shopping cart with ease.
This feature contributes to the mission of saving time for shoppers and improves their experience significantly.
Show stock status of all associated products
Another feature of the module is that store admins can show the stock status of every associated product clearly right at the grid table. Therefore, customers can know all the availability of all children products at once. Especially, with out-of-stock options, the notification is shown right at the grid so customers can skip them and consider the others conveniently.
Knowing well about the stock qty will help customers actively make a plan for the purchase decision.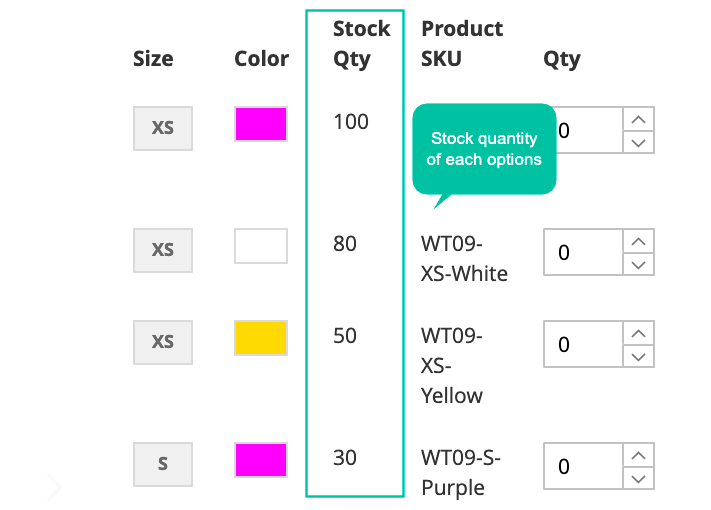 Display price details of configurable products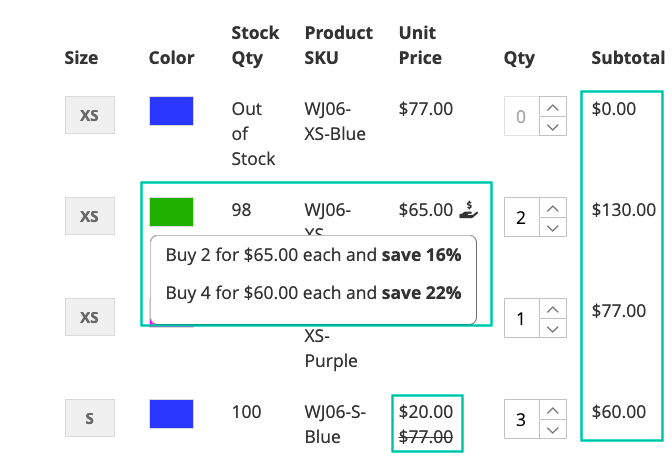 With Configurable Product Grid View for Magento 2, customers can keep updated with the details of every price update of every children product easily. In detail, at the table grid, viewers can know a variety of prices:
Unit price: The price per item
Special price: The discount price of children products appearing next to the original price
Tier price: The unit price of children products based on specific purchase quantity
Subtotal: The total amount of each children product is picked to cart
Optimize display on every device
Because the screen size of each device is different, admins need to select the appropriate amount of information to show viewers to optimize the interface of the Configurable Product Grid. Configurable Product Grid View allows store admins to select information to form the table grid with different devices: PC, Tablet, Mobile.
Stock Quantity
Product SKU
Subtotal
Unit Price
Tier Price
Special Price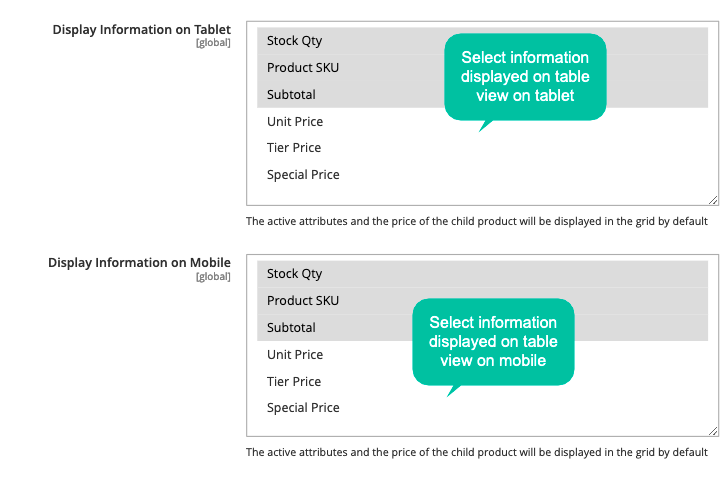 Full Features List
For store admins
Enable/ Disable the extension
Select customer groups able to view Configurable Product Grid
Select columns displayed on the PC version
Select columns displayed on Tablet version
Select columns displayed on Mobile version
Show total summary including the total quantity and total value of all selected children products
Show/ Hide out of stock products
For customers
Time-saving to pick any configurable products
Better experience at online stores
Supportive for the customers who make large orders of configurable products
FAQs
Configurable Product Grid View supports the most popular image types including PNG, JPG and GIF.
Firstly, the extension will scan all images (of the included directories). Then, the scanned files will be optimized.
Yes, definitely. With cron, you can set the schedule for image scanning and optimizing automatically on a frequent basis.
With Magento 2 Configurable Product Grid View, you can select two types: Lossless or Custom. With Lossless, you can retain image quality (or maybe a very slight loss) while reducing the file size. With Custom, you will define the quality percent of optimized images. However, please consider this point that the smaller file size, the worsen image quality.