Configurable Products Preselect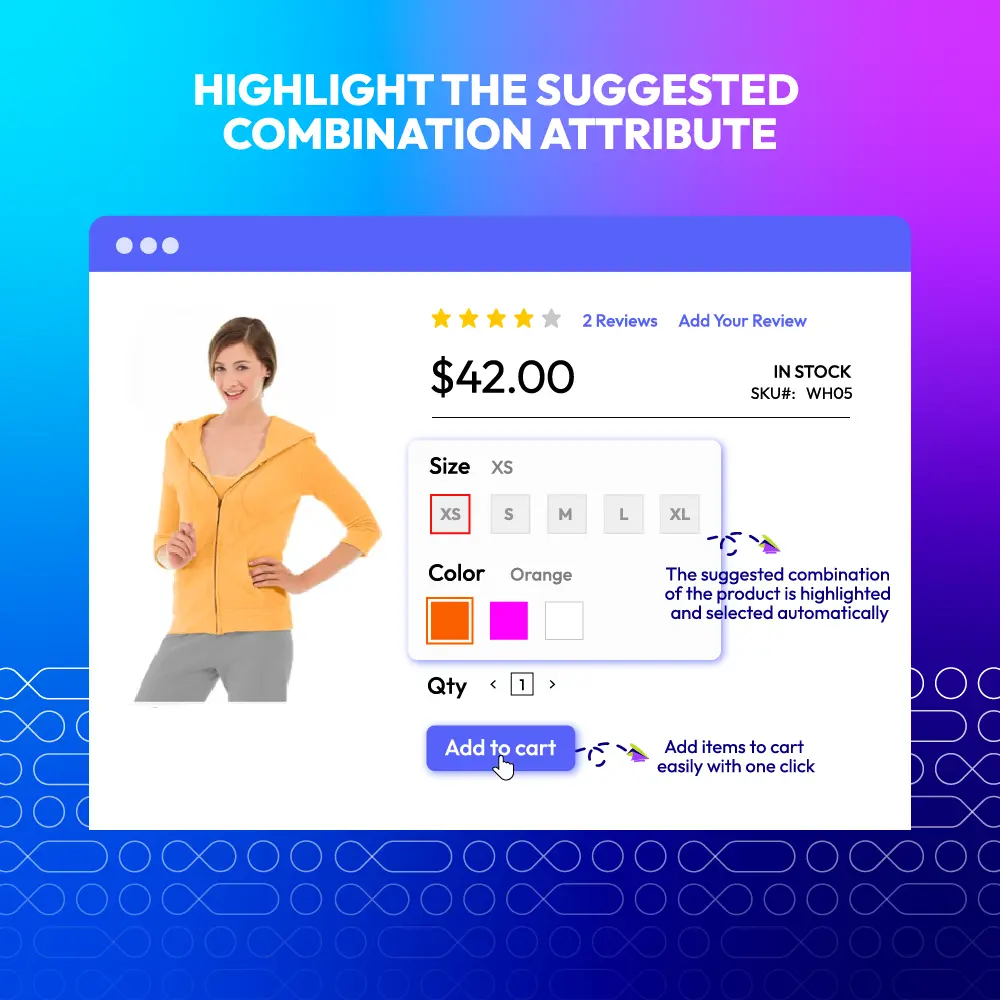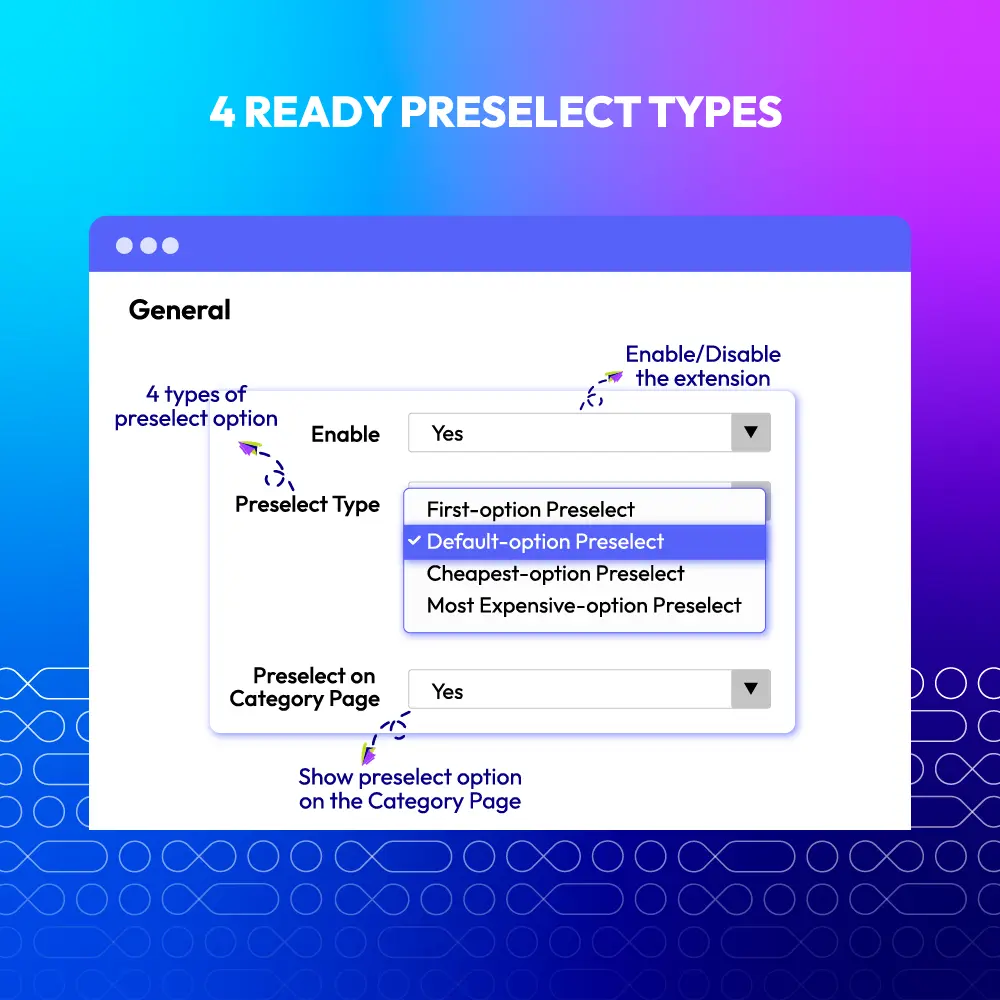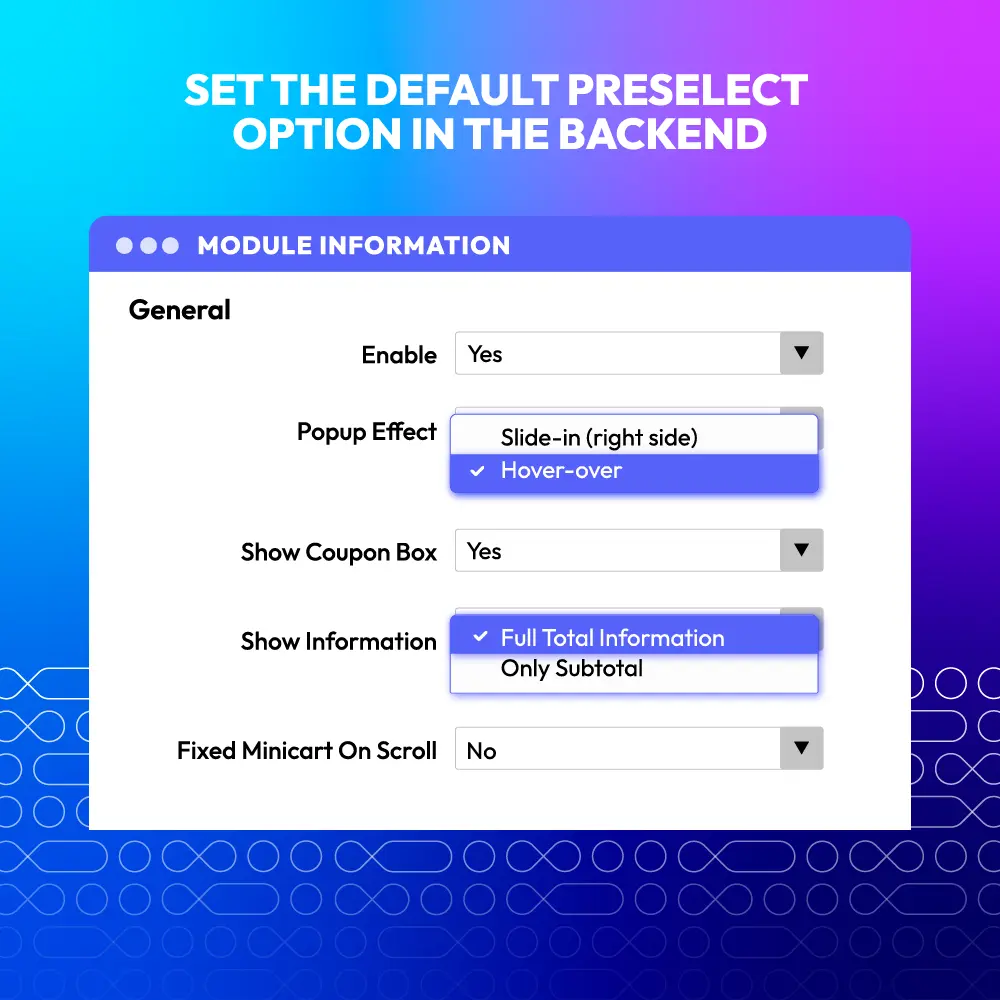 60-day Money Back
Frequent Update
365-day Support
Configurable Products Preselect for Magento 2
v4.0.2
Magento 2 Configurable Products Preselect extension helps stores suggest attribute combinations to customers such as the most popular, the cheapest, or motivate sales for specific child products. Configurable Products Preselect brings benefits to both store owners and shoppers.
CE/EE/B2B/Cloud/ Adobe Commerce 2.2.x, 2.3.x, 2.4.x
Chat now
Problems
With a configurable product having many attributes, the store owners would like to increase sales for a particular child product, which needs some way to draw customer attention. However, the default Magento 2 does not allow them to so so easily.
With any updating related configurable product, it wastes time for customers to select one by one each attribute then add to cart. Unless a product is really necessary to them, they will feel unhappy when they face many attributes requiring many mouse clicks before adding to cart. As a consequence, it is likely that they will abandon the cart at that time, considering to come back later or forget forever.
Solutions
Target a particular child product
Support for testing
Partly reduce abandonment rate
Give Suggestion, Collect Purchase
No longer feel confused between many options
Minimize actions to add to cart
Pricing

Choose your suitable edition
Community
Crafted for a great webstore start
$

79

first year
Supports for Magento 2 Community Edition
Enterprise
Great for an enterprise solution
$

279

first year
Supports for Magento 2 Enterprise Edition
Highest priority support
Magento 2 Configurable Products Preselect offer 4 preselect types including First-option Preselect, Default-option Preselect, Cheapest-option Preselect, Most Expensive-option Preselect
Yes, with preselect option, customers do not need to reselect each attribute as usual and they can add to cart the combination instantly with one-click.
Increasing sales
Great decisions as I can suggest some options beforehand. Some product sales have increased indeed.
NICE
Install quickly and it runs smoothly. Haven't had any issues so far.
Tamely
-
Verified Purchase
Nice and simple
Works well, easy installation. We noticed a small problem in some cases but support is always awesome.
Giorgos
-
Verified Purchase
Works well
The plugin helps to preselect the combination on the product page basically on configurable product.
Prathmesh
-
Verified Purchase
Works exactly as promise
Easy to install and configuration and works as promise.
Marcel
-
Verified Purchase
Configurable Product Preselect
Uri was fantastic and his level of service made the changes I required very seamless. With people like Uri and the functionality of this extension, I will definitely be back.
Don't see the features you are looking for?
Request feature
Submit your feature requests below
Want to do extension customization?
Custom request
Let us know your requirements
v4.0.2 (Magento v2.4.x)

31 August 2022

Compatible with Magento v2.4.4
v4.0.1 (Magento v2.4.x)

08 April 2021

Compatible with Magento v2.4.2
Fixed minor bugs
v4.0.0 (Magento v2.4.x)

14 October 2020
v1.0.3 (Magento v2.3.x)

14 October 2020

Compatible with Magento v2.3.5
Fixed minor bugs
v1.0.2 (Magento v2.3.x)

14 July 2020

Fixed load wrong image error in search page
Fixed error happen when saving product if Default Select config enabled
v1.0.1 (Magento v2.3.x)

18 May 2020

Added support for drop-down attribute
Fixed error with out-of-stock product
v1.0.0 (Magento v2.3.x)

31 May 2019

Initial Release
Configurable Products Preselect Full Features
For store admins
Enable/ Disable Configurable Preselect extension

From the backend, stores admins can select Yes option to turn on the extension. If they want to turn off Magento 2 Configurable Products Preselect, they can select No option.

Select Preselect type including First-option Preselect, Default-option Preselect, Cheapest-option Preselect, Most Expensive Preselect

There are four types of preselected option which are available for admins.

Enable/ Disable Preselect on Category Page, applied with swatch attributes

Store admins can show or hide preselect option at the Category Page. Preselect is only applied for swatch attributes.

Select the default option at Default Preselect Option column (in the Edit page of a configurable product)

If the store admins want to set flexibly among different products, they can select the default option for each product, and display it as a preselected option to customers at the frontend.

Compatible with other extensions: Quick View, Ajax Cart, Wishlist
For customers
Be suggested with an option recommendation

Magento 2 Configurable Products Preselected works properly as a suggestion for customers, so they no longer feel confused between too many options.

Minimize the number of selection steps to add to cart with just one-click

Thanks to Magento 2 Configurable Products Preselected extension, customers can make their purchases more easily and quickly with only one-click.

Have better experience during shopping

Configurable Products Preselected extension saves times for customers and improves their shopping experiences on the store site.
Why choose us?
Mageplaza provides consistent and customer-centric extensions for your Magento 2 store.
We don't sell products for one time. We provide lifetime solutions which help our customers thrive with their businesses.
60-day Money Back
Extensive 60-day money-back period. You love it or get a full refund no questions asked.
Extensive Support Timeframe
Mageplaza provides support 16 hrs/day, 5.5 days/week to guarantee the seamless operation of our extensions on your store.
Install via Composer
Simple installation via composer helps you save time and eliminates technical issues during future updates.
Frequent Updates
Intensive update roadmaps ensure great performance, bug-free, highly compatible, and innovative extensions.