Magento 2 Salesforce Integration: A Beginner's Must-Read 2023
The Most Popular Extension Builder for

Magento 2
With a big catalog of 224+ extensions for your online store
As a beginner store owner in Magento 2, dealing with a large amount of customer data, such as demographics, purchase history, preferences, interactions with marketing campaigns, and touchpoints from various systems, might be overwhelming. Let's Magento 2 Salesforce Integration and this ultimate guide help your store to manage and process this information conveniently and smoothly.
In case you are not familiar with Salesforce, it is one of the most well-known CRM (Customer Relationship Management) systems, delivering services to more than 150,000 customers around the world.
Salesforce CRM
Integration Service
Integrate Salesforce CRM with your M2 store to automate your workflow and establish long-lasting customer relationships.
Explore More
Table of Content
What is Salesforce CRM?
Salesforce is a cloud-based CRM that caters to businesses of all sizes. It's a single platform designed to manage all aspects of sales, marketing, and analytics through area-specific "clouds".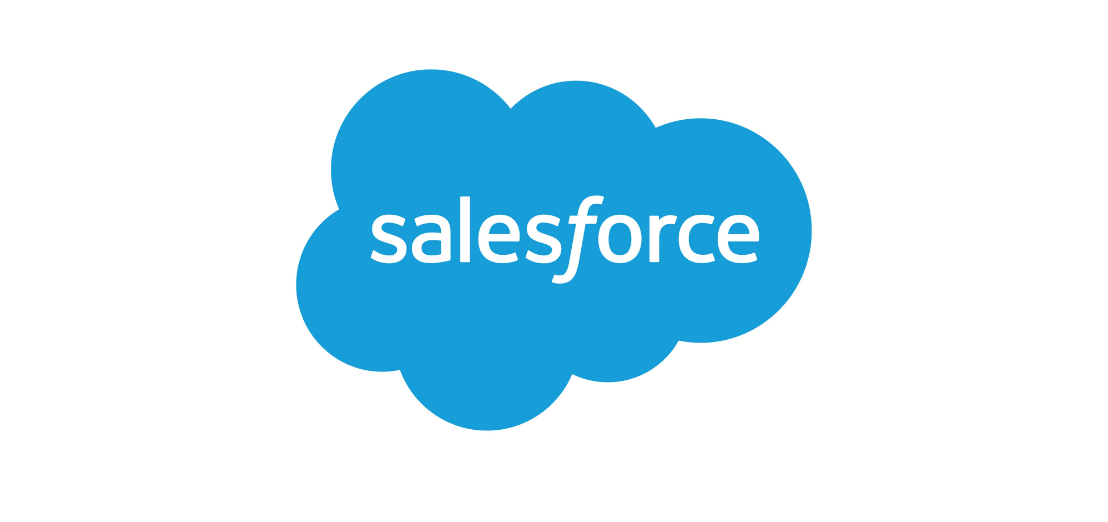 With separate "clouds" for each arm of the CRM, Salesforce offers solutions suited for companies who want to engage in different aspects of the modern customer space. Besides, it maintains the ability to segregate operations between teams, avoids over-complication, and still allows for cross-communication.
With a huge number of customers, including popular giants, namely Facebook, Coca-Cola, Sony, and L'Oreal, Salesforce is truly the undisputed market leader in the CRM world.
5 Benefits of integrating Salesforce CRM with Magento 2
According to Zippia's report, companies can achieve a 50% increase in sales productivity and reduce labor costs by 20% by implementing CRM. Another noteworthy figure is that CRM users experience a significant 300% increase in conversion rates. On the other hand, It is worth mentioning that Salesforce is the dominant player in the CRM market, with a share of 19.5%.
These numbers clearly demonstrate the imperative need to use Salesforce or any other CRM platform (preferably Salesforce) for online business operations. It's not just a matter of choice anymore, but rather an essential step that needs to happen soon.
For Magento 2 store owners, integrating with Salesforce can be incredibly beneficial. It allows you to manage potential customers, handle sales opportunities, oversee store operations, support multi-channel users, and automate sales processes, reporting, analysis, and trend forecasting without needing to hire more personnel or spend time optimizing each of the above processes.
Here are what you'll get with the Salesforce CRM and Magento 2 integration:
Process automation. You can manage all the account information in a single user-friendly structure. Stay informed about any updates in customer behavior with automatic notifications for tracking every detail anywhere anytime. Besides, it's easy to import and export customer data, products, invoices, and billing information and create a seamless sales cycle with a bare minimum of admin involvement.

Sales increase. This integration synchronizes data between the Salesforce CRM and your Magento store and manages all the orders as fast as possible with a reduced amount of issues. Therefore, you can boost customer satisfaction, reach the next level of credibility, and experience a rise in revenue.

Marketing engineering. This integration allows for planning marketing campaigns based on customer response analysis and creating a direct communication line to provide the best services via different channels.

Customer support improvement. By integrating Salesforce CRM with Magento 2, you can manage all of your contacts, collect important customer info, and make it accessible to anyone in your company that needs it. This makes sure your employees have all they need to know about customers at their fingertips and provides a better customer experience.

Insights and reporting. The integration lets you collate, tabulate, and customize data in reports for unique needs. All reporting centers around customer needs, thus enabling your team members to make decisions keeping customers front and center.
How to integrate Salesforce CRM with Magento 2
There are three main ways to integrate Salesforce CRM with your Magento 2 website:
Use Magento 2 Salesforce CRM integration extension. This integration extension has been developed to connect Salesforce CRM with your Magento 2 store. It synchronizes every database update from your store to Zoho CRM and vice versa.

Use Magento 2 integration service. You'll hire Magento experts to implement the integration for you. They'll analyze your requirements, investigate the workflow, prepare data, implement, and test the result. With this option, you need to do almost nothing.

Use Zapier. Zapier is a platform that lets you integrate apps easily and automate workflows. With the help of Zapier, you can send information between Magento and Salesforce automatically - with no code required.
Do you require the latest version for integrating Salesforce with Magento 2?
If possible, we strongly recommend updating to the latest version before starting the Magento 2 Salesforce integration process because it ensures better compatibility and smoother integration, reducing potential technical conflicts. By upgrading before integrating with Salesforce (or other CRM platforms), you lay a solid foundation for future expansion, ensuring that your eCommerce and CRM systems can handle increased customer demands and business growth. However, you can still integrate Salesforce with your Magento 1 version.
Integrate Salesforce CRM with Magento 2 via an extension
In this section, we'll show you two simple steps to integrate Salesforce CRM with Magento 2 via an extension. First of all, you need to install the Magento 2 Salesforce CRM integration extension by Mageplaza. The extension will help you implement the integration quickly and effectively.
Step 1: Get information in Salesforce
Visit this link to register a Salesforce CRM account.
After registering an account, click this link and head to App Manager > New Connected App. Then, enter all the necessary information to connect with Salesforce.
Select View to see your Consumer Key, Consumer Secret, and Security Token information. Besides, you'll see the Callback URL field. Save all this information to use in the next step.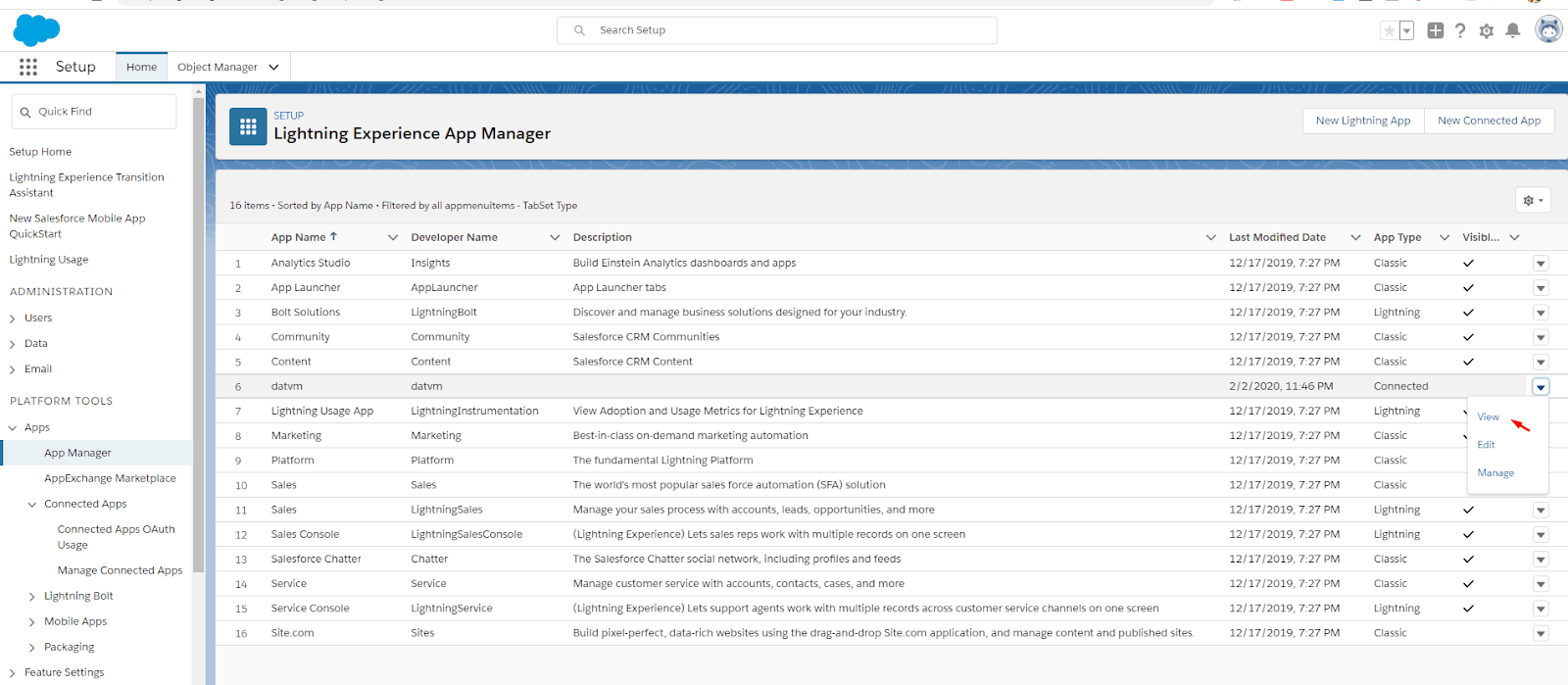 At Price Books, click All Price Books > Standard Price Book to get your Standard Price Book ID. You'll also use this information in the next step.

Step 2: Configure the Magento 2 Salesforce Integration extension

Enable: select Yes to activate the extension.
Environment: you can choose the Sandbox environment to test the data synchronization feature in Salesforce. If you want to apply online data synchronization, move the environment to Production.
Consumer Key: enter the Consumer Key obtained in Salesforce into this field.
Consumer Secret: enter the Consumer Secret obtained in Salesforce into this field.
Security Token: enter the Security Token obtained in Salesforce into this field.

If you're unsure how to obtain your security token: Go back to your Salesforce page, click on Settings below your Profile picture, and find the Reset My Security Token option. Salesforce will automatically send the Security Token to your registered email.

Callback URL: copy and paste this value to the Callback URL field in Salesforce. (Note: If you enter these four fields incorrectly or leave them blank, you cannot connect Salesforce CRM with Magento).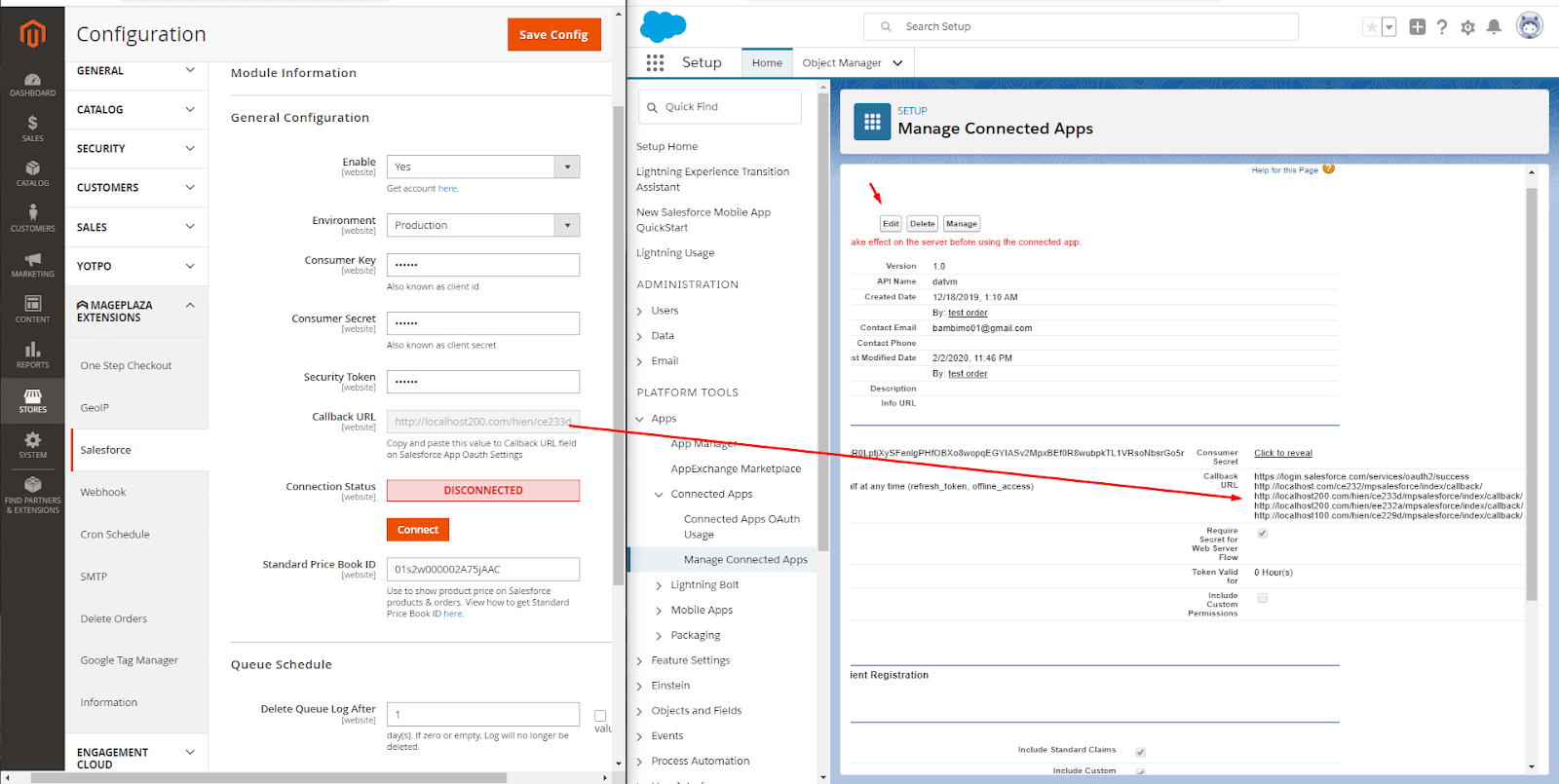 Connection Status: this field shows the connection status with Salesforce. Click the Connect button to synchronize data. Once your Magento store has been connected with the Salesforce account, you'll see Access Token and Instance URL fields.
Standard Price Book ID: enter the ID obtained in Salesforce into this field. If you enter this field incorrectly or leave it blank, the product price will not be displayed when synchronizing from Magento to Salesforce.
That's how you can integrate Salesforce CRM with your Magento 2 store via the Mageplaza extension.
In addition to the intuitive interface and ease of use, the extension offers impressive features to help your store stand out:
Automatic customer data synchronization to Salesforce and vice versa
Automatic product data synchronization between two platforms
Automatic order synchronization
Automatic Catalog Price Rule synchronization
Unlimited condition synchronization rules
Flexible mapping fields to synchronize one Magento field to multiple fields in Salesforce
Easy management with the queue grid
Effective Salesforce synchronization by intervals with cron schedule settings at the backend
Mass action to add multiple objects to queue or sync to Salesforce
The extension comes with two pricing plans as below:
Community plan: $349/the first year (then $209.4/year)
Enterprise plan: $549/the first year (then $329.4/year)
EXPLORE MAGENTO 2 SALESFORCE CRM EXTENSION
Integrate Salesforce CRM with Magento 2 via an integration service
To be honest, pre-made integration extensions are not always the best choice to fit your specific wants and needs. You'll need a wide range of customizations to make the integration work the way you desire. That's where an integration service comes into play!
By having experts in Magento 2 Salesforce integration handle the task for you, you can save a lot of time and rest assured that the integration is successful.
Mageplaza experts can integrate your Magento 2 with any third-party platform to uncover new opportunities - at an affordable price. Besides Magento 2 Salesforce Integration, we also have intense knowledge and experience in other integrations, such as Zoho CRM, Freshsales, Quickbooks Online, etc.
Our integration service includes five steps only, ensuring that your investment is worth it!

You should contact us now to get a free consultation from our experts and get a clear idea of the cost and time involved.
Integrate Salesforce CRM with Magento 2 via Zapier
Step 1: Sign up the Zapier account
Step 2: Sign up the salesforce account
After logging into Zapier, choose Make a Zap to start integrating

Step 3: Integrate Magento 2.x
In this set up step, choose a Trigger App that you want to integrate with your Magento 2 store.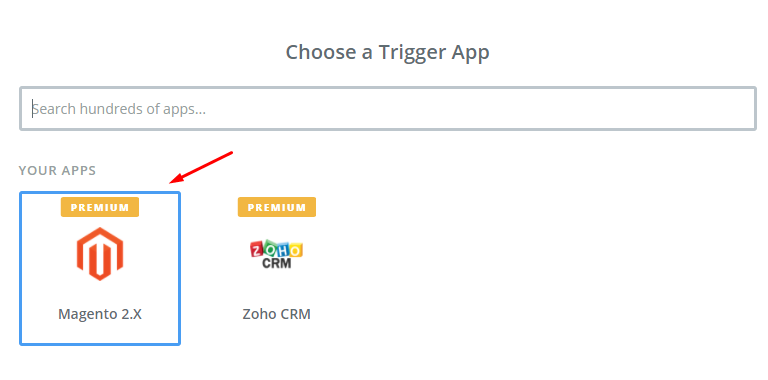 After that, select Magento 2.x Trigger in the drop-down list such as new customer, then save + continue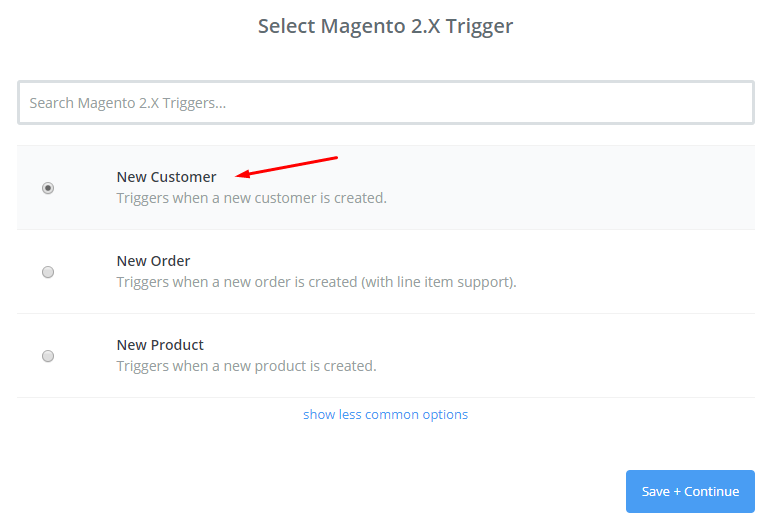 Then, connect an account to select Magento 2.x Account. You need to enter full domain, admin username and admin password of your Magento 2.x store as an image below: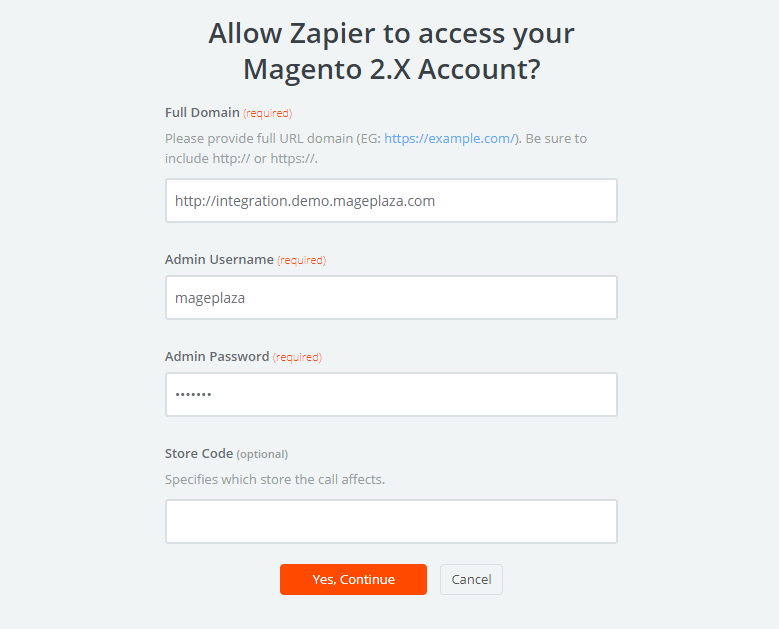 After creating your Magento 2.x account, the screen will display as the following image, and please choose Save + Continue: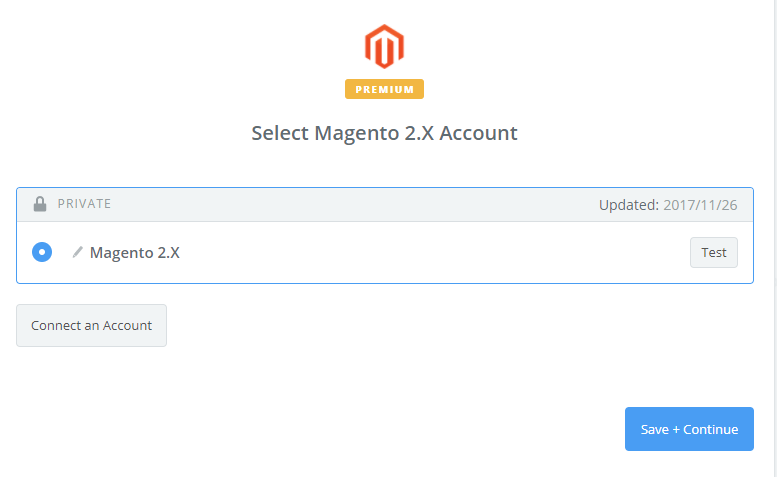 Ok, test Magento 2.x successfully. Please continue doing the next step.
Step 4: Integrate Salesforce CRM
In Choose an Action Appfield, select Salesforce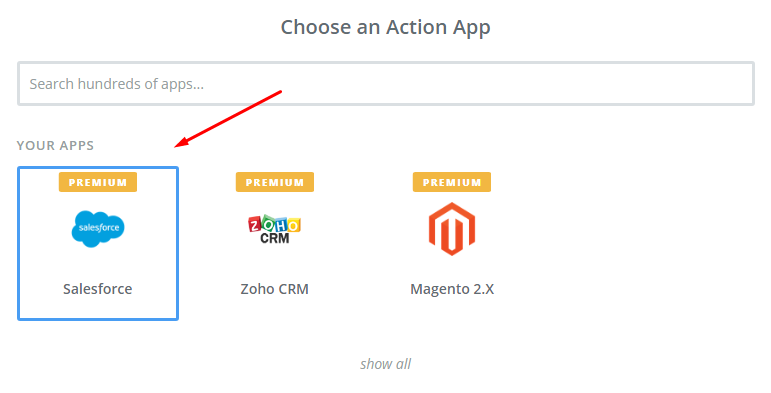 Then, select Salesforce action as create contact and click on Continue:
Next, you need to select Salesforce account by the way: Click on Connect an Account and follow the guide.
Continue, you set up a template in this step. Please Set up salesforce contact, you need to enter all information that includes in that, then, choose Continue box.

Now, you have tested Salesforce sucessfully. Finally, choose Finish and set the name your zap to complete.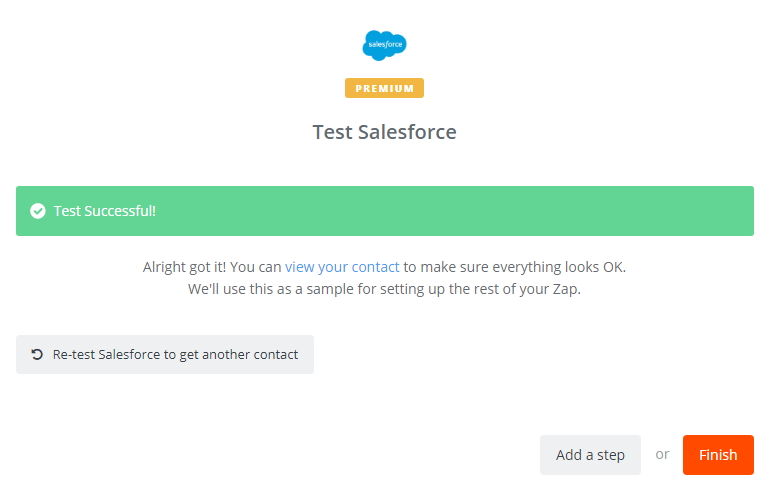 Your Zap is working and it will auto-check for your Magento 2.x new customer.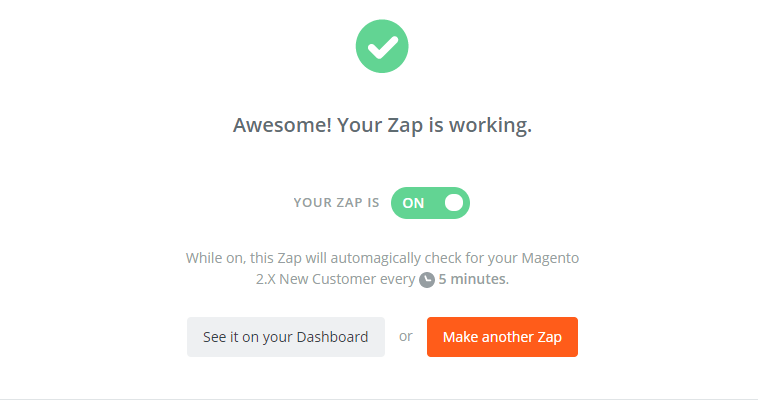 After all, here is the file that you have just established.
You can also read the top use cases here
Why should you choose Mageplaza to integrate Salesforce CRM with Magento 2?
With the help of our extension and service, integrating Salesforce CRM with Magento becomes much easier. As a result, you can save valuable time and resources.
So, why should you trust Mageplaza to integrate Salesforce CRM with Magento 2? Here's why:
Certified Magento developers. Our Magento developers are well-qualified, certified, and professional. Since 2014, we've been delivering a number of Magento integrations and powering hundreds of thousands of customers.

On-time delivery. We work delicately to deliver your integration project within the set time schedules. Besides, we ensure that the result satisfies your expectations and requirements.

Transparent process. You don't need to worry about anything because the integration process is completely transparent. You can change the scope and track statutes with our Magento integration service.

Budget-friendly cost. Our integration extension and service costs are affordable, even if you're running a startup or small business. Believe us, our solutions are worth every penny!

Outstanding support. You can get in touch with our support team whenever you have any concerns or queries. For our integration service specially, we provide free 2-month post-release support to make sure everything runs smoothly.
Conclusion
For businesses that are scaling up, their customer base grows accordingly. Therefore, Customer Relationship Management (CRM) has become an undeniable and top priority concern to manage their ever-increasing customer numbers.
Several CRM platforms have emerged in the market, such as Salesforce, MS Dynamics, Oracle, or Netsuite, to help businesses secure more potential customers and achieve customer retention. Among them, Salesforce stands out as a notable CRM platform that is reshaping and redefining customer relationship management through cloud computing and on-premise systems.
Today, most companies use Salesforce to meet their CRM needs due to its scalability, cost-effectiveness, and customer-centric models.
We hope this guide has helped you a lot. Should you have any questions, don't hesitate to contact us for more information! Thanks for reading!
Magento API Integration Service by Mageplaza
Connect your store with any 3rd-party software and boost customer experience quickly and efficiently.
Learn more
Looking for
Customization & Development Services?
8+ years of experiences in e-commerce & Magento has prepared us for any challenges, so that we can lead you to your success.
Get free consultant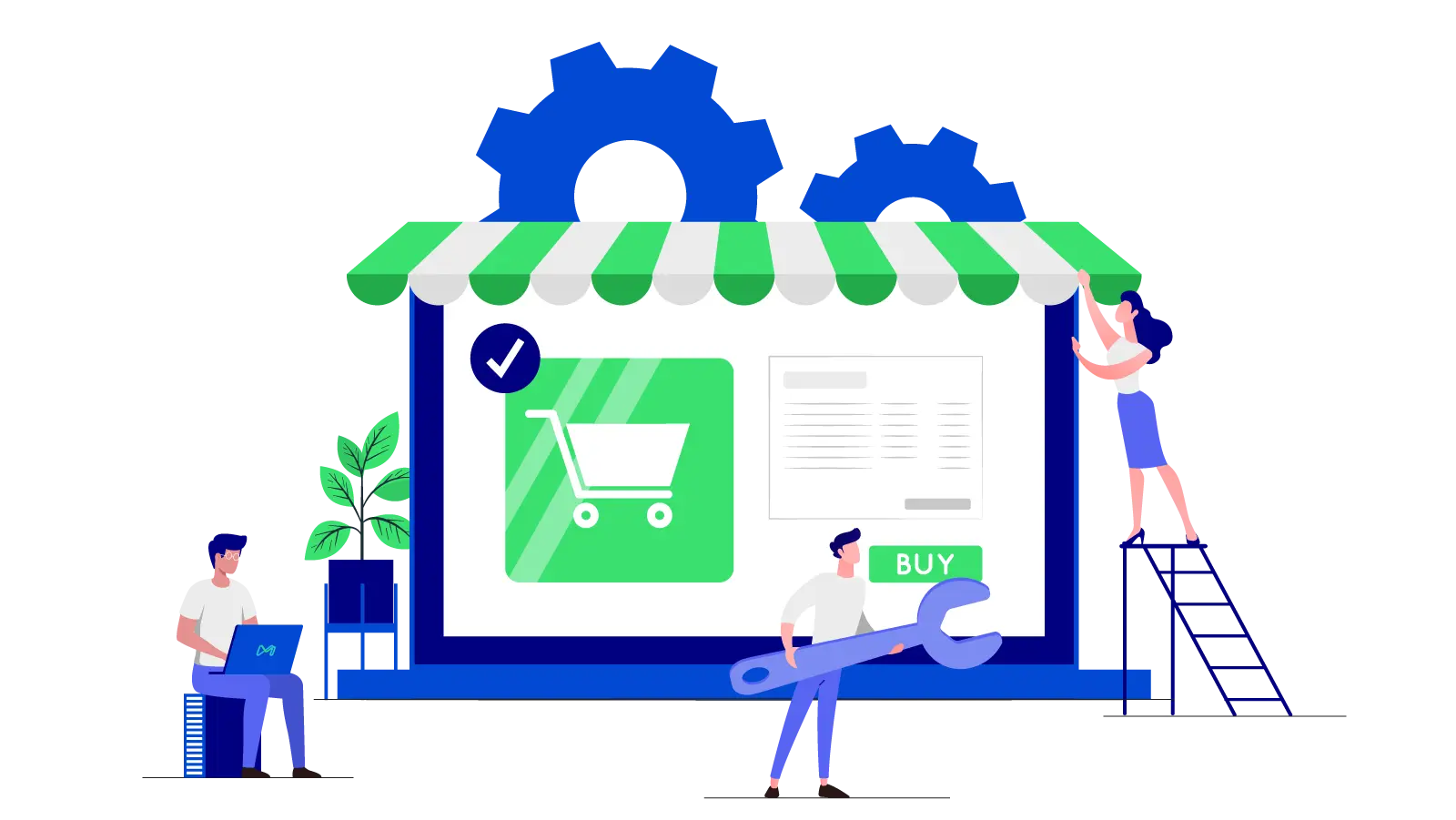 ---
---
Haley is a content creator at Mageplaza. When not working, she spends time on travel adventures, books, and food tasting. As growing up, she wants to read, learn, and experience more things to adapt herself to this ever-changing world.
Recent Tutorials

People also searched for
magento 2

salesforce
2.2.x, 2.3.x, 2.4.x
Subscribe
Stay in the know
Get special offers on the latest news from Mageplaza.
Earn $10 in reward now!