How to Integrate QuickBooks Online with Magento 2
The Most Popular Extension Builder for

Magento 2
With a big catalog of 224+ extensions for your online store
Small business accounting is full of challenges. From payroll to invoicing to taxes, trying to figure everything out without the help of accounting software (or even a simple accounting platform) can be difficult.
That's where QuickBooks Online comes in! For nearly 40 years, QuickBooks Online has proved its strength by powering more than 5 million users worldwide. This platform has also become one of the best accounting solutions on the market.
This post will show you how to integrate QuickBooks Online with your Magento 2 store. By integrating Magento 2 with QuickBooks Online, you can synchronize and update all accounting information, thus managing your business better.
Let's dive in!
Quickbooks Online
Integration Service
Let data flow automatically into your books, while eliminating manual & tedious data entry.
Explore More
Table of Content
What is QuickBooks Online?
QuickBooks Online is a cloud-based accounting platform that helps you monitor your income and expenditure, while tracking the financial health of your business. You can use QuickBooks Online to pay bills, generate invoices, create reports, and even prepare your taxes.
Developed and managed by Intuit, the platform has many web-based features, such as online banking, remote payroll assistance, electronic payment options, and mail functionality.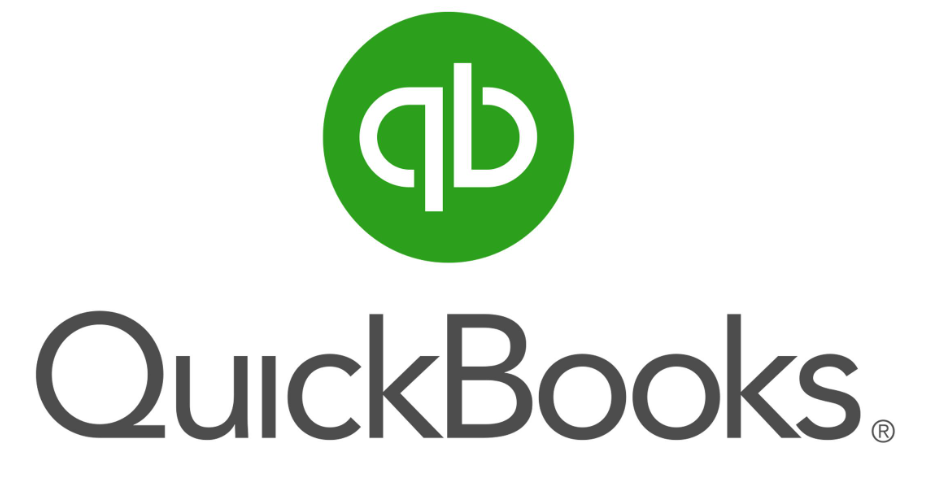 QuickBooks Online boasts an easy-to-use operating system fit for everyone. So, even if you're a business owner with little accounting or financial experience, you'll find it straightforward to understand this accounting solution.
QuickBooks Online also offers flexible access to financial data with a user-friendly interface and ready-made templates. Due to its popularity, the platform is used by businesses and professionals across various industries, especially in the United States.
5 Benefits of integrating QuickBooks Online with Magento 2
The Magento QuickBooks integration offers a lot of industry-leading benefits to help you better manage your store. Some of them include:
Eliminate data duplication and inconsistencies. The integration frees you from the difficulties of Magento and QuickBooks Online data management. As a result, you'll save money on paying employees to do this time-consuming task.

Get ongoing bookkeeping reports. You can instantly see your business performance through dashboards and customizable reports. Besides, it is easy to track your expenses by saving receipts and taking snaps.

Control cash flows & forms efficiently. By integrating QuickBooks Online with your store, you can save time by scheduling recurring payments. Furthermore, it's simple to create custom invoices, sales receipts, and estimates and send them in minutes.

Minimize manual mistakes. Human blunders are unavoidable, and manual sections are inclined to mistakes. By integrating two platforms, the danger of human blunders is brought down.

Focus more on developing your business. The integration streamlines your work process, giving you more opportunities to focus on growing your online business and implementing other significant assignments.
How to Integrate QuickBooks Online with Magento 2
You have two options to integrate QuickBooks Online with Magento 2:
Use Magento 2 QuickBooks Online integration extension. This extension has been developed particularly to connect QuickBooks Online with your Magento 2 store. It can synchronize every data update from your store to QuickBooks Online and vice versa.

Use Magento 2 integration service. You'll get help from Magento experts to integrate effectively. The service provider is responsible for requirement analysis, data preparation, implementation, and testing. In other words, you need to do almost nothing with the Magento 2 integration service.
Integrate QuickBooks Online with Magento 2 via an extension
It's easy and straightforward to integrate QuickBooks Online with Magento 2 via an extension. The Magento 2 QuickBooks Online integration extension by Mageplaza can help you effectively.
You first need to get information in QuickBooks Online and then configure it in your Magento dashboard. Follow two simple steps below:
Step 1: Get information in QuickBooks Online
Visit this link to register a QuickBooks Online account.
After registering an account, click this link to get your API login information. Select My Apps > Create an app.

Choose QuickBooks Online and Payment. Enter the required information and click Create app to start creating an app.
Navigate to the Keys & OAuth tab to get the Client ID and Client Secret information. Click the Add URI button and save information to use in the next step.
Step 2: Configure the QuickBooks Online integration extension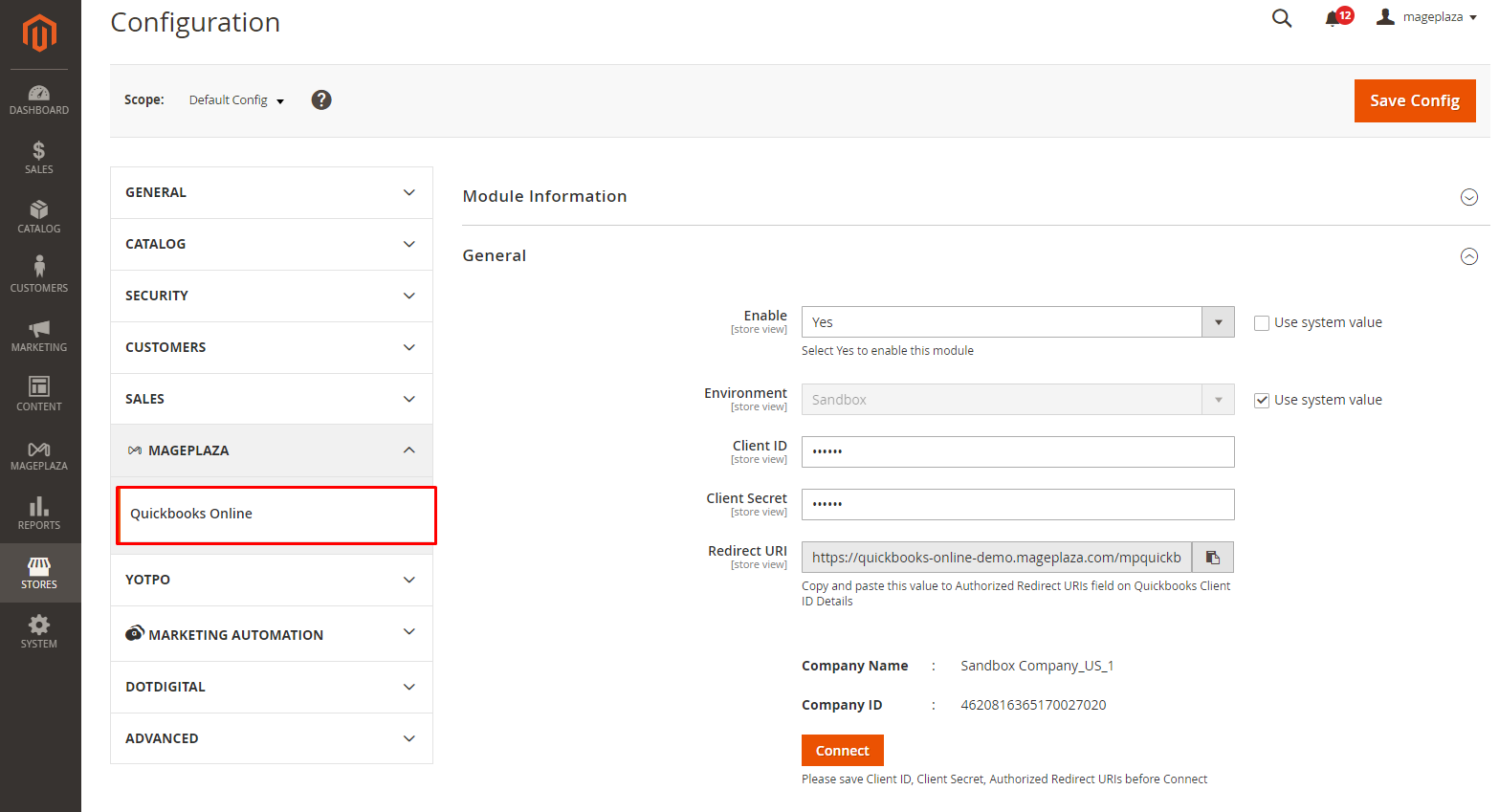 Enable: select Yes to activate the extension.
Environment: you can choose the Sandbox environment to test the data synchronization feature in QuickBooks Online. If you want to apply online data synchronization, move the environment to Production.
Client ID: enter the obtained Client ID in QuickBooks Online into this field.
Client Secret: enter the obtained Client Secret in QuickBooks Online into this field.
Redirect URIs: copy this value and paste it into a similar field in QuickBooks Online. (Note: If you enter these three fields incorrectly or leave them blank, you cannot connect QuickBooks Online with Magento).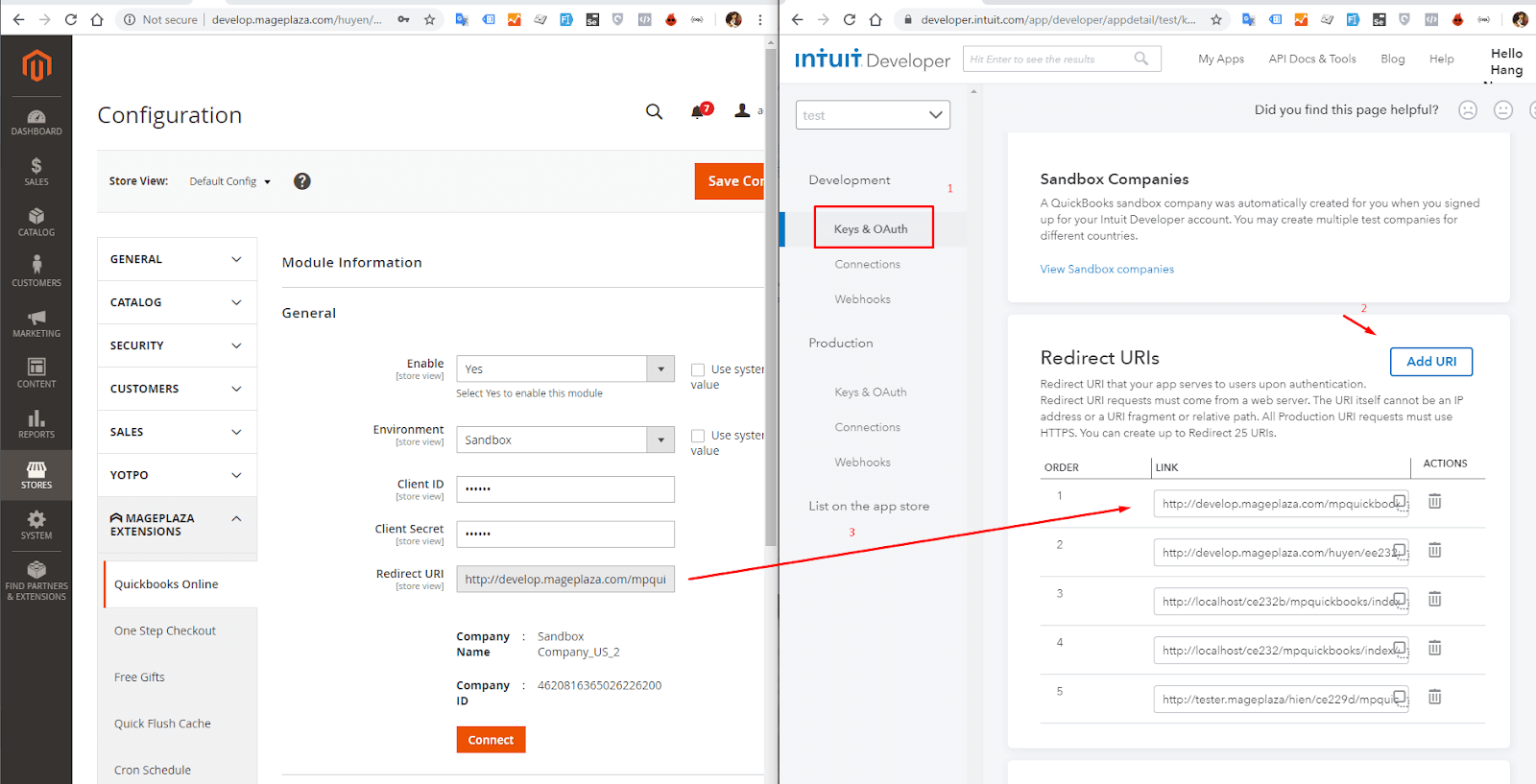 You'll get Company Name and Company ID to check the connection with QuickBooks Online by clicking the Connect button. After that, you'll see a success message. You should close the current tab and return to QuickBooks Online to configure the rest.
That's how you can integrate QuickBooks Online with your Magento 2 store via the Mageplaza extension.
In addition to an intuitive interface and ease of use, the extension offers outstanding features that you couldn't ignore:
Automatic product data synchronization to QuickBooks Online without any limitation
Automatic orders/invoices/credit memos to QuickBooks Online
Automatic customer data synchronization between two platforms
Automatic payment method synchronization
Automatic data synchronization by schedule and object number
Flexible conditions to automatically add objects to the QuickBooks queue
Easy and effective synchronization with mapping fields
Easy-to-manage queue grid
Manual synchronization by selecting specific objects in the queue
The extension comes with two pricing plans for you to choose from:
Community plan: $249/the first year (then $149.4/year)
Enterprise plan: $449/the first year (then $269.4/year)
EXPLORE MAGENTO 2 QUICKBOOKS ONLINE EXTENSION
Integrate QuickBooks Online with Magento 2 via an integration service
Pre-built integration extensions may not always satisfy all your requirements. You'll need a wide range of customizations to make the integration work the way you like. So, a custom integration service becomes useful.
By having a well-known and reliable Magento integration service handle the QuickBooks Online integration process for you, you can save a lot of time and effort. Moreover, you can rest assured that the process is successful.
Mageplaza experts are capable of integrating your Magento store with any third-party platform to make it much more powerful. In addition to QuickBooks Online, we also have in-depth knowledge and experience in other integrations, such as Zoho CRM, Freshsales, Salesforce CRM, etc. We can make the integration process easy and cost-effective.
Our integration process includes five steps only:

The cost depends on your particular requirements. Don't hesitate to contact us now for free consultations to know how much it costs as well as how long it takes!
Why should you choose Mageplaza to integrate QuickBooks Online with Magento 2?
Why should you choose us among a lot of providers out there? With a wealth of experience and knowledge, we ensure that the integration process is successful.
We've been in the Magento world for nearly a decade, and we offer
Dedicated Magento developers. Since 2014, our developers have been implementing a huge number of Magento integrations. By providing pre-built extensions and custom integration services, we've been powering many clients around the world.

On-time delivery. Our experts always follow strict timelines to deliver your project well. We want to make sure that your investment is worth every penny.

Transparent process. Our Magento integration service allows you to modify the scope and track statutes. You need not be concerned about anything because the process is completely transparent.

Five-star support. You are always welcome to get in touch with our support team if you have any queries or concerns, regardless of whether you purchase our extension or use our integration service. With regard to our integration service, in particular, we provide free 2-month post-release support.

Budget-friendly cost. Startups and SMBs can afford our integration extension and service. We guarantee that our solutions are cost-effective in every way!
Conclusion
In this article, you've learned how to set up Magento - QuickBooks Online integration.
Integrating QuickBooks Online with Magento 2 can provide you with a whole new digital ecosystem where you can collect, analyze, and manage the data. Besides, it can further maximize your overall productivity and functionality.
If you have any concerns or questions about Magento integration, drop us a line, and we'll get back as soon as possible! Thanks for reading!
Haley is a content creator at Mageplaza. When not working, she spends time on travel adventures, books, and food tasting. As growing up, she wants to read, learn, and experience more things to adapt herself to this ever-changing world.
Website Support
& Maintenance Services
Make sure your store is not only in good shape but also thriving with a professional team yet at an affordable price.
Get Started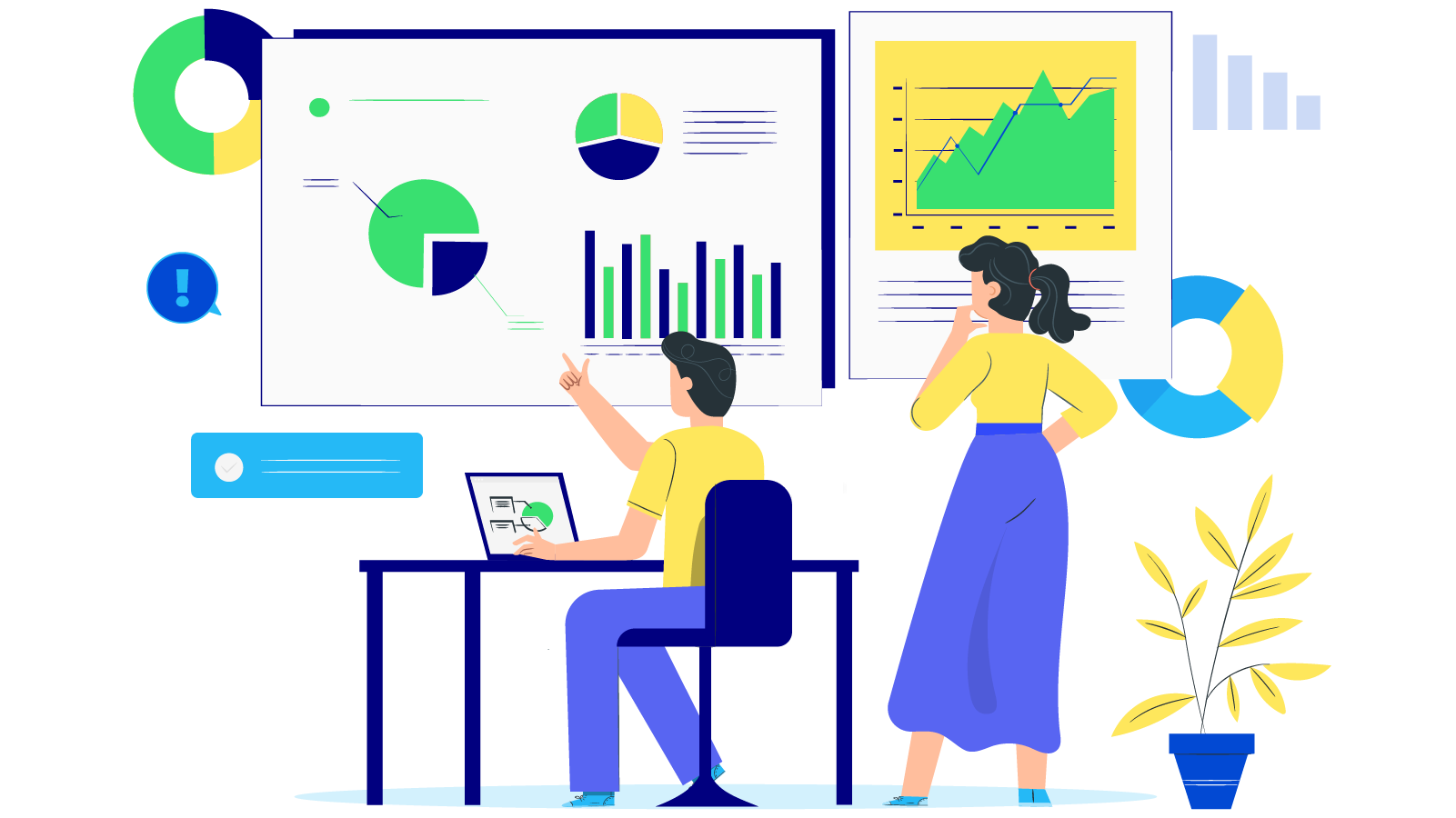 New Posts



Subscribe
Stay in the know
Get special offers on the latest news from Mageplaza.
Earn $10 in reward now!