Explore Shopify 2.0: What Are The Benefits And Should I Migrate?
Experienced E-commerce Agency for

Magento/ Adobe Commerce/ Shopify/ Shopware

Development
Shopify, an e-commerce giant with a market share of 4 of the top 5 largest e-commerce platforms worldwide, welcomed nearly 7 million websites by 2023. Catering to merchants from individuals to large businesses, Shopify offers a comprehensive e-commerce platform with pre-designed and easy-to-use features.
The world's e-commerce is seeing progress and innovation day by day, with many merchants offering customers unique, differentiated experiences. Therefore, in addition to using the pre-packaged features, Shopify users also have a great need to customize and design the store with their own style and in accordance with the brand story. Understanding the needs of its majority of active sellers, Shopify introduced Shopify 2.0 in June 2021, opening a new, more customizable Shopify journey for merchants.
If you are wondering about upgrading Store to Shopify 2.0, then this article will completely help you have a comprehensive view to make your decision. Let's start!
Table of Contents
What is Shopify 2.0?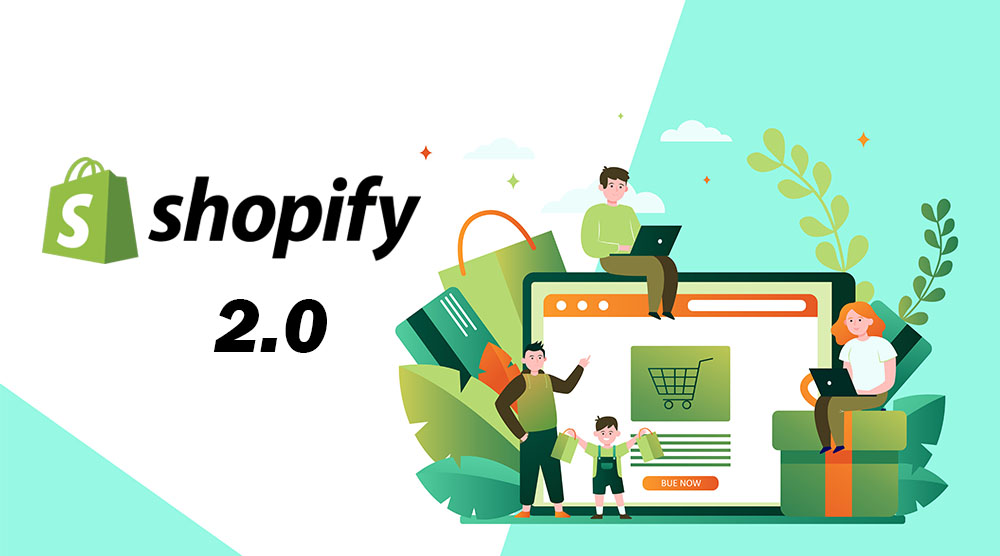 Released on the Shopify platform, Shopify 2.0 is an upgrade of the e-commerce platform with extensive app building and customization features for developers. Shopify 2.0 is said to deliver better performance, help store owners save time, and manage website content efficiently.
With this new update, businesses can create more exceptional experiences for their customers and make their mark. New features and tools fuel developers' creativity to meet their customization needs with Shopify 1.0. Shopify 2.0 offers great opportunities, unlocking the unlimited potential of your brand, and creating a better customer experience than ever before.
6 Shopify 2.0 New Features and Functionalities
1. Theme Editor Improvements
Template creation and theme management just got easier with Shopify 2.0 updates. This can be considered the boldest upgrade to Shopify's theme editor compared to previous upgrades. The new theme editor has a much more user-friendly and easy-to-use interface, making it easy to edit and navigate the site. All available features are displayed in a central location, making it easy to drag and drop to customize your theme or make any changes to your store.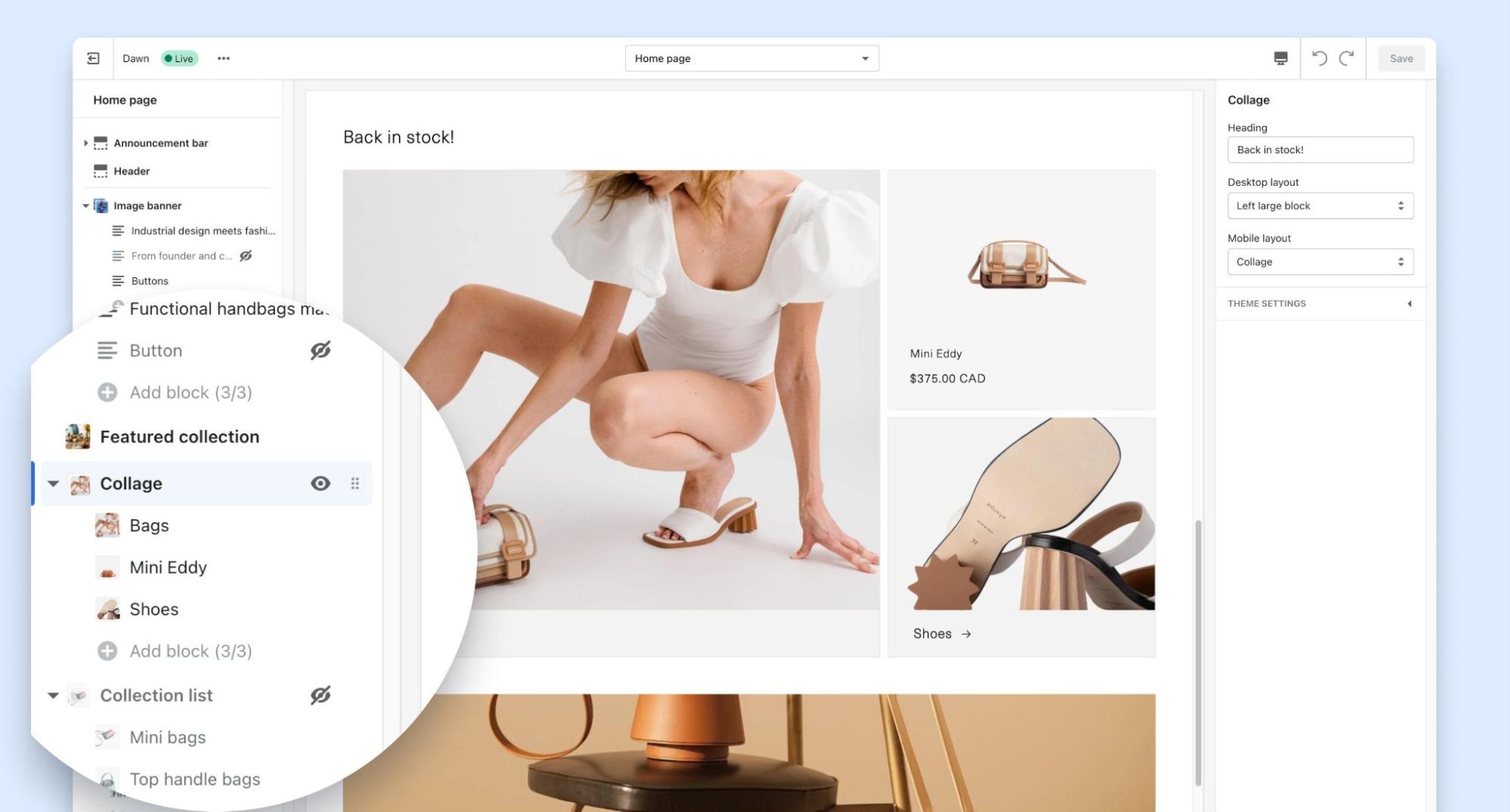 The display editor shows all the content on a page in the sidebar, so you don't have to go through each section to see its current settings. From this sidebar, you can easily drag and drop, reposition or hide any content block you want, except for headers and footers. You can update the hierarchy of pages this way.
2. Sections Available On All Pages
Not just limited to the homepage, with Shopify 2.0, content "blocks" like banners, slides, images, buttons, or any content can be present on all pages of your website. This is the most significant and desirable change for Shopify store owners. Now you can customize content blocks and place them anywhere or on any page you want.
This is completely different from Shopify 1.0 where you cannot display content blocks on any other page than the homepage. The developers have overcome this limitation of Shopify 1.0 by using page builders, but these tools contribute to slowing down their websites and causing some annoyance when updating.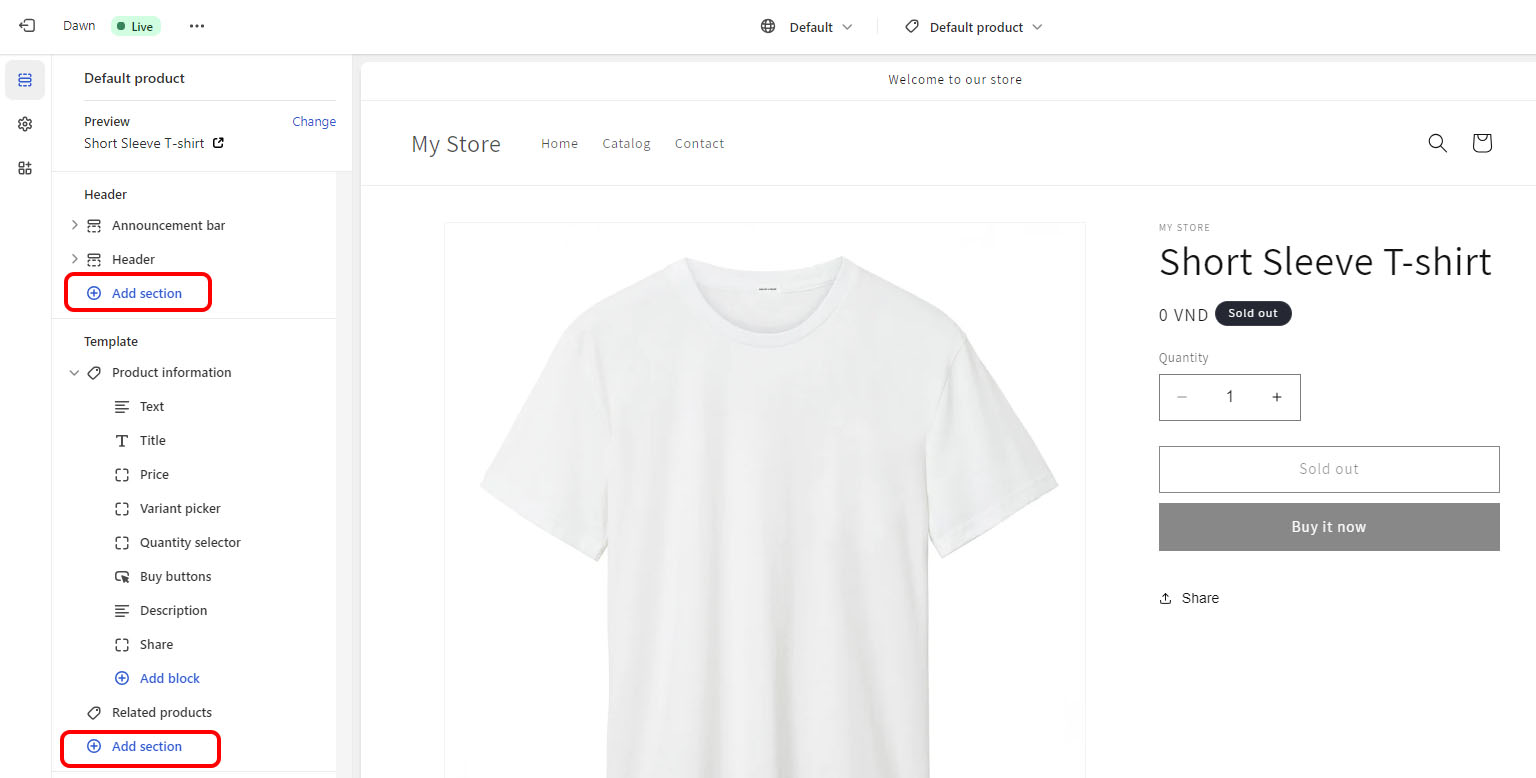 You can add any section you want on the pages
With Shopify 2.0, you can create a consistent design across your entire website, enhance user experience and brand awareness, and help convey your brand message or story to users effectively. Now, placing banners promoting new products or upselling hot products on the page when customers are browsing the collection, viewing a product page, or checking out is completely possible with your upgrade interface. You can see your revenue grow rapidly and positively thanks to this method.
3. Shopify Metafield
The metafield that Shopify 2.0 introduces to sellers can be understood as any additional content for a product feature, be it material, size, composition, color, variable possible, or notes when using. Previously, with Shopify 1.0, you needed to use an API or hard-code the theme if you wanted to add any information to the product page. Not only is this complicated, but it's also unstable and can slow down your site.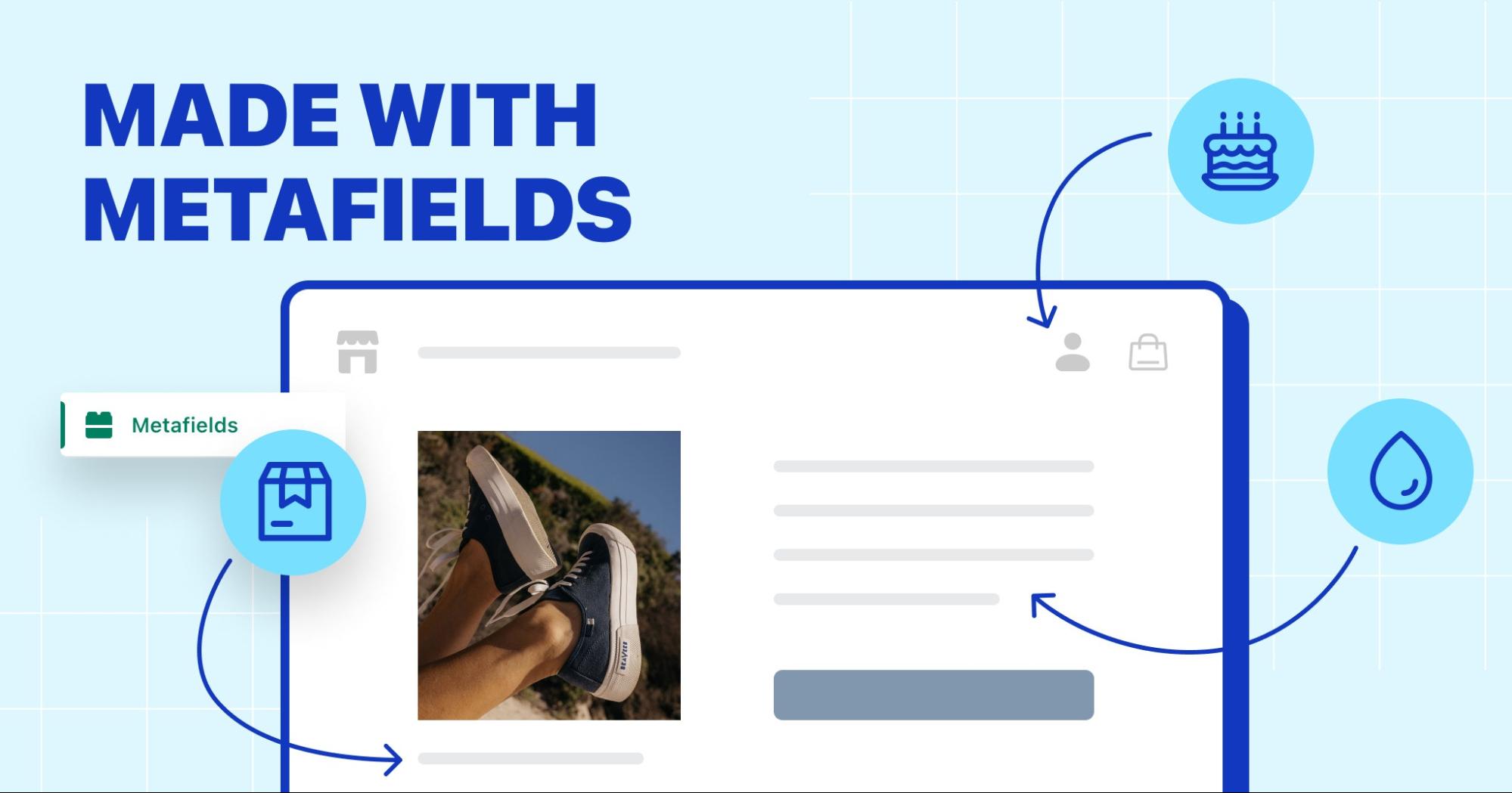 With Shopify 2.0, you can simply use the new admin page to add fields and edit these metafields to put exactly what you need on the product page. The main functions of this superfield include:
Create product specifications:

You can separately list products with different specifications, such as different delivery and return times, or different materials from other products on the page.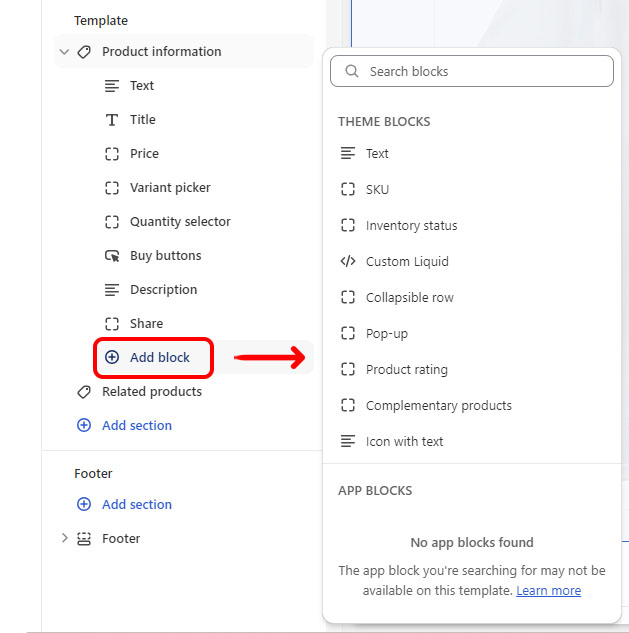 Add more blocks of content to your pages
Add an ingredient list:

Imagine your clothing store includes a wide variety of styles of clothing made from a variety of materials. When you add ingredient fields to a product page, in addition to showing the exact ingredient list to buyers, you can also let buyers filter products that are made from the same material. For example, buyers can filter all products made from silk, which saves them search time and improves customer satisfaction with the purchase experience.

Add a variety of content to your pages:

You can add content in any format, including URLs, videos, images, measurements, ratings, custom text, or more.
4. App Blocks
Previously, Shopify apps were installed and interacted with the store in a fixed way. You cannot customize where app assets appear on your store unless you have separate integrations. For each app installed in the store, you'll need to customize its code so that it appears exactly what you want it to. This can cost you a lot, and custom applications can cause page instability.
With Shopify 2.0, apps are distributed in blocks so you can control where they appear in the theme editor, or you can even directly install apps for your website from here. This is a revolutionary step forward for Shopify for both merchants and app developers.
5. Refresh the payment experience
The ability to edit payment information was once limited to Shopify Plus accounts, but it has recently been extended to regular Shopify plans as well. You can create and add payment apps to your store. However, the full customization functions are still limited to the Shopify Plus plan.
6. New Reference Theme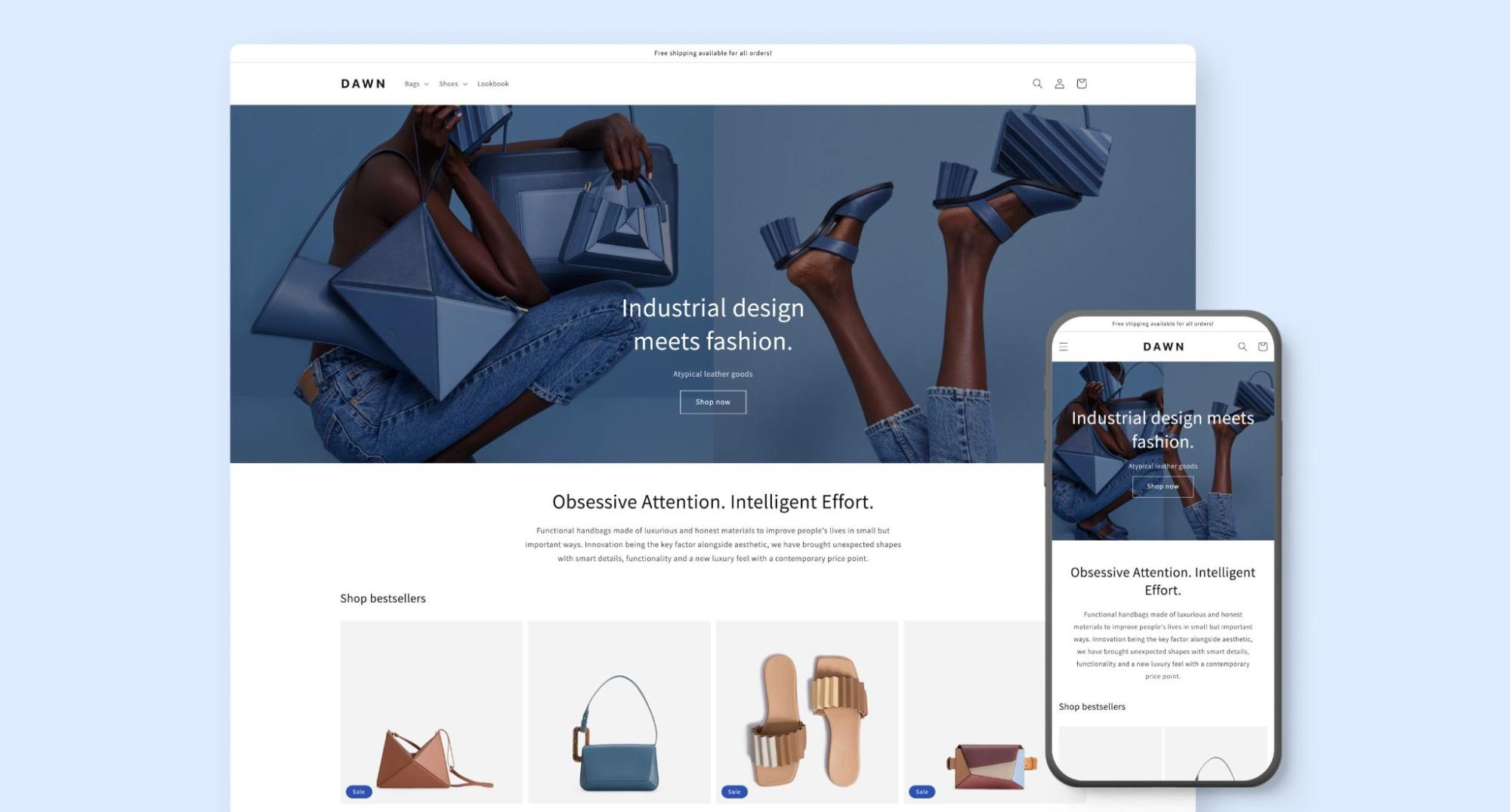 Shopify New Reference Theme
The new Shopify 2.0 reference theme, Dawn, is built fully compatible with the new version of Shopify, includes all new features, and is cross-browser compatible. This is a basic set of themes that make it easy for merchants to customize and navigate their websites.
Dawn has 35% faster page load speeds than Shopify 1.0's reference theme, making it an ideal choice for merchants who are new to Shopify.
The outstanding features of this theme can be mentioned as:
Minimalist design:

This theme gives a clean, modern look and makes the product really stand out. This theme helps customers access the best-selling items quickly as soon as they enter the store.

Free of charge:

This is an open theme for any new seller using Shopify 2.0, with no additional fees for using it for your e-commerce site.

It is a very

easy-to-use and customizable

theme that is satisfactory and fast for newbies. Users can easily install and edit themes with a single custom page, with only drag-and-drop actions.
Shopify Development Services
Start generating more revenue with your enhanced Shopify store built by us. No more stress over platform complexity.
Learn more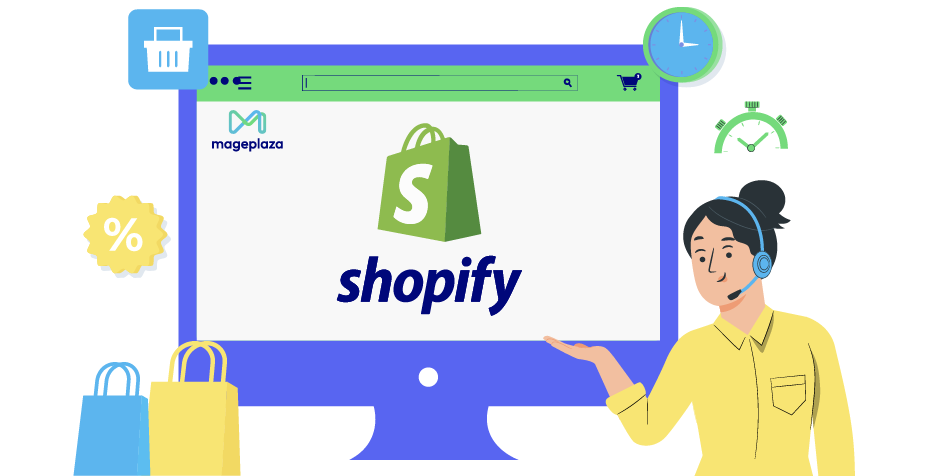 What are The 6 Shopify 2.0 Benefits?
1. Site Speed and Performance Improvement
Shopify 2.0 can handle more transaction volume and greater traffic without slowing down the website speed. The speed of Dawn, the new default theme is 35% faster than the previous one. This is the fastest and most efficient version of Shopify that the platform has launched.
2. More Customization
Shopify 2.0 offers a higher level of website customization than Shopify 1.0, allowing users to create custom templates and designs without resorting to coding or development skills. This is a step forward and the biggest difference compared to the previous version. You can create your own unique online store, personalize, and stick to the message you want to convey to customers easily and quickly. Drag and drop are the two main actions to use when customizing your store. You can change the order of content sections on your homepage, design default sections for subpages, and change the font or color of your store with a few simple taps.
3. Better Integration
Shopify 2.0 has more app integration options than the old version. You can easily add new features or functionality to your online store. The functions and actions available in Shopify 2.0 also help you reduce the number of apps you need to install for your store, making your website lighter and loading faster.
4. Mobile Devices Optimization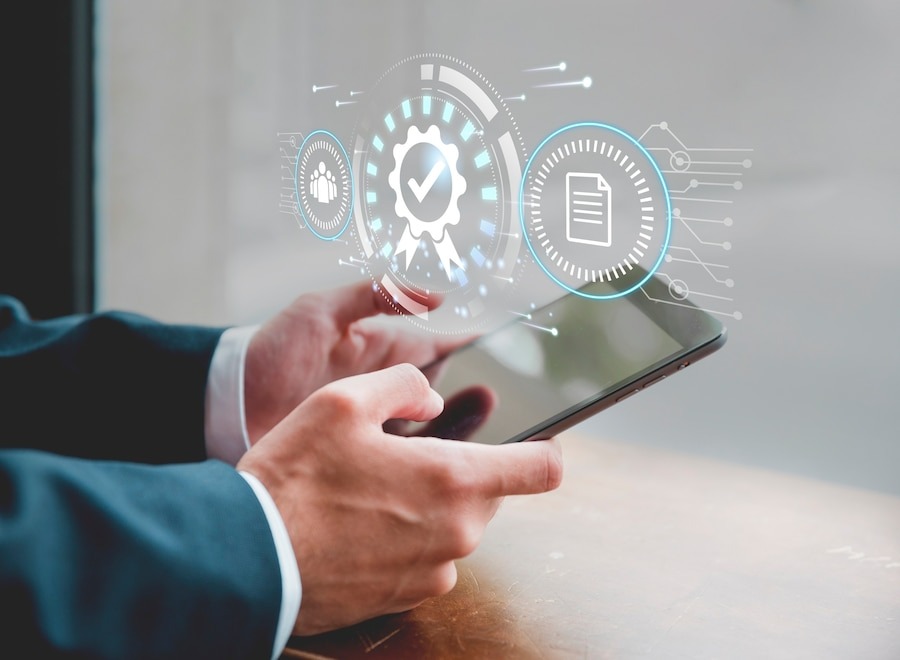 Optimizing e-commerce platforms for use on mobile applications is gradually becoming an inevitable development of e-commerce, due to the explosion of information technology. Shopify 2.0 is designed to optimize the mobile user experience, making it easier for customers to browse, filter, and shop for products anywhere with their mobile devices. Theme customizers automatically react to the mobile experience, giving you more ideas to optimize the customer experience on your website.
5. File Picker
Multimedia assets such as images or PDF files are already supported by Metafield. These assets can now be easily uploaded and selected to be displayed on product pages. For Shopify 1.0, the content is hard-coded and it is not possible to customize the content fields like with Shopify 2.0.
6. Files API
The newly introduced Files API offers developers the opportunity to access the contents within Settings/Files. Through this GraphQL API, applications can seamlessly upload or select pre-existing media assets from Settings/Files.
Furthermore, applications are now granted access to this specific segment of the admin section, empowering them to populate media metafields with content. This feature enables apps to effectively utilize this area for storing files and images that may not have a direct correlation with a product, such as graphics utilized in themes.
Shopify 2.0 vs. 1.0 Default Theme Comparison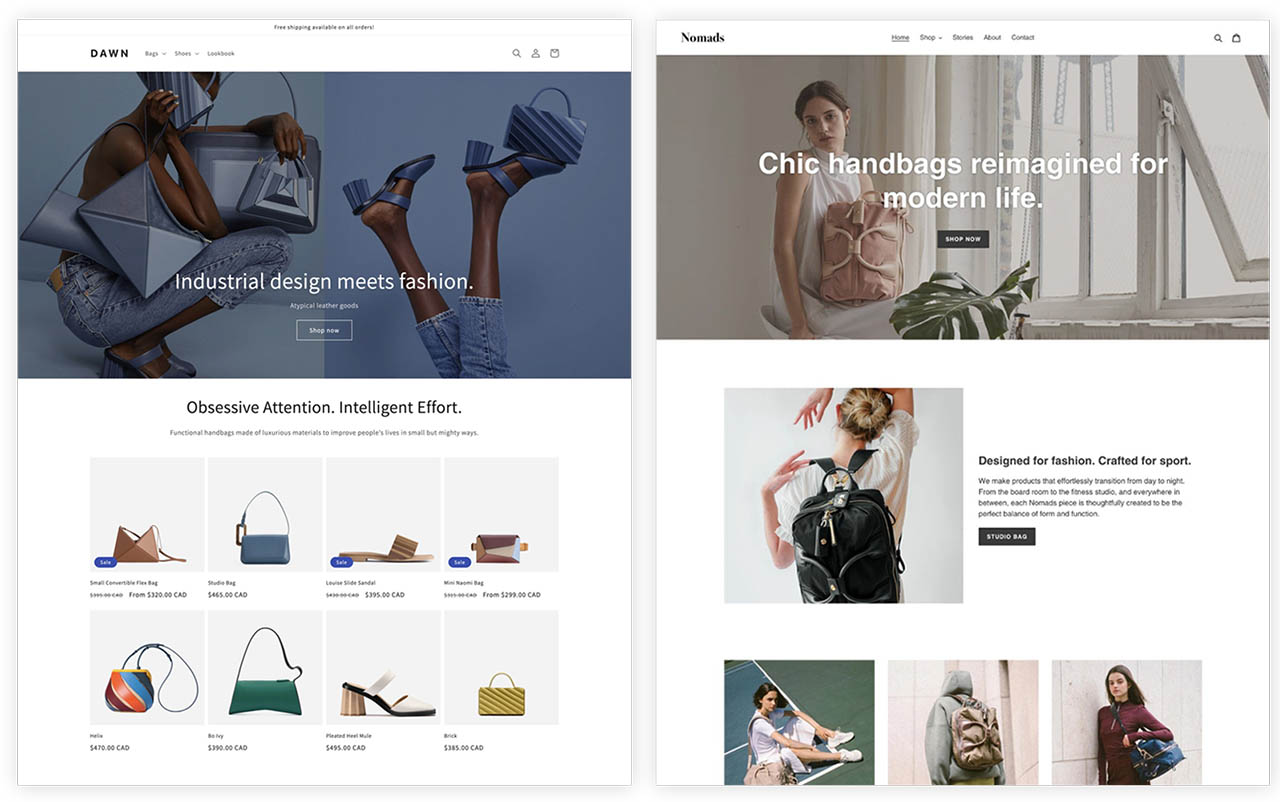 The Dawn theme stands as Shopify 2.0's latest and default offering, surpassing the capabilities of the Debut theme. Distinguished by its employment of JSON templates, the Dawn theme seamlessly integrates app blocks and sections across all pages. In contrast, the Debut theme relies on liquid codes for its structure. Should uncertainty arise between Shopify and Shopify 2.0, understanding their distinctions becomes pivotal.
| | | |
| --- | --- | --- |
|   | Dawn Theme | Debut Theme |
| Customization and Flexibility | Highly customizable, supports app blocks, and allows adding custom Liquid code for advanced modifications. | Less customizable than Dawn, requires coding for adding sections. |
| Performance | Offers a 35% speed improvement over Debut. | Mobile-optimized and suitable for various devices. |
| Features | Offers advanced features like easy theme editing, meta fields, and app blocks. | Includes features like testimonials, slideshow, product recommendations, etc. |
| Ease of Use | Offers real-time editing and enhanced customization. | Provides a user-friendly interface with simpler customization options. |
| Suitability | Best for businesses seeking extensive customization and advanced features. | Suitable for a wide range of store types and those looking for a clean, responsive design without extensive customization. |
Should I Upgrade My Store to Shopify 2.0?
The answer is definitely yes. As analyzed in the previous sections, Shopify 2.0 provides a smooth and great experience not only for your merchants but also for your store visitors. New features help you maximize customization of the look and feel of your store, creating a unique and unique e-commerce store. What's more, improving performance and speeding up your site can be beneficial for you when it comes to SEO, helping to optimize your website's display ranking on the search results page. After all, customer visibility is what we are all looking for.
Upgrading your store from Shopify 1.0 to Shopify 2.0 is not as easy as updating an app on your phone. The more pre-customized your store is, the more work you have to do to convert again. However, converting to the Shopify 2.0 platform is an inevitable thing that any store owner needs to do in the future. So don't hesitate to make your store switch as soon as possible.
How do update to Shopify 2.0?
There are three ways for you to upgrade your existing theme to the Shopify 2.0 platform:
Method 1:

From the Shopify theme store, directly download the theme suitable for Shopify 2.0

Method 2:

Check if your current theme has an updated version that integrates with Shopify 2.0. If yes, just download the updated version of your theme

Method 3:

The last way is to move manually. If you want your store to keep your current theme and template settings, then you should do a manual migration. However, this is a method that not any store owner can do without knowledge of information technology.
Shopify Migration Services
If you are not a professional web and application developer, converting your store from Shopify 1.0 to Shopify 2.0 can cause you some hiccups and difficulties. If your website is doing well, has a significant amount of sales, and has a lot of custom apps installed, a careless migration can take a toll on your store. Careless migration can lead to data loss, errors in the core of your site, or a drop in your site's SEO ranking. So don't hesitate to find yourself a development expert to help you in this important work.
Shopify developers have extensive knowledge and years of experience in developing websites and applications on this e-commerce platform, which will ensure that your website conversion happens smoothly, safe, and secure way.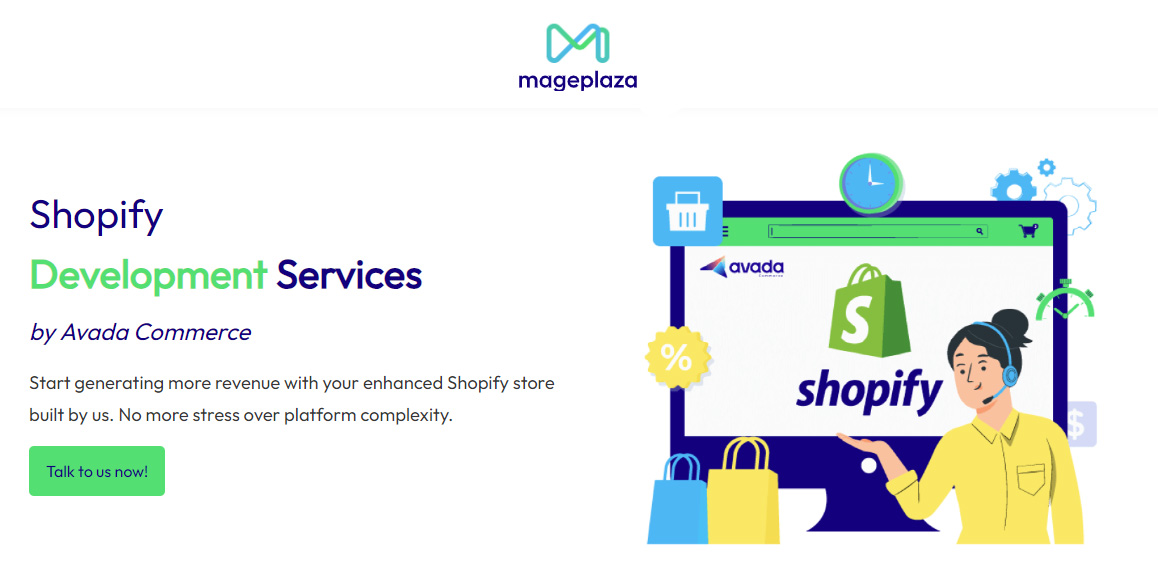 Mageplaza's Shopify Migration Service takes the stress out of transitioning to Shopify 2.0. Their team of experts will meticulously handle the migration process, ensuring that all your valuable data and products are seamlessly moved to the new version. Worried about your current design? Don't be! Mageplaza ensures that your store's unique theme and functionality are retained, maintaining the familiarity your customers love.
Expertise and Experience:

When a business decides to hire Mageplaza, they gain access to a team with a wealth of expertise and experience in the realm of e-commerce. Mageplaza boasts a proven track record of assisting businesses in optimizing their online presence and fine-tuning their platforms. With their seasoned professionals at the helm, clients can rest assured that their e-commerce needs, whether it's migration, customization, or optimization, will be met with a high level of proficiency and skill.

Comprehensive Solutions:

Mageplaza stands out by offering a diverse range of comprehensive solutions tailored to address the multifaceted demands of e-commerce. Businesses looking to set up a new store, tailor their design aesthetics, enhance SEO performance, or boost overall website efficiency can find all-encompassing solutions under one roof. This approach eliminates the need for dealing with multiple vendors and allows clients to streamline their e-commerce enhancement process through Mageplaza's all-inclusive services.

Customer-Centric Approach:

One of the hallmarks of Mageplaza's service is its unwavering commitment to a customer-centric approach. Clients are not merely customers; they are partners in Mageplaza's journey toward mutual success. Through attentive listening, a thorough understanding of challenges, and personalized solutions, Mageplaza places the client's satisfaction at the forefront. With transparent processes, open lines of communication, and timely support, businesses partnering with Mageplaza can be confident in their choice, knowing that their growth and success are paramount.
Shopify 2.0 FAQ
How much does Shopify 2.0 cost?
If you are using a paid plan with Shopify and you have a compatible theme, Shopify 2.0 is completely free. However, if your theme is not built to be compatible with Shopify 2.0, then you may not be able to take advantage of the new features and functionality.
Will Shopify 1.0 stores be closed?
Are not. If you feel satisfied with what Shopify 1.0 has to offer, you can absolutely continue to use it as the foundation for your e-commerce store. However, we recommend you switch to the new version due to the benefits it offers.
Wrap It Up
In the dynamic world of e-commerce, staying ahead is paramount. With Shopify's ever-growing prominence, the transition from Shopify 1.0 to Shopify 2.0 holds immense potential for merchants worldwide. Embracing Shopify 2.0 might raise questions, but the answer is unequivocally "yes." The advantages in terms of site speed, customization, integration, and mobile optimization are substantial.
And for those who worry about the intricacies of the upgrade, Mageplaza's Shopify Migration Service steps in as a guiding hand. By joining forces with Mageplaza, you're not just upgrading your store; you're embracing the future of e-commerce. Elevate your brand, deliver outstanding experiences, and thrive in the digital realm. 
Your journey to an enhanced, customer-centric online store begins here!

Marketing Manager of Mageplaza. Summer is attracted by new things. She loves writing, travelling and photography. Perceives herself as a part-time gymmer and a full-time dream chaser.
Website Support
& Maintenance Services
Make sure your store is not only in good shape but also thriving with a professional team yet at an affordable price.
Get Started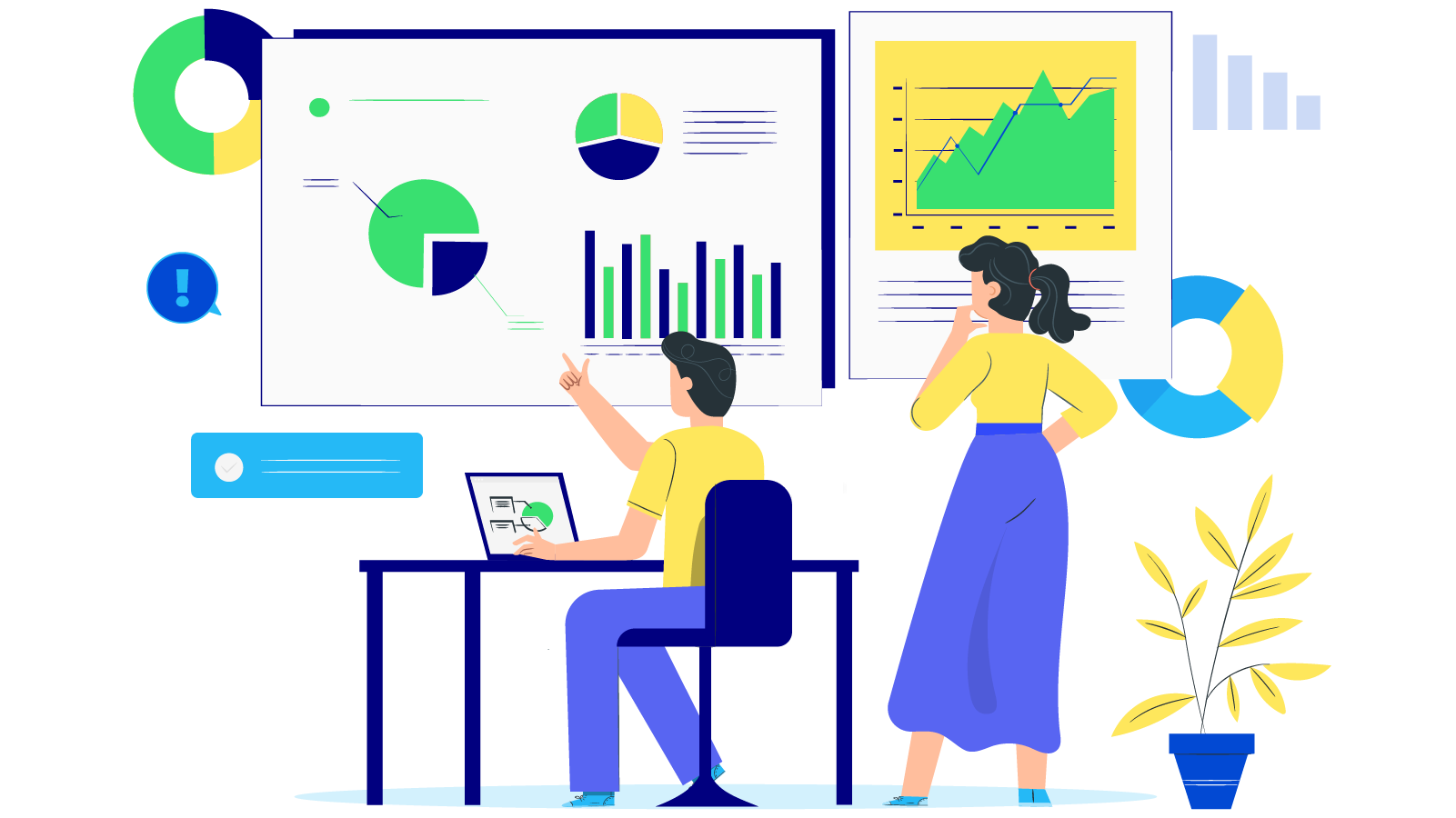 New Posts



People also searched for
Shopify 2.0
2.2.x, 2.3.x, 2.4.x
Subscribe
Stay in the know
Get special offers on the latest news from Mageplaza.
Earn $10 in reward now!