Magento 1 vs Magento 2 Comparisons: What are difference between?
The Most Popular Extension Builder for
Magento 2
With a big catalog of
234+ extensions

for your online store
Magento eCommerce Platform Overview
Magento is an open source Ecommerce website that was launched on March 31st, 2008. Including outstanding features, it makes easy for shop owners to do almost anything like a "real" store. Magento 1 quickly dominates the e-commerce market with about 26% market share (2014). However, the installation of additional applications is quite complicated and frequently encountered many bugs. Hence, Magento upgrades to version 2.0 in 2015, which makes the installation of more extensions much easier. Magento 2 is developed to help merchants achieve their goal. It allows merchants to set up online sales websites, download, and service, etc. Besides, let's compare with the previous version, the truth is that Magento 2 is upgraded about the technology, changed the directory structure, the architecture, the backend and also improved the platform's interface to support the mobile version. With the help of innovative technologies, it helps to achieve the improvement in the performance as well as security features.
Magento 1 vs Magento 2 Comparison
1. Magento 1 vs Magento 2: Performance
On the page load speed or query execution time, Magento is entirely superior to its competitors' thanks to caching (Varnish) and database optimization. This is also a major improvement on Magento 2 that many users face in Magento 1.
Magento 2 supports the latest version of PHP (starting with PHP 5.5x) and includes PHP 7 too. These versions include security fixes and new enhancements.
The loading time in Magento 2 is faster than the standard version from 2 to 3 seconds. To load homepage pages, category pages, and Product Pages, Magento 2 loads in less than 1.5 seconds, even without using the user interface caching.
The content of the page is displayed faster. Users won't need to wait to load the entire page in viewing the main content.
On the server side, Magento 2 is added a module to clear the Cache. So users don't need to install a 3rd party module like Magento 1.
Magento 2 minimizes and packs Javascript, thereby reducing unnecessary activities from the client.
Compress images: Magento 2 builds tools to optimize images directly on the Server instead of doing it manually in Magento 1.
Improve the cache handling process with the static content.
2. Admin
Compared to Magento 1, the admin page in Magento 2 is very intuitive and user-friendly.
2.1. General admin interface
The Admin Panel is so easy to configure and use and includes a modern and user-friendly interface. It's organized more and divided into main categories like Sales, Products, Customers, Marketing, etc. Besides that, it has the ability to view all sub-categories with just one click on the main menu.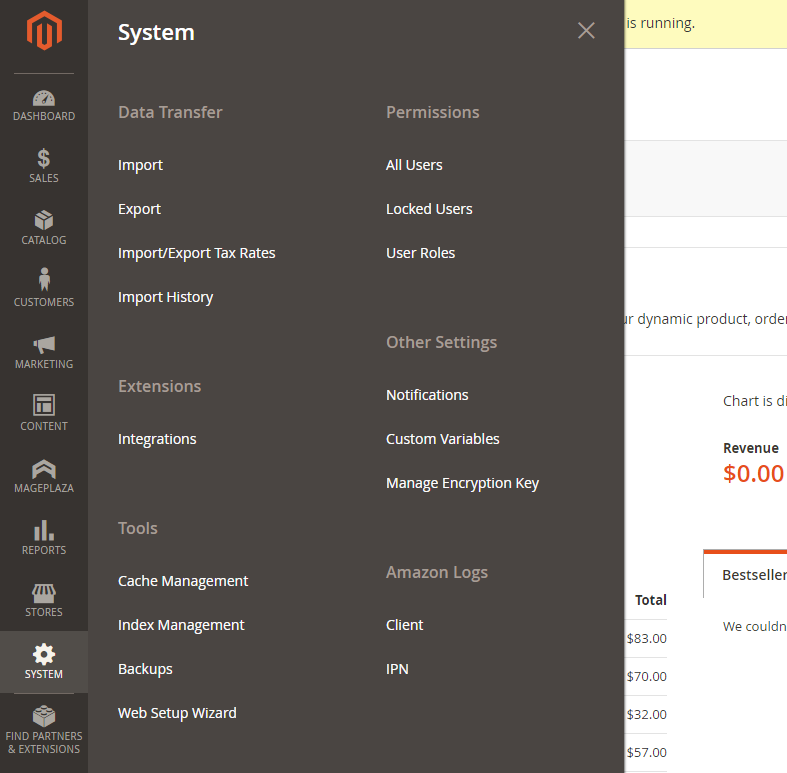 Another great feature of Magento 2 is the Grid Management. Admin can actively hide some columns in the Grid as Grid Order or Grid Customer. You can also select columns from the available list on the admin page.
2.2. Dashboard
In the new system, you can find the essential information in one place. The Dashboard page gives you an overview of lifetime sales, average order amount, last orders, top search terms, most viewed products, new customers, etc. It also displays the financial data, so you can see the overall status of your business at a glance.
2.3. Manage Products
Creating more new products is also simpler. The new system will guide you through a simple step-by-step process. A prominent innovation here is that Magento 2 allows admins not only to upload product images but also to upload the promotional videos of that product.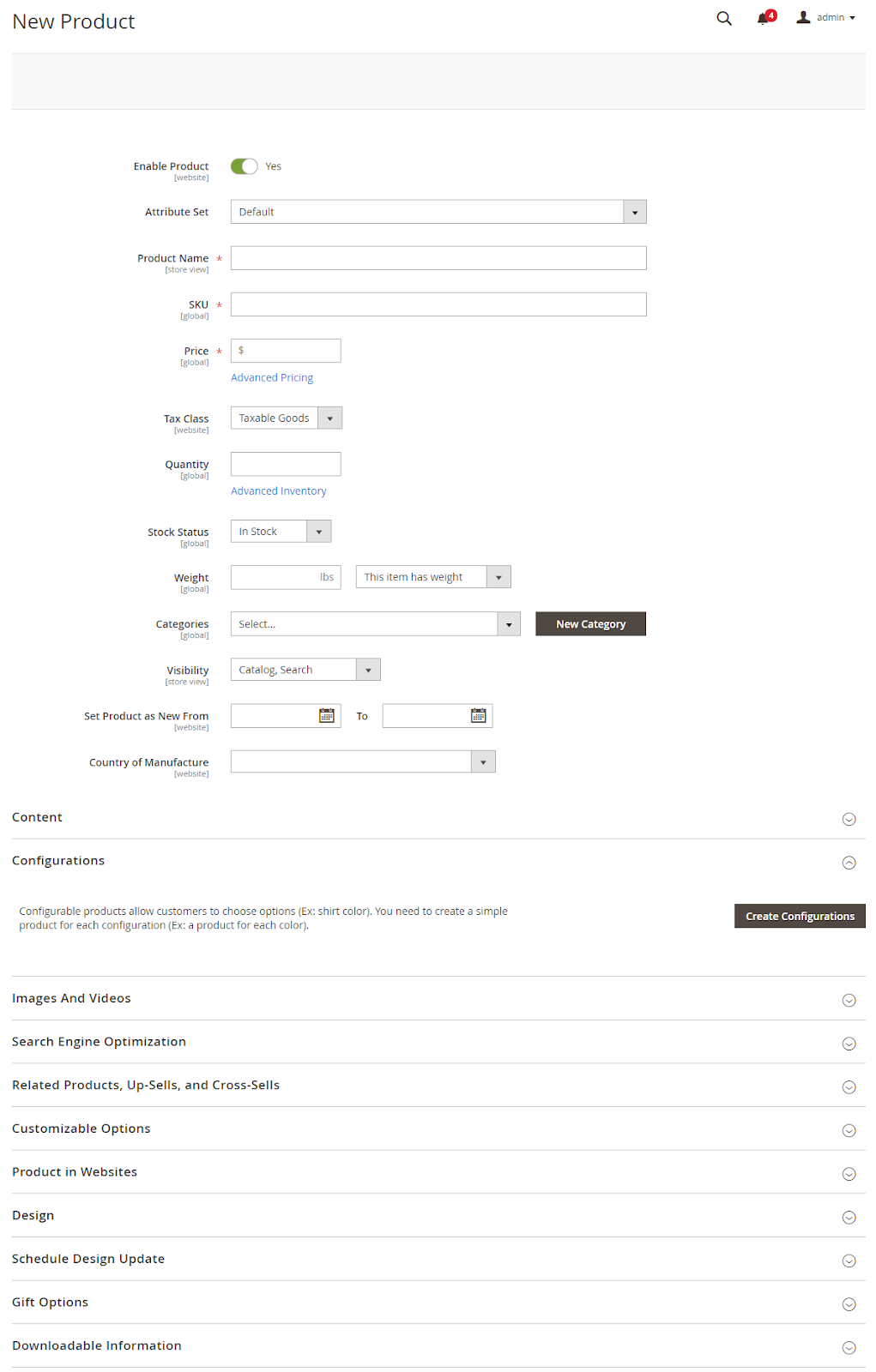 2.4. Manage Orders
Your orders page displays a list of all orders placed in the store. You can sort them by the status in the Status column. If you want to update in bulk or view all of your pending or processing orders, you can find them quickly and easily.
You can also take some actions such as Hold, Cancel or Print Order for an order. It also has the ability to export orders via CSV at the top right of the order if you want to view all of your order information in a spreadsheet.
The order of the Order will begin with 0000000001 and increase to 1 for each subsequent Order. This makes admins easy to figure out how many orders you have received.

2.5. Manage customers
In Magento 2, you can view the customer list as a list of products or orders and add/remove columns, change the default view, export to CSV file, or take many actions such as deleting customers or assigning for the customer group. Especially, you can also manually add customers if you want to receive orders via phone.
In the Marketing section, you can find all the available tools in Magento 1 for Promotion, Communications, SEO & Search, User Content.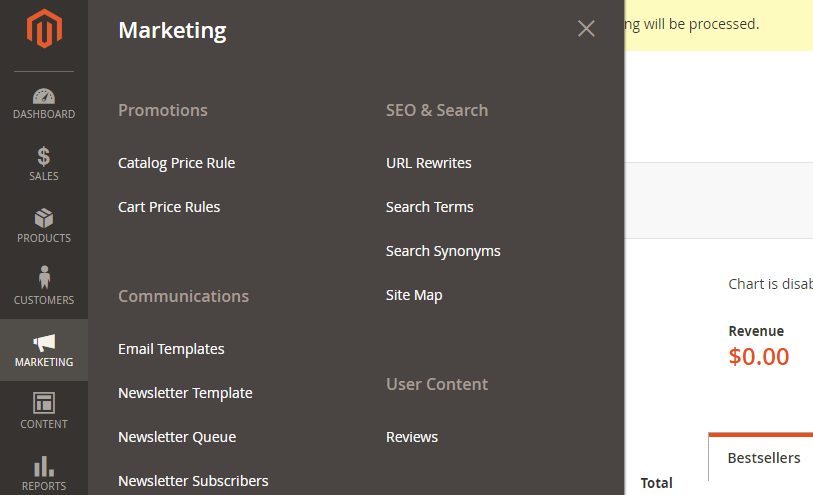 2.7. Content
The Content Management Interface also uses Magento 2's specify Grid, which helps you manage your posts better. This helps admins create more Content pages without having to add WordPress or Drupal to the Magento site.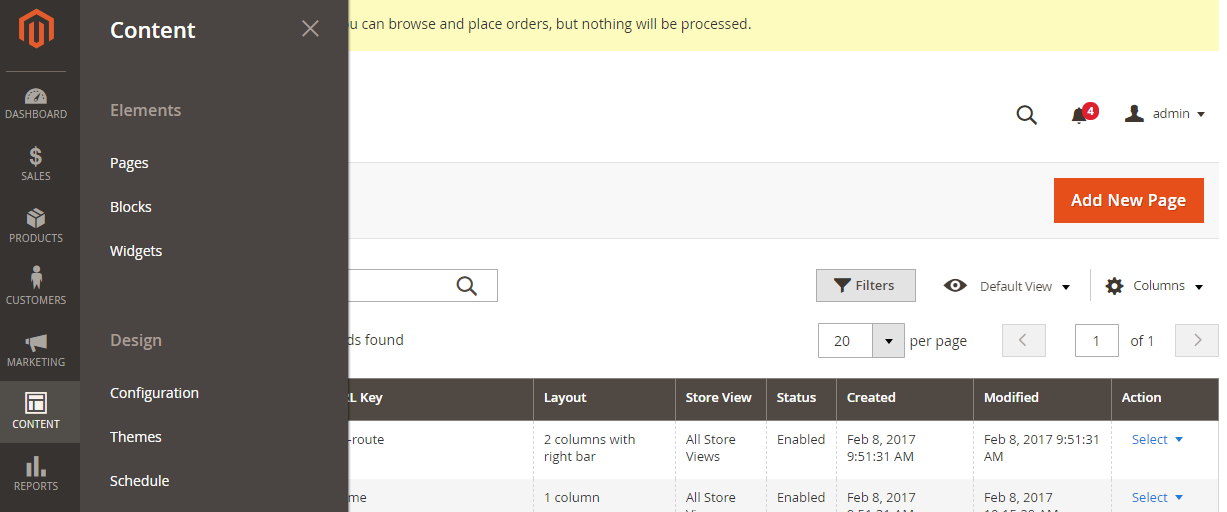 3. Magento 1 vs Magento 2: Frontend
3.1. Luma theme
Luma Theme in Magento 2 looks more beautiful than available themes in Magento 1.
Below is a theme in Magento 1: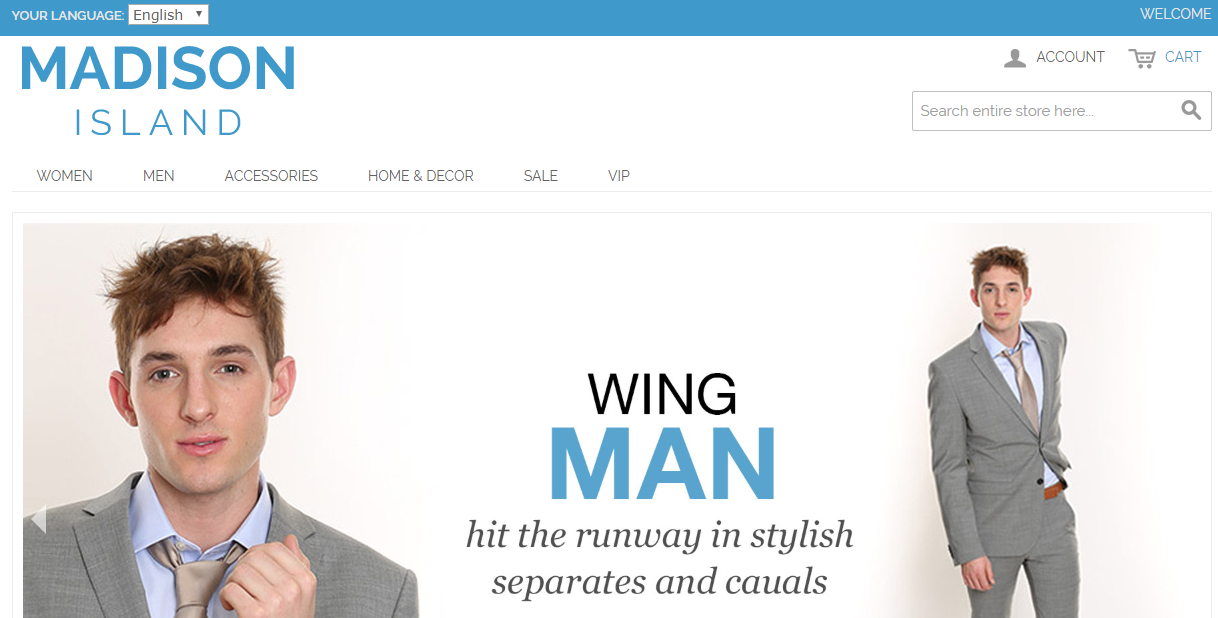 Here is a theme in Magento 2: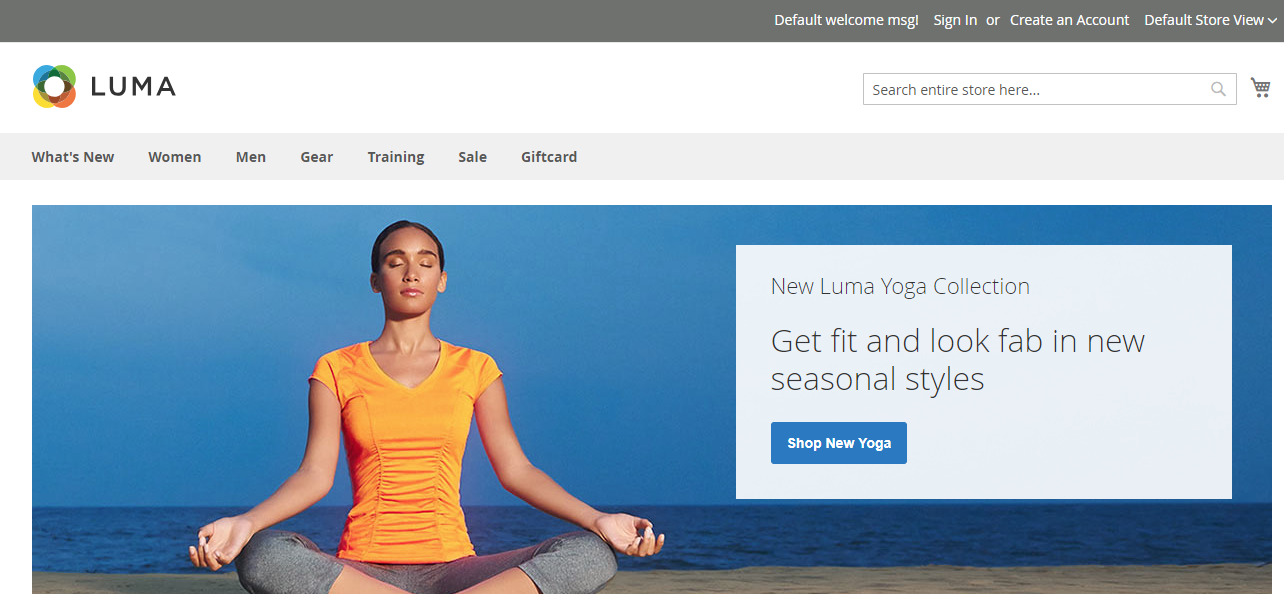 3.2. Responsive design
With Responsive Web Design, Magento 2 makes it easy for users to connect to the store through any computer or mobile device. This is a great advantage because, since April 21st, 2015 Google algorithms have officially given the preference to mobile-friendly sites in the rankings.
This responsive design also enhances the user experience dramatically.
3.3. Improve checkout (6 steps -> 2 steps) -> Also, you can integrate Magento 2 Mageplaza One Step Checkout in just one step
In Magento 2, the payment process has become easier and faster for customers. Instead of taking 6 steps to checkout, Magento 2 shortens the process by only 2 steps. Also, Mageplaza One Step Checkout extension developed on Magento 2 can help customers checkout in just one step.
Magento 1 includes 6 steps checkout as below:

Magento 2 only needs 2 steps to checkout:

By analyzing the customer's email address, when filling out the email for checkout, Magento 2 can automatically identify which customers have or have not registered an account. For customers who do not have an account, the information entered in this Shipping step will be the basis if they want to create an account immediately after the payment is successful. Account registration process is more straightforward than ever.
3.4. Ajax cart loading
The shopping cart is a place to help customers get information about the products that they intend to purchase quickly. As soon as each time a product is added to the cart in Magento 1, the system reloads the page, negatively impacting its performance. With hot temper customers, waiting for just a few seconds can cause them to abandon their shopping cart.
Magento 2 integrates the Ajax cart loading allowing users to see the purchased items quickly instead of waiting until the entire page is reloaded. This also helps enhance the better user experience. If you are selling smaller value products or your customers often add more products to their shopping carts, this is a problem you cannot ignore.
4. Magento 1 vs Magento 2: SEO and Security
4.1. Support SEO better
SEO is one of the critical factors of an online store; you never forget to set up SEO on your website. Magento 1.X gets some bugs in SEO, and most of them are fixed when developing in Magento 2. The prominent SEO features of Magento 2 includes:
Duplicate content: Magento 2 provides a Canonical tag to avoid the duplicate content. It is located at Stores > Configuration > Catalog > Catalog > Search Engine Optimization.
HTML sitemap: Magento 2 doesn't support to create HTML Sitemap. You can install Mageplaza SEO to solve this problem.
XML sitemap: XML sitemap is a file that contains all the pages of the site. Magento 2 is equipped with XML graphics better. To enable the XML Sitemap, go to Stores > Settings > Configuration > Catalog > XML Sitemap.
Alt product images: Adding alt to product images can also help boost your rankings on search engine. Go to Catalog > Products > select one Product > add Alt in Images and Videos field.
Robots.txt File: Help webmasters be more flexible in allowing or not allowing robots on the search engine (SE) to index an area of your site. To modify your Robots.txt in Magento 2, go to Content > Design > Configuration > Edit one Store > Search Engine Robots.
Meta Title, Meta Description, Meta Keyword: Magento 2 allows admins to add Meta tags for each Product/Category. Admins only need to enter Search Engine Optimization when editing or adding new Product/Category.
Search-friendly URLs: The fastest way to enable URL friendly is that go to Stores> Configuration > General > Web > Search Engine Optimization and turn on Use Web Server Rewrites.
Note: As you know, it is challenging for newbies to use Magento 2 in realizing how to manage SEO the best. Because SEO is scattered in different locations of Magento. By focusing on SEO settings in a single place, Stores> Configuration> Mageplaza Extension> SEO. Mageplaza SEO extension is the top solution for you to use SEO easily.
Magento 2 has improved the overall architecture, especially security. With regular updates to the software, Magento 2 is much safer than the older version.
The password is also improved with hashing algorithms (SHA-256), which minimizes the risk of brute force attacks and other security attacks.
Magento Support
& Maintenance Services
Make sure your M2 store is not only in good shape but also thriving with a professional team yet at an affordable price.
Get Started
New Posts



Subscribe
Stay in the know
Get special offers on the latest news from Mageplaza.
Earn $10 in reward now!