11+ Best Instagram Social Media Marketing Tools
The Most Popular Extension Builder for

Magento 2
With a big catalog of 224+ extensions for your online store
Instagram is no longer simply a social channel for scrolling through cat memes or pictures of food.
With more than one billion monthly active users, and a user base that skews heavily toward the under-35 age bracket, Instagram is now an essential tool for marketers in almost any industry.
So, how can you make Instagram work well for your business?
In this blog post, you will discover the 11+ best Instagram social media marketing tools in order to take your Instagram presence to the next level.
Buckle up!
Table of contents
Why use Instagram for your marketing campaigns?
So, has your brand been on Instagram yet?
If no, well, it's high time you started.
Over the years, Instagram has grown to become a significant social network within the business world. Companies can take advantage of it to increase visibility and expand their products reach.
One outstanding feature of this platform is its highly visual nature, which creates numerous opportunities for your business to showcase products. You can use regular images, videos, Instagram Stories, SnapInsta, or IGTV to build your brand presence.
Users on Instagram are also proved to be more engaged than other platforms. Rival IQ study found that this platform has a median average engagement of 1.22% per post across all industries. Compare this to 0.09% of Facebook and 0.045% of Twitter.
Furthermore, try Instagram search can drive sales and boost your brand. It helps consumers discover new products/ services, research to buy, and decide on a purchase.
Convinced yet?
You should get your brand an Instagram business account now!
Related topics:
11+ best Instagram social media marketing tools
1. Circleboom Publish: Instagram post scheduling for multiple accounts at once
Circleboom Publish is the best' all-in-one' social media management platform to create, design, publish, and schedule Instagram posts for multiple accounts in one dashboard. You can produce great Instagram content with handy images and videos.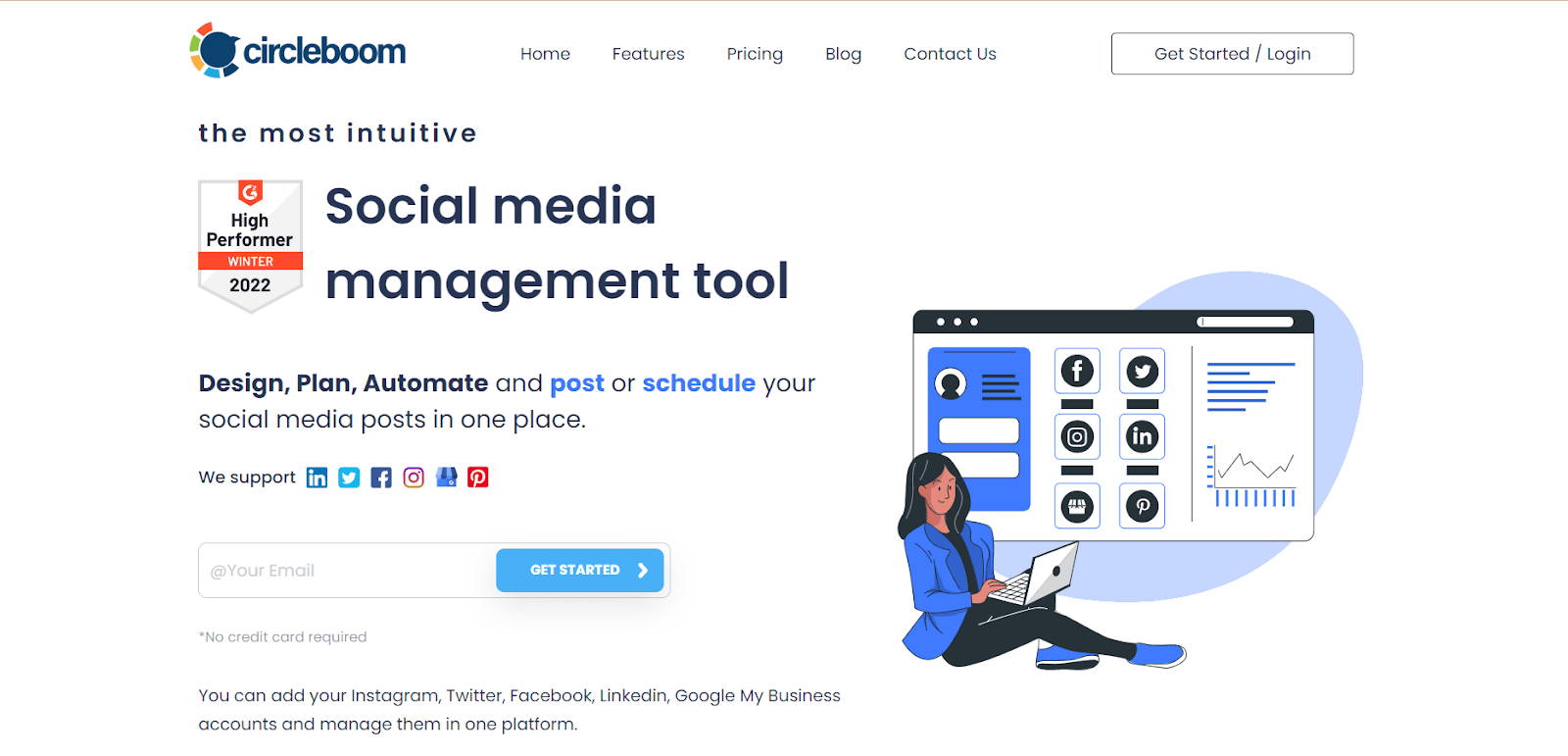 Thanks to its excellent built-in extensions: Canva, Unsplash, and Giphy, you can create unique content with ready templates, pictures, filters, effects, gifs, animations, graphics, fonts, and various other materials.
Circleboom provides the best and the most suitable Instagram templates for you. You can choose one of them or customize your own template. You can also embed your media into your Instagram content and upload your domestic photos and videos from your computer.
Once you have the content, you can publish it immediately or schedule it for a later time. Also, you can set time intervals and send your Instagram posts automatically. This way, you can target different time zones and parts of the day. Additionally, you can save it as a 'draft' to work on later.
Features and Benefits:
Create and schedule Instagram regular / carousel posts.
Google, Dropbox, Flourish, Flickr, etc. connections.
Automate your Instagram posts.
Content curation and design tools.
Pricing Plans:
Forever-Free Tier
Pro Plan $15.83/month
Premium Plan $34.99/month
Business Plan $79.99/month
Enterprise Plan $149.99/month
2. Later: for Instagram post scheduling
Actually, Later started out as a dedicated Instagram scheduling app, then the company has added support for other social networks. With a strong focus on content, Later can help users to plan, schedule, and perform their Instagram content intuitively and visually all in a single tool.
It's simple to plan and schedule Instagram contents and stories with Later. The tool has a built-in calendar where you can perform Instagram post scheduling quickly. You can define and prepare schedules for all the contents and stories you want to post on Instagram for the entire week, and you're able to do this in just a matter of minutes.
Later also has a feature allowing you to see what your Instagram feed will look like ahead of time once your content and stories are posted. With this preview feature, you can rearrange your contents by simply doing a drag-and-drop and design your Instagram feed in any way you want. Given all these features, you are given the opportunity to focus more on reaching your specific goals and growing your business rather than managing Instagram posts.
In addition to planning and scheduling your posts, Later can keep all of your content in one place, and give you access to that content on any device. That means you can:
Import media from desktops, mobiles, Google Drive, or Dropbox
Search all your images and videos
Create various content libraries for each of your Instagram accounts
Plus, with this tool, you can find and repost user-generated content (UGC) by searching for hashtags, saving posts to your content library, as well as share the original content with your followers.
Pricing plans:
Free Plan
Starter Plan: $15/ month
Growth Plan: $25/ month
Advanced Plan: $40/ month
3. NeoReach: for Instagram influencer marketing
NeoReach has created an algorithm that mines the social web for data, which contains the social details of more than 3 million influencers. The tool targets large companies and enterprises.
You can begin your influencer search with keywords, and then refine the results with a range of factors, including:
Conversation topic
Social metrics
Social channel
Audience demographics and psychographics
It gives you a wealth of information, and you can sort influencers into groups or campaigns. The platform also uses AI to recommend appropriate influencers for your needs.
Once you've found influencers, you can use campaign management tools to help your influencer marketing run smoothly. It includes a centralized communications hub in order to keep the entire influencer relationship process together.
Plus, campaign reports are highly detailed, showing you virtually anything there is to know about your campaign performance. NeoReach has already developed its own measure of ROI called Influencer Media Value (IMV), so you only need to plug your advertising spending into the model, and it will give you an accurate estimate of IMV for your future influencer campaigns.
Read more: 7+ Best Influencer Marketing Platforms to Promote Your Campaigns
Pricing plan: starts from $399/ month
4. Magisto: for creating Instagram videos
Magisto is a mobile app for Android and iPhone that you can use to quickly create your Instagram videos.
With its Instagram video maker, you can choose your music, styles, and animated text from the library to add to your own videos. Plus, Magisto's AI-powered video maker can analyze and edit your Instagram videos.
In a nutshell, you can create an Instagram video with Magisto via 3 simple steps:
#1. Upload your photos and videos
#2. Choose Instagram-ready media to use video editing style and the soundtrack from its library
#3. Its AI video maker will analyze and edit your Instagram video
In addition, it provides an array of features, including photo uploading, premium editing styles, unlimited HD movie downloads, longer movie creating, scene rearranging and editing, logo and caption adding, commercially licensed music, and unique business styles. Magisto will give you the freedom to showcase your new product or service anywhere and anytime.
If you upgrade to a Professional or Business account, you'll get Vimeo's professional-level video tools for free. Therefore, that's a pretty compelling offer and integration to consider for your Instagram marketing tools.
Pricing plans:
Premium Plan: $9.99/ month
Professional Plan: $19.99/ month
Business Plan: $69.99/ month
5. VSCO: for Instagram photo and video editing
If you feel interested in photography, chances are you already have a VSCO account or at least have heard about it. In 2017, the platform upped its game by creating a video editor. It's quite new, but it is an excellent tool to use for your Instagram marketing campaigns.
More than just a photo and video editing tool, VSCO offers a community for you to create and connect. Simply search the hashtag #vsco on Instagram, and you'll discover the huge community of photographers and casual users that use VSCO every day, which is a testament to its popularity.
With VSCO, you'll have access to:
A library of 200+ presets
Advanced editing tools like HSL (high-speed link) and borders
Tutorials with numerous tips and tricks to help you develop your skills further
Ability to upload anything with no size or length limitations
Ability to upload 4K videos up to 30 frames per second, and 60 frames per second up to 1080
The option to buy filter packs each with distinctive styles and tones
The tool offers a unique user experience with a sleek interface, encompassing the creative energy of photography. This tool is highly recommended for anyone that wants to evolve their Instagram to the next level.
Pricing plan: $19.99/ year
6. RiteTag: for the Instagram hashtag generation
When you want to reach more new followers on Instagram, it's vital to use the optimal hashtags. However, which hashtags should you add to your posts? What kind of results can you expect? RiteTag is designed to help you answer these questions.
As a part of the RiteKit family, RiteTag is essentially a hashtag navigator for Instagram and Twitter. Its job is to offer you hashtag suggestions, generate new hashtags for Instagram, guide you away from currently banned options, and ensure you know your platform hashtags to the bone.
One of RiteTag's most awesome features for Instagram is its ability to generate different hashtag suggestions for an image. You just need to right-click on your image, choose Get Hashtag Suggestions, and it'll provide multiple options based on image analysis.
The tool provides plenty of data, such as Estimated Hourly Statistics, Daily Averages, popular accounts using a hashtag, etc. Once established, RiteTag can be activated on virtually all your browsers, devices, and platforms to simultaneously gather and provide useful information on photos you upload or stumble upon.
RiteTag has many other cool features, such as:
Integrations with different social media scheduling tools (e.g., Hootsuite, Buffer) and lets you add selected hashtags inside those platforms
Email alerts when hot hashtags are receiving engagement in your niche
Measuring and comparing the performance of different hashtag groups you have created
Android and iPhone apps for you to use Instagram on the go
Color-coded hashtag suggestions to ensure you choose the right one based on your marketing goals
Pricing plan: starts at $49/ year (includes hashtag suggestions for 1000 queries per month); hashtags reports are charged separately.
7. 10Web Social Photo Feed: for adding the Instagram feed to a website
10Web Social Photo Feed is a user and SEO-friendly WordPress plugin that allows you to feed Instagram photos to your website. You just need to set up the plugin and connect your Instagram account to get started.
The tool lets you take full control over how to display the content and feeds on your website. The free plan gives you the option of choosing between Thumbnail and Image Browser layouts, as well as image sorting. You can also include single feeds from your Instagram account or from a specified hashtag. With the premium version, of course, you'll have more impressive options.
Most businesses use 10Web Social Photo Feed on their website to:
Increase user engagement
Send more traffic to their Instagram feed
Increase blog and brand awareness
This tool is ideal for adding to a blog, photography website, and any WordPress user who wants to spice up their posts with up-to-date photos, videos, and save stories from IG profiles. It is fully responsive, meaning that your media will be perfectly displayed on any device.
Pricing plans:
Free Plan
Pro Plan: starts at $25
8. Shorby: for Instagram bio links
The single bio link and the impossibility to add clickable links to your posts can be quite limiting.
So, what's the solution?
Use a bio link tool like Shorby!
One of its most outstanding features is the "SmartPage" page builder, helping you create one-of-a-kind landing pages with all your essential links. This way, whenever someone clicks on your Instagram bio link, they're led directly to your landing page, complete with additional links, and they can explore more content you offer.
On the "SmartPage," you can add a ton of branding elements. For instance, add your company name, logo, phone number, social media links, content blocks, and event stickers. You can even add tracking pixels to it, so it's easier to monitor the success of your links and retarget repeat visitors across various channels like LinkedIn and Google Ads.
If you are using Instagram for lead generation, you will find its Messenger Link feature useful. Simply add your telephone number, WhatsApp number, Skype username, or Facebook Messenger username, then users can get in touch with you at the click of a link. In fact, this feature can be used standalone or as part of a SmartPage.
Pricing plan: starts at $15/ month for 5 SmartPages (bio links)
9. AdEspresso: for Instagram ads
AdEspresso is designed to help you make the most of your ad budget across social media channels. It only takes a few minutes to get started with AdEspresso, as the learning curve is minimal while the results can be astounding for your digital marketing success.
With this tool, you're able to create sophisticated campaigns and run A/B testing to find the best-performing versions. Running tests to evaluate the performance of various ad elements is also available; let's say, if you add different variations of one ad in the AsEspresso editor, the tool will automatically create split tests and run them.
Plus, AdEspresso is a powerful analytics tool, as it offers:
Clean and easy-to-understand visual analytics
Customizable dashboards, which allow you to pinpoint top-performing ads and focus on the numbers that mean the most to you
Detailed metrics for anyone that wants to dig deeper.
Pricing plans:
Starter Plan: $49/ month (billed annually)
Plus Plan: $99/ month (billed annually)
Enterprise Plan: $259/ month (billed annually)
10. Inflact: for Instagram chatbot
If you need an automated service that claims to be able to grow your Instagram account twice as fast as other brands out there, then we suggest you opt for inflact.
This tool uses pro-targeting filters to find the right audience for your content so that you can build a loyal following, which is going to make all the difference to your Instagram growth. Part of Inflact's platform is its ability to manage and broadcast direct messages on Instagram.
Besides, it has a wide range of features for you to choose from, including scheduled posting, likes, comments, and of course, its follow/ unfollow method. This is an excellent way to cover all of your bases when it comes to your Instagram growth, so you can stand out from the crowd and actually get ahead.
The tool has a user-friendly dashboard that you can download onto your computer and customize its features to suit your specific niche and industry. If you need a team of experts who know exactly what they are doing, then check out Inflact.
Pricing plans:
Promo: starts at $37/ account
Direct: starts at $19/ account
Scheduled posting: starts at $12/ account
Hashtag generator: starts at $14/ account
11. ShortStack: for running an Instagram contest
Running an Instagram contest or giveaway can be an excellent way to increase brand awareness and grow your following. In case you run a successful contest, you could generate hundreds or even thousands of entries.
However, if you don't use a third-party app, you will have to spend lots of time monitoring the contest manually. With ShortStack, you can get tons of options for managing your Instagram contests.
This tool can be used to collect and display user-generated content (UGC), engage with your followers, and increase your brand's visibility. You can allow followers to submit to your contest without ever leaving Instagram. All you need to do is ask entrants to post to Instagram, including both the @mention of your Instagram business profile and your unique contest hashtag. Then, those posts will be collected in ShortStack as entries.
Every post will then spread your unique hashtag and Instagram profile with the @mention, and you can pull in all of the comments made on your posts. Comment entries include the commenter's username, the comment they left, as well as a link to the comment.
You can then use ShortStack's random entry selector tool to draw one or multiple winners and announce the winners on your Instagram feed. The tool also lets you monitor your content performance after all.
Pricing plans:
Business Plan: $99/ month
Agency Plan: $199/ month
Brand Plan: $499/ month
12. SocialFox: for Instagram analytics & reporting
SocialFox is an Instagram-specific analytics tool that provides real-time and actionable insights. Its clean user interface simplifies the ability to understand your audience and measure your growth.
You can use SocialFox to do the following:
Find out what resonates with your audience, as well as which hashtags trigger engagement
Track how much traffic you're driving to your website by adding a tracking link to your Instagram bio
Manage your team from administrative tools
You can also determine the best time of day to post your content based on easy-to-interpret calendar heat maps that elegantly synthesize large data sets. Plus, it's easy to know your new followers and the ones who have unfollowed you too.
The tool seems to be limited in features when compared to some of the other analytics tools. However, it may work well for anyone who wants to track their Instagram analytics separately from other social media accounts.
Pricing plans:
Starter Plan: $19/ month
Influencer Plan: $29/ month
Brand Plan: $49/ month
13. Instagram Feed: display social media feeds
Instagram Feed WordPress plugin by Tagembed is a coding-free plugin that allows users to collect, curate, and display social media feeds on your website. All you have to do is, install the plugin, follow some simple steps and you will be owing to a website that showcases social media feed.
The plugin allows you to display a social feed from 20+ social media platforms, and provides some useful features that add great value to this plugin. The features allow you to customize the feed, moderate the content on the feed and more.
Pricing plans:
Free Plan
Paid Plan: Starts at $9/mo - $39/mo (Yearly)
14. Feedlink: Complete link in bio tool
If you're looking for a super easy way to create a social media site with your own custom domain, check out Feedlink. It comes with a built-in .link domain registration and a free SSL certificate, so you can be sure that your link-in-bio site is always secure.
Feedlink is built with the creators in mind. People who don't have time to manage their online presence or its complexities - such as buying a domain, maintenance, upgrades, hosting, SSL, etc.
To help creators save time, the platform automatically syncs Instagram and TikTok posts.
This means that you can embed your Instagram feed that will update every time you post on your account.
And if they already have a link in the caption, it automatically tags the posts on the page, so you won't need to add external links manually. Just add the links when you post, and you w
Plus, it has many great features to display all your important links in one place, including different blocks such as video blocks or image blocks.
It makes it so easy to get started. You can choose a ready-made template from the 20+ Templates library and go online in seconds.
If you need to do further customization, you will find features like:
Option to create multiple pages
A variety of link styles includes default, featured, image overlay, link with description, etc.
Options to change the header style
Multiple link blocks, like video block and image block
Option to collect email with subscription block
Advance analytics of total clicks and clicks per link
Custom CSS for complete design change
Fast AMP format
Color themes
Dedicated support
And just as a teaser, the PRO version includes the functionality to automatically send social media newsletters to the subscriber emails you will collect on the page.
This automates your email marketing with just a few clicks.
So what are you waiting for? Get started with Feedlink today and see how easy it is to create a social media site that looks great and functions perfectly. You won't be disappointed!
Pricing plans:
Free
Pro: $3/month
Business: $9/month
5 useful tips for leveraging your Instagram
The following tips can help you leverage the platform as a powerful marketing tool to achieve your business goals.
#1. Optimize your profile
Make sure that your bio portrays your brand voice and emphasizes what your brand offers. Also, it should tell first-time visitors why they should care.
Use a great profile picture and ensure that it adheres to guidelines. You should also provide your contact information, categorize your brand correctly, and include call-to-action buttons.
#2. Create an Instagram strategy
First, start by understanding who you'd like to see your posts.
Who is your target audience? Who recently buys from you? If you are new, who did you make the product for?
You can perform competitor analysis to find out who purchases from them. Plus, check out the type of content your audience likes and how they interact with your competitors.
Next, define your goals.
What do you desire to accomplish with an Instagram account?
Remember that your goals should be specific, measurable, and related to your overall business objectives.
Third, set up metrics that can help you determine your success. These might include awareness, conversion, engagement, customer acquisition, etc. The metrics will depend heavily on your business and goals.
Lastly, find the best time to post. Once you have built a following, check your analytics to determine when your followers are most active. It's also essential to post frequently and consistently without overwhelming your audience.
#3. Have a content strategy
You should use amazing photos and edit them to fit your unique style and Instagram guidelines. Your visual strategy would also consistently reflect your brand and messaging. Try to make every element in your visuals match so that whenever your audience sees them, they know it's your brand.
More than 500 million people use Instagram Stories daily, which gives you many opportunities to reach your target audience. So, take advantage of this chance to tell your brand story and promote your products or services.
Besides, use compelling calls-to-action that drive consumers to act. Your captions should also get people thinking and connecting with your brand.
Another effective way to optimize your content is through hashtags and geolocation tags. They can actually help you boost awareness, because hashtags are what most people use when searching for topics of interest. Meanwhile, the location tags direct people to your physical business or event.
Related topic: Top 17+ Best Content Marketing Tools
#4. Engage your audience
Follow back, like, comment, share, and reply to your followers' feedback. Make your followers feel important by appreciating their interest.
You can also engage them actively by asking them to share your content with a specific hashtag. Plus, feature their photos and posts on your feed and Stories to show your appreciation.
#5. Measure
Measure your performance with an analytic tool to see if your tactics have helped achieve your goals. Remember to track everything from individual posts, ads, Stories, and your account to find what is working and what needs changing.
Wrap it up
Growing your business with Instagram doesn't need to be hard and time-consuming. If you want to boost your business's presence on Instagram, these 11 marketing tools can help you leverage the platform efficiently.
So, have you ever tried any other tools to promote your brand on Instagram? Please feel free to discuss them with us! We're always glad to hear from you!
Haley is a content creator at Mageplaza. When not working, she spends time on travel adventures, books, and food tasting. As growing up, she wants to read, learn, and experience more things to adapt herself to this ever-changing world.
Website Support
& Maintenance Services
Make sure your store is not only in good shape but also thriving with a professional team yet at an affordable price.
Get Started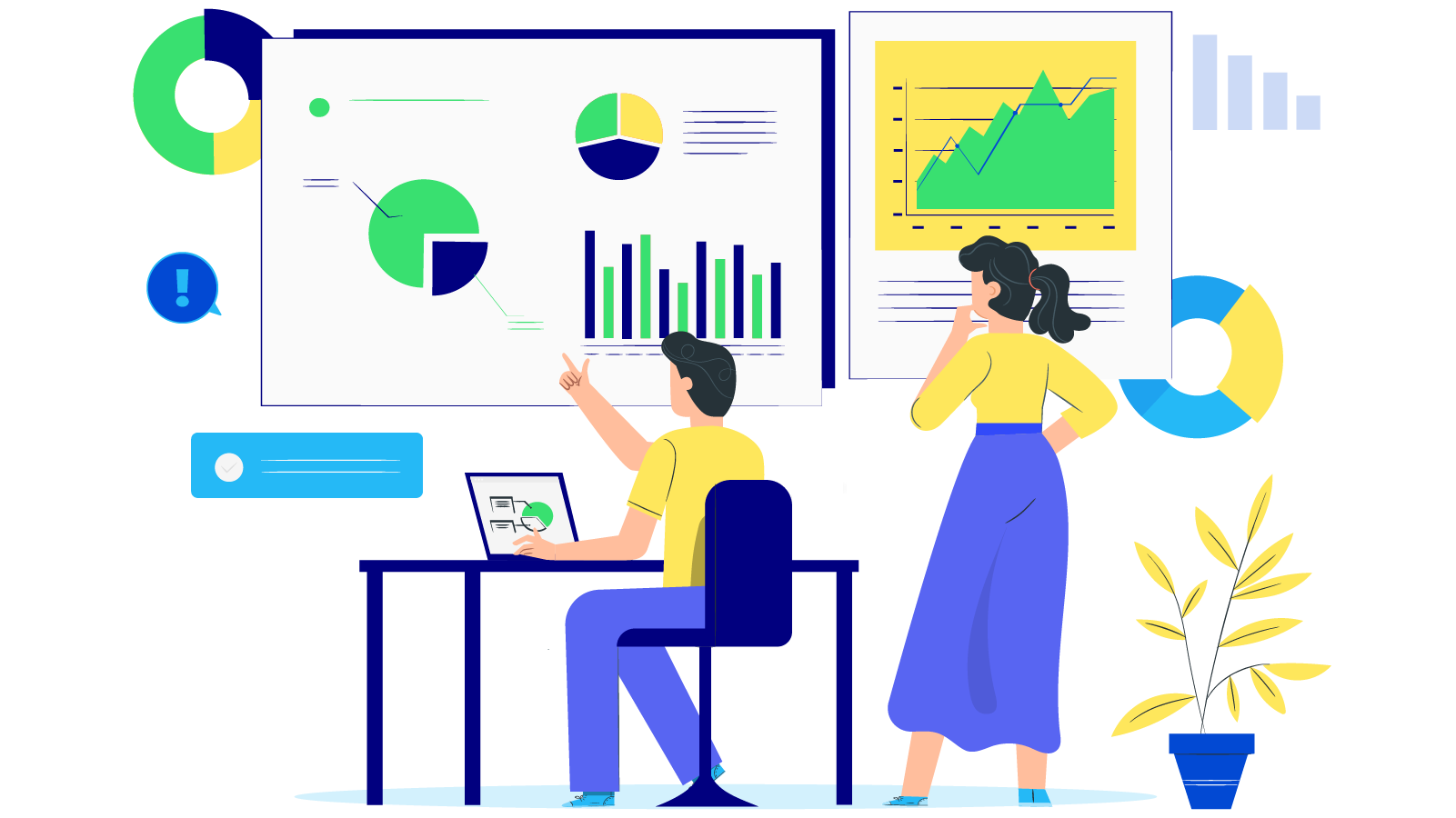 New Posts



Subscribe
Stay in the know
Get special offers on the latest news from Mageplaza.
Earn $10 in reward now!