9+ Best Social Media Marketing Tools in 2023
The Most Popular Extension Builder for

Magento 2
With a big catalog of 234+ extensions for your online store
92% of marketers said that social media marketing is vital to their business.
As social platforms are on the rise, so are its users (nearly 3.8 billion users). Therefore, it's quite essential for you as a business leader to understand how to take advantage of social media.
However, it can be quite time-consuming. Additionally, it spans many diverse tasks, ranging from number-based activities, like analyzing, content developing, customer listening to graphics designing.
So how to find the right skills and manpower to execute a great social media strategy for your business. That is why you need social media tools to help you out.
Don't worry!
In this article, you will know what sorts of underlying capabilities you should look for when considering your business's best social media tools and a top list for practical appliances.
Table of contents
Which social media tools are the best for your business
Today, many excellent social media tools are allowing you to accomplish almost every task as a social media marketer. However, if managing your personal social media is a task by itself, choosing the right social tool for your business is even trickier.
How to know the perfect tools that align with your organization's goals and needs that you will not regret later?
Let's hammer it out!
Starting with the different types of social tools, you need to distinguish and have an overall view of the big picture. In general, there are 4 main functions of social media tools you should know, they are:
Social Listening tools: Monitor many social media platforms to know what's being said about your brand. Users can understand their audience's persona and insights fully
Social Publishing tools: Spear your content to the world, including sharing content, schedule posting across multiple platforms
Social Engagement tools: Build sustainable relationships with your followers and potential customers by identifying opportunities and quickly responding.
Social Analytics and reporting tools: Track metrics that affect your business, ranging from market reports, trending topics, competition's content, the performance of all your social platforms
Social Management tools: Manage multiple social profiles in one place, schedule posts in advance, run contests, track analytics across platforms, and the list goes on
Separately, each tool tackles social media from a different angle. Together, they work perfectly, helping your brand achieve all social media objectives.
Below are some key questions you need to ask yourself to seek the perfect social media tools for your business.
What goals can your business achieve for using social media tools?
Apparently, when you've already defined your goals, you'll be clear on what objectives you need to gain, who you want to reach, and the most effective way to get them.
Think about your business goals, then narrow down your choices based on that goal criteria. Do you want to focus on increasing brand awareness, driving traffic to your site, or generating leads?
Before beginning any campaign or setting up a plan, as a marketer or business owner, visualize the results you hope to achieve afterward: immediate, short-term, and long-term goals
The objectives can come from one of the problems that your business is trying to tackle on social media platforms or just a future goal needed to achieve.
Read more: How to Set Marketing Goals Based on Business Goals
Must-have features you need on social media marketing tools
Each social media tool offers specific features which serve for different online platforms and purposes.
After listing your problem, goals, and objectives, you can know exactly what you need from social media tools to execute them. A tool that meets all your needs will definitely be more effective than one with an exhaustive list of features that you're probably won't use.
For example, if you're a social media planner and your goal is to "drive more traffic".
Objective: Create and publish many compelling and informative content for your audience.
Needed features of social media tools:
Good listening features
Analyze targeted audience interests and behaviors on social platforms to create needed content and post at the right time
Schedule, publish and manage posts on all kinds of social media channels from one place
Easy to create videos and design photos for posts, including the ability to create social media graphics (if you have no knowledge of design)
Allow readers to share interesting contents with friends without leaving the page
Remember, you need to determine which features are "must-have" and which are "nice-to-have". List it all down then do some online research to find the best options you have.
What is your budget
A small business does not always have enough financial and human resources, so not every tool or payment plan works for everyone.
Having a solid foundation of your needs and budget to measure between different tool options can save your time and money.
Some tips for planners when it comes to tool costs:
Consider billing options for the possibility of the annual payment
Check the cancellation options if you're able to get a refund for unused time or condition to cancel monthly or annually
Make use of free trial periods for actual experiences
Choose the tool on your price range
Read more: 4 Keys to Create a Marketing Budget that Gets Results
Top 9 Best social media marketing tools to try
HubSpot
What makes Hubspot is an excellent social management tool for business and agencies is its all-round functionality.
It enables users to monitor brand mentions and relevant conversations, track engagements automatically, and set your post calendar to publish it at the right time to the right people.
Whether publishing directly through HubSpot, or publishing using other tools or while on the go, you'll be able to report on the success of your social strategy across every channel. Thus, you can also compare the performance of multiple social channels to measure campaign performance.
Outstanding features:
Schedule a post for any time or publish directly to Twitter, Facebook, LinkedIn, and Youtube
Connect campaigns to social posts to trace traffic to the correct source
Easily toggle between social networks while using
Able to view all inbox activity, customers' interactions
Allows users to access specific data about their social media performance with ease
Pricing:
Month billing
Starter plan: $50 per month
Professional plan: $800 per month or $9,600 per year
Enterprise plan: $3,200 per month or 38,400 per year
Annual billing
Starter plan: $40 per month or $480 per year
Sprout Social
Sprout Social is an all-in-one social media tool that enables managers to control their marketing efforts better. It features multi-level access making it easier for users to coordinate and delegate tasks to other people in teams.
Furthermore, it provides full post scheduling capabilities, an in-depth analytics platform, and even social listening functionality. Hence, Sprout Social becomes one of the most effective ways to improve your engagement, client relationships, and stick to your social marketing plan.
Outstanding features:
An all-in-one social media management tool, including publishing, analytics, engagement, and team collaboration.
Able to track internal data, including reply time, the total number of replies, and sentiment
Pricing: No credit card required for the free trial, try for free on 30 days
Standard plan: $99 per user/ month
Professional plan: $149 per user/ month
Advanced plan: $249 per use/ month
BuzzSumo
Simply understanding, Buzzsumo serves for research purposes. This tool allows all users to discover the most shared content on social media channels based on the vast and up-to-date data.
The search areas are not limited to your site but also others' domains. Content writers can use the collected information to generate ideas, create high-performing content, and monitor their contents' results
Outstanding features:
Explore the content shared mostly on all social media channels
Find influencers who are related to particular topics
Track the competitors and analyze based on their content
Allow users to know everything about trending topics, audience's interested content
A power tool to analyze competitors' post keywords and insights
Pricing: Offer 7-day trial and unlimited month searches, no commitments, easy cancellation
Month billing
Pro plan: $99 per month
Plus plan: $179 per month
Large plan: $299 per month
Enterprise plan: $499+ per month
Year billing
Pro plan: $79 per month or $948 per year
Plus plan: $139 per month or 1668 per year
Large plan: $239 per month or 2868 per year
Enterprise plan: $499+ per month
Mention
Media listening isn't a new idea. Before social media became a must for a brand, monitoring what was said about your business through media outlets is already a big issue.
That's why Mention is designed to monitor what people say about you, business, and your competitors. With in-depth insights and reports of your brand mentions, Mention can help build relationships, generate leads, and protect your reputation.
Outstanding features:
Track over 1 billion sources across the web daily
Measure the competitor's share of voice online
Explore more of customers' online insights through keyword research to improve and build social media strategy based on their insights around crucial topics
Provide detailed dashboards
Give relevant information and grant access to your team, share reports & public views. etc.
Pricing: Offer free version, no credit card required, 14-day trial, and anytime cancellation
Month billing
Solo plan: $29 per month
Pro plan: $99 per month
Enterprise plan: $450+ per month
Annual billing
Solo plan: $25 per month
Pro plan: $83 per month
Enterprise plan: $450+ per month
Buffer
Buffer is one of the most renowned ones on scheduling any type of post across from any platform.
The core value of Buffet is content scheduling and posting rather than adding too many features into it. Buffer offers 2 main products, they are:
Buffer Publish: Allow creating posts, adding to the Buffet, and then scheduling
Buffer Analyze: A specialist analysis tool to measure social media performance and create reports for Instagram, Facebook, and Twitter.
The great thing is that Buffer allows you to plan and publish your content for every social channel all from one simple dashboard.
Outstanding features:
Automatically send out the posts you add to your queue, according to the posting schedule you put in place
Customize the days and times to send your posts
Tailored posts for each social network
Analyze customer reaction to each post and send the content's performance report
Use the chrome extension to add articles or content from different sites to the Buffer queue
Reply to posts from inside Buffer
Pricing: Offer 14-day trial, save up to 20% for annual billing
Buffer Publish:
Annual billing
Pro plan: $12 per month or $144 per year
Premium plan: $56 per month or $663 per year
Business plan: $85 per month or $1010 per
Monthly billing
Pro plan: $15 per month
Premium plan: $65 per month
Business plan: $99 per month
Buffer Analyze:
Annual billing
Pro plan: $28 per month or $336 per year
Premium plan: $40 per month or $480 per year
Monthly billing
Pro plan: $35 per month
Premium plan: $50 per month
Hootsuite
Hootsuite is well-known as one of the best social media marketing tools by making it simple to manage multiple profiles from one dashboard.
Moreover, it allows for collaboration across team members. Alongside the major advantage of viewing all comments and mentions in one place, you can also assign tasks, schedule updates and posts across different channels.
Outstanding features:
Monitor multiple streams in one place
Schedule posts in advance
Connect with customer base through media listening and analytics
Provide detailed analytics data which is easily accessible
Allow team collaboration
Able to manage customer service on social media efficiently
Pricing: Offer 30-day trial
Professional plan: $19 per month
Team plan: $99 per month
Business plan: $599 per month
Canva
Canva is a great free social media tool with a user-friendly interface that easily allows users to create attractive images for their campaigns.
Canva is an easy-to-use tool, even for those who do not know design. The tool comes with numerous ready-made templates and creative graphics for you to use anytime. In other words, Canva is a web-based graphic design tool offering a drag-and-drop interface.
Outstanding features:
Create your brand's visual identity with logo, colors, and fonts
Drag-and-drop interface
Provide up to 60,000+ free templates
Enable custom templates
60+ million premium stock images, photos, videos and graphics
Pricing: Offer free version and available free trial without requiring a credit card
Month billing
Pro plan: $12.95 per user/ month
Annual billing
Pro plan: $9.95 per user/ month
Enterprise plan: $30 per user/ month
DocHipo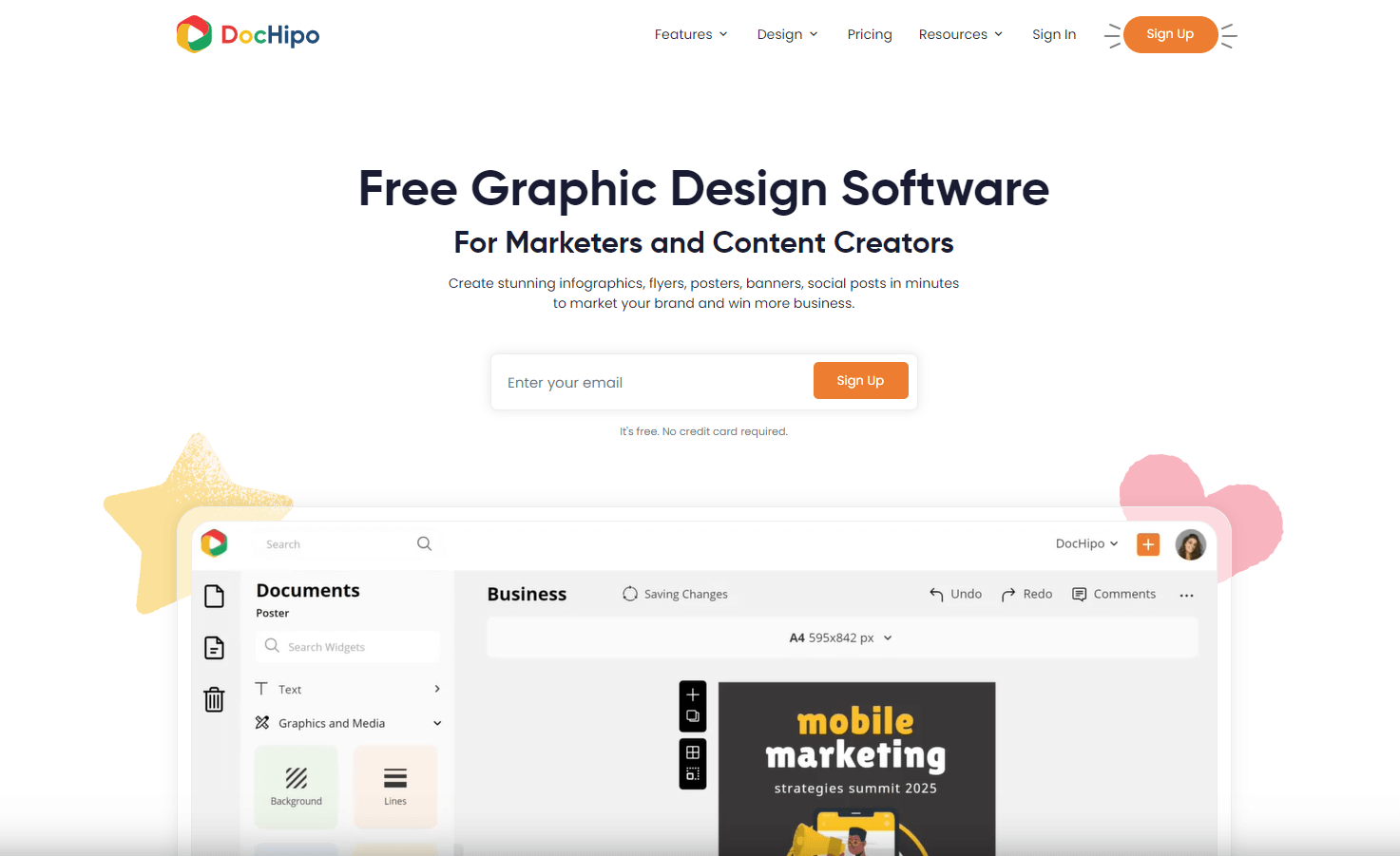 DocHipo is a free graphic design software for marketers and content creators to create stunning social media graphics. You can choose from a massive collection of beautifully designed social media templates, segregated by industry, occasion, and so on. Select the template you like the most and customize it using DocHipo's intuitive drag-and-drop editor.
Outstanding features:
Massive collection of templates across various social media document types
Premium-quality design assets that help you create memorable social media graphics
DocHipo supports real-time collaboration amongst multiple users while designing for social media
Ability to remove background from a picture in one click
Ability to resize a document into multiple other social media dimensions in just one click
DocHipo offers multi-company capability, i.e., a user can be part of multiple companies under one log-in
Pricing: You can sign up for free without a credit card. DocHipo offers a super affordable Pro plan.
Month billing
Pro plan: $10 per user/month
Annual billing
Pro plan: $7.5 per user/month
AgoraPulse
AgoraPulse is a powerful tool to manage all the social media messages, schedule, and publish content. It is widely known and used by agencies, businesses, and marketers.
Besides the publish functionality, AgoraPulse also creates stunning and detailed reports all in one easy-to-understand dashboard. That feature makes it much easier for you to monitor and manage their social networks.
Outstanding features:
Integrates well with all the vast networks, including Facebook, Twitter, LinkedIn, Instagram and YouTube
Allow different users varying levels of access
Provide in-depth data reports in PDF and CSV formats
Flexible publishing options for queued, scheduled posts
Easy find, filter, and manage comments, mentions, and other important messages
Real-time collaboration
Unparalleled customer service
Pricing:
Month billing
Medium plan: $99 per month
Large plan: $199 per month
X-Large plan: $299 per month
Enterprise plan: $499 per month
Annual billing
Medium plan: $79 per month
Large plan: $159 per month
X-Large plan: $239 per month
Enterprise plan: $399 per month
LastPass
It's quite normal for a social media marketer to take charge of numerous social accounts on different sites and platforms. Some can use the same password for everything. However, it can bring back many potential hazards of security and data loss.
LastPass allows you to have top security across all your social networking sites. The benefit of using LastPass is that you only have to keep up with one password, the LastPass one. Users never have to worry about remembering more than one password.
Outstanding features:
Automatically install in your browser toolbar after being downloaded
User's LastPass account is backed up and synced across all devices for access
Allow users to add, view and manage all saved passwords on LastPass account
High security
Pricing:
Single users & families: Offer 30-day trial of Premium for the free version, 30-day trial free
Premium plan: $3 per month

Families plan: $4 per month Business plans: Offer 14-day trial for all

MFA plan: $3 per user/ month
Teams plan: $4 per user/ month
Enterprise plan: $6 per user/ month
Identity plan: $8 per user/ month
Final thought
Today, there are many great tools out there, with new ones popping up all the time.
The key is to focus on finding tools that support your marketing efforts and aiming at the final business goals. You should invest your time and effort in getting to know each of the tools you choose to use most effectively.
Don't be afraid to try new tools to your kit!
Magento Support
& Maintenance Services
Make sure your M2 store is not only in good shape but also thriving with a professional team yet at an affordable price.
Get Started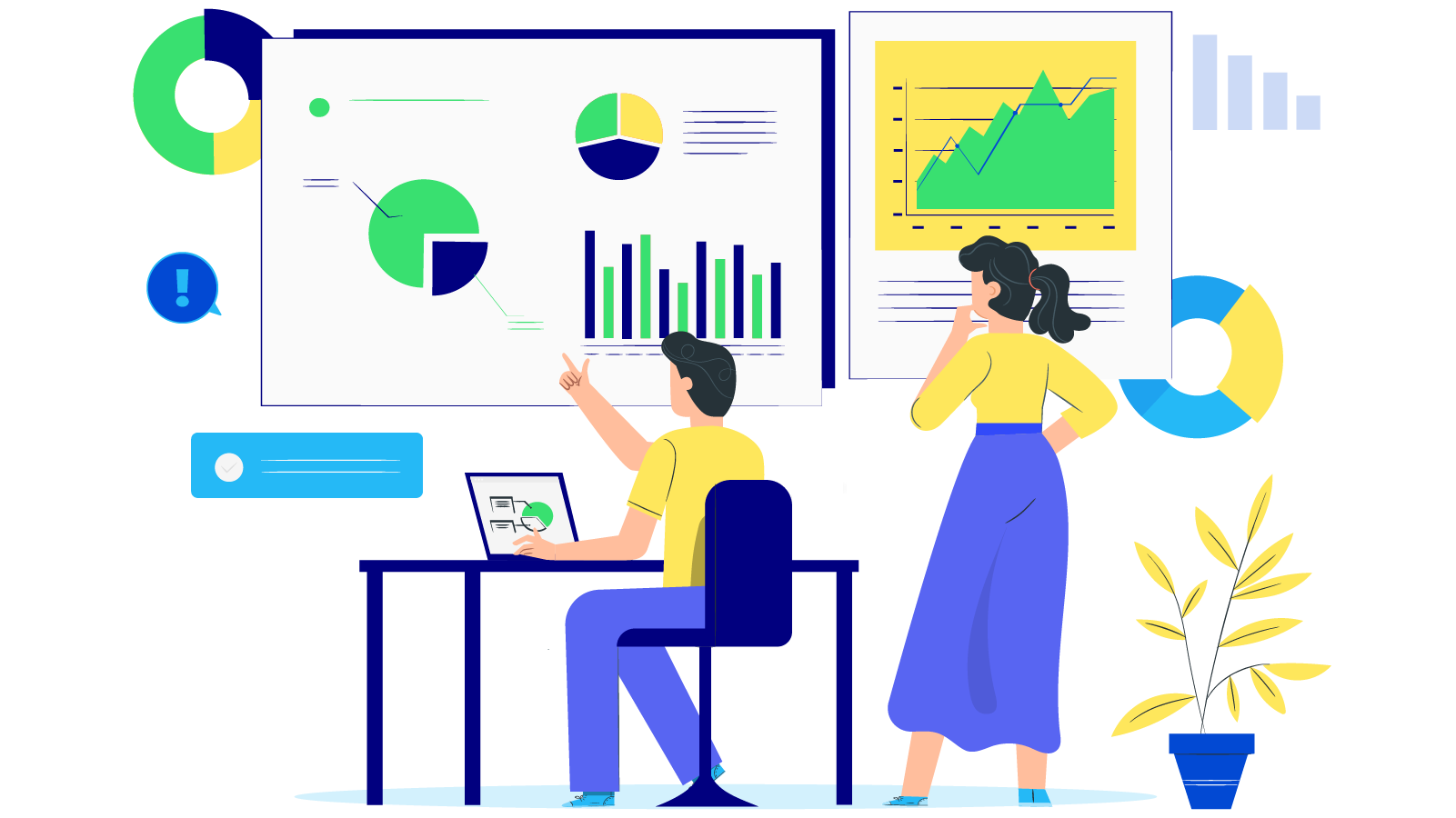 New Posts

Subscribe
Stay in the know
Get special offers on the latest news from Mageplaza.
Earn $10 in reward now!