No more checkout complexity
Magento 2 One Step Checkout - the best solution for your store!
Short Overview
Magento 2 One Step Checkout extension by Mageplaza helps reduce the abandonment rate as well as increase the conversion rate dramatically. Ignore the back and forth that are the redundant motions when standing on your site.
Optimized Checkout page
Supports nearly 100% Payment, Shipping methods
Compatible out-of-the-box with the 3rd-party modules
Allows/Supports Gift Wrap, Gift Message
Allows/supports leaving comments and setting delivery time
Easy to install and customize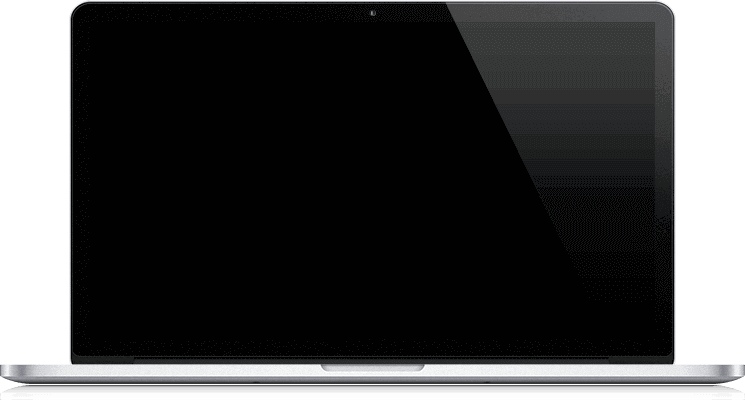 ↑%
Increase conversion rate
↓%
Decrease abandonment cart
Less is more!
Simplify the checkout process and 2x sales
Address Suggestion
Google Maps Suggestion Integration allows showing all relevant suggestions with full of address information based on the entered characters before.
Especially, an advanced feature coming only from Mageplaza is Find me. The functionality automatically locates the customer's current position when tapping it, then the address field is auto-fulfilled.
Optimized Checkout page
To simplify the checkout process, One Step Checkout module gathers all complicated default steps to display on one page only.
Friendly checkout interface
Show all information on one page checkout
Remove all unnecessary fields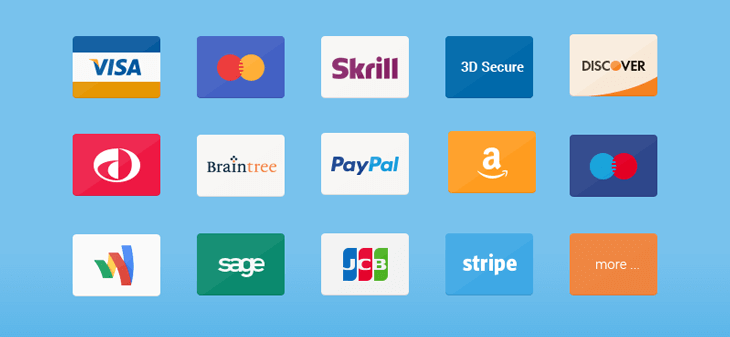 Payment methods
Nearly 100% payment methods are compatible with the checkout: Stripe, Credit Card, Paypal, Paypal Pro, SagePay, BrainTree, Skrill, Authorize.net (3D Secure), Bitcoin, 2Checkout, OnePay and many more
Easy to customize
One Step Checkout module for Magento 2 is a 100%-open-source code. The store owner is easy to change the specific appearance from the admin configuration like displaying color or checkout layout: 2,3 columns, Flat or Material Design. In addition to the well-documented code, the settings containing comments and the great auxiliary guidance notes can help you customize with ease.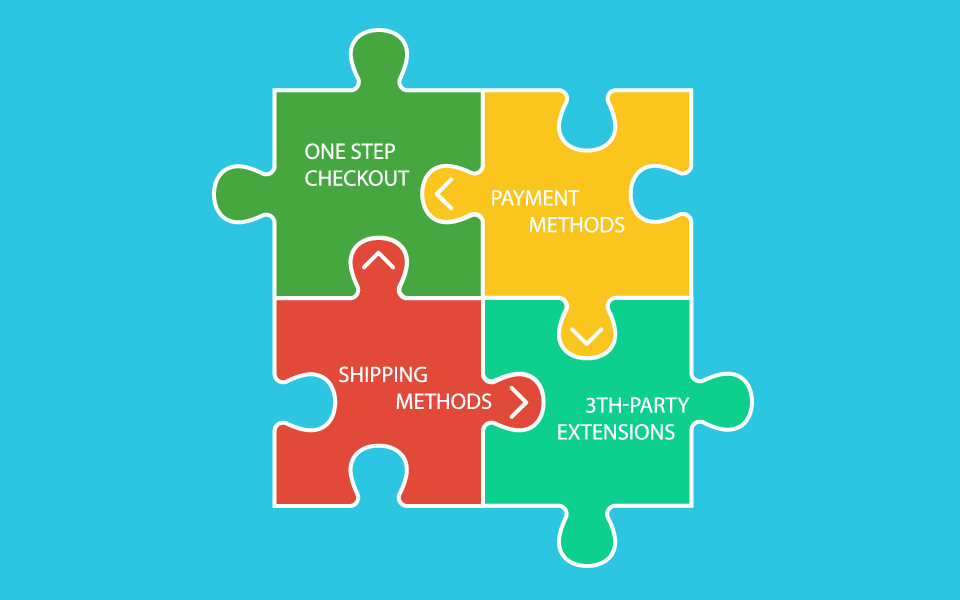 Compatibility
With over six years of comprehensive experience in Magento 2 Module Development and especially in the development and support of One Page Checkout for Magento 2, you will be really carefree that our module is well compatible out-of-box with nearly 100% of the third extensions such as shipping/ payment providers or loyalty extension or credit module, etc. In case our extension is not directly compatible with the others, we will work with the third provider to fix it in the perfect way without any extra fee.
Cart abandonment recovery
Automatically sending emails to customers to remind them about their abandoned carts and offer them a discount. Built-in report features helps store owner keep track on figures like cart abandonment rate, recovery rate and sent error.
There are 5 ready-to-use email templates coming in handy that help you fight the cart abandonment issue.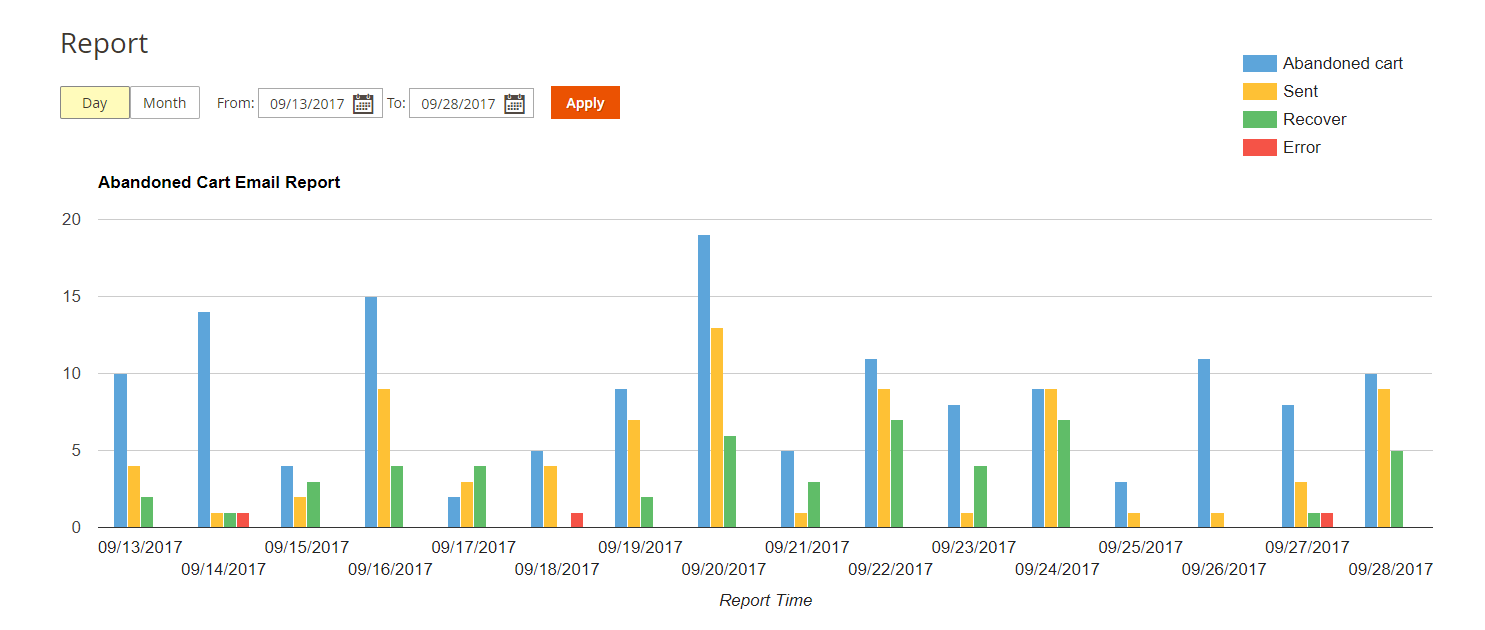 Abandoned Cart Analysis
With the One Step Checkout Pro version, Abandoned Cart Email extension is well included with full-power features. Store owners can have a clear record of cart abandonment situation and the effectiveness of sending reminder emails.
Also, the records about the abandoned products via Abandoned Product Report, customer abandonment behavior via Shopping Behavior Analysis are really effective to any e-commerce stores.
Sort Out Carts
Especially in One Step Checkout Pro version, store owners can have shopping carts grouped into 4 types including Real Time, Abandoned, Recoverable and Converted
Real Time: Carts will be located here if the abandoned time is less than the default abandonment time
Abandoned: Carts will be included here if the abandoned time is more than the default abandonment time. And there is no email information.
Recoverable: Carts will be included here if the abandoned time is more than the default abandonment time. And there is email information. Therefore, stores can collect email and remind later.
Converted: Abandoned carts are finished with purchase.
Depending on that admin can the main information related to all successful or failed carts such as product, customer email, abandonment time, cart value, etc.
Custom Checkout fields
The Custom Checkout Fields management with the drag and drops feature will surely make it more effective for the store admin to configure the Mageplaza OneStepCheckout. There are more than ten available fields, it support Checkout fields checkout and Customer Attribute extension.
Store admin can choose which field to display to fit with the store orientation by drag the requirement fields to the sorted fields and leave the unnecessary ones in the available fields then click on Save it.
Trust Badges
Checkout page is one of the most important places to add the security of a trust badge. These small trust marks can give an significant impact on a store's conversion rates and help you get more revenue from existing traffic.
A seal static block can be shown under the Place order button. This can be a place to feature secure payment guarantee checkmarks or possible payment methods.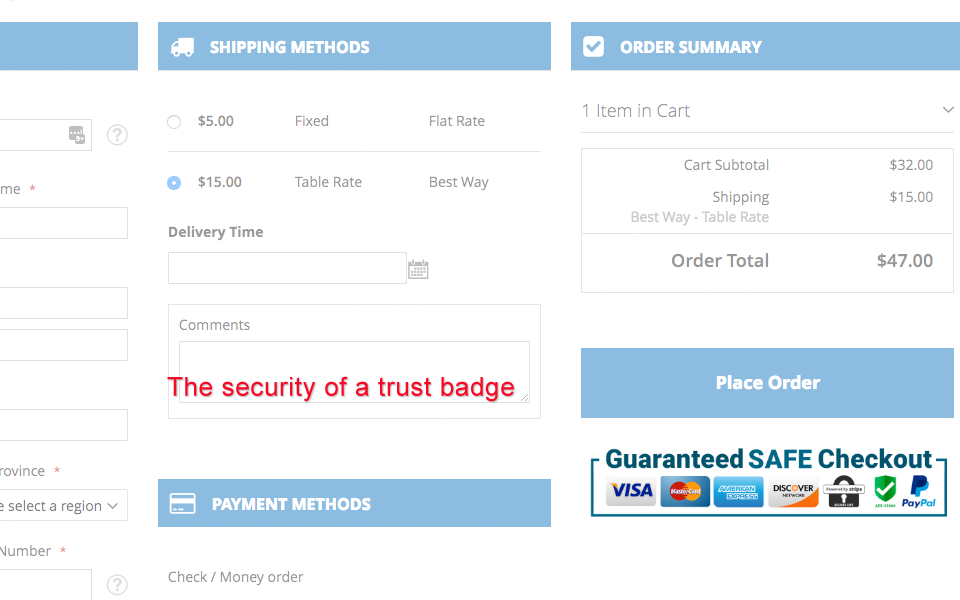 Featured Testimonials
"Mageplaza treat you as we would like to be treated"
"I extremely impressed with the auto-suggest address functionality by this checkout extension. It is a great feature. Love it so much!"

"Amazing module! It can fit very well with every device reaching to my shop.
High points for this."

"The Mageplaza team has even changed the order of elements and fix a Magento bug for me. We are very happy with this extension and the support."
More Features
Checkout more details of Mageplaza One Step Checkout
Responsive Layout
Checkout page with Responsive functionality is able to well adapt to any screen sizes and any devices such as PC, tables and mobiles.
Gift Wrap
Now, Gift wrap is one of the wonderful features of One Step Checkout. Your customers want to send their friends pretty wrapped presents? Help them complete the order with gift wrap option.
Gift Message
Make your shoppers entirely satisfied with your store by supplying and delivering the gift message to their beloved.
Checkout Login
One Step Checkout extension supports your shoppers to log in right on the checkout page. Also, the extension allows checkout as a guest or register at the same time.
GEO IP Location Detection
Automatically detect the customer's location based on its IP address, then set default Country field.
Apply Coupon Instantly
Your shoppers can easily apply the coupon code via the required field on the checkout page. The discount will be counted automatically and directly into the order.
Delivery time
The smart calendar field not only allows the customer to note their favored time to receive the items but also helps to build a better management system.
House security code
Customers leave a house/building security code on the checkout page, it helps shippers deliver items more easily.
Checkout Analytics (Upcoming)
Allows detecting which step causes the most abandoned carts by recording figures of cart abandonment rates and conversion rates at every single step.
Smart Pricing
Choose your suitable edition
Standard
Crafted for a Great Webstore Start
Professional
The most popular
Supports for Magento 2 Community Edition
Includes all Standard features plus
Enterprise
Great for Enterprise solution
Frequently Bought Together
-17%
COMBO
One Step Checkout
Abandoned Cart Email
$229
$278
Free Update
Free lifetime updates
Premium Support
We offer fast response tickets.
60-day Money Back
There is no risk, why not give a try.
One-time payment
One-time payment, no hidden cost.
Frequently Asked Questions
We have answered a wide range of Questions for your Convenience
Q. Some addresses are not suggested in the dropdown list?
All data of the address is based on Google Database, such addresses will be included as soon as Google updates the database.
Q. Is it monthly fee?
No, it is one-time payment, and there is no hidden cost.
Q. Can I set an address with the street name placed before the home number?
Yes, you can custom it easily from Google Places.
Q. What edition does this module support?
Mageplaza One Step Checkout is compatible out-of-the-box with Magento Open (Community), Magento Commerce (Enterprise) 2.1.x, 2.2.x, 2.3.x.. It does not support CE, EE 2.0.x.
Q. What are the differences among One Page Checkout, One Step Checkout and Magento 2 default Checkout?
One Step Checkout and One Page Checkout, both, simply are names of a Magento extension, which helps optimize the checkout process more effectively than Default Checkout by eliminating unnecessary fields and updating automatically the order information via AJAX technology instead of showing multiple checkout steps .
Q. Why choose Mageplaza?
Magento 2 One Page Checkout by Mageplaza is one of the most advanced Checkout extension. It comes with powerful features which help you increase the conversion rate dynamically.
Q. Can I install One Step Checkout on our test sites?
Yes, definitely you can install on one live site installation and one test site installation.
If your store is running multi-stores, multi-domains in the same Magento installation, we count it One installation/license.
Q. Can I install it by myself?
Yes, you absolutely can! You can install it like installing any extensions to website, follow our Installation Guide. Otherwise, you can purchase Installation Service option, our Magento experts will install on your website within 24 hours and resolve any issue arise during the installation.
Q. I am using a custom theme, is it compatible with our design?
We have developed One Page Checkout based on Magento 2 coding standard and best practice test on Magento Community and Magento Enterprise site. So it is compatible with themes and custom designs. Feel free to contact us if you have any problem with your design, we offer free compatibility service in these specific cases.
Q. Does One Page Checkout support multi-stores?
Yes. Our One Page Checkout supports multi-stores. You can use multiple stores in the same Magento installation.
Q. When can I see the terms of service and privacy policies?
Yes, please check out our Terms of Use and Privacy Policy.
Reviews (144)
What our customers say
Review
Mageplaza's One Step Checkout is a must have. It makes our life much easier and the customers too. I would like to thank the support staff. There were some issues during installation. The support staff found the issue and fixed it for us. They worked like a charm., thanks.
Good choice
I'm glad to buy this extension. Simple to install and configure. I needed the support service and it was fast and very good.
CEO
I like the extension as it has everything we need in OSC
Product review
This product is amazing. I recall my conversation with Thomas and he is a fantastic technical guy. God job team Mageplaza. Really appreciate your support and products.
A Perfect extension
This extension is the best in the market out there amount other one step check out.... I would especially like to appreciate the support staff.. There were some issues which we found which were due to conflict with other extensions..support staff found the issue and fixed it for us....They also customized and provided a solution for social media button. We wanted it on page itself rather than on popup and they send us code instruction on how to do it....Thank you guys you rock.....!!! keep up the good work...
Much better than stock Magento 2 checkout
Mageplaza's One Step Checkout dramatically improves the checkout, and gives a sense of integrity to our site. Sure there are other "one step checkouts", not only is MP version better, but you also cannot beat their customer service. Thank Mageplaza!
Feature Comparison Table
Mageplaza One Step Checkout extension for Magento 2 comes with two versions: Standard and Professional. Check out the full feature comparison table below to get an overview.
| | | |
| --- | --- | --- |
| | Standard | Professional |
| General configuration | | |
| Enable/Disable the module | | |
| Allow adding check out page title and description | | |
| Set default shipping method(s) | | |
| Set a default payment method | | |
| Allow guest checkout | | |
| Auto-redirect to checkout page after products are put on the cart | | |
| Enable showing Billing address | | |
| Integrate with Google Address Suggestion | | |
| Restrict auto-suggestion for specific countries | | |
| Enable/Disable GeoIP to automatically suggest shopper's address | | |
| Display configuration | | |
| Allow showing login link for visitors | | |
| Allow showing/hiding header/footer on checkout page | | |
| Allow a discount code in Payment or Review area | | |
| Order comments | | |
| Gift messages | | |
| Terms & Conditions popup box | | |
| Enable/Disable Review cart section | | |
| Gift wrap | | |
| Display a newsletter checkbox | | |
| Enable pop out a Survey after successful checkout | | |
| Enable various types of Seal block under Place Order button | | |
| Display CMS static block at the top/bottom of the checkout page or in Success page | | |
| Design Configuration | | |
| Different configuration, designs, layouts for different store views | | |
| Support 1, 2, 3 columns layout | | |
| Choose among of 3 design styles: Default, Flat or Material | | |
| Select the Heading Text and Background color for Flat style | | |
| Select the Radio and Checkbox button styles for Material style | | |
| Select Place Order button color | | |
| Support custom CSS | | |
| Drag and drop to change the position of checkout fields | | |
| Integration | | |
| Popup box for Login. Integrated with Social Login | | |
| Integrate with SMTP | | |
| Add New Field to Checkout Page Learn how. | | |
| Integrate with Delivery time module | | |
| Include Abandoned Cart Email extension | | |
| Cart abandonment solutions | | |
| Flexible configuration to resolve abandoned cart issues | | |
| Abandoned Cart Reports | | |
| Pre-made email templates for cart abandonment rates | | |
| Email Logs | | |
| Support Google Analytics UTM | | |
| Automatically Generate Coupons | | |
| Personalize Emails Easily with variables | | |
| Support | | |
| Auto-fit with every device (Mobile, Tablet, PC) | | |
| Support multiple stores | | |
| Support multiple languages | | |
| Fully compatible with Mageplaza extensions | | |
| 1-year free support | | |
| Lifetime updates | | |
| 60 days guarantee money back | | |