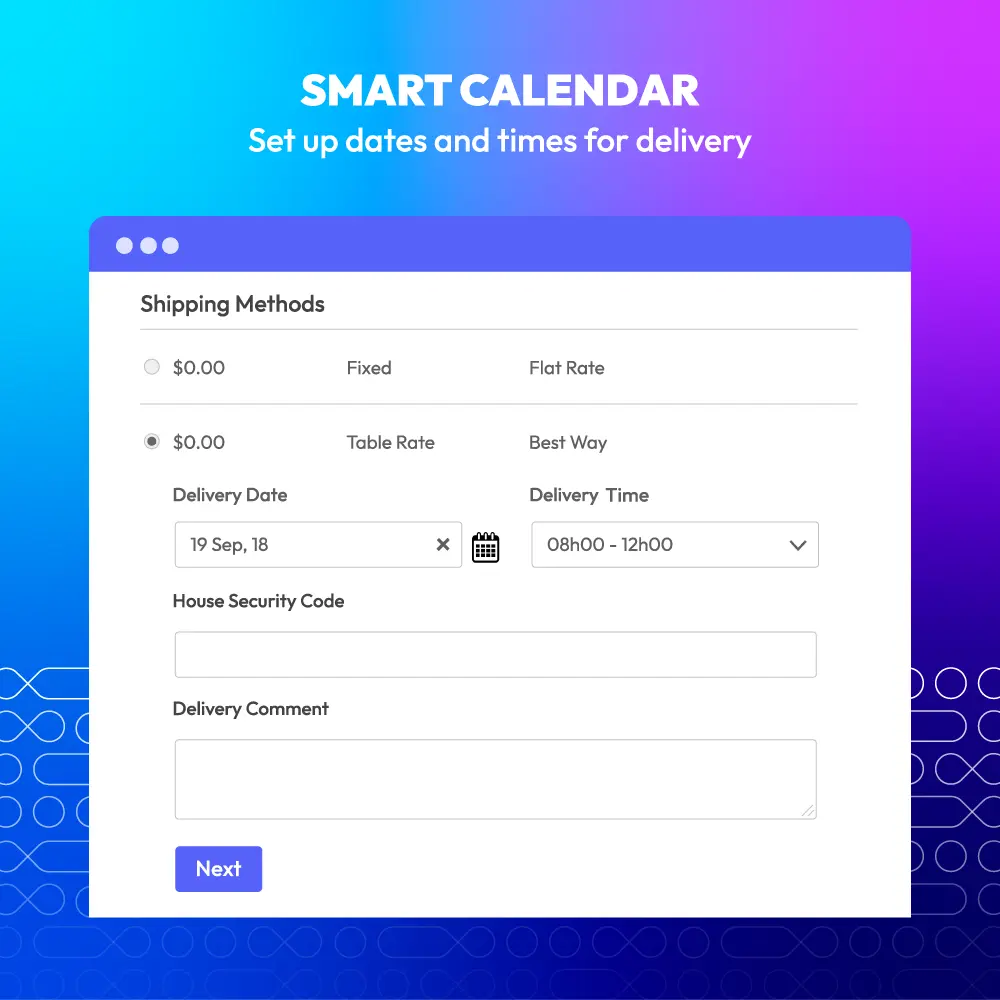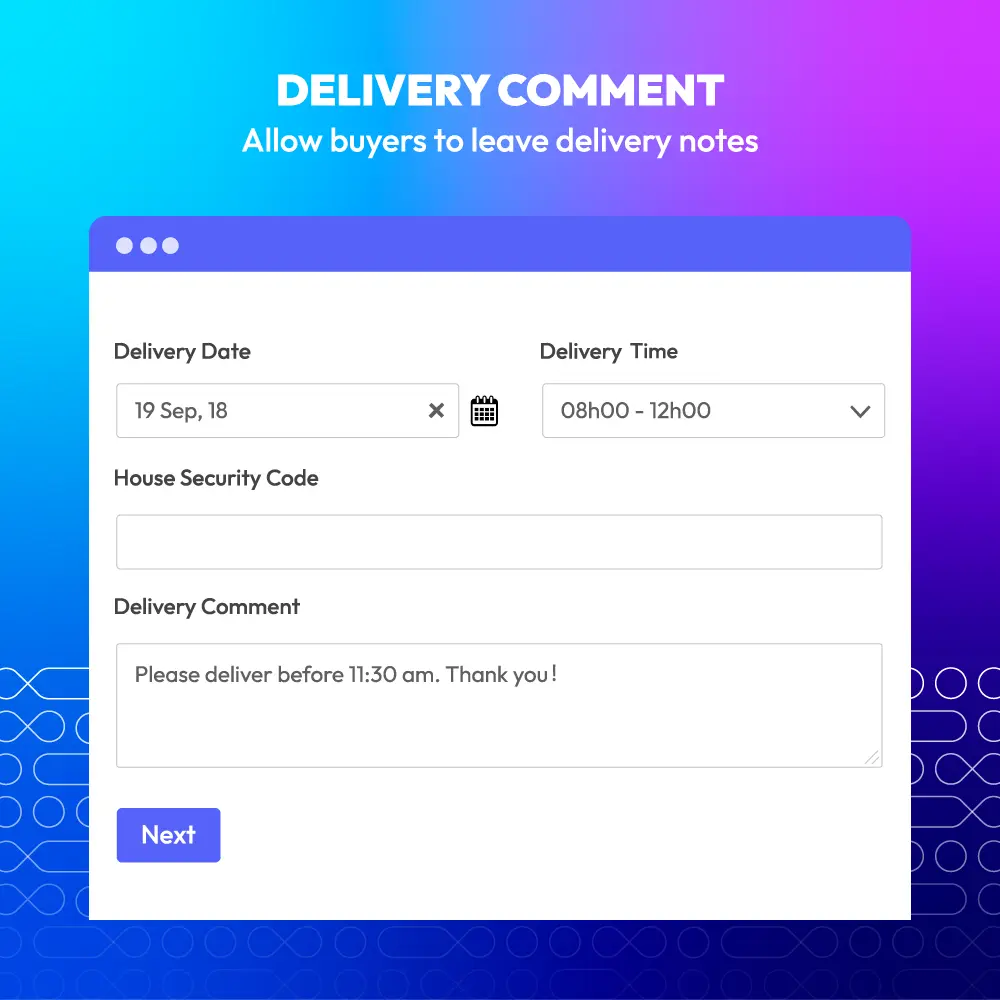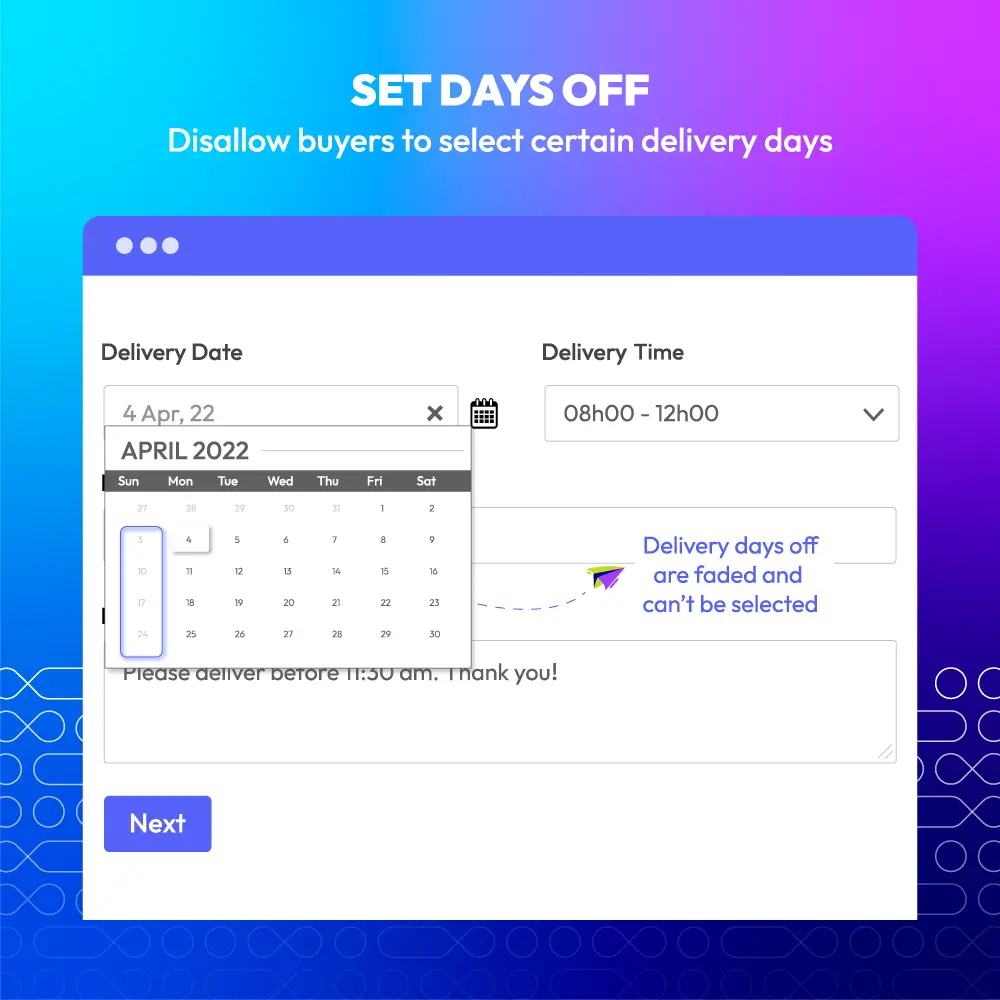 60-day Money Back
Frequent Update
365-day Support
Magento 2 Delivery Time / Date
v4.0.3
Magento 2 Delivery Time is an advanced feature which enhances UX at your checkout page. The module makes delivery easy for customers with a user-friendly interface. Allows leaving a delivery comment and entering a security code.
CE/EE/B2B/Cloud/ Adobe Commerce 2.2.x, 2.3.x, 2.4.x
Chat now
Featured Delivery Time
View Mageplaza Delivery Time on actual Magento 2 stores
Problems
No one is always available to pick up stuff. It also takes a lot of time or inconvenience for your customers to communicate their delivery time preferences via any contact-us forms. When it comes to online shopping, delivery becomes a concerning problem because of many different reasons, not only about delivery time. Your customers can be really conscious of long delays in delivering, broken or lost items.
The lack of advanced notice for delivery time can lead to a rise in your expense, yet also causes frustration for your customers. Hence, using Mageplaza Delivery Time extension can make it easier for both you and your customers in choosing the delivery time.
Solutions
Smart calendar to choose delivery date
Notify customers about shipping time
Let buyers leave delivery notes
Set days off for shipping
Compatible with Thank You Page extention
Compatible with One Step Checkout extension
Pricing

Choose your suitable edition
Community
Crafted for a great webstore start
$

79

first year
Supports for Magento 2 Community Edition
Enterprise
Great for an enterprise solutions
$

279

first year
Supports for Magento 2 Enterprise Edition
Highest priority support
Yes. These three features work separately, so you can turn off one or some of them on the backend with no impact on the others.
It is possible. You can add multiple and unlimited time frames with Delivery Time extension.
Mageplaza Delivery Time extension works with most of the other 3rd-party modules which are developed based on Magento 2 coding standard. Noticeably, this module is already included in our One Step Checkout extension with no extra cost.
Great solution
What a great solution if you want to speed up delivery. It let customers select a suitable shipping time, also it assists well in case the delivery address is hard to find.
GREAT
Easy to set delivery date and time with an intuitive interface
Jonathan
-
Verified Purchase
owner
great support as the team has added cut off time when we asked them and they did a great job on the support
Delivery Time
Great module! Works perfectly as confirmed by our dev team.
Mila Nedelcheva
-
Verified Purchase
Great checkout process
This module makes our checkout page become more friendly to customers. The operation process is getting better, too. Customer feedback is really good and we plan on using this for another site. Keep up the good work guys!
Better checkout experience
In the past, our customers have asked for a way to specify delivery times. We've always asked them to put these requests in the notes section during checkout. Having an extension like this not only does a better job, but it also ensures a more accurate collection of information in one easy location on the checkout page... and we look more professional. Highly recommended.
Big Like !
Great improvement in our shopper experience! The delivery time is added to the checkout page so that our customers can notify us time to deliver items. We can support customers much better and they feel really satisfied about our delivery service. Thanks so much!!!
Don't see the features you are looking for?
Request feature
Submit your feature requests below
Want to do extension customization?
Custom request
Let us know your requirements
v4.0.3

18 May 2022

Fixed Date & Time save error when customer using Google Translation
v1.2.3

18 May 2022

Fixed Date & Time save error when customer using Google Translation
v1.2.2

24 February 2022

Show delivery information in order history
v4.0.2

24 February 2022

Compatible with Magento 2.4.3
Show delivery information in order history
v1.2.1

14 June 2021

Compatible with Magento 2.3.7
Fixed minor bugs
v4.0.1

12 May 2021

Compatible with Magento 2.4.2
Fixed minor bugs
v4.0.0

01 October 2020

Compatible with Magento v2.4.0
v1.2.0

01 October 2020

Compatible with Magento v2.3.5
Added delivery information to Invoice & Shipment
v1.1.1

26 June 2020

Supported Multi-store
Added Delivery Time Data to Order email
v1.1.0

19 February 2020

Supported RestAPI & GraphQL
v1.0.2

30 October 2019

Fixed Date Off error with Day less than 10
Fixed JavaScript Injection error
v1.0.1

31 January 2019

Compatible with Magento 2.3.0
v1.0.0

27 August 2018

First Release
Full Features List
For store admins
Turn on/off module
Allow/disallow buyers to select delivery time
Allow/disallow buyers to leave house security code
Allow/disallow buyers to leave delivery comments
Ability to configure date format
Ability to select days off (of a week)
Ability to select dates off (of a year)
Ability to create/edit/delete/add delivery time frames
Support Rest API and GraphQL
Add delivery information to Invoice & Shipment documents
Compatible with other extensions: Gift Card Module, Custom Checkout Fields, Gift Wrap, Shipping Rules,
For shoppers
Select a day to get orders delivered
Leave a delivery note for stores
Leave a house security code for shippers
Save time on communicating delivery preferences
Why choose us?
Mageplaza provides consistent and customer-centric extensions for your Magento 2 store.
We don't sell products for one time. We provide lifetime solutions which help our customers thrive with their businesses.
60-day Money Back
Extensive 60-day money-back period. You love it or get a full refund no questions asked.
Extensive Support Timeframe
Mageplaza provides support 16 hrs/day, 5.5 days/week to guarantee the seamless operation of our extensions on your store.
Install via Composer
Simple installation via composer helps you save time and eliminates technical issues during future updates.
Frequent Updates
Intensive update roadmaps ensure great performance, bug-free, highly compatible, and innovative extensions.