GeoIP for Magento 2
v1.0.4
Magento 2 GeoIP is a useful extension which allows detecting customers' location based on their IP addresses while they are shopping at the stores. This is the essential feature to assist store owners to bring a better experience for customers during their shopping journey.
Detect quickly a customer's location
Collaborate with Magento 2 Store Switcher
Support Store Switcher to get an appropriate store-view: language and currency
Enhance user experience on shopping sites
You've just added this product to the cart:
GeoIP
Problems and Solutions
There is the fact that the stores which target their businesses in multiple nations need to redirect the visitors to the suitable store view with their common language.
For example, visitors coming from Vietnam will be switched to Vietnam store view with the Vietnamese language.
Product price should be converted to the appropriate currency which is commonly used or native to the customers from specific countries.
It is much more convenient for customers to go shopping in the site whose language and price currency is familiar.
The risk of visitors' navigating away from the site shortly will be possible if they do not understand the language on site. Therefore, automatically switching store view is essential to decrease the bounce rate from this reason.
Take actions based on IPs
Overview of IPs The "IP" part of IP address stands for "Internet Protocol." The "address" part refers to a unique number that gets linked to all online activity you do, somewhat like a return address on a letter you have just sent out.
Working theory of GeoIP There is the fact that IP addresses are not static and can change at any time. This can be different when there is change in all information technology devices (printers, routers, modems, etc).
Depending on this theory, in online shopping stores, Geo IP will work based on customers' IP addresses.
Automatic geographical detection

Depending on the difference in IPs, Geo IP supports store owners to detect the estimated customers' location, especially nations.
This detection is really useful and significant to any international stores which open various branches in different countries.
Proper assistance to Store Switcher
Geo IP and
Magento 2 Store Switcher
will be the couple extensions with full features to support multi-stores properly. The module collaboration will bring amazing effects as follows:
Redirect to specific Store View and language Visitors coming to an international store will be redirected their appropriate store view with the familiar language. Thanks to the detection of IP addresses from Geo Ip and the switching function of Store Switcher, customers can totally feel relaxed with their familiar language when they are surfing on any international page.
Automatically switch to the appropriate currency Besides, this mixture helps customers view products in appropriate price currency which is widely used (such as USD) or native to the customer's country. Customers do not need to change the product price to their wished currencies by themselves. Every currency converting action is totally automatic
Learn more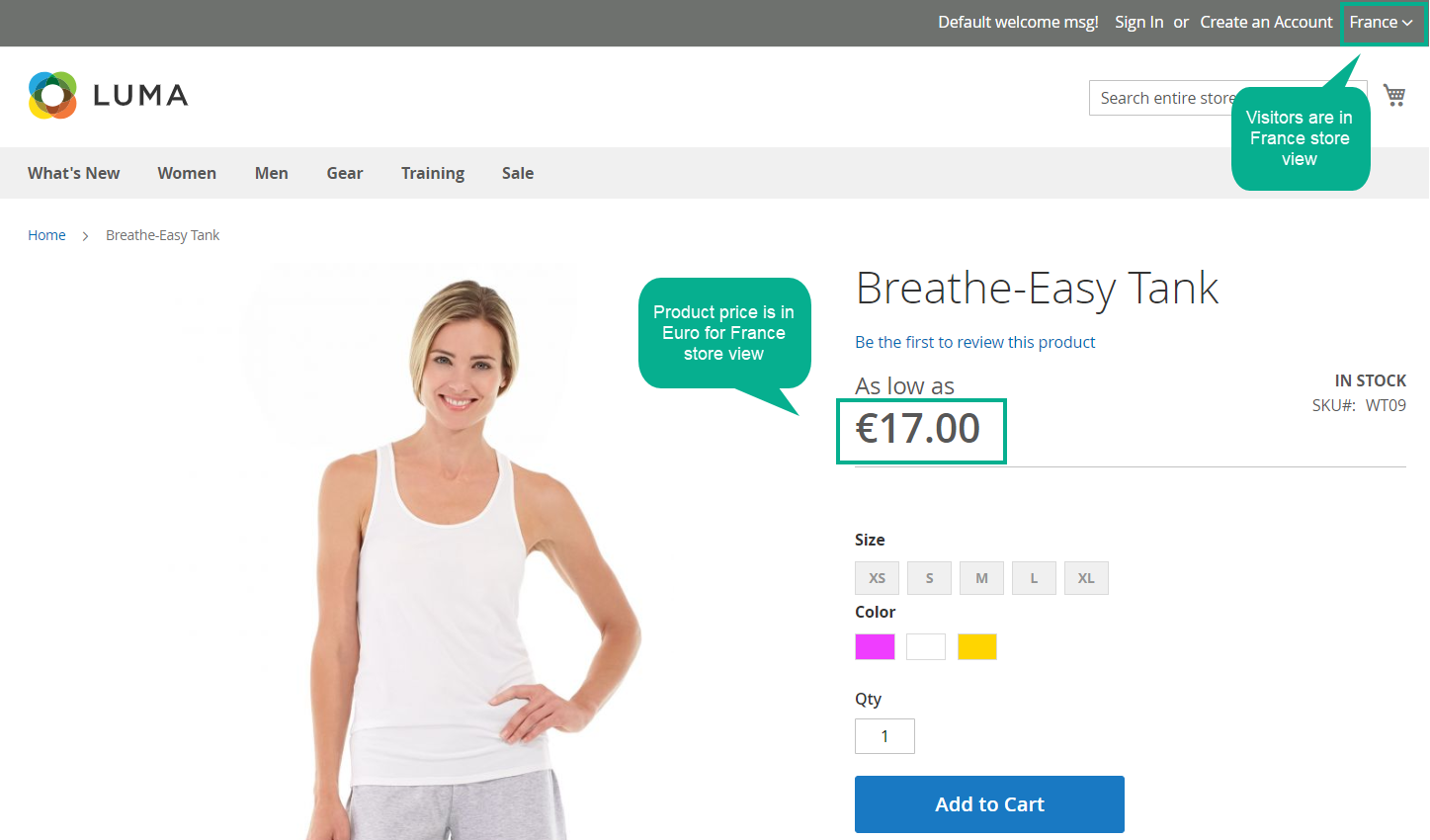 Enhance user experience
GeoIP and Store Switcher supports greatly in enhancing user satisfaction by improving the usability and accessibility of users when they visit store sites.
Being automatically switched to the appropriate store views with the familiar languages and currencies, customers will feel the shopping sites much more friendly and convenient. As a result, customers can invest their time to focus on shopping and picking up their favorite items with ease.
Full Features List
For store admins
Enable/ Disable the module
Download library to activate the data source
Use customers' IP addresses to detect customers' locations
Redirect customers to specific store views
Decrease bounce rate from first-time site visits
Collaborate with Mageplaza Store Switcher to switch language and currency
Compatible with Mageplaza's extensions: Age Verification, Payment Restrictions, Extra Fee, Store Locator...
For customers
Automatically be switched to store view appropriately
View the site with the familiar language and currency
Have better user experience on shopping site
FAQs
This can be done properly if you install GeoIP and Store Switcher. Two extensions support each other effectively to make your wish come true.
Yes, absolutely. GeoIP supports customers in detecting their country and switches them to the store site with their familiar language.
Firstly you need to select two currencies: Stories > Configuration > Currency Setup. Secondly, to set the currency rate, please go to Stories > Currency > Currency Rates.
Yes, customers can come back easily by selecting the store view on the top menu from the frontend.
Can't find your feature?
Are you looking for a feature in GeoIP. Tell Elle your wants and needs.
Chat with Elle
Are you an agency?
Do you often visit us for purchasing extensions and technical support? Speak to April to learn about your exclusive benefits on Mageplaza
Chat with April
Excellent!
Easy to install, had a small issue but support was able to resolve it in less than 24 hours! Thanks, Mageplaza
Good solution.
This extension is a perfect store switching solution. Especially when it is free
Multi-Store recommended
Being able to correctly identify a customer by IP is something we wanted from day 1. This will allow us to show correct pricing and special products once we roll out our new store overseas. So far, testing has been spot on. Easy installation was a bonus. If you have even one additional store view in a different country, you need this extension.
Excellent
It's a great extension and easy to install and receive immediate support whenever requested as my requirements are quite complex. I recommended for everyone who needs GEOIP and this helps SEO in Google search. Thanks again for the free extension.
mohamed
-
Verified Purchase
Excellent prouduct
'GeoIP' is a great extension by Mageplaza and enhanced my selling experience. Now, my eCommerce store automatically identifies the place from which the customers belong and redirects the website to their native store. Thanks again
mohamed
-
Verified Purchase
lovely one
Great extension and entirely free extension. It is a very simple extension but extremely useful and essential. It works very fine with my Magento 2. Very useful extension recommended for everyone. Thanks again.
mohamed
-
Verified Purchase
Exellent Module
Thank you for this free extension. It is a very simple extension but extremely useful and essential. It works perfectly with my Magento 2. There are no core problems. Also, it works perfectly. Thank you Mageplaza Team!