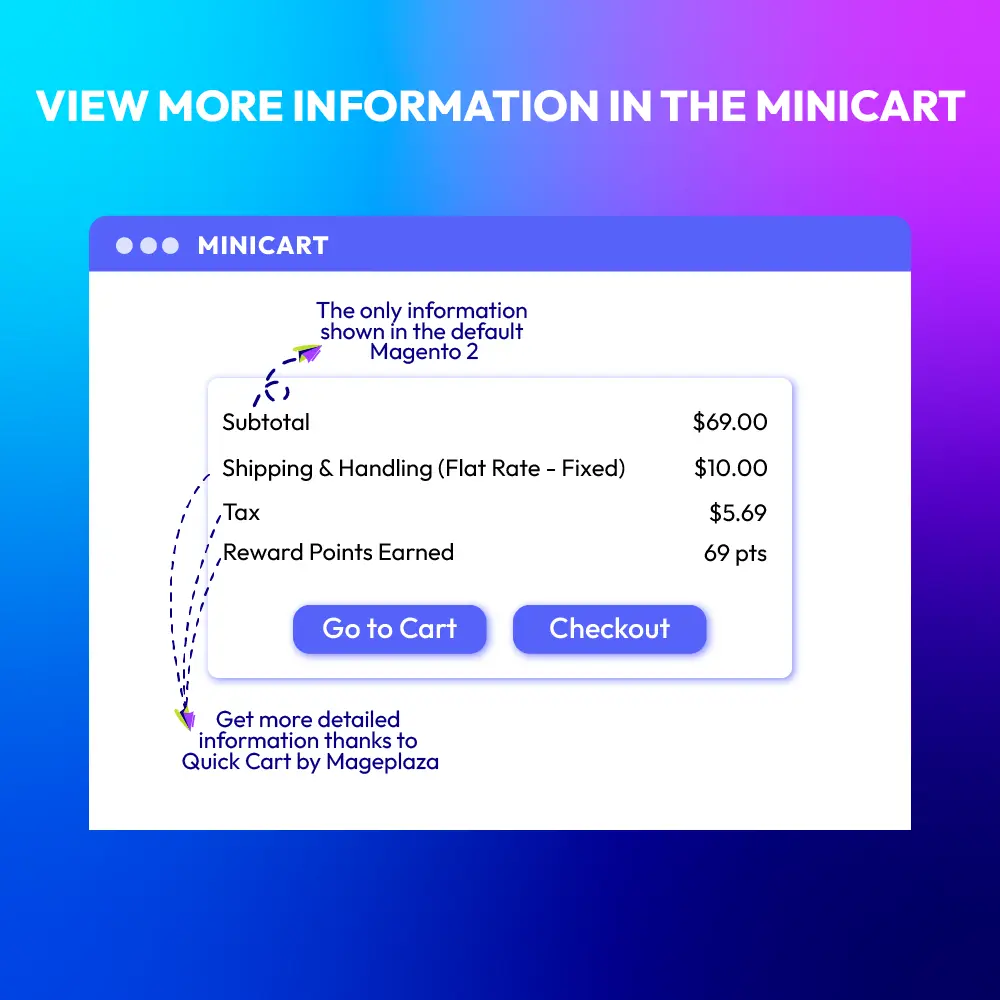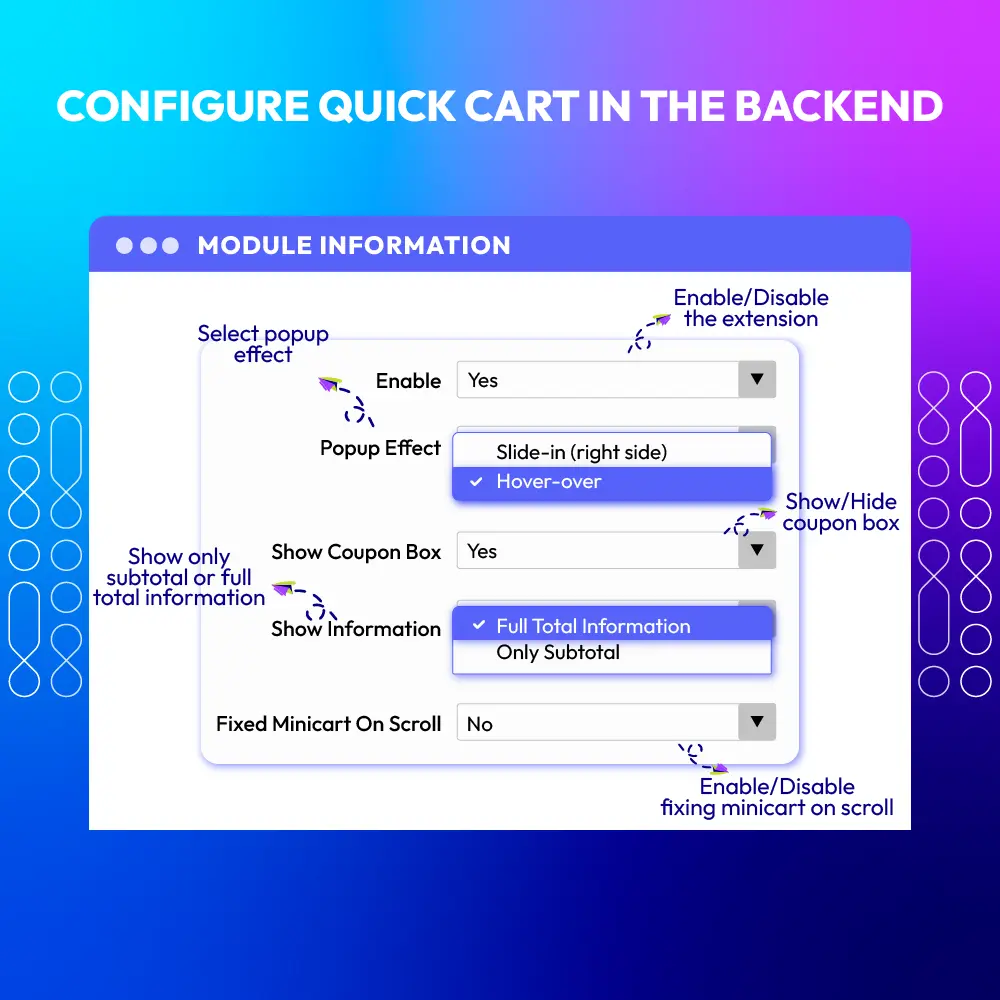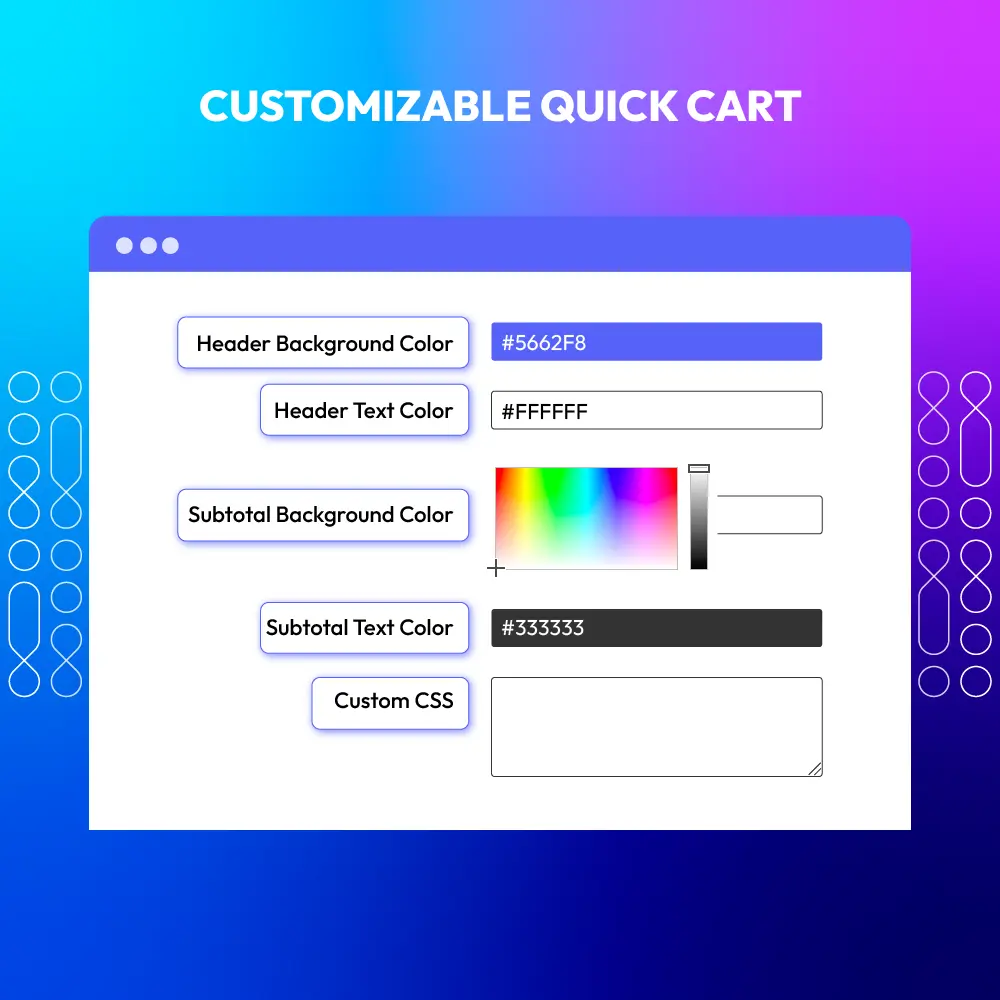 60-day Money Back
Frequent Update
365-day Support
Quick Cart for Magento 2
v4.0.3
Quick Cart for Magento 2 modifies the minicart in Magento 2 Default in both design and function. With Quick Cart, customers can grab quickly all necessary information, add coupon code and go to checkout instantly. The advanced quick cart simplifies the checkout and increases conversion rate in Magento 2 online stores.
CE/EE/B2B/Cloud/ Adobe Commerce 2.2.x, 2.3.x, 2.4.x
Chat now
Problems
By default, the mini cart of Magento 2 default only shows the subtotal - the total of product prices. However, this is not the final price because it does not show the discount, the shipping and tax rate, etc. Moreover, customers can not apply the coupon code right on the mini cart. They have to go to the shopping cart to apply and checkout. Also, in fact, the default mini cart shows very little information (items, quantity, item price, subtotal) which makes customers not ready to checkout. They have to go to the Shopping Cart page to view the other types of fees and discount before their checkout. This is bad for customer experience.
Solutions
Better layout and effect for better user experience
Adequate information to checkout instantly
Simplify the checkout process, increase conversion rate
Pricing

Choose your suitable edition
Community
Crafted for a great webstore start
$

199

first year
Supports for Magento 2 Community Edition
Enterprise
Great for an enterprise solution
$

399

first year
Supports for Magento 2 Enterprise Edition
Highest priority support
The minicart by Quick Cart is updated in layout (the positions of buttons), the addition of effects to open the minicart. Besides, customers can apply coupon codes right at the minicart. Especially, the price details are displayed clearly and adequately including shipping fee, tax, reward points, discount and grand total.
Yes, of course. You can design the color of Quick Cart elements easily including Header Background Color, Header Text Color, Subtotal Background Color, Subtotal Text Color. Besides, Quick Cart module supports Custom CSS to help you design freely.
Yes, you can. From the backend configuration, please enable the "Fixed position on scroll", the button of minicart will be fixed on the screen while you scroll the page up and down. You can open the minicart anytime.
Informative Minicart
I love the fact that it can show more product infos in the minicart. The installation is easy and straightforward too.
MUST HAVE EXTENSION
Easy to install and configure. Everything is ready within a few minutes. Mageplaza's support team is always there to help me instantly. Thumbs up for a job well done!
Karma Ann
-
Verified Purchase
Great Solution
this is an amazing extension. I am using this extension when installing this extension we are facing some issues but Mageplaza resolved my all issues very quickly. And this extension is very helpful for customers to procced order quickly Thanks, Mageplaza
faraz bashir
-
Verified Purchase
Good
This is one neccesary extension you must have if you want to give customers the best experience at your store. The support is reliable and almost instant. I'm quite surprised by that fact. Overall, it's a good experience.
Mini Cart is great
Mini Cart works great and I can even customize it so everything sounds great. Easy to install following the guide, so I had no problem solving it by myself. Love it!
Yvonne
-
Verified Purchase
Fast proceed to checkout
I really like this extension, works very well on my website, it fastens the purchase process letting the customer going straight to the checkout.
Don't see the features you are looking for?
Request feature
Submit your feature requests below
Want to do extension customization?
Custom request
Let us know your requirements
v4.0.3

10 June 2022

Compatible with Magento v2.4.4
Fixed minor bugs
v4.0.2

26 August 2021

Compatible with Magento 2.4.3
Compatible with Multiple Coupon & Quick View
Fixed minor bugs
v1.0.4

14 June 2021

Compatible with Magento 2.3.7
Fixed minor bugs
v4.0.1

07 May 2021

Compatible with Magento 2.4.2
Compatible with Multiple Coupon
Fixed error with Porto theme
Fixed error load js component
Fixed error format shipping price
Fixed minor bugs
v1.0.3

07 May 2021

Compatible with Magento 2.3.6
Compatible with Multiple Coupon
Fixed error with Porto theme
Fixed error load js component
Fixed minor bugs
v4.0.0

01 October 2020

Compatible with Magento v2.4.0
v1.0.2

01 October 2020

Compatible with Mageplaza Gift Card
v1.0.1

19 June 2020

Fixed responsive on the mobile device
v1.0.0

16 September 2019

Initial Release
Full Features List
For store admins
General
Enable/ Disable the extension
Select popup effect to show quick cart: hover-over or slide-in
Allow/ Disallow auto-opening the quick cart
Allow/ Disallow showing coupon codes
Select information to show on the quick cart: Full total information or only subtotal information
Allow fixing the mini cart when mouse scrolling
Compatible with other extensions: Save Cart, Advanced Sorting, Share Cart, Quick Order,
Design
Select Header Background Color
Select Header Text Color
Select Subtotal Background Color
Select Subtotal Text Color
Custom CSS
For customers
View information easily and adequately
Process checkout quickly from the minicart without going to the Shopping Cart page
Have a better shopping experience
Why choose us?
Mageplaza provides consistent and customer-centric extensions for your Magento 2 store.
We don't sell products for one time. We provide lifetime solutions which help our customers thrive with their businesses.
60-day Money Back
Extensive 60-day money-back period. You love it or get a full refund no questions asked.
Extensive Support Timeframe
Mageplaza provides support 16 hrs/day, 5.5 days/week to guarantee the seamless operation of our extensions on your store.
Install via Composer
Simple installation via composer helps you save time and eliminates technical issues during future updates.
Frequent Updates
Intensive update roadmaps ensure great performance, bug-free, highly compatible, and innovative extensions.