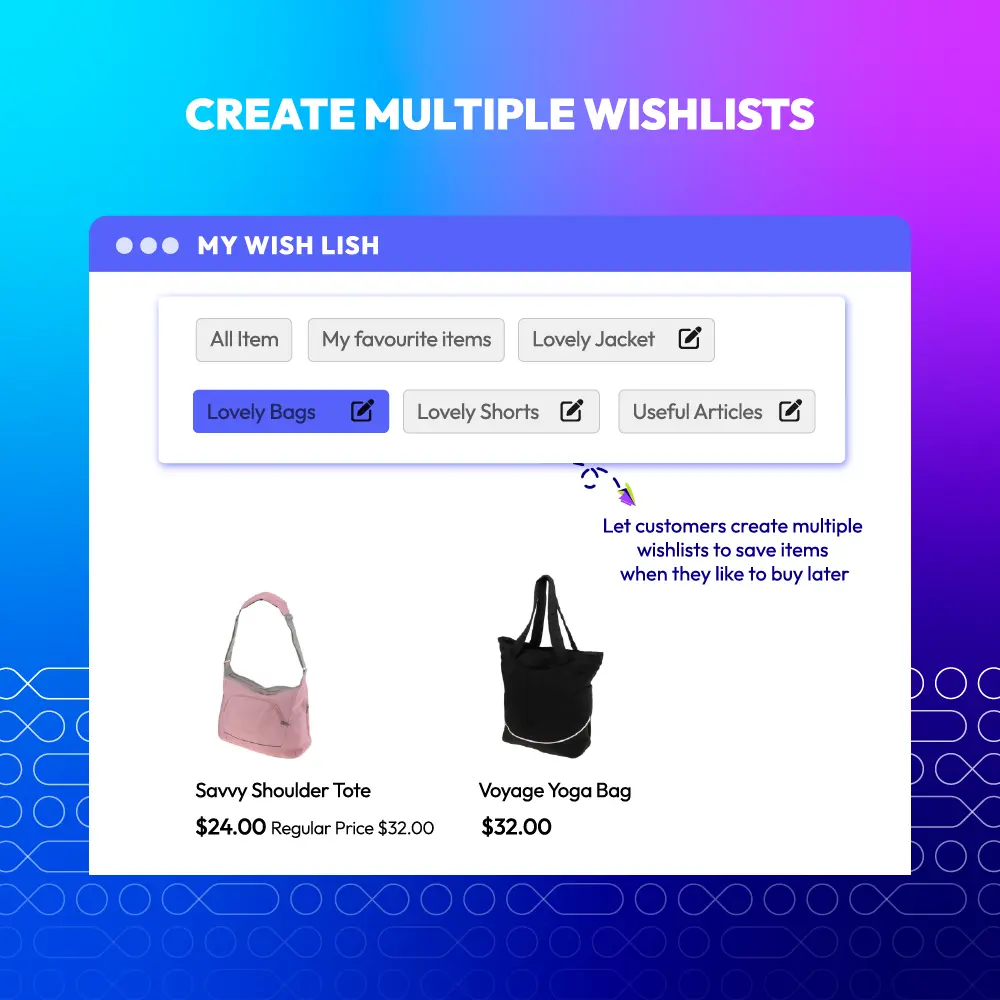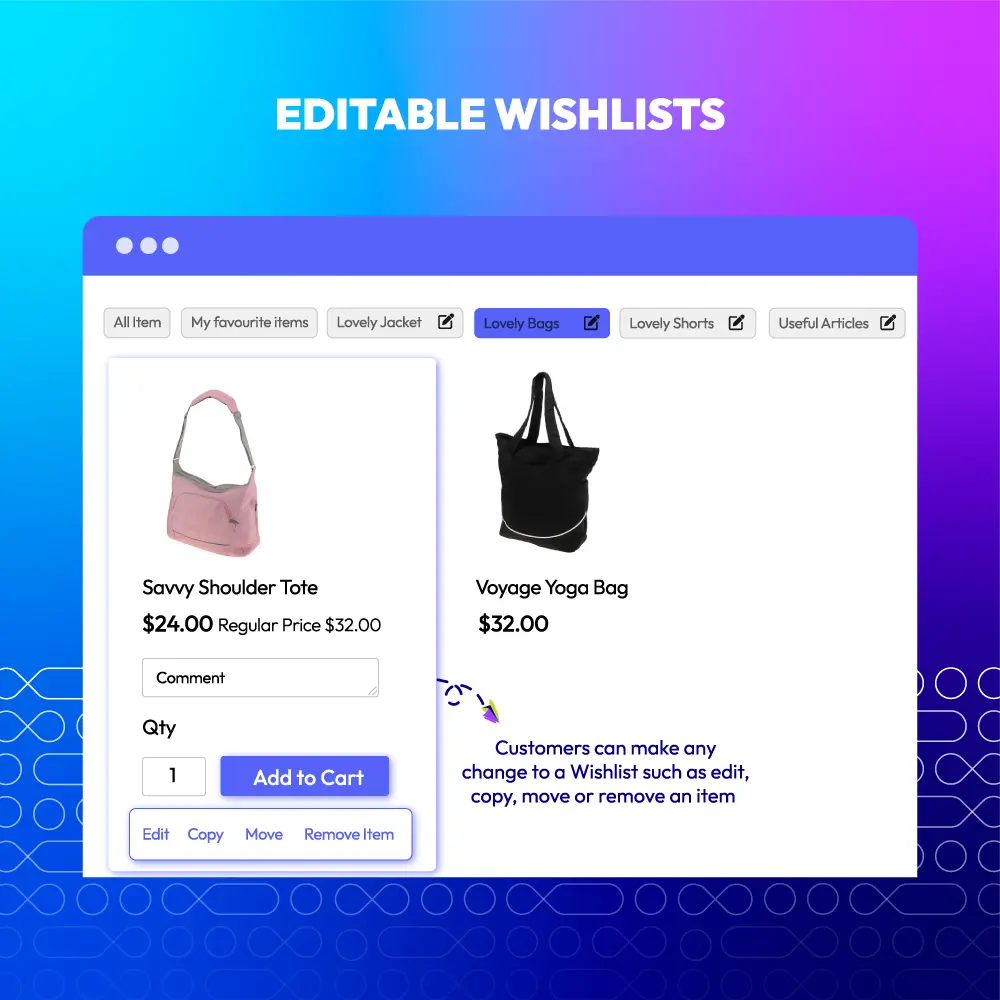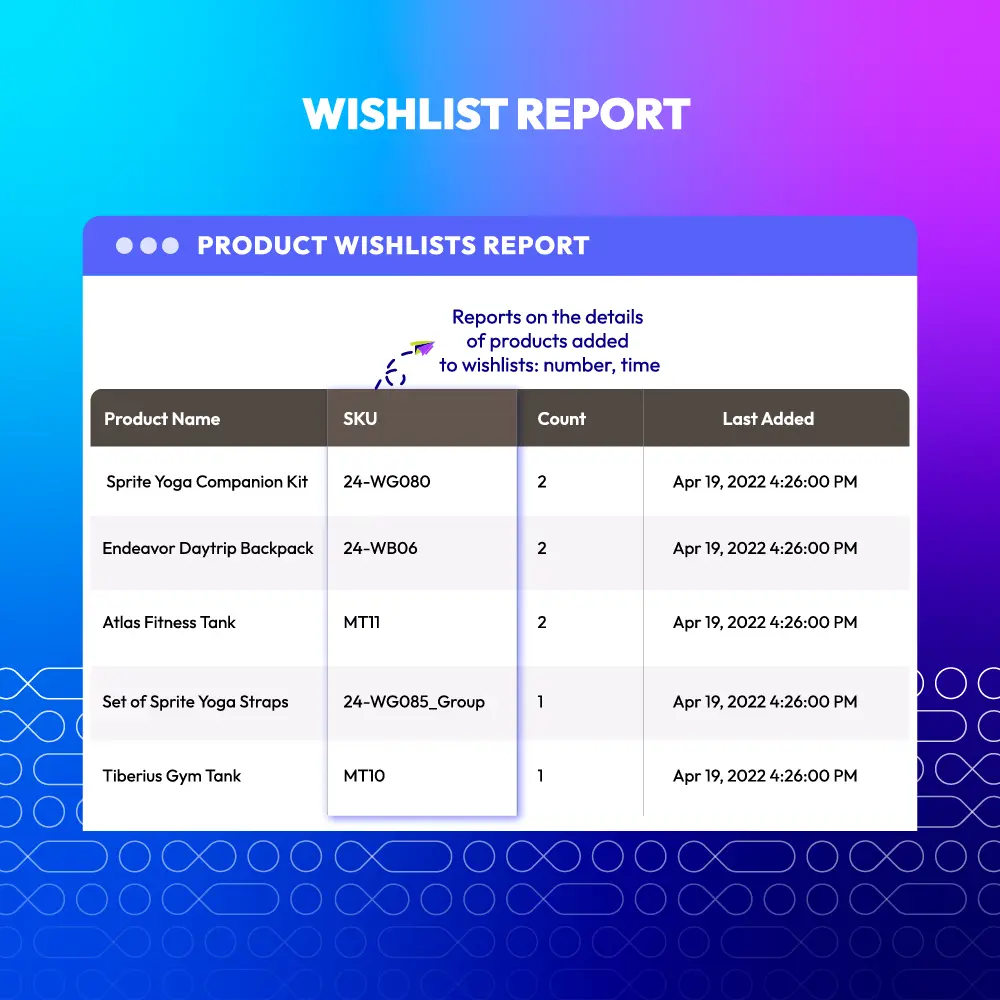 60-day Money Back
Frequent Update
365-day Support
Wishlist for Magento 2
v4.0.3
Magento 2 Wishlist extension brings an excellent solution to help customers create multiple wishlists to save any their preferred items organizedly. Various wishlist categories assist shoppers manage and access their wishlists much more quickly and easily.
CE/EE/B2B/Cloud/ Adobe Commerce 2.2.x, 2.3.x, 2.4.x
Chat now
Problems
Problem 1. Limitation of wishlists: In the Magento 2 Default, the number of wishlists is limited at only one. This makes customers feel inconvenient in case they would like to sort out the items into specific categories to easily find out next time.
Problem 2. Limitation of functions: The functions of Wishlist in Magento 2 Default are restricted with editing and removing items only. Besides, customers only can share their wishlist via sending email, not other channels.
Problem 3. Limitation of user experience: In Magento 2 Default, when customers add an item to the wishlist, the page will be reloaded to another page and this causes the interruption when customers are willing to shopping more. Besides, the lack of functions will make the user experience less interesting.
Solutions
Easy to track the desired items via various wishlist categories
Share a wish list to friends quickly via social channels
Save a deal of time on shopping
Better experience on store site
Customer behavior analysis via listening to their wishes
Drive a lot of traffic to the store site
Make your store site look more modern and professional
Pricing

Choose your suitable edition
Community
Crafted for a great webstore start
$

129

first year
Supports for Magento 2 Community Edition
Enterprise
Great for an enterprise solution
$

329

first year
Supports for Magento 2 Enterprise Edition
Highest priority support
The number of wishlists will depend on the setting of admins from the backend. From the backend, please go to Limit Number of Wishlists
A pop-up will appear and the customers can select a wishlist via the drop-down box.
Yes. Please add default wishlists from the admin backends. They are undeletable wishlists.
It depends on your setting. You can enable/ disable removing a product after being added to cart from the admin backend.
Yes, there is. This tab will contain all your desired item and admins can allow showing/ hiding it from the admin backend.
Yes. They can do it easily by clicking on function buttons.
Great
The wishlist is quite necessary for stores like us as there're many options and customers tend to come back to try more after a while. Thanks for a great extension Mageplaza.
MY CUSTOMERS LOVE IT
My customers love it when they can create multiple wishlists to save any their preferred items. Thank you!
Ashley
-
Verified Purchase
Great Extension
This better wishlist works great and adds the feature that I wanted. Customer Support was also kind enough to add in a small feature for me. Definitely Recommend!
Adrian Chung
-
Verified Purchase
Magic
Simply put it works like magic.
Great experience
Fast and great quality support. My issue is solved right away. Shin understands my question and requirements so fast. Thank you!
Moisa Claudiu
-
Verified Purchase
Will come back to you
I had some difficulties with installation and I reported. They helped me with the installation process. Great and thanks for your support :-)
Emil Shamloo
-
Verified Purchase
Easy to install and use
This extension was really easy to install and configure. It does exactly what we required. No issues until now. Thanks, guys
Harry J. Stowell
-
Verified Purchase
Must have extension!
I must say that this is a must-have extension. It makes great customers experience. Thank you Mageplaza!
Benjamin A. Richter
-
Verified Purchase
You need to try this
This amazing extension allows my customers to pick their preferred items to an unlimited number of wishlists. Highly recommended!
Matthew S. McNeal
-
Verified Purchase
Very good
The two things that I concerned most before buying an extension are quality and support. I'm glad that Mageplaza has both. Thank you guys
Ethan C. McGee
-
Verified Purchase
Don't see the features you are looking for?
Request feature
Submit your feature requests below
Want to do extension customization?
Custom request
Let us know your requirements
v1.1.2

10 August 2021

Compatible with Magento v2.3.7
Fixed minor bugs
v4.0.1

12 May 2021

Compatible with Magento v2.4.2
Fixed minor bugs
v1.1.0

30 March 2021

Supported RestAPI & GraphQL
Improved compatible with Magento v2.3.6
Compatible with Mageplaza Quick View & Ajax Cart
v4.0.0

23 March 2021

Supported Magento v2.4
v1.0.4

17 August 2020

Fixed backend wishlist cache error
v1.0.2

18 October 2019

Fixed error add to wishlist
Fixed XSS & minor bugs
v1.0.1

30 August 2019

Compatible with Magento 2.3
v1.0.0

06 March 2019

Initial Release
Magento 2 Better Wishlist's Full Features
Better Wishlist extension for store admins
Enable/ Disable the module
Allow removing items from the wishlist after being added to cart
Enable showing multiple wishlist tabs
Allow showing All-item tab
Add default wishlists
Allow/ Disallow customers to create any wishlists
Limit the number of wishlists
Allow sharing the wishlist via social channels
Better Wishlist extension for customers
Create any wishlists
Edit the name of the wishlist
Delete a wishlist
Edit a wished products (attributes, quantity)
Copy an item from a wishlist to another one
Move an item from a wishlist to another one
Remove an item from a wishlist
Add each item of the wishlist to cart
Add all the items of the wishlist to cart
Share a wishlist via email with the message
Share a wishlist via social channels
Why choose us?
Mageplaza provides consistent and customer-centric extensions for your Magento 2 store.
We don't sell products for one time. We provide lifetime solutions which help our customers thrive with their businesses.
60-day Money Back
Extensive 60-day money-back period. You love it or get a full refund no questions asked.
Extensive Support Timeframe
Mageplaza provides support 16 hrs/day, 5.5 days/week to guarantee the seamless operation of our extensions on your store.
Install via Composer
Simple installation via composer helps you save time and eliminates technical issues during future updates.
Frequent Updates
Intensive update roadmaps ensure great performance, bug-free, highly compatible, and innovative extensions.