Magento 2 One Step Checkout vs. One Page Checkout
The Most Popular Extension Builder for
Magento 2
With a big catalog of
234+ extensions

for your online store
While there is not much cart abandonment at bricks and mortars, this figure is double in e-commerce, according to recent research by Barclaycard. The reasons behind this phenomenon can be the lack of site navigation, poor service and more complicated checkout process or anything. Among these problems, an online store needs to especially concern about their checkout page as this happens to be the most vital factor when it comes to successful checkout.
In default Magento 2, the old one-page checkout containing 6 lenthy steps has been innovated to a new one which includes only 2 steps. This improvement is to simplify the checkout process for buyers and cut down cart abandonment rates. Besides this solution provided as default by Magento 2, One Step Checkout extensions are developed to optimize the checkout process with clearer indicators, more convenience and quicker info processing.
If you are ever confused between these two definitions, you will get it clear now through this post:
One Page Checkout
Magento 2 one page checkout becomes much better than the previous version with a change in the number of checkout steps. Compared to Magento 1, the checkout page in Magento 2 only includes 2 simple steps. Let's look at the screenshots below: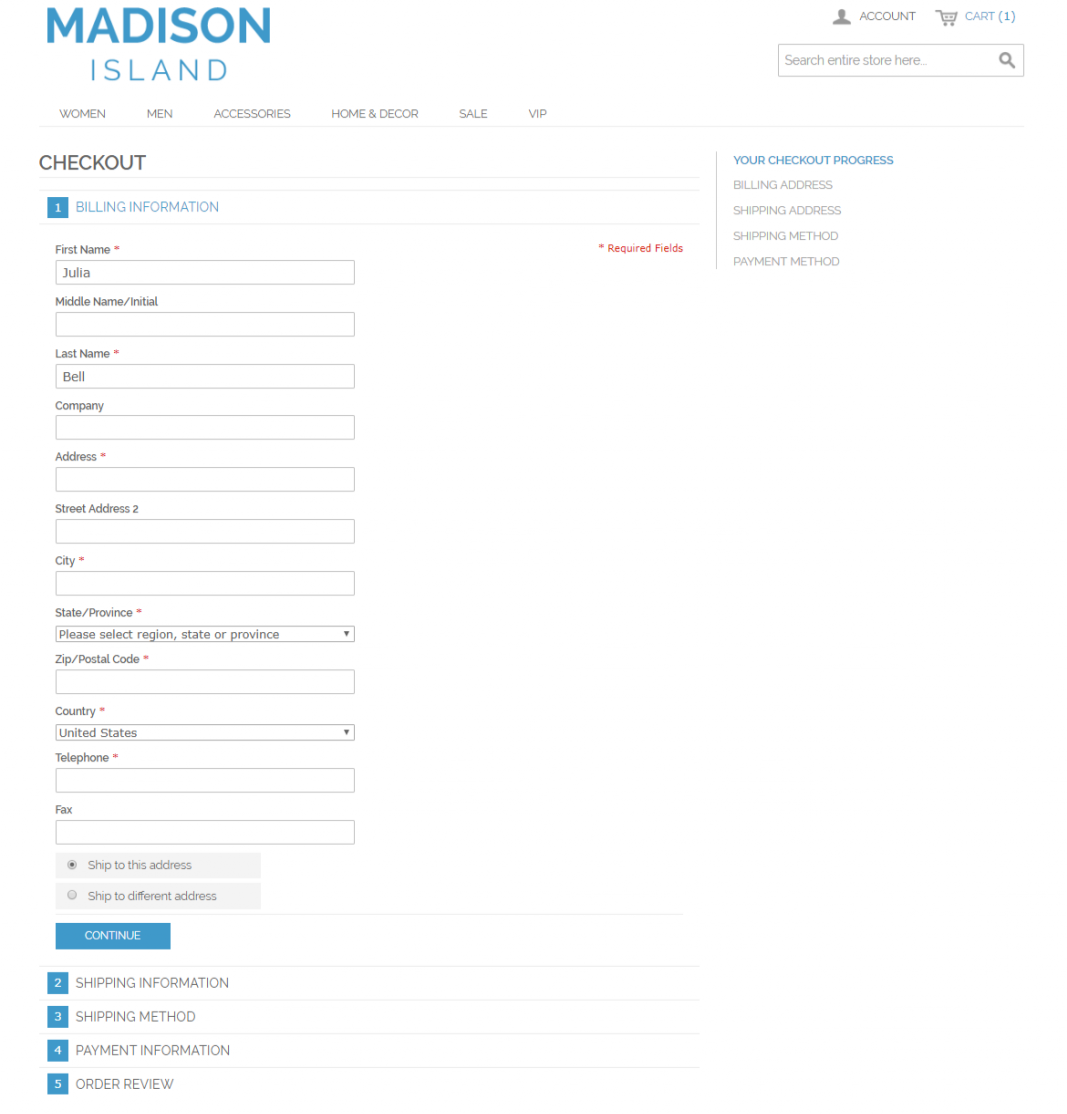 Instead of the painfully long checkout process, in Magento 2, buyers can proceed it much quicklier. Moreover, the 2-step indicator makes shoppers feel less overwhelmed, so they will be more likely to pay. Consequently, your cart abandonment rates go down and conversion rates will go up.
One Step Checkout
Also being featured on one single page, Magento 2 one step checkout is distinguished from one page checkout by its ability to finish all the checkout process in one step only. All processes in billing, shipping, payment and review are all presented on one page and buyers are not restricted to finish anyone before doing the other. To clarify, let's check the screenshot below: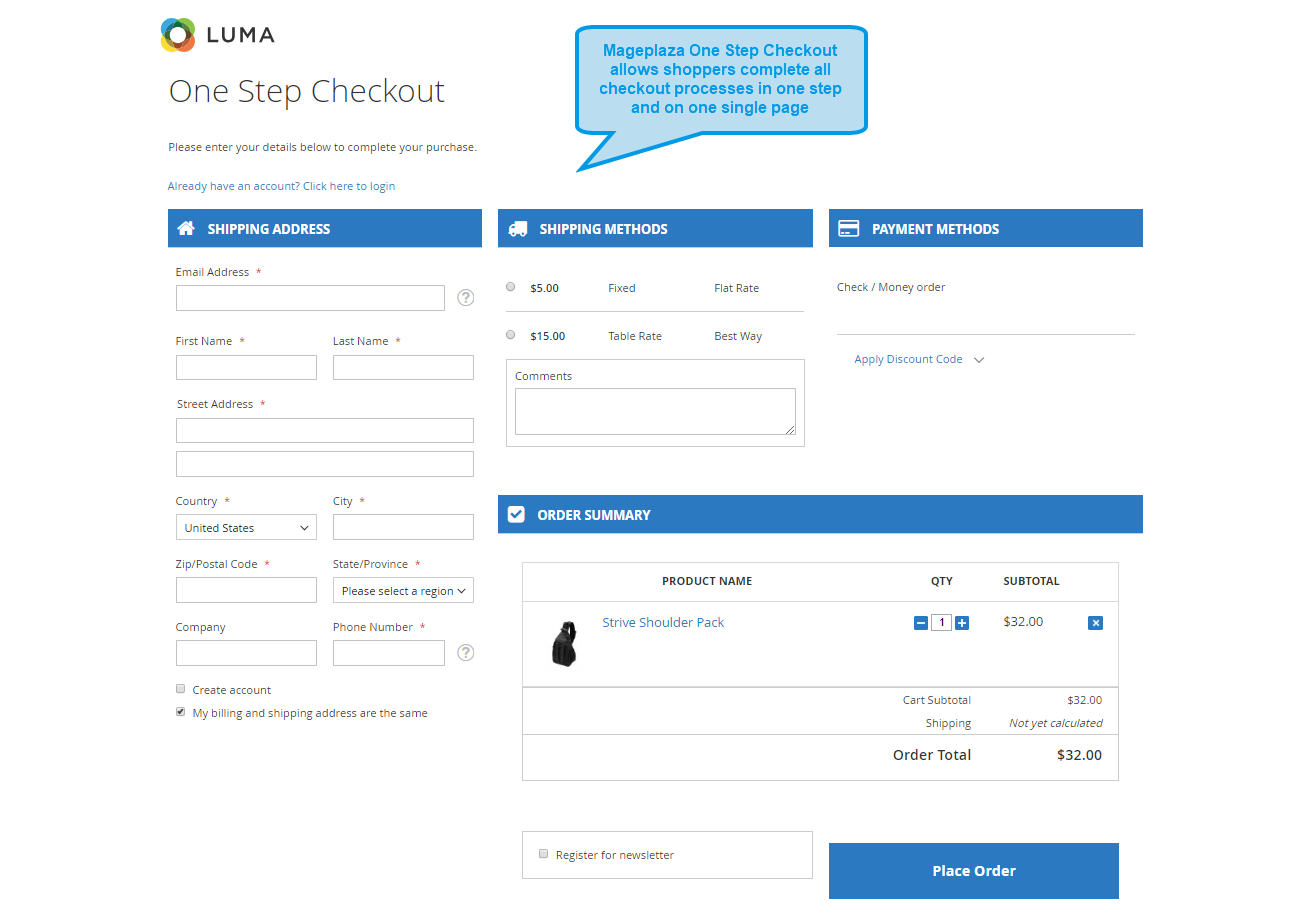 Now, let's have a closer look at how Mageplaza One Step Checkout extension works on your site through the following highlights:
An optimized checkout page
This is an optimized checkout page because two steps of default Magento 2 are now combined into one step only and they are featured on one single page to optimize the customer experience. For customers who are not familiar with online shopping and checkout, they can even find clear indicators for their checkout process and proceed it in the most convenient way. To clarify, in the screenshot below, all the checkout fields are well-arranged and contain all needed information for all of the process.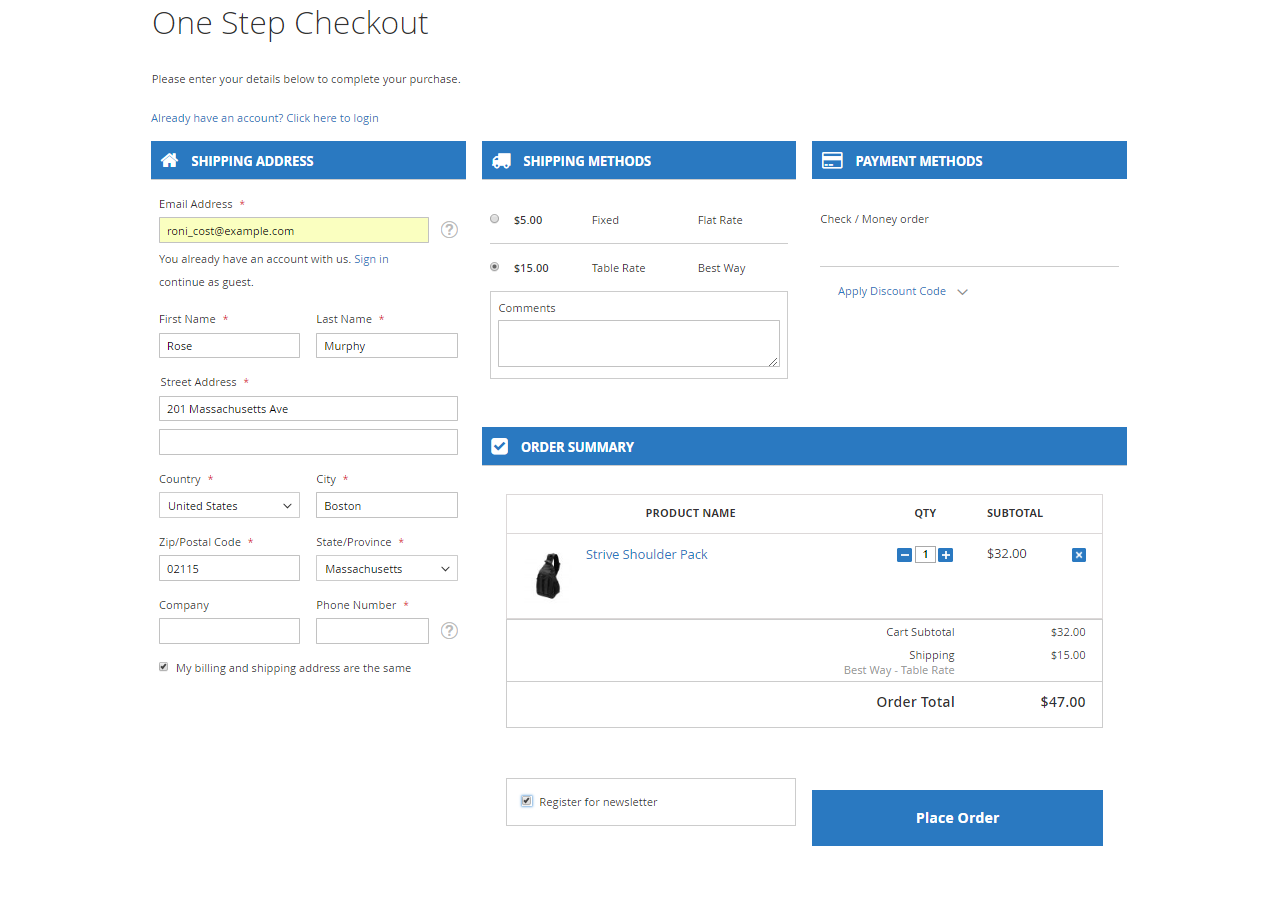 As you can see, the checkout page now looks more user-friendly than the default painfully long one in Magento 2. By displaying all available checkout fields as one step, buyers know what they have to fill in and how far they are in the checkout process. Hence, there will never be something like "Gosh! It will take forever to get this sh!t done. I quit"
Sign in and Sign up at checkout
One of the most outstanding features of One Step Checkout is that a first-time buyer can register right at the checkout page only with some single steps. This feature also supports non-login users to log in during their checkout process, or to continue as a guest. Compared to default Magento 2 One Page Checkout, an existing customer can log into his account on the checkout page with his billing information will be auto-filled right after. Moreover, by auto detecting customer emails, One Page Checkout can recognize if an email address belongs to a customer and subsequently process further information much quicker. Let's see the screenshot below:
Why is this important in reducing cart abandonment? Customers tend to favour quicker and less complicated checkout, yet the sign-in/sign-up process can take up to few minutes and, unfortunately, buyers need to quit the current checkout page. This will terribly give a bad impact on your cart abandonment rates. As keeping customers on only one single page is the aim of One Step Checkout, it is vital to enable buyers to log in at checkout.
Smart Shipping/Billing address completion
When it comes to filling billing information at checkout, it is not always a smiley face as there are too many fields which need completing including email, street address, city, country, state, zip/postal code, phone number and so on. One Step Checkout, luckily, is able to simplify this step for customers and save up a lot of checkout time. To clarify, Google address suggestion is integrated in One Step Checkout so buyers can easily find their precise addresses after typing only some characters. Furthermore, when a street address is completed, other respective information fields will be auto-fulfilled as below: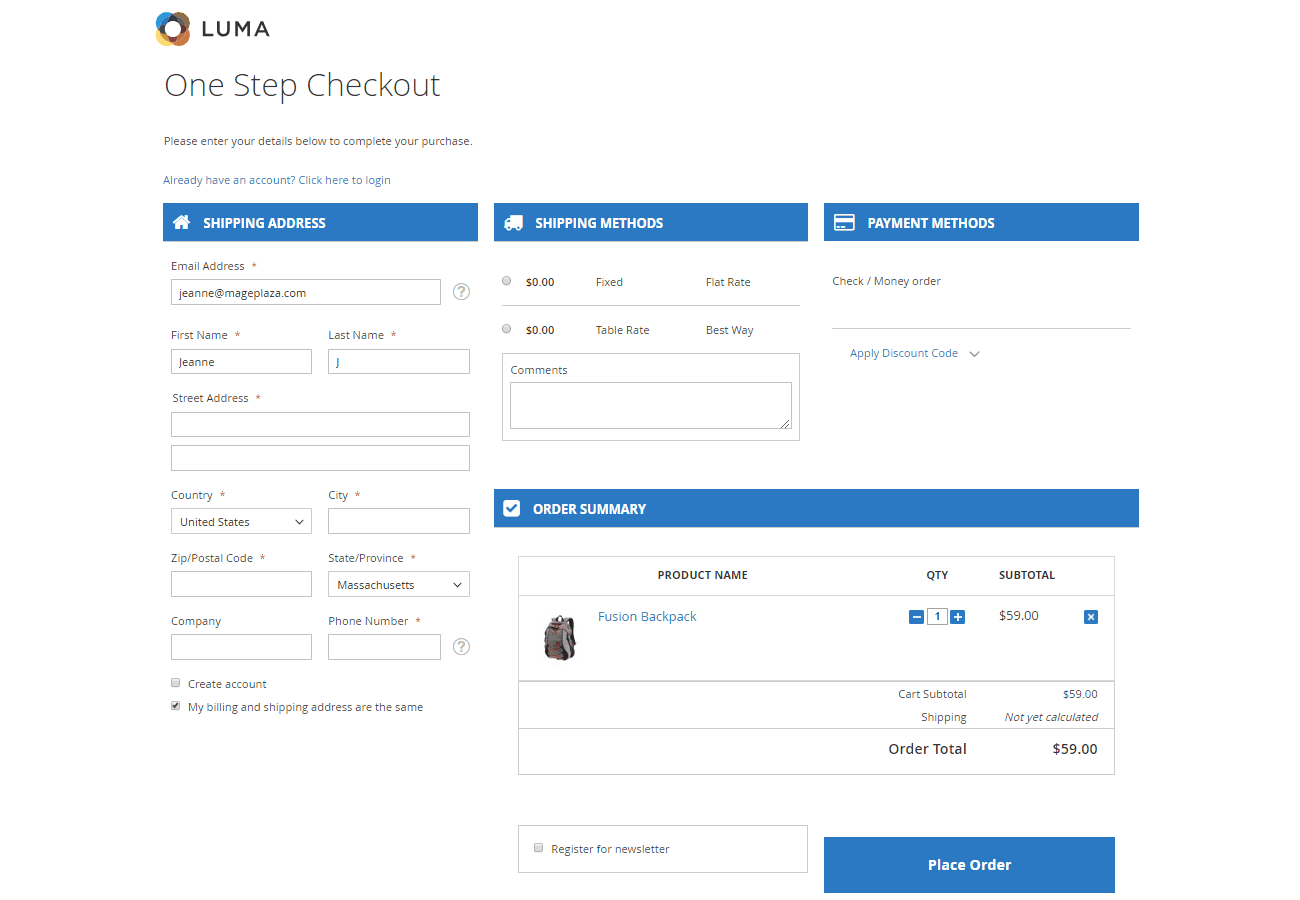 A great level of compatibility
Another feature of One Step Checkout which all merchants require to have in their checkout page is that it should be completely compatible with various payment methods, shipping methods, with the third parties and themes. Let's look at the following popular compatible objectives:
Payment methods:
Paypal
Paypal Pro
Amazon Pay
Bitcoin
Google Checkout
Shipping methods:
Store Pickup
Flat Rate
Table Rate
UPS
USPS
FedEX
DHL
3rd-party extensions:
Themes:
Stay on one step checkout
Shoppers should not be distracted by unnecessary elements, so One Step Checkout is developed to keep them stay on one page only. From login or sign-up to changing product quantities, review products, register for newsletter, checking terms and conditions, leaving gift messages and wrapping gifts, everything can be done only by clicks without no redirecting to other pages. Hence, your cart abandonment rate is cut down and your conversion rate grow significantly.
To sum up
Both One Page Checkout and One Step Checkout offer solutions for a better checkout page that merchants are looking for. However, the default Magento 2 One page checkout still remain a lot of disadvantages in boosting customer shopping experience and, especially, in reducing cart abandonment rate and checkout time. According to our research, up to 66% of abandoned carts are cut down and 80% of checkout time is reduced.
Increase sales,
not your workload
Simple, powerful tools to grow your business. Easy to use, quick to master and all at an affordable price.
Get Started
---
---

Summer Nguyen
Summer is attracted by new things. She loves writing, travelling and photography. Perceives herself as a part-time gymmer and a full-time dream chaser.
Subscribe
Stay

in the know

Get special offers on the latest news from Mageplaza.
Earn $10 in reward now!