How to Dropship on eBay? Everything You Need to Know
The Most Popular Extension Builder for
Magento 2
With a big catalog of
234+ extensions

for your online store
With a constant stream of loyal consumers and great business growth potential, eBay is lucrative for many first-time sellers and small businesses.
What's more, dropshipping on eBay has recently opened the door to this enormous audience without the need for upfront capital. Requiring far less prior investment than a regular store, dropshipping on eBay could provide a great gateway to online retail for merchants just starting out or looking to test the water.
So, how do dropship on this huge marketplace? What are the pros and cons of eBay dropshipping? And ultimately, is it really worth it?
We've outlined our complete guide to eBay dropshipping to help you determine whether it is the right model for your online business or not. Let's explore!
Table of contents
What is eBay dropshipping?
Dropshipping on eBay involves selling items on eBay and then working with your supplier to directly ship them to customers. Instead of manufacturing products or holding inventory, you - as the seller - focus on marketing activities, customer service, and finding potential products to sell.
To start your own dropshipping business on eBay, you need to find products, source them from a trustworthy supplier, and list your items on eBay. Many sellers use the exact images, product titles, and descriptions provided by their suppliers. When a customer purchases from your eBay listing, the details will be passed along to the supplier, who is then responsible for shipping the product to the customer.
Your profit comes from buying products at a wholesale price and then reselling them at a higher price.
Related topics: How to Dropship on Amazon?
How does eBay dropshipping work?
Is dropshipping allowed on eBay? Yes. But it is restricted.
This is to protect its images as a safe and no-risk marketplace. Considering it reached 185 million active users around the world, it has the right reasons to do so. If you haven't known yet, eBay is a large online auction website from the USA. Sellers will post their products with a starting bid, and buyers can find, bid on, then purchase. Sellers can also add a "Buy It Now" option to control the price and let customers purchase without bidding.
When it comes to dropshipping on eBay, you need to purchase in bulk from a wholesaler and have a fulfillment service to store and ship products on your behalf.
Anyone with a seller account can start dropshipping on eBay. However, its obligations do make things a bit more complicated than traditional dropshipping. Let's move to the next section to explore!
eBay dropshipping policies
As we said before, dropshipping is technically allowed on eBay as long as you "fulfill orders directly from a wholesale supplier." This means if you buy bulk quantities from a wholesale supplier, those products can be promoted on eBay.
However, keep in mind that if you buy items from another retailer or marketplace that ships directly to your customer, this is not allowed. So, you can't list something on eBay, purchase it from Amazon, and then have it shipped to your eBay customer. It is not only confusing for the customer to receive an Amazon package in the mail, but it also means they cannot track shipping.
An important point to note here is that you can still use Amazon FBA for eBay fulfillment. The difference is you will use Amazon's fulfillment services rather than buying the product on their marketplace.
Besides, if you use dropshipping, you are still responsible for the safe delivery of the product within the time frame stated in your listing, as well as for the customer's overall satisfaction with their purchase.
eBay is strict about this policy, stating that they will remove or lower your listings in their search results. If you are a long-time seller, they may even lower your rating or status on the platform.
How much does it cost to dropship on eBay?
There are a few different costs when you dropship on eBay, including eBay's own fees for using their marketplace and your suppliers' fees. The main dropshipping fees on eBay are:
Insertion fees (or listing fees). You'll get 50 free per month, and beyond that the fee for listing an item in most categories is $0.35.

Final value fees (or selling fees). These fees are a percentage of a product's total sales price. For most sellers, it is 10% or even lower.

Listing upgrades. With extra upgrades like larger photos, international site visibility, and more, you'll get more power to attract customers.

Fees in select categories. Fees can vary in certain categories, including real estate, business and industrial items, and motor vehicles.
The two critical fees to consider are the listing fees (the cost to post your item, no matter if it sells or not), and the final value fees (calculated on the item's final sale price).
Pros and cons of dropshipping on eBay
Providing you follow its guidelines, eBay dropshipping does offer some great benefits, especially for start-ups and new sellers. Here are the advantages:
No upfront investment. Perhaps the greatest benefit of eBay dropshipping is the fact that you don't need to buy stock in large quantities upfront. You just need to find a wholesaler who is happy to dropship to your customers. And in case it is not right for you, there's little to lose other than your time.

Easy to get started. As you don't need to invest in inventory, it's quite easy to get started with almost no money at all. There is no need to face the hassle and costs of setting up your own online store or E-commerce blog. All you need to do is create an eBay seller account and find a wholesaler to dropship on your behalf.

Take advantage of eBay's audience. eBay is one of the largest and most well-known auction sites for buying goods online, meaning it already has a huge and loyal customer base. By starting your eBay dropshipping business, you will essentially gain access to a vast audience with zero work from your side.

Save on marketing efforts. As well as capitalizing on a huge ready-made customer base, eBay dropshipping means that you don't need to spend loads on marketing; millions of online customers will see your listings anyway.
On the face of it, dropshipping on eBay seems like a no-brainer, but there are a whole host of disadvantages to take into consideration before committing to it, especially since eBay introduced its strict dropshipping policy. Below are the disadvantages:
Listing fees. eBay charges a fee per listing (the first 50 listings are free) as well as 10% of your total sale price. With the already-slim profit margins via dropshipping, these fees can add up quickly.

Less customization. Dropshipping on eBay can be a great way to start an online business, but fewer customization options for your store and listings can make it difficult to stand apart from your competitors.

You're responsible when things go wrong. You're entirely responsible for the safe delivery of the product within the time frame stated in your listing. However, you are reliant on the supplier to dropship for you. So, in case they run out of stock and wait a month to ship, there would still be no repercussions for them at all. Meanwhile, the negative feedback you would inevitably receive could result in account suspension, not to mention a severe drop in sales.

High competition. Owing to its low barriers to entry, eBay dropshipping is an appealing pie to lots of online sellers just like you, meaning the competition is steep. Especially when many retailers will be selling the same products as you, you'll need to focus your efforts on others that are easy to stand out, which can be highly time-consuming.

Low profit margins. With such fierce competition, you may need to keep lowering your prices to remain a viable option to your customers. What's more, eBay dropshipping fees can reduce your profit margins. So, to realistically make money from eBay dropshipping, you'll have to maintain a huge sales volume every month.
Ultimately, it's really up to you to determine where you want to place the bulk of your time and effort, but eBay dropshipping is still a simple and effective way to make money for many sellers.
5 steps to start dropshipping on eBay
If you still want to try dropshipping on eBay, below are 5 necessary steps for you.
Step 1. Find your supplier(s)
The supplier you choose can actually make or break your dropshipping business. They are responsible for the storing and shipping of the product, so your reputation is in their hands.
When deciding which supplier to cooperate with, ask these questions to the supplier and yourself:
Does the supplier actively support dropshipping?
What shipping methods does the supplier offer? How long do these methods typically take?
Do they deliver worldwide, or only to specific countries?
How do they conduct their quality control?
How is their reputation? How would they support if any problems happen with the order?
Can you use their source material (product photos, descriptions, specs) in your listings?
Make sure you can find a trustworthy supplier. Dropshipping on eBay is great when you get it right, but there is potential to be scammed if you work with a dodgy supplier.
Once you have chosen your supplier(s), find their information and contact them. Remember to let them know your intention and ask about their policies on dropshipping. You can read our article named How to Find a Dropshipping Supplier? for more useful tips.
Learn more: Best USA Dropshipping Suppliers
Step 2. Choose your products
This step can come before or after step 1, depending on what you want your online store to be. While scrolling through items that your supplier offers, you may have some ideas of what to sell based on your own interest. With the help of eBay product research tools, you can analyze the statistics to find which items are able to make a profit on eBay.
Besides, you should request a sample order from your supplier first to make sure that you are satisfied with the quality of your future products. Nothing kills a dropshipping business on eBay faster than receiving customer complaints early on, so always keep your customers happy.
Step 3. Create your eBay seller account
It will take a few minutes to set up your own eBay seller account. But below are some important points that you should not overlook:
Pay attention to eBay's seller information center, where you can find many useful links and guidelines for setting up your store.

Choose your account name wisely. If you choose crude or offensive ones, you might drive customers away (and even violate eBay username policy). With clever or catchy names, you might get better sales.

You may be required to provide a tax ID. You can search on Google to know how to apply for a tax ID in your state.

Set up your own payment method. These methods may vary by country, but all US sellers are required to have either a merchant credit card account or a PayPal account.

Create your profile page with details about your store and its policies, such as shipping and return policies. Detailing your background and credentials will be useful for specific niche markets (electronics, health, make up, etc.)
Step 4. Create your product listings
Using the available information provided by your supplier, build your own product listings.
By creating converting product descriptions with high-quality images, you can convince customers that your product is the best option for them. Product listings that are well-written are more likely to rank higher on eBay's search engine.
When visitors are comparing your products to your competitors, they have a list of questions to ask themselves, such as:
Does this product have the specific feature(s) I'm looking for?
How long does it take to deliver my item?
Am I dealing with a reliable seller?
If you're able to answer all of these questions in your product description, you will be far more likely to win the customer's trust.
Step 5. Make sales
Now that you have got your eBay listings, it's high time to make money!
Start building a strong, positive reputation by fulfilling your orders as quickly as possible, and check with your supplier on a weekly or even daily basis to make sure everything is running smoothly.
Remove listings for out-of-stock or discontinued items and replace them with new products regularly. Plus, don't forget to respond to customer inquiries and complaints promptly and professionally, and try your best to create a positive experience that will build loyalty and encourage repeat customers.
Related post: How to Build an Effective Loyalty Program?
5 tips for eBay dropshipping
To help you advance your eBay dropshipping business, we've compiled some tips right below.
Keep control of your pricing
Millions of online buyers flock to eBay daily in the hope of getting the best price for the products they buy. This can be a huge challenge for dropshippers, as while the final sale price may fluctuate, the supplier charges a fixed cost no matter what.
Plus, as we said, eBay listings require a listing fee and a percentage of the final sale price, which can cut into your meager profit margins.
Thankfully, there are different ways to maintain your profits. When dropshipping on eBay, you'll have the option to set a Buy It Now listing, which offers your item at a fixed price, so you can ensure you pull in your desired profit.
If you still want to let eBay buyers bid for your products and get a higher profit, you can try setting a reserve price as the minimum price that buyers can auction. Or, just set a high starting bid that ensures you'll cover your fixed costs.
Make sure to factor in costs from your supplier (including taxes, shipping, etc.) as well as eBay's listing and final value fees.
Minimize your workload
When it comes to making money with eBay dropshipping, high volume is the key to gaining a competitive advantage, as profit margins tend to be minimal, often only a few dollars per sale. As a result, high volume means more work, especially when you must process and fulfill every listing individually.
In order to streamline this process and reduce your workload, you should find products that can be posted as multiple-item listings. This way, you only have to make the listing once, leaving you free to take care of fulfillment and handle returns if necessary. And remember to set a longer duration for these listings to avoid the need to re-list.
Provide trackability
Most of the time, be sure that your eBay customers can track the package easily. Just share your FedEx, UPS, or USPS tracking numbers with them. You can work directly with your suppliers to have these kinds of complications.
Ensure availability
Many people choose eBay dropshipping because it eliminates the need to keep an inventory, but this can lead to some drawbacks. One of the biggest mistakes is they can't ensure that the items they list on eBay are still available. This could drive away potential customers and create financial hardships for you.
So, to avoid the pitfalls of selling out-of-stock or discontinued items, you should check your suppliers' inventories frequently to see what is in stock and what will leave their stores soon because of low quantities. Collecting daily reports from your suppliers can help you maintain a reputation of quick and reliable fulfillment with your customers.
Ensure fulfillment
You have made sure your listed items are available; it's high time to keep your customers happy by quickly and efficiently fulfilling all orders. Reputation is everything when doing business, so be sure to stay on track with fulfillment.
The key point here is to find reliable suppliers. Not only will they stay on top of shopping products quickly, but they will also keep up up-to-date on the status of your orders. This lets you know of potential delays or issues, so you're able to relay the information to your customers.
Issues can arise now and then, but keeping in contact with both your suppliers and customers will keep any potential negative feedback to a minimum.
eBay dropshipping tools
Last but not least, automation software is necessary to implement tasks like finding products or fulfilling orders. So, below is a list of some helpful software that can help your eBay dropshipping business run smoothly.
So, is dropshipping on eBay worth it?
The answer to this question heavily depends on what you want to achieve through eBay dropshipping.
If you are just trying to make a little extra money on the side, then eBay dropshipping could be a great option, with low upfront investment and limited risk involved.
However, if you want to create a long-term, memorable brand, with healthy profit margins, and be entirely responsible for the development of your online business, then dropshipping on eBay is not for you.
We always recommend you focus your efforts and resources on finding a platform that allows for far greater customization.
We hope this guide has helped you a lot with eBay dropshipping. Contact us if you have any concerns or questions. We're always happy to hear from you!
Magento Support
& Maintenance Services
Make sure your M2 store is not only in good shape but also thriving with a professional team yet at an affordable price.
Get Started
New Posts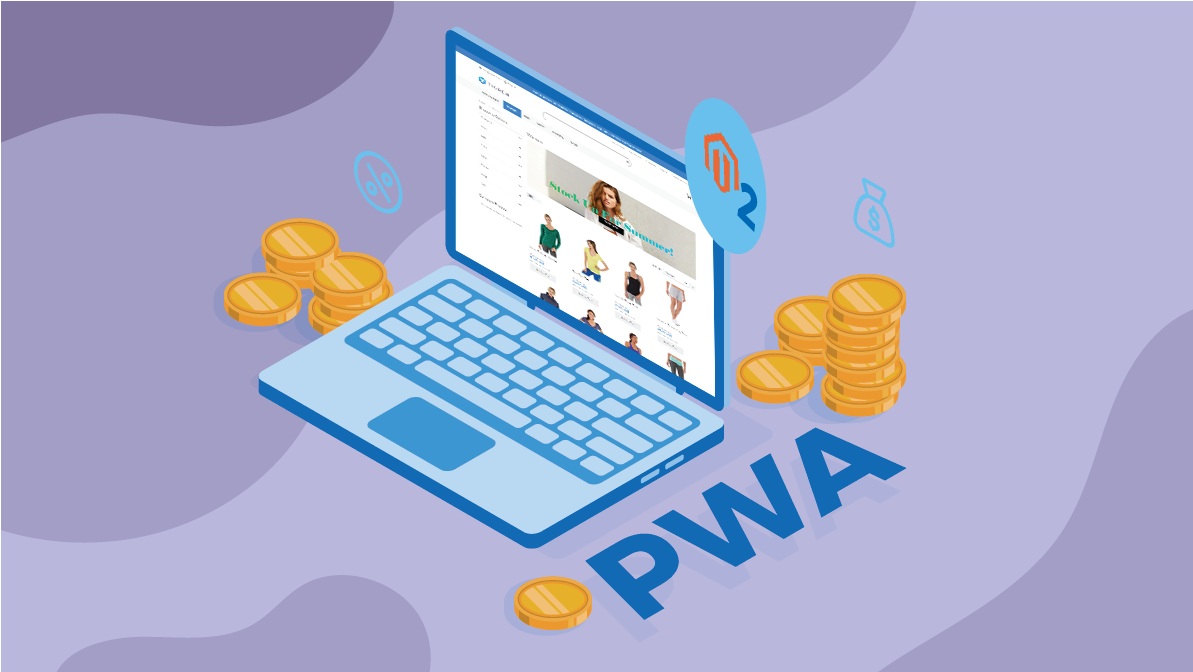 Subscribe
Stay

in the know

Get special offers on the latest news from Mageplaza.
Earn $10 in reward now!