How to build an Effective Loyalty Program?
The Most Popular Extension Builder for

Magento 2
With a big catalog of 224+ extensions for your online store
Special holidays are a great time for the e-commerce stores to give back to their loyal customers with special deals and incentives, which shows the appreciation to the trustworthy shoppers, and works as a bridge to maintain and develop the relationship with the valued customers. In addition, at the aspect of the business, launching loyalty programs with the right strategies is a powerful way to motivate purchase decisions, increase conversion rate and drive revenue, especially in holiday seasons. Take a closer to loyalty programs, their effectiveness and advice for your business.
Ultimate Guide for Holiday Shopping Season
An A-Z guide for your marketing and sale campaigns this shopping season
Download PDF
Table of Contents
Why is customer loyalty important?
Here are some typical reasons why cultivating customer loyalty is important:

Loyal customers are more willing to spend their money with the brand because they maintain communication and make orders for a period of time.

78% of loyal customers are willing to spread the words to their friends and family. The repeated customers who have experienced with a brand will have general knowledge and assessment about the quality of products and service, so they would like to share the information with their acquaintances. 92% of people preferring recommendations proves that Word-To-Mouth marketing is the most powerful marketing.
It costs more to acquire a new customer than to retain existing customers. In an article by Forbes, to maintain a relationship with an existing customer is 7 times less expensive than investing to acquire a new one. According to retailTouchPoints, up to 41% of retail revenue in the U.S. comes from repeat purchasers, who represent only 8% of all visitors
To build up the networks of loyal customers, loyalty programs are the vital factor which every e-commerce business should give priority and invest time and finance resource.
What is a customer loyalty program?
According to Wikipedia, loyalty programs are structured marketing strategies designed by merchants to encourage customers to continue to shop at or use the services of businesses associated with each program.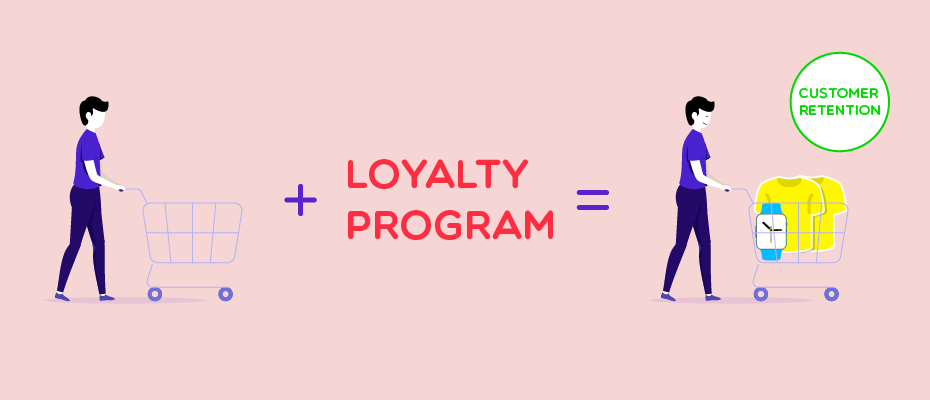 Impressive numbers of loyalty program members by Loyalty360:
A large majority of American consumers are likely to choose a brand over its competitors when they participated or are participating in its loyalty programs.
Around 71% of customers said that loyalty programs bring important benefits to them
About 84% of Americans participate in at least one loyalty programs.
Why loyalty programs are essential for e-commerce businesses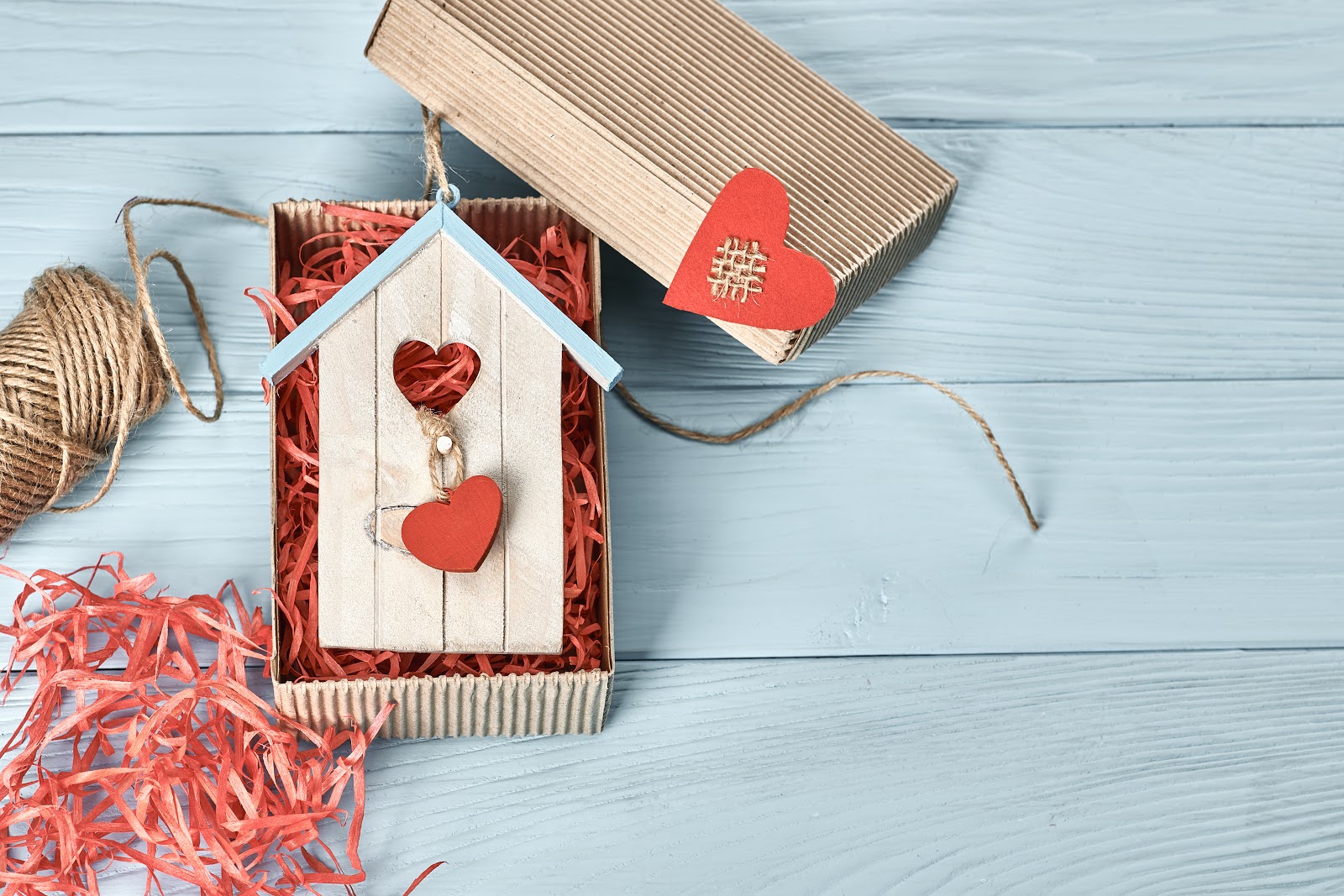 Great contributor to boost sales
With business owners, loyalty programs improve customer retention while consumers appreciate loyalty programs because they gain added incentives and rewards. Therefore, using loyalty programs in marketing strategy supports e-commerce businesses to motivate customers' purchase and increase revenue considerably at a given time.
Boost customer loyalty
Loyalty programs serve a dual function, targeting two both customer groups. Firstly, loyalty programs encourage new clients to stick around after purchasing. Secondly, with existing customers, loyalty programs ensure the existing customers that they are still being honored as valued customers.
Enhance customer experience
Implementing a loyalty program is a subtle message to your current and future customers that your business is not only concerned about earning money from each purchase but also would like to bring benefits to customers to maintain the good relationship. The act of goodwill will improve the overall outlook of customers towards your stores, bring them better experience during shopping.
Support market research
Launching different loyalty programs can be the way to conduct research to find out and learn more about customers' desire. Through the trials and errors, you will see the kinds of incentives and rewards which are appealing to consumers. Depending on that, you can attach the rewards appropriately to specific products to increase its sales, or even that you can develop a separate product based on the idea of the rewards.
Contribute to customer segmentation
A very interesting benefit of loyalty programs is helping businesses to segment customers and discover profitable and unprofitable customers. In details, loyalty programs help stores figure out a type of consumers who only buy discounted products. The type of customers nearly generate no benefits to the store. Therefore, store owners can make appropriate loyalty programs targeting profitable customers.
10 Types of customer loyalty programs
Customer retention has been what most marketers and business owners care about, especially in the digital era when the competition hits the peak on e-commerce platforms. A lot of ideas of loyalty programs have been come up and applied to just optimize profit coming from repeat customers which makes the game more competitive. You can actually go through the following 10 typical types and perhaps come up with a new idea yourself.
Points Program
This program is probably the most common in stores and among customers. The concept of this program type is quite simple: If you spend more, you will get more. Every time a customer makes a purchase at your store, they will get a certain amount of points based on their order value. Then, the earned points are converted into specific rewards, either money or gifts.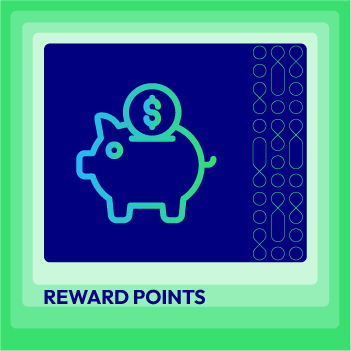 Reward Points Extension for Magento 2
Convert occasional customers into loyal members by creating a reward system
Check it out!
Spend-based Program
This program type is simply based on customer expenditure. In spend programs, customers will get loyalty credits for the amount they have spent at the store: for $X spent, customers receive $Y cashback. This is an effective way to increase transaction amounts from shoppers. Note that this program type is effective when you keep customers engaged.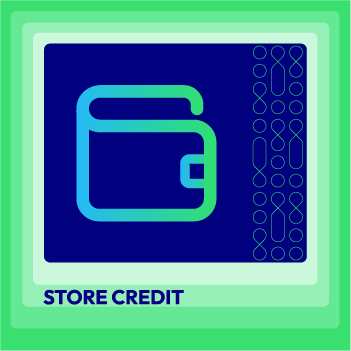 Encourage purchase by awarding customers credit amount automatically added to their account balance
Check it out!
Tiered Program
Tiered programs allow customers to get exclusive benefits when they upgrade to the next level. The higher the loyalty level of customers, the more rewards they are offered. This program is practical with service providers, luxury webshops, and travel sector. "VIP" customers mostly are the target of this type of loyalty program.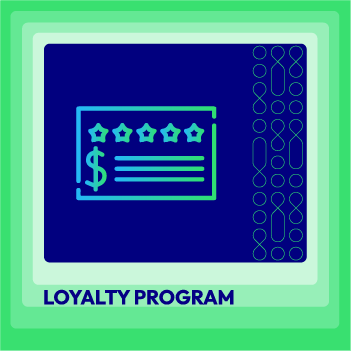 Build up a proper tiered program that offers a special discount by order & customer data
Check it out!
Paid Program
Customers will join VIP member group when they pay for this monthly or annually. The paid program allows customers to access special service, discounts and unique offer from stores such as free shipping, bigger discount and more. In a nutshell, paid programs make customers become more special. This program type is the most effective for repeat purchases, not for new customers.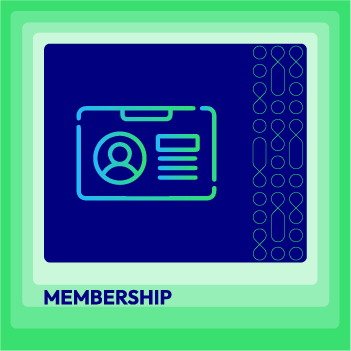 Increase more loyal customers by offering extra benefits for regular shoppers with our membership extension
Check it out!
Non-Monetary program
Non-Monetary program is the one which is aligned to customers' values and is focused on charities. It is concerned about customers on a deeper value by creating a strong and ethical relationship. Therefore, it is very important to define the targeted value then translate customers' purchases into charitable donations. For example, if you are the owners of a pet store and you know customers value animal welfare, you can create a loyalty program: For each 100$ purchase, a customer will donate 10$ to animal welfare organization.
Ambassador program
Reward your loyal customers by inviting them as the brand ambassadors. With the power of ambassadors, your customers can access the VIP services in exchange for promoting your brand on social media, websites and more.
Partnered program
Partnerships with other brands are beneficial for both you and customers. It is the way to promote your brand to the partner's audience, a large number of potential customers. With this loyalty program, customers can gain more benefits than what your brand initially has. One option can be the discounts in your partners' stores. For example, customers made a purchase over 500$ in a clothes store will get a 10% discount in a jewelry shop.
Game program
Entertain customers and offer them rewards by joining a game at the store. The customer loyalty program is based on a game with the gifts for winners as discounts, deals and more. "Spin the wheel" is the typical game for this program type. Event-based program
Offer customers with rewards on special occasions such as birthday, marriage day, the 100th customer, etc. This shows the good care of the store to customers and makes customers surprised appreciated. Besides, if you would like to enrich customer database, you can offer gifts to motivate them to sign up or subscribe.
Tip: You can a supportive module as Loyalty Program to your store site to set up various discount/ reward schemes with ease.
Hybrid program
This is a combination of different types of loyalty programs. However, when you combine types, try to make it clear and easy to join to customers. The type couple should work well together. The most common combination is point and tiered systems. For example, if customer expenditure up to 1000$, they will get 50 points and join Gold customer group with special benefits.
5 Essential components of an effective loyalty program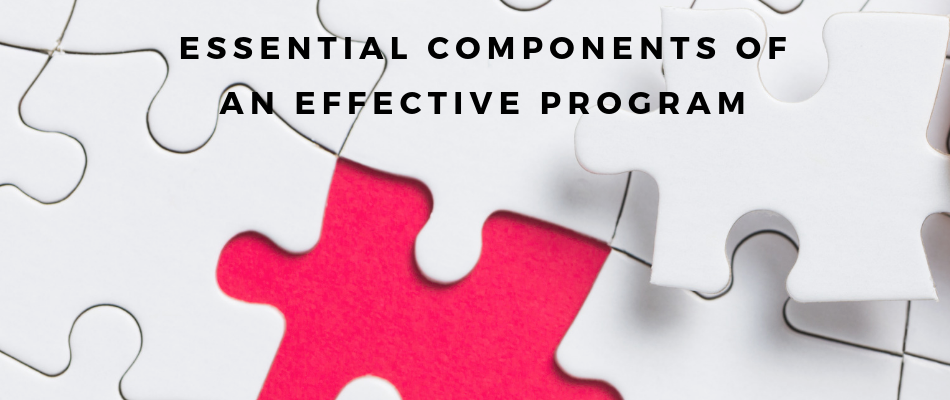 Keep it simple
Simplicity in the loyalty programs makes customers easy to join without confusion. The ease with which customers can engage in the program contribute to its success. Here are the notes to make sure a program simple to join:
Simplify the structure of the program, avoid complex calculation formula
Steps to get points or rewards should be easy to understand
Steps to make use of collected points are simple and easy-to-apply
Program status updates should be clear and simple
An easy-to-follow section on store site so that customers can check and update their benefits whenever they wish
Ability to join loyalty programs through apps to enhance the physical experience is recommended (a survey from Bond Brand Loyalty shows that 57% of US consumers are keen on engaging loyalty programs on their mobile devices)
Make it exclusive
The fact shows that if something is available to everyone, it is usually meaningful to no one. People feel interested when they find something special or unique. Even if the program is applicable to all customers, you should somehow make it look like selective sensibly. Successful loyalty programs should follow the notion: there is no singular loyalty program for every customer. The merchants should identify their loyal customers and satisfy them first.
When the loyalty program is proved to be effective in adding customer values and business benefits, it gradually can be expanded to a wider audience.
Make it rewarding
The loyalty scheme should be rewarding to make customers feel that it is worthwhile to join to get what they want. The rewards should be practical and significant to customers such as discount vouchers, exclusive offers, etc. A survey to see what customers want in a loyalty program can support stores to plan a successful scheme because it reaches customers' expectations.
Make it compelling
An appealing loyalty program should require some work on the customer's part, but it should not be complicated or challenging. For example, to get discounts, customers have to share the program to at least 3 friends.
Note that the loyalty program will be more effective if it is personalized. The rewards should be customized to customers.
Make it limited
The fear of loss speeds up customers' decision. Loyalty programs should be limited in the aspect of time or/and quantities. Customers will feel hurried and urgent when they are afraid their rewarding opportunities can be run out of or won by others. Therefore, let's tell customers about the expiration date or/and maximum of offers, and remind them about what they can lose if they do not grab their valued chances.
7 Steps to create a loyalty program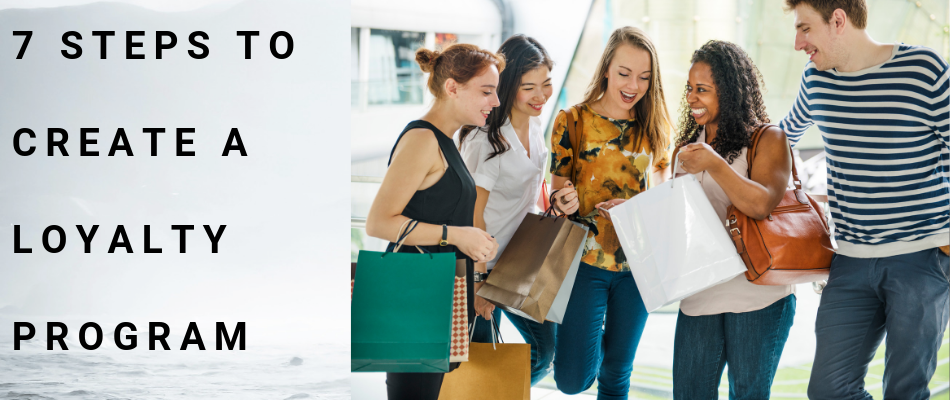 Here are the major steps to help you build the proper loyalty programs for your business.
Step 1: Study your current customers
Before starting a loyalty program, you should assess customers' expectation via techniques such as surveys, interviews, etc. Find out what your customers expect and their willingness to join. This is the essential step to estimate whether your program will be welcomed by a large number of customers or be ignored.
To get to know more about your customers, see applicable case studies for customer attributes.
Step 2: Determine what you want to achieve
The first step is specifying the purposes and expected results of the program. You look forward to the increase in sales? Or you want more traffic to your site? Or you wish the brand will be spread better? Whatever the expectation, you should make it clear before you make a plan for a successful scheme. Depending on the goal, you will set up a plan in the right way with a clear target.
Step 3: Choose program rewards
Your reward for loyalty program needs to be valuable to customers. After you make a research about your customers' expectations, choose the appropriate rewards which are beneficial to customers and keep profitable to your business. Don't forget to well-name your loyalty program to attract more participants.
Step 4: Choose your loyalty program type
The next step is deciding the program type to support effectively your goal. For example, if you would like to increase visits to your store site, you can consider the point type with the requirement as check-in, sharing. If you would like to increase value per order, you can consider spend-based type with the cashback policy.
Step 5: Set a budget
Consider the budget for the whole loyalty program. You can even separate the budget using for retaining existing customers and the one targeting to new customers.
Step 6: Give incentives to start
Heat up the loyalty program with early start incentives to kick off the race. The incentives must be simple and very easy to win to motivate customers to work for it. For example, gain instantly 50 points when customers sign up the account at the store, or welcome first visits to store with a 10% discount. Start incentives are the supportive step to engage customers quickly and kick off the loyalty program effectively.
Step 7: Measure success
After the loyalty program, store owners should listen to customers' feedback and see the data report to assess whether the program is successful or not. Depending on that, you can improve the next scheme with a better result.
8 Case studies of successful customer loyalty programs
Loyalty programs are applied to a great number of businesses all over the world. Let's take a look at some examples of famous businesses:
DSW

Designer Shoe Warehouse (or DSW) rewards customers with points for each purchase and tiers allowing customers to unlock for extra benefits. The point system manages rewards automatically by customer name, phone number, and payment information. However, what made the campaign of DSW becomes successful is the personalization when they send emails to remind customers about their own chances and benefits.
Sephora Beauty Insider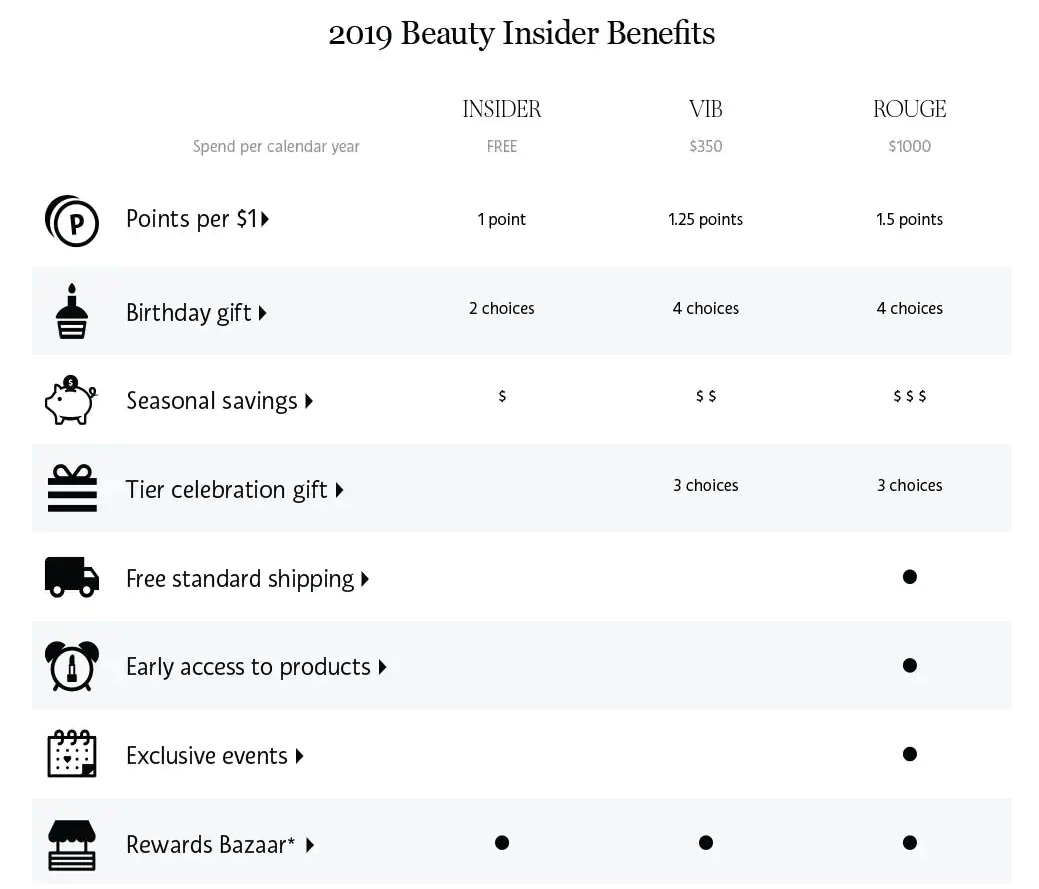 Sephora's Beauty Insider loyalty program is also a point-based one. However, the innovative part of the program is that members can choose how to use their reward points flexibly. Customers can redeem the points to gift cards or get a discount, or use to buy other products at the store.
Tarte <3 Rewards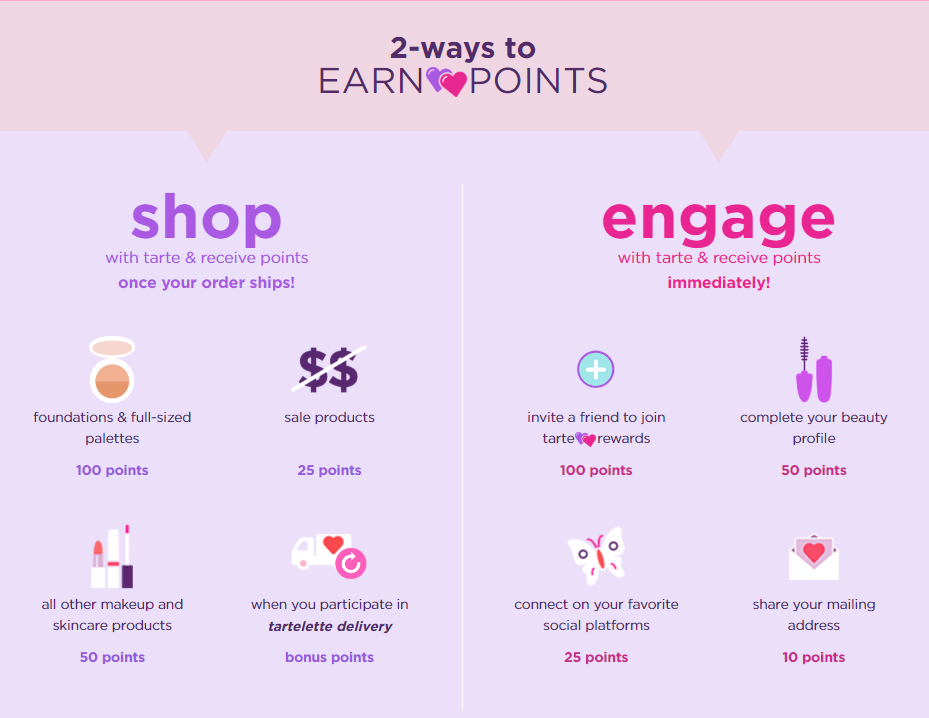 Cosmetic and skincare retailer Tarte used their loyalty program as a way to increase social media engagement and user-generated content. Customers can earn reward points for activities such as posting a selfie with Tarte products, writing online reviews and video tutorials.
Amazon Prime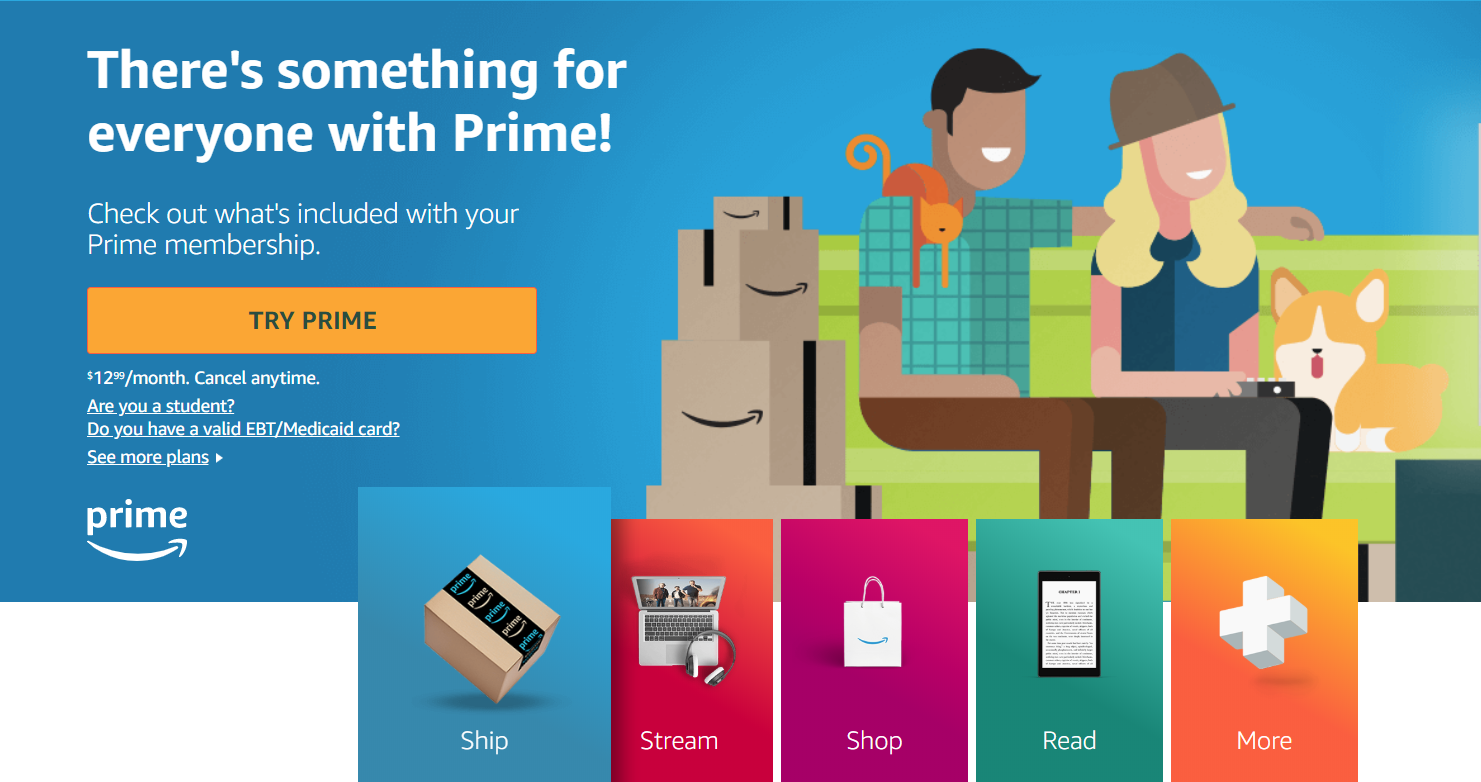 Amazon is well-known for Prime membership program. Customers pay an annual fee to be upgraded to Prime members who can access unlimited free two-day shipping on millions of products, as well as other perks as streaming service and Prime Day sales. Prime is how Amazon differentiate themselves and retain customers to be loyal to this brand. The Prime loyal scheme proves it works when Prime members spend about 4 times more than other normal Amazon customers
The North Face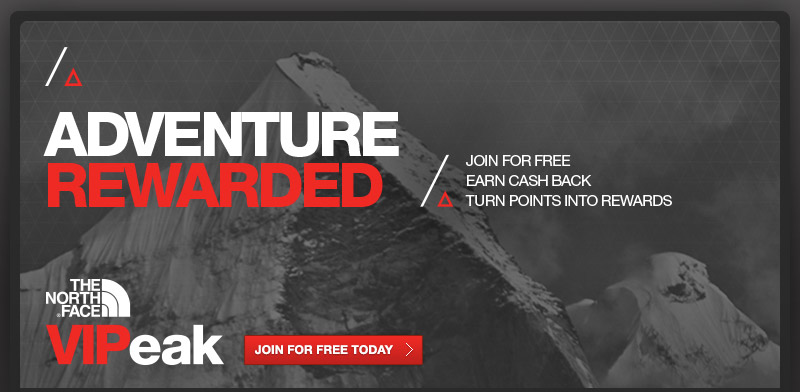 Apparel and outdoor gear retailer The North Face encourage loyal customers with VIPeak program. Customers will earn points on every purchase or when joining The North Face events. Then, the points can be redeemed to travel experience such as mountain climbing. This way not only motivates customers to spend more but also build a stronger connection between customer and brand.
TOMS One for One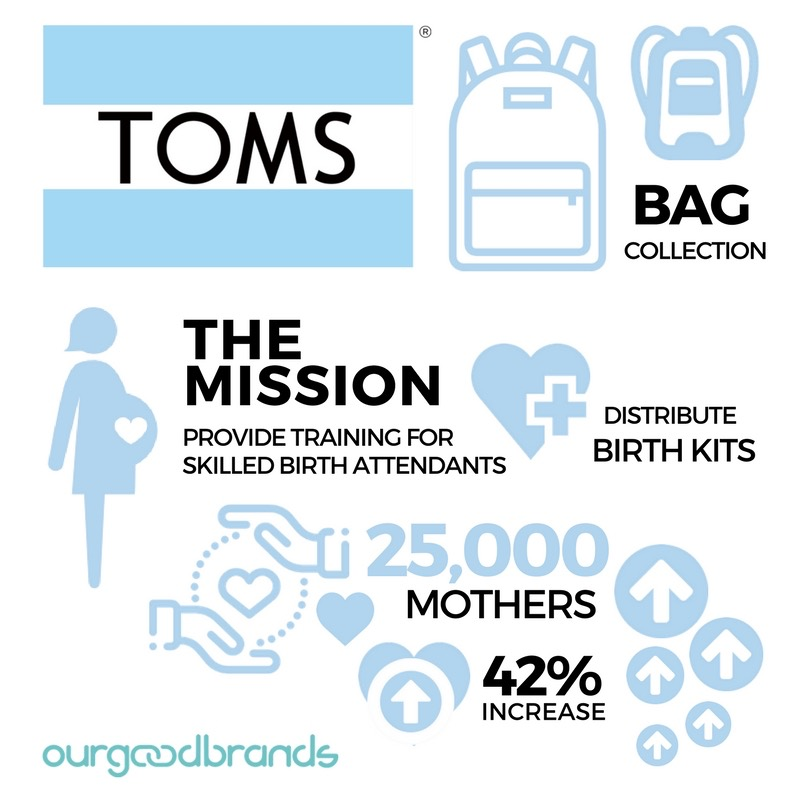 TOMS doesn't give customers a reward card or points for each purchase. Instead, the company incentivizes customers to non-monetary values. For example, donation to charities with each One For One shoe purchase.
Plenti Rewards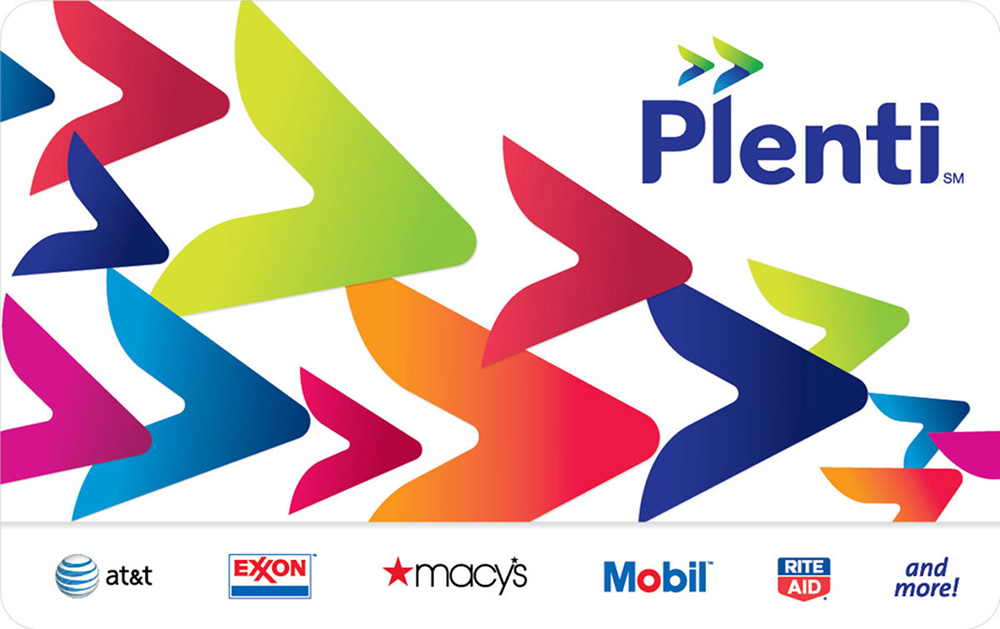 American Express launched Plenti Rewards creating more value to customers. With this program, customers can earn points in one store and spend in another. One loyalty card can be used at various Plenti's partners such as Macy's, AT&T, Rite Aid, Mobil, Exxon.
CVS Extra Care
The CVS Extra Care program allows customers to get 2% back of all purchases. The rewards are paid out four times a year.
Final words
In conclusion, loyalty programs is a way to reward customers with deals, discounts, gifts, and many other special offers. Over a long time, loyalty programs have proven to be effective to drive customer retention, boost customer purchases and create huge value for businesses over the world. Taking the opportunities of holiday seasons to set up an effective loyalty program will bring success to e-commerce stores.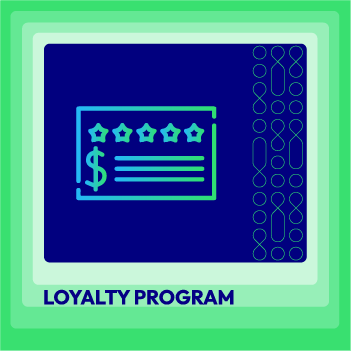 Build up a proper tiered program that offers a special discount by order & customer data
Check it out!

Marketing Manager of Mageplaza. Summer is attracted by new things. She loves writing, travelling and photography. Perceives herself as a part-time gymmer and a full-time dream chaser.
Website Support
& Maintenance Services
Make sure your store is not only in good shape but also thriving with a professional team yet at an affordable price.
Get Started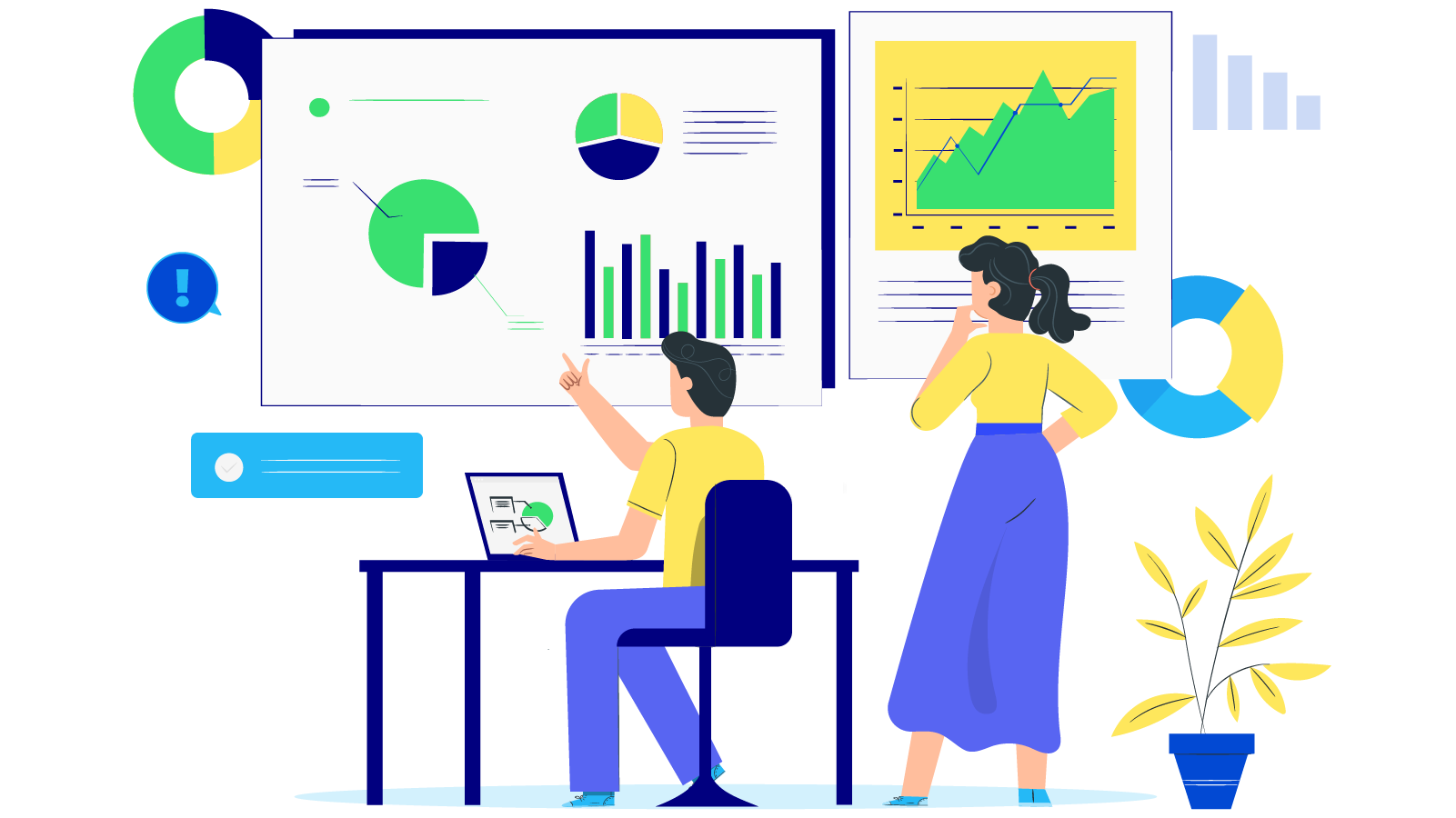 New Posts



Subscribe
Stay in the know
Get special offers on the latest news from Mageplaza.
Earn $10 in reward now!