How to create & custom a Coming Soon Page in Magento 2
The Most Popular Extension Builder for

Magento 2
With a big catalog of 224+ extensions for your online store
Do you want to create a coming soon page without coding? However, it has to be beautiful with additional functionalities? Then Mageplaza Coming Soon page is an essential solution for you. It helps you to spread the anticipation of your upcoming items.
In this article, I will support you creating an appealing Coming Soon page with the Mageplaza Better Maintenance plugin. It is a free extension that can help you create a well-informed Coming Soon page and Maintenance mode page.
Table of Contents
What is a Coming Soon page?
Coming Soon Page is usually utilized as a notice to tell customers the store is having a new product or marketing ready to launch. An announcement will make your customers feel more curious to follow and visit your stores till the launching date.
For Magento 2 store sites, Magento 2 Coming Soon Page is a great way to embrace new activities of the stores. For example, the store can use to announce the upcoming products, services, deals, or promotional campaigns.
Benefits from Coming Soon page
Build a good impression
As we all know, the first impression always matters. For store new items, the Coming Soon page will be the first glimpse that your customers can view from your site about the new items. Therefore, spending some time to decorates the page will be smart tactics to draw customer attention.
The Magento 2 will be ideal for constructing an appealing page with an email subscription box and social contact. An eye-catching and straight forward Coming Soon page will make shoppers impress and curious to learn more.
Test before the actual release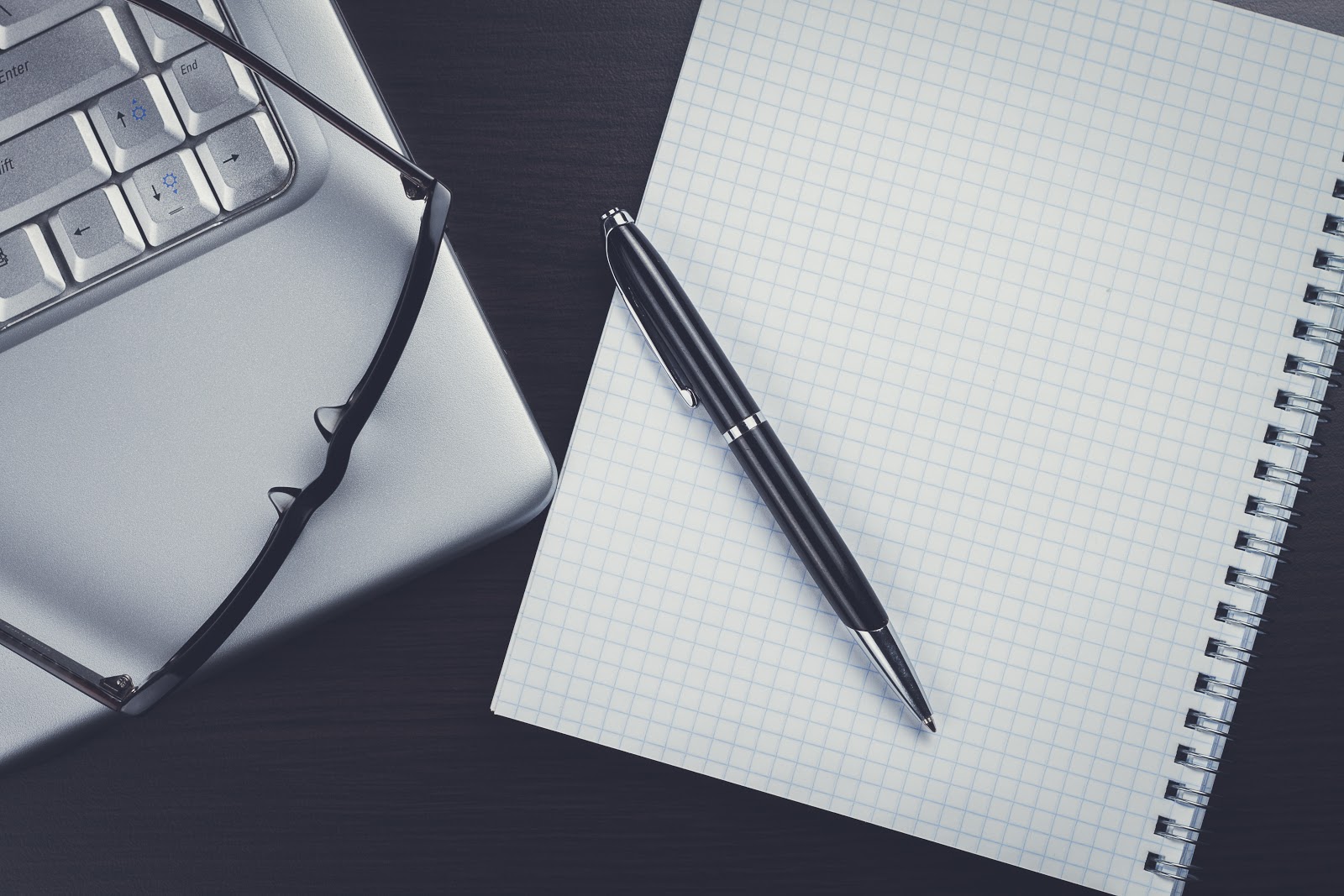 Sometimes what you think the customer wants is different from what they actually desire. If you have a great idea but still doubt whether it will work or not, the Coming Soon page will help you gauge the online buyer's interest.
Motivate sales
The subscription box is your tool to motivate sales for new arrival products/ services. In detail, the email provided by visitors offering visitors will be an effective way to contact and motivate buyers to come back to the sites. You can apply many incentives like coupons, discounts, giveaways, etc. From the customer side, when they receive a discount, it is more likely to gain their concern about the upcoming products and attract them to come back when the product/ site goes live.
Create & custom Coming Soon page
The Coming Soon page is created by the Maintenance plugin, which is a free extension. With a simple process, you will able to set the page in motion. In detail, the process requires 3 main stages:
General configuration
At the admin panel, you can firstly access the Better Maintenace tab by going to Stores > Settings > Configuration.

In the general setting, you need to set Real Time of websites, nd Date time, Redirect page, Select the page to redirect customers to during maintenance/ waiting time, etc.
The most critical setting for Coming Soon Page is the Redirect To Page field. You can choose the CMS page, which is customized by yourself or follow the ready-to-use Coming Soon Page.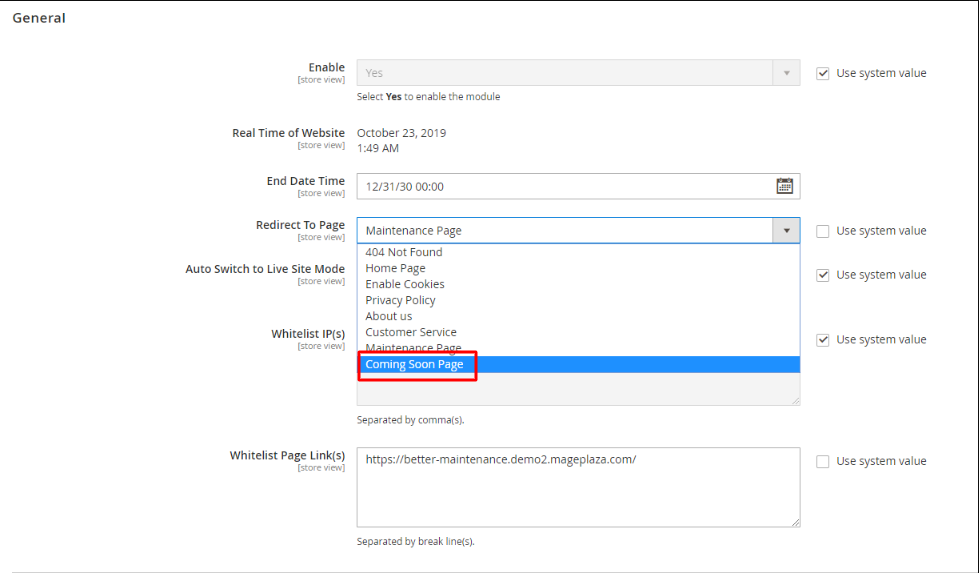 The display setting
In this section, the setting will apply for both Maintenance and Coming Soon page. It allows you to add in tools to make your sites to become more extra. The available tools are Countdown clock, Email subscriptions, Footer block, and Social contact.
These tools are suitable to inform customers with sufficient information and other ways to interact with the stores. For your store, the plugin will help you to collect an email list of potential buyers. You can read the Maintenance extension's user guide to customize the tool to match the store theme.
Coming Soon Page Setting
In the Better Maintenance module, the setting for Maintenance page and Coming Soon page is divided into 2 separate grid.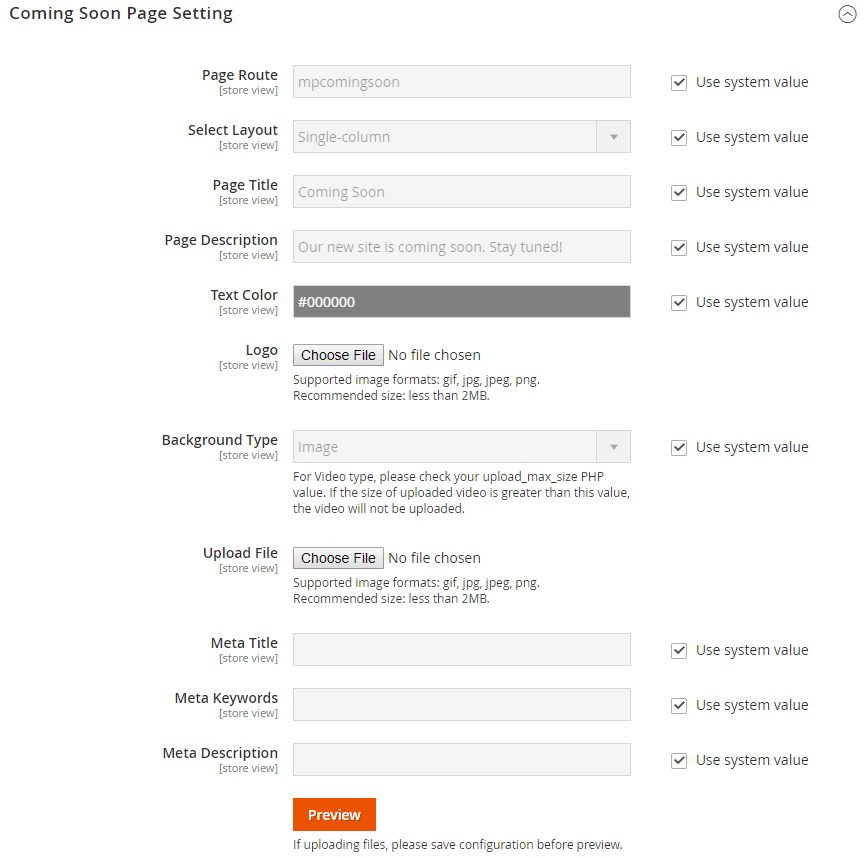 In this setting, you can set the page's route, title, and description. If you left these three field blank, the default value of the system would be filled in. For the page layout, admins can adjust by piking the Text Color, Logo, Background Type to follow your page design.
The page can become more lively by adding an image or a video to work as the page background by Upload Field.
The 3 last fields are specifically created to help boost the SEO performance of the business. Although SEO is quite tricky to understand, you can learn more about how you can use Meta title, Meta description with the Mageplaza blog section.
Last but not least, do not forget that there is a preview button at the end of the setting grid. It allows you to preview your customed page directly at the backend to save time. If you upload files during the setting process, you need to save the changes you made before previewing.
On the frontend
As you can see in the image below, your Coming Soon page will most likely look like that. The simple layout with adequate information will generate encouragement for customers. It is a great tactic to apply for newly released products. You can combine the content with special promotions to increase conversion rates.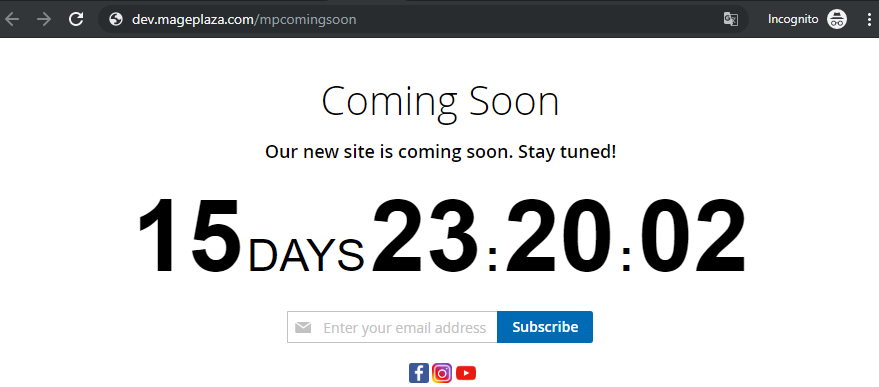 What you need to do is only describing desired features of the Magento website, we will help you to build the store that ticks all the boxes!
Get Started
Final words
That is our detail explanation about the Coming Soon page for your Magento sites. The Coming Soon page helps you to announce your new promotions or items.
The page is easy to design, with no technical skill requires. Thus, the owners or the marketer can take the initiative to control e-commerce store future promotion. You will need an excellent plugin like Magento 2 Maintenace and a stunning layout.
Besides, the sites also featured the ability to design Maintenace Mode page, which is also a must-have function to keep your visitors informed, fill your email list and social following, and have readers when your site launches.
Jade is a content creator, book lover, and a hodophile. She loves to learn skills and practical knowledge to excel at marketing, especially content marketing.
Website Support
& Maintenance Services
Make sure your store is not only in good shape but also thriving with a professional team yet at an affordable price.
Get Started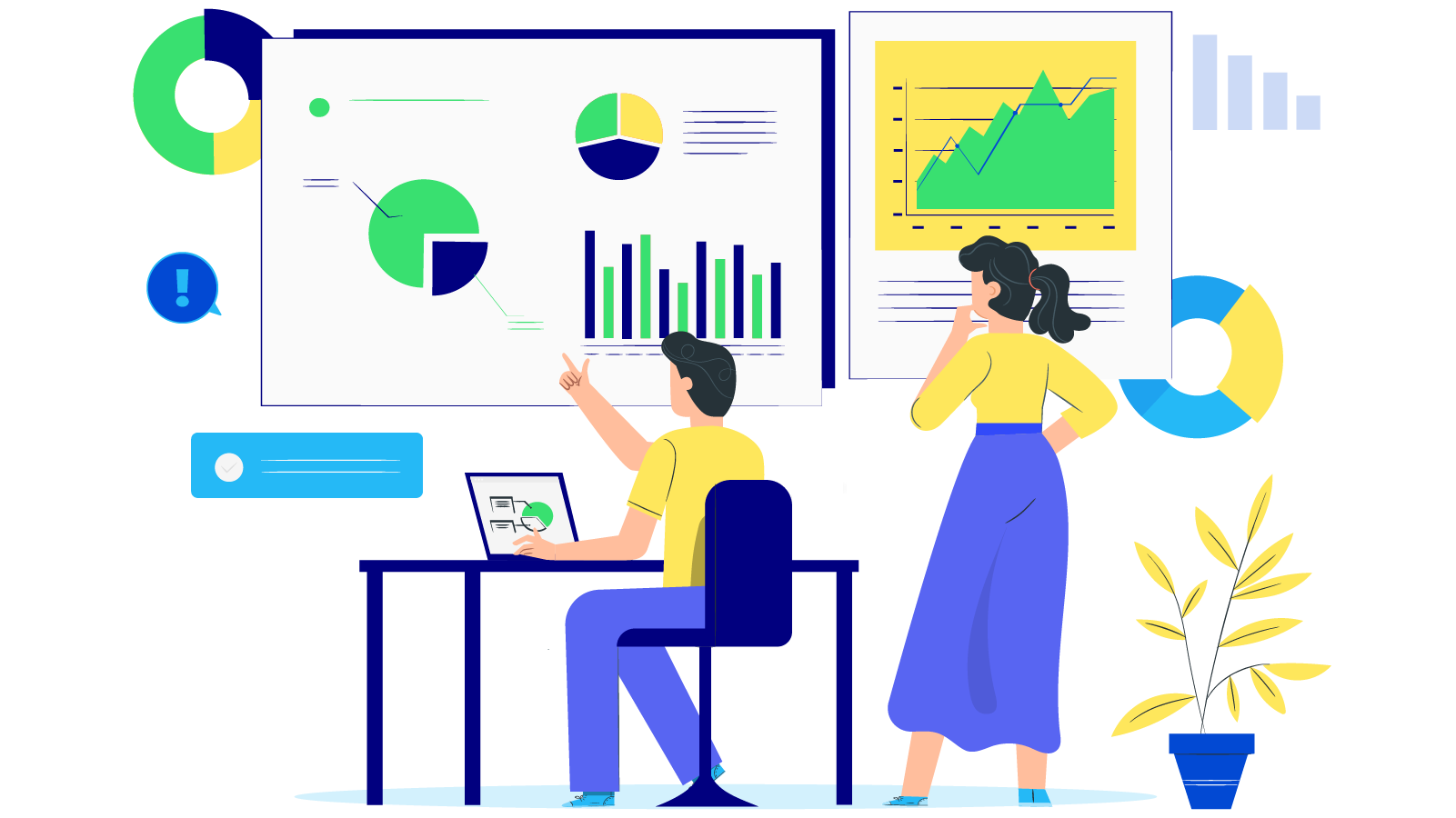 New Posts



Subscribe
Stay in the know
Get special offers on the latest news from Mageplaza.
Earn $10 in reward now!