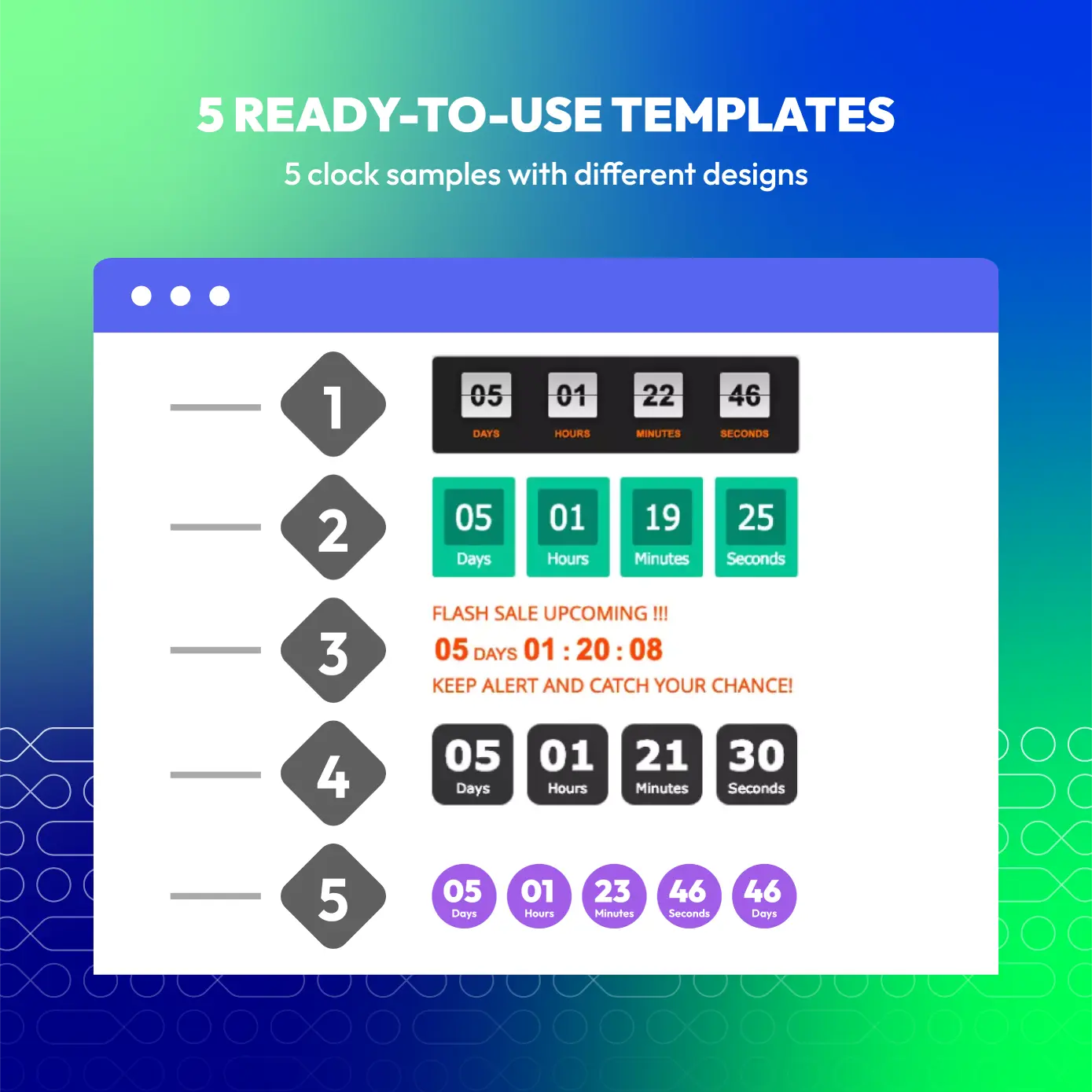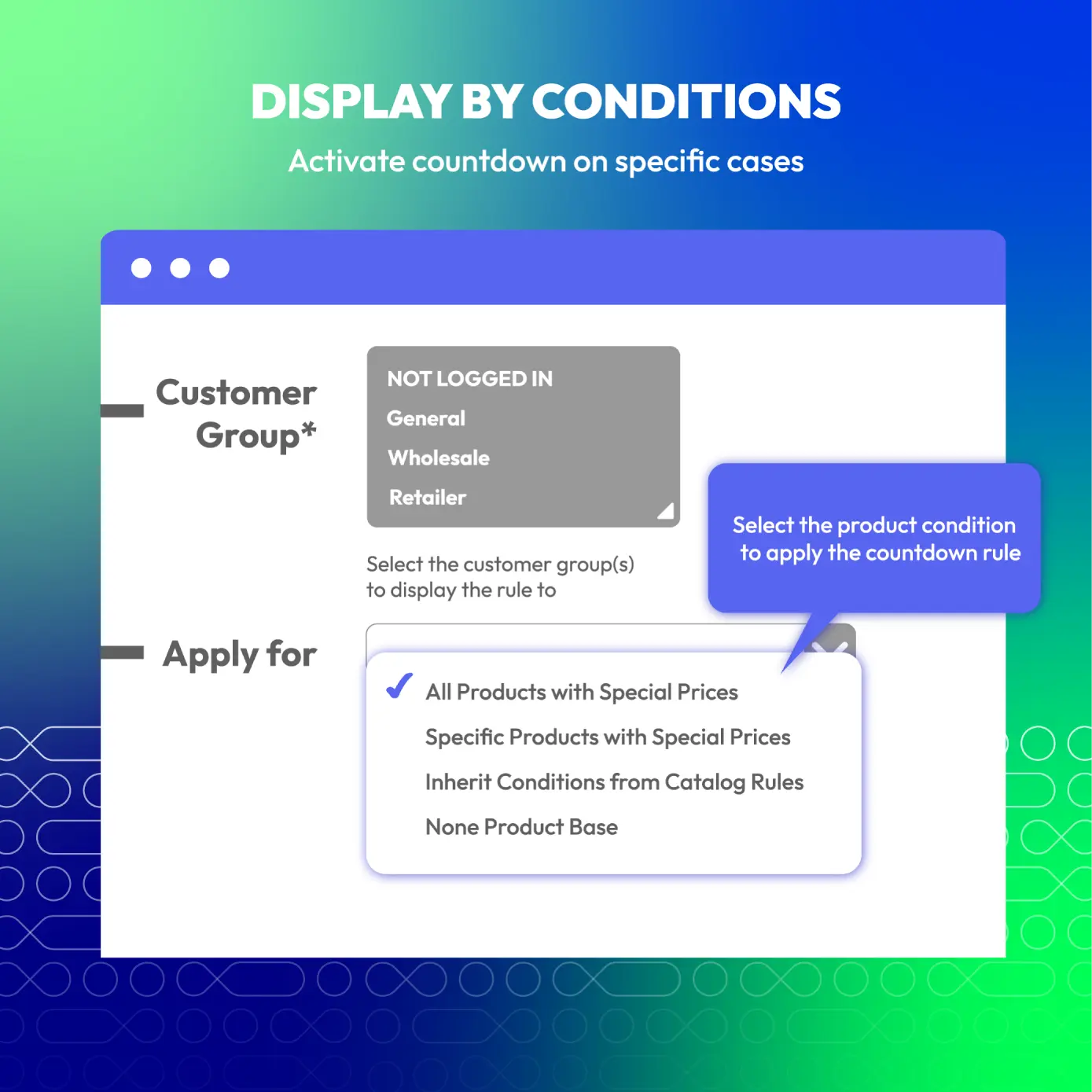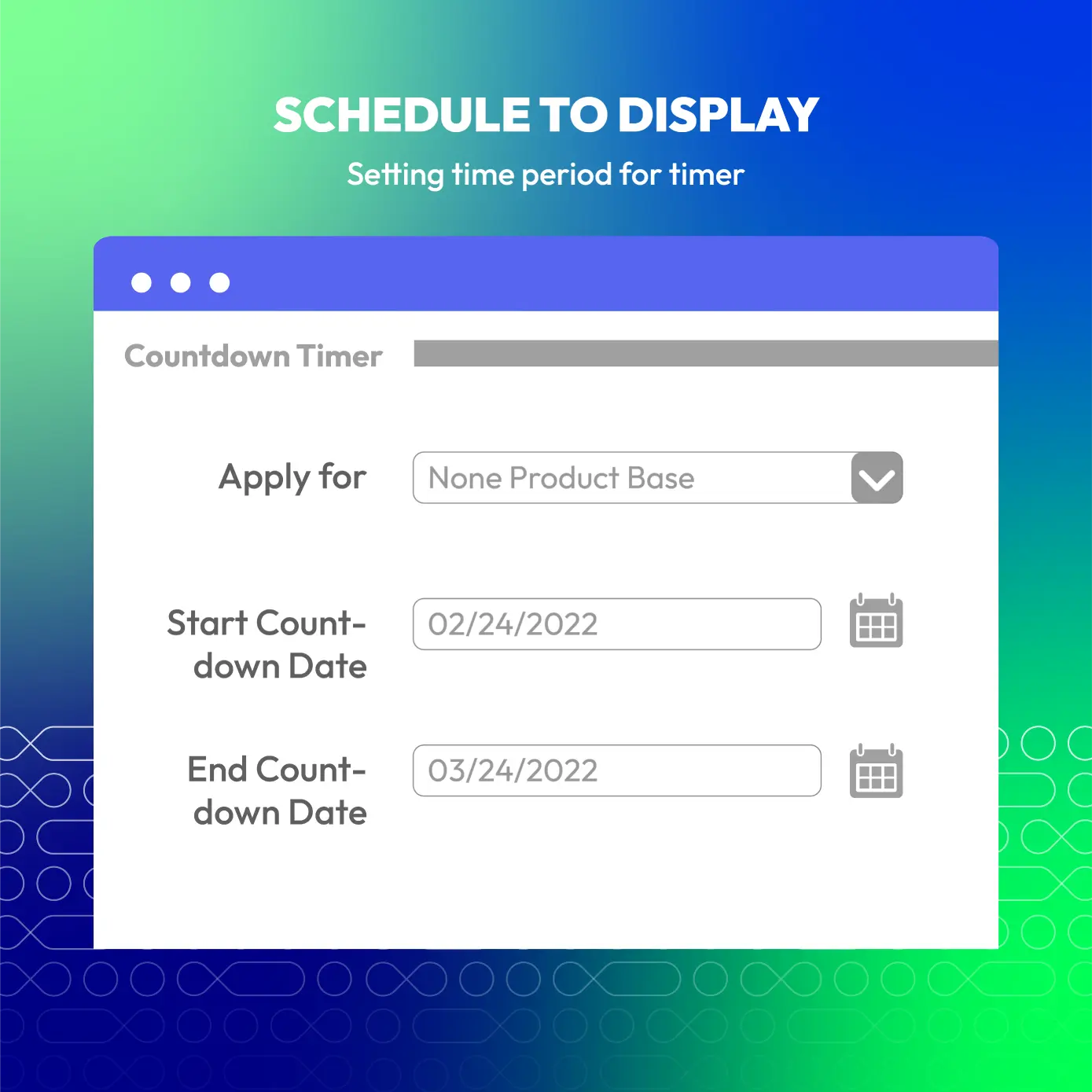 60-day Money Back
Frequent Update
365-day Support
Countdown Timer for Magento 2
v4.0.4
Magento 2 Countdown Timer helps e-commerce stores to drive sales effectively by adding extra countdown clocks to special products or offers. It brings effectiveness for stores and enhance shopping experience significantly.

CE/EE/B2B/Cloud/ Adobe Commerce 2.2.x, 2.3.x, 2.4.x
Chat now
Most-Trusted Pick
Work perfectly together
Cost-effective
60-day money back guarantee
FREE installation for all
-

0

%
$0
$0
60-day money back guarantee
FREE installation for all
Problems
The way to display discounts is not attractive. In Magento 2 Default, when a product is discounted, the way to display the prices is so simple with just two numbers of discounted price and original price. Therefore, it does not attract customers' attention or even that they do not know they have missed the discounted products. As a consequence, the conversion rate is very low and the store's sales campaign becomes ineffective and unsuccessful.
Unable to show the remaining time of discount to customers. Even customers see that there are special products on sales at the store, they do not how long the sales lasts. As a result, they would like to consider more and come back later. The final result can be that either when they come back the sales has ended or they forget totally about the sales after leaving the store site. It shows that online stores can miss the potential customers easily if they do not have the suitable solution to solve this problem.
Solutions
Easy to attract customers' attention
Make the sales campaign more sounding and impressive
Work as an effective sales driver
Support customers in plan making
Countdown the sale on every discounted product
Countdown timers for storewide sales
Countdown timer for a discount code
Countdown timer for special shipping
Countdown timer for upcoming products/ events
Pricing

Choose your suitable edition
Standard
Crafted for a great webstore start
$
99
first year
Supports for Magento 2 Community Edition
Enterprise
Great for an enterprise solution
$
299
first year
Supports for Magento 2 Enterprise Edition
Highest priority support
Yes, you can do it easily by enabling Before Start Countdown. The clock will show the time before the products have been released.
Yes, there are title and custom CSS sections so you can add any titles for your campaigns as you wish.
Yes, Magento 2 Countdown Timer by Mageplaza offers 5 ready-to-use clock styles so that store owners can select to use instantly. Besides, these are customizable clocks so admins can make changes with ease via custom CSS.
You should select All products with special price at the Apply For section in the admin backend.
At the admin configuration section, firstly select Specific products with special price at the Apply For section. Secondly, at the Condition tab, please add the conditions to sort out the specific products.
Yes, definitely. Firstly, go to select Specific products with special price at the Apply For section. Secondly, please select the Catalog Price Rules from the available drop-down list.
Good idea
The idea is good for showing deals and alerts. Also the support team is very responsive and friendly.
Diverti
-
Verified Purchase
FANTASTIC RESULTS & EASE OF USE
I needed countdown timer for my products, and I got fantastic results as the extension did well. It is easy to use, and I would recommend it to any e-commerce store.
Well done
Simple to install and simple to use. Absolutely a must-have if you often offer promotions to your customers.
Simona
-
Verified Purchase
Countdown Timer
Very good extension that does the job as promised. I'm impressed with your good customer service. Quick responses with good solutions.
The best countdown timer
Simply the best countdown timer with lots of customization and ready-made minimal template to use. We have some issues on our website but the support is as always as fantastic to resolve it immediately without any downtime.
Abhishek
-
Verified Purchase
Want to do extension customization?
Custom request
Let us know your requirements
v4.0.4 (Magento v2.4.x)

04 July 2023

-Compatible with Magento v2.4.6 -Fix minor bugs
v4.0.3 (Magento v2.4.x)

19 January 2023

Compatible with Magento 2.4.5.
Fixed minor bugs.
v4.0.2 (Magento v2.4.x)

01 December 2022

Fixed minor bugs
v1.1.1 (Magento v2.3.x)

20 September 2021
v4.0.1 (Magento v2.4.x)

20 September 2021
v4.0.0 (Magento v2.4.x)

29 January 2021
v1.1.0 (Magento v2.3.x)

29 January 2021

Added Rest API & GraphQL
Fixed error with massaction & validation rule
v1.0.1 (Magento v2.3.x)

25 June 2020

Compatible with Magento v2.3.5
v1.0.0 (Magento v2.3.x)

01 April 2019

Initial Release
Create Rules
Set the name for a new rule

Store admins can easily put any appealing labels for each new countdown rule with the aim to attract customers attention.

Enable/ Disable the rule

From the admin backend, admins can allow/ disallow the countdown rule by clicking enable/ disable Countdown Timer options.

Select the store views

Thanks to Countdown Timer, admins can choose the suitable store view for a countdown rule.

Select the customer groups to apply the countdown rule

It is able for store owners to apply the rule for particular customers groups including NOT lOGGED IN, General, Wholesale, Retailer.

Select the types of conditions to apply the rule

There are various cases in which countdown clocks will be run including All products with special price, Specific products with special price, Inherit conditions from catalog rules and None Product Base.

Set the priority for the rule

With the support of Countdown Timer extension, store admins can easily set the priority for the rules to be applied.

Enable/ Disable Before Start Countdown

To show countdown clock before the sales campaign starts, store admin can active Before Staring Countdown timer. In case, admin, want to disallow it, they can easily click Enable from the admin backend.

Enable/ Disable Before Start Countdown

Countdown Timer offers 5 available clock stypes so it is convenient for the stores to choose the appropriate styles.

Enable/ Disable Time Remaining Countdown

If the store admins want to show the time remaining before the campaign ends, they can choose Time Remaining Countdown timer.

Select clock type for Time Remaining Countdown

There are 5 ready-to-use clock styles which store owners can choose to use instantly.

Customize the clock styles by Custom CSS

Admins can easily make changes in the clock styles with the support of custom CSS.

Compatible with Page Builder by Magesolution
Display
Select to display the countdown clock on Category Page or Product Page

From the admin backend, store admins can select Category Page or Product Page to display the countdown timer.

Use widget or snippet to display the countdown clock at any position on store site

Widget and Snippet allow store admins to show Countdown Timer block any places they want.

Properly compatible with Mageplaza extensions: Daily Deals, Custom Stock Status, Gift Wrap, Special Promotions...
Countdown Timer for customers
Easy to notice about special offers at stores

Customers can easily be attracted by a lively countdown clock on store pages or right beside the special products, so they can keep an eye on special offers of stores.

Make plan to order discount products or join events

Basing on countdown timer, it is more convenient for customers to make their shopping plan to buy the products at preferred prices or prepare to join special events

Have better shopping experience on store site

It is likely that the customers will feel more satisfied and happy during the shopping journey because they will not miss the chance to get a good price or special events of the store.
Why choose Mageplaza Magento 2 Countdown Timer
Mageplaza provides consistent and customer-centric extensions for your Magento 2 store.
We don't sell products for one time. We provide lifetime solutions which help our customers thrive with their businesses.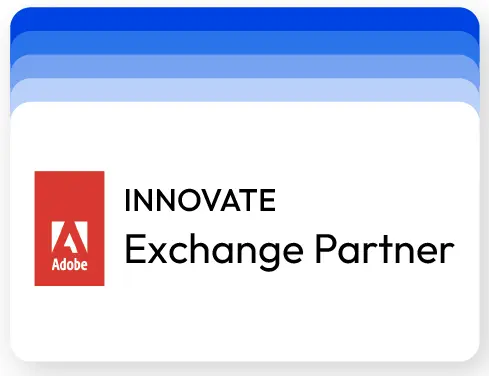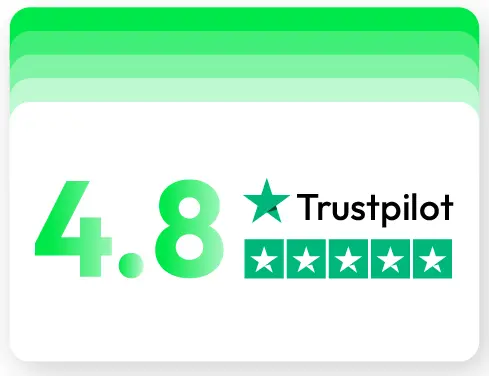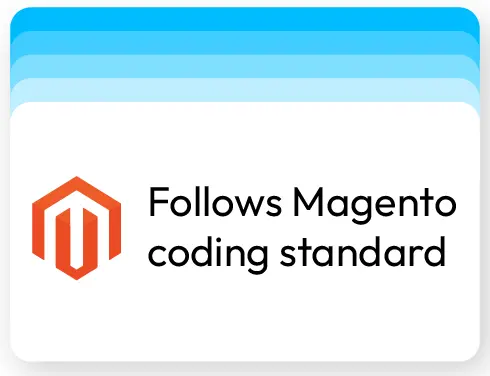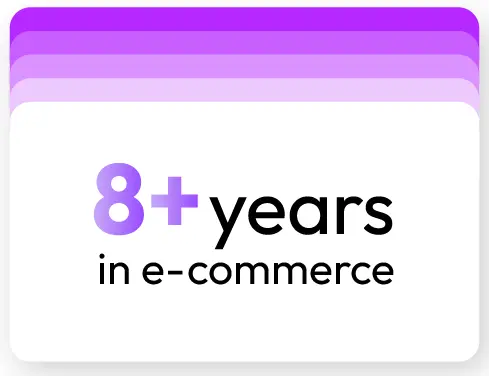 60-day Money Back
Extensive 60-day money-back period. You love it or get a full refund no questions asked.
Extensive Support Timeframe
Mageplaza provides support 16 hrs/day, 5.5 days/week to guarantee the seamless operation of our extensions on your store.
Install via Composer
Simple installation via composer helps you save time and eliminates technical issues during future updates.
Frequent Updates
Intensive update roadmaps ensure great performance, bug-free, highly compatible, and innovative extensions.