Importance of Meta Description in SEO
The Most Popular Extension Builder for

Magento 2
With a big catalog of 224+ extensions for your online store
Meta description is one of the critical factors in SEO. It not only helps readers understand the content of your website, but also helps search engines read and understand what you want to convey through your website. Today, our topic will discuss the importance of meta description in SEO and how to write it perfectly.
Table of Contents
What is Meta Description?
A meta description is an attribute of HTML that provides a brief explanation about the content of the website. A meta description is commonly used in search engine results page (SERPs) to display general descriptions for a given page and it is an important part of SEO. In essence, the description tag is a short paragraph that describes accurately and succinctly so that the users and Googlebot can understand what the content of the web page is about.
If the meta title helps the readers understand what the main subject of the paragraph is, the meta description helps the readers understand clearly what the content of the site is about.
Code sample

Example
Location of the meta description on Search engine results page: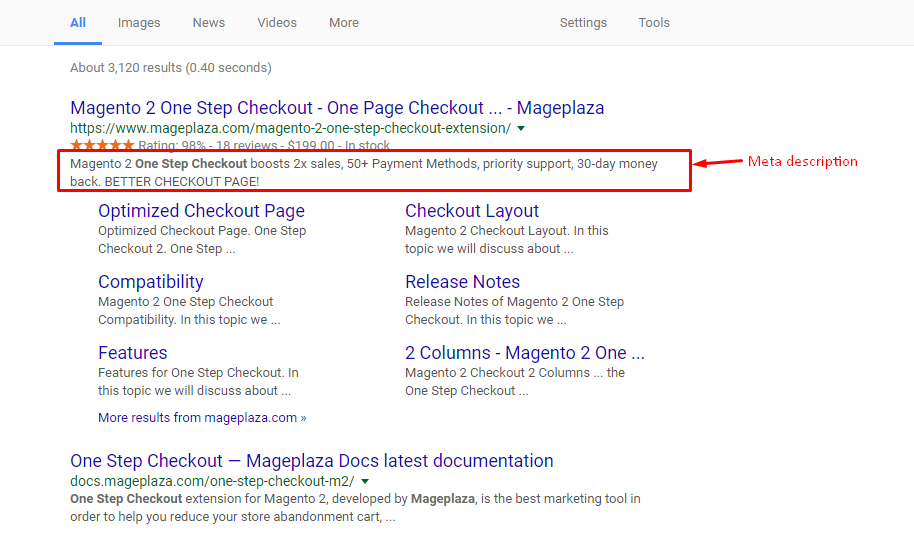 Importance of Meta Description in SEO
As you probably know, the meta description tag was used for keyword stuffing in the past. As a result, Google reacted by changing its algorithm. Since there, the description tag no longer affects the site's rankings. However, it affects the click-through rate and traffic of a website because the description tag is a signal to the user to know and understand what the website content is, so they will click on the URL if the content he is concerned about.
A good meta description is an opportunity to make an impression on visitors when visiting your site. That's why SEO experts recommend including meta description tags in on-page optimization. More importantly, when writing a meta description tag, you need to make sure that they describe the content correctly, and it is best practice to create a meta description tag for each web page.
Like the title tag, meta description plays an extremely important role, not only for the Google index, meta description but also plays an essential role in making the user experiences. This short paragraph offers a great opportunity for the webmaster to advertise the brand and quality of the site to the user. If webmasters grasp the customer psychology and give them what they need precisely, they can reduce the cost of the advertising outdoor and the effect may be better.
A good meta description and focus on the main topic will attract users to click on not only on search results page but also in social ads or other websites, help the website with more visits and visitors. In addition, optimizing a good meta description helps build quality of content on the page for users as well as increase the click-through rate on the search results page.
Some characteristics of a good meta description
You can recognize all these characteristics in the meta description of each article. And, this is the checklist that we have compiled fully.
The optimal length for the search engine
The meta description should use keywords wisely, and must also be a compelling description that the searchers want to click. The meta description should contain about 150-160 characters to be able to be displayed fully on Google.
Use keywords in the meta description
Just like the meta title, placing keywords within the meta description increases the clickability of the searchers with the content of the website.
Avoid duplicating meta description
If your meta description is a duplicate, the user experience in Google will be less. Like the meta title, it is important that the meta description for each page is unique. When you write a meta description, it must be relevant to the content of the article. So it will be more appreciated because it is useful for the searchers.
Use active voice and make it actionable
Meta description can be seen as an invitation for customers to visit your store. If so, you need to think about your users as well as their motivation to visit your website. Make sure the descriptions aren't dull, or confusing. Users need to know and understand what they can find on your site.
Contain a call-to-action
"Hi, we have a new product, and if you want, discover it right now". Maybe this overlaps with what we mentioned about active voice. However, we want to emphasize it again. Inviting phrases like Get it now, Explore it right now, Learn more, Find out more, etc. are really helpful, and we are using this too.
Show specifications, where possible
Customers always want to receive the most detailed and specific information about the product they are looking for. If you have a product for the tech-savvy, you should focus on the specs. For example, you can list manufacturer, price, SKU, or the like. This will make it easier for you to convince customers to make a purchasing decision.
Make sure it matches your site's content
This is one of the crucial features. Search engines will find out if you're using meta descriptions to trick visitors into clicking on your results. They can even find you if you do that. Besides, misleading descriptions will also increase your bounce rate. As a result, it will reduce visitors' trust in your company. That is why you need to write the description tag content that best matches the content on the website. Google always wants to give users the best experience.
Avoid double quotation marks in meta descriptions
If you use double quotes ("…") in the meta description HTML markup, Google will recognize them as a signal to truncate the description from that point on and automatically trim the rest of the text from the SERP code. To prevent this dimension, you're better off removing all non-alphanumeric characters from the description tag. In case double quotes are really important in your description tag, you can use HTML entity instead of double quotes to avoid truncation.
Sometimes it is not necessary to write a meta description
Google can also automatically receive the text with the same keyword inside the page as the description. Hence, occasionally you don't need to write it for your article.
Why won't Google use my meta description?
Search engines often override the meta description of pages, which displays different text in the SERP snippet from what is declared in the page's HTML. It's hard to predict precisely when this will happen, but it usually happens when Google thinks the current description tag adequately answers the user's query and uses a bit of text from the same instead of a page that it believes is the more accurate and engaging response to the search.
This can be frustrating, especially when you've spent a lot of time carefully crafting unique descriptions for your web pages. However, to avoid that frustration, you can completely leave the page's description up to the search engine in some cases. While common sense suggests that it would be wise to write a brief description for your website instead of letting Google crop the page and display their own, this is not always the case. When deciding whether to specify a description tag, ask yourself how many valuable search terms your site is targeting.
If your page targets one to three highly searched terms or phrases, it's better to write your own description tag to attract users. In case if the page is targeting long-tail traffic (three or more keyword phrases), it would be wise to let the search engine populate a description tag on its own.
Conclusion
The meta description is very crucial for every page and optimizing the meta description is a very important aspect of on-page SEO. Although it does not work for Google's keyword ranking process, the meta description is a bridge to the customers. Hopefully, this checklist can provide for you the useful knowledge about the meta description. And then you will apply them easily to your article, from that you have a best meta description.
SEO extension from Mageplaza will be a wonderful choice for your online store. With this extension, you only install without any code modifications. Especially, if you need to insert meta keywords and meta descriptions for your product, it is also friendly with your store. From that it will do perfectly for your better SEO.
Website Support
& Maintenance Services
Make sure your store is not only in good shape but also thriving with a professional team yet at an affordable price.
Get Started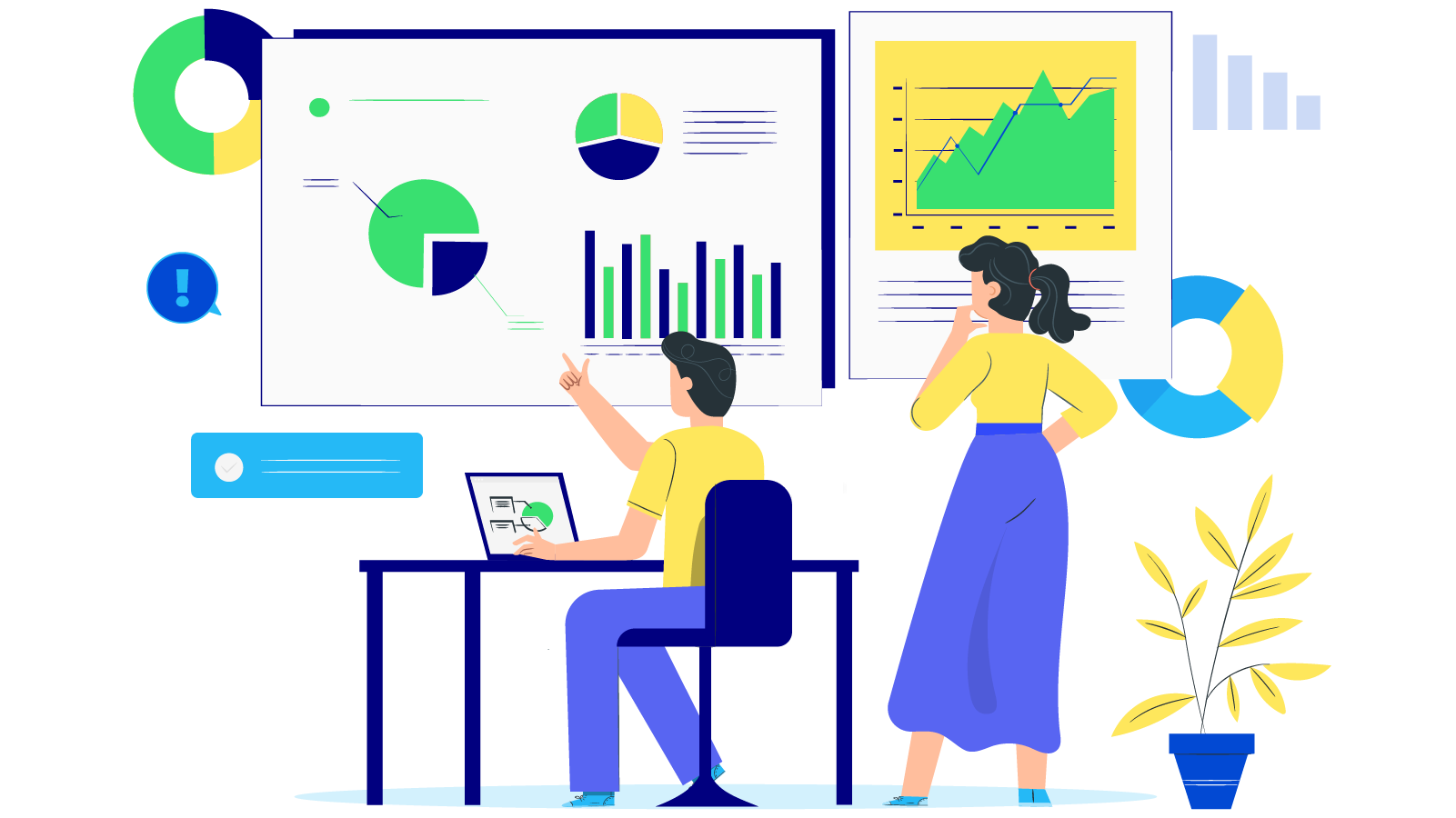 ---
---
New Posts



Subscribe
Stay in the know
Get special offers on the latest news from Mageplaza.
Earn $10 in reward now!