How to Build Landing Pages in Magento 2 store?
The Most Popular Extension Builder for

Magento 2
With a big catalog of 224+ extensions for your online store
With over 250,000 active e-stores, Magento has performed its success as one of the top e-commerce platforms globally. As a store owner, to survive and succeed, you always need to switch between different selling methods depending on the sales market. However, if there is one tool that is considered as indispensable one on any advertising campaign online, It must be a landing page.
According to HubSpot, companies with 30 or more landing pages could bring 7 times more leads than ones who have fewer than 10. It's so common that every time we talk about digital marketing, the landing page's vital role is undeniable in directing leads to conversion.
If you still feel confused about the term "landing page" and how to create it for your Magento store. This article is what you need.
Table of contents
What is the landing page?
Before moving to more specific subjects, you need to have a clear understanding of what landing page is and how it can be used. The landing page is a web page with a solo function of converting your potential customers into leads.
Still, many people misunderstand the landing page and homepage. Though some landing pages might be similar to a regular homepage, between them still have the difference, making the landing page more critical to a digital campaign.
Features distinguish landing page to other pages:
Purpose: With the landing page, the only goal is converting traffic while the homepage has to wear a lot of hats
Content: Provide a compelling message tailored to a specific segment of the target audience that focuses on the ad information and causes immediate conversion
Call-to-action: It will include some CTA to encourage conversion such as a form to capture visitor's information in exchange for a shopping offer
Remember those differences in order not to use them interchangeably as it can make your advertising campaign become stuttering.
Look at 2 examples below of a famous shoe brand – Adias to have better comparison between the difference between homepage and landing pages
This is the home page.
This is the landing page for the discount promotion if a visitor accepts to join Adias's membership program.
Now, I believe you can realize the difference between those 2 kinds of pages with no difficulty.
Simply put, a landing page is any webpage with no navigation functionality that exists apart from your main website, usually a standalone page. It serves as a tool targeting individual demographics that have a high potential for conversion.
In other words, these pages are ones that customers can "land on" after the first action of clicking on an ad, email marketing link, or any online promotion.
Read more: What is a Splash Page? Splash Pages vs Landing Pages
Why does your Magento store need landing pages?
Landing page is a must-have element for all types of online businesses. However, it is also a special place with online retail.
While the homepage usually is too generic to cater to thousands of visitors, the leading page offers only one product or service and conveys one call to action. This difference can give the visitor exactly what they need and with no extra information. Thus, they are more willing to spend time on the page and focus on the core information you provide. This will lead to a much higher conversion rate in comparison with other webpages.
If you still wonder how a landing page could generate more leads for your store, this part below can give you the answer.
Let's get started!
Firstly, you need to know 2 main types of landing pages, they are:
Lead generation page: Collect specific information of the engaged customers via a lead capture form (usually ask for a phone number, email address, names, or age range)
Click through page: Convince visitors to do a particular action in exchange for whatever you have to offer (click the "call to action" button or fill in the form, etc.). This type is more seen on a Magento site or any other site with a sales bent.
To sum up, the landing page's one and only purpose is to improve your conversions and optimize advertising campaign results through a webpage which is tailored to a specific group of audience.
Below are 5 reasons why your store needs landing pages:
Perfect advertising tool for generating more conversion
Highlight a specific product/ service among a ton of different stuff on your website
Remove customer's distraction and friction
Build up prospect demographics data
Lower your cost of acquiring new leads or sales
Testing and optimization with ease
Allow measuring your marketing campaign success
Read more:
6 Steps building up landing pages in Magento?
As we all know, Magento officially released Page Builder, a built-in, drag-and-drop style content management solution. It has turned the Magento platform a good fit for e-commerce teams with a fast and intuitive interface for building products, category content, and full content pages.
In Magento 2.3, all the blocks and CMS pages are editable and can be created via Page Builder that was integrated into the backend.
Instead of the very basic WYSIWYG editor and widgets/ blocks of the earlier versions of Magento, the admin user can simply drag content type elements to the desired position on the page.
Read more: How to Add a New CMS Page in Magento 2
6 Steps creating landing pages with Page Builder
Step 1: Log into your Magento admin, then go to the Content > Elements > Pages. After that press the Add New Page button.
Step 2: Choose Yes to create the new page and fill in the Page Title and Content Heading fields in the Content tab.
Step 3: In the Content tab, drag and drop all the landing page elements you want on the bright canvas on the left side, through the Media, Elements, Layout, and Content toolsets.
As you drop the element, press the gear sign to expand its settings.
Step 4: Move to Search Engine Optimization and enter the URL Key, Meta Title, Meta Keywords, and Meta Description fields.
Step 5: Decide its view on the Websites tab. In the Hierarchy section, specify the ranking of your landing page.
Step 6: Go to the Design tab and input the Layout Update XML to add any new landing page templates or themes they want. Click the Save button.
Now, you are ready to start making your own new landing page.
However, with open-source Magento or not supported editions, you will need to install third-party page builder extensions. They work perfectly, too, and will display your page's frontend interface inside your website's backend, making it extremely easy for you to drag and drop elements.
Looking for
Customization & Development Services?
8+ years of experiences in e-commerce & Magento has prepared us for any challenges, so that we can lead you to your success.
Get free consultant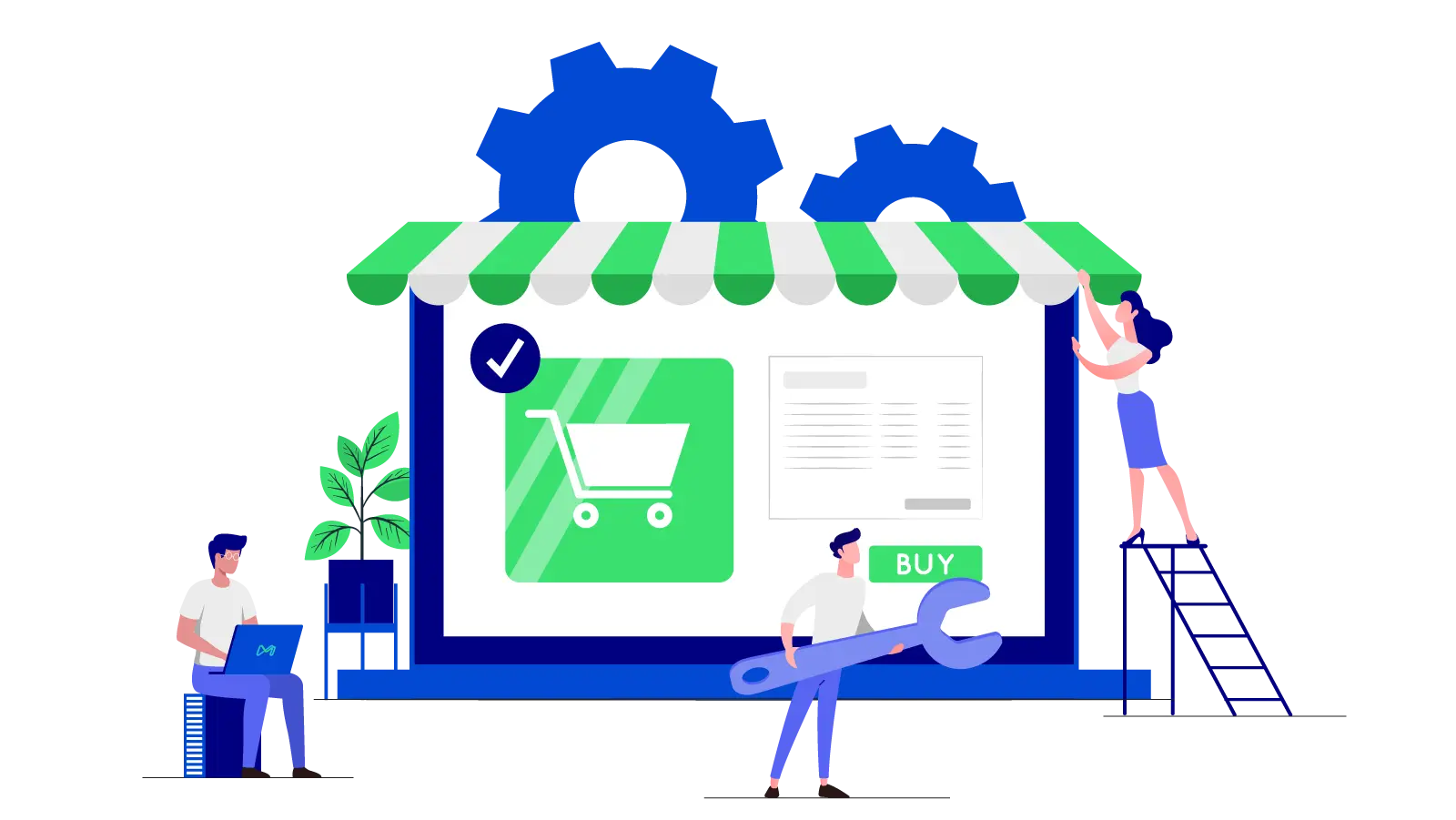 Top 6 recommended Magento 2 landing page extensions in 2020
Landing Pages by Tapita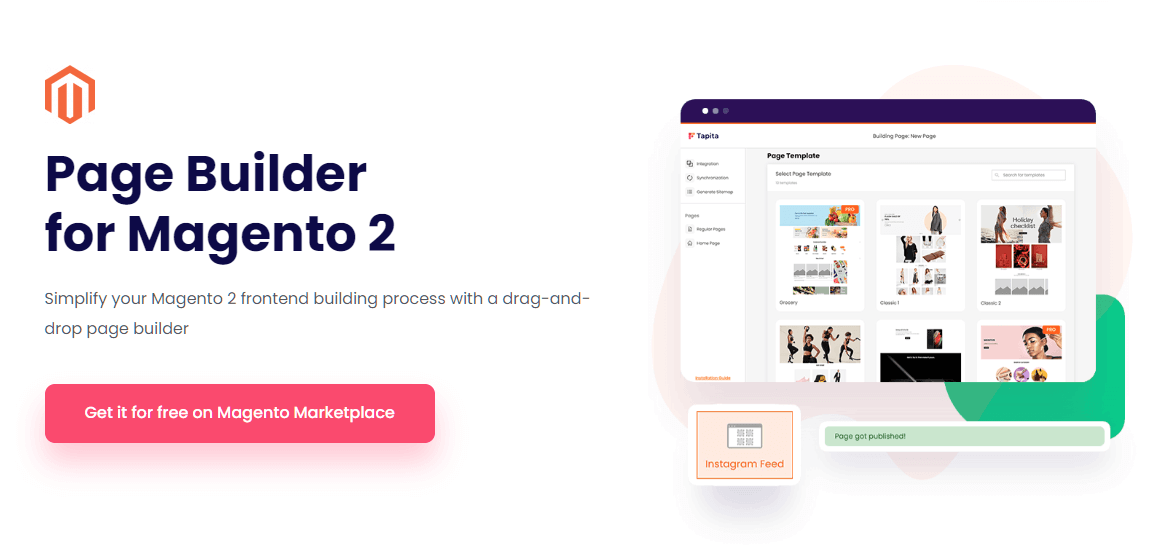 Tapita lets you build your own Magento landing pages at ease with an intuitive drag-and-drop interface and live preview. Moreover, the tool does not integrate directly with your site but connects via API, thus, will not break your Magento site layouts & structures under any circumstances.
For developers, you can easily add some custom codes to create rich landing page layouts & deliver unrivaled UI/UX experiences.
Features:
Drag-and-drop & Live editor
Highly-responsive. Able to customize styles for each device
Save designed blocks & apply them to other landing pages in no time
Add HTML/CSS/Javascript for advanced customization
Build landing pages and more (i.e: Homepage, About us, Contact us, etc),
40+ templates available
SEO-friendly with meta-title, meta-description, alt-tag, XML sitemap & lazy-loading
Able to integrate with PWA Studio + ScandiPWA for headless frontends
Landing Pages by Plumrocket
Magento 2 Landing Page by Plumrocket is an excellent solution for your e-store. This module allows you to create multiple landing registration pages for numerous marketing campaigns.
Store admins can easily configure multiple landing page background images, layout, promotional messages and even enter affiliate tracking code.
Key features:
Create unlimited landing pages
Allow setting the amount of points earned by customer for registering on each landing page separately
Supports any affiliate tracking software
Advertise with Google Ads, Facebook Ads or Affiliate Networks.
Landing Pages by Mageworx
This well-designed module enables merchants to create unique SEO friendly landing pages for their Magento 2 stores. With the Landing Pages by Mageworx, your landing pages will own a convenient layout with SEO optimized content.
Key features:
Optimize the design of numerous landing pages
Offer unique metadata and canonical URLs for each
Ability to add landing pages URLs to the sitemap
Compelling and attractive design
Unlimited Magento 2 landing pages
Landing Pages by Landofcoder
From homepages to content pages, to ads pages, to landing pages, the Landofcoder Landing Page enables you to create an eye-catching interface for your estore right in the frontend. No admin panel needed
Key features:
Unlimited number of page layouts
Change your layouts effortlessly
Support +50 popular Magento widgets
Create unique content via a built-in element builder
Offer drag & drop admin interface
Able to create your blocks, then assign them to specific positions on your pages
Landing Pages by Amasty
The Amasty Landing Page extension provides advanced SEO and displays the functionality of creating an attractive interface for any web design. Leverage customer purchasing experience and thus, increase conversion rate
Key features:
Able to represent your custom CMS blocks at the top/in the bottom of your landing page
Create page-specific lists of products by leveraging the flexible conditions that it provides
Generate as many landing pages as you want with ease
Enhance the visibility of search engines by listing landing pages to the sitemap
Enhance site rankings with unique URLs and metadata
Landing Pages by Magezon
Empowers you to create custom page layouts in no time. Even if you are a person with no coding experience, Landing Pages by Magezon gives all you need to create personalized and high-quality web pages.
From adding descriptions to your products to putting together your website's structure, you're free to configure everything about your layout
Key features:
Visual drag and drop page builder
Support 50+ elements
A wide collection of customizable options
Offer many ready-to-use predesigned templates
Read more: 7+ Best Magento 2 Landing Pages Extensions
Some important reminders for designing effective landing pages
Prefer clean and well-organized design
8 seconds is the total time you have to make a connection with a visitor to a web page. If you fail, the readers will leave your page, and hence, no conversion will be made.
Read more: Mobile pages that load 1 second faster see up to a 27% increase in conversion rate
Therefore, a good design landing page should have:
An uncluttered page
Easy-to-read fonts
Colors that don't fight each other
Intuitive navigation
Make use of page headline and subheadings
The first thing your audience should read is the headline. It's one of your primary determinants influencing your conversion rate of that landing page. So a clear and straightforward state about your most significant benefits will work.
The headline must be something that makes the visitors willing to stay on your landing page and read the next sentence.
Subheadings may showcase whatever you're offering in a new light and explain more detailed the headline.
Some pocket tips for your headline and subheading content:
Use compelling adjectives: For example, "shocking" "one-in-a-life-time", etc.
Consider the length: With the majority of landing pages, you should keep it short, attractive, and informative enough. Under 60 characters is the ideal number for the search engines
Clear state your value: Let customers know exactly what is your offer, who you offer it to. For example, instead of saying "How to have a compelling headline", you could make it more specific by a different title "5 Tricks marketers use to have a killer headlines"
Be specific: Headlines containing numbers can get more attention and generate nearly 73% more engagement. If you use murals in the title, remember not to spell it out and keep it under nine
Give the solution: Remember that customers only care about what they need. Think about it when you decide which offer to use on the landing page and meet their demands.
Use social proof
Include all the trust signals you can to show visitors that your offer and brand are trustworthy. Most sites display social proof in the form of a list of customers, press mentions, usage statistics, and testimonials.
In some situations, logos can be used as trust signals but keep them clean and focused.
Read more: How to Add Social Proof to Landing Page
Check out your page mobile friendly
By 2018, mobile devices represented up to 52.2% of web traffic.
Now you know why some landing pages have good content and valuable offers but still, don't bring much traffic as marketers want.
Few tips of best practices for mobile landing page design:
Go for a concise copy: short sentences and paragraphs, scannable bullet points
Put your CTAs above the fold
Check your text and other elements to make sure they are large enough to read/see on mobile devices
Don't go overboard with graphics and videos
Optimize the forms for mobile; focus on the simplicity and limit the field numbers, so they're easy to fill out on small screens
Apply high contrast. For example, display dark text on a white background
A strong call to action
The visitor's viewing journey on your landing page will end at the CTA button. You have to ask them to take action, or else they won't.
The landing page's CTA button must be attractive and put in an easy-to-see position. Moreover, it should clearly tell the reader what their next action is. For example: "Download Now" or "Purchase Now" would be valid.
Last but not least, double-check your message in the CTA and the heading to make sure it will not lead to any confusion.
Read more:
How to create a killer CTA button?
12 Best practices for optimizing a Landing Page to boost conversions
Final thoughts
The non-stop development of e-commerce and technology has opened up unprecedented opportunities for businesses to sell their products in the virtual world. However, besides all healthy effects of the Internet, it makes online competitions more challenging than ever before. We realize how crucial it is to have an online presence to connect with users.
As a content executive at Mageplaza, Mia Hoang understands the value of content marketing lies in the engagement between the customers and companies. Her wish is to bring a unique voice, different perspectives, and new light for every audience.
Website Support
& Maintenance Services
Make sure your store is not only in good shape but also thriving with a professional team yet at an affordable price.
Get Started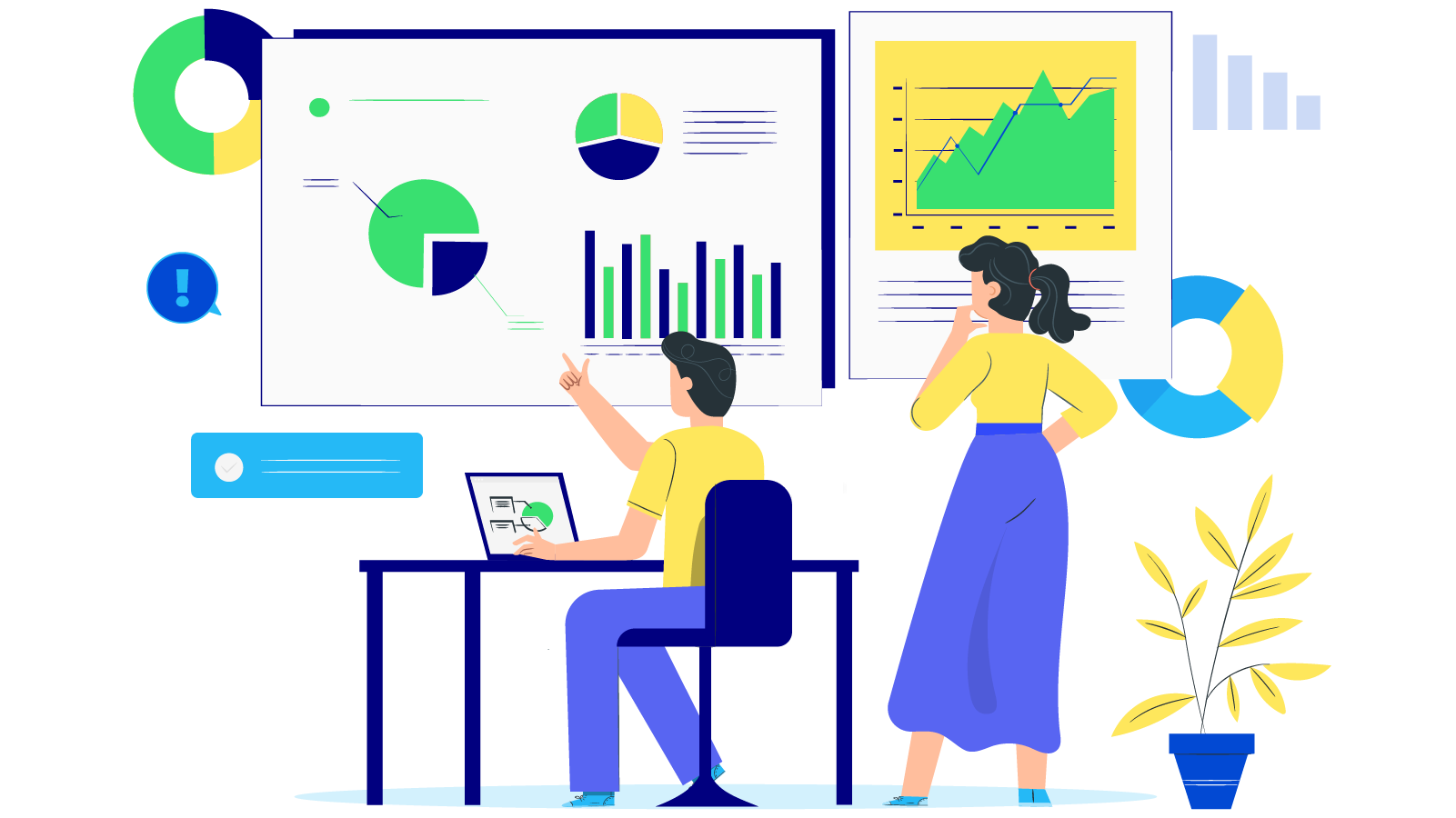 New Posts



Subscribe
Stay in the know
Get special offers on the latest news from Mageplaza.
Earn $10 in reward now!