What is B2B e-Commerce? Trends & 5 Successful B2B e-Commerce Examples
The Most Popular Extension Builder for

Magento 2
With a big catalog of 234+ extensions for your online store
Mentioning the significant presence of the e-Commerce world, people are familiar with many big names such as Amazon or eBay, which are Goliaths of the B2C e-Commerce business. However, the development of e-Commerce will not just stop at this version since there are a plethora of B2B e-Commerce companies that are now growing around the clock. Statistics have shown that B2B e-Commerce sales are expected to reach more than $6.6 trillion worldwide by 2020.
So, for people who are clueless about every aspect of B2B e-Commerce platforms, this article is going to take you through to a deeper understanding of this huge potential market. For any B2B business owner, staying up-to-date to the global B2B e-Commerce movements is totally needed.
Table of content
What is B2B e-Commerce?
Definition
B2B e-Commerce is short for business-to-business e-Commerce, which is defined as the sales of goods or services between businesses via online channels. Instead of receiving orders in the traditional ways (by telephone or mail), transactions are carried out digitally, which helps reduce a great amount of overhead costs.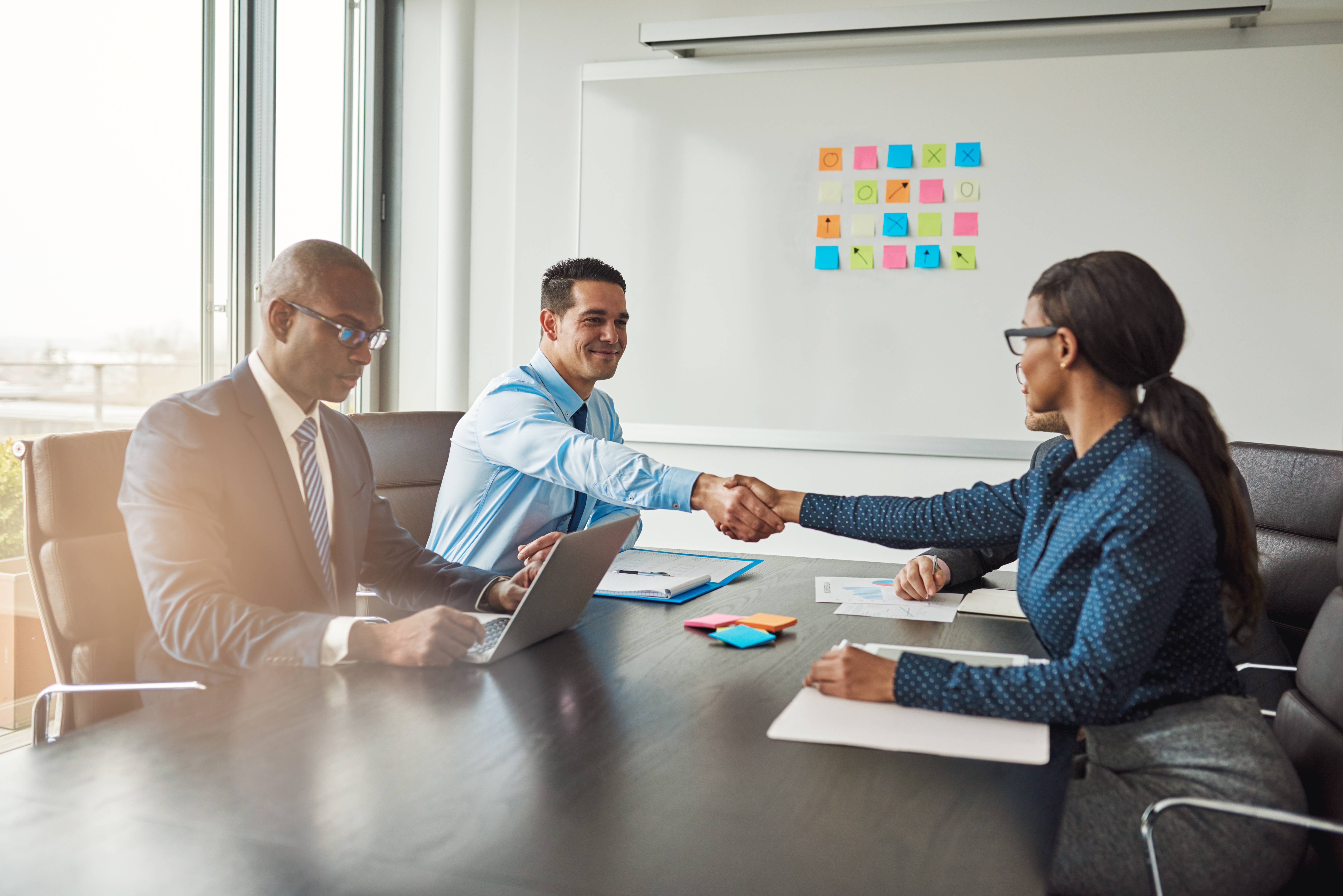 Some people believe they are not selling B2B, and that is one of the B2B e-Commerce misconceptions. In fact, they might at least do it once or twice but not know about it. Selling B2B exists in many forms such as wholesale, selling to resellers, large or chain retailers' distributors, selling to organizations.
This is the reason why there are many brands out there selling both B2B and B2C. A good example which should be mentioned is even giant like Amazon is now expanding into B2B e-Commerce, and it could grow faster than the retail unit.
B2B e-Commerce buyers
Remember that B2B customers are different from B2C ones. Some strategies work with average consumers but are not effective when applied to B2B buyers. By saying so, it does not necessarily mean that business owners should build separate websites for each type of customers, but they should pay attention to what may work with the B2B customers to adjust their plans and websites.
If B2C buyers make their decisions in purchasing goods driven by desire and motivation, then B2B buyers are more professional, in other words, they make a plan to buy products. B2B customers have a tendency to do a lot of research before reaching out to suppliers. It is shown that 12 is the average number of searches that B2B researchers do prior to actually engaging on a specific brand's site.
Therefore, business owners should build a friendly website that can support buyers to find what they want easily. Perhaps a smart and simple navigation and an optimized search box might be helpful.
B2B buyers are potential loyal customers, as well, since the B2B sales cycle is long and more complex. Once a B2B customer find their proper supplier, they will maintain the relationship in a certain period of time (months or over a year, for instance). Also, when it comes to placing orders in B2B selling, there will be higher in quantity of products or services and much more complicated requirements for shipping or payment in comparison with individual consumers' orders, not to mention that the price is expected to be highly variable. Thus, creating a suitable B2B platform is difficult, but business doers can still find many ways to improve the situation. For example, they can update the price on quantity change on their websites.
Another interesting fact about B2B e-Commerce buyers is that the majority of them are the millennials. According to a study, nearly 50% of the B2B buyers are millennials, and they are very independent customers. Compared to Gen X or baby boomer buyers, millennials tend to do significant research online before making the decision, as mentioned above. 60% prefer not to seek help from a sales rep for more information but to get it by themselves. That is why building a great website is crucially important for a B2B business to thrive.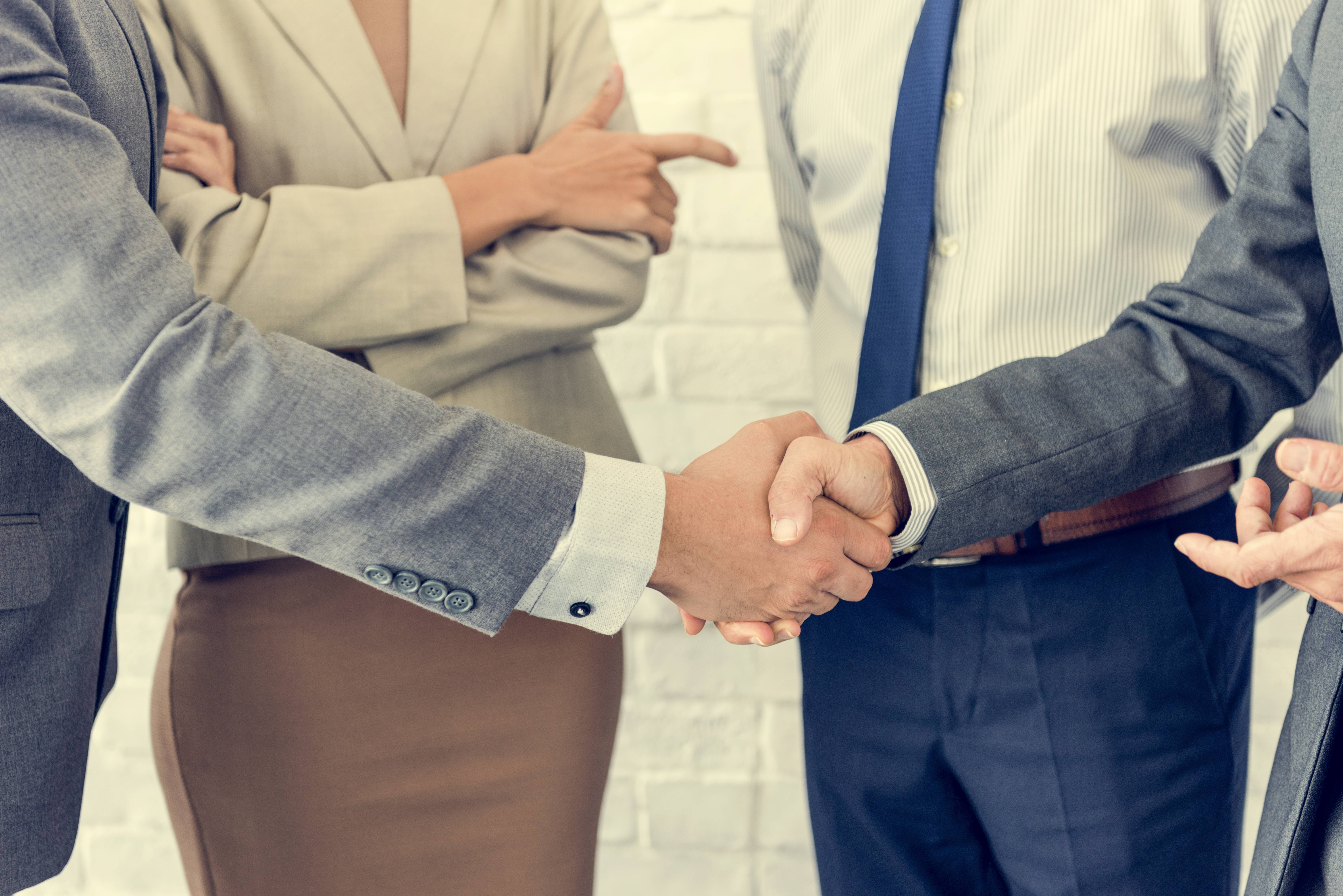 The importance of B2B e-Commerce
If a company forgets to invest in digital platforms in this century, it will soon face the problem of falling behind in the competition. Today, people are willing to purchase everything online than any other channels. Therefore, a clever investment in a B2B e-Commerce platform is a wise choice if companies want to acquire millions of dollars in revenue. Moreover, the B2B e-Commerce world is growing exponentially with the market value of $10.6 trillion in 2018. What's more, according to an eMarketer's report, 94% of B2B executives in North America said B2B e-Commerce is critical to business advantage and result. So, if you think B2B e-Commerce cannot affect your business, then you are totally mistaken. Also, these days, B2B customers are seeking the same flexibility as what B2C buyers have. In another expression, B2B buyers want a "B2C-like" experience in their purchasing journey, which includes a quicker checkout process, fast delivery, easy and automatic repeat orders and improvement in tracking. To handle all of these requirements, a powerful B2B e-Commerce website is very crucial to any business in the industry because it enhances customer experience at a higher level, which can positively improve conversion rate in the long term to gain profitability.
Top B2B e-Commerce leading trends
The payment trends
It is undoubted that payment is always an important step of any business transaction. So, when it comes to B2B digital payment, there are certain trends which sellers may want to pay attention to so that they can add suitable payment methods to satisfy business customers.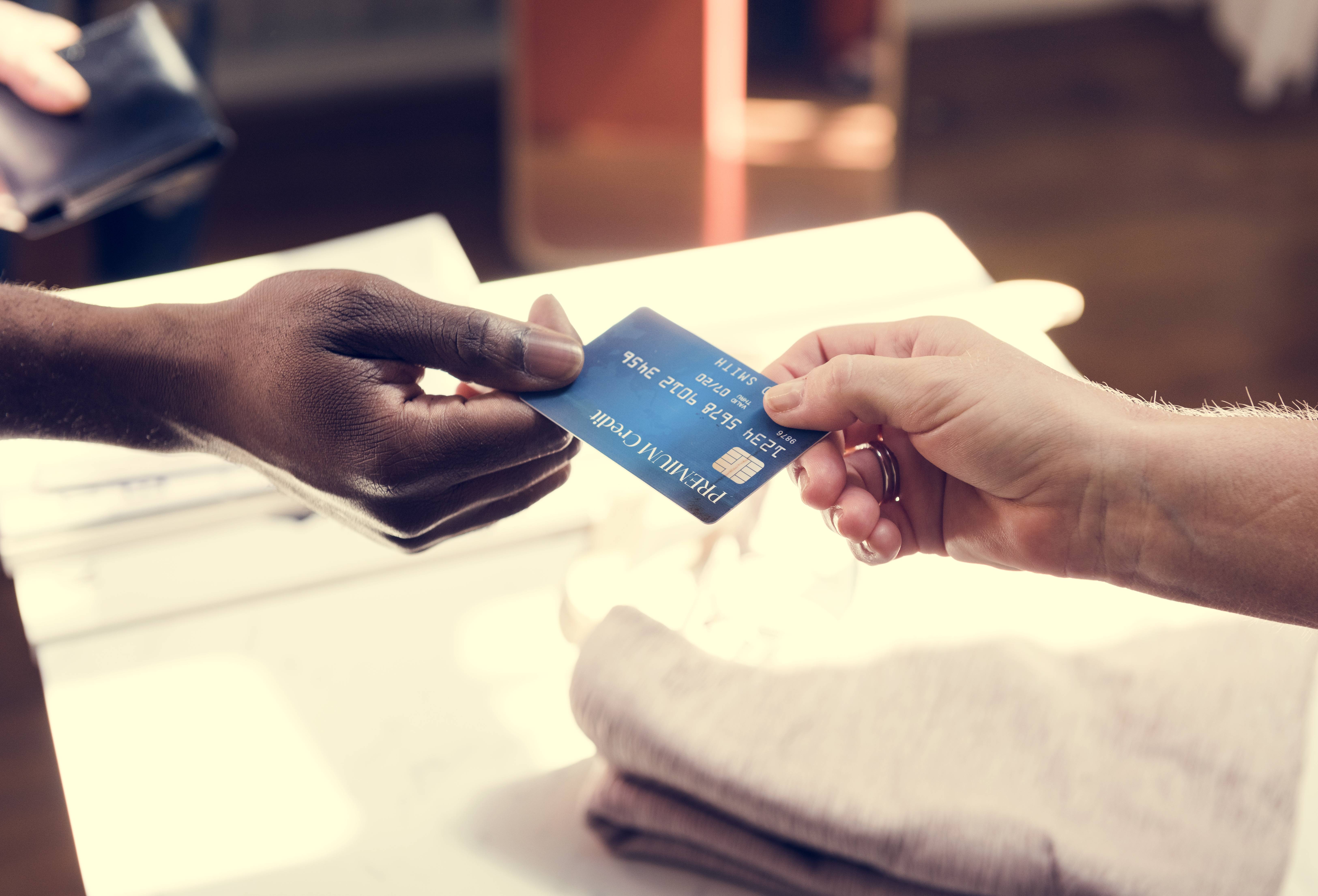 The story now is not just about the typical "credit card only" when you offer payment option to B2B buyers. There are many other methods that the customers would like to see on your checkout page including cash, check or purchase order. According to a BigCommerce's survey on over 500 international B2B retailers:
94% prefer to pay by credit card
53% opt for paying by terms
51% are willing to pay by check
50% agree with purchase orders
26% choose to pay through mobile wallets such as Apple Pay or Amazon Pay, and the number is still increasing.
All in all, it is difficult for many business owners to offer all types of payment, but depending on the business cases, they should wisely choose the most suitable methods to the B2B audience for better checkout experience.
Chatbots
Using chatbots will still be a leading trend in B2B e-Commerce. The first and foremost reason is that chatbots are one of the best solutions for great customer service, which help improve the customer shopping experience. Chatbots can reduce a great amount of waiting time since they are programmed to find information more quickly than a salesperson, not to mention that they can work 24/7.
Read this article to learn more about using AI chatbots to revolutionize the customer experience.
Augmented Reality (AR) and Virtual Reality (VR)
AR is a new growing trend in B2B e-Commerce. Investing in AR helps customers understand deeply about the products through a visual and interactive experience. AR can show how a product will look like in the real world, or instruct people to use or configure a product by displaying 3D imagery.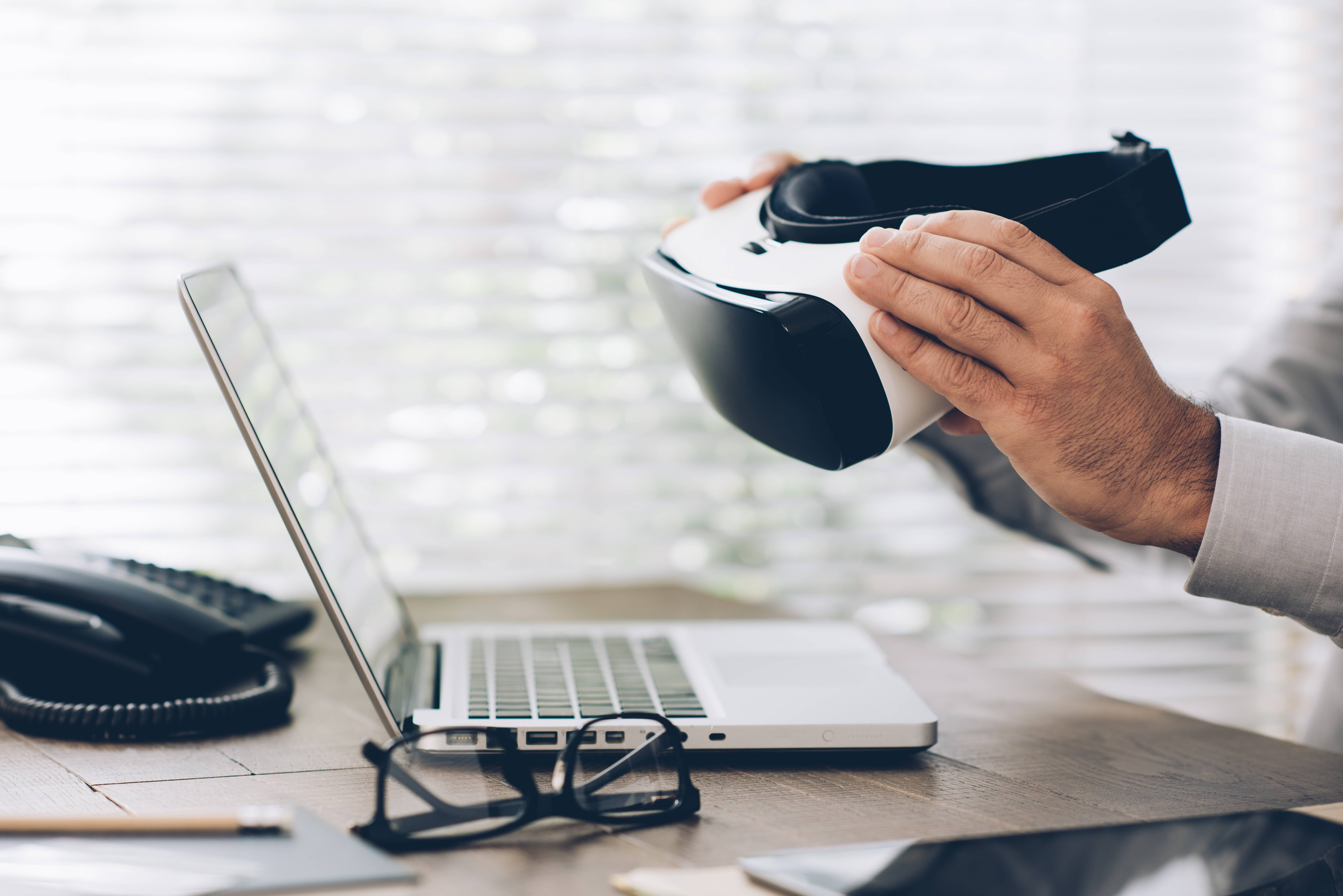 A company will gain more competitive advantages by utilizing the advancement of AR solution. The first thing that could be mentioned is the costs of making samples will be reduced since products are completely indicated digitally by AR with the same sizes, colours, features as a real-life sample.
The next benefit is AR can satisfy B2B e-Commerce buyers with their self-research before purchasing products and make the process more efficient. Particularly, customers can easily learn about the products, and they don't have to set an appointment with a sales rep or waiting for a delivery of the sample, which wastes a lot of time and money.
There are many large brands are now using AR to develop their business including Cisco. This huge technology company uses a AR Creation tool to let technicians know virtual demonstrations of machines, which helps them install the devices with fewer difficulties.
Along with AR, VR is also one of the futuristic digital solutions for e-Commerce business. VR can also instruct users to configure products but virtually, in other words, without even presenting the actual products. Both AR and VR are useful tools for marketing strategies, as well, which can change the face of B2B e-Commerce world on the horizon.
CPQ technology with voice-assisted intelligence
Voice technology such as Alexa or Siri is now taking over the world. It is obvious that this type of voice assistant is a must-known trend which B2B business owners need to watch out. By using these assistants, more time will be saved since they can provide customers with instant results and which a salesperson hardly do.
However, only having voice-controlled devices cannot make a business more powerful. B2B users requirements are very complicated, so companies need a smarter tool to understand such difficult orders, and the CPQ (configure, price and quote) technology is a helpful solution. This tool can handle more complex products, providing right price at the right time to the customers since it utilizes a company's data on product catalogs, customer information, previous transactions and integrates other enterprise platforms. So, if the CPQ technology is integrated with the voice assistant, the world shall witness an ultimate growth of the B2B industry in the future.
Omnichannel B2B e-Commerce
Customers come first. If you want to boost your revenue and increase conversion rate, then there should be a huge improvement in the customer experience. E-Commerce buyers, especially B2B customers, are now changing, and they are more independent with higher expectations towards B2B merchant. Thus, an omnichannel strategy is critically important to meet their complicated demands.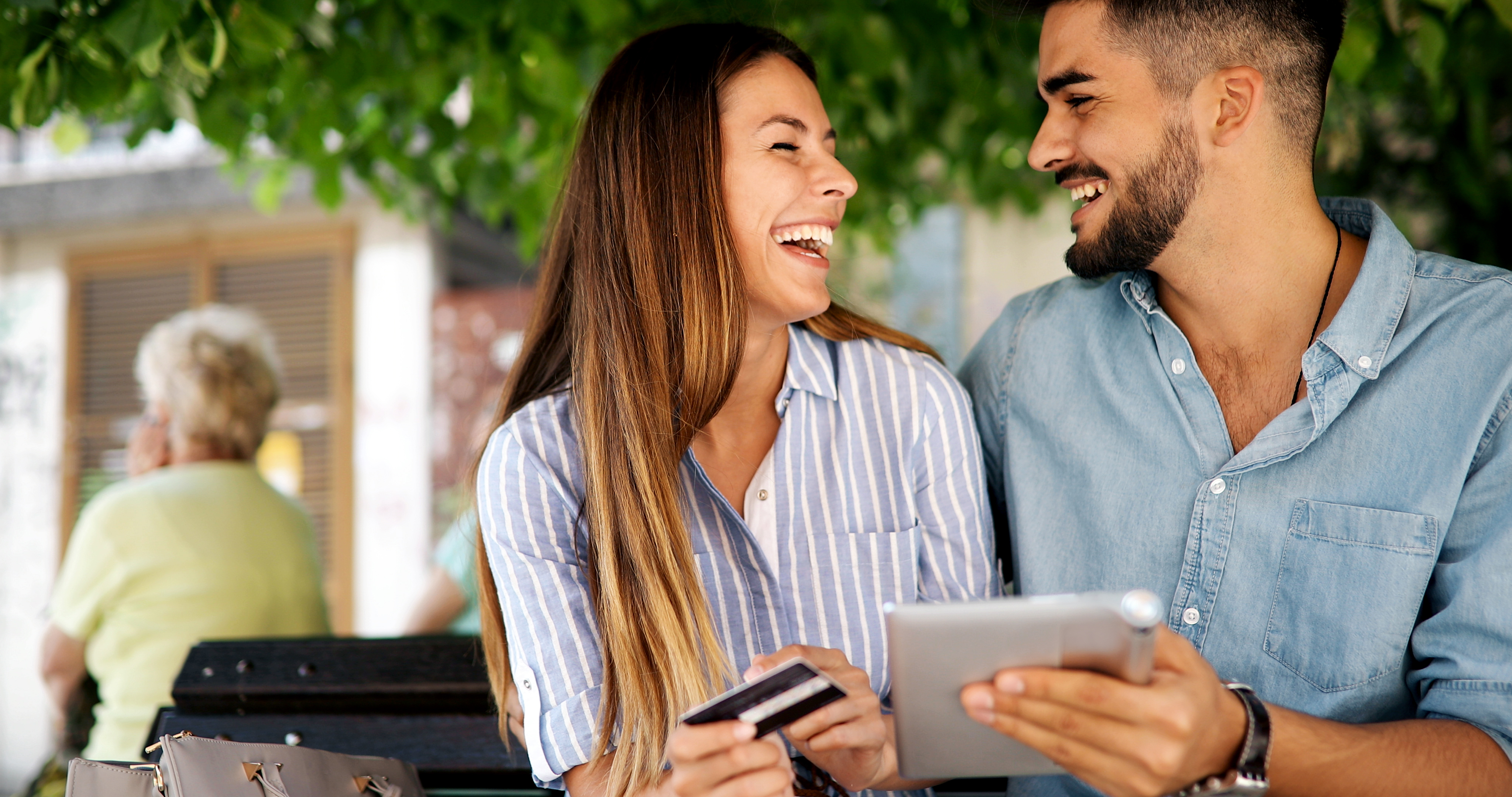 Some of the strategies B2B firms can implement to develop an omnichannel customer experience are:
Investing in SEO to gain more organic traffic to the company's website, and increase the site ranking on the first result page. Check out the perfect SEO solution for Magento 2 stores if you are looking for a piece of advice.
Spending budget on digital advertising such as search ads or product listing ads.
Using social media to promote the company's brand and increase engagement with followers for further conversion rate optimization.
Combining with setting up optimized FAQ page and extended shopping cart, smart filtering options, product comparison functionality to enhance the customer experience.
5 Examples of successful B2B e-Commerce brands
Polycom
Perhaps every conference room around the world is equipped with a Polycom three-point phone which is an iconic product of the company for decades. This global corporation is the leader in providing collaboration and content solutions such as video conferencing and voice calling, which power authentic human connection and collaboration.
The company's website is a perfect example for a very simple and friendly B2B e-Commerce platform, but on a global scale. When entering the site, customers can choose regions or countries where they are located so that they can easily use the website in their languages for a better experience.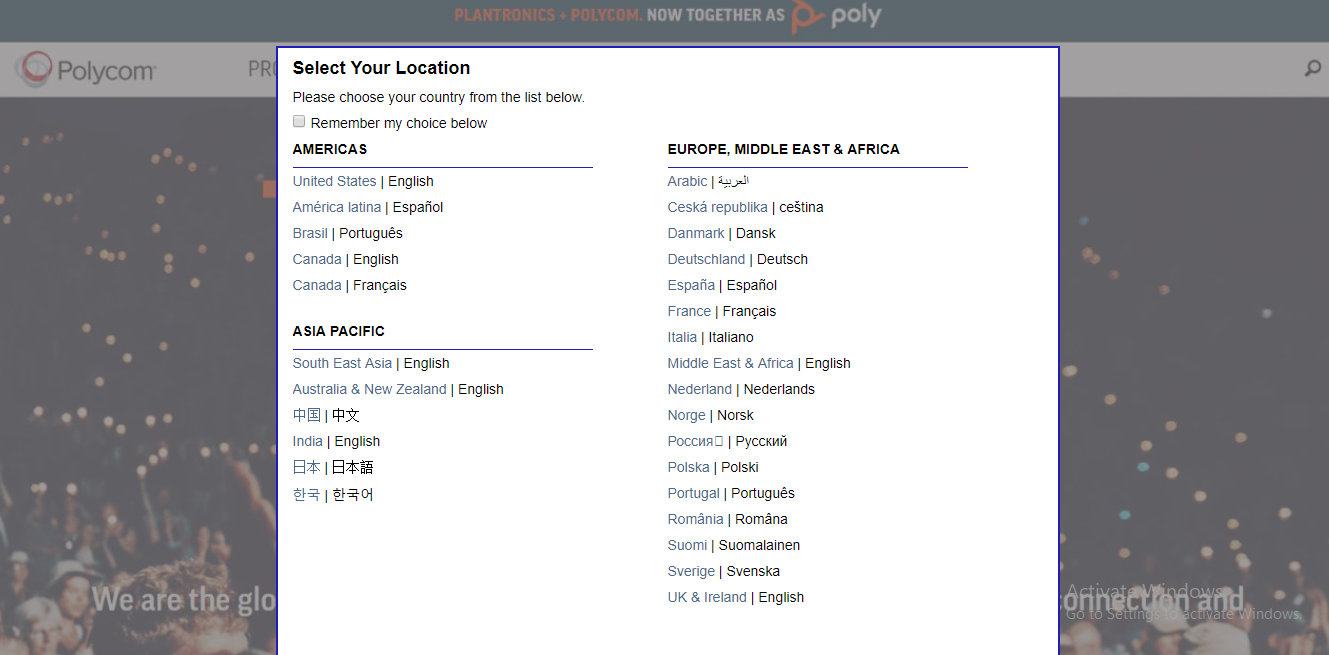 What makes this platform more friendly to B2B buyers is the clear and direct navigation - like products & services, solutions, partners and support. Also, there is a chat box that pops up at the left corner of the page so that customers can ask whatever they want. The right side of the page shows the "request a quote" and "request a demo" features, and when users click on these parts, there will be a square box where they have to fill in their information for further transactions.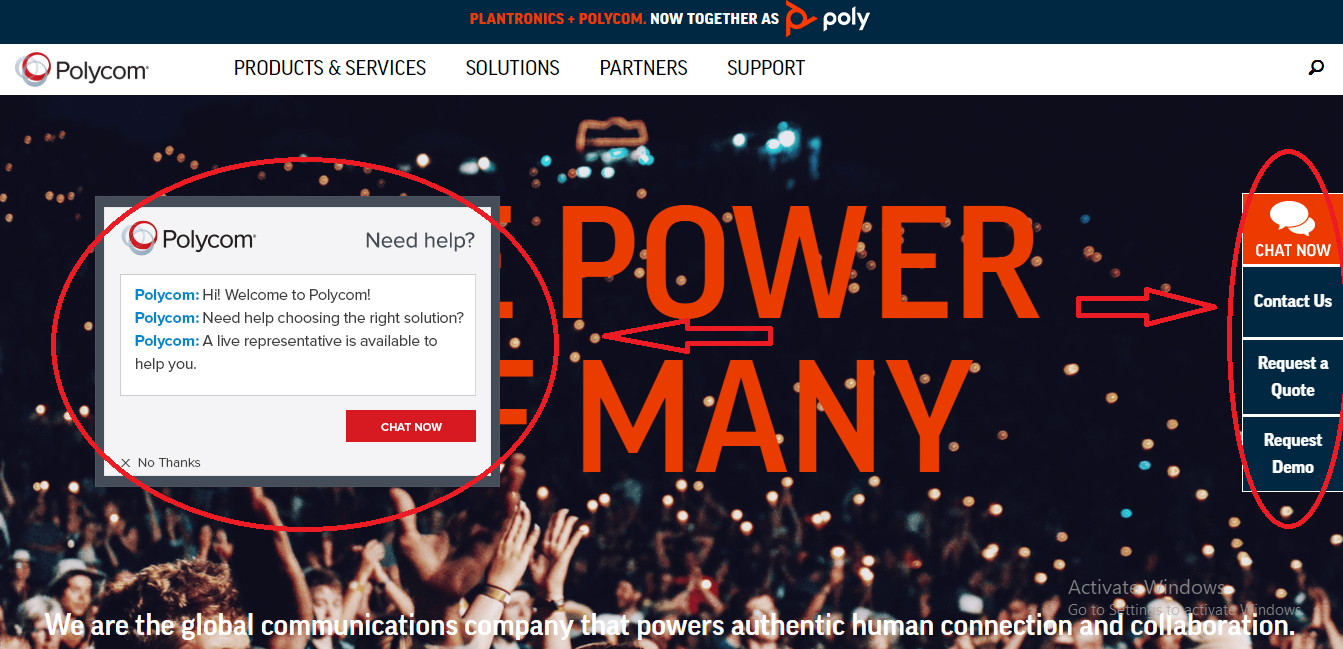 Basically, Polycom mainly simplifies the user experience on the website, which is based on the customers' demands for immediate collaboration solutions, and many companies should learn from this since understanding what customers actually need is crucial for a successful business.
Spectrum Audio
When you first enter the Spectrum Audio website (a pro audio, stage lighting, DJ equipment provider), the professional look ,in general, is all you can see. The site has clear navigation and easy to follow with an optimized search box. Right into the home page, customers can know about promotional prices depending on how much they are going to buy. Also, scrolling down the page, users will be educated with the latest products, featured products and most popular ones, which is a smart strategy to increase buyers' shopping cart size.
For B2B buyers, there is one great feature that Spectrum Audio has set up is the "add to quote" button powered by Quoteninja for custom orders with higher quantities. If you stop your mouse on any product picture, you will see the "quick view" and "compare" function. Clicking on the "quick view", there will be an immediate product description and information box with its pictures without moving to another page, and you can see the "add to quote" button, as well. For the "compare" one, it doesn't seem really work. However, the general experience on the site is great.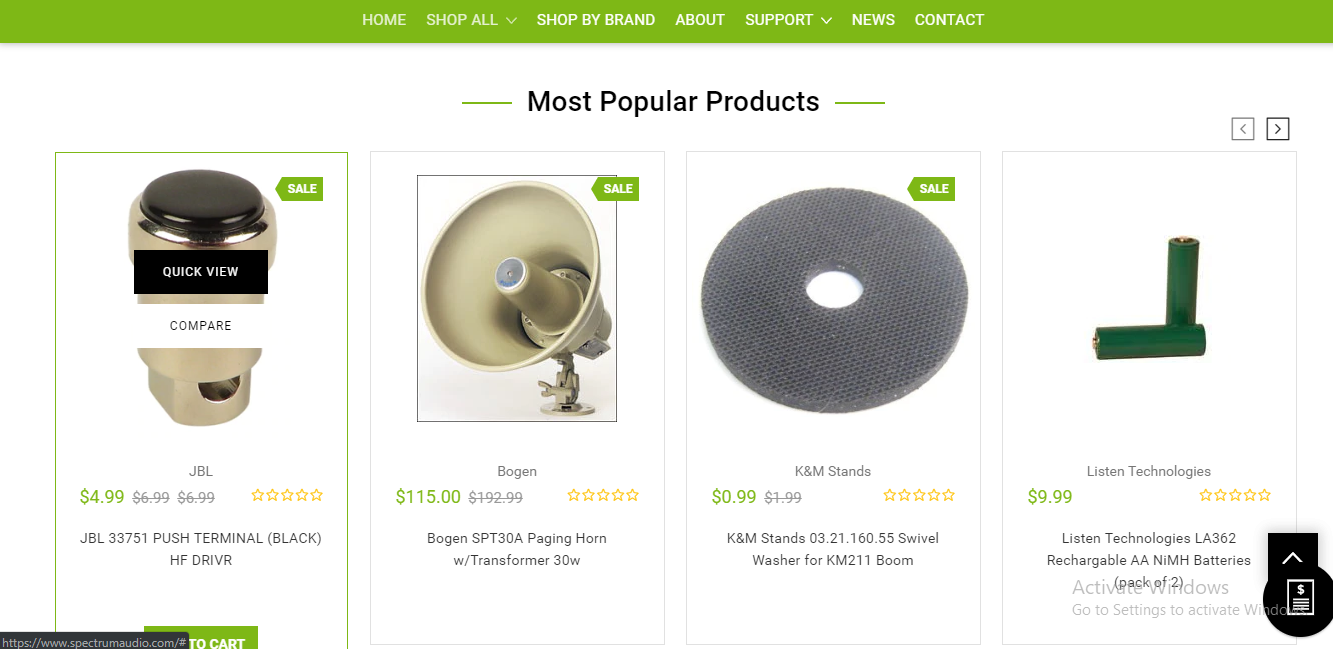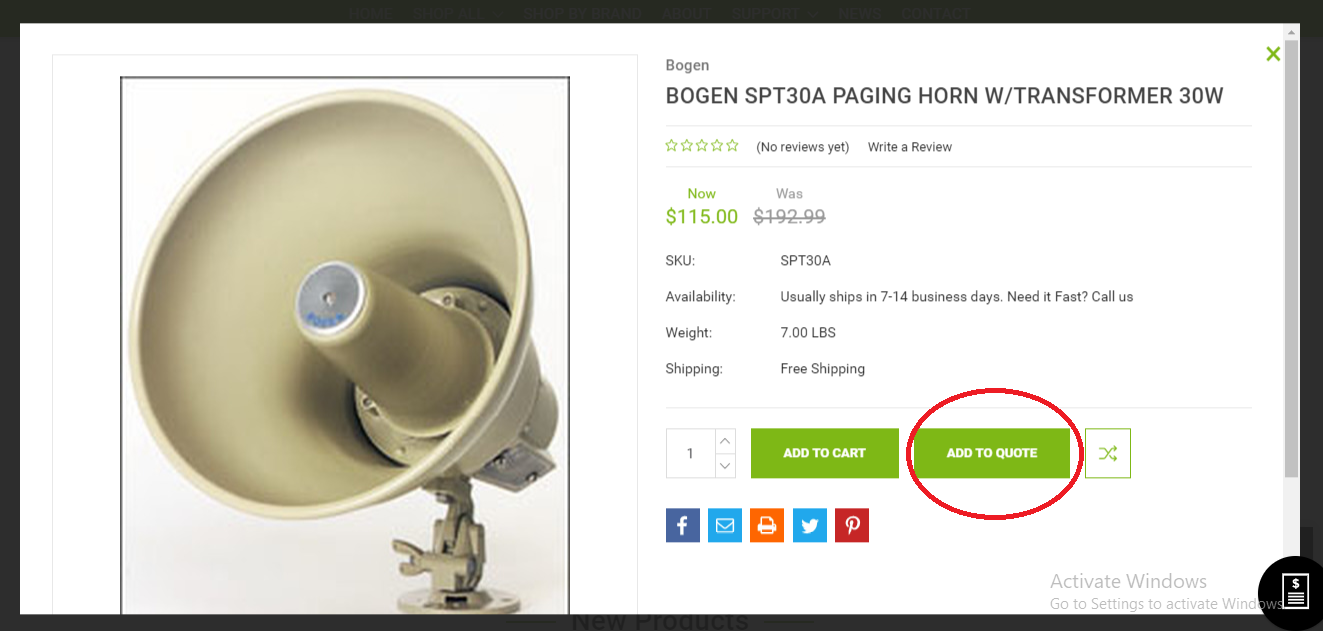 Another cool thing about this website is the "shop by brand" on the navigation bar. The brands are sorted from A to Z, which is pretty convenient for customers who have a specific brand in mind. After clicking on a certain brand, users can easily find the products they want by price or category.
Grainger
W.W. Grainger Inc. is an American Fortune 500 industrial supplies and equipment company with more than 1.6 million products to keep its business customers running. This leading provider of industrial facilities management equipment invests heavily in their online platform, and has acquired billions of dollars in e-Commerce sales.
As mentioned before, search is very essential for B2B buyers. So, what Grainger website can do to facilitate customer's searching products process is by optimizing search box and using extended filtering options. In particular, Grainger uses Autofill to autocomplete as user types in the search box. If you happen to misspell the keyword, don't worry because there will be a list of suggestions for you to find the right product. Also, the filter menu on the left side helps you find products with detail specification that fits your business case. For example, if a customer wants to buy LED light bulbs, there will be many options to choose from the case filters such as lighting technology, light appearance, watts, etc. so that you can choose the most suitable one.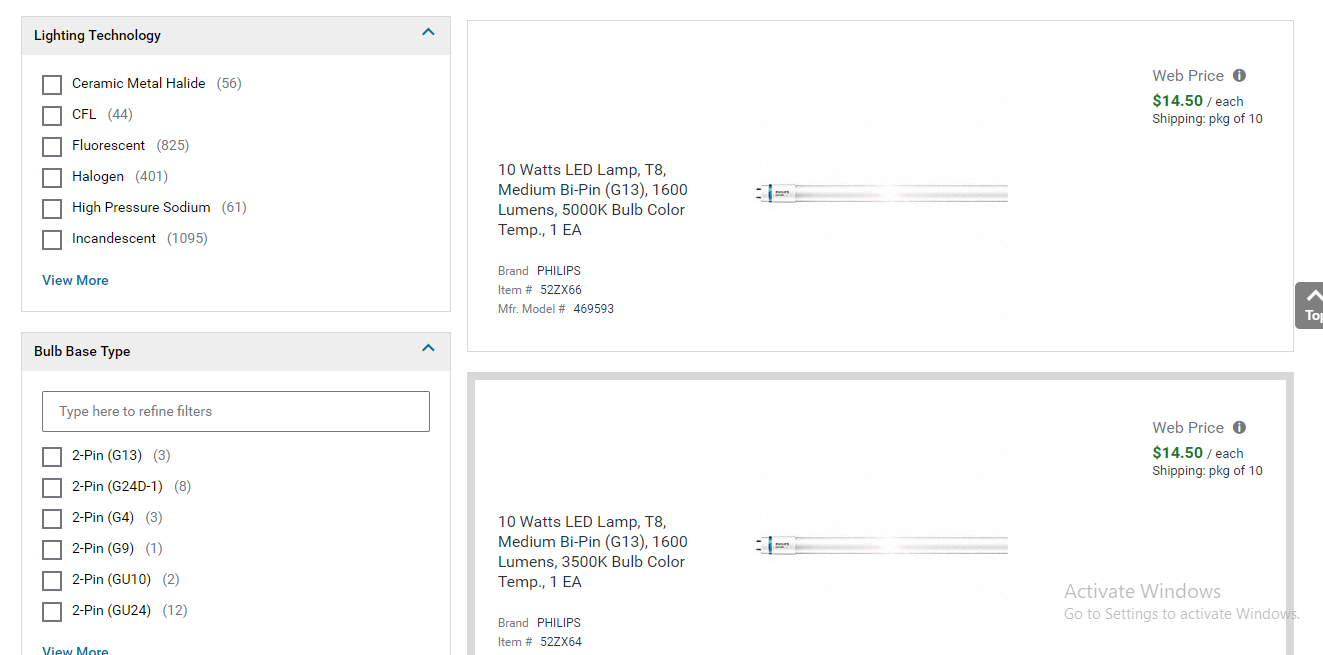 Grainger also lets buyers compare products by themselves when they select particular products under a comparison tick-box in order to get the best option. This huge e-Commerce platform is aggressively developed in the mobile version, as well since there is an increase in the number of buyers using iPad to buy products.
Read this article if you want to know more about the strategies to build such a great Grainger B2B platform.
Chocomize
This is one of the top companies in providing corporate gifts, especially customizable chocolate gifts for business buyers who want to promote their brands. What special about this e-Commerce platform is that the company knows how to smartly use on-page SEO strategy to increase its ranking on Google.
On the Chocomize site, customers may find many keywords such as "custom chocolate square", "custom chocolate coins" or "custom corporate chocolate". It is obvious to see their SEO strategy is very effective which land the website on top the first result page on Google when it comes to searching "custom corporate chocolate" or "custom chocolate bars".
This website also offers discounts when customers place large orders. One plus point of this platform is that there is a "search by budget" and "search by occasions" features on the menu bar, which helps buyers to find suitable products with reasonable prices at their convenience.
Vitality Medical
What B2B buyers also seek out the most when buying online is the automatic repeated order. Setting up a purchasing process that provides customers with the recurring supplies can make B2B customers maintain a long-term relationship with you and conceive their trust towards your brand. As a result, it helps increase your business efficiency and boost revenue in the long run.
Regarding this term, there is a great example which should be mentioned is Vitality Medical. The company is the leader in quality medical supplies, home medical equipment and health care products which has served more than 2.5 million satisfied customers for nearly two decades. Vitality Medical offers recurring delivery options for every product bought and also free shipping for repeated purchase over a certain amount.
This e-Commerce platform is very flexible with the price for bulk buyers, as well. When entering the website, you will see the big banner slide says: "We offer B2B pricing for: government agencies; DME/HME stores; group homes; hospitals and doctors; rehab facilities and schools".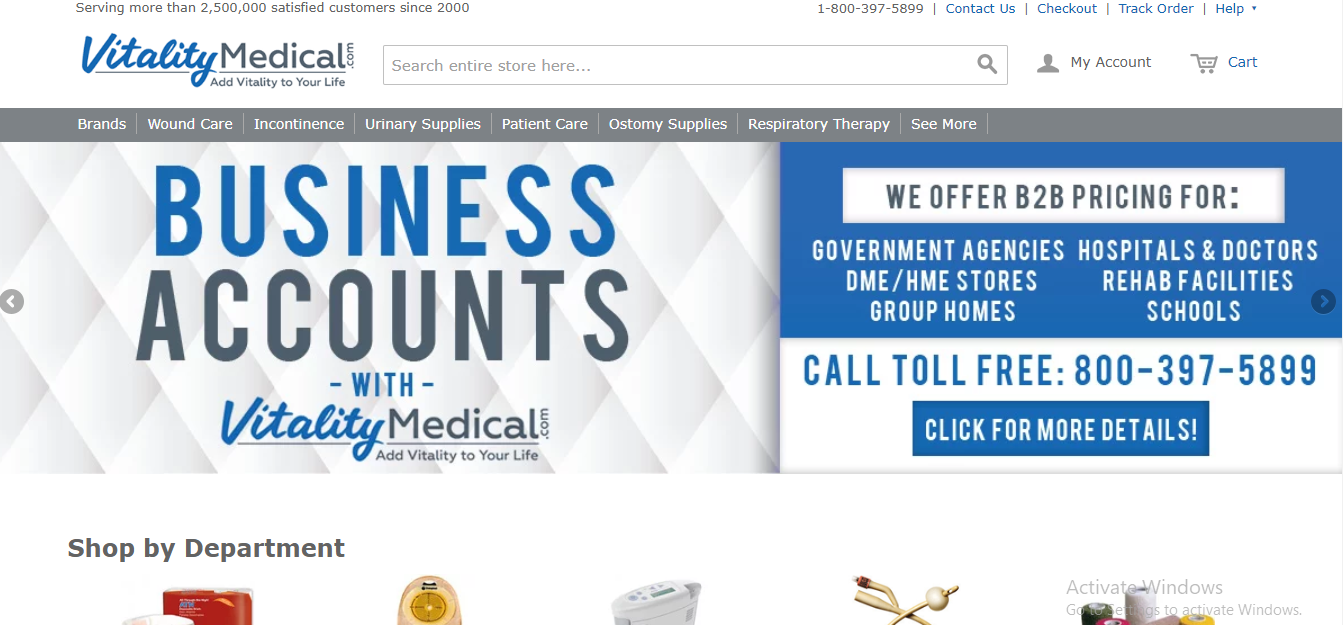 What we learn from the best B2B e-Commerce examples
Not every B2B website is the same because it depends on what type of products that decide how business owners should invest in their B2B platforms. However, successful B2B e-Commerce companies, as can be seen in the above examples, have some common features where we can learn a lot from to build an optimized B2B site for customer experience improvement, which are:
Clear navigation and easy search experience
Friendly website design
Detailed product descriptions
Customized service
Simple purchasing process
Offering discounts or flexible prices for B2B buyers
Final Words
B2B e-Commerce is a potential and tremendous market for many businesses to participate in. But, it is not easy to be successful if people have a lack of background knowledge about the online B2B platform. Therefore, this article is written with the purpose of helping business doers or anybody who is now paying great attention to the B2B e-Commerce marketplace have a deeper understanding of this growing industry.
Magento Support
& Maintenance Services
Make sure your M2 store is not only in good shape but also thriving with a professional team yet at an affordable price.
Get Started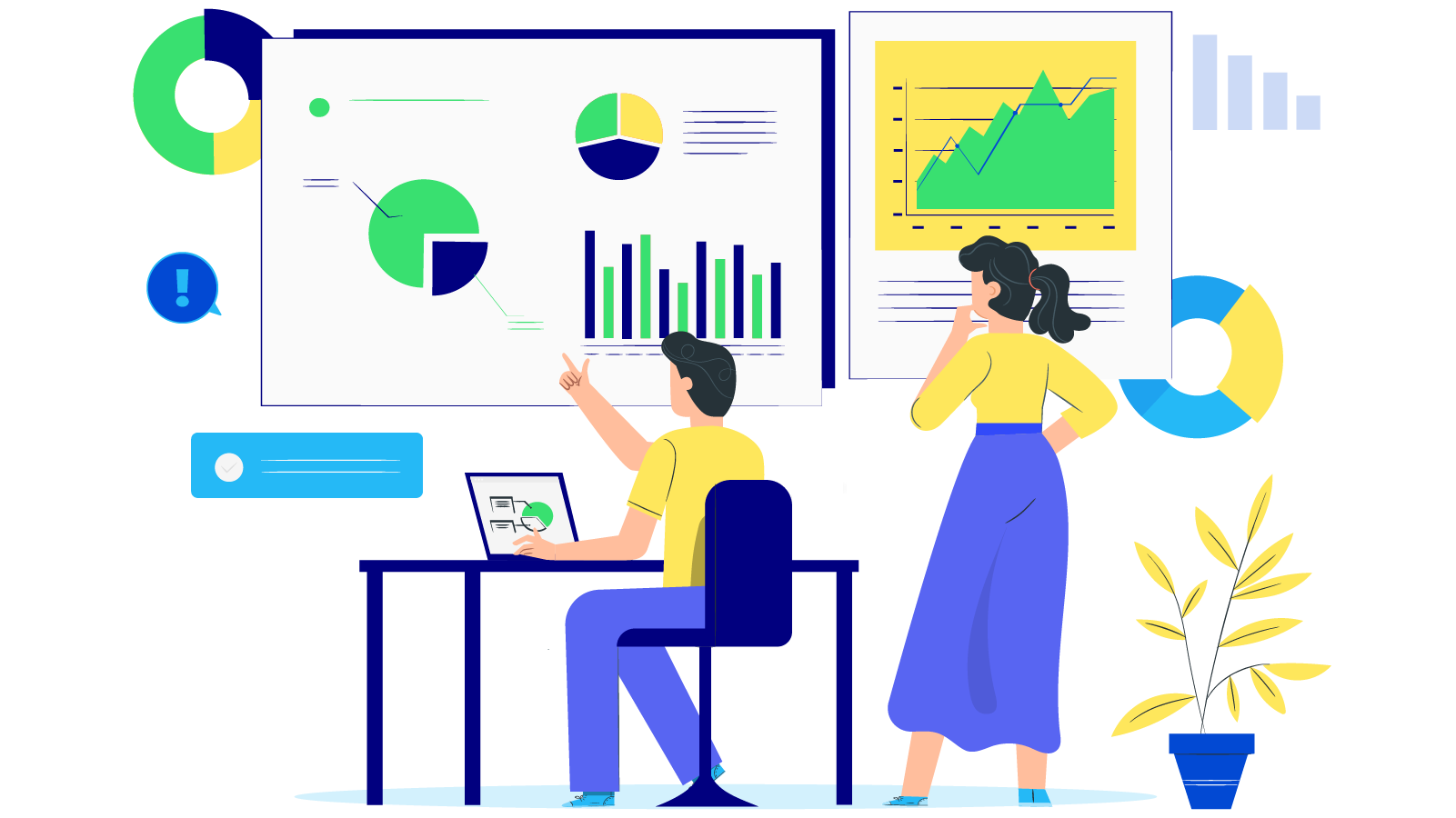 New Posts


Subscribe
Stay in the know
Get special offers on the latest news from Mageplaza.
Earn $10 in reward now!