Magento 2 CMS Import & Export
v1.0.1
Magento 2 Import Export CMS Pages is the extension which assists online stores transfer data of CMS Pages or Blocks from Magento 1 site to Magento 2 site, or Magento 2 site to any other data sources easily. This simplifies the data-update process of online stores to become faster and more effective.
You've just added this product to the cart:
Import Export CMS
You've just added this product to the cart:
Import Export CMS Pro
Problems and Solutions
In Magento 2 Default, the data is allowed to be export or import is limited at the separated details such as product, pricing, customers and addresses. Store owners can not import/ export data of a CMS page or block.
The format type used for import/ export data in Magento Default is restricted in only CSV. This causes the inconvenience for store owners.
In Magento Default, store owners have to go to a separated Import or Export page to do action. There is no support of popup.
In Magento 2 Default, the notification after importing and exporting is so simple. There is not any details related to data.
The data of CMS pages and blocks can be transferred easily and effectively between Magento 1 to Magento 2 sites, Magento 2 to any other sources. There is not any limitation.
Some popular CMS Pages as Home Page, Privacy Policy, About Us or common CMS Blocks as Sales block, Giftcard block, Footer link blocks often have the new changes. The extension is developed to support store owners to update these pages easily.
Store admins can export data to both CMS and XML files. Meanwhile, they can use both types to import data to the system easily.
The notification function is enhanced better with the details of results such as number of checked file, errors. Therefore, store owners always keep informed with the process results clearly.
Flexible CMS Pages/ Blocks importing via CSV or XML files
With the support of Magento 2 CMS Import & Export extension, online stores can import and export data of any pages and blocks with both formats: CSV and XML.
These are two common formats so store owners can flexibly import data easily.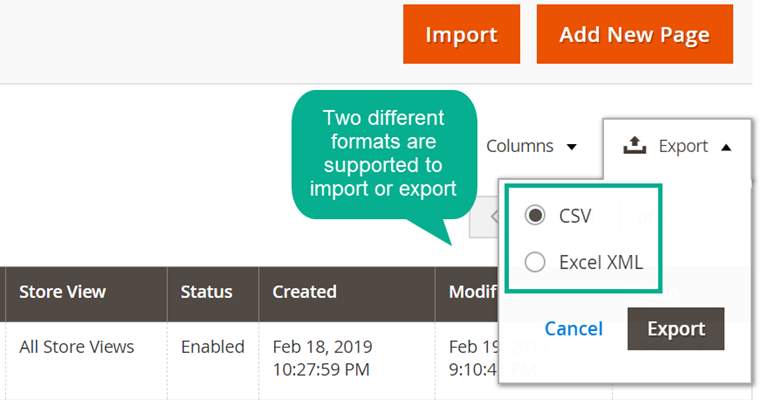 Convenient CMS Importing/ Exporting with Ajax and pop-up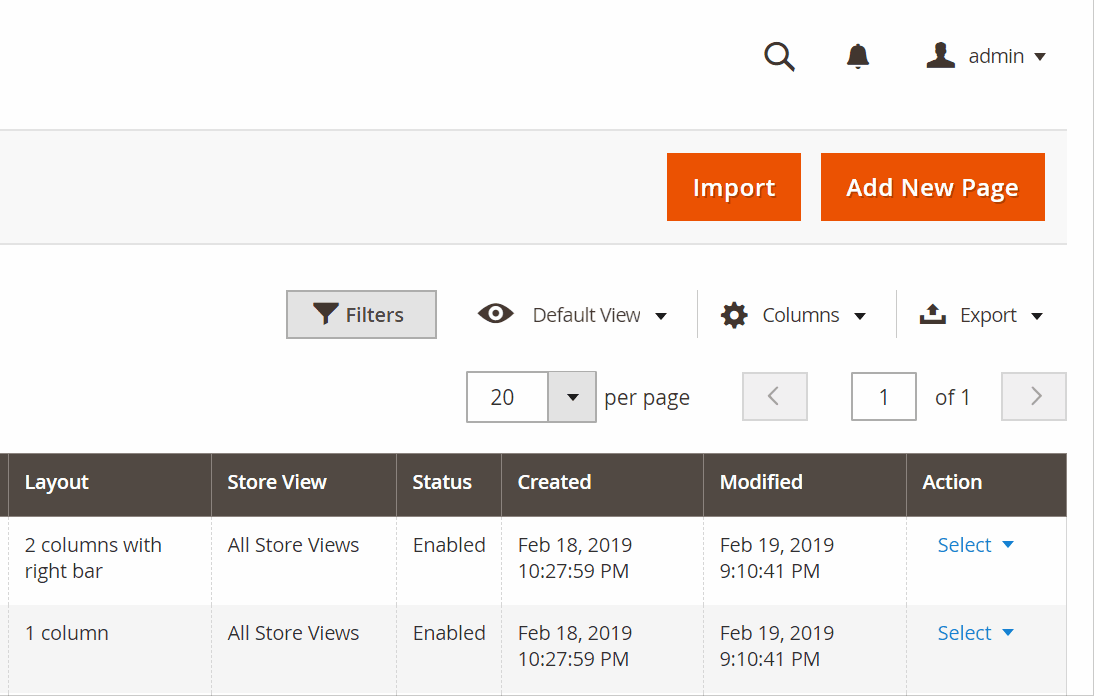 With Magento 2 CMS Import/ Export extension by Mageplaza, there is no action of redirecting or page reloading thanks to the support of Ajax and pop-up.
With exporting data, after selecting page or block, with only one click, the export file will be downloaded instantly. Meanwhile, with importing data, a pop-up will appear on which admins can upload a CSV or XML files then one-click to validate the data.The grid of CMS pages/blocks will automatically update data without reloading.
The feature improves user experience significantly during working on the admin backend.
Import fully CMS Pages/Blocks information
Magento 2 Import/Export CMS Pages extension allows store admins to import all information of CMS Pages or Blocks. After admins upload any file, the data imported between sources are fully transferred. There will be no lack or missing of any information even the smallest.
Besides, the extension also supports import data including product images.

Pick attributes to export CMS Page or Block
In a CMS page or block, there are a lot of fields so that admins would like to select only necessary specific data to export. This can be done easily with Mageplaza Import Export CMS.
From the backend configuration, store admins can select specific fields of a page such as Page Title, Content, URL Key, Meta title, as well as specific fields of a block such as Identifier, Content, Time to export selectively.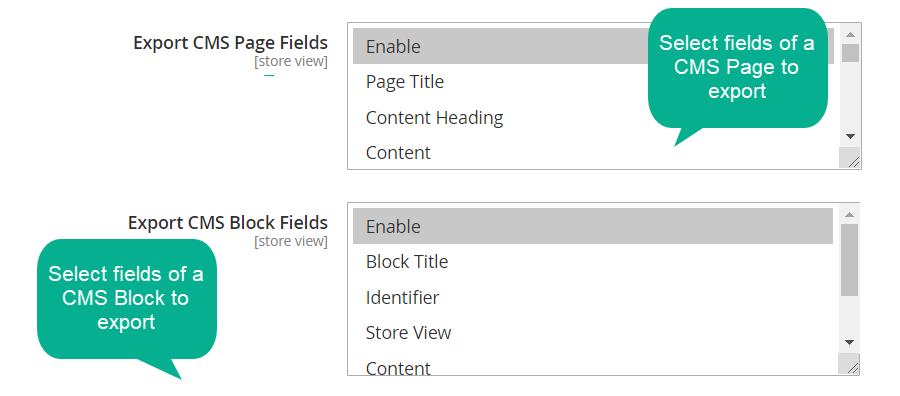 Detailed validation notification
One advanced feature of Magento 2 CMS Import and Export is result notification. The notification on validation results is displayed very clearly with details.
As a result, the admins will be well notified about the errors during the process as well as whether the file is valid to import.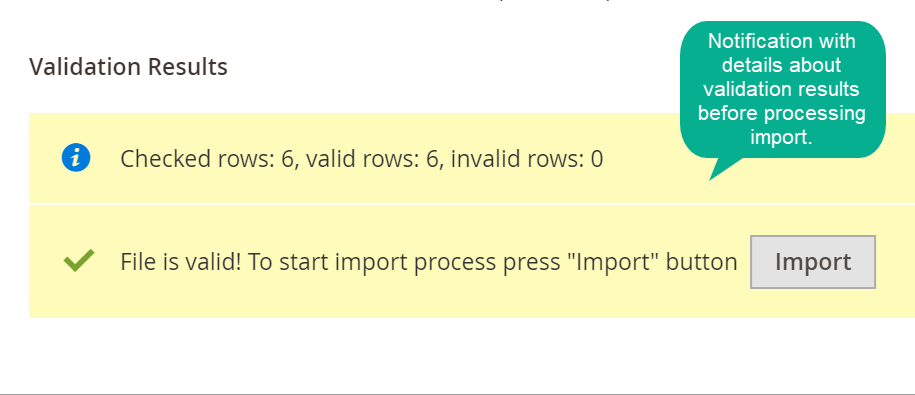 Full CMS Import & Export Features
General Configuration
Enable/Disable the module
Select fields of a CMS page to export
Select fields of a CMS block to export
Import CMS Pages/Blocks
Select file type which is used to import data
Download and edit the downloaded file
Select action of importing process: Add/Update, Replace, Delete
Stop the import process or ignore errors when there are errors
Enter the error number to pause the import process
Enter the marker to separate fields in a column, in the value of a cell
Enter the marker to enclose the value in a column
Upload the input file to import data
Input the location for the image files if included in the input data
Check data and view validation results
Fix the errors or if there is no error, go ahead with importing
Compatible with Mageplaza extensions: Import & Export Categories, Mass Product Actions, Product Attachments...
Export CMS Pages/Blocks
Select the page/block to export data
Select file format to export: CSV or XML
FAQs
Import Export CMS supports two different files to import data including CSV and XML.
You can select the format either CSV or XML of the file you export.
Yes, all of the data of uploaded files will be imported fully.
Yes, you just need to enter the path to the image uploaded to the server. For example: var/export, var/importThe path that Mageplaza supports leading images to the server is: pub/media
Yes, from the general configuration of the extension, please select the specific fields you would like to display after exporting the file.
There are there types including Add/Update, Replace and Delete.
With the options - Stop on Error or Skip Error, you can stop importing when you get an error or ignore the error to continue importing
Yes, you can do easily by filling in a number from the backend configuration.
Can't find your feature?
Are you looking for a feature in Import Export CMS. Tell Elle your wants and needs.
Chat with Elle
Are you an agency?
Do you often visit us for purchasing extensions and technical support? Speak to April to learn about your exclusive benefits on Mageplaza
Chat with April