Magento 2 NewRelic Reporting
The Most Popular Extension Builder for

Magento 2
With a big catalog of 224+ extensions for your online store
Magento 2 New Relic Reporting gives you detailed performance metrics for every aspect of your business, in real-time. It helps you save time and make informed decision which impacts your ability to deliver a better online experience for your customers.
Related posts:
How to set New Relic Reporting
Step 1: Register a New Relic account
Go to the New Relic website and register for an account. There are 60 days free New Relic trial for you to try it
Complete the information as directed. When suggested, select the product that you want to set first.
You have to set the configuration for the following credentials:

Account ID: On the New Relic account dashboard, the Account ID is the number in the URL after:/accounts
Application ID: On the New Relic account dashboard, click New Relic APM. Then select Application and select your application. The Application ID is the number in the URL after: /applications/
New Relic API Key: On the New Relic account dashboard, select Account Settings. Then click Data Sharing in the panel on the left below Integrations. You can create a new API key, restore or delete your API key in this page
Insights API Key: On the New Relic account dashboard, select Insights. in the panel on the left below Administration, select API Keys. Your Insights API Key(s) display on this page. To create a key, select the plus sign (+) next to Insert Keys
Step 2: Set the New Relic Agent into your server
To collect and transfer the data by using New Relic APM Pro, you have to set up the PHP agent on your server.
When suggested to select a web agent, choose PHP
Install the PHP as instructions. Go to New Relic for PHP for help
Make sure that cron is running on your server. Go to Configure and run cron for help
Step 3: Install your store
From the Admin sidebar, choose Stores. Below Settings, select Configuration
In the options table on the left below General, click New Relic Reporting and continue with following: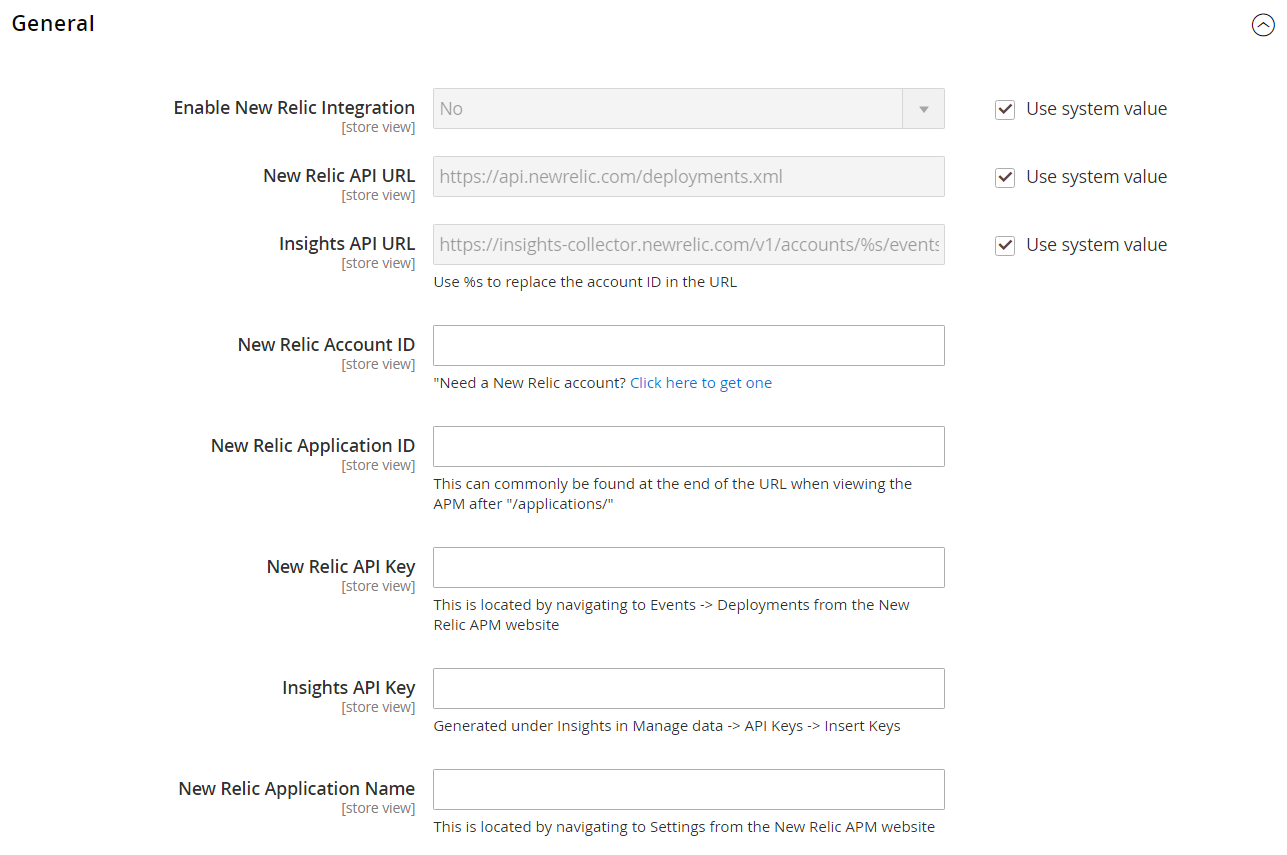 *
In the Enable New Relic Integration field, choose Yes
In the Insights API URL field, change the percent ( % symbol with your New Relic Account ID)
Fill in your New Relic Account ID
Fill in your New Relic Application ID
Fill in your New Relic API Key
Fill in your Insights API Key
In the New Relic Application Name field, enter a name to identify the configuration for internal reference.
Click Save Config to complete.
Step 4: Enable Cron for New Relic Reporting
Expand the Cron section
In the Enable Cron field, choose Yes
Click Save Configto complete.
Looking for
Customization & Development Services?
8+ years of experiences in e-commerce & Magento has prepared us for any challenges, so that we can lead you to your success.
Get free consultant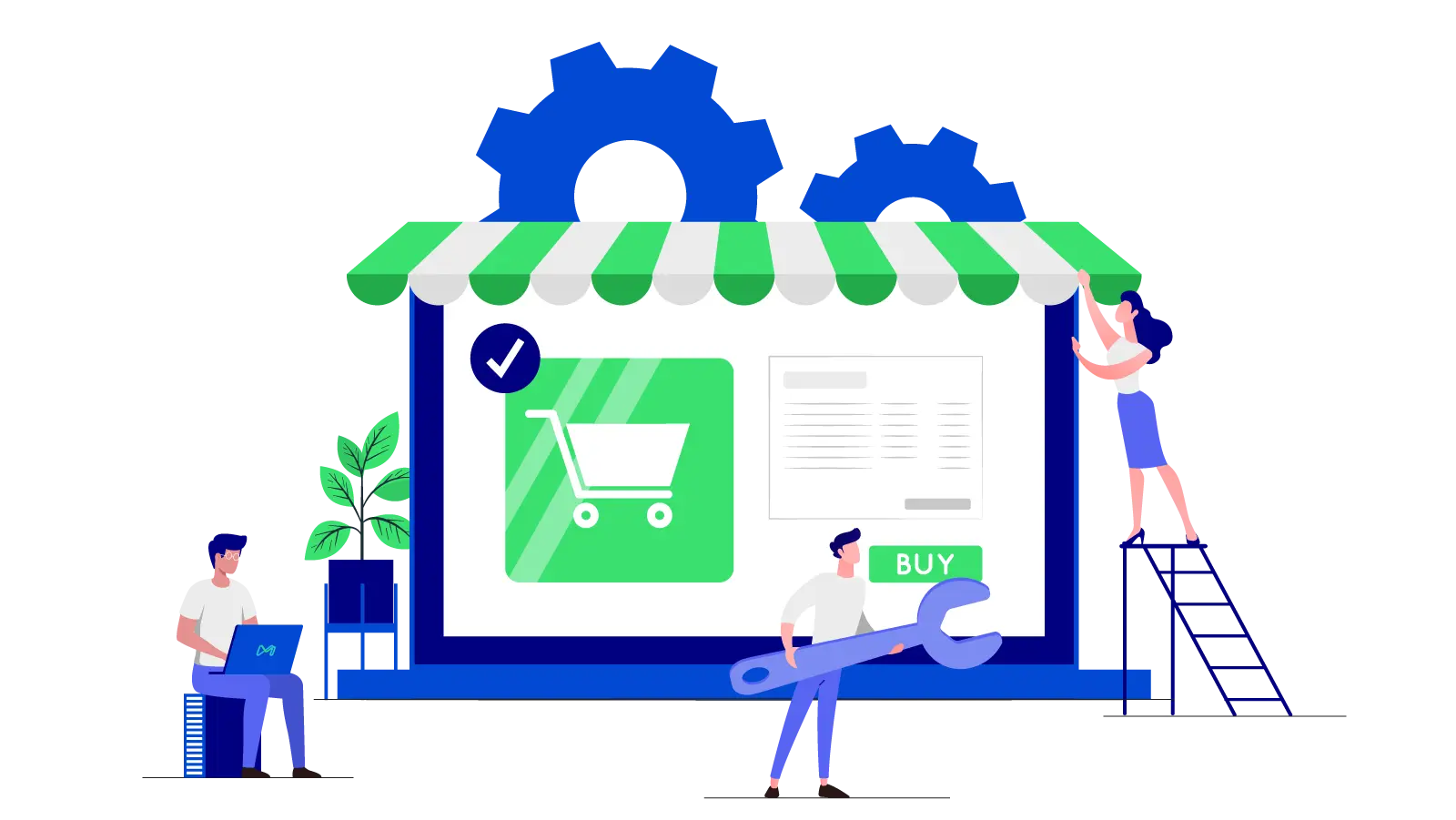 Recent Tutorials

People also searched for
Magento 2
NewRelic Reporting
new relic magento 2
magento 2 new relic integration
magento 2 new relic
magento new relic

new relic reporting magento 2
new relic reporting
magento cloud new relic
new relic magento
magento 2 newrelic reporting
create relic account
new relic php agent

new relic dashboard
magento new relic integration
newrelic magento
new relic tutorial
newrelic php api
new relic delete account
new relic demo
2.2.x, 2.3.x, 2.4.x
Subscribe
Stay in the know
Get special offers on the latest news from Mageplaza.
Earn $10 in reward now!