The necessity of an FAQ page
The Most Popular Extension Builder for

Magento 2
With a big catalog of 234+ extensions for your online store
The obvious answer to the question 'What is FAQ page' absolutely is the place to show most frequently asked question, of course. However, that is just a part of this page's possibility. There are many remarkable benefits from building an FAQ page, which this article is going to mainly discuss.
Tables of contents
What is an FAQ Page?
The Frequently Asked Questions (FAQ) page is a section of your website, where you locate most common concerns, questions along with an official answer for each. Unlike About Us page, where you tell the visitor about broader stories about your brand, such as history, vision, mission, or core value. Frequently Asked Questions Page is the need-to-go destination when facing general issues about products, or the business operation.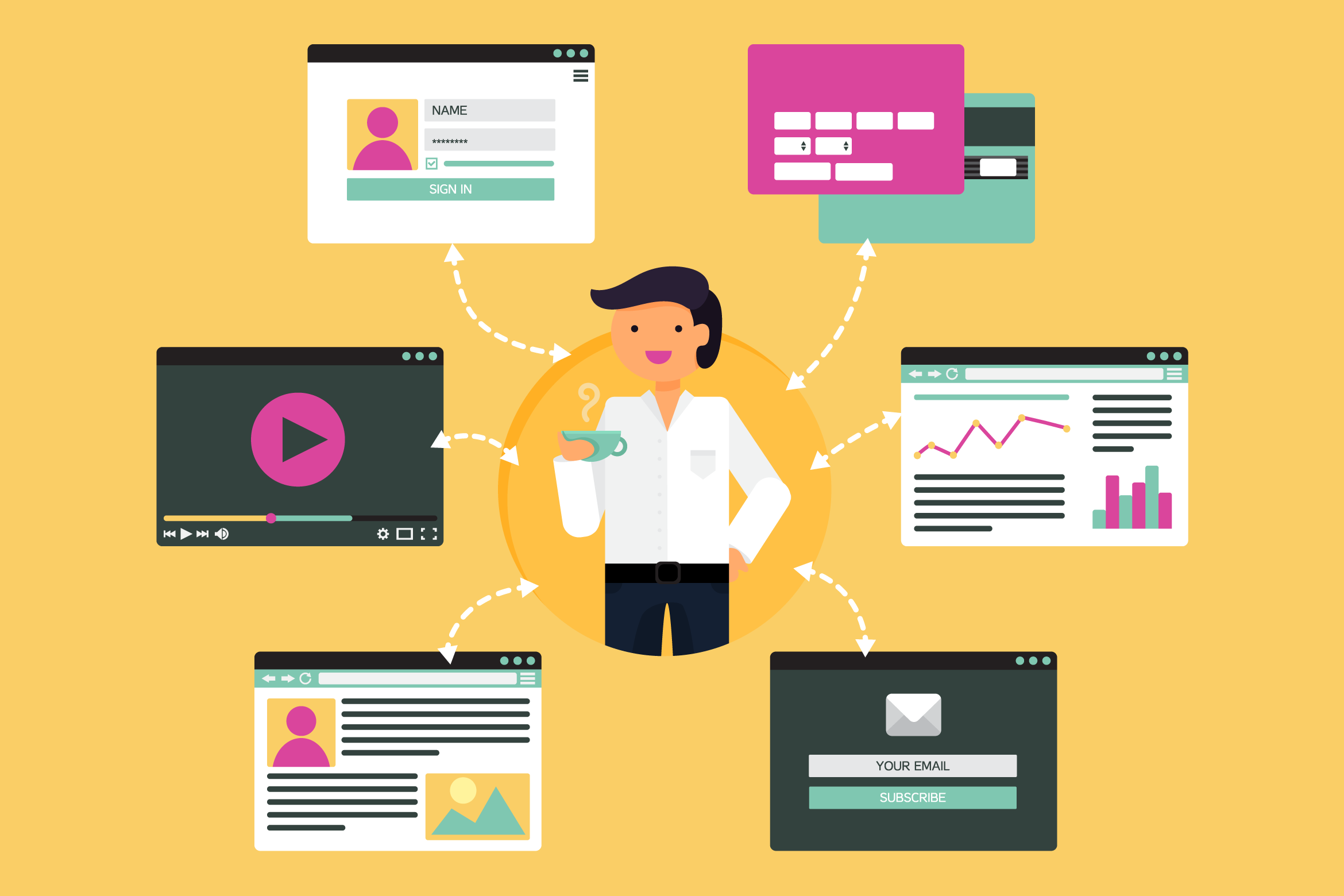 Your FAQ page can act as the first point of contact for customers looking for answers before they reach you directly with their questions.
Why does Ecommerce website need an FAQ page?
Time-saving
A well-organized FAQ page is customers' first destination of reference for their concerns. It will help them to get the answer immediately, instead of contacting directly by email, phone number or helpdesk system. This will accordingly generate much more workload for the website admin. Answering repeated questions is really time-consuming to handle with, and it also takes a significant time for greeting, information delivering.
In some cases, there are unavoidable situations in which it even takes the effort to receive and understand the idea of each other. FAQ page will be a great solution for this. No more misunderstanding, and no more questions with ever-repeating obvious answer. If a customer still does contact you with an FAQ, then all you need to do is simply mention the link of the answer on FAQ Page, or quickly copy and paste the information which that customer expect to know.
Build relationships with customers
Let shoppers leave questions and get answers from your store regularly, your site's content will always be flexible up-to-date.
Moreover, customers want everything to be as quick as possible, especially when they have problems which need to be resolved. An FAQ page helps you save time, and save time for your customers as well. They can cut down the pre-purchase process, avoid searching for an already-answered question. FAQ module for Magento 2 which allows customers to read more, rate answers' usefulness and share on social network sites will be an excellent method to raise customer engagement.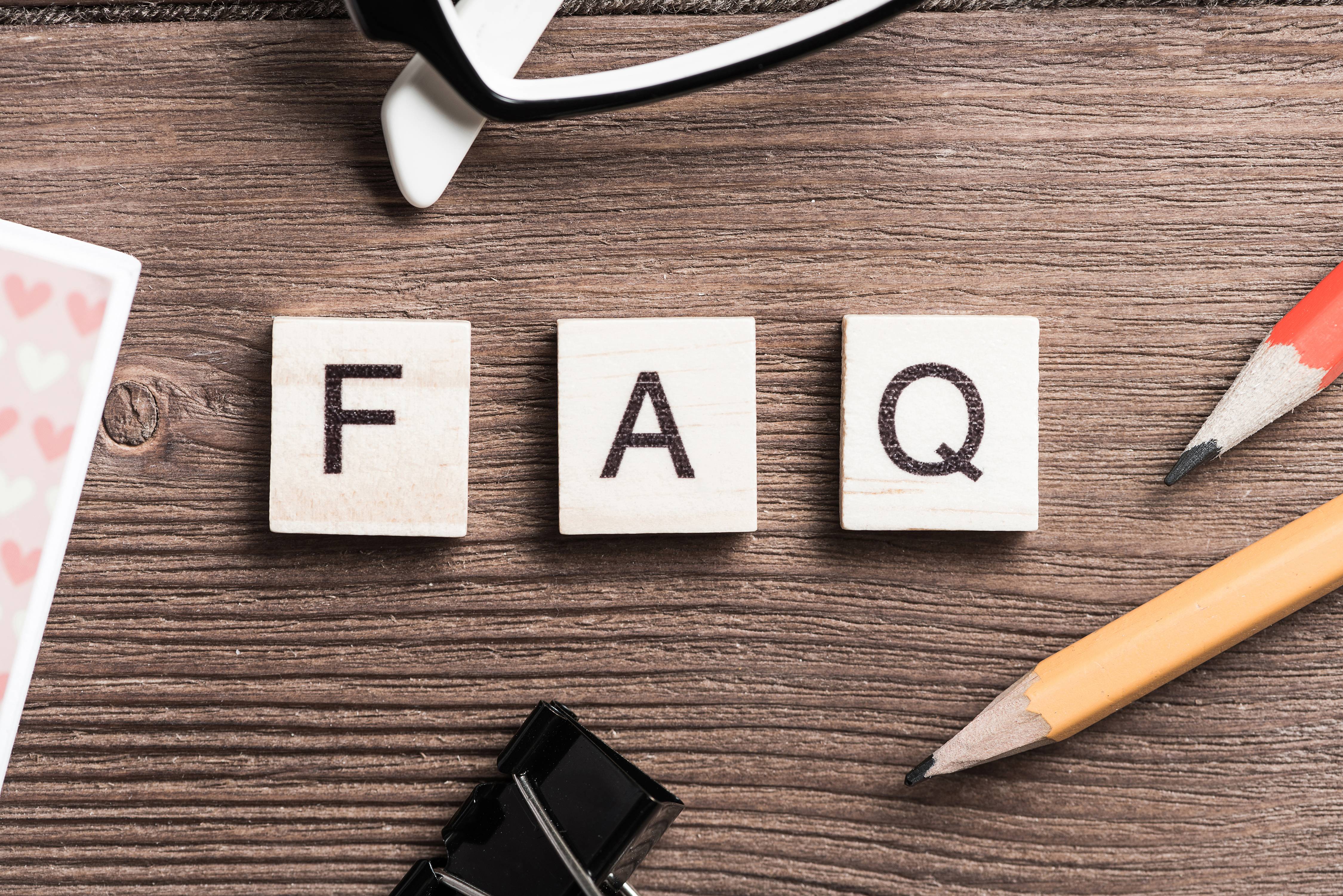 One of the most essential factors of any relationship is the establishment of trust. Customers who aware of your effort to address queries will judge your business trustworthy. By this way, with previous positive shopping experiences, aimless visitor turn into loyal customers, and loyal customers possibly return time and time again.
Read more:
Demonstrate your expertise
Whenever you ask anyone a question, you expect for their answer as you consider them as an expert. The same things occur when customers ask store owner questions about products and services. Since customers want to hear an official source of information, you can use the FAQ page to establish your site as a trustful expert.
Answers with great information will help you earn truth from customers as well as increase the likelihood of a casual visitor turn into a paying customer, as people are more likely to buy products from a legitimate and professional website. So establishing your business as experts will bring nice advantages that motivate your conversion, in long run.
Boost revenues
Excellent FAQ pages may bring more advantages than you could imagine. An increasing conversion results from the increasing persuasibility about product value you deliver to customers. You need to capture customers' needs, wants and demands, then come up with an FAQ page which can convince customer about reasonability to buy.
For instance, FAQs which answer wonderings about sale promotion will let customers see that there is a clear, concise and fair benefit for all. If they have already been interested in your product, information about sale promotions on FAQ page will be an effective further incentive, lead them to purchase behaviors.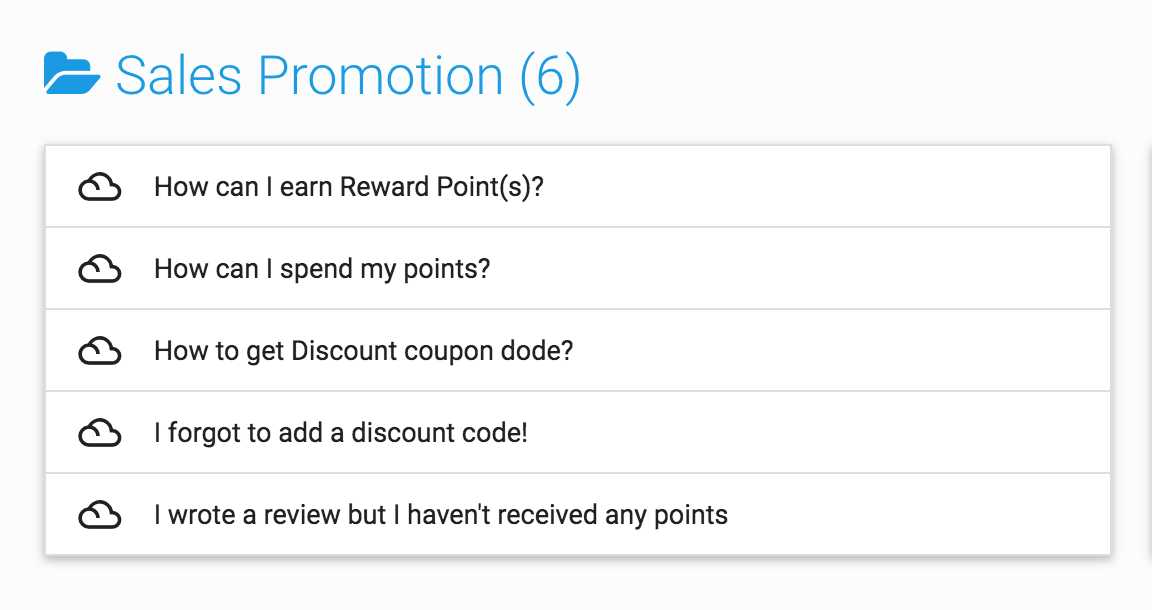 Another advanced tactic for an FAQ page is making a comparison between your products and those of your competition. This gives you the change to express how qualifying, outstanding is your product, naturally. Or else, comparing their usage with-and-without your product is also a great way.

The psychological reason why product feature claims via FAQ is most natural and trustful is that the store is likely to be asked, not on their own talk good things about themselves. People have the tendency to believe in which is informed by third-parties, more than someone doing self-praise.
Contribute to your SEO rank
Because of high-informative content FAQ brings, search engines highly appreciate this page, even use it as a ranking factor. It helps Google understand you more.
FAQ page of your website is a perfect position to publish a large amount of interesting information such as your products, services, programs, policies. You need enough keyword-rich content to get your business found on search engines. Add long-tail keywords that your groups of customers are searching for so that when someone searches for products, they will find your FAQ.
You may want to read: 12 ways to immediately optimize your SEO ranking
More amazing, getting an FAQ page displayed on your website will help avoid duplicate content, which will terribly harm your rank on search engines.
This is why you should include specific categories with detailed questions on your FAQ page. This section should contain high-relevant information about your products and business so that you can get picked up on search engines like Google and Bing.
What to keep in mind to build an effective FAQ page?
The FAQ page can be a distraction or an asset, all depending on the way you organize it.
When does an FAQ make sense?
Customers reach you again and again, with ever-repeated questions, it is better to address those publicly.
You have a plan to build content or landing pages which are linked to the continual journey from question conversion.
Problems regarding your products, services, business are best handled in a straightforward manner.
Where can I look for frequently asked questions?
Your Inbox
Source of direct communications such as chatbox, comments will help you gather questions which most frequently come to customers' mind. Some are not thoroughgoing, however, an FAQ page with such those quick queries and quick answers can well satisfy even new customers. Right when a question springs to their mind, there has been an already-answered section about that on the FAQ page.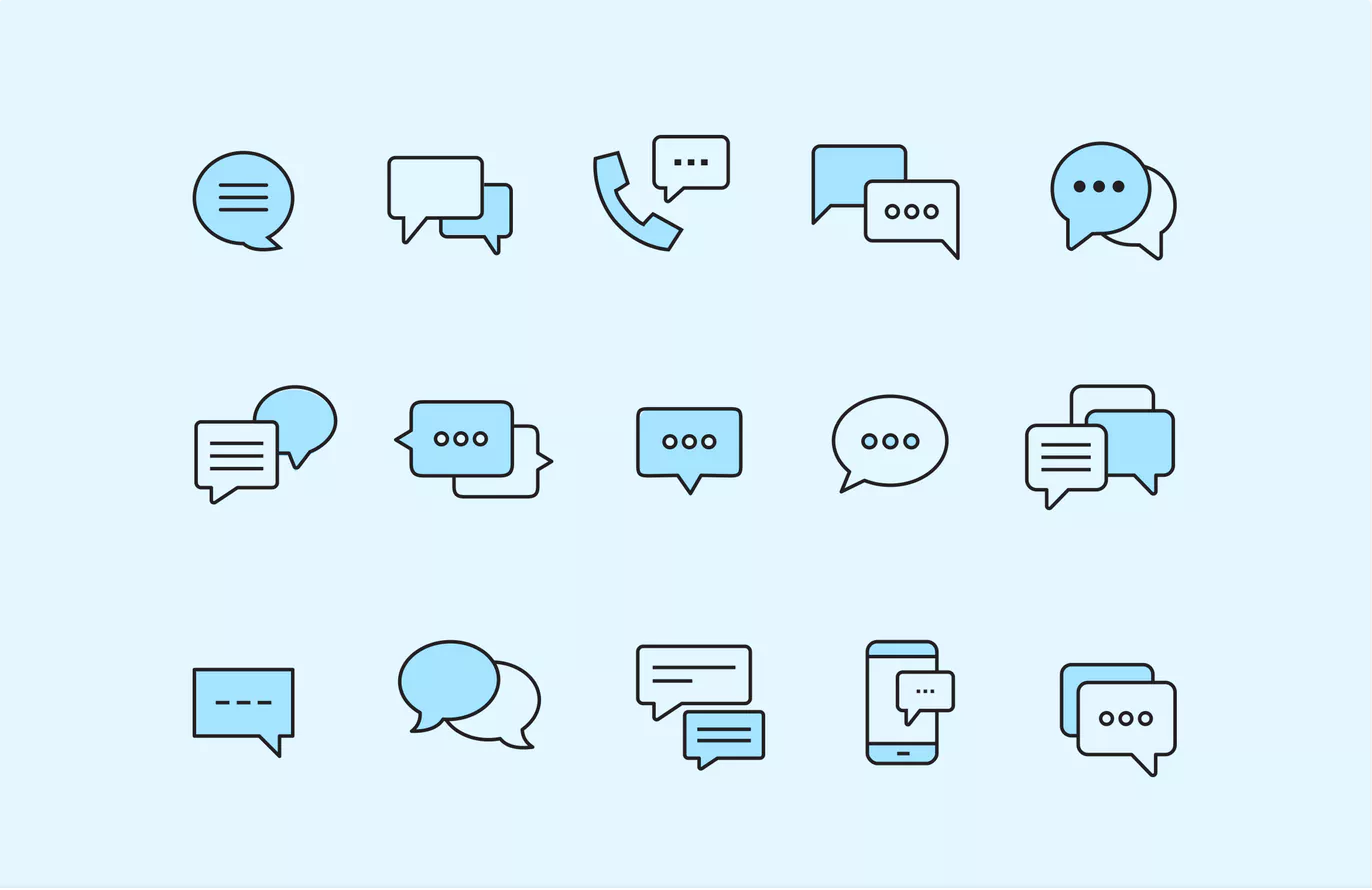 Customer support tickets
Questions collected from helpdesk system are more diverse, so there are not any certain questions which repeated continually. Moreover, this kind of questions is more complicated to clarify and resolve as well. Resolve each of these questions will be time-consuming to the customer care team. The good news is that customers highly appreciate an FAQ page, not less than being assisted personally in the chatbox.
Answers on FAQ page should be managed as the most official, adequate and informative sources so that customer can trust in. Another further-than-expected benefit from finding questions in support tickets is detecting common issues of products and services. Resolve those limitations one by one, better the products, it is the greatest way to serve customer exactly like what they expect.
Anticipated questions
Consider how strategically you can raise the correct questions which not only do answer customer correctly what they need but also create demand.
You should also anticipate objections that can turn into questions, especially if the answer will put your customer's mind at ease when they visiting your site. When deciding questions list, do not forget to consider relevancy, utility, and possibility to turn that question into a path that leads to further engagement of conversion.
If you end up with a long questions list, group your questions by categories like Shipping or Sale Promotions to make it more convenient for visitors to navigate.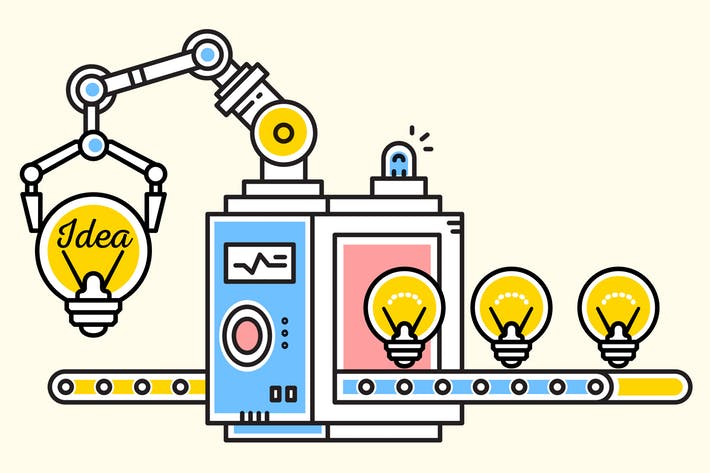 How to answer FAQ?
Be straightforward first
Be sure that you are not losing audiences, by giving them more than what they need. Do not challenge customer's patience by a wall of text. You can simply write questions from customers' perspective like 'How do I', 'Can I", and answer from your perspective, directly, and obviously. For instance, 'Absolutely yes, 'You should', 'We provide', etc. Define the question is about purchasing, troubleshooting or just educating about your business model? Focus on delivering that information in your answer, in priority.
Frame answers in a positive way
Even if the question mention one of your products' limitations, try to answer positively. You can admit that limitation, however, do not forget to impress that the limitation is not a considerable disadvantage, as there are outstanding features behind. Or else, you can give a recommendation, to other profitable product, which has the possibility to replace that limitation.
Delight your customers
For the brand's friendliness building, you can even sprinkle a little personally, to delight your customers, make their experience become someway enjoyable. It is also great to attach some images, wherever visual clarification is better than texts.
Call-to-action content
A common-missed opportunity when constructing an FAQ page is attaching some call-to-action links to other pages, which can move visitors forward on the journey, as a paying customer. Group the specific questions, then try incorporating a link to another relevant piece of content, visitors will be pushed into your funnel.
That last point is especially indispensable, as an FAQ page presents a unique opportunity directly remove obstacles on the path to purchase.
How should the FAQ page be like?
To define the best solution for displaying the FAQ page, you may have considered FAQ on every single product page, so your customers can get the needed answers easily. However, featuring the same FAQ on all pages can unexpectedly cause duplicate content, which is extremely unhealthy for SEO.
Magento 2 FAQ Extension by Mageplaza can help your online store cut down workload, meanwhile, it still avoids duplicate content by publishing a separate Knowledge Base page. Within this page, customers can search or ask their own questions, then receive answers professionally.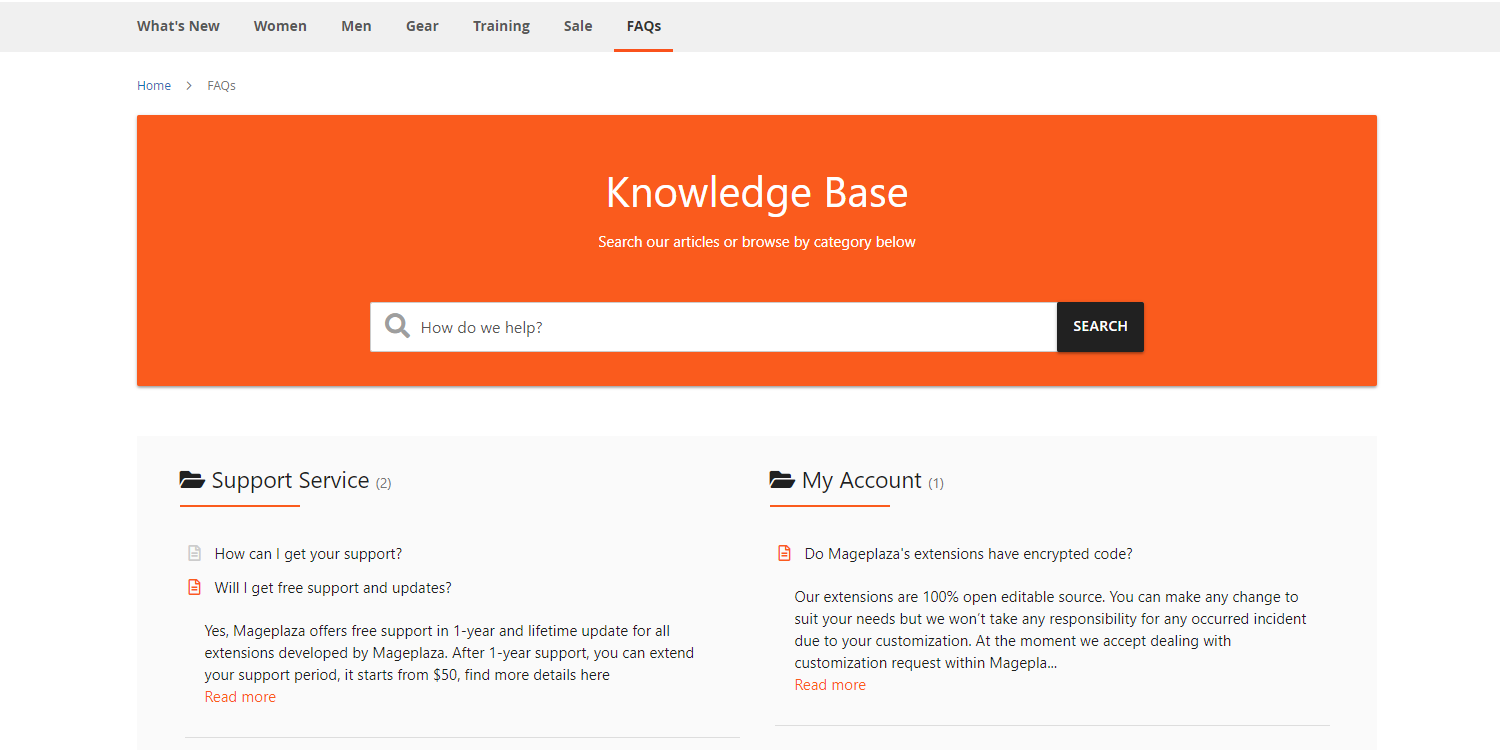 Administrators can build an informative SEO-friendly FAQ page with all necessary features:
Set Read more button
Instant search for quick lookup
Question rating: Vote questions usefulness
Organize FAQs by unlimited categories of questions
Show questions' brief information including date, views, likes
FAQ Social Sharing
Manage FAQs page easily
Publish FAQ report with statistics about Views, Action, Positive and Negative
You may want to read: Top 9 Magento 2 FAQ extensions in the Marketplace
Conclusion
The FAQ page is often the afterthought for many store owners. However, use it strategically, you can see a lot of value this page brings, in different ways. With well-organized FAQs, you can increase the usability of your site, improve the authority, and boost conversions. Instead of providing uncertain information, you can use customer frequently asking questions to address their needs correctly, establish your business as an industry leader, and improve sales simultaneously.
This page is can be nonsense, but possibly be unimaginably powerful. It can determine whether you have a happy satisfied customer, or just a visitor going to one of your competitors because they are not getting the answers they expect. Do not forget to keep it real, keep it simple, and keep it up-to-date and win greatly!
Author bio:
Vanessa is a content marketing creator at Mageplaza. As an ordinary customer, already had a special interest in online shopping, and up to now, has spent more than two years discovering online distribution channels as well as E-commerce platforms.
Magento Support
& Maintenance Services
Make sure your M2 store is not only in good shape but also thriving with a professional team yet at an affordable price.
Get Started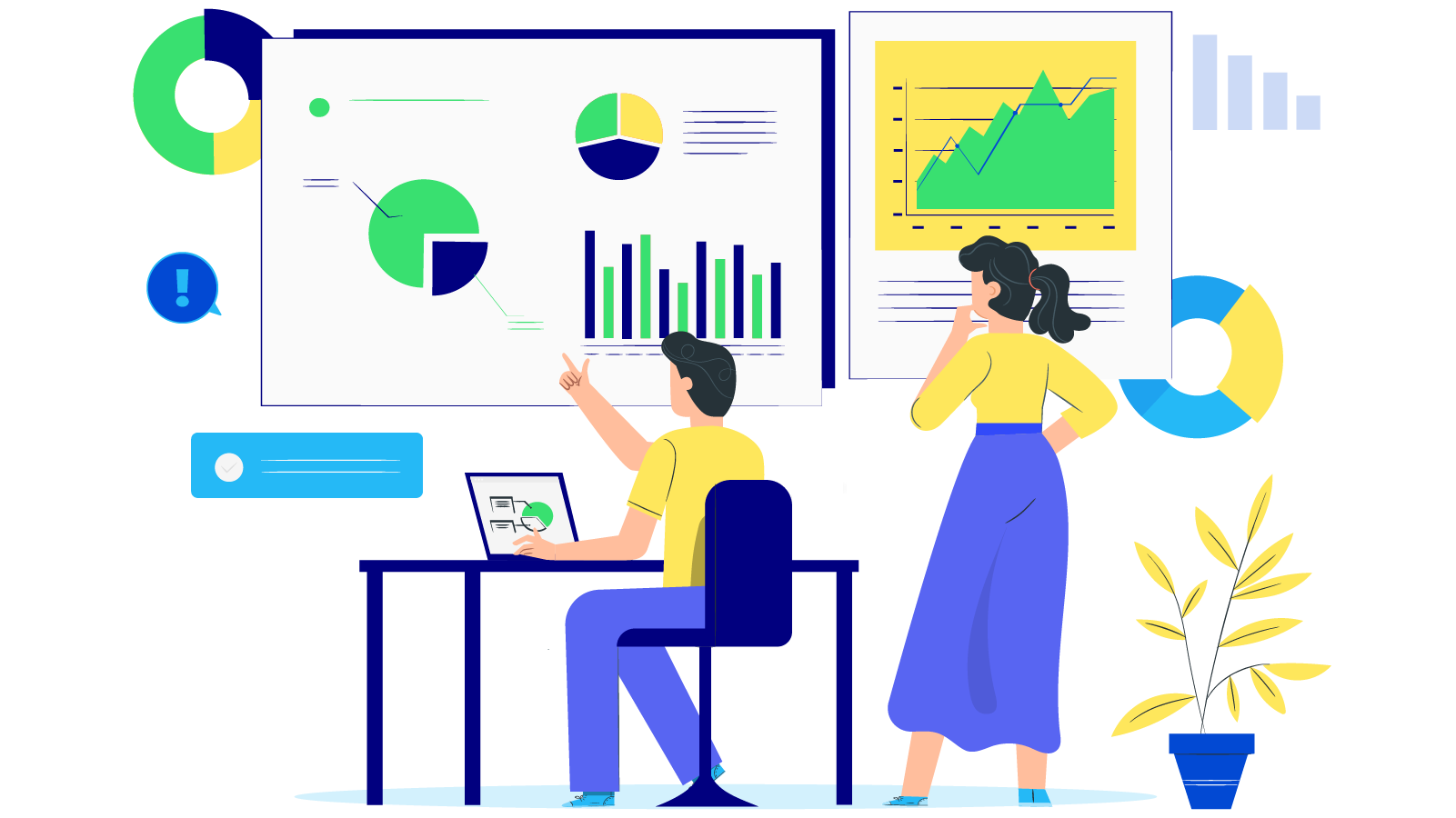 New Posts


Subscribe
Stay in the know
Get special offers on the latest news from Mageplaza.
Earn $10 in reward now!