Top 7 Open Source B2B E-commerce Platforms in 2023
The Most Popular Extension Builder for

Magento 2
With a big catalog of 224+ extensions for your online store
COVID-19 has caused a major shift in the way businesses operate, with many offline businesses being forced to close their doors. This has led to a surge in demand for online shopping, and open-source B2B E-commerce software has emerged as a famous solution for businesses looking to create an online presence. In this article, we will take a deeper look into the 7 best open-source B2B E-commerce platforms, evaluating each one pros and cons to figure out which suits your business the most.
Table of Contents
Overview of Open-source B2B E-commerce
What is Open-source B2B E-commerce?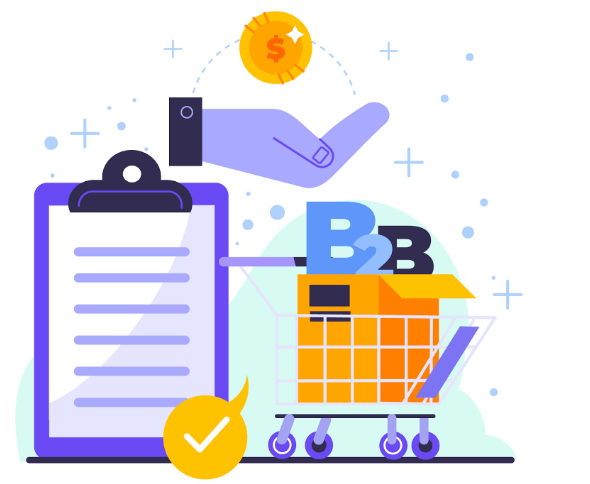 First of all, you need to understand how B2B E-commerce works. It is the online sale of goods and services between businesses. The model offers companies the ability to reach new customers, optimize sales operations, and use big data to boost productivity.
So, what exactly is an Open-source E-commerce platform? Open-source E-commerce platforms are built for businesses to create their own online stores. These software are free to use and modify, but they sometimes can be quite complex to set up and maintain. However, with the help of customer support, businesses can overcome these obstacles and enjoy the advantages of open-source platforms, such as flexibility and customization.
The Potential of Open-source B2B E-commerce platform
After COVID-19, we can clearly see a strong shift in shopping habits, changing from offline to online. Therefore, since 2020, online sales have brought in much larger revenue than in previous years. Specifically, from 2020, the number of people buying online in the United States has increased by 10 million. It is expected that from 2023 to 2026, the amount will continue to rise even faster. Total retail sales globally are forecasted to reach about $34,000 in 2026, according to Insider Intelligence. The most essential factor for all of these purchasers is their purchasing experience – according to Forbs,70% of customers are likely to buy more and spend more if the expected experience is satisfactory.
On the other hand, e-commerce businesses need to make sure to provide such customer experience while saving on resources and efforts. That is why open-source B2B e-commerce platforms are becoming increasingly popular. Their cheap cost and customizability enable merchants to accomplish both objectives, allowing store owners to personalize their online storefronts to their individual requirements.
Advanced Features of Open-source B2B E-commerce Platforms
These are the most significant features of free-source B2B E-commerce platforms.
Open-source platforms allow businesses to create a customized shopping experience for their customers by rewriting the code to add new features or by using third-party extensions. This can be useful for companies that want to offer unique features or that need to adapt their platform to the specific needs of their customers.
Open-source platforms can easily be scaled to accommodate growth. This is because the source code is available to the public, so businesses can add new servers or resources as needed. This can be a major advantage for businesses that are experiencing rapid growth.
Open-source platforms can be just as secure as proprietary platforms. Many open-source platforms offer security-focused versions that are regularly updated with security patches. This helps to protect businesses from cyberattacks.
Open-source platforms require a high level of technical expertise to set up and maintain. Businesses may need to hire a developer or consultant to help them get started. However, the long-term benefits of open-source platforms can outweigh the upfront costs of technical expertise.
Open-source platforms are typically stable and reliable. The source code is regularly reviewed and updated by a community of developers, so bugs are quickly fixed. This can help businesses avoid downtime and lost sales.
Open-source B2B E-commerce Platform Pros and Cons
Pros
Full control
Having access to the source code gives businesses full control in managing the brand site with greater flexibility. This means that businesses can add features or change the code as needed, even if the out-of-the-box solution does not have the features they need. This makes open source a good choice for merchants that need to adapt specific logic into an E-commerce solution or that have sufficient developer resources to build a customizable platform.
Community support
Open-source software is developed by a developer community that works together to create and improve the software. Anyone who can contribute to the software, whether by writing code, fixing bugs, or providing documentation, is welcome to participate. This collaborative approach allows open-source software to be developed more quickly and efficiently than proprietary software, which is typically developed by a single company.
Cons
Complex
The more modifications, the more complicated the software is. When many people try to update the system at the same time, it will take a lot of time to process.
Costs
Though it's a free option, there are other expenses that businesses need to pay like hosting and licensing providers, security, developer wages, PCI DSS compliance, and any other fees related to building and maintaining the platform.
Low security
As E-commerce platforms handle a lot of sensitive financial data, and open-source code is available to everyone, the code can be accessed by anyone, including people who may try to exploit vulnerabilities in the system.
Open-source vs. SaaS platforms
E-commerce platforms can be categorized into two main types: open-source and SaaS (Software as a Service).
Open-source platforms are free to use, and their code is available for anyone to modify. However, businesses that use open-source platforms are responsible for maintaining and hosting the platform, which can be a technical challenge.
SaaS platforms are hosted by the provider and businesses do not need to worry about hosting or maintenance. However, SaaS platforms typically require a monthly fee.
The best type of platform for a business depends on its specific demands and budget. Businesses that want to save money and have more control over their platform may prefer open-source platforms. Others who want a more hands-off approach and don't have the technical expertise to maintain a platform may prefer SaaS platforms.
When choosing an E-commerce platform, you should carefully consider your needs and budget. Before coming to any decision, weigh the pros and cons of open source and SaaS.
| Open Source | SaaS |
| --- | --- |
| Doesn't have many available features but can create new ones quickly. | Offers a lot of OOTB features, but strongly restricts access to code. |
| Can modify anything from your side with no further requests. | All updates are made from the vendor side. |
| Need to pay attention to security and maintenance. | No need to pay attention to security and maintenance cause the vendor already takes care of it. |
| Charge fee based on the amount of features. The fewer features, the fewer expenses. | Charge fees based on OOTB function, mostly are expensive. |
| Fits many kinds of business. | Works well only for certain business sizes. |
How to Choose the Perfect Open-source B2B E-commerce Platform
To sell to businesses or customers, you need a dynamic plan to connect with your target market. This includes investing in social media campaigns, automated email marketing, and landing page development. You will also need to integrate a seamless transaction system that ensures a smooth payment experience for the customer. This means choosing a free source B2B E-commerce platform that provides a secure checkout with shipping charges as well as inventory management.
Ask yourself these questions when considering investing in B2B E-commerce.
Are you selling on multiple channels?
If so, make sure your E-commerce store can handle orders from different channels, such as social media.
Are you providing digital services?
If so, you need a B2B E-commerce platform that allows you to access plugins for downloading items and creating memberships for customers.
Are you offering recurring subscriptions?
If so, provide your B2B customers with an easy way to reorder their products or services on a weekly or monthly basis.
Are you fulfilling wholesale orders?
Automated systems can help you calculate discounts for large volumes of purchases and determine shipping charges.
Are you offering quotes and consultations?
If so, add a booking form to your website and provide a hassle-free contact method.
By answering the above questions, you can choose the suitable B2B E-commerce platform for your store and its needs.
7 Best Open-source B2B E-commerce Platforms
Magento Community Edition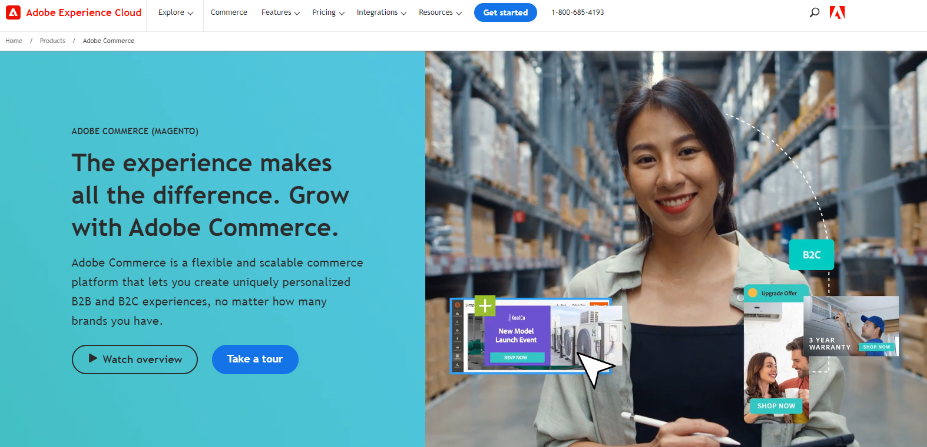 Magento Community Edition (CE) is a famous open-source B2B E-commerce software that's preferred by over 270,000 merchants. Compared to Shopify, Magento takes over 24.8% of the market share, while Shopify only gets 9%. Although Magento CE doesn't provide as many features as the paid versions, it's still an attractive option for those looking for a free source platform.
Benefits
Unlimited customization options: Working with free software and integrating third-party apps, Magento can easily and quickly adjust to your individual company's needs. Magento's API-driven architecture enables you to go headless and customize various front ends while retaining one back office.
Extensive feature list: When it comes to user exp, marketing, and performance, Magento is a competitive option. It has an easy-to-use administration panel, multi-currency and multi-language support,SEO optimizing features, analytics, and reports.
Big community: Magento community has more than 360,000 members, including about 8,000 certified developers and 6,000 contributors.
Drawbacks
Development costs: Although there are no registration fees, you will need enough money to build your desired platform. Magento custom development, as well as Magento extensions, might cost thousands of dollars. With Magento Commerce, it can even take more.
Hosting requirements & associated costs: Magento specifies its hosting needs, which include running the platform on a VPS (Virtual Private Server), cloud, or dedicated server. In addition, like with other open-source platforms, you'll need to consider domain registration, web hosting, SSL certification, and other related costs.
Pros

Cons

Flexible and customizable




Diverse features




Large community

Expensive




Require additional costs
WooCommerce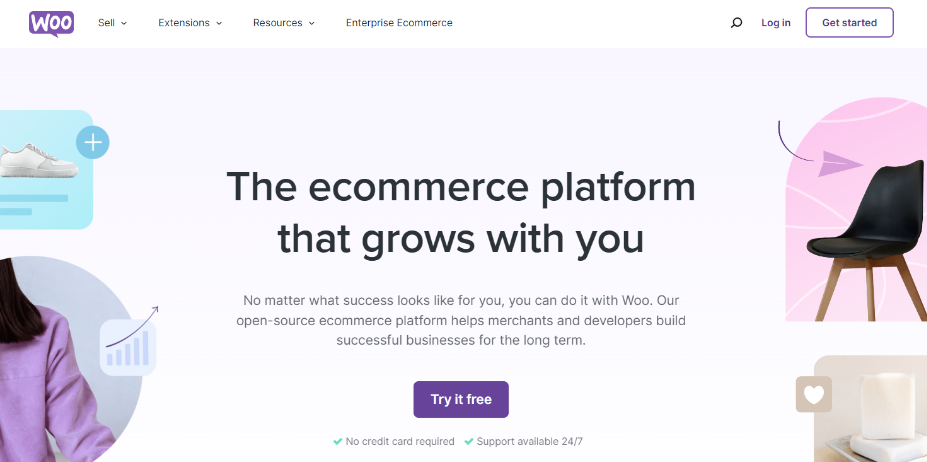 Another well-known open-source b2b e-commerce platform is WooCommerce. Recent statistics from WordPress indicated that WooCommerce has over 123 million downloads. This number clearly shows how popular this platform is.
WooCommerce's popularity, obviously, comes with a price. Most complicated features require extra fees. It's the same regarding store support. However, we can't deny that it's still a good choice as the platform has very little or even no issues, which is suitable for medium-sized businesses.
Benefits
Flexibility: Any things can be sold on WooCommerce, no matter if it's a physical or digital product.
Abundant customization options: Hundreds of free plugins enable you to customize your B2B E-commerce site. Requiring a bit of technical knowledge, the platform is an easy option for users to customize based on specific needs.
Strong community: The WooCommerce community serves over 4.5 million WordPress users, guaranteeing that the WooCommerce platform does not collapse rapidly in the near future and that everyone receives the assistance they deserve.
Drawbacks
WordPress specific: Though it seems complicated, it's still a plugin that can't be utilized on other sites not hosted on WordPress.
Additional expenses: Although WooCommerce is free, you'll need to pay additional expenses for extensions that cover the features you need but are not included in the free package.
Pros

Cons

Sell any product




Many customization options




Strong community

Bound to WordPress sites




Additional expenses
OroCommerce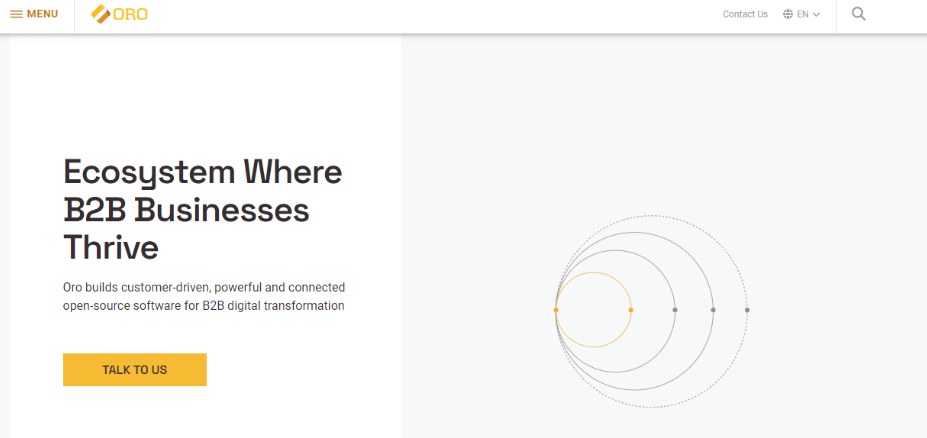 OroCommerce is a flexible, enterprise-grade, open-source B2B E-commerce platform developed by the same team who built Magento.
Benefits
Flexibility and customizability: OroCommerce is highly customizable and can be adjusted to any business's exact needs. The open-source code allows businesses to change the platform themselves or work with a developer to create custom extensions.
Rich feature set: OroCommerce comes with many features out of the box, namely support for multiple organizations, currencies, and languages. It also includes features for pricing, tax, RFQ (quoting), and order approval.
Scalability: OroCommerce is designed to scale to meet the needs of even the largest businesses.
Easy to use: Even with all its numerous features and services, using the OroCommerce platform does not require much technical know-how or developer skills.
Drawbacks
Cost: OroCommerce is not free, and the cost of custom development and extensions can be high.
Support: OroCommerce offers 24/7 support for enterprise customers, but the support for the community edition is limited.
Pros

Cons

Flexible and customizable




Rich feature set




Friendly interface




Scalable




Multiple Pricing and Shopping Lists

Limited support for community edition




Limited extension marketplace




Not suitable for small businesses
PrestaShop

Over 300,000 E-commerce global sites run on PrestaShop. The company in fact, claimed that PrestaShop particularly leads the market in Europe and Latin America. There is no doubt that this is a popular choice among merchants all around the world, which explains the reason why it supports nearly 70 languages.
Benefits
A high level of adaptability: PrestaShop provides over 2,400 free and paid templates as well as a long list of B2B features.
Drawbacks
Development issues: There are several reports of issues with PrestaShop E-commerce module correlation.
Scaling and performance issues: This platform may not be an ideal option for handling traffic spikes.
Costs: Like other platforms above, PrestaShop also requires additional expenses for more advanced features.
Pros

Cons

Customizable

Complex implementation




Difficult to scale




Pricey
Drupal Commerce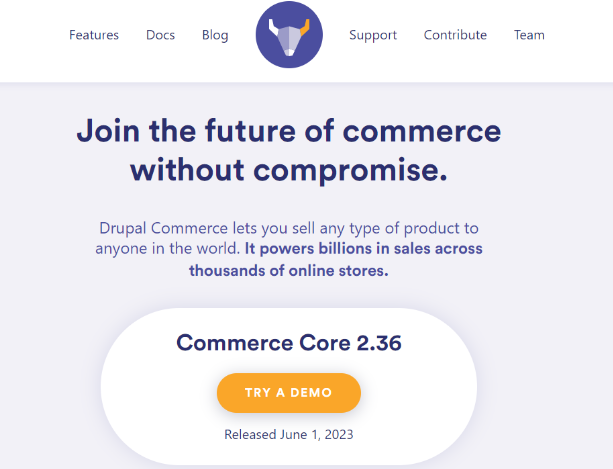 Drupal is a PHP-based open-source online content management system that is free to use. Drupal powers at least 13% of the top 10,000 websites globally, ranging from personal blogs to government portals. Drupal Commerce is a great open-source b2b E-commerce platform that works in conjunction with Drupal CMS.
Benefits
Powerful CMS: It is built on CMS, a strong base for those seeking an effective content marketing strategy.
Customization options: Drupal is highly customizable and it can be integrated with third-party applications. Additionally, the platform supports multi-currency and multi-language.
Development resources: With over 20 years in the business, Drupal can be considered as top-notch in developer documentation.
Drawbacks
Complex: A bit different from other platforms, Drupal was built as a framework focusing on what users can build. This means that besides basic features, you'll need to create everything else.
Pricey: Along with SSL certification, web hosting, and other services, you may get professional assistance from the Commerce Guys who operate Drupal Commerce; however, it is pricey, starting at 3,000 dollars for a setup and about 600 dollars each month.
Pros

Cons

Powerful CMS




Customizable




A lot of development info

Complicated




Pricey
OpenCart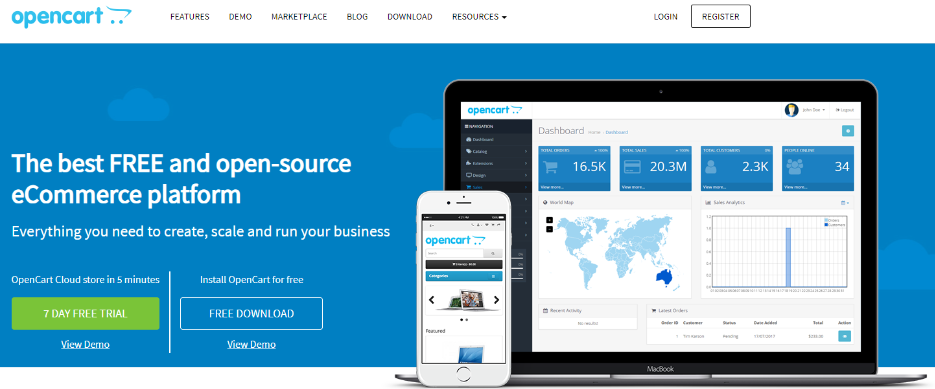 With over 15,000 modules and E-commerce themes, one of OpenCart's slogans might be "looks do matter". More than 150,000 live E-commerce sites are already running on the OpenCart open source E-commerce platform, with the number of online stores expected to rise by 5.8% in the third quarter of 2021.
Benefits
Strong community: One of the most significant advantages of this open-source b2b e-commerce platform is its active and inviting community. OpenCart offers commercial assistance in addition to its open-source community.
Customizable themes, modules, and extensions: OpenCart is a good alternative for people with limited technical skills because of its adaptability and variety of E-commerce modules and themes.
Powerful store management: The platform supports product and order administration, as well as promotional and marketing tools. Additionally, the platform offers a variety of languages, currencies, delivery providers, and payment methods.
Drawbacks
Limited scalability: It would not be a good option for scaling up your shop.
SEO issues: Unfortunately, OpenCart can cause SEO canonization problems..
Slow checkout experience: If you're having trouble with cart abandonment, then give OpenCart a pass.
Pros

Cons

Strong community




Customizable themes and modules




Effective store management

Limited scalability




SEO issues




Slow checkout experience
X-Cart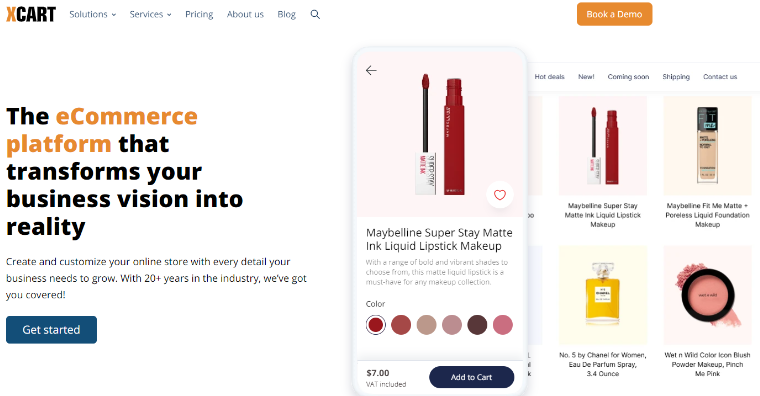 X-Cart is an excellent free-to-use E-commerce platform that comes with a lifetime license. It is a PHP-based E-commerce software with a user base of 30,000 retailers and offers a variety of functionalities. While the list and amount of features are remarkable, the cost of upgrading to take full use of this list is too high. The X-Cart shopping cart software is available as a cloud-hosted version or as downloaded software that you install on your site.
Benefits
Plenty of features: X-Cart has a dozen free and responsive CSS-based templates, built-in SEO and marketing tools, and strong inventory management. The shopping cart supports numerous payment gateways, and the X-Payments interface is PA DSS and PCI compliant.
Drawbacks
Complex and pricey: It requires manual coding for setup and costs an extra fee for technical support.
Pros

Cons

Many features

Hard to set up




Expensive
There are still plenty of other open source E-commerce platforms, but the above seven ones are most suitable for B2B businesses. For B2C, some outstanding software include Spree Commerce, VirtueMart, WP E-commerce, CubeCart, Square Online, and MailChimp Open Commerce.
Conclusion
I hope that our blog has given you clear insights into top open-source B2B E-commerce platforms as well as their benefits and downsides to find your business a suitable option. Remember to focus on what your business needs and how you want it to be in the future to stay on the right track and avoid unnecessary expenses.

Marketing Manager of Mageplaza. Summer is attracted by new things. She loves writing, travelling and photography. Perceives herself as a part-time gymmer and a full-time dream chaser.
Website Support
& Maintenance Services
Make sure your store is not only in good shape but also thriving with a professional team yet at an affordable price.
Get Started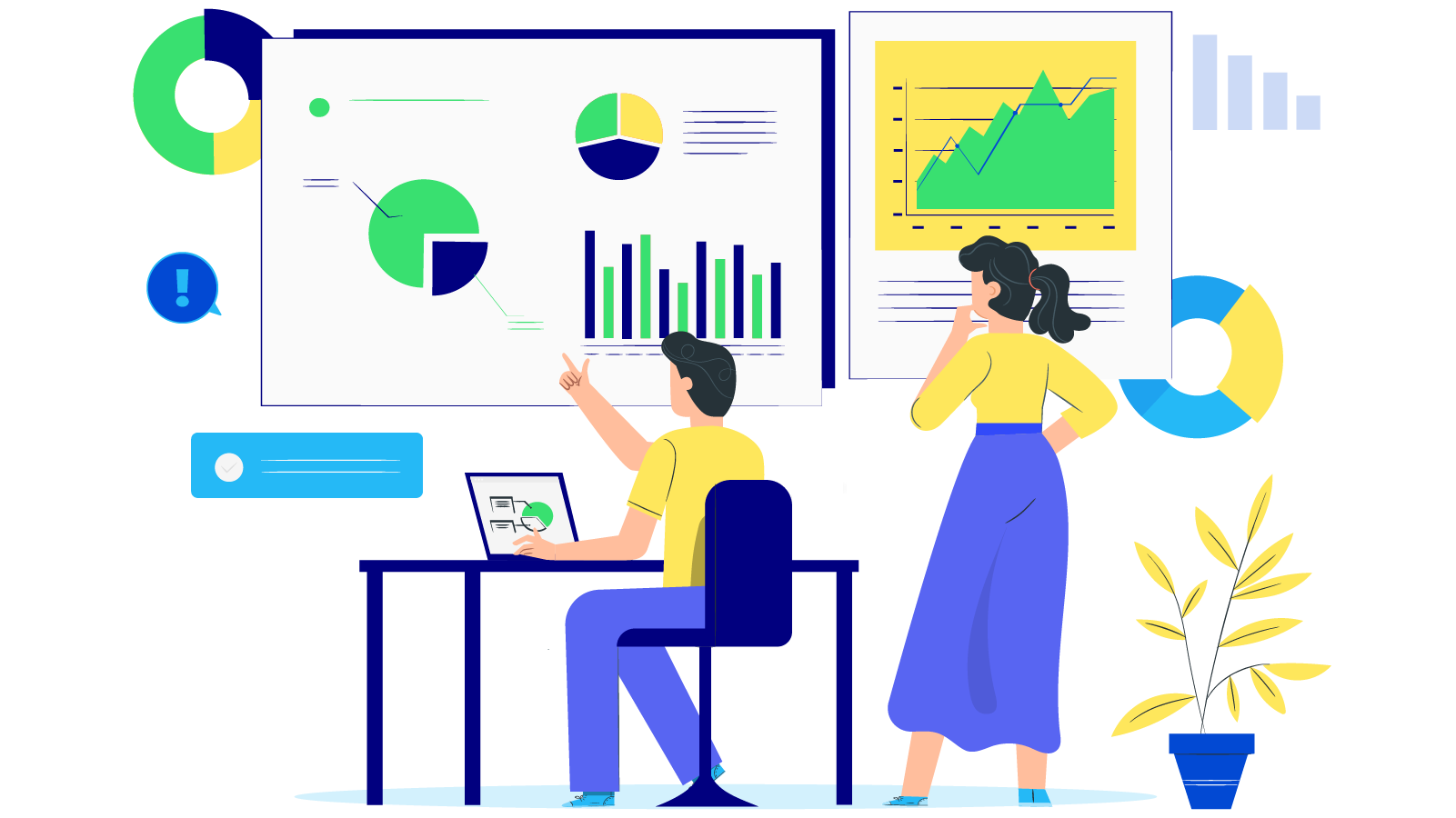 New Posts



Subscribe
Stay in the know
Get special offers on the latest news from Mageplaza.
Earn $10 in reward now!