Manychat vs. Chatfuel Comparison: Which to Choose?
The Most Popular Extension Builder for

Magento 2
With a big catalog of 224+ extensions for your online store
For businesses targeted for rapid growth, finding the right chatbot platform can be the key to enhancing competitive advantage.
There are several different frameworks and approaches, but making a chatbot using one of the many chatbot platforms is best for people who don't have software development experience.
The purpose of this article is to break down the differences between ManyChat and Chatfuel - 2 leading chatbot builders in the market
Table of contents
Manychat vs Chatfuel: Brief introduction
What are ManyChat and Chatfuel?
Just in case you have never heard of them. ManyChat and Chatfuel are kind of visual bot builders for marketing and automation. Both facilitate the bot-building process on the Messenger platform for non-tech-savvy users.
What are bot and chatbot?
To simplify the topic around conversation bots and this 2 software, let's first walk through some primary chatbot terms:
Artificial intelligence (AI): Used in chatbots for making relevant and human-like responses based on customers' messages
Automation: Reduce the workload by sending scheduled messages to customers after particular user actions. Replace people for repetitive and uncomplicated tasks
Bot: A kind of application of robots in a virtual environment. They function as regular computer users that offer instant and real-time customer service via multiple channels
Buttons: Regular seen in a website's live chat box or messenger platform as preset responses. Instead of typing, customers can choose buttons with content fitting their questions
Chatbot: A programmed bot to chat with real humans who're trying to interact with the business through multiple methods (text, email, messaging app, voice call, etc.)
Conversation Flow: How a programmed conversation goes. It's created by attaching nodes representing specific actions or messages in the flow
ManyChat and Chatfuel are 2 popular chatbot builders amongst other options in building automated conversation flow on the Facebook Messenger platform.
The created bots will give preset answers for relevant user requests on purpose to strengthen the connection between businesses and the audience.
ManyChat key features
Create multiple chatbots flows with a bunch of easy-to-use tools, drag and drop builder, and messaging types (from cards, pictures, texts to attach files, expect Vertical List)
Offer a friendly user interface thanks to a simple icon-heavy interface design, which is extremely clear and self-explanatory
Integrate with Shopify, PayPal, Stripe, ActiveCampagin, and 1.500 + different apps via Zapier and Integromat
Support chatbot-making tools for both SMS and Facebook Messenger
Provides 8 Growth Tool options to lead your potential customers to the chat flow with your bots
Allow engaging your targeted segmentations via Website, Messenger, Email, and SMS
Chatfuel key features
Like ManyChat, ManyFuels also comes with a clean interface and visual flow builder to build and customize your chatbot
Support multiple elements to build custom messages (expect attachment files and location sharing option)
Enable to make chatbot on only Website and Facebook
Also integrate with Shopify Live Chat, Google Sheets, Livechat and Integromat
Live analysis of conducted interactions with chatbots
Able to connect the chatbot to Facebook ads, landing pages, and Facebook website widget
In a nutshell, Chatfuel and ManyChat come with relatively similar features. But this is understandable since:
They are developed to optimize the chatbot-making process, mainly in the customer service field
Have the same target market, typically those users with no coding knowledge
This creates difficulties for average users with less understanding of both platforms to decide their "perfect one." Thus, we will go deeper into each option's details to give you a clear look at both platforms and have an informed decision.
ManyChat vs Chatfuel: Feature comparison
Chatbot builders
In the past, technical tasks like chatbot-making were only for tech-savvy people. However, thanks to technology development, many platforms with intuitive interfaces appear that make sense to beginners.
That's why to evaluate the power of both ManyChat and Chatfuel, let's first look at their chatbot builder process.
ManyChat
One of the reasons ManyChat is the favorite marketing tool kit of many merchants is its friendly user interface and fantastic flexibility.
Manychat's flexibility comes with the fact that it provides you with 2 interface options to build a bot flow, including:
The Basic Builder: Which is quite similar to the "block" structure in Chatfuel. It comes with a linear view of the bot flow. Enable you to edit and modify every single message at a basic level

The Flow Builder: Visualize your whole bot's logic sequence at a glance. The Flow Builder can be seen as a map of messages, actions, and blocks organized in orders in the bot flow
Apart from 2 builder types, ManyChat enhances the chatbot-making experience with the Drag and Drop editor, a major plus point!
Of course, the ManyChat Flow Builder's working interface can be a bit tricky (possibly overwhelming) for newbies.
Though it's optimized for the most convenient experience, you might need a short amount of time to get used to this bot flow page. However, you can still easily switch between 2 views (Basic Builder and Flow Builder) while debugging and editing.
Or even working with 2 builder types at the same time just by clicking on any block on the Flow Builder.
Chatfuel
With Chatfuel, users can select any generated flow in the left column. Each generated flow come with 3 main elements, including:
Card: Basic elements for building bot flow such as text, images, videos, etc.

Blocks: To which you can add content you want to send users. Each block will contain many different messages and content types

Connectors: The circular points from which you can connect one card to another by dragging the arrows
Shortly, cards reflect details of your messages along with media like text or gallery (based on your reference). These cards are connected using the connectors. And several cards can be grouped and organized in blocks for a complete bot flow.
In conclusion:
As mentioned above, the Chatfuel platform is primarily based on the concept of groups, blocks, and cards to build bot flows, making the bot-making process simplified and straightforward for non-technical users.
But in terms of UX (User experience) and UI (User interface), both ManyChat and Chatfuel do their best on delivering the ultimate experience and high customization as "customer-focused" chatbot platforms.
Besides, Chatfuel's users can not use the builders interchangeably like ManyChat. In other words, flows you build in the Visual Flow builder are unavailable in the Block builder and vice versa. This can be concerned as a drawback of Chatfuel.
Availability of chatbot-making elements
Easy to use interface is not enough to evaluate the completeness of a chatbot platform. That's why besides the UI aspect, the number of supported elements to create your bot's replies is the 2nd thing we should consider.
If you feel unsure what chatbot-making elements are, they can be understood as the content you add to each block/ section of your message chatbots, such as text, images, or GIFs.
The more elements available in a chatbot platform, the more details and value can be added to your bot.
ManyChat
ManyChat deserves to be one of the most "high rating" platforms thanks to its wide variety of in-built capabilities for building high-personalized bot experiences for businesses' customers.
The messages in ManyChat are generated by many different block types, not by cards like in Chatfuel. However, they have the exact operational mechanism.
What's outstanding about ManyChat's block types:
All the blocks are displayed in the straightforward icon-heavy interface, which is rather easy for users

Blocks draggable so that users can place them anywhere in the message using the blue arrow button on the right of that added blocks

Able to perform some primary actions such as remove, copy or change positions of added blocks in messages

Support up to 10 primary block types in the Free version and 2 more types limited to only the Pro plan
ManyChat's supported block types include:
Delays

Text

Card and Gallery

Images

Video, Audio, File (Attachments)

One-time Notification request

User Input and + Dynamic (Require subscriptions)

Other available elements besides provided block types: Button; Emojis; Quick replies; Persistent menu; validation of email, date, and phone number; location sharing
Note: ManyChat does support the Vertical List block. However, it's now deprecated by Facebook and displayed as a Gallery.
Chatfuel
Chatfuel calls all the elements used for building the bot are "Plugins." For bots generated in the Automate tab, a plugin is equivalent to a component added to a bot block. They are used to automate your sales in Messenger.
Chatfuel organizes and dive these plugins into 5 main categories, which allows you to view and choose the right plugins based on your needs:
Add & Send Content (7 plugins): Enables you to fill the bot's blocks with different types of content

Collect User Data (5 plugin types): Let you gather more information about your customers for outreach purposes or segmentation

Export & Import (5 plugins): The plugins in this group allow your bot to better handle data

Redirect Users (4 plugins): Apply these plugins to your bot's blocks will navigate your users to a particular part of your bot based on their attribute and action

Connect Users to a Human (2 plugins): With this, your team can take over the conversation from the bot and have a live chat with users
However, in the scope of comparison element numbers used for creating bot's content, supported card types are:
Text + Button
Gallery
Video
Audio
Typing
Quick replies
Persistent menu
Other available elements: Validation of email, phone number, and date
In conclusion:
It can be said that both ManyChat and Chatfuel provide an almost comprehensive variety of chatbot elements to build your chatbot. This enables you to add more value and complement your message with one or more elements effortlessly.
Suppose we assess based on the offered number of chatbot elements (in terms of generating content). In that case, ManyChat is a little better than Chatfuel since Chatfuel's unavailability of attachments and location sharing.
Communication channels supported
ManyChat
With ManyChat, you can build a chatbot on 3 main channels:
Facebook Messenger
SMS and Email (Available for usage on the Pro plan only)
Apparently, ManyChat's users are not limited to Facebook Messenger only like other platforms in the market, which's a huge advantage.
This contributes significantly to businesses to create a more seamless omnichannel chatbot experience.
Though sending SMS and Email through ManyChat is a part of this platform, you still need to charge an extra fee for these actions. To be more specific:
For ManyChat email, you will get a free number of emails monthly. This number will depend on the number of the contact you subscribe on your Pro account plan, particularly:
Up to 500 contacts = 500 free emails/ month
Up to 5000 contacts = 5000 free emails/ month and so forth
When you use all your free emails, each upcoming email will be charged $0,003 each.
Chatfuel
Facebook Messenger is the only channel that Chatfuel's users can build their chatbot. Though it's optimized and software specifically designed for Facebook, ManyChat seems to overcome Chatfuel in terms of offered channels.
In conclusion:
ManyChat has more advantages than Chatfuel since it offers an omnichannel approach for businesses to use the chatbot and more outstanding features.
Customers definitely get a more omnichannel experience throughout your website, email, and SMS. Especially if your target customers don't regularly use (even dislike) Facebook, this limitation of Chatfuel can ruin your chatbot marketing effort.
Templates
Besides a friendly user interface and functional chatbot elements, creating a complete bot from scratch still involves hours and a daunting task for any newbie.
That's why the capability of cloning and editing a bot from pre-made templates matters.
ManyChat
In terms of templates, ManyChat's users can:
Create new chatbot templates
Share the pre-built templates to others via the Flow Sharing and Template features
Duplicate chatbot flows and elements to fasten the chatbot-making process
There will be differences and limitations on your power between the Free plan and Pro plan. For instance, there will be some templates or elements that are only available for Pro users.
ManyChat's Template store with numerous pre-built options ranging from eCommerce, Estate, Restaurant to Beauty and even Shopify.
Some main template-related features in ManyChat to compare with Chatfuel:
The Template feature: Share the whole bot (everything from Tags, Custom User Fields, and Actions) with clients, a community, or bot builders. Furthermore, better manage and back up a pre-built bot with high security
The Protected Template feature: Ensures privacy for your intellectual property. In other words, others can't edit, view, or share your templates with anyone else. You get total control over your templates
Edit Template: Perform some actions such as: Add or remove content, enable or disable public access link, even delete a template
Chatfuel
Like ManyChat, Chatfuel organizes its pre-made templates into 11 categories, from Local Business, Travel to eCommerce, and Appointment Booking.
ManyChat has developed and expanded its template resource on a huge eCommerce platform like Shopify. Meanwhile, Charfuel outperforms by offering templates for Natural Language Processing (NLP) and Artificial Intelligence (AI).
Unlike ManyChat's templates, ones in Chatfuel come with a price tag (for paid templates) on the top of the Pro subscription. However, most of them are free.
For templates provided by Chatfuel, users have the ability to:
Preview and test templates in Messenger: Check whether the bot you're about to install fits your needs
Easy installation: Make a copy of the template for further customization as well as a modification with just one click
In conclusion:
You will decide the winner! Both ManyChat's and Chatfuel's templates come with helpful descriptions and notes so that you can review and know whether that template has your desired features.
If your need is the variety of templates in each platform's library, Chatfuel will be a better choice since it has almost 100 templates available while this number in ManyChat is much lesser. This will be a plus for Chatfuel if you're a newbie.
In contrast, the focus of ManyChat is on the ability to create and develop your own templates with more advanced features.
Growth Tools
We have gone through the most critical factors related to the bot-making process. However, your effort will be useless if you can't lead users to your bot through other channels.
ManyChat
With the support of ManyChat's Growth Tools, businesses can:
Website widget: Embed or overlay Facebook Messenger widget for the website
Ref URL: Generate custom URLs that direct to the Messenger bot

Customer chat: Display a chat-style icon on your website so that customers can click on and start a conversation with your bot or a Live Chat human agent

QR code: that can be used online or on printed assets to drive leads
Multiple landing pages: Provide a landing page builder for your bot and enable One-Time Notification
Click-to-Message Ads: Automatically start a customer conversation with your bot for leads from the Facebook ads
Facebook comments: Auto-reply to a Facebook comment
For the auto-reply to Facebook comment, you not only send automatic messages to people who comment but also automatically like and reply to that comment.
Chatfuel
For marketing, Chatfuel offers quite similar capabilities, with literally no differences from ManyChat. Chatfuel develops its Growth Hacks with 5 main entry points that initiate a conversation with your bot:
Facebook comment auto-reply: Comments auto-reply on Facebook posts
Bot link: Formerly known as the REF link entry point)
Button Creator: Drive customers to your bot when they click the Message button on a product from your Fb Shop page or on the Messenger icon in the bottom-right corner of a webpage
Click-to-Message Ads: Click-to-messenger Ads that direct customers to the chatbot when clicking on it
Landing page support: Create landing pages with a button that lead the target audience to the bot
However, the most significant difference between ManyChat and Chatfuel is that auto-reply to Facebook comments of ManyChat is more advanced than Chatfuel.
One of ManyChat can send auto messages to whom comments, furthermore, like and reply to the comment right on the post. Meanwhile, Chatfuel's auto-reply stops at sending private messages.
In conclusion
Apparently, both ManyChat and Chatfuel offer various tools that stimulate the first conversation between customers and your bot.
They come with considerable opportunities to grow your audience and commentators to become your bot subscribers. Still, Manychat gets a small win.
eCommerce tools
In a customer-centric world, anything that allows a business to enhance the user experience, furthermore, foster greater brand trust and loyalty is key to success.
And chatbot has that ability while opening more sales opportunities for eCommerce businesses. So let's check the power of ManyChat and Chatfuel in this eCommerce aspect.
ManyChat
The thing that makes ManyChat a worth investing chatbot platform is its direct integration with Shopify - one of the most popular eCommerce platforms globally.
The power of Chatfuel's eCommerce tools allows you to:
Recover abandoned cart rates by sending abandoned shopping cart notifications via email and SMS

Keep customers informed with automated messages for their orders and shipment status
Collect reviews and feedback after customers' purchase more effectively
Retain customers and boost their loyalty via ManyChat's Fb messenger and SMS marketing tools
Generate personalized coupons in Shopify and send them to customers via Messenger and SMS. Moreover, text recipients can redeem the coupons with one simple tap
Able to track store's earning, average revenue, and purchase per buyer in ManyChat's eCommerce dashboard for a deeper understanding of customers' insights
It also supports your customers to make payments via chatbot using the Stripe or Paypal integration.
Chatfuel
Chatfuel's users get the same ability for:
Boating sales via promo codes
Auto-reminding users about the abandoned carts as well as encourage them to complete the purchase via Facebook Messenger
Pay directly within the chatbot with the support of Stripe
Support customers' most routine queries 24/7 without human intervention
Create limited-time sales or promo codes to retain customers or drive sales
Share order tracking information
In conclusion
As for eCommerce capabilities, both platforms are functional and can accommodate almost all online merchants' needs.
Still, there is a limitation. Both don't have a WooCommerce integration. But, you can connect your chatbot account with WooCommerce by using Zapier or Integromate integration.
In shortly:
The eCommerce features of Chatfuel have a simpler setup and usage (best for small and new businesses).
One of ManyChat dives deeper into possibilities and data collection strategies. As a result, ManyChat's tools can be more tricky and time-consuming to be fluent (medium to large businesses or experienced users in the chatbot field)
Reporting and Analytics
ManyChat
It's not difficult to find and view the Metrics Dashboard on ManyChat Pro that reflects an overview of the business's revenue and conversions across all of your flows, particularly:
Earned: Total income earned for different periods
Average Revenue Per Paying User (ARPPU)
Average Payment Count (APC): Reflect the sales retention rate of a buyer via the number of purchases made by a unique buyer for the specified time
Sales: Total number of sales made for the particular period
Total number of subscribers and unsubscribers
Moreover, you also get reports for specific flows or blocks' performance in your chatbot via:
Delivered to (%): Number of people the message is delivered to
Opened by (%): The open rate of your message
Click by (%): The click rate
This goes the same for Sequences with 4 metrics: Subscribers, Messages, Open Rate, and CTR.
Chatfuel
Chatfuel appears with a more detailed dashboard that focuses on user-related analytics instead of the bot's overview like ManyChat. For an instant, you can view:
The Total Users in specific periods
Figures reflect the User Retention and User Activity over days in graph form
Provide User Input for further improvement of the answer of your chatbot
For the Sequence/ Broadcast User Engagement report, you can check:
Sent: Time and date the sequence is sent
The process of sent sequences (%)
Recipients (number of people)
The rates of Read, Clicked, and Failed (%)
If ManyChat uses actual figures to report your business's conversion rates, Chatfuel does this job via its Popular Block table. Furthermore, a table that evaluates your most Popular Blocks shows the path of your audience on your bot flow, hence viewing their effectiveness.
In conclusion:
Apart from the above figures, both ManyChat and Chatfuel let users test their chatbot in Facebook Messenger before the actual launch.
Also, merchants can get more statistics about their bot by integrating ManyChat or Chatfuel to 3rd-party analytics tools such as Dashbot.io or Botanalytics.
What's ManyChat's Analytics and Report doesn't offer:
User Input
User Retention
ManyChat's reports are ideal for keeping track and capturing every click and action!
What's Chatfuel's Analytics and Report doesn't offer:
Conversion rate (Still possible to track blocks' performance)
Furthermore, the analytics dashboard of Chatfuel is evaluated to be much clearer than one of ManyChat. And Chatfuel supports User Input reports that enable you to see the keywords you but don't know the answers to, hence better modification in the future.
So Chatfuel wins on this subject.
ManyChat vs Chatfuel: Integrations and Customer support
Integration
There is no winner in this aspect since both offer all integrations a business need, including most important ones like:
Live Chat
Zapier
Integromat
Google Sheets
Support
With ManyChat, the support comes from:
With Chatfuel, the support comes from:
In short, both offer several ways to deliver valuable information that covers almost every aspect you'd want to know during your experience process, from detailed documentation to videos.
Therefore, ManyChat better supports its users via more sources compared to Chatfuel.
ManyChat vs. Chatfuel: Pricing comparison
MayChat pricing
ManyChat comes with 3 pricing packages, including:
Free plan: $0 for up to 1000 contacts
Pro plan: Start at $10/ mo (from 1000 contacts) to $435/ mo (for 100.000 contacts); $145/ mo for 25.000 contacts
Business plan: Contact the ManyChat sales team for a list with > 100.000 contacts
Chatfuel pricing
Chatfuel offers its users 3 pricing options:
Free plan: $0 for up to 500 contacts
Pro plan: Start at $15/ mo (from 500 contacts) to $180 (maximum 25.000 contacts)
Premium plan: Contact with Chatfuel sales team for > 25.000 contacts
ManyChat vs. Chatfuel: The more optimal and viable option?
Both Chatfuel and ManyChat offer free plans, of course, with certain limitations.
Still, the costs of ManyChat for both Free and Pro packages are more economical compared to Chatfuel.
However, if we evaluate both options in terms of functionality, Chatfuel's Free plan might be a more optimal option, especially for small businesses. Why?
For Chatfuel's Free plan, you get all the necessary tools to create and automate your Messenger inbox, from AI setup to Integrations and Analytics. Though there're still some restrictions for some features, such as:
Limited to 50 users
Chatfuel branding
You can experience the platform to its fullest. Chatfuel gives you more for free when starting with a small subscriber list (but still wants to build a fully-functional bot).
When it comes to the Pro plan, ManyChat outperforms better than Chatfuel. ManyChat's Pro plan removed all its restrictions of the Free package. Things that Chatfuel's Pro plan has, ManyChat also offers at a lower price.
Choosing a pro plan will save you a fair share of money going with ManyChat ($5-$35 cheaper than Chatfuel) for the same number of active users. Therefore, if you own an extensive subscriber list (> 500 users), ManyChat is the best choice!
Besides Chatfuel and ManyChat, there are plenty of chatbot building options you should consider via our list of 10 Best AI Chatbots for enterprise.
ManyChat vs. Chatfuel: Short verdict
ManyChat is more worth investing in than Chatfuel because of its intuitive bot builder and more affordable price.
Though both platforms enable you to create a comprehensive bot flow as a non-tech-savvy person, with ManyChat:
Its bot builder, as well as its variable management system, are more powerful and user friendly than ManyChat
Also comes with a well-organized documentation system and a large community for support
Allow creating omnichannel chatbot campaigns while Chatfuel's bot is only available on Facebook Messenger
Still, Chatfuel has some competitive advantages to overcome ManyChat in terms of:
Template numbers: While ManyChat only offers only 25 pre-made bot templates, this number in Chatfuel goes up to over 83 templates
Built-in analytics system: Chatfuel provides a much clearer analytics dashboard with more focused metrics to contacts than ManyChat
Who is ManyChat best for?
If you want a platform that allows you to:
Launch various chatbot campaigns in multiple channels

Build a comprehensive chatbot system at affordable prices in a long run

Manage several bot flows and connect pages in a single dashboard logically

Easy setup process
Then ManyChat is your ideal solution. Still, ManyChat focuses more on offering a suitable environment for users to create their own bots (with a high complication level). Therefore, its template library is quite limited and can be challenging to use for newbies.
Who is Chatfuel best for?
If you want a platform that:
Offer various bot templates, and you can easily find multiple templates for ideal chatbots in many industries with no difficulty
And effortless and simple to understand at the first period of experience
Experience full features in the Free plan
Get more in-deep statistics about your bot's performance with user analytics
Then you might want Chatfuel as your final decision.
The bottom line!
This post is long, but we hope it's to be an informative reference so that you can make informed decisions between ManyChat and Chatfuel - 2 of the best chatbot building tools these days.
Each comes with its own pros and cons. ManyChat offers more bullet-in tools for statistics and marketing, while Chatfuel is better at creating custom fields for a more personalized customer experience.
As a content executive at Mageplaza, Mia Hoang understands the value of content marketing lies in the engagement between the customers and companies. Her wish is to bring a unique voice, different perspectives, and new light for every audience.
Website Support
& Maintenance Services
Make sure your store is not only in good shape but also thriving with a professional team yet at an affordable price.
Get Started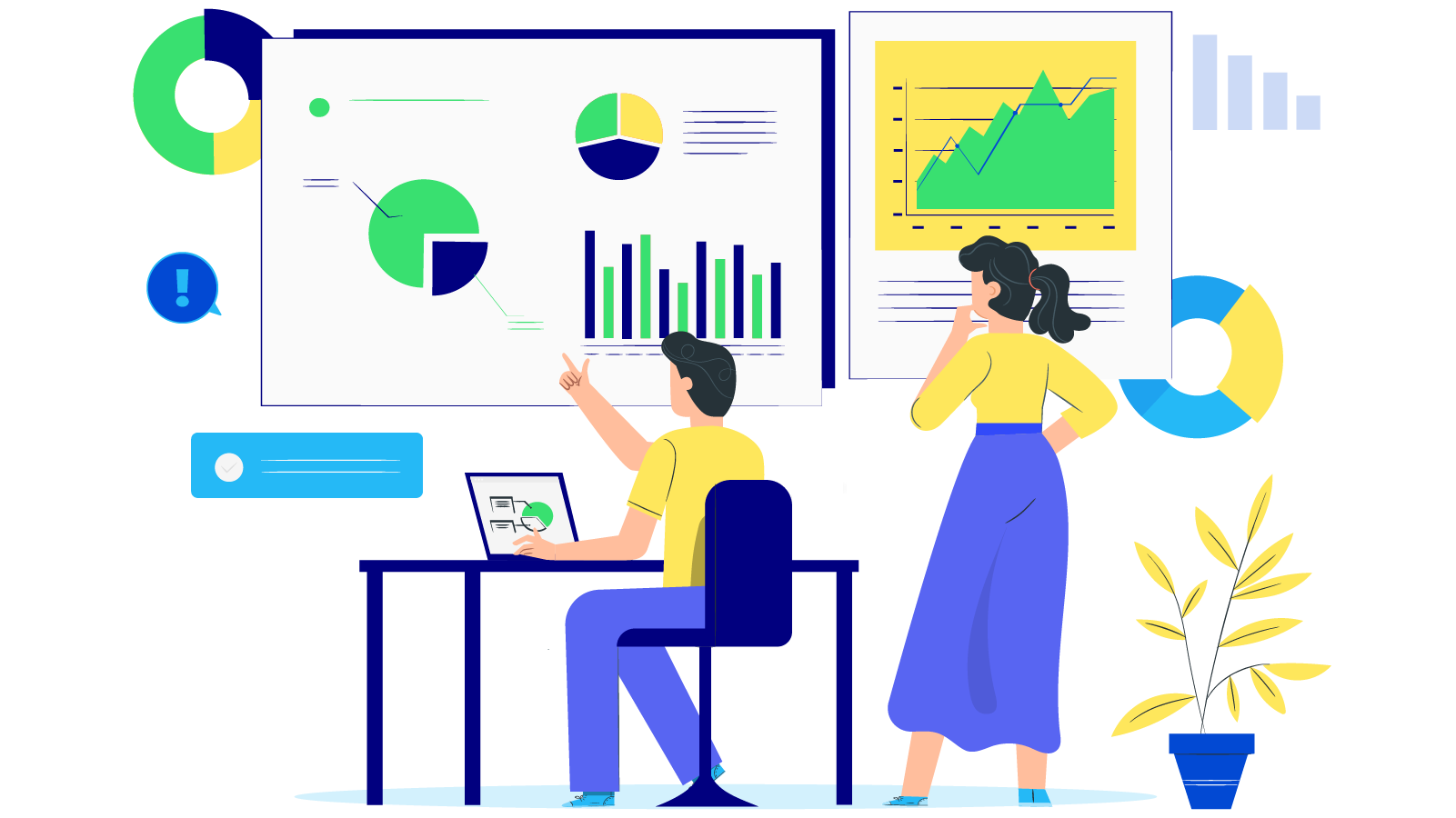 New Posts



Subscribe
Stay in the know
Get special offers on the latest news from Mageplaza.
Earn $10 in reward now!