Manychat Tutorials: How to Use Manychat in 2023
The Most Popular Extension Builder for

Magento 2
With a big catalog of 224+ extensions for your online store
Data shows that the usage of the chatbot is on the rise via below Invesp's figures:
67% of businesses around the world used a chatbot for customer support

40% of consumers focus more on offered solutions than caring about whether that help is from a chatbot or a real human

About 85% of conversation with customers are handled without human interaction

Chatbot saves businesses up to 89% of routine questions and 30% in support cost
These numbers somewhat explain why the chatbot segment holds such a large market size with all attractive benefits in customer service's effectiveness.
In this post's scope, we will focus on Manychat - one of the best chatbot builders these days: What features have in ManyChat and their usages?
Without further ado, let's get started!
Tables of contents:
Chatbot definition
If you still don't know what a chatbot is, basically, it's a computer program simulating human conversation. You can program a chatbot with different responses based on a user's behavior and requests.
According to HubSpot Research, 90% of customers rated an "immediate" response from businesses as "Important" and "Very Important". In other words, today's customers expect the instant support and are not as patient as they used to be in the past.
In this case, an AI-powered chatbot is the ideal solution for huge or time-strapped businesses to address shoppers' regular queries 24/7 automatically.
What's ManyChat for?
ManyChat is a platform designed to help businesses with sales and marketing activities by applying chatbot technology. As mentioned above, chatbots are mostly used in the customer service space.
Still, in essence, chatbots focus on creating and stimulating conversion between bots and users. Hence, businesses can take advantage of chatbot power to:
Introduce and sell products via Facebook Messenger, SMS, even Email
Nurture leads and capture contact info
Strengthen the relationship with customers through messages and other channels
The primary benefits of ManyChat are to help you:
Build your chatbots for multiple channels (Messenger, Website, Email, and SMS) with pre-made templates and a simple visual builder
Build and add drop sequences to your Messenger bot without coding
Communicate with your contact list via Messenger, Email, or SMS right in ManyChat, hence better delivering an instant customer service
Better capture and manage contacts' data both manually and automatically (subscribe to Sequences, add Custom Field value, etc.)
Take advantage of Facebook Messenger to promote your products via AI chatbots
Track and analyze the chatbot's effectiveness
Unlimited integrations with Zapier, Shopify, ActiveCampaign, Hubspot, and many more
Note: Free accounts are limited to 1,000 contacts, including subscribed, unsubscribed, and deleted contacts. Once you reach the limit contact numbers, your Free accounts can no longer send messages via configured automation, Live Chat, and Broadcasts.
A break down of ManyChat's features
The Home dashboard
Bot Overview
Basically, when clicking the Home section on the left sidebar, users will be directed to the Bot Overview tab. It's divided into 2 parts:
Account Unification: Lying on the page's top space where you can view and manage all the channels (Facebook, SMS, and Email) connected to your ManyChat account
Bot Overview: Track and report the bot's activities as well as vital statistics of your contact list
First, let's start with the window of contact statistics. It reports your total number of contacts, including Active/ Inactive Contacts and Net Contacts for specific periods via 4 graphs:
Active Contacts (Line graph): Reflect the total number of your present subscribers you can message. Not include unsubscribes and deleted users
Net Contacts (Bar graph): Defined as the number of Active Contacts – Inactive Contacts
Active & Inactive Contacts (Bar graph): Illustrate the number of subscribers and unsubscribers from your bot every day in one chart, allowing you to analyze your bot's performance day by day for better improvement
Contacts' details: Illustrate the % of your subscribers in Language and Gender. Suggest contacts who recently subscribed. This way, you will have more info and understanding of your current contact base
Next to the Contacts' details is the Content Overview window. Here you can access parts of your bot by clicking on any selection on the Content Overview block.
It goes the same with the Last-Modified Flows. You can even go back to your previous work.
Metrics (Pro)
Metrics tab comes with graphs and blocks that reports the effectiveness of your ManyChat Pixel activity for selected periods, including:
Revenue RUB and Overall Earnings
Conversion Events: Contain statistics of System Events (Payment Complete, Email Collected, Phone Collected), and Custom Events (Test)
Audience
Some actions users can perform in the Audience tab:
Filter the audience list to search for any contact using the Filter feature. Users can even filter the list based on the tool that each contact opted in
Select all contacts at once with the Bulk Actions button
Have a quick view of all contacts' info (Avatar, Name - Gmail, Gender, Status, and Subscribers) through split columns in the audience grid
Add a new contact to start messaging them by clicking on the Create New Contact button
Import your whole contacts for further usages
Capabilities in ManyChat's Filter feature - Segments (Pro)
To optimize the contact list's performance for management, ManyChat lets you do one or multiple Filters simultaneously to your entire contacts. The best thing ManyChat's Filter on the Audience tab is its Segments feature.
It allows you to:
Save your searches with a specific set of Filter. You only need to click on the wanted Segment; then your list will automatically be filtered

Or use them in Conditions to send automated messages targeted
Bulk Actions
Another advantage of ManyChat's management system is that you can select your wanted contacts and perform Bulk Actions from Add/ Remove Tag to Set Custom File or Unsubscriber from bot, etc.
Contact Profile
Merchants can view any of their contact's profile listed on the contact grid, for instance:
User status (Subscribed/ Unsubscribe)
Personal info (Country, phone number, email address, gender, time zone)
Opted In through: The tools you've subscribed for that contact in ManyChat
Limitations of features in the Audience tab
There're 2 limitations when it comes to the Segments feature an available number of contacts in the list with the Free Plan:
You can only Filter by Segments with 10 customer Tags
The total number of contacts you can add to the Audience list is 1000
For more contacts or Segment availability, users must upgrade to the Pro package.
Growth Tools
Growth Tools is where you can find a bunch of fanatic methods to boost conversions and make more sales for your businesses by sharing your bots with the world.
They play a crucial role in getting more audiences to opt-in to your chatbot via available channels (Website, Email, Facebook ads, etc.).
Free Package
Messenger Ref URL: Create simple URLs that lead to your bot. You can add that link to your social profiles, emails, Facebook posts, etc. - Any potential place for traffic generation

Facebook Comments: When detecting there's a relevant keyword on a person's comment, the system will automatically send a message from the ManyChat bot to that commenter

Customer Chat: Allow you to have real-time conversations with web visitors through the bubble float at the bottom-right corner of your web. At the same time, send an automatic message to stimulate the talk

QR code: Like Ref URL, QR code is another way to grow your subscriber base by driving them into your ManyChat sequences. If Ref ULRs are used for the digital environment, QR code focuses on offline traffic such as print ads or product packages

Landing Page: Another option for you to drive leads into a Messenger bot sequence

Website Widgets: Support overlay and embedded widgets for your website for collecting audiences' info and initiating conversations with the bot
Pro Package
Checkbox: Let users add a checkbox to forms on your e-store. In other words, if a visitor finishes an opt-in form, the checkbox allows them to get messages from your bot
Click-to-Messenger Ads: Automatically drive your audience from a Facebook ad to your bot when someone clicks on the ad
Live Chat
Chatbots are the perfect option to give both your potential and existing customers 24/7 support in real-time for frequently asked queries. Still, chatbots can respond to any possible questions. The interruption of humans is indispensable.
At the same time, for enhancing your management effectiveness, Manychat provides its users with a tool called "Live Chat." Here is where all your Messenger or SMS conversations with customers will take place in real-time.
Live Chat Settings
For new users, you need to set up the Live Chat settings by clicking on the gear icon on the top right corner of customers' working screens.
Live Chat Behavior
The Live Chat Behavior Setting contains:
Any Message starts a conversation: Any engagement with your chatbot from customers will automatically open a Live Chat conversation (except for Keywords)
Conversation should be opened explicitly: The Live Chat conversations will not open for any automated bot like the first one. It only happens when you click on the "Start chat" button (on the audience's profile page)
Personas in Live Chat
The Personas in Live Chat Setting enables you to personalize the conversations between customers and your bot.
In other words, your contacts can see the name with the profile picture of the person who is chatting with them. Extremely useful when you have several team members.
Snippet
Snippe is one of my favorite features! It allows you to create pre-populated answers that will be sent to your subscribed contact in the Live Chat with just one click.
Fantastic support that helps you answer frequently asked questions. You won't waste your time typing the same info again and again.
Live Chat Section
We walked through all the vital settings of ManyChat's Live Chat. Let's move to its main working screen. It's divided into 3 parts, including:
Contact list: Contacts that have real-time conversations with you or your staff
Omnichannel conversation: Here, you can communicate with your team member via private chat at the same time chat with your customers
Contact panel: Display all the contact info captured by your bot during past conversations. Here you can even directly add and manage User Tags, Subscribed to Sequences, view all channels history, or Pause Automation
Once a conversation is done, the agent can mark the conversation as "Done." The conversation moves out of the open queue. This optimizes the efficiency of your workflow for live or urgent requests.
Broadcasting
If ManyChat Growth Tools allows you to reach more potential subscribers, the Broadcast's function is to grow your business by strengthening your connections with existing subscribers.
With the Broadcast option, you can send different types of messages (video, images, etc.) to your customers and manage all of them organically in your broadcast.
2 ways to create broadcast in ManyChat:
"+Broadcast From Flow" button: Directly proceed and send broadcast in an existing Flow. Your edits won't affect the original flow and only available within the Broadcasts section
"+ New Broadcast" button: Create broadcast from scratch. You can choose your wanted channel where to place the broadcast. Then, compose a message flow with conversational actions so that your contacts can answer with
The broadcast-making process is like the same when you build your bot. And your created broadcasts will be stored in the Broadcasts section (include Drafts, Scheduled ones, and History lists).
In case you want to create promotional broadcasts to people who are outside of the 24-hour messaging window via the Paid Messages. However, you need to accept ManyChat to manage and access your Facebook ads and related stats.
Furthermore, on the History tab, you can monitor and view performance stats of all launched broadcasts, particularly:
Sent
Delivered (%)
Clicked (%)
Read (%)
Automation
Flows
After clicking the Automation section, the system will direct you to the Flows Manager tab - the main storage of all generated Flows in ManyChat. Here, you can edit, view, as well as manage your flows easily.
The working screen of the Flow Managers tab includes:
Create a new Flow by tapping on the blue "New Flow" button on the top-right corner
Switch between flow views with the toggle view button
Manage and organize your flows by storing them in different folders
Easily find your wanted flows with 3 filter options (Filter by Triggers, Filter by Channels, and Filter by Content Type)
The Triggers block functions as smart folders storing your current bot automation
Perform specific actions to your flows right at the main screen (Rename, Duplicate, Share, Copy, and Delete)
Other convenience for flow management: Use Folder navigation for better view Flow contents in the grid, drag and drop a flow from one place to another
Keywords
The Keywords tab is where you automate conversations with your contacts inside the ManyChat bot flow. By tapping on the "+ New Keyword" button, you can start adding keywords with specific replies for your bot.
The keyword settings come with 5 rule options:
Message is (Rule with highest strict level): If you set the triggered word is Hello, then your bot will only send automated messages for exactly the "Hello" word (no additional words, letter, or symbols)
Message contains: Your bot can recognize and send messages when customers' messages contain the triggered words or phrases
Message contains the whole word: This setting allows you to keep the triggered words in the right context with the contact. Your bot can distinguish between, for instance, "Like" and "Dislike," thus knowing to send different responses for 2 cases. This won't happen for the "Message contains" rule
Message begins with: You need to set the keywords that are placed at the beginning of the contact's message, for example, "Can you" or "I need", etc.
Message is thumbs up: The automated message will be sent if a contact sends a Like offered by Messenger
Next, you can choose the Channel where you want to apply keyword rules. Finally, add the automated reply that will be triggered when someone types the Keyword in a conversation.
Furthermore, you can move a generated rule up and down in the list to set its priority.
Sequences
ManyChat Sequence features that let you subscribe to your contacts to a chain of messages separated by delays of different lengths.
You can start a sequence by clicking on the "+ New Sequence" button. After setting the sequence name, ManyChat offers a pre-built frame of a basic sequence that is editable. Now, you can start creating your own for various using purposes.
Rules
The Rules tab is where you create custom rules that trigger a specific action when something happens. For instance, the business can automatically:
Send a birthday message to your contact list
Remind your subscribers about your upcoming promotion or event
For the working screen of Rule settings, you need to finish setting for Trigger and Action for activation. You're able to create multiple Actions inside on Rule or multiple Triggers for one Action.
Moreover, Triggers can also be set up for "Start a Flow" Action directly in Flow Builder.
Templates
ManyChat offers its users (both Free and Pro) 25 templates in total. They're divided into different categories: eCommerce, Estate to Loyalty Program, templates for Shopify, and so forth.
Here, you don't have to pay for installing Pro templates. Instead, you must upgrade to the Pro plan to use templates with the Pro mark.
The installation process is quite straightforward. You definitely won't meet any difficulties to finish this stage thanks to the navigable line, straightforward interface.
Furthermore, users can quickly review the whole template via simple clicks before installing it, saving time for finding a suitable one.
Bot Settings
The Settings section in ManyChat includes 21 tabs allowing users to perform multiple settings and customization for their bot.
General: Where you can find the settings for Bot Time Zone, Clone feature, Bot template creation, and other actions like Refresh/ Disconnect/ Remove Facebook Page
Live Chat: Offer 2 setting options for Live Chat (mentioned above); plus add Snippet
Growth Tools: Able to set Widget Localization, add a website to your authorized list, and remove Manychat branding (Pro plan only)
Notifications: Select channels to receive notifications (Pro: SMS vs. Email), Messenger (Free). Plus, set the time for contact updates
Custom Fields: Create Custom Fields to store all contact information
OTN Topics: Here, you can create one-time notification topics for your flows
Payments: Manage and make payments for your subscription; furthermore, view order history and other payment-related information
Billings: The tab where you can manage your subscription, from viewing billing history or making plan cancellations
Integrations: Set up and manage all ManyChat integrations
Messenger/ SMS/ Email: Place to monitor your overall Messenger, SMS, and Email status
WhatsApp/ Instagram/ Apps (BETA): Not available at the moment
Installed Templates
Logs: Where you can check whether any issues with your bot's functioning
Pixel: Here, you can set up and log events from your website
My Profile
My Profile allows users to have a quick overview of their account, including connected pages, your installed templates, settings, and compliance monitoring.
The Accounts tab contains all main information about all the page that connected to your account with:
Name: Display the page name
Subscription: Show the subscription status of each page (Expire, Free, or Pro)
Role: Your role on the page
Open Live Chats: Display the number of LiveChat threads that are opened on each page
Active Contacts: Actual number of people subscribed to your bot
Pin: You can pin favorite accounts in the sidebar for a more convenient user experience
Hide: Used when you want to hide expired or any account that you don't use regularly
Help
This is where you can ask for support when it comes to any issues during the usage period. It comes with 6 suggestions:
You can also find more information about the Terms Of Service and Privacy Policy if your problems are about policy or terms.
A walkthrough of some ManyChat applications
We have gone through almost every feature we have in a personal account after signing up for a ManyChat plan (both Free and Pro). Let's talk about some essential settings for your bot in ManyChat.
Connect a Facebook Page to your ManyChat account
To start off the ManyChat bot, you need to connect your business Facebook page to ManyChat. To accomplish the connection, click the Home section on the left sidebar, then:
Tap on the Connect button on that Facebook block
A popup will appear. Scroll down to find the page you want to connect to ManyChat (Happen when you're the admin of more than one pages)
Select Connect
This process goes the same for connecting SMS and Email to your ManyChat account. Still, these features are limited to Pro subscribers only.
Greeting Text
The Greeting Text is what people first see when they click the "Send Message" button on your Facebook page. It includes basic information allowing a person to learn about your bot as well as its offerings.
For setting up the Greeting Text, you need to:
Navigate to Settings -> General tab -> Greeting Text
Type your text in the box inside the Greeting Text block
Preview the text by clicking See how it looks under the text box
Finally, select Save
Get Started button vs. Welcome Message
Typically, there will be a "Get Started" button at the bottom of the page's welcome chatbox, where people can start a conversation with your bot. In other words, by clicking on this button, people allow your bot to send automated messages.
Thus, the Welcome Message is the first message a user receives when a person clicks the "Get Started" button on your Facebook page.
As businesses, for every "Get Started" message you get, it means a new contact is added to your contact list. And instantly, that contact also gets an automatic response from your bot.
To set up the automatic reply (the welcome message), follow these steps below:
Open Settings -> Messenger -> Welcome Message -> Edit button
Click on the Welcome Message block to open its customization
Write your welcome message that contains some of your business details, etc
Click the Add Button so your contact can start interacting with your bot as well as figure out what are that contact' needs
Check your Welcome Message by clicking the Preview button
When finish, Publish and Enable your Welcome Message
Note: The "Get Started" button is a Facebook feature so that you can't disable as well as customize it.
Default Reply
Default replies are preset responses used when your contacts type in something your bot can not recognize or don't match any of your Keywords settings.
Default Replies' function is to forward contacts (with questions the bot can't answer) to admins for support. Another way you can deal with unanswered questions is to use the Buttons and Quick Replies.
You can set the Default Reply in Settings -> Messenger -> Default Reply -> Edit button. Then, you can build the bot flow like usual.
Furthermore, users can:
Set the "Notify Admins" Action for Default Rely so that the admin will get notification about the question asked in conversion and move that contact's to the Live Chatbox
Set the firing settings. There are 2 options: Once per 24h (your Default Reply won't be triggered every time) and Every time
Replace your Default Reply Flow with another one by selecting Reply order
Just like other flow, you can choose to Preview, Publish, Disable or Enable the Flow
Flow Builder
Things that make ManyChat an amazon chatbot-making tool is their bot builder system, including 2 builder types:
Visual Flow Builder: Used for complicated bot editing and viewing the whole bot flow
Basic Builder: Used for editing block content in linear form
Read more about these 2 builders of ManyChat in our ManyChat detailed review. They make the whole chatbot-making process and generated flows very visual and straightforward, hence, easier to structure and build conversations.
Basically, when clicking on the Edit button of any flow, you will be taken to the ManyChat Flow Builder's working screen. It's possible to switch between the Basic Builder and Flow Builder during your editing process.
By clicking on each block, you can edit the text, select content type, add buttons, bot elements (like Image, Card, Video, File, etc.), and many more.
The bottom line!
Chatbot marketing has become almost indispensable to be hands-on with any business's long-term digital marketing strategies in generating leads and customers.
With ManyChat, building a bot flow has never been so easy though you might need a bit of time to truly master all features and make the most of ManyChat power.
As a content executive at Mageplaza, Mia Hoang understands the value of content marketing lies in the engagement between the customers and companies. Her wish is to bring a unique voice, different perspectives, and new light for every audience.
Website Support
& Maintenance Services
Make sure your store is not only in good shape but also thriving with a professional team yet at an affordable price.
Get Started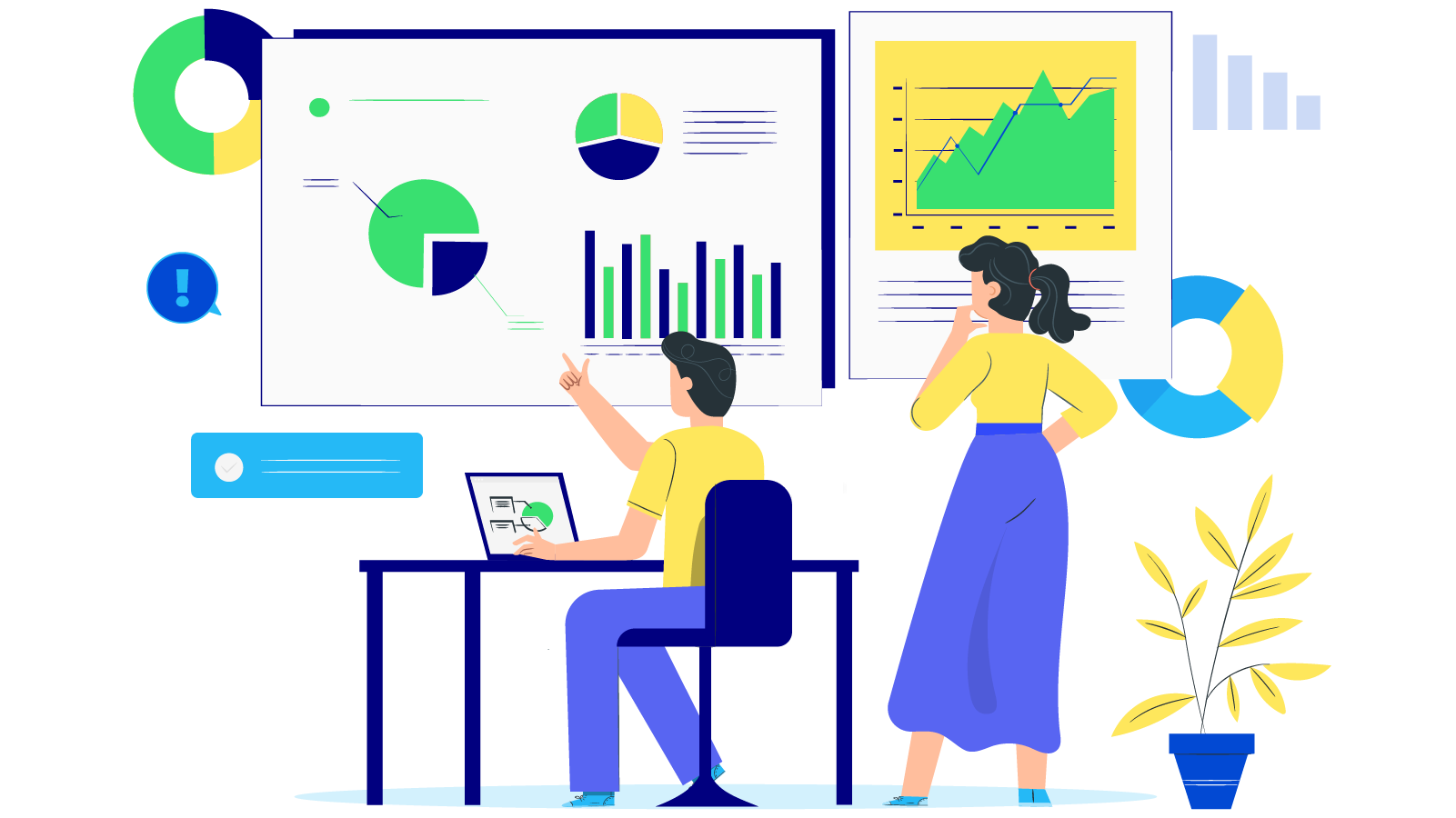 New Posts



Subscribe
Stay in the know
Get special offers on the latest news from Mageplaza.
Earn $10 in reward now!