Magento to Shopify Migration: The Ultimate Guide
The Most Popular Extension Builder for
Magento 2
With a big catalog of
234+ extensions

for your online store
Magento has long defaulted as a leading platform for online business stores. However, more and more merchants are moving their business to the Shopify platform because of its fantastic user-friendly interface and flexible features.
It can be said that moving from Magento to Shopify is like moving an entire house from one location to another. Although it is essential, moving the whole house is a big deal, and it needs to be carefully prepared for everything during the move.
Don't worry too much about what obstacles will be encountered when migrating Magento to Shopify. Because in this article, we will provide you with the most solid and detailed knowledge system before migrating Magento to Shopify.
Without further ado, let's jump into the details and don't forget to follow the tutorial at the end to get more valuable information.
Table of Contents
Why need to Migrate to Shopify store
Switching to Shopify will be a good move for you to run and manage an online store. Whether you do the Magento to Shopify migration yourself or you hire help from experts, here we are, briefly explaining some of the reasons why you need to migrate Magento to Shopify.
Firstly, Shopify was developed with the aim of helping business owners build and manage their online stores. Obviously, switching to Shopify will make your business process more straightforward and easier than any other platform.

Second, switching to Shopify brings a lot of benefits to your business. After switching to Shopify, you will have your online store with minimal effort and time to maintain. Reality shows that the cost to keep a store on Shopify is lower and cheaper than the price in the market today. Obviously, this is a great cost marketing strategy for any online store.

Third, this is also an important and urgent reason for any online store. it's security and storage. It's perfect because Shopify offers a great security system compared to any other platform. Besides, you can also benefit from the wide range of add-ons, apps, and other features available on Shopify.
That's all for the question of why you should migrate Magento to Shopify.
Learn more: Shopify vs Magento
What Data Can You Migrate From Magento To Shopify?
Surely you are still wondering what data on your website can be transferred from Magento to Shopify. Here are all:
Products & Product Categories: Include all products on a website such as a name, full description, SKU, status, price, URL, images in the description, manufacturer, special price, weight, variants, meta description, meta title, base image, and the number of in-stock goods.
Products' Visuals: Include the details of the product, its shape, color, and size. Data of Orders: Include amount of purchase, purchased goods list, payment details, order date, customer data ID, order status, product price, order products, quantity, discount price, subtotal price, tax price, total price, shipping price, customer name, order comments, billing and shipping address.
Static Page Content: Include all pages like About us, Blogs, Contact pages, and other CMS pages.
Images: Main pages and between content.
Integrations: Include all the customer's information, such as phone number, location, name, email addresses, and more.
Benefits: Discounts, coupons, etc.
Challenges of Migration from Magento to Shopify
It's time to prepare for the migration process if you have decided to do it. And we also warn you that this is not an easy job, it requires you to overcome some challenges during the whole migration process. First of all, you need to re-examine how your store is currently operating to move only the most necessary operating structures. Overall, if you need assistance with anything, Shopify is there for you around the clock.
In addition, you also need to ensure that all necessary data is migrated. When moving to a new home, it is highly vital not to damage or lose anything. It also applies to the store. And the biggest challenges are probably data migration, existing structure, and the data migration on that website.
How to Migrate Magento to Shopify in 7 Steps
Let's dive deeper into the Magento to Shopify migration process to see exactly what steps you need to take for a smooth migration.
Step 1: Prepare Your Shopify Store
Make Your Shopify Store Ready
In this first stage, you need to go through the installation of your Shopify store without any additional modules or changes. Shopify stores come with a 14-day trial, you can totally start from there. Using the Shopify platform in the trial version will familiarize you with the different functionalities in Shopify. Once you get used to it, you can choose from one of the paid versions below.
Choose A Theme
Shopify themes are highly recommended by Shopify in the default. You can choose a Shopify theme according to your needs, as well as customize it to suit your store. However, make sure that the migration is complete before you begin to customize the theme. This helps you avoid some risks.
Step 2: Backup Your Magento Store
As we mentioned above, during the migration of Magento store to Shopify store, any kind of mishap can happen. That's why we need to perform data backup to ensure that all the data on your store is safe.
Do the following steps to create a backup in Magento 2 store:
First, login to the Admin panel, click System. In the Tools section, choose Backups.
Second, tap the button in the upper-right corner to pick the type of backup you want to create.
Magento provides 3 backup options:
System Backup: It helps you to create a full backup of all the data and file systems on the store. Media folder may also be included in this backup.
Database and Media Backup: It allows creating specific backups of the media folder and the database.
Database Backup: It only creates a backup of the database
After all, click the OK button to complete.
Step 3: Download An App for Import
Shopify's app store has thousands of magical apps, but which one keeps you moving? From my point of view, Store Importer is a free option that you can consider using. It's an easy-to-use app when migrating data to Shopify.
You can download it from the Shopify admin page, choose Apps, then Store Importer and follow the guides. Also, you can refer to a few apps below for importing data to the Shopify store:
Step 4. Export Data from Magento
Well, it's time to get ready for your new home. To do that, you need to pack it up and hand it over to the mover. By following the simple steps below, you will complete the data export process.
Log in to the Admin panel, go to System > Data Transfer > Export

In the Export Settings section, you can set the Entity Type to one of the below options:

Products
Customer Addresses
Customers Main File
The importing process via CSV or XML file has to be repeated for each of these entities if needed.
Choose the default Export File Format in CSV or select XML if you are applying an app like Transporter.
If you wish to enclose any special character in the data as an escape sequence, you only need to choose the Fields Enclosure checkbox.
Now, you need to scroll down & press on Continue (Also make sure the cron job is running)
In the default, all the exported data files are located in <Magento-root-directory>/var/export folder. If you enable the Remote storage module, all exported files are located in the <remote-storage-root-directory>/import_export/export folder.
Step 5. Import Your Store Data to Shopify
Up to this step, all data has been imported into the Shopify store. At this point, you just need to do a few more steps and you're done.
If you are applying the Shopify's Store Importer*App, please go to the Shopify admin page, navigate to Apps > Import Store
Choose your platform option as Other as Magento is not listed in the default
Under the Upload files, press on Add file and choose your exported files.
Choose the CSV file you have exported from your Magento store
Click on Continue import > Import to complete.
How to import products separately then
Log in to the Shopify admin, navigate to Products > All products.
Select Import.
Choose Add File and add product CSV file (Note that the product CSV file should not exceed 15MB).
Press on Upload file.
In case you have any issues during the importing product data process to Shopify, you can check Common import issues.
How to import customers separately then
Login to your Shopify admin, select Customers > Import customers.
Click on Add file, and then choose your customer CSV file.
Click on Import customers.
Note: The order of importing product, customer, & historical order data is so important.
If you follow orders, the migrated orders will be linked to their associated products, customers & you can go to the customers' complete transaction history. You must import the data in the below order:
Products
Customers
Historical orders
Note: Customers Passwords Can't Be Migrated To Shopify
Customer Passwords: The passwords are stored encrypted, so they cannot be moved. You can only migrate customer records instead of customer accounts.
Step 6. Review Imported Data
Surely you will not forget to check in the truck or under the bed, make the chair in your old house to avoid missing anything when moving house, right. And the same goes for data entry. You should always double-check what you have entered to ensure there aren't any errors or missing something.
With Shopify, it's super simple to review and update data. Below are some of the common problems you will get when reviewing imported data.
Data imported successfully but with minor changes: Quickly check the import for missing data and then edit them manually.
Some Products/Customers failed to import: Check to see if your product and customer import was successful, if not, you need to add them manually from the Products or Customers import option.
Failed import of Bundled products: You are able to add these products manually or use product bundling apps from the shopify store.
Unpublished Products but imported successfully: The products in Magento with product visibility that are set to hidden, will show as unpublished in Shopify. To fix this, you can change product availability in Shopify.
Tags added to imported records: Tags will be added to imported records in the following structure import__ by the Store Importer app.
Sometimes the Product Variants failed to import: In case you miss variations like color, size, weight, etc, you need to add them manually.
Imported products have no dimensions: You can add dimensions to the product description to resolve this.
Digital products imported successfully but are not published: If you want to sell digital products in Shopify, you need to install a specific Shopify app.
Step 7. Design Your New Shopify Store
Finally, it's time to decorate your Shopify store. Shopify is an easy platform to customize compared to Magento. It offers pre-made themes and many visual suggestions that help you design an eye-catching and beautiful online store.
Shopify has 10 free themes and 64 premium, paid themes to choose from. Their prices range from $140 to $180. Don't worry about their compatibility on mobile devices either, as all themes are mobile responsive and provide great shopping experiences for your customers.
Conclusion
That's it. You finally have everything you need to know before moving from the Magento store to the Shopify store. After reading this detailed guide, we hope that you can find valuable information, and then Magento to Shopify migration will be in the palm of your hand.
Well, we did, and now it's your turn to reap the benefits of Shopify and make your home more attractive and appealing. Please share with us your results after migrating.
Thanks a lot for reading, and see you in the next post!
Magento Support
& Maintenance Services
Make sure your M2 store is not only in good shape but also thriving with a professional team yet at an affordable price.
Get Started
New Posts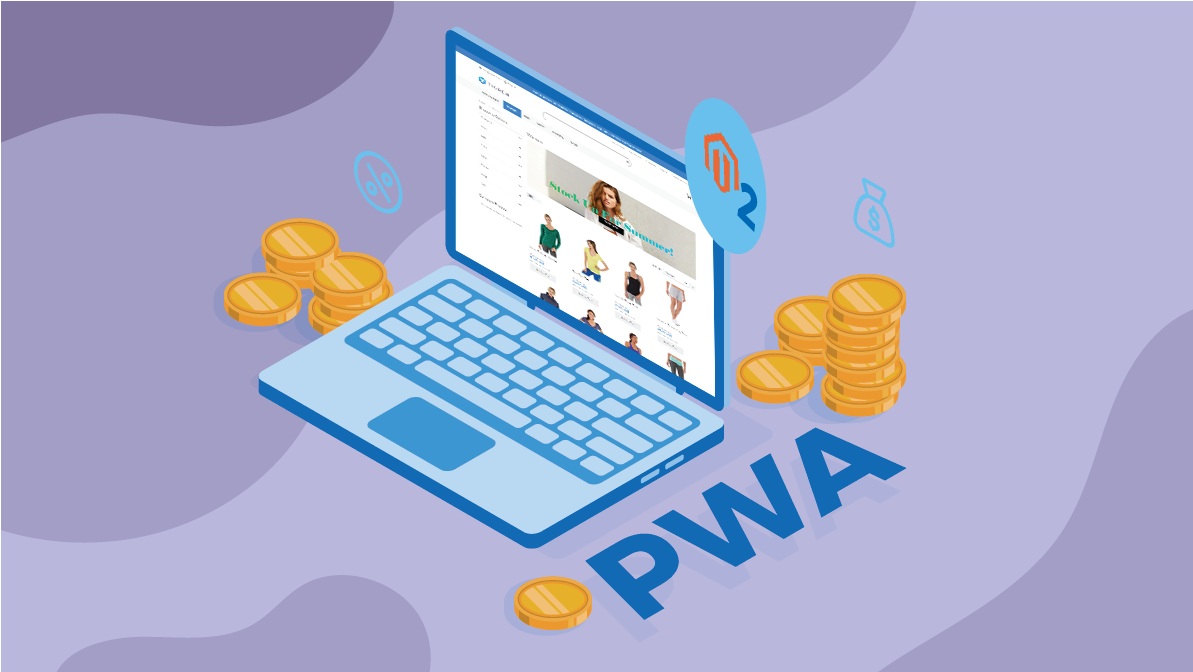 Subscribe
Stay

in the know

Get special offers on the latest news from Mageplaza.
Earn $10 in reward now!