Top 10 Ecommerce Order Fulfillment Software For B2B Business
The Most Popular Extension Builder for

Magento 2
With a big catalog of 224+ extensions for your online store
Handling inventory and completing orders stands out as one of the most arduous aspects of managing an ecommerce store. This endeavor demands a significant amount of time and often entails substantial storage space, which can be challenging to secure, particularly when your business is experiencing rapid growth.
Today's consumers are increasingly less patient when it comes to waiting for their ecommerce orders. They now expect faster shipping times. Recent data reveals that 27% of consumers anticipate receiving their products either on the same day they place their order or within the following day.
So, how can you meet these continually evolving consumer expectations? The key lies in optimizing your fulfillment procedures, and fortunately, this is an attainable objective with the right ecommerce order fulfillment software.
Within this guide, we will analyze ten of the leading ecommerce order fulfillment software platforms currently available. By the end of this guide, you will possess the necessary insights to select the most suitable software for your ecommerce warehouse.
Table of Contents
What is an Order Fulfillment Software?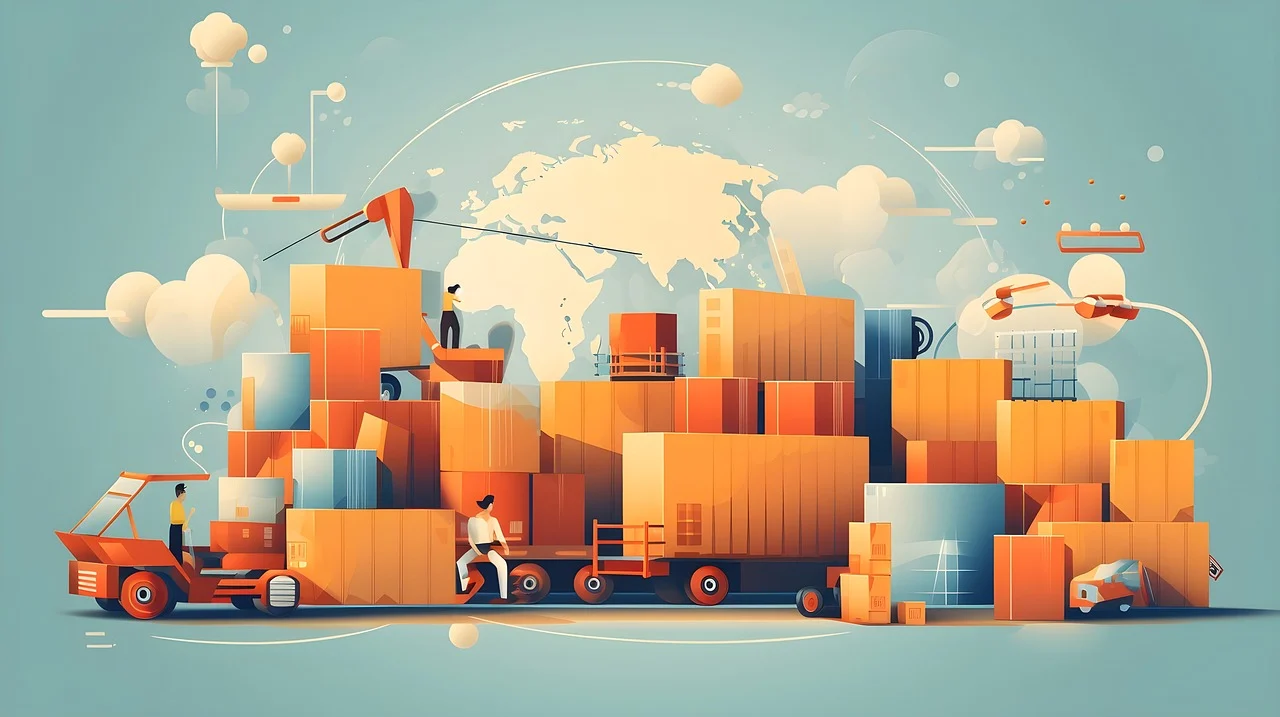 Ecommerce fulfillment encompasses the entire sequence of actions involved in receiving, processing, and delivering online orders to customers. In the realm of ecommerce, as soon as customers place orders via an ecommerce platform, the fulfillment process is set in motion. This process encompasses activities such as inventory management, product retrieval from storage, packaging, and coordinating the logistics of delivering products to the customer's location.
The efficiency of this fulfillment process is of paramount importance as it directly impacts the speed of delivery, order accuracy, and the overall shopping experience. Managing an efficient fulfillment process can be a formidable challenge, particularly for businesses with limited expertise in inventory control and logistics. Fortunately, numerous third-party companies specialize in providing these services, thus alleviating a substantial burden for ecommerce business owners.
Ecommerce fulfillment services are specialized third-party firms that offer comprehensive solutions to streamline the order fulfillment process for online retailers. They handle every aspect, from order sorting to packing, shipping, and real-time tracking of products, ensuring that purchased items are delivered punctually and to the satisfaction of customers.
By outsourcing fulfillment to these services, ecommerce business owners can concentrate on their core activities, such as marketing and product development, promoting further business growth while simultaneously upholding high-quality service standards for their customers.
Comparison Criteria
Numerous options for ecommerce order fulfillment software platforms exist, and there are standout solutions that surpass their competition. To ensure you obtain software that aligns with your specific needs, it's essential to consider crucial factors such as pricing, features, and ease of use.
Pricing
The majority of ecommerce fulfillment solution providers offer pricing models on a monthly or yearly basis. It's crucial to find an ecommerce fulfillment solution with a pricing structure that aligns with your budget. Opting for a solution that exceeds your budget may result in service interruptions and potential business downtime if you are unable to renew your plan. Conversely, it's advisable to avoid the cheapest ecommerce fulfillment solution, as it is likely to lack the essential features you require.
Features
The top-tier ecommerce order fulfillment software provides a diverse array of features aimed at streamlining and automating various processes. These features encompass, but are not limited to, integration with ecommerce and shipping platforms, automation capabilities, inventory management, as well as comprehensive reporting and analytics.
Additionally, the software should be adaptable, capable of scaling to accommodate your evolving business needs. Prior to making a selection, it is crucial to confirm that the software possesses the requisite features to enhance your ecommerce operations.
Ease of Use
Opt for an ecommerce fulfillment software that is user-friendly, allowing you and your team to readily comprehend, implement, and navigate the system. A more user-friendly solution translates to quicker utilization, resulting in a shorter time frame to realize its benefits.
Order Fulfillment Key Features
Inventory Management Capabilities
Businesses constantly need to strike a balance between keeping an adequate stock of products to meet customer demand while avoiding the pitfalls of excess inventory and unsellable items. This equilibrium is challenging to maintain because accurate inventory data is essential, and relying on manual inventory counts can quickly fall out of sync due to ongoing returns, shrinkage, and theft.
One of the significant advantages of ecommerce order fulfillment software is its ability to provide businesses with highly detailed inventory management. Real-time inventory management software empowers logistics managers to closely monitor stock levels across fulfillment centers and establish inventory alerts for popular SKUs, ensuring customers never encounter the frustrating "out of stock" notifications.
Order Management Tools
Efficiently handling orders from the point of order placement to delivery is a crucial element in identifying potential issues in the fulfillment and shipping process before they impact an order. If an order gets stuck during the picking process or experiences delays in the packing stage, the system can flag these problems for prompt resolution.
Moreover, advanced ecommerce order fulfillment software offers customers the flexibility to make order adjustments even after they've been submitted. Customers might reevaluate their purchases based on their financial situation or preferences, which can lead to changes in orders. This adaptability not only enhances customer service but also increases the average order value, contributing to customer satisfaction in a dynamic retail market.
Rules-Based Automation
Each online order is unique and requires a customized approach to ensure customer satisfaction. However, managing orders manually makes this nearly impossible. Rules-based automation enables retail businesses to establish specific criteria for customer orders based on certain characteristics, such as containing specific SKUs, shipping to particular addresses, or using particular shipping methods. For instance, a brand may decide to use special custom packaging for orders containing newly-released products or offer a promotional freebie for a limited time.
The ability to set up these custom rules in your ecommerce order fulfillment software ensures real-time communication of these customer experience initiatives to all fulfillment centers without the need to individually inform multiple teams on various platforms.
Reverse Logistics
Efficient and cost-effective returns management relies on the right fulfillment management software. When a customer requests a return or exchange, they expect the brand to handle their request promptly. This requires orders to smoothly go through the return shipping, inspection, and reconditioning processes so that customers can receive their refunds in a reasonable timeframe.
An order management system tracking both outgoing and incoming orders makes it possible to monitor every step of the return process and provide regular updates. Including a return slip within the order allows brands to choose a return shipping method that minimizes costs while simplifying the customer's return experience.
Managing Multiple Warehouse Locations
A multi-node fulfillment strategy empowers businesses to enhance supply chain resilience and reduce delivery times. However, effectively managing multiple warehouses demands a high level of visibility into each location. To prevent stockouts and reduce losses, brands need an advanced warehouse management system that can be accessed from any location.
Cloud-based software solutions enable businesses to forecast inventory requirements for each location and assign customer orders to the facility with the quickest processing time. This advanced order routing strategy can significantly reduce fulfillment and shipping costs, especially if orders can be directed to distribution centers that are closest to the end customer.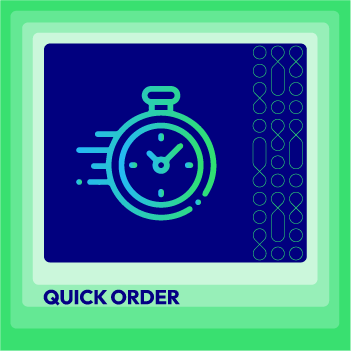 Simplify and fasten your ordering process to grow your business
Check it out!
10 Best Ecommerce Order Fulfillment Software
ShipBob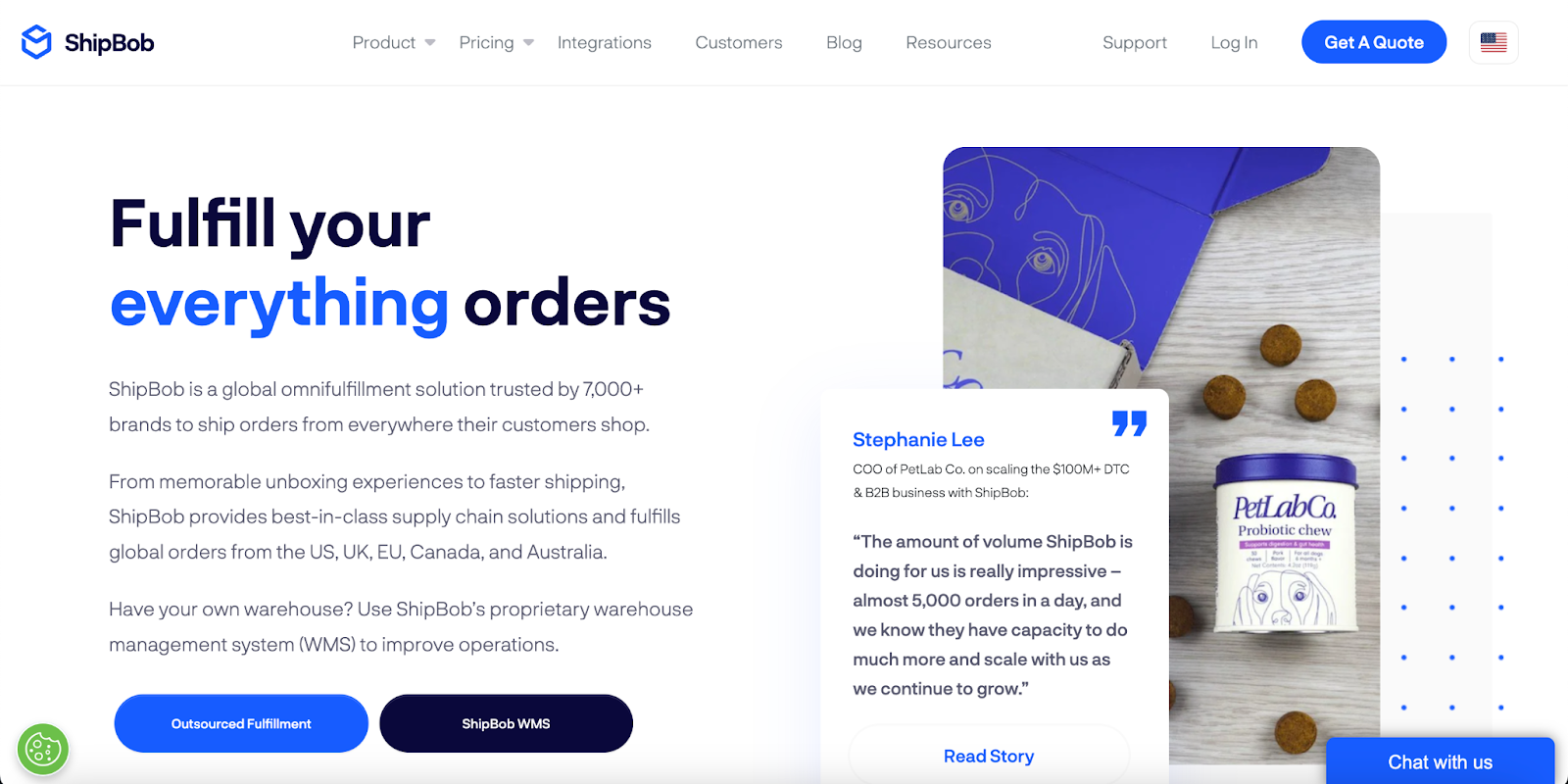 ShipBob serves as a comprehensive solution for ecommerce fulfillment, enabling sellers to rapidly expand their businesses. By shipping your products to ShipBob and integrating your store, the company manages the entire order fulfillment process on your behalf.
The core strength of the company lies in its extensive network of warehouses, which are currently located in the U.S., Canada, Australia, and the U.K. The U.S. network, in particular, allows for the swift delivery of products across the U.S. within just two days, while the international centers reduce shipping times for global orders. ShipBob seamlessly caters to both online and offline sales channels, seamlessly connecting with platforms such as Amazon, Walmart, Etsy, and eBay, broadening your sales opportunities. Moreover, it offers B2B fulfillment options, enabling you to fulfill wholesale orders for a wide range of supported retailers.
Despite ShipBob handling the entire service, you retain the flexibility to personalize your deliveries. For instance, you can utilize custom branded packaging, include personalized customer notes, or insert marketing materials within your packages.
Key Features: Key features encompass a strategically positioned network of fulfillment centers across the United States. Differing from some competitors that rely on centralized warehouses, ShipBob's approach of distributed fulfillment centers offers distinct advantages such as faster shipping speeds and optimal inventory management.
Notably, it provides a comprehensive set of features to address B2B and wholesale shipping needs, a feature that particularly caught my attention as many shipping solutions primarily concentrate on the requirements of B2C businesses.
Integrations: Integrations are extensive and include well-known platforms such as Amazon, NetSuite, Shopify, BigCommerce, eBay, Magento, Square, Squarespace, Walmart, Wix, WooCommerce, USPS, UPS, DHL, FedEx, and Shippo, among others.
Linnworks
Linnworks is an innovative cloud-based system for order management, offering ecommerce businesses a comprehensive solution to automate and oversee their entire order process. It encompasses a wide array of features, including inventory management, shipping integrations, order processing, and reporting.
The reason for selecting Linnworks lies in its capacity to enable users to efficiently handle orders from various sales channels, leading to streamlined order processing and a reduction in errors. It provides a sophisticated inventory management system that empowers online sellers to track stock levels across numerous sales channels and warehouses.
Linnworks also permits the establishment of reorder points for products to prevent stockouts, offers real-time updates on inventory levels and purchase orders, and allows users to create locations and bins, assign products to these locations, and oversee inventory levels at each site.
Key Features: Key functionalities encompass the automation of shipping processes through the configuration of rules and workflows. Users can specify shipping preferences for each sales channel, shipping destination, and order status. Linnworks offers robust reporting and analytics tools, assisting users in comprehending their business performance. Online sellers can generate comprehensive reports on sales, inventory, shipping, and customer data.
The platform additionally offers advanced filtering and customization options, such as date range, product categories, and sales channels, providing users with deeper insights into their business and facilitating data-driven decision-making.
Integrations: Linnworks' integrations encompass prominent shipping carriers like UPS, FedEx, DHL, and USPS, along with well-known online retailers and other software solutions, such as Amazon, eBay, Walmart, Shopify, QuickBooks, and ShipStation.
Zoho Inventory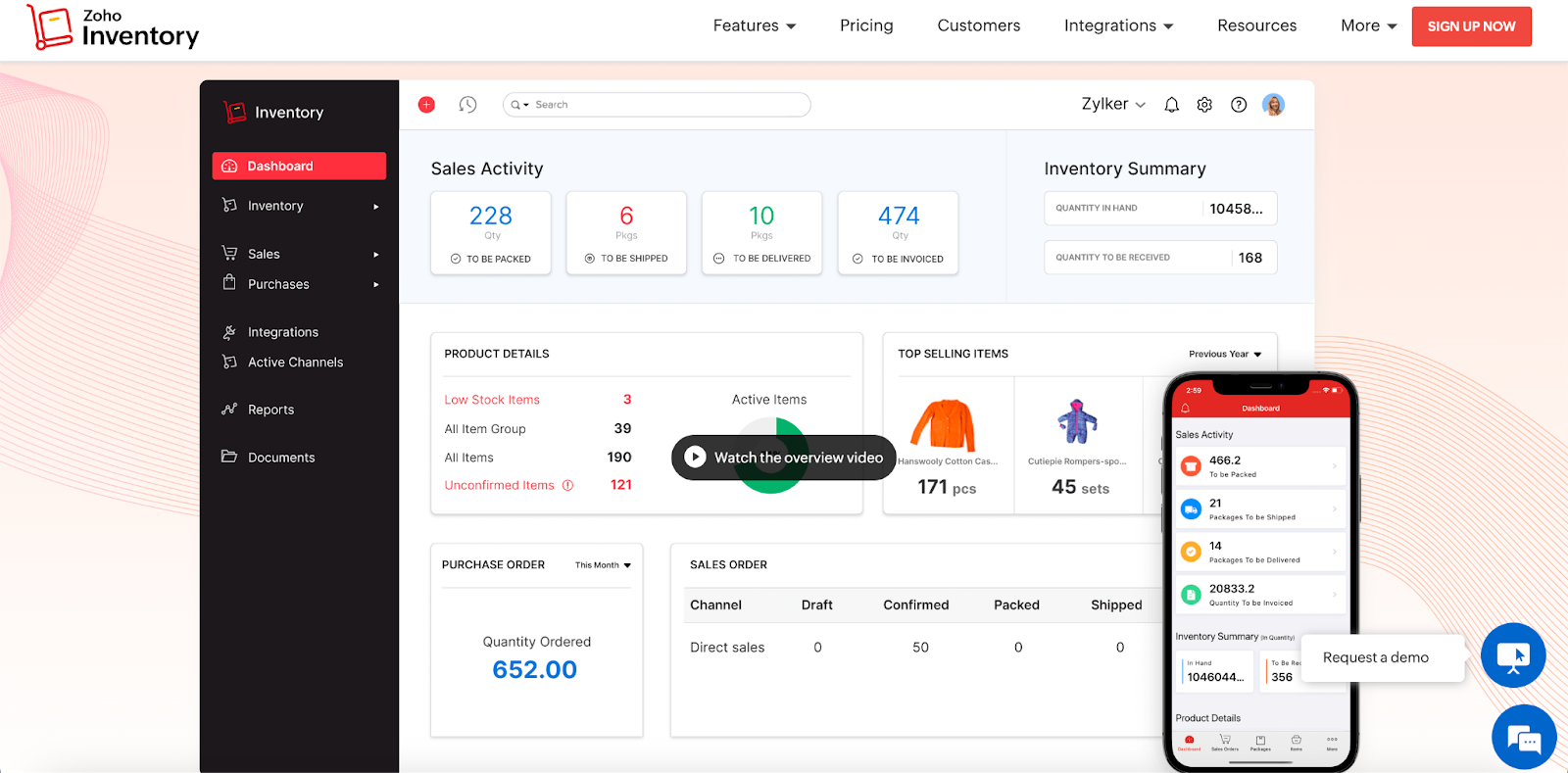 Zoho Inventory, developed by Zoho, is an ecommerce order fulfillment software. It aids ecommerce businesses in enhancing their order management and fulfillment processes. The dashboard provides a comprehensive overview of the status of all your orders, displaying information on pending orders, shipped orders, and those yet to be delivered. Additionally, you can access details such as low-stock items and your best-selling products.
The reason for my choice of Zoho Inventory is its outstanding support for multiple sales channels, enabling businesses to efficiently handle inventory and sales across various channels, including ecommerce platforms, marketplaces, and physical stores. This feature offers numerous benefits, such as centralized inventory management, channel-specific pricing and product descriptions, and streamlined order routing.
Key features: Key features include the automatic creation of packing slips, simplifying the process of transforming a confirmed order into a packing slip. The tool automatically imports relevant information, including the address and order details. Users can select from a selection of over 40 shipping carriers to generate shipping labels. Once a package is dispatched, both you and your customer can track its location using the AfterShip integration. Another noteworthy feature is the capability to drop ship products directly from your vendor to your customer, eliminating the need to handle your inventory.
Integrations: Integrations cover a wide range of platforms and services, including Shopify, AfterShip, USPS, Amazon Services, Canada Post, Bond, eBay, Etsy, Google Shopping, Mailchimp, and many others.
Fishbowl
Fishbowl is a comprehensive inventory management software equipped with robust features designed to enhance supply chain and warehouse management. Notably, the tool offers a mobile picking feature that simplifies the process. Users can download the mobile app and employ it to swiftly locate products within the warehouse while receiving real-time information about inventory availability to fulfill the order. This feature provides an effortless means of optimizing warehouse management.
The rationale for selecting Fishbowl lies in its excellence as an ecommerce order fulfillment software, primarily due to its formidable inventory management and order processing capabilities. It is a preferred choice for businesses aiming to enhance their order fulfillment operations.
Fishbowl distinguishes itself through its seamless integration with QuickBooks, creating a powerful synergy of accounting and inventory management within a single system. This integration ensures the accuracy of financial data and inventory tracking. Fishbowl further offers advanced inventory management functions, including multi-location tracking, barcode scanning, and customizable reporting.
Key Features: Key features encompass robust manufacturing and Bill of Materials (BOM) capabilities. These features enable businesses to create and manage intricate product assemblies while tracking the necessary components for manufacturing. This capability is particularly valuable for companies involved in light manufacturing or the assembly of products from various parts. Fishbowl's manufacturing tools facilitate production schedule planning, work order tracking, and efficient management of the entire manufacturing process, all within the same platform.
Integrations: When implementing Fishbowl in your ecommerce business, you gain access to an array of integrations with various options, including Avalara, BigCommerce, Endicia, HubSpot, QuickBooks, Salesforce, ShipWorks, WaspBarcode, WooCommerce, Zoho CRM, and many other software solutions.
ShipMonk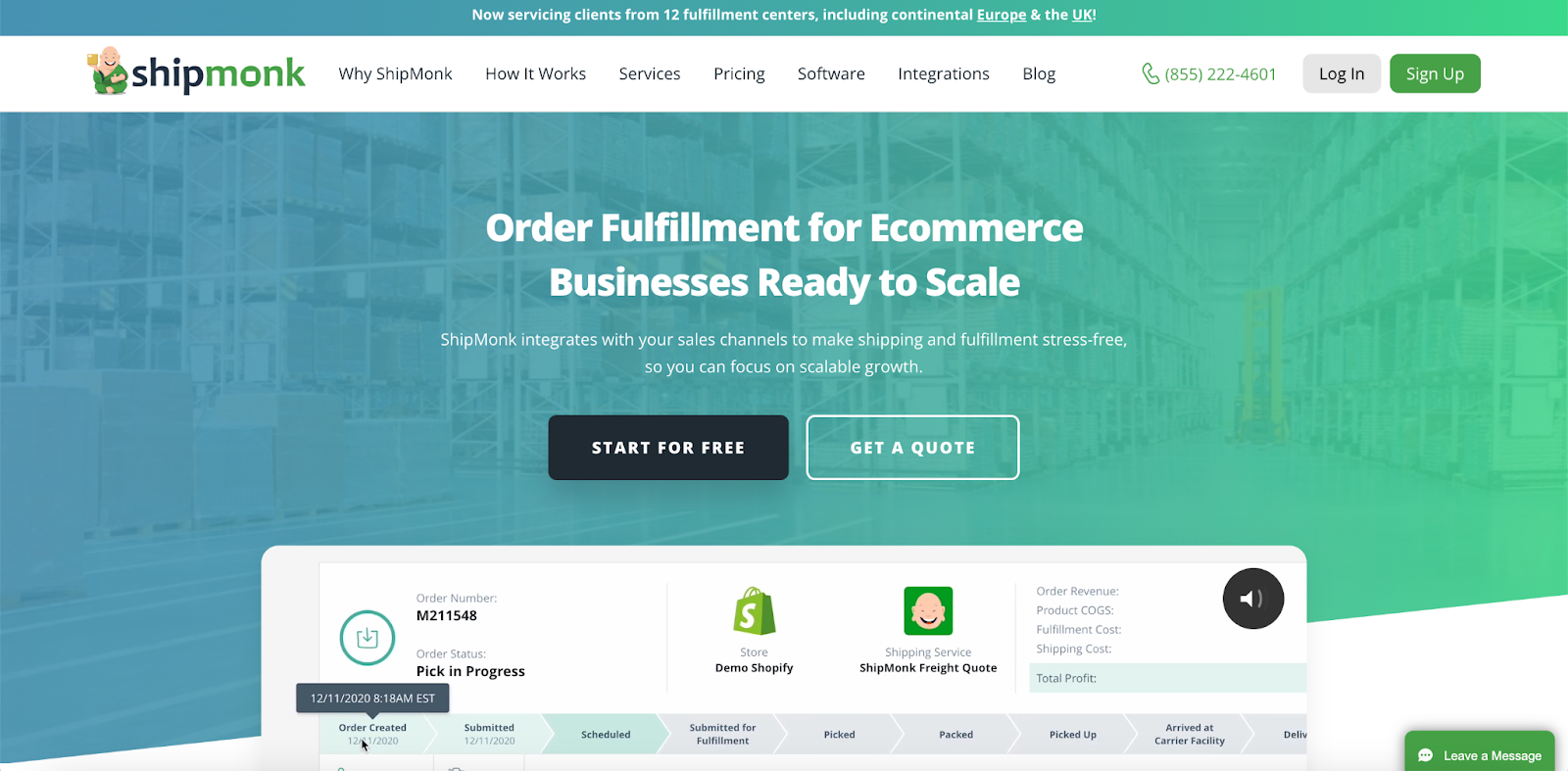 Shipmonk operates as an order fulfillment company catering to ecommerce businesses. Its primary function is to streamline sales across various channels, encompassing your own website and third-party platforms like Amazon, eBay, and Walmart. All that's required is to connect your multiple stores to the Shipmonk platform, which will then synchronize your customer orders. Once configured, you can access comprehensive order information, including the number of orders at each stage of the order process. This feature helps identify potential issues, such as delayed deliveries.
My choice of Shipmonk is primarily due to its exceptional role as an ecommerce order fulfillment software, offering scalable and end-to-end fulfillment solutions for ecommerce businesses. It distinguishes itself by seamlessly integrating inventory management, order processing, and shipping logistics within a user-friendly platform. Shipmonk leverages advanced technology and strategically located fulfillment centers to ensure rapid and accurate order delivery. Additionally, its real-time data and analytics empower businesses with valuable insights into their operations, facilitating data-driven decisions for growth and customer satisfaction.
Key Features: Key features include the presence of warehouses across the U.S., Canada, and the U.K., enabling swift shipping to customers in these regions. It also provides a range of shipping options, including fast 2-day delivery. The tool offers robust inventory management capabilities, allowing you to monitor inventory levels at each location and identify selling trends for more efficient stock distribution.
Integrations: Integrations cover over 75 ecommerce shopping carts, marketplaces, and solution providers, including well-known platforms like Shopify, WooCommerce, Squarespace, Wix, BigCommerce, Extensiv, Cratejoy, Shift4Shop, PayPal, Ecwid, and various other tools.
Fulfillment by Amazon
Fulfillment by Amazon is a service tailored to Amazon sellers, enabling businesses to delegate order processing to the ecommerce giant. This entails sending your products to Amazon's warehouses, where the company handles the fulfillment of any incoming orders. It proves to be a valuable choice for both small businesses looking to start their journey and larger enterprises.
The reason behind my selection of Fulfillment by Amazon is rooted in its significant advantage, which stems from gaining access to Amazon's renowned logistics infrastructure. This access empowers businesses to provide fast shipping services throughout the U.S., with listed products being eligible for Prime delivery, thereby increasing the likelihood of generating sales. Amazon assumes responsibility for all aspects of the delivery process, including handling returns and managing customer service, making it a remarkably hands-off experience. Additionally, the service offers seamless integration with third-party ecommerce platforms, including your own website.
Key features: Key features encompass its integration with Amazon Prime, where FBA products become eligible for Amazon Prime's two-day shipping, a highly attractive proposition for Prime members who prioritize swift and reliable delivery. This not only enhances the visibility of FBA products on Amazon's marketplace but also elevates the customer experience by offering expedited delivery options. This unique and effective offering can significantly boost sales for businesses utilizing FBA. While FBA is renowned for fulfilling orders placed on Amazon's platform, it also provides a distinct multi-channel fulfillment service.
Integrations: Integrations extend to a wide spectrum of over 100 connections, involving prominent software providers such as Shopify, BigCommerce, Adobe Commerce, and Wix. Additionally, the service offers developer-friendly APIs for those looking to create their own custom integrations.
Kibo Commerce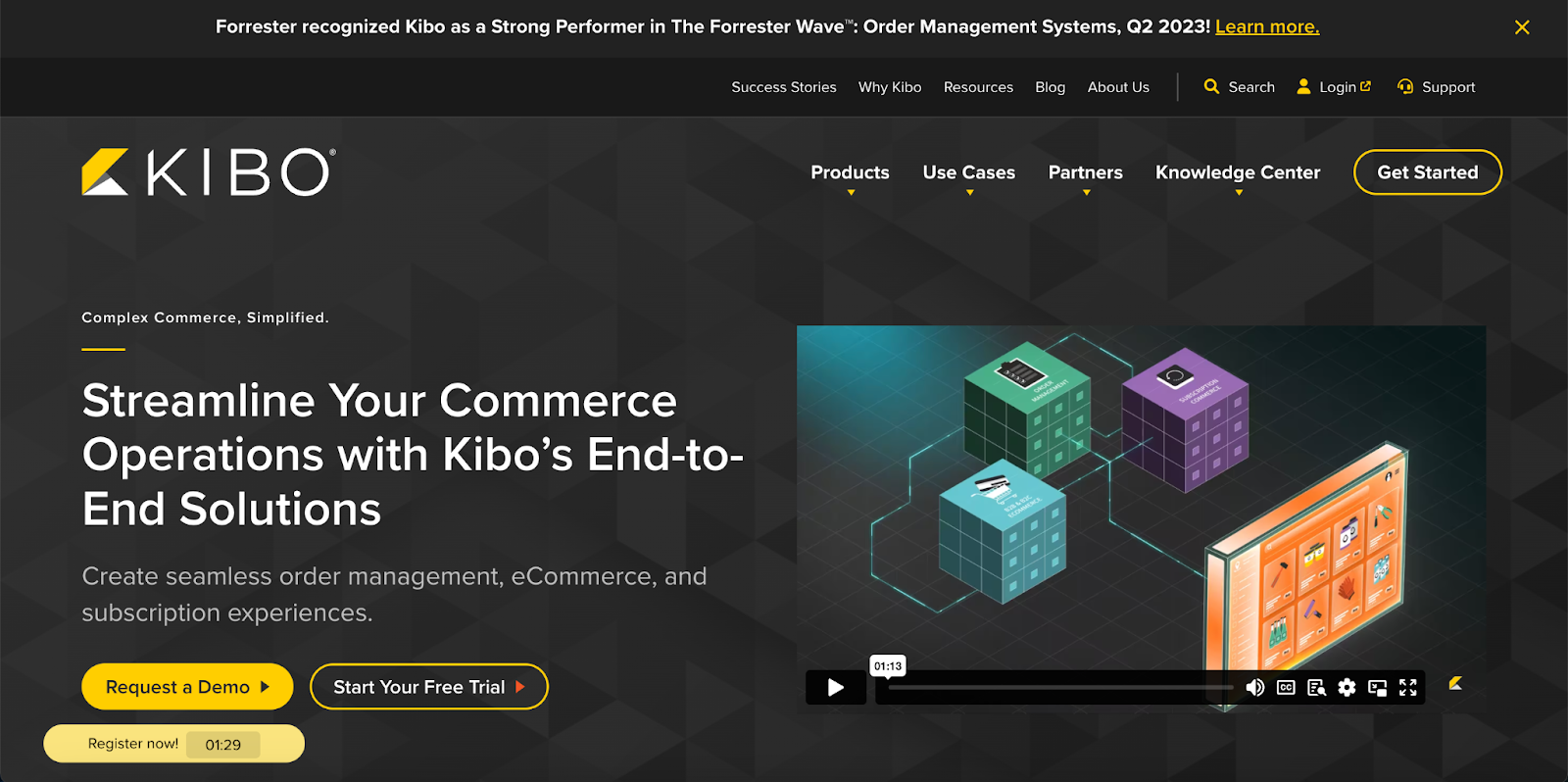 Kibo Commerce serves as an ecommerce order fulfillment software designed for retailers. This tool aids sellers in implementing omnichannel fulfillment strategies that encompass both online and offline sales channels. Additionally, the platform supports dropshipping, enabling you to accept orders and have vendors deliver products directly to customers. This setup reduces storage costs while expanding your product variety without the need to stock each item individually.
The rationale behind my choice of Kibo Commerce lies in the advantages of omnichannel fulfillment. It enables the direct shipment of online orders from in-store inventory, maximizing the utilization of existing stock and fulfilling orders from the location nearest to the customer. Alternatively, it allows for in-store pickup, where customers shop online and collect their purchases in-store. This not only offers convenience to customers but also drives foot traffic, potentially leading to increased sales.
Key Features: Key features revolve around a truly unified commerce platform that seamlessly integrates both online and offline sales channels. This capability empowers businesses to create a consistent customer experience across various shopping channels, whether customers are shopping online, in-store, through mobile, or other avenues. This is particularly valuable for businesses with a presence in both physical and online retail, enabling features like "buy online, pick up in-store" (BOPIS) and maintaining a cohesive customer experience across all touchpoints.
Integrations: Integrations encompass a range of services, including Apple Pay, Avalara, Bazaarvoice, Borderfree, ChannelAdvisor, Constant Contact, CyberSource Decision Manager, Google Pay, Kount, Lightspeed Retail, MailChimp, Pay with Amazon, PayPal, PowerReviews, Salesforce Sales Cloud, ShipWorks, Vertex, and Monetate, among others.
Bolt
Bolt serves as a logistics tool that offers comprehensive solutions covering the entire order fulfillment process. Its operation involves linking your ecommerce platform to the Bolt portal and transferring your inventory to their fulfillment center. Once this is done, Bolt automatically manages the fulfillment of your orders as they are received. The company operates warehouses in nine locations throughout the U.S. and Canada, facilitating rapid shipping across both countries. Furthermore, Bolt collaborates with multiple shipping partners, including FedEx, UPS, and DHL, providing you with discounted shipping rates through each of them.
The reason for choosing Bolt can be attributed to its feature-rich software. It offers valuable functionalities such as providing visibility into the delivery process with proof of delivery, including photographic evidence and delivery status estimates. The software also allows for inventory tracking across Bolt's warehouses, ensuring timely restocking. Bolt also handles returns and assists in minimizing associated costs. A notable feature is its commitment to redirecting unsellable returned items to people in need, rather than sending them to landfills. For instance, they partner with Furniture Bank to provide furniture to those who require it.
Key features: Key features encompass advanced in-house fraud detection and prevention capabilities directly integrated into the platform. While many ecommerce platforms rely on third-party solutions for fraud protection, Bolt's system combines machine learning and real-time data analysis to identify and prevent fraudulent transactions. This not only enhances security but also streamlines the order fulfillment process by reducing the likelihood of chargebacks and disputes.
Integrations: Integrations extend to platforms like BigCommerce, Salesforce Commerce Cloud, Quickbooks, Shopify, Order Desk, JetRails, Volusion, Solidus, and Adobe, among others.
NetSuite SuiteCommerce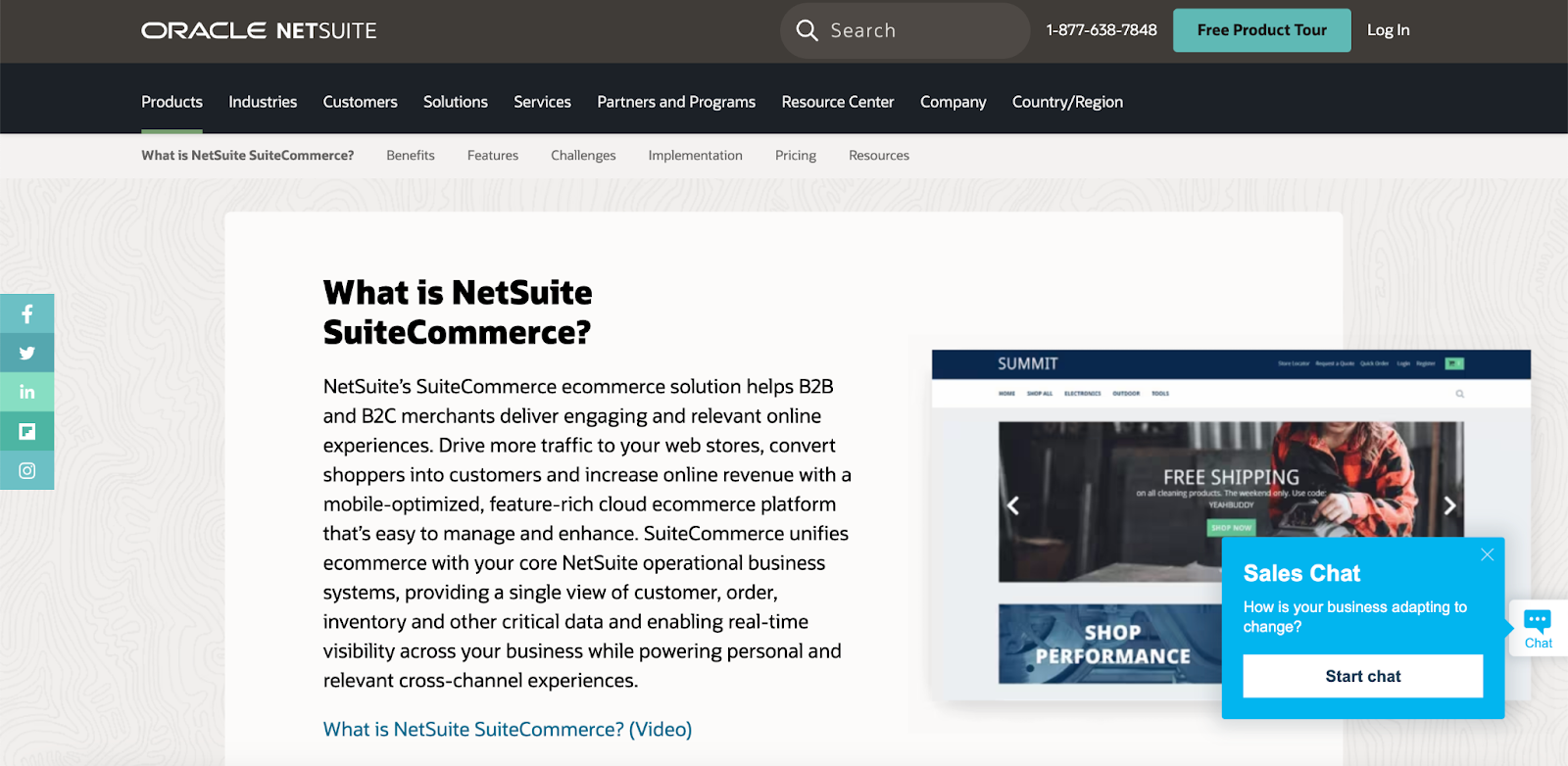 NetSuite Commerce is a comprehensive solution designed for retail businesses, encompassing software to facilitate order fulfillment. This versatile tool caters to both ecommerce retailers and those with physical retail locations. It offers the capability to connect all your business locations, providing tools for inventory management, financial management, and customer support. Additionally, the integration of the mobile Point of Sale (PoS) system allows for the seamless connection of your in-store operations with your online system.
My choice of NetSuite Commerce is grounded in its exceptional performance as an ecommerce order fulfillment software. It offers a wide range of features aimed at simplifying and enhancing complex order fulfillment processes. Notably, it excels in seamlessly integrating order management, inventory control, and customer relationship management into a unified platform, granting a comprehensive view of all business operations. This integrated approach empowers enterprises to effectively handle high order volumes, maintain precise inventory levels, and provide outstanding customer service.
Key features: Key features revolve around fulfillment capabilities that offer visibility into all facets of inventory management. This allows for more efficient inventory control, ensuring that customers always have access to the products they require. Furthermore, it facilitates order fulfillment from any part of the system, resulting in cost reduction and faster service.
Integrations: Integrations encompass a variety of platforms and services, including Oracle, JD Edwards EnterpriseOne, Sage Business, Affirm, NetSuite CRM, Lightyear, ZoneBilling, Neuron ESB, and Pacejet, among others.
ShipHero
ShipHero functions as an order fulfillment company that offers ecommerce stores a comprehensive solution for complete shipping outsourcing. With seven managed warehouses, the service is capable of achieving an average delivery speed of 3.5 days. Central to ShipHero's capabilities is its software platform, which plays a pivotal role in keeping you updated on your inventory status, including stock levels, delivery timelines, and shipping expenses. This feature ensures that you can promptly replenish low inventory levels.
The reason for my selection of ShipHero lies in its outstanding performance as ecommerce order fulfillment software, distinguished by its comprehensive approach to handling complex fulfillment operations. It excels in optimizing the entire order fulfillment process by seamlessly integrating order management, warehouse management, and shipping logistics into a unified platform. ShipHero's feature-rich offerings include advanced inventory management, real-time order tracking, predictive analytics, and customizable workflows, making it an ideal choice for enterprises aiming to streamline their operations, minimize errors, and elevate customer satisfaction.
Key features: Key features incorporate the multi-node inventory allocation capability, particularly beneficial for ecommerce businesses with multiple fulfillment centers or retail outlets. This capability allows businesses to intelligently allocate inventory from the most suitable warehouse or store, factoring in elements such as customer proximity, inventory levels, and shipping costs. Additionally, ShipHero's inbound inventory management empowers businesses to monitor and manage inventory as it arrives at the warehouse, well in advance of its readiness for shipping.
Integrations: Integrations encompass a wide array of well-known ecommerce tools, including BigCommerce, Brightpearl, Google Shopping, Klaviyo, Returnly, Shippo, Shopify, SPS Commerce, WooCommerce, Xdelivery, and other software solutions. Furthermore, ShipHero provides the option to leverage its API or tools like APIWorx and Pipe 17 to create customized integrations.
Conclusion
Outsourcing fulfillment services offers a range of benefits, freeing your time for core activities and optimizing your operations. Choosing the right fulfillment partner is crucial. Explore our article on the top 10 ecommerce fulfillment services to save time and find the perfect fit for your business.

Marketing Manager of Mageplaza. Summer is attracted by new things. She loves writing, travelling and photography. Perceives herself as a part-time gymmer and a full-time dream chaser.
Website Support
& Maintenance Services
Make sure your store is not only in good shape but also thriving with a professional team yet at an affordable price.
Get Started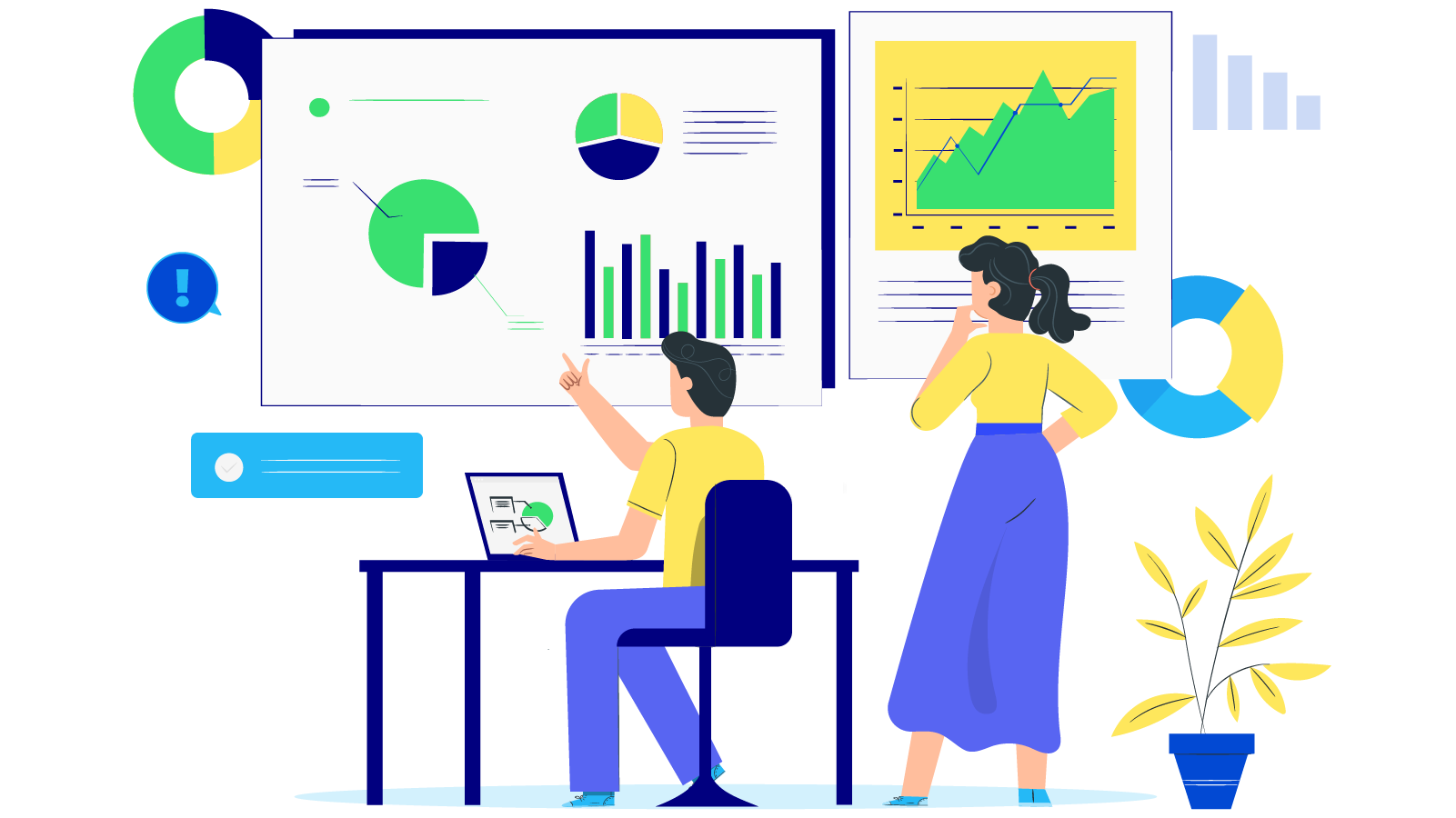 New Posts



Subscribe
Stay in the know
Get special offers on the latest news from Mageplaza.
Earn $10 in reward now!