What Is BFCM? Strategies for A Successful 2023 Sale
The Most Popular Extension Builder for

Magento 2
With a big catalog of 224+ extensions for your online store
The five-day span from Black Friday to Cyber Monday is the biggest holiday shopping season in the United States, with a huge revenue of billions of dollars every year. Therefore it can turn into a massive weekend of success for online retailers worldwide if they plan it well in advance.
In this blog, we will cover everything you need to know about BFCM, starting from getting to know what it is, and when to start preparing, to working tips and strategies.
Table of Contents
What to Know About BFCM
What Is BFCM?
BFCM is the short form for Black Friday and Cyber Monday. Traditionally, Black Friday annually falls on the first Friday after Thanksgiving, and the next Monday after that is considered Cyber Monday. It has become a phenomenon since the 1960s as a result of a crowd rushing to kick off their Christmas and New Year's shopping.
However, it wasn't until the 1980s that merchants realized the enormous sales potential of this period. It was only then that Black Friday became the biggest shopping event of the year in the U.S. On the other hand, Cyber Monday emerged much later, in the 2000s, due to the surge in e-commerce and online shopping.
When Is BFCM 2023?
Mark your calendar! Here are this year's BFCM dates:
Black Friday – 24th November
Cyber Monday – 27th November
Is BFCM Important to Online Sales?
The buzz around BFCM or Cyber Week is undoubtedly familiar to most people. Every year, we usually jump into countless videos of a crowd pushing each other to get their hands on some huge sale-off products.
Luckily, this negative phenomenon has significantly reduced recently, as customers are turning to online shopping for its convenience and even more incentives than offline shopping. In fact, according to NRF, in 2022, 87.2 million customers went shopping online on Black Friday, and 77 million on Cyber Monday.

Let's take a look at the revenue from last year's BFCM to see the potential hidden in this treasure chest.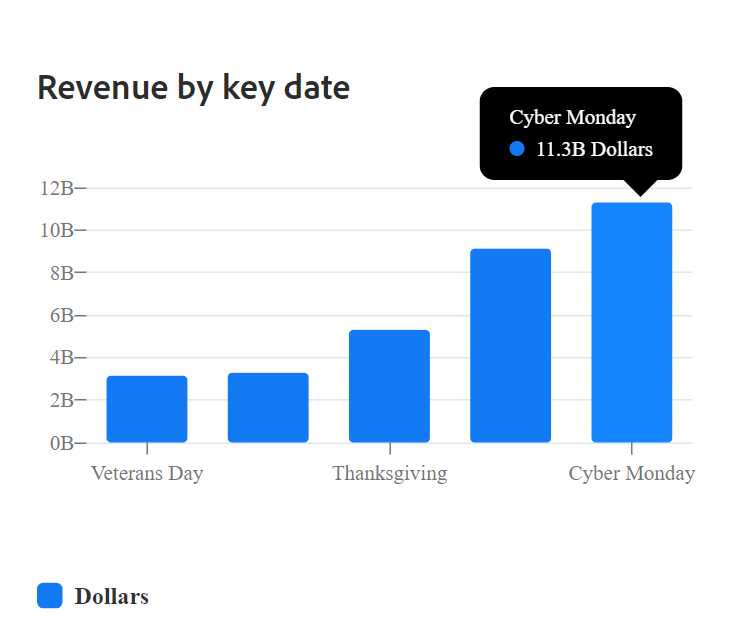 Black Friday revenue in 2022: $9.12 billion
Cyber Monday revenue in 2022: $11.3 billion
Besides boosting sales for your store, Cyber Week is a great time to sell off items that have been sitting on your shelves for a while. The urgency to get lightning deals can accelerate the sale of surplus products and boost your earnings.
Additionally, since BFCM has become an indispensable shopping season, your competitors for sure would seize this opportunity to offer numerous tempting deals. Just standing by and doing nothing might send your customers straight to your competitors.
When to Start Planning for BFCM
Based on Mageplaza's past experiences in implementing BFCM campaigns, the ideal time to start planning is as early as possible, typically around Quarter 2. However, this may vary depending on various factors, and planning becomes more efficient if you have prior BFCM seasons' data to work with.
In case this is your first time, you need to start integrating tracking tools into your site. We highly recommend using Magento 2 Google Tag Manager from Mageplaza as it already includes the most popular tools for data management, such as GA4, Facebook Pixel, and Google Ads.
Commencing planning early gives you enough time to build a plan, prepare essential resources, and launch the campaign.
11 BFCM Marketing Strategies to Outsmart Competitors
Launch Campaigns Early
Don't wait until the last minute for your BFCM marketing. Make sure that you start early enough for a smooth operation.
Things to do:
Share some teasers of Black Friday on social media or via email.
Provide exclusive early access to discounts or even run early-bird Black Friday promotions for all customers.
What to achieve:
Generate early excitement about your Black Friday offers.
Create urgency ahead of time.
Prevent customers from missing Black Friday sales because of joining too late.
Example from brands: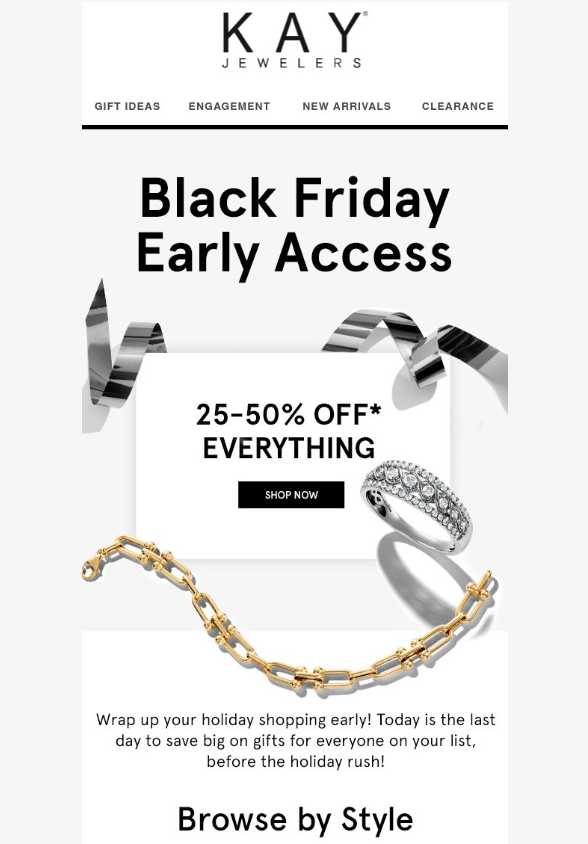 Small tips:
Late September/ early October: Time for Soft Marketing Initiative
Late October/ early November: Time for Aggressive Black Friday Campaign
Black Friday weekend: Time for Prominent Online & In-store Promotions
Share Sneak Peeks
Black Friday marketing can be tough due to high competition, so don't be shy about offering early glimpses of your upcoming deals. Clearly communicate to your customers what they can anticipate with your Black Friday promotions.
Send out previews of discounts on your best-selling products. Create anticipation among your customers for significant price reductions.
Example from brands: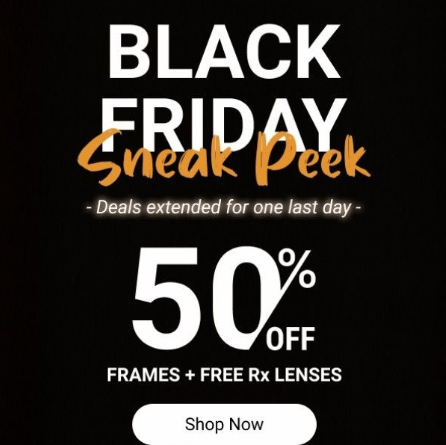 Small tips: Make the most of every platform you have to share sneak peeks, including email marketing and social media. Don't forget to include sharing buttons for added reach.
Grow Email Marketing List
When it comes to Black Friday marketing, your email list is one of your most essential tools. It allows you to focus on customers who are highly interested in your Black Friday deals.
Create a special Black Friday email list and form in advance, strategically placing it on your website or even as a dedicated landing page.
Example from brands: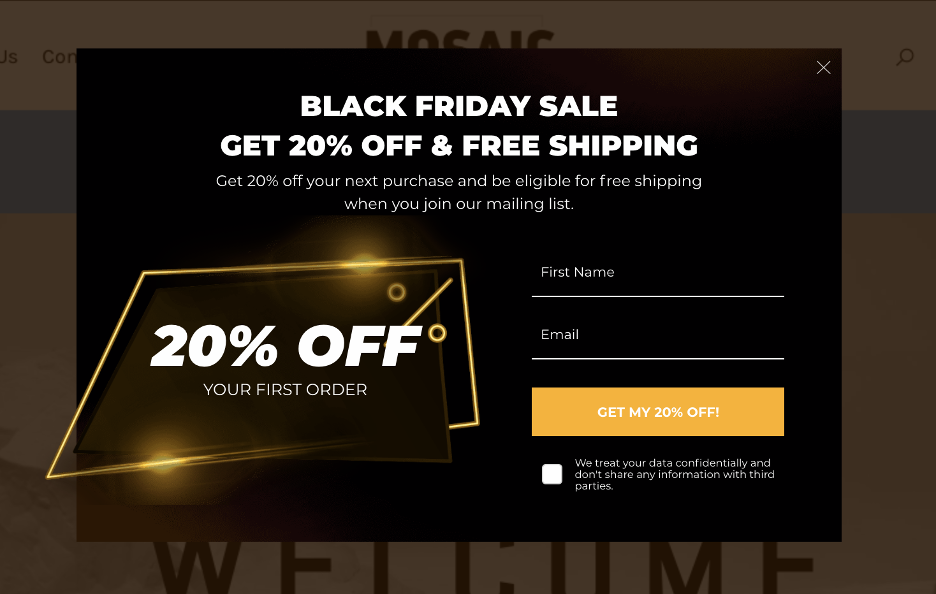 Small tips: Use a strong call to action can convert signups to customers.
Promote on Social Media
Social media is a great platform to make the world notice your Black Friday offers quickly but only if you know how to do it. Let us provide you with ways to use social channels more effectively.
Use hashtag
Hashtags can enhance your BFCM posts significantly. They improve searchability, increase visibility, and guide the algorithm to target the right audience.
BFCM hashtag example: #bfcm, #bfcmsale, #bfcmdeals, #bfcm2023, #bfcmshopping, etc.
Collab with KOL
When promoting a Cyber Week sale, partnership options include:
Brand hype: Influencers will focus on promoting your brand and products to their followers and mention the sale briefly. This will help you reach more people and get them to remember your brand.

Sale promotion: Influencers will focus on promoting your BFCM campaign by telling their followers all the details about the sale, like dates, discounts, and so on. This is best done closer to the sale date. Advertise your campaign

Reach a large audience: Social media platforms have billions of active users and running ads is one way to get to them.
Target your audience: Social media platforms allow you to target your ads to specific demographics, interests, and behaviors. This means that you can ensure that your ads are seen by people who are most likely to be interested in your campaign.
Boost sales: Launching an advertisement on social media helps increase brand awareness, generate leads, and drive traffic to your website, all lead to revenue increase.
Offer Special Incentives
Offer suitable discounts
For Halloween, it's about spookiness, candies, pumpkins, and costumes. Christmas, on the other hand, relates to the pine trees, gifts, and Santa Claus. However, for BFCM, it's simply the most discounted shopping duration of the year. So, the Cyber Week discount should be attractive enough.
However, you still need to balance your profits and how much you can offer customers. A good rule of thumb is to offer discounts of 20-50% on select items.
Set limited deals
Limited deals can efficiently increase sales by creating urgency, which motivates customers to make quick decisions by making them feel like they will miss out on a great opportunity if they don't act fast.
Some ways to make your deal more attempting:
Add a countdown timer to increase the limitation
Place your deal in the most visible part of your store site to catch customer immediate attention
Use strong CTA like today only, last chance, buy now, hurry up, one time only, don't miss out, etc.
Free shipping
Free shipping is definitely a must-have on the list, especially now that everyone is shifting to online shopping. For shopaholics who constantly place orders, having to pay for shipping will cost them a fortune and, of course, not a favorite choice. In fact, according to Baymard, 47% of customers abandon their carts due to extra fees like shipping.
To maximize the efficiency of applying free shipping, you can offer it with minimum purchases.
One piece of advice: offering free shipping for a limited time can naturally motivate customers to make faster decisions.
Free small gift for purchases
A free gift with a purchase is a great way to show your customers' appreciation and encourage them to buy more. You can offer a free gift with every purchase, or with purchases over a certain amount.
Recover Abandoned Cart
Throughout the BFCM shopping season, a significant percentage of online shoppers, approximately 80% daily in 2022, tend to leave their carts without making a purchase.
One of the main reasons is due to the complicated checkout process. To solve this problem, store owners can enhance their website by implementing a one-step checkout page, combining all essential payment steps into a single, user-friendly page.
Additionally, businesses can set up automated emails to remind customer of their carts and recapture some of these abandoned sales.
Launch Loyalty Program
Show appreciation to your faithful customers with exclusive offers like:
Tiered-spending rewards
Additional discounts
Early access to BFCM sales
Referral incentives for friends and family
Bonus points within your loyalty program
By using these tactics in your customer-centric marketing strategy, you can reach out to and re-engage old customers, strengthen your connection with them, motivate repeat purchases to increase sales, and enhance brand visibility through affiliates.
Tips to build an effective Loyalty Program
Upsell And Cross-sell
The efficiency of upselling and cross-selling is especially much higher during Black Friday and Cyber Monday because customers are already in the mindset of spending money. It will be a pity if you miss such a good opportunity to sell valuable items that usually attract selective buyers.
While upselling encourages customers to buy a more advanced version of what they originally wanted, cross-selling suggests related products. The two of them work together perfectly to boost sales.
Tips: For an effective BFCM marketing approach, consider offering free or discounted upgrades as an upsell or creating special bundles for related cross-sell items.
Issue Giftcards
By issuing gift cards, businesses can offer a number of benefits to their customers during BFCM, including:
Flexibility: Gift cards can be used to purchase any product or service that the business offers, which gives customers the flexibility to buy what they want, when they want. This is especially appealing during BFCM when there are so many great deals to choose from.

Convenience: Gift cards work both online and in-store, and they can be redeemed at any time. This makes them a convenient gift option for customers, and it also makes it easy for businesses to track sales and redemptions.

Increased sales: Gift cards can help businesses increase sales during BFCM by encouraging customers to spend more money. When customers have a gift card, they are more likely to spend it all, even if they weren't planning on making a purchase.
Enhance SEO
Last but not least, don't forget to optimize your site's SEO ranking. All of your fantastic ideas for doing Marketing will be wasted if the customers don't know about your existence.
On Cyber Week, countless e-commerce websites compete for a spot on Google's first page. To secure your place, you must tailor your site for online shoppers.
One effective approach is incorporating keywords that shoppers commonly use when hunting for holiday discounts. After conducting some keyword research, integrate these terms into your site, but DON'T OVERUSE them unnaturally.
Furthermore, it's crucial to ensure your website is mobile-friendly. This is vital because an increasing number of people rely on their phones for holiday shopping.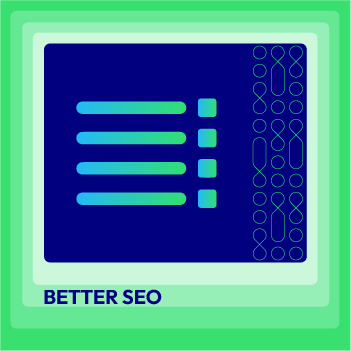 Drive more traffic to your online store and boost your rank on search engines
Check it out!
Get Your Store Ready for BFCM
Now that you have some ideas for this year's BFCM, how to do it exactly? What to do first? Let us help you out.
Here are some specific steps you can take to start BFCM:
Look Back on Last BFCM Performance
The first thing to do is to analyze how you have done in previous years. Focus on your sales data to identify your best-selling products and categories. This will help you determine which products to stock up on and promote during this year's BFCM.
Check your marketing campaigns to see what worked well and what didn't so that you can identify the right campaigns to continue and improve ones that didn't bring good results.
Set Your Goals for BFCM
Ask yourself these questions:
What do you want to achieve in terms of sales?
How many new customers do you want to acquire?
Do you want to focus on increasing brand awareness?
Try to get your goals as specific as possible.
Develop Your BFCM Strategy
In the above section, we have discussed 11 BFCM marketing strategies that can help you stand out from a market full of competitors, but of course, there are other things you need to keep in mind.
Your BFCM strategy should include a marketing plan, product selection, pricing strategy, and logistics plan. In detail:
Marketing plan: should outline how you will promote your BFCM sales and reach your target audience.
Product selection: should include your best-selling products and categories, as well as any new products that you are launching during BFCM.
Pricing strategy: should be competitive and attractive to your target audience.
Logistics plan: should ensure that you can handle the increased traffic and orders during BFCM. This may include hiring additional staff and investing in shipping and fulfillment solutions.
Secure The Necessary Resources
Budget for marketing and advertising: BFCM is a time when many businesses increase their marketing and advertising spending in order to reach more customers. Make sure that you have a budget in place that will allow you to execute your marketing plans effectively.

Hire additional staff: If you anticipate a significant increase in sales during BFCM, you may need to hire additional staff to handle the increased workload. This may include customer service representatives, warehouse workers, and shipping personnel.

Ensure website and infrastructure stability: BFCM is one of the busiest shopping times of the year, so it is important to make sure that your website and infrastructure can handle the increased traffic. This may involve upgrading your servers or hiring a cloud-based hosting provider.

Invest in shipping and fulfillment solutions: If you sell physical products, you will need to have a plan in place to ship orders quickly and efficiently during BFCM. This may involve working with a third-party logistics provider or investing in your own shipping and fulfillment infrastructure.

Secure the necessary inventory: Ensure you have enough inventory to meet the increased demand during BFCM. You may also want to consider offering pre-orders for popular items.

Partner with critical suppliers: If you rely on suppliers for essential products or services, make sure that you have communicated your BFCM plans to them and that they are prepared to meet your increased demand.
Implement Your Plans
Once you're ready with everything, start your plan early. The best time is late October.
Promote your BFCM sales that soon will let your customers know about your BFCM deals early so that they can start planning their purchases.
Special Deals for BFCM by Mageplaza
This BFCM, Mageplaza's beloved customers will have the chance to join an exciting Lucky Wheel game and receive great incentives randomly (valid until November 31st) as follows:
✅ 10% OFF
✅ 20% OFF
✅ $20 OFF
✅ $30 OFF
✅ 1 Free Installation worth $50
But wait! There's more!
During the BFCM period, from November 24th to November 27th, we're offering an Extra 10% OFF for all extensions and subscriptions. The best part is no special code is required, and you can use it together with your Lucky Wheel voucher.
Let's say you join the game on November 25th and get a 20% discount for spinning. Then, the total discount amount you receive is 30%, including 20% from the Lucky Wheel and an additional 10% for joining the BFCM duration.
Wrap-up
Success during the holiday season depends on planning ahead, preparing for possible issues, and starting early. This checklist for Black Friday and Cyber Monday covers the essentials for this year's upcoming sales events, set to break online sales records. It's designed to position you for success during the holiday season.
If this is your first Black Friday Cyber Monday, view it as a learning opportunity. Stay motivated, set achievable goals, and, most importantly, enjoy the journey.

Marketing Manager of Mageplaza. Summer is attracted by new things. She loves writing, travelling and photography. Perceives herself as a part-time gymmer and a full-time dream chaser.
Website Support
& Maintenance Services
Make sure your store is not only in good shape but also thriving with a professional team yet at an affordable price.
Get Started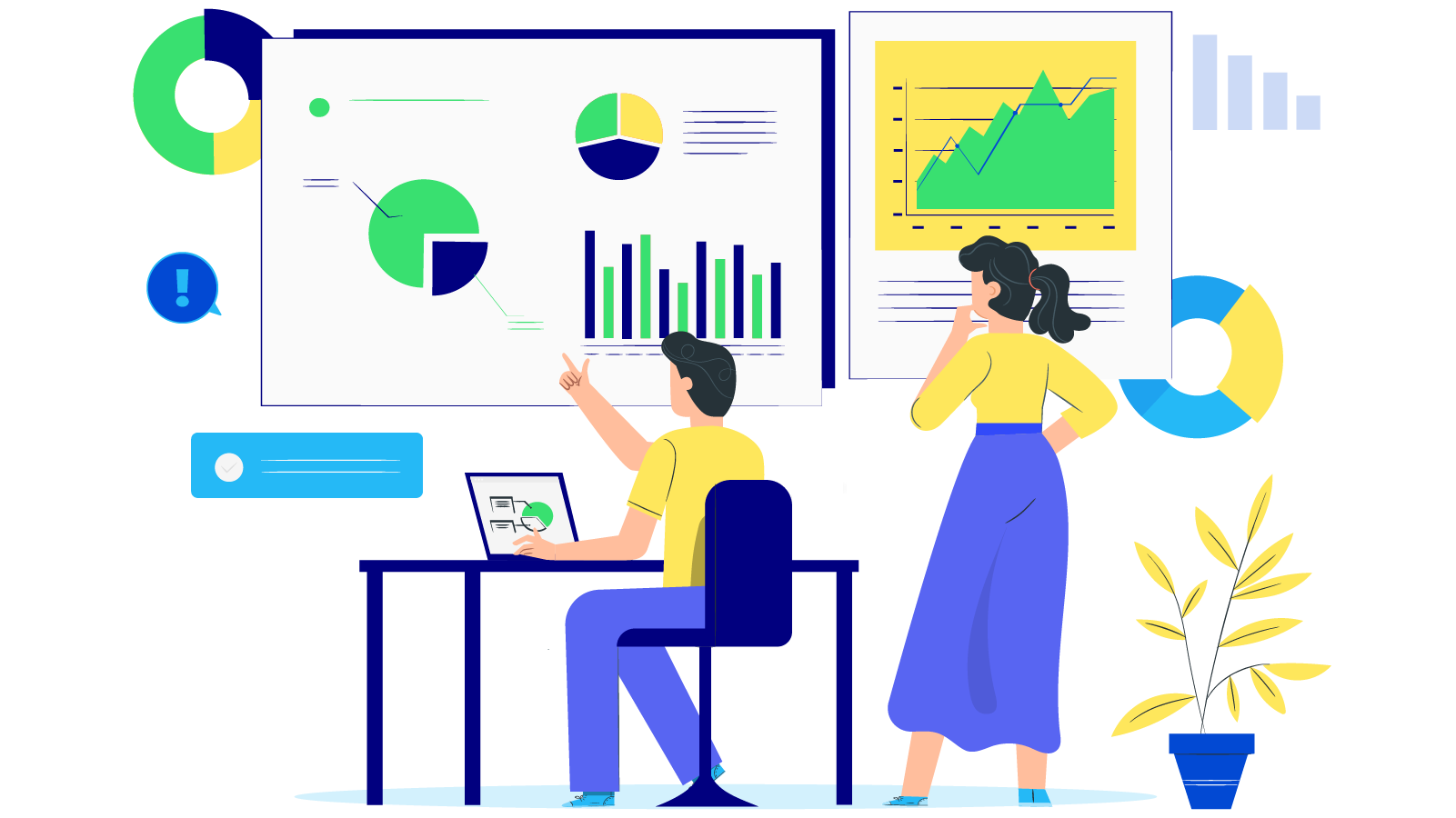 New Posts



Subscribe
Stay in the know
Get special offers on the latest news from Mageplaza.
Earn $10 in reward now!