Better Static Block - Effectively Manage your Blocks
The Most Popular Extension Builder for

Magento 2
With a big catalog of 224+ extensions for your online store
Content management plays an indispensable role on Magento 2 websites. Yet, it is not always easy to handle as the way you want. Admins have various contents to deal with and to make sure that those can reach customers in the best way. Static Blocks take the majority of all content on your websites. Hence, in this post, we would love to help you know more about Static Block functions as well as suggest a Static Block extension supporting your stores effectively.
Main Contents
Definition and benefits of Static Block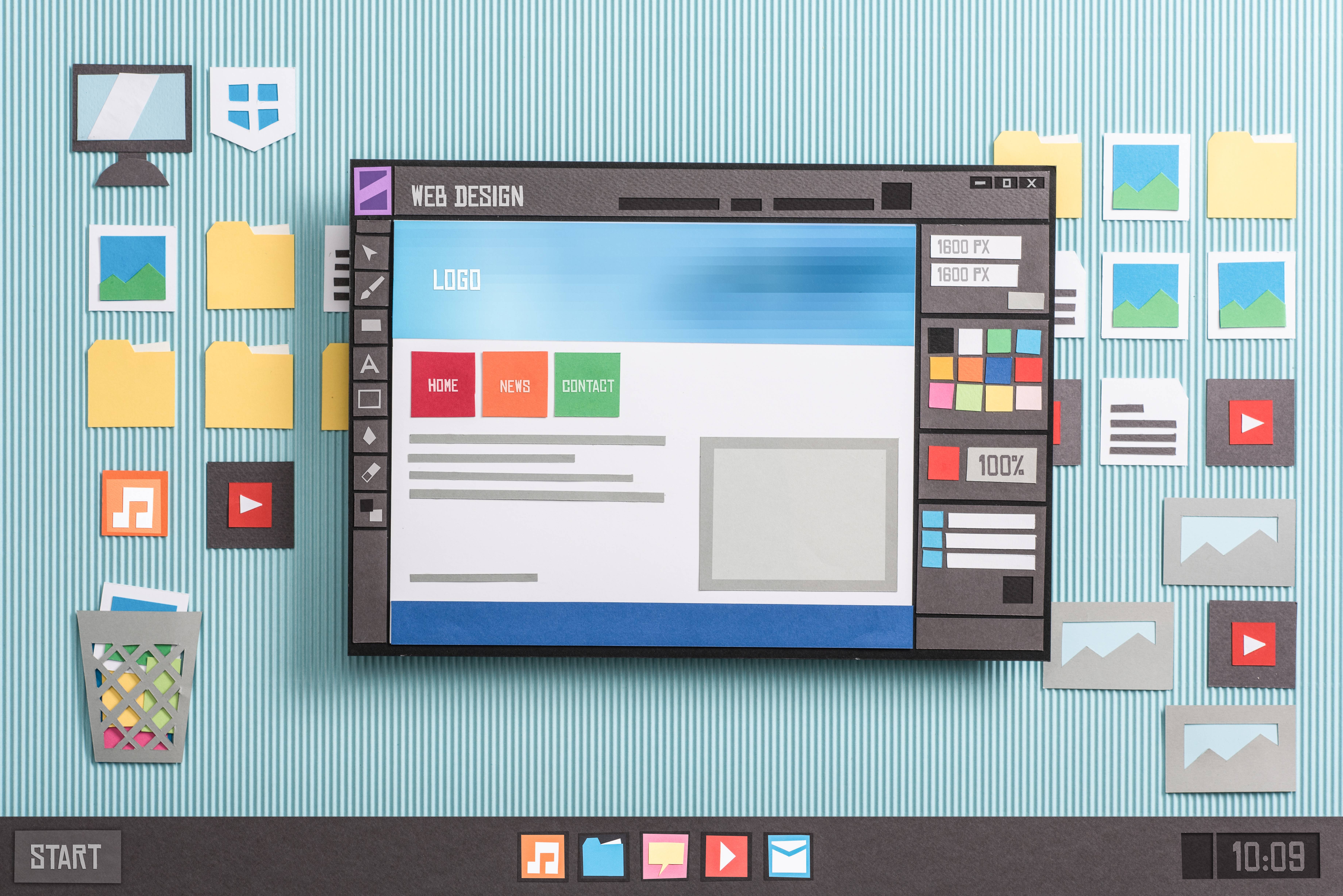 Being a basic form of page contents, Static Block can be any expression of text, image, video. They are called "Static Block" since the content is placed stably at one position, to distinguish with Sliders. Technically, in Quora.com, people define Static Block as: "Static block is a set of statements, which will be executed by the JVM before the execution of main method."
The syntax of static block:

Example of Static Block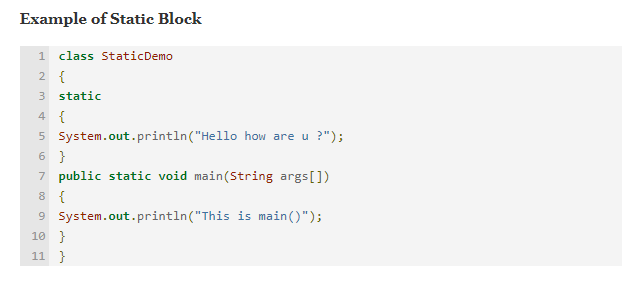 The result

The need to have Better Static Block functions
Default Magento limitation
Firstly, Static Block at Magento default cannot be restricted to specific users. Contents do not relate to users always displayed and interrupt their shopping experience. It is such a poor practice of content management. Also, admins cannot modify the block labels to make some of them unique or outstanding than others to gain customers attraction. Moreover, Magento Default function restricts admin users to change the status for mass static blocks. By doing manually one by one, it is really time-wasting for stores with a huge content amount.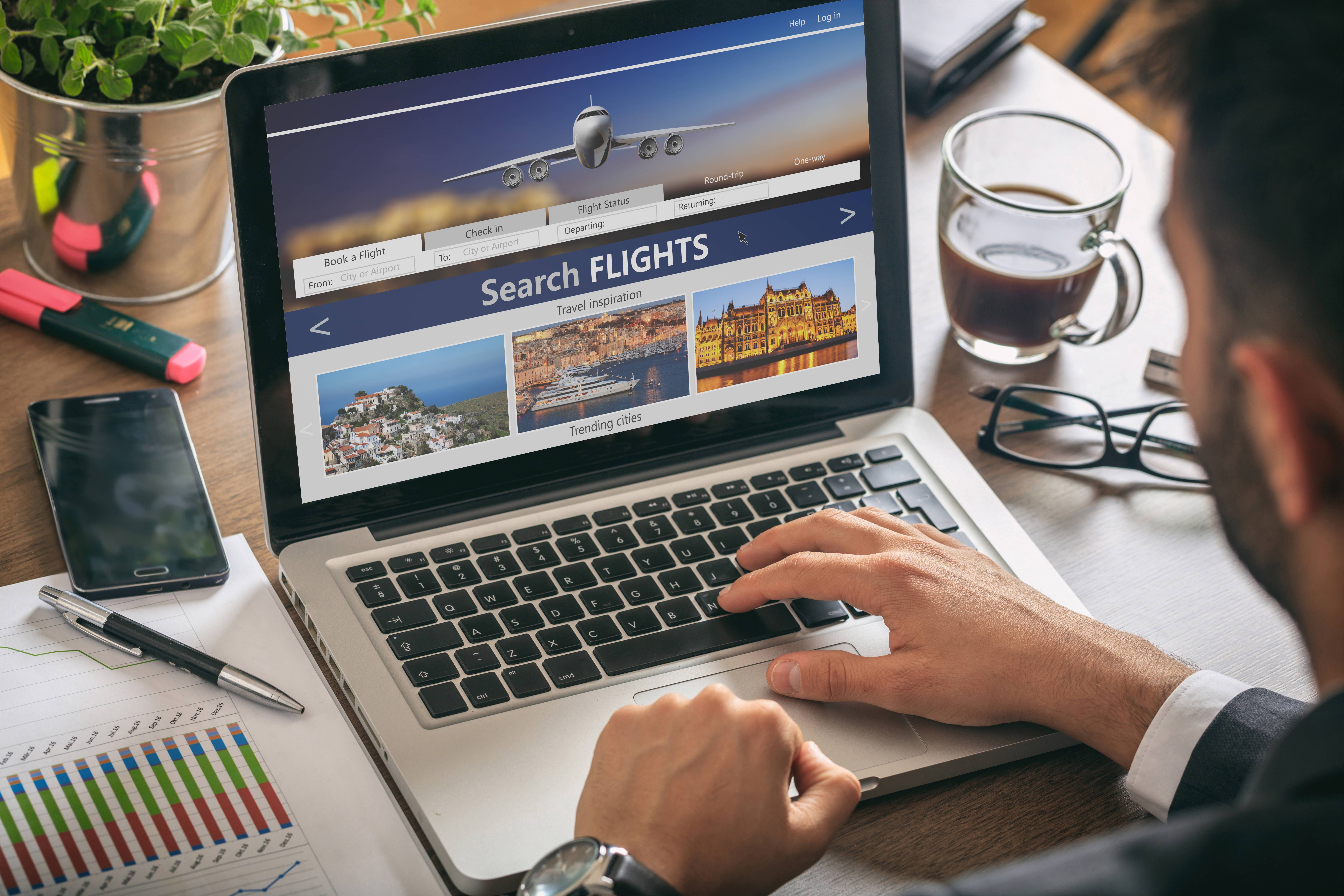 Great benefits of advanced Static Block function
At the first place, each customer group can be connected to their needed information and contents. In other words, with Better Static Block, store owners can show special or sensitive block content to particular customers only. For example, some content such as Refund Policies, Affiliate Policies should be shown to wholesalers or affiliates customer groups only.
In addition, by allowing admins to label their blocks, they can then easily filter different blocks when necessary. For better illustration, the label "Policy" can be assigned to related policy information published on your sites. When admins need to make any change to their policy, filtering all the related blocks is super helpful for them.
As mentioned above, admin not only can filter the blocks by labels but they also can edit the block contents in mass actions. Forget about the manual and time-consuming process. With advanced features of Better Static Block, managing your block contents is never easier.
Noticeable features of Better Static Blog module
In this post, we would recommend you a must-take-a-look module which is Better Static Block, an excellent product from Mageplaza. Now we are going to see what functions this extension assist store admins to manage their content more easily.
Segment Block Visibility By Customer Groups
Limiting block access based on certain customer groups is one of the most noticeable features of the Better Static Block extension. With this feature, customers from particular groups will be allowed or disallowed to access the content of the block.
The group segmentation will target the block content to customers who are suitable more precisely. Because of that, customers can view the page which has the necessary content they are looking for or interested in.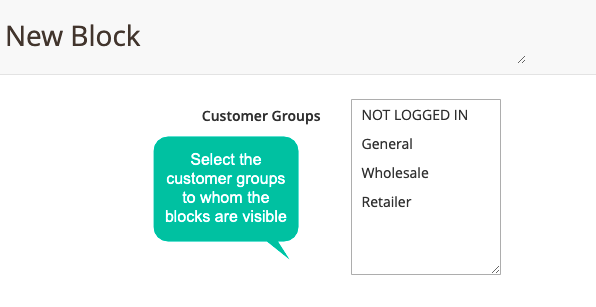 Schedule The Block To Be Activated Automatically
This feature enables the static blocks to be activated at a particular time, for example, on special occasions, promotion campaigns.
Following are several blocks that you can easily set a detailed time to run from the backend:
Start and End Date
Week Days
Running Time
Based on the scheduled time, the blocks will be auto-activated and interact with the targeted customers.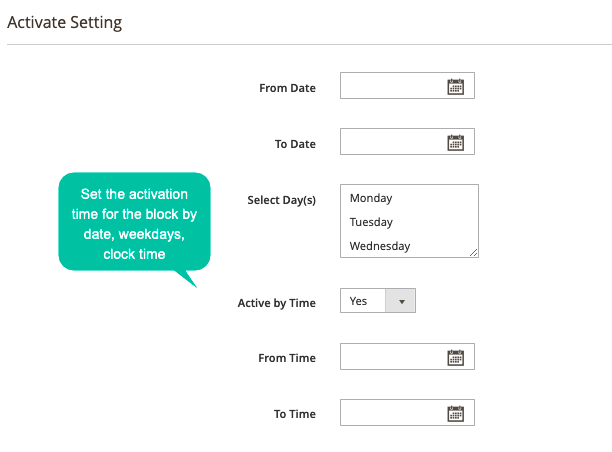 Labels/ Images Can Be Added To Blocks
Better Static Block offers admins the ability to create labels or add images to blocks. This would help the admins easier to filter various blocks which have a similar topic, usage situation, etc.
For instance, if there are three blocks which can be used in the Happy New Year event, the label "New Year" can be added to each block.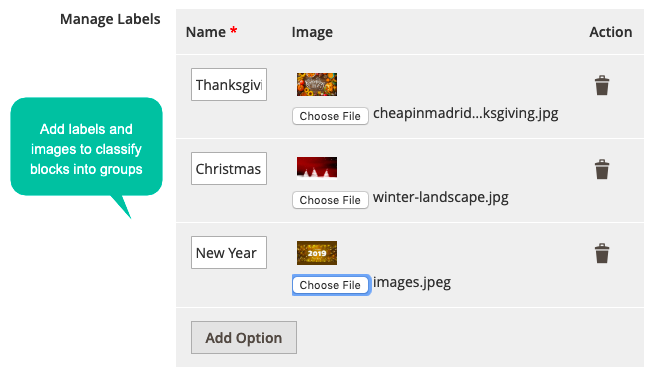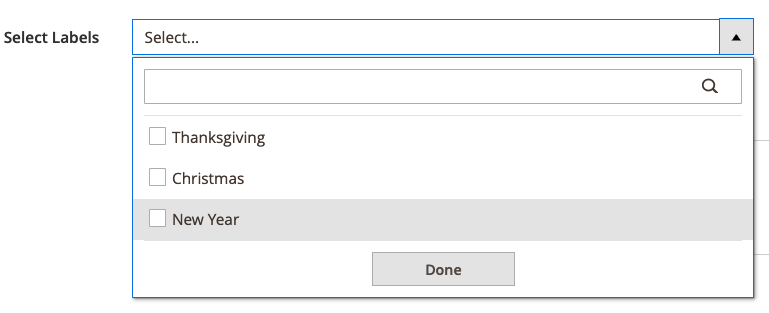 Easy Duplicating Block
With Better Static Block extension, you can duplicate the block content easily and quickly. After just one click, all the content of the original blocks will be copied precisely. And the duplicated blocks can be used for different purposes.
For instance, if the admin only wants to change a little block's content in order to put it at another position on the site, you can duplicate the content before making the modification.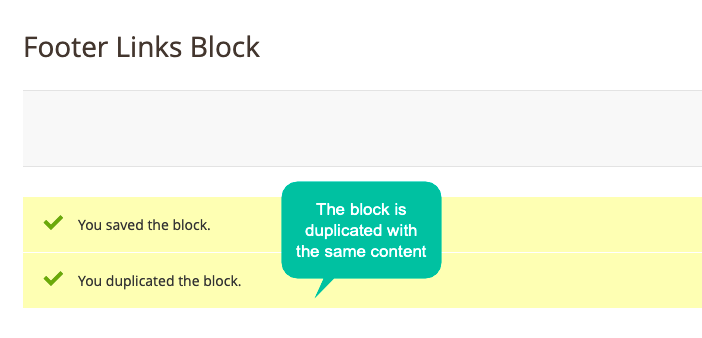 All Types Of Content Are Supported
You can design the static block content diversely with all the following types:
Insert text
Insert image
Insert table
Insert link
Insert widget
With these fully-equipped supporting features, the blocks can be created with any design that admin prefer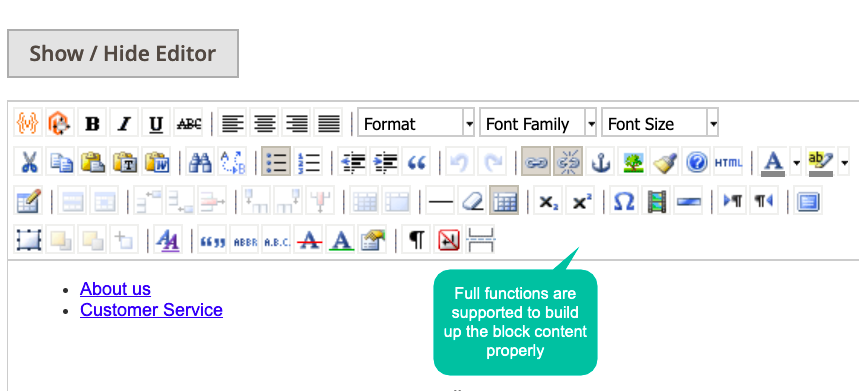 Full Features of Better Static Block extension
For Store Admins
General Configuration
Enable/ Disable the module
Allow creating labels
Allow uploading images for the labels
Allow deleting a label

Block Form

Enable creating a new block from the block grid
Allow/ Disallow a block
Add the title of the block
Add identifiers of the block
Choose the store view for the block to be applied
Choose customer groups which are allowed to view the block content
Enable attaching the label with the block
Enable adding the content for the block
Set the time for blocks to be validated
Compatible with other extensions of Mageplaza: Import Export Categories, Import Export CMS, Catalog Permission, Backend Reindex

For Customers

View page which has suitable content
Prevent being distracted by irrelevant content
Have superior shopping experiences
Final Thoughts
By this post, we want readers to have a better view of Static Block on Magento sites as well as a solution to improve content management related. Better Static Block by Mageplaza is one useful add-on that you must consider in case you are looking for a right hand to deal with your static blocks.
Website Support
& Maintenance Services
Make sure your store is not only in good shape but also thriving with a professional team yet at an affordable price.
Get Started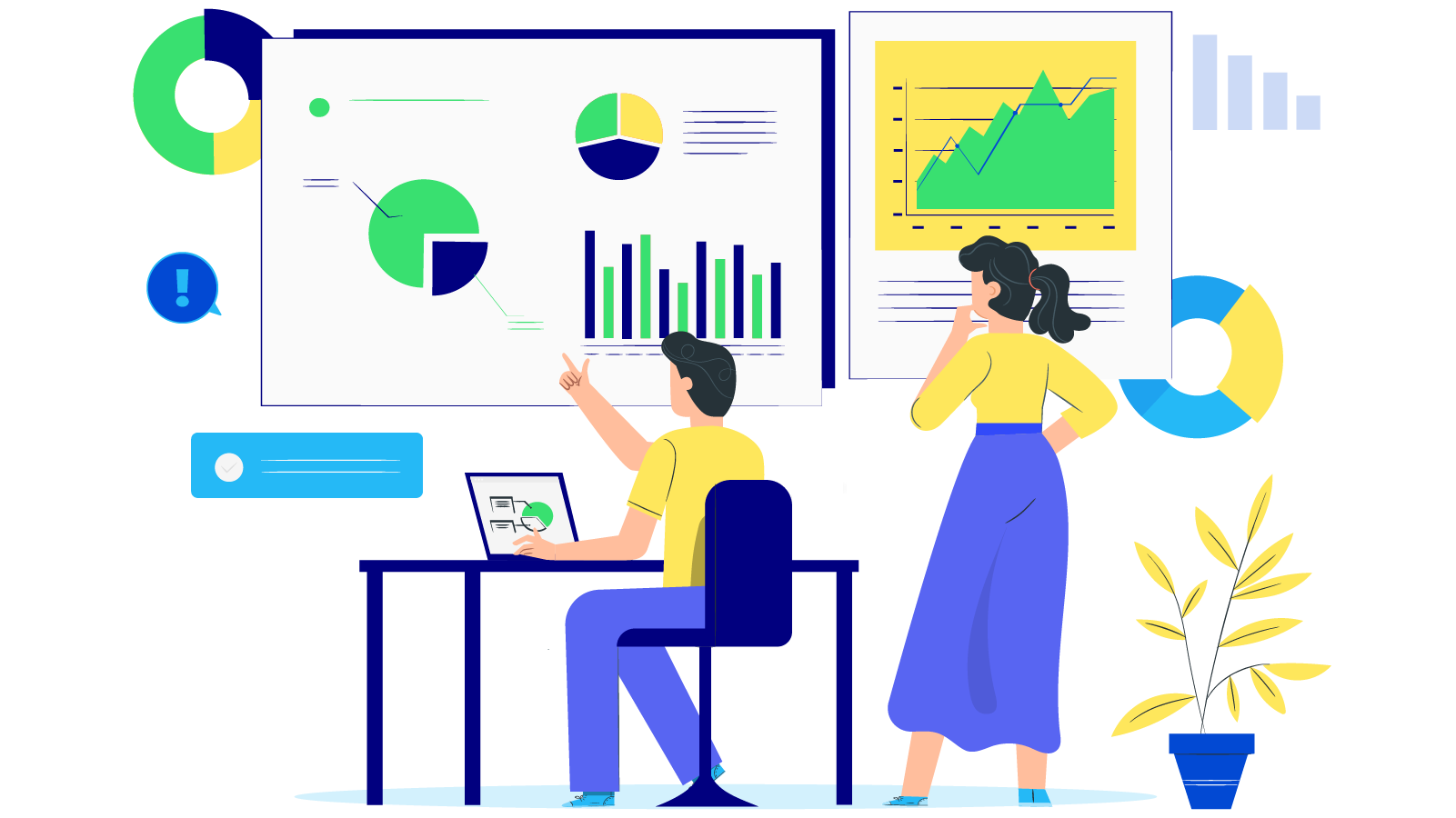 New Posts



Subscribe
Stay in the know
Get special offers on the latest news from Mageplaza.
Earn $10 in reward now!