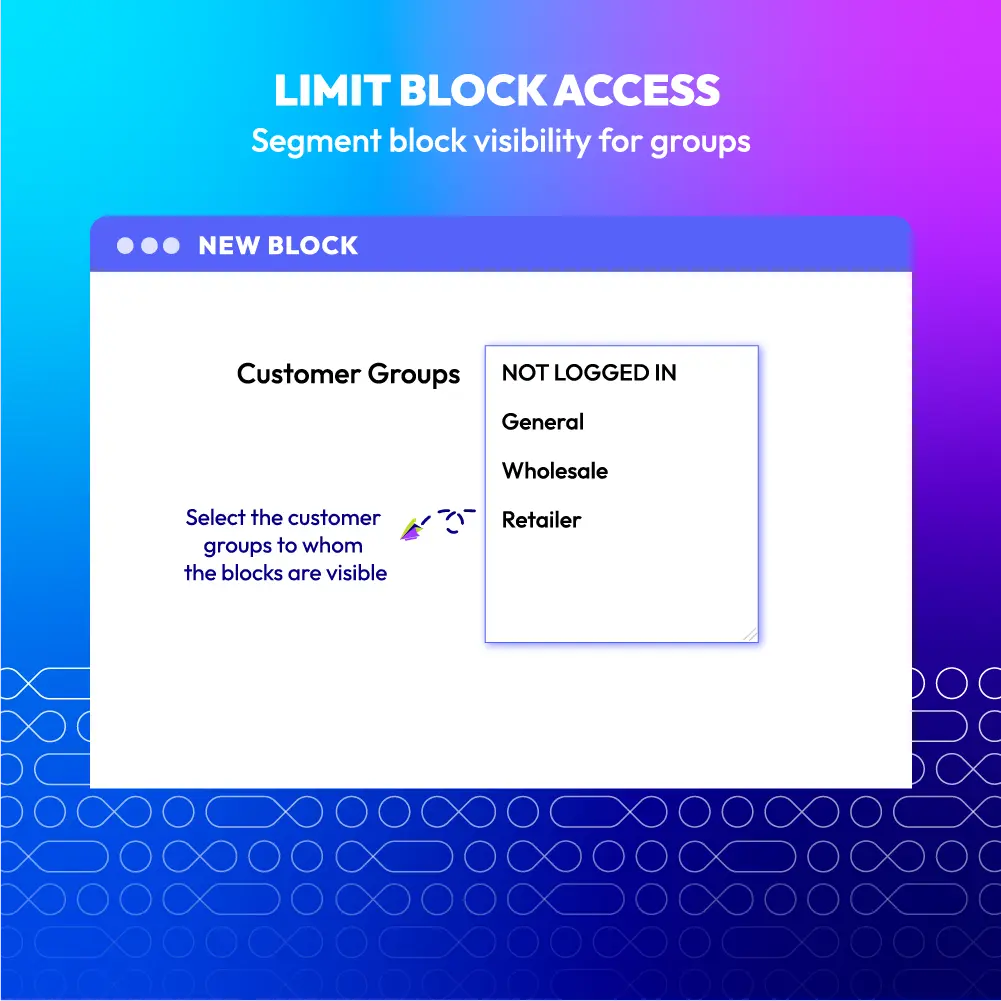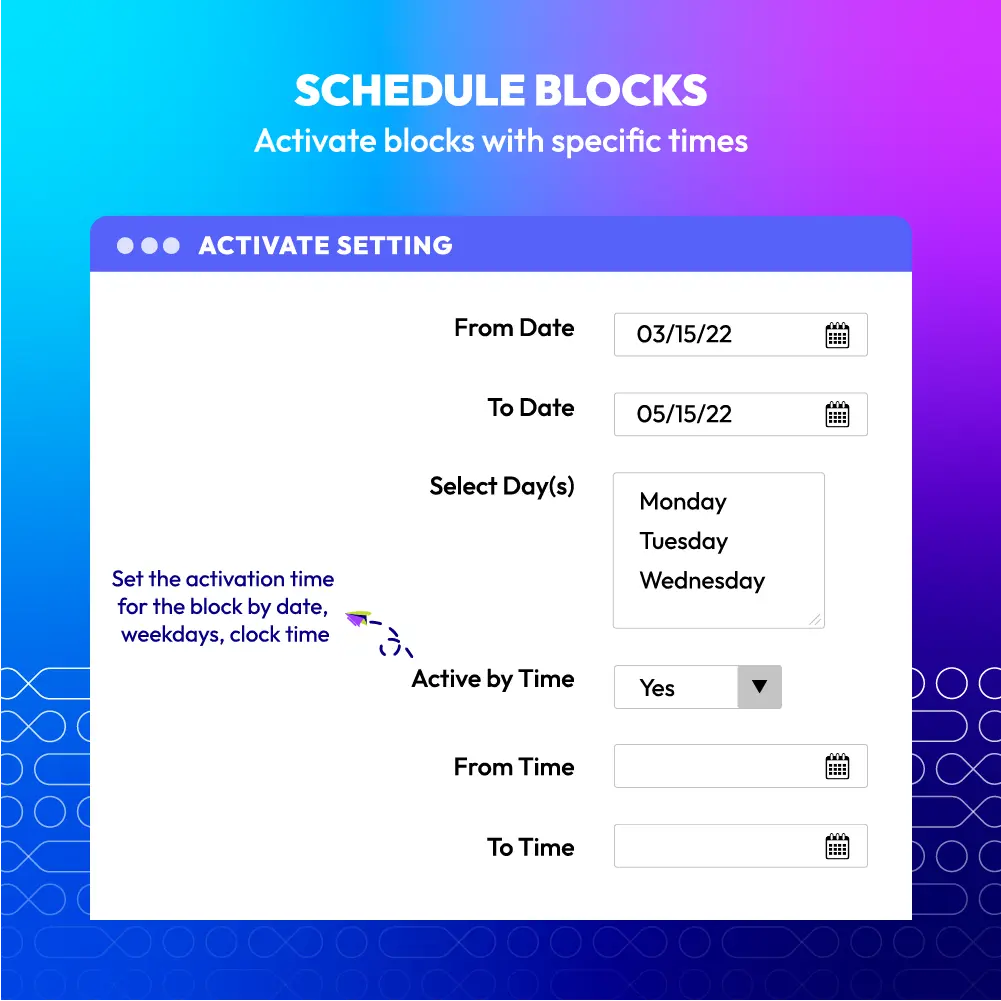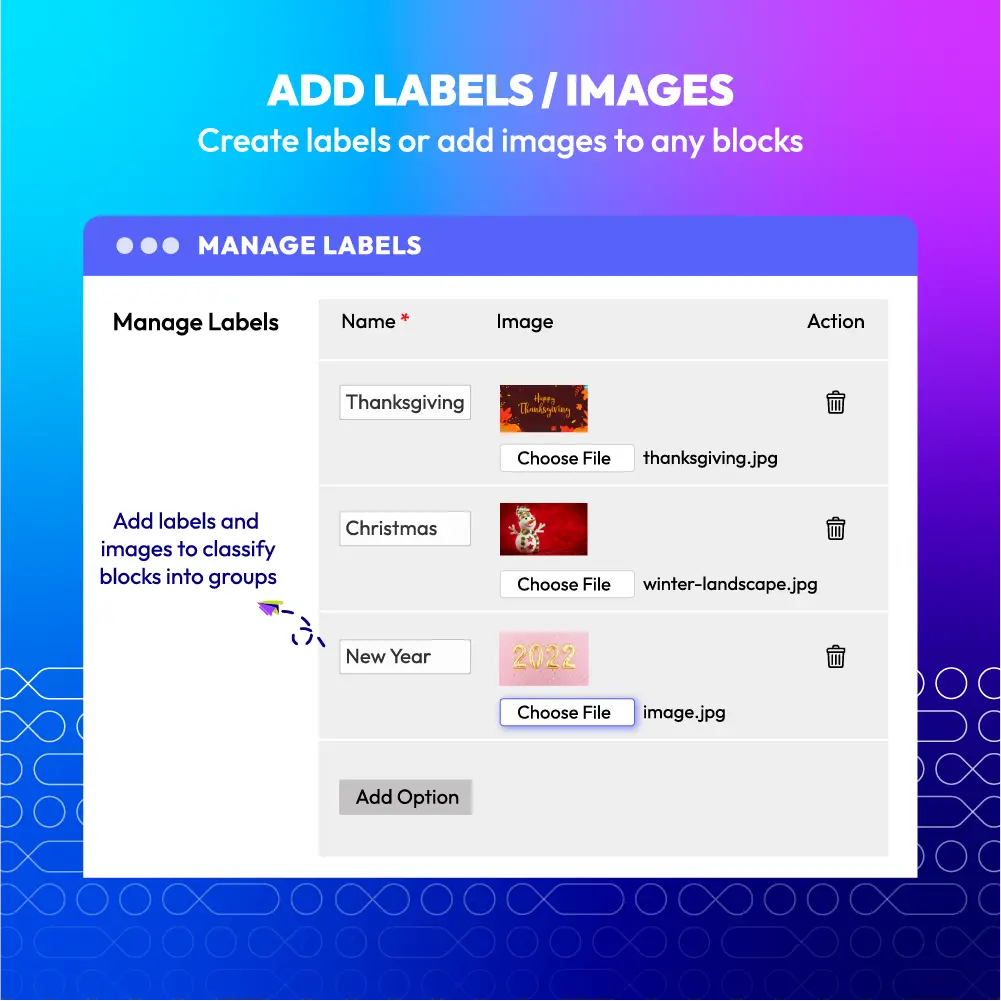 60-day Money Back
Frequent Update
365-day Support
Static Block for Magento 2
v1.0.6
Magento 2 Static Block extension allows limiting block access by customer groups, adding labels and setting display schedule with ease. Mageplaza Better Static Block is a helpful solution to manage the content of store sites properly.
Need API/GraphQL for Magento 2 Better Static Block? Chat now
CE/EE/B2B/Cloud/ Adobe Commerce 2.2.x, 2.3.x, 2.4.x
Chat now
Problems
Unable to limit the block visibility: In Magento 2 default, store admins can not set block to be visible to specific customers. As a result, some block content is not relevant to specific visitors or store owners do not want them to see it.
Not allow leaving any label or note to filter blocks quickly: Some blocks share specific similarities, so store admins would like to add them same labels to find and edit multiple blocks easily. However, in Magento 2 default, this feature is not available. Magento 2 Default does not allow store admins to change status of multiple blocks at the same time. This causes the inconvenience in admins' work.
Solutions
Restrict customers to view specific block content
Filter the blocks easily with labels
Reduce workload at the backend with extra mass action
Help customers reach relevant block content
Provide a better shopping experience
Change the status for multiple static blocks at the same time
Pricing

Choose your suitable edition
Community
Crafted for a great webstore start
$

99

first year
Supports for Magento 2 Community Edition
Enterprise
Great for an enterprise solutions
$

299

first year
Supports for Magento 2 Enterprise Edition
Highest priority support
Yes, of course. This is the key feature of Better Static Block. With Better Static Block, store admins can restrict the static blocks to be visible or invisible to specific customer groups. Therefore, store admins can make sure that the content is suitable to specific purposes and targets to appropriate customers.
You can do this easily by setting the schedule for each block at the admin backend. The time can be set exactly by start date and end date, weekdays and running time, so each static block will run accordingly properly in each your campaign.
Better Static Block supports adding label/ image for each static block. You can use this function to add the same tag for several blocks sharing similarities.
Yes. Any static block can be duplicated easily via a click right at the admin backend. After duplicating the content, you can continue editing for any change depending on your purposes.
Better Static Block supports all types of content such as text, table, image, link and many more. Admins can create any preferred content with ease.
Yes, definitely. At the block grid, you just need to select the blocks, and then choose the status action to update the status of all block at a glance.
Useful
The most useful feature is when we can restrict the block view - such a nice Magento 2 add-on.
FAST
Extremely fast and friendly support keep it up!
Harold
-
Verified Purchase
Solve the problem
This extension helps me solve the problems of displaying content to specific groups of customers only. It is such a relief when I can set things up easily and even can activate it automatically. Thank you so much.
Helpful tool to block management
Better Static Blocks helps me greatly to manage block content. I can configure to allow access block content to the customer groups I target. Some content I only want to public to specific wholesales. So this is really helpful to me. Besides, I like the scheduling function to display blocks automatically in special sales or occasions. Perfect! Highly recommended!
Simple but excellent and effective !
This module is easy-to-use but it helps me to limit customer access to blocks effectively. I can provide content to suitable customers and they feel better when they reach useful information. Block labels are also helpful to quickly in-group and filter content easily. Thanks so much!
Don't see the features you are looking for?
Request feature
Submit your feature requests below
Want to do extension customization?
Custom request
Let us know your requirements
v1.0.6 (Magento v2.3.x)

26 October 2021
v4.0.3 (Magento v2.4.x)

26 October 2021
v1.0.5 (Magento v2.3.x)

08 June 2021
v4.0.2 (Magento v2.4.x)

08 June 2021

Compatible with Magento v.2.4.2
Fixed minor bugs
v1.0.4 (Magento v2.3.x)

07 May 2021
v4.0.1 (Magento v2.4.x)

07 May 2021
v4.0.0 (Magento v2.4.x)

29 January 2021
v1.0.3 (Magento v2.3.x)

20 October 2020

Compatible with Magento v2.3.5
v1.0.2 (Magento v2.3.x)

23 June 2020

Supported Single Store Mode
v1.0.1 (Magento v2.3.x)

24 February 2020
v1.0.0 (Magento v2.3.x)

22 April 2019

Initial Release
For store admins
Block Form
Create a new block from the block grid

With the support of Better Static Block extension, store admins can easily make a new block via block grid.

Enable/ Disable a block

From the backend, admins are able to allow/ disallow a block to show by clicking on Yes/ No options.

Add the block title

Better Static Block helps store admins add any titles for the block, so the block can be found out with ease.

Add the block identifiers

Store admins can set the identifiers for the block with the aim to find the block easily from the backend.

Select store view to apply the block

With these fully-equipped supporting functions, the extension supports store admin to set any store view they wish for the block.

Select customer groups allowed to see the block content

The most striking function of Magento 2 Static Block module is that it restricts block visibility by customer groups. Customers from particular groups are able/ disable to view the block content.

Attach the label with the block

If the admin needs to sort many blocks which have the similarity, they can ass the label for the block with the aim to filter the block easily.

Add the content for the block

By inserting many types of content such as text, table, image, etc, the content of the block can be designed diversely.

Set the time to validate blocks

The typical feature of Magento 2 Static Block extension is to schedule to active block totally automatically. From the admin backend, store owners can set a specific time to validate blocks.

Compatible with Mageplaza extensions: Import Export CMS, Import Export Categories, Backend Reindex, Catalog Permissions
General Configuration
Enable/ Disable the extension

Enable/ Disable the extension

Store admins can activate the module by clicking Yes in the enable field from the backend. To disable the module, they can easily click No.

Create block labels

Better Static Block supports store admins to create labels for any block with ease. As a result, it is easy for them to filter the block easily.

Upload images for the labels

Upload images for the labels

Thanks to Better Static Block module, store admins can easily upload any images, so they can sort these block conveniently.

Delete a label

From the admin backend, it is able for store owners to remove a label from the block.
For customers
View page with suitable content

Better Static Block supports customers to view the relevant block content which they are concerned about or are looking for.

Not being distracted by irrelevant content

Thanks to Magento 2 Static Block extension, the suitable content can be shown to the target group exactly. Therefore, customers can focus on the necessary content.

Better shopping experiences

Once customers can spend more their time viewing the relevant content, they can feel more satisfied during their shopping time.
Why choose us?
Mageplaza provides consistent and customer-centric extensions for your Magento 2 store.
We don't sell products for one time. We provide lifetime solutions which help our customers thrive with their businesses.
60-day Money Back
Extensive 60-day money-back period. You love it or get a full refund no questions asked.
Extensive Support Timeframe
Mageplaza provides support 16 hrs/day, 5.5 days/week to guarantee the seamless operation of our extensions on your store.
Install via Composer
Simple installation via composer helps you save time and eliminates technical issues during future updates.
Frequent Updates
Intensive update roadmaps ensure great performance, bug-free, highly compatible, and innovative extensions.