13+ Best Magento PWA Providers in 2023
The Most Popular Extension Builder for

Magento 2
With a big catalog of 224+ extensions for your online store
According to PWA Stats, the Starbuck new web app resulted in double daily active users and the order volume from desktop users is nearly the same as that from mobile. These incredible results are also achieved by many other websites using PWA to bring their customers excellent experiences. So if you have heard about PWA, or have been searching for PWA solution providers, this blog is for you.
The following list presents the highly-rated and active-support PWA development agencies over the world. Before checking the list, let's make sure that we all understand exactly what PWA is.
Make your business accessible anywhere and anytime, while providing app-like functionalities on mobile devices.
Explore More
Table of Contents
What is PWA?
PWA is a modern technology that helps websites create an app-like experience for mobile users. In more detail, visitors can access the PWA web via a browser and URL like every other website. The unique point, however, is the user experience which is exactly smooth and responsive as that using the native apps. PWA technology implementation ensures to bring some amazing features combined with normal websites and native apps.
If you are wondering whether PWA is a great choice for your Magento websites, you can refer to more amazing features on how PWA make revolutions on Magento experience.
Also, Mageplaza does provide a list of top PWA website examples who have been successful in implementing PWA technology. You can check it out and feel the real PWA experience to make sure of your choice.
Top 13 Magento PWA providers:
When you have found out a new way (PWA) to transform your website experience, it is important to choose the most suitable PWA development agency for your Magento stores. We worked so hard to find the best agencies for you who are helping thousands of other online stores.
You can find their PWA features and services right below. Also, we do provide the PWA work example of each vendor as well as their detailed contacts for you.
Mageplaza
With nearly 10 years in Magento E-commerce, Mageplaza has become one of the best PWA providers in the industry. Mageplaza offers a full package of Magento PWA development to accelerate your business. They focus on developing your website upon whether Magento PWA Studio, ScandiPWA theme, Vue Storefront, or other themes you prefer.
Why should you choose Mageplaza for Magento PWA development?
Trustworthy & certified experts. Developers at Mageplaza are experienced in technologies of web and mobile app development. With their help, your website will follow high Magento coding quality standards, while integrating well with other third-party software.

Short time-to-market. As an experienced E-commerce agency, Mageplaza will analyze your specific requirements thoroughly and implement them quickly.

Straightforward & transparent communication. You'll control the whole process by communicating with Mageplaza's project manager and technical leader daily throughout the phase.

Scalable team. Mageplaza is big enough to scale and small enough to care, and they can help your company expand without cutting any corners.

Flexible pricing. Mageplaza offers different pricing packages for Magento PWA development, so you don't need to worry about the budget. You should contact them for a free consultation and quote.

Dedicated support. Mageplaza offers free two-month support after the service implementation to ensure that you're entirely satisfied with the result.
Highlight services:
Custom progressive web application development
PWA UX/UI design
Migration to PWA
App shell model
PWA testing
PWA maintenance and support
Contact information: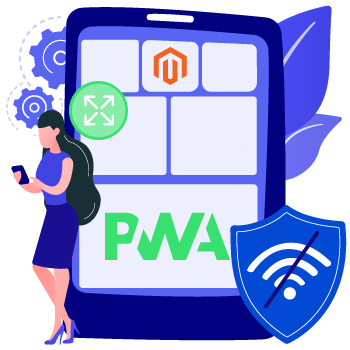 Speed up the implementation process, reduce costs, and bring an app-like experience for mobile users.
Check it out!
Simicart
SimiCart PWA is another cost-effective solution to build PWA for Magento. Based on Magento PWA Studio, it includes both desktop and mobile versions. It helps your website rank better on Google by boosting loading speed up to 3 times. It also helps build customer retention with add to the home screen and push notifications features.
Highlight features:
Custom PWA responsive theme (desktop supported)
3x faster loading speed
Push notifications
Add to home screen
Offline mode
SEO boost
App-like experience
Deeply integrated with Magento
Contact information:
ScandiPWA
Different from many other PWA solutions, ScandiPWA is not a storefront. It does not provide the backend transformation that can slow down the performance, cause bugs and requires more maintenance resources.
ScandiPWA, instead, is a Progressive Web Apps theme that can be installed on any Magento 2.3.x. Thereby, ScandiPWA is considered a Magento-first solution, allowing you to keep the same backend that your developers are already familiar with, still adding all the advantages provided by the Progressive Web Apps technology!
Highlight features:
Superfast page load
Homescreen App button
Offline mode
Push notifications
Ability to deploy your store to the App Store and Google Play stores
Native app look and feel
Boost of mobile conversions
Priority in organic search
Contact information:
Vue Storefront
Vue Storefront is an all-in-one PWA solution for eCommerce. Written in Vue.js as a front-end library, Magento websites are developed using Node.js and GraphQL as a server-API, Elasticsearch as a database and ensures full PWA and off-line support.
To get help, customers can access Slack or Vue Storefront Community Forum. You can also join our workshops or hackathons. Push your project to production fast, keeping it scalable and flexible.
Highlight features:
Works on all devices
Supports offline orders
Allows push notifications
Low data requirements
Search engine friendly
Doesn't need to be downloaded
Contact information:
Headquater: Germany
Website: https://www.vuestorefront.io/pwa-for-magento/
Support: [email protected]
Tigren
Tigren provides high-quality Magento development services with fast page load speed, appealing and responsive design and advanced e-commerce functions. There PWA development service.
The Magento PWA service combines the features of the mobile web and native apps to create cutting-edge technology. Visiting the site for the first time, customers will be invited to use the Progressive Web App by adding it to their home screen. Then, it will open a door of great experience with the flash loading speed, push notifications, and so on. You can check more helpful functions of the Tigran PWA below:
Highlight features:
Technology: Magento 2 PWA Studio, React JS, Graph QL
Instant loading, lightening interactions
Icon on the mobile home screen
Push notifications
Full-screen mode
Accessible on offline mode
Low storage space
Cross-platform availability
Background sync
SEO optimized
Contact information:
Headquarter: Vietnam
Website: https://www.tigren.com/our-services/magento-2-pwa-theme-integration/
Support: [email protected]
BSS Commerce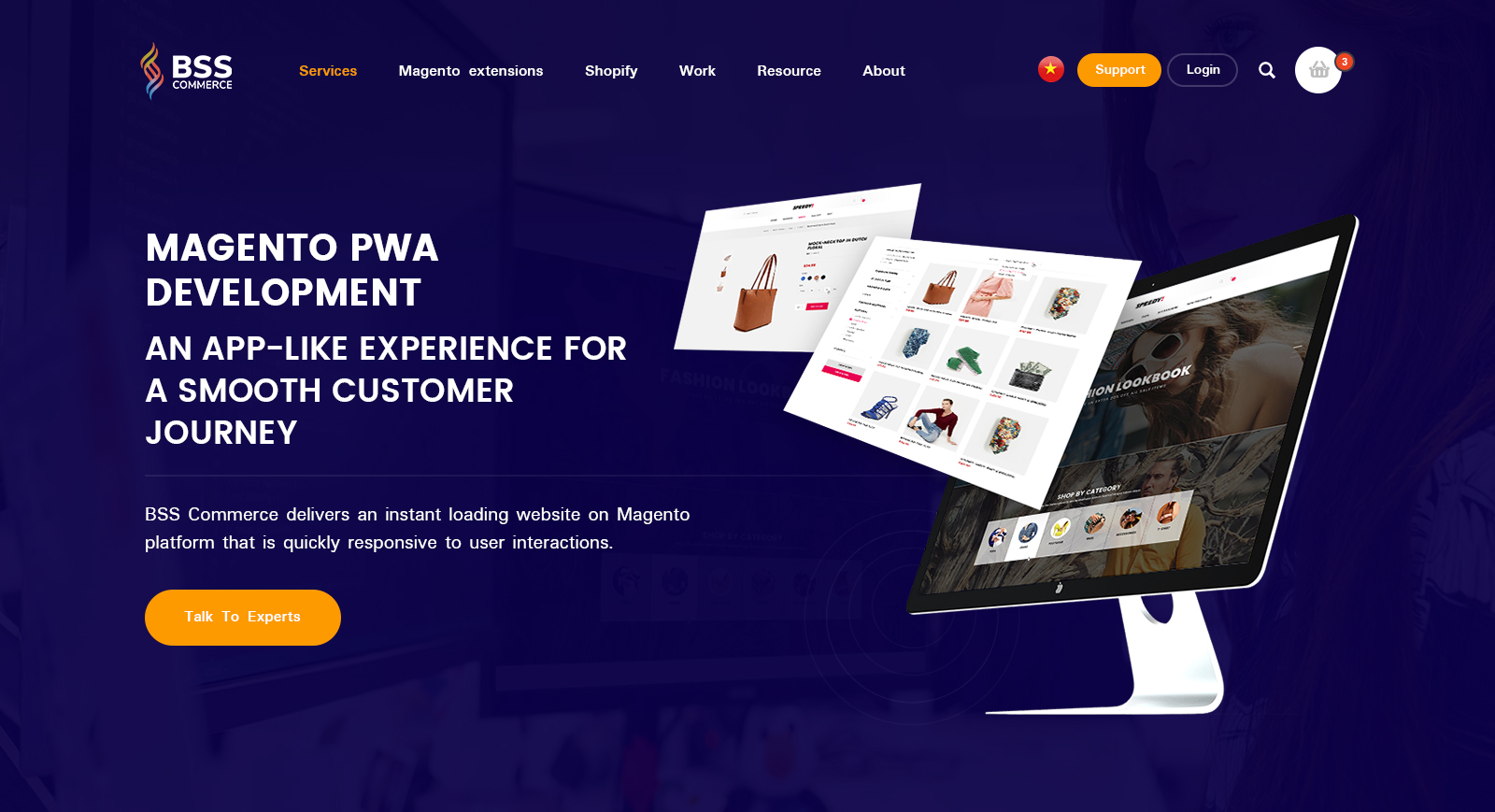 BSS Commerce's Magento PWA Development service brings notable changes to the user experience, creates responsive web designs, boosts SEO and conversion to your website. With 9+ years of experience, BSS Commerce ensures your Magento website is quickly responsive to user interactions.
Highlight features:
2x faster in page speed
App-like feels on browsers: Headless technology
SEO boost
Responsiveness on all devices, slick animations & friction-free scrolling
Low storage space
No need to download applications
High engagement with the site: Better UX, Offline Mode, Icon on Homescreen, etc.
Lightning loading time even with a poor internet connection.
Extension integrations into Magento PWA to bring the most attention-grabbing frontend display.
3rd-party integration: CRM, ERP, PIM, POS, etc
Full services: Technology consulting, Development, Integration, Maintenance
24/7 Support
Contact information:
GoMage
GoMage PWA is a powerful PWA Storefront built on Magento PWA Studio. The main idea behind GoMage PWA Storefront is to help store owners turn their eCommerce websites into progressive web applications. With a Magento PWA by GoMage, the process takes hours and doesn't require any technical knowledge. Since it's based on PWA Studio, GoMage PWA is fully compatible with Magento updates and official security patches.
Highlight features:
One-click installer and installation process that takes up to an hour
Page Builder with drag-and-drop visual editor for creating new layouts and pages, updating existing ones and changing their style
Lightning-fast speed and full compatibility with the latest Google requirements (including Google Core Web Vitals)
Out-of-the-box integration with PayPal, Algolia Search, Trustpilot, Zendesk, and many others
Advanced filtering options, product configurations, and built-in one-step checkout
Multi-store support, offline mode, Add to Homescreen, social login, marketing automation and tools, and much more.
Contact information:
CedCommerce
Cenia PWA Theme for Magento is undoubtedly a positive development taken by CedCommerce in order to make online stores turn in the form of applications. This won't totally require fewer updates and enhancements, thereby making it a wholly powerful and independent platform. CedCommerce Cenia Pro Theme for Magento 2 PWA Studio utilizes the robust technology of Magento PWA Studio, ReactJS & GraphQL.
CedCommerce Cenia PWA Theme comes with a plethora of top-notch features which are a step towards making shopping online with eCommerce an excellent experience. CedCommerce have made a custom Cenia theme that offers some additional features from that of stock Magento PWA. Our Cenia Pro offers features that are as follows.
Highlight Features:
Easier to use than a web-native application
Works extremely quickly whenever contrasted with the site
Supports message pop-up for Android gadgets
Totally responsive on all the stages
Dispatches without the web or low-quality web
It closely resembles a local application
Clients don't have to refresh the dynamic web application
No application store requires dealing with the application
Builds client commitment in the store
Builds store income because of client commitment
Cookie Consent popup
Push notifications
All Magento 2.4.x by default payment methods compatibility
Custom options for product
Reorder functionality in My account
Contact Information:
MageDelight
MageDelight PWA Studio is one of the most efficient solutions to build PWA for Magento. The solution helps you build a highly powerful, high-speed, and fully featured Progressive Web Application for your eCommerce store. It is 100% open-source, scalable, and flexible to any third-party GraphQL, vision, or capability.
Highlight Features
Add to Home Screen Capabilities
Offline Mode
ush Notifications for Major Events
100% Usage of GraphQL
Server-Side Rendering
Customized Visual Frontend Theme
Advanced Search Capabilities
Classified Mega Menu
Backend drove Promotional Rotating Banners
Contact Information
Onilab
Onilab is a Magento PWA development agency with more than 10 successfully built progressive web applications. The team of professionals knows the processes inside and out and offers an individual approach to every project.
The work is set in motion by studying the store specifics, target audience, and competitors as well as drawing up a customer journey map. The main goal is to deliver a high-quality PWA that'll provide the eCommerce store with impeccable UX/UI, top performance, and a brilliant shopping experience.
Highlight Features
Boosted mobile conversions
Unbeaten UX/UI that makes websites resemble native apps in the look and feel
GraphQL, ReactJS, Application Shell, and Magento 2 PWA Studio technologies for PWA development
App-like experience, runs within browsers with no required device download, Add to Home Screen
Offline browsing due to caching that makes shopping easier in areas with a slow Internet connection, push notification support
Strengthened SEO and lowered bounce rates thanks to thorough site optimization
Work Example:https://www.brightstarkids.com.au
Contact information:
NexPWA
NexPWA is a ready-to-deploy and extremely fast PWA solution for Magento. With extensive production-ready features, NexPWA can be deployed on a Magento store in 2 weeks. Also, unlike other PWAs, NexPWA does not need any middleware or additional infrastructure to run.
What makes NexPWA different from the pack is its innovative features apart from the standard PWA features.
Highlight Features
A/B Testing (Ability to show PWA frontend-only to a defined % of your traffic)
6 Readymade Industry Optimized Themes
Right to Left Layout for Arabic
Ability to deploy PWA only for mobile, desktop or both
Inbuilt Google Tag Manager Integration
Multi-Currency Support (with the same store)
Dynamic Rendering with Rendertron for SSR
Inbuilt Payment Gateway Integration
Magento CMS and Page Builder Support
Preserve Same URLs of Magento
Publish in Android and iOS App Stores
All Standard PWA features such Add to Home Screen, Offline Browsing, Push Notifications, App-Like Experience, etc
Work example: https://demo.nexpwa.com
Contact information:
PWA Cloud
PWA Cloud is well-known as a dedicated and professional Progressive Web Apps Development & Managed agency. They provide e-commerce customers on Magento with rapid PWA development and support using modern tech stack & cloud hosting.
The development process of PWA Cloud starts with investigating customers' requirements, then designing a template, before designing all website features. The next step is to select suitable PWA development software and finally, choose the hosting for PWA stores.
Highlight features:
Be able to work offline
Ultrafast frontend
Easy to install
Speed up development and save cost
Work on multiple platforms (with browser)
Push notification
Background synchronization
Contact information:
Headquarter: Czech Republic
Website: https://pwapps.cloud/
Support: [email protected]
Front Commerce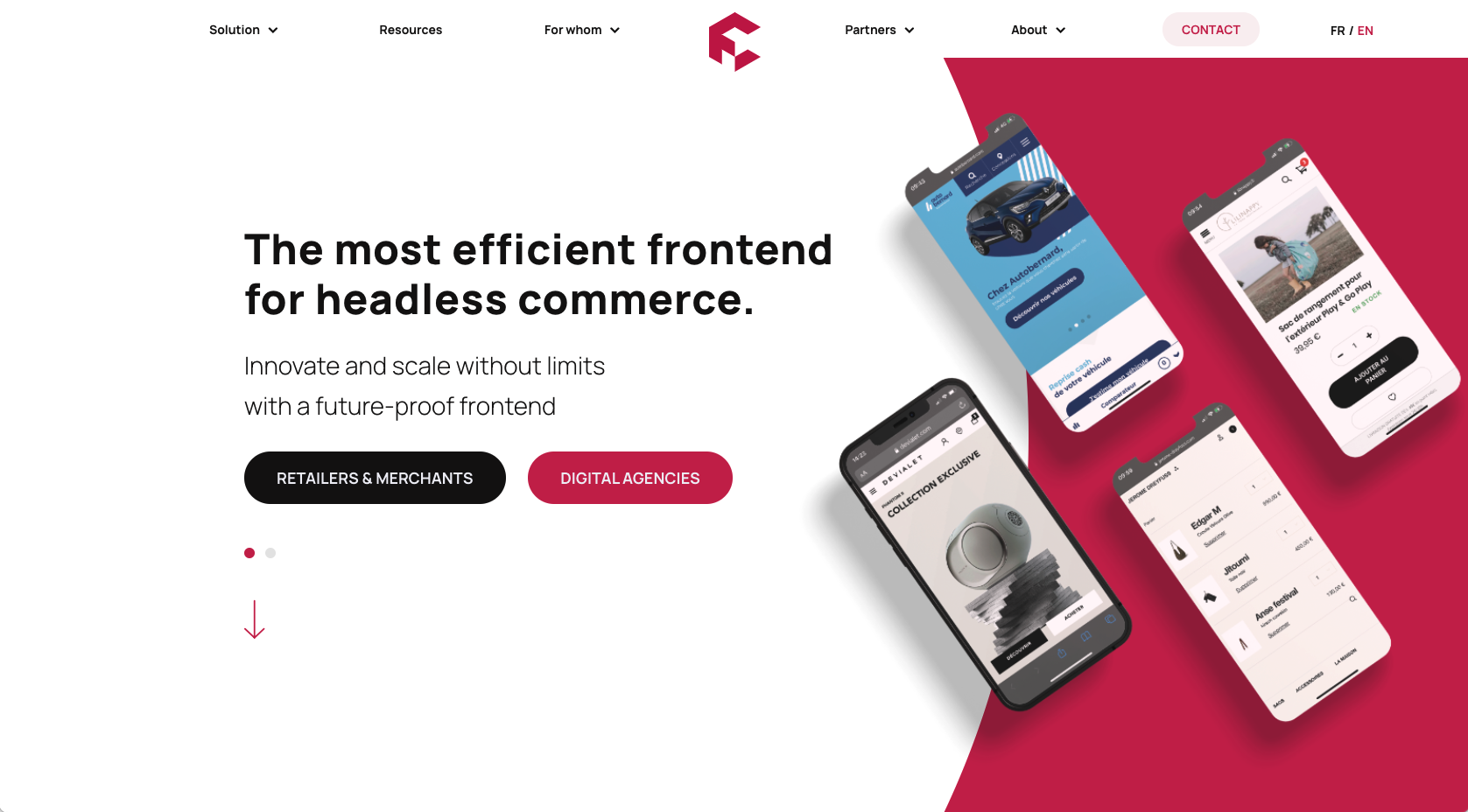 Front Commerce gives you a more profitable and faster online shop than your competitors by transforming your store to a Progressive Web App. It will be better indexed on search engines and be able to higher in conversion up to 30%.
Front-Commerce development and support process is designed around 3 main pillars:
Modern frontend technologies and good practices, to empower developers and make them comfortable
Unmatched performance even on mobile because a fast store sells more
Micro-services ready to easily integrate all your different APIs and getting over with unmaintainable monoliths.
Front-Commerce PWA solution ensures to lead to money savings and a drastic improvement in conversions.
Highlight features:
Fast and smoothy loading
Catchable by Google search
Allow users to access even offline
Compatible with all devices especially best works on mobile
Contact information:
Headquater: France
Website: https://www.front-commerce.com/en/
Support: [email protected]
Experius
Experius is an eCommerce development agency based in Netherland. Among its services, Experius does offer to build PWA webshops for Magento 2 based on Magento PWA Studio. PWAs are fully flexible, very fast and help users easily engage with the stores. Since the user builds a relationship with the web app, it becomes accelerated powerful. If you want to offer your visitors and customers superior shopping experience, you cannot ignore the PWA service of Experius.
Highlight features:
Works for every user regardless of which browser or device is used
Works offline or with a poor network
PWA webshop is indexed and displayed by Google
Super-fast loading of images and content
Runs completely over HTTPS and with an SSL-ensure safety
Auto-updated content
Allows users to add the app to their home screen
Contact information:
Headquater: Netherlands
Website: https://www.experius.nl/pwa
Support: [email protected]
Digifutura
Digifutura definitely believes that PWA will allow brands to connect and engage more with customers to offer better service. The company develops PWA using service worker technology that enables PWA to load instantly even when no Internet connection is available. Also, it supports users to receive notifications and reminders. Since visitors can see your content easily and without any interruptions, you have highly satisfied and engaged audiences.
Digifutura broadens the mobile-first approach to build PWA and improve user experience and engagement. They are using progressive enhancements to offer the same features to native apps when viewed on all devices and screen sizes.
Highlight features:
Achieve nearly instant loading times
Implement service workers to make your apps work offline
Encourage users to engage with web notifications
Reports on web performance and reach
Deliver business-centric mobile applications
Complete technical on development, deployment and maintenance
Contact information:
Headquater: USA
Website: https://www.digifutura.com/services/progressive-web-application-development/
Support: [email protected]
Storefront Cloud
Storefront Cloud is the Mobile-first eCommerce Platform that helps you build an engaging user experience across all devices. This agency ensures to improve your UX without making changes to the backend. Their PWA framework utilizes headless architecture, which allows you to quickly and easily replace your legacy frontend and connect via API to virtually any backend system. Some PWA features of Storefront are below:
Highlight features:
Works on all devices
Functions offline
Indexed by Google
Push notifications
Low data requirements
A stable, consistent core to keep your business secured
Optimized for modern infrastructures. Prepared for all conditions
Backed by world-class support and engineering teams
Contact information:
Headquater: Poland
Website: https://www.storefrontcloud.io/
Support: [email protected]
SoftLand Technology
Founded in 2010, SoftLand Technology is a worldwide information technology, consulting and outsourcing agency. It is headquartered in Cheshire, UK, and has its international representative office in Kolkata, India.
Among various development services, SoftLand Technology provides professional Magento PWA integration to eCommerce businesses globally. You can access their demo and check service details given below.
Highlight features:
Real-time updates
No download
SEO-friendly
Super fast website performance
Access website with stand-by mode when offline
Push notifications
Quick access from home screen
Contact information:
Headquater: UK
Website: https://softlandtechnology.co.uk/magento-pwa-development/
Support: [email protected]
Landofcoder
Landofcoder provides all high quality Magento development services, and in particular must mention their Magento 2 Multivendor Marketplace PWA Studio Solution. Landofcoder's PWA Studio Multivendor is built on PWA Studio's powerful technology, using 100% GraphQL and most modern features available today such as Headless, Elasticsearch, Builder.io,etc. All of that makes it a completely independent and powerful platform. You can check out more of their
Highlight features:
Fast loading
Add to the home screen
Offline mode
Multi platforms
App-like experience without installing an app
Customization
SEO friendly
Contact information:
Headquater: Hanoi, Vietnam.
Website: https://landofcoder.com/magento-multivendor-marketplace-pwa-studio-solution.html
Support: [email protected]
Conclusion
It is undeniable that PWA can make a revolution for any eCommerce website where its users are increasingly using mobile to do everything online. Mageplaza is very happy to bring more useful information for those who are truly concerned about their website improvement. And this PWA provider list is, hopefully, helpful for some of you.
Don't hesitate to drop us a line about your queries and we'll map the best approach for you to develop a PWA.
CONTACT OUR PWA DEVELOPMENT EXPERTS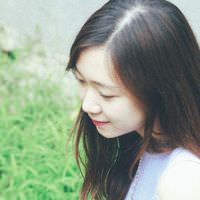 Rainy is a content creator at Mageplaza. As an ordinary customer, already had a special interest in online shopping, and up to now, has spent more than two years discovering online distribution channels as well as E-commerce platforms.
Website Support
& Maintenance Services
Make sure your store is not only in good shape but also thriving with a professional team yet at an affordable price.
Get Started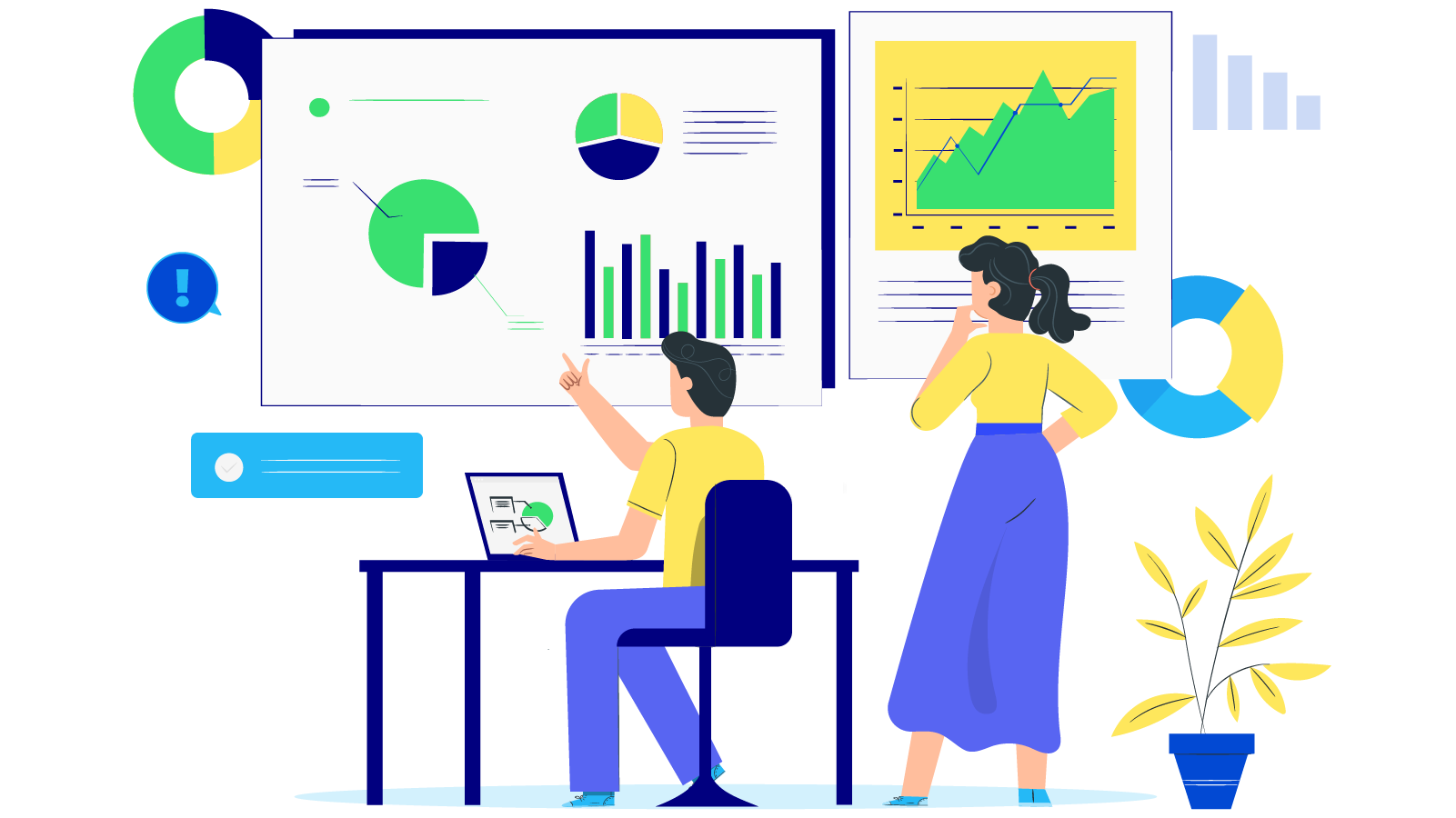 New Posts



Subscribe
Stay in the know
Get special offers on the latest news from Mageplaza.
Earn $10 in reward now!