10+ Best CRM eCommerce Software + Prices (2023)
The Most Popular Extension Builder for

Magento 2
With a big catalog of 224+ extensions for your online store
Why do small businesses still need CRM software to manage and maintain good relationships with their customers, and what are the best CRM eCommerce software options that they should consider? This blog will help to answer these questions directly.
Table of Contents:
Application of CRM eCommerce Software
Regardless of how small or large your company is now, managing customers is crucial to increase sales, especially when your business starts to expand. Because in this scenario, the difficulties of classifying and evaluating potential customers, the mystery surrounding the origins of customers, and the possibility of employees stealing the entire customer list all become more apparent.
To address these challenges, CRM is a suitable choice by:
Storing customer data, communication and transactions.
Recording all customer calls, emails, and appointments.
Tracking customer sources and interests to evaluate marketing campaigns.
Managing quotes, orders, contracts, inventory, and shipping.
Coordinating personal, team, and departmental tasks, including customer consultations and job assignments.
Business metrics like customer growth, opportunities, and revenue analysis.
10+ Best CRM eCommerce Software for Small Business in 2023
Software

3 Key features

Rating on G2

Pricing

Zoho CRM

- Opportunity & Pipeline Management




- Sales Force Automation




- Analytics and Reporting features

4/5




(2,476 reviews)

From $90/month

Salesforce

- Customer Data Management




- Contact & Account Management




- Marketing tools

4.3/5




(15,817 reviews)

From $25/user/month

Insightly

- Email Tracking and History




- Pipeline Management




- Task or Activity Management

4.2/5




(877 reviews)

For CRM features: from $29/user/month





For All-in-One features: from $349/month

Zendesk Sell

- Contact & Account Management




- Customization




- Document & Content Management

4.2/5




(477 reviews)

From $119/month

HubSpot CRM

- Integration API




- Scalability




- Task and Activities Management

4.4/5




(10,598 reviews)

Offer Free Plan





Paid Plan: From $28/month

Metrilo

- Email Marketing Tools




- Insightful Reports




- Customer Segmentation

4.7/5




(24 reviews)

From $119/month

Klaviyo

- Customer Database Development




- Reporting and analytics




- Lead Management

4.6/5




(999 reviews)

Free if less than 250 contacts





From $20/month if 251 contacts or more

Brevo

- Marketing Automation




- Sales Management




- Building and Personalizing Emails

4.5/5




(631 reviews)

Free for 300 emails/day





Paid plan: From $25+

Freshworks

- Sales Activity Management




- Reporting and Analytics




- Segmentation

4.5/5




(7,036 reviews)

Free plan: for less than 3 users





Paid plans: from $15/user/month (annually)

Copper

- Task and Activity Management




- Contact and Account Management




- Knowledge Base

4.5/5




(1,111 reviews)

From $29/user/month

Monday Sales CRM

- Customization




- User, Role, and Access Management




- Sales Force Automation

4.6/5




(637 reviews)

From $10/seat/month

Agile CRM

- Contact & Account Management




- Email Marketing Automation




- Reporting & Analytics

4/5




(342 reviews)

Free plan for less than 10 users





Paid plan: from $8.99/month
Zoho CRM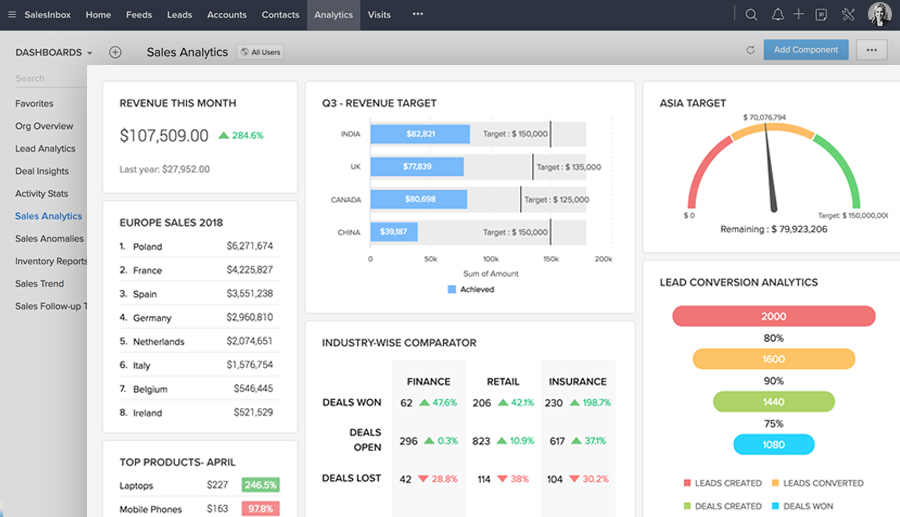 One of the best CRM eCommerce software available today is definitely Zoho CRM. Due to its smooth integration with popular eCommerce platforms like Shopify and Magento, it stands out.
Additionally, Zoho CRM has enough capabilities that may be adjusted to suit the needs of companies of different sizes. With that, Zoho CRM can successfully satisfy the needs for managing operations, teams, and customers as your eCommerce business expands.
Key features:
Customizable management of the sales pipeline
Create seamless workflow for sales
Offer powerful reporting tools
Easy to integrate with apps for inventory management, accounting, HR, customer service, and marketing (with paid plan)
Include multichannel marketing, leads, deals, contact management, tasks, and Zoho app integrations
Ability to use Zoho Creator to create a mobile app for business access on iOS and Android devices.
Pricing:
Monthly: From $90 (+ extra fees for other add-ons)
Annually: From $75 (+ extra fees for other add-ons)
**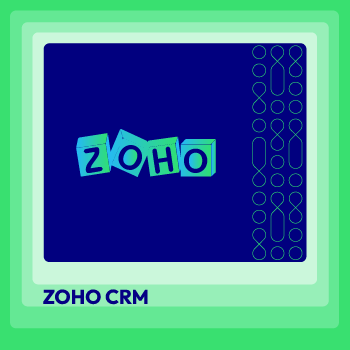 Zoho CRM Integration for Magento 2
A professional way to manage customer relationships and organize business effectively
Learn more
**
Salesforce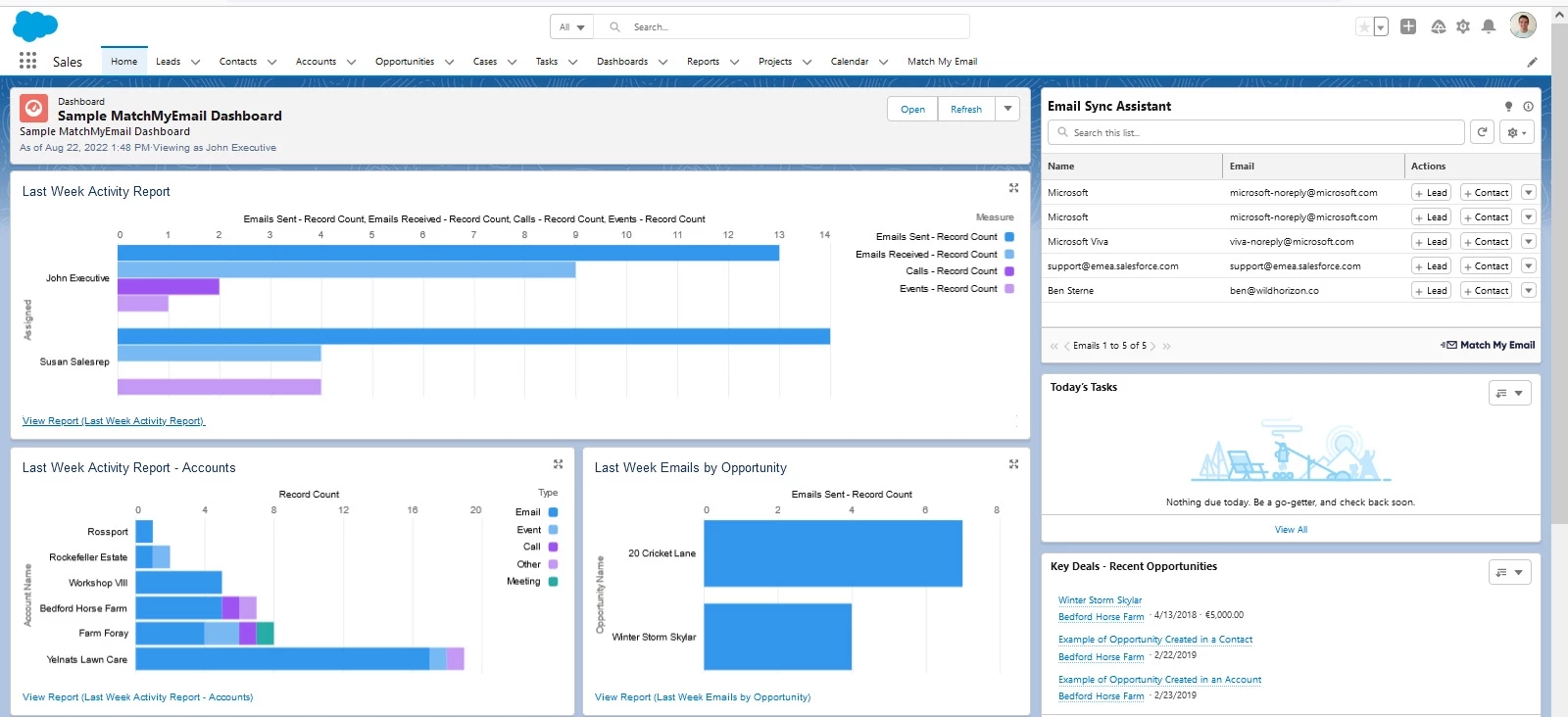 Salesforce provides effective automation capabilities to help simplify workflows. Small businesses can simply select the features and technologies they require from Salesforce, then integrate them with Salesforce to save costs. Given that convenience, Salesforce is a CRM eCommerce software being used by over 150,000 businesses and organizations worldwide.
Key features:
Give a complete view of customer's purchasing history, preferences, and interactions to personalize their shopping journey
Offer lead generating, monitoring, and nurturing tools
Track leads, contacts, and accounts through the sales pipeline
Robust marketing tools for email campaigns, customer engagement tracking, and results analysis.
Easy to set up
Pricing:
4 tiers for small and medium businesses:

$25/user/month
$80/user/month
$80/user/month (with a contract and additional customer service solutions)
$1,250/month for up to 10,000 contacts

Additionally, there are other pricing packages available, such as Sales Cloud, Service Cloud, Commerce Cloud, and more. You can find more detailed information on Salesforce's pricing page.
**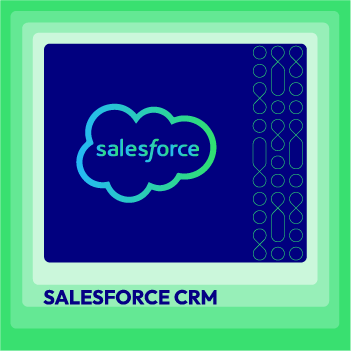 Offer to automatically synchronize primary Magento objects to Salesforce like Customers, Products, Orders, etc.
Check it out!
**
Insightly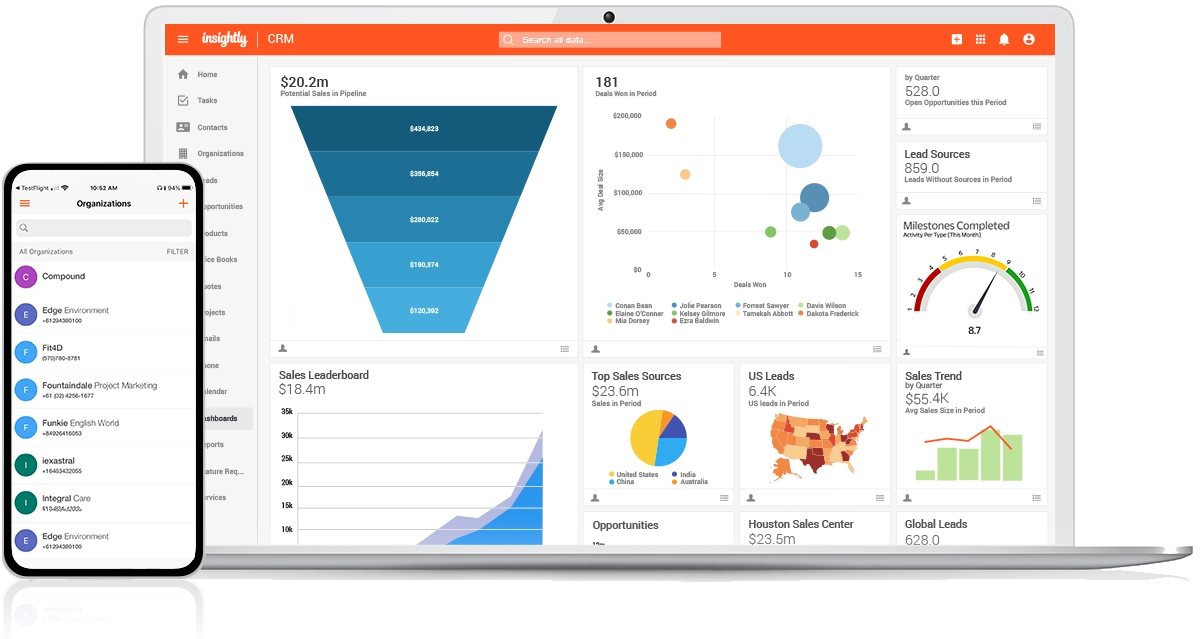 With more than 500,000 members globally, Insightly has been recognized as the best online CRM for small eCommerce businesses. This software helps you keep an eye on sales pipeline and project progress with Gantt chart views, keeps track of time and expenses, and is easy for teams to collaborate and operate remotely.
Key features:
Allow you to track emails, set up follow-ups, and save a complete email history for each contact
Sales pipeline visualization and management tools
Assign tasks and projects effectively to help teams collaborate and fulfill deadlines
Custom workflows and record kind, customizing the CRM to your eCommerce activities
Reporting tools to assist you make data-driven decisions about sales, customer behavior, and campaign effectiveness
Pricing:
3 pricing plans for CRM features (all pay annually):

Plus: $29/user/month
Professional: $49/user/month
Enterprise: $99/user/month

3 pricing plans for Insightly All-in-One (including CRM, Marketing, AppConnect and Service features):

Plus: $349/month
Professional: $899/month
Enterprise: $2,599/month
Zendesk Sell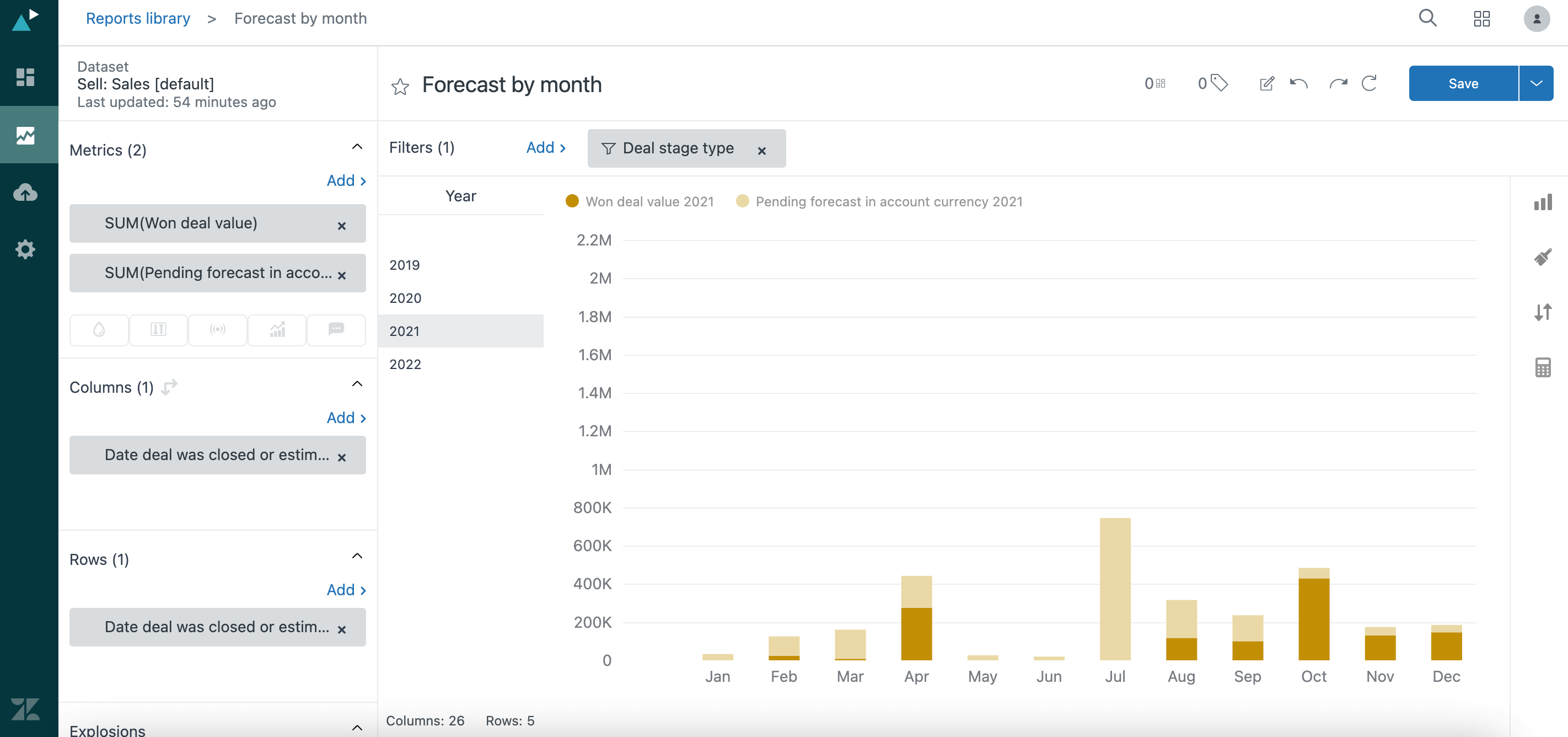 Zendesk Sell is a modern sales CRM eCommerce software that accelerates revenue and is easy to set up, use, and love. One of the great things about Zendesk Sell is its intuitive interface and features that help to organize, track lead lists, and close deals more efficiently.
Key features:
Store and retrieve client contact and account data effectively, helping to manage sales from lead to order
Allow data to be displayed on several devices
Allow administrators to tailor their procedure by creating custom objects, computations and more
Automate a multi-step process, allowing administrators to set rules for user actions and notifications based on specific criteria
Support CRM systems to edit, publish, and update presentations, documents, photos, and associated electronic files
Pricing:
Sell Team: $19/user/month
Sell Growth: $49/user/month
Sell Professional: $99/user/month
Enterprise: $99/user/month
HubSpot CRM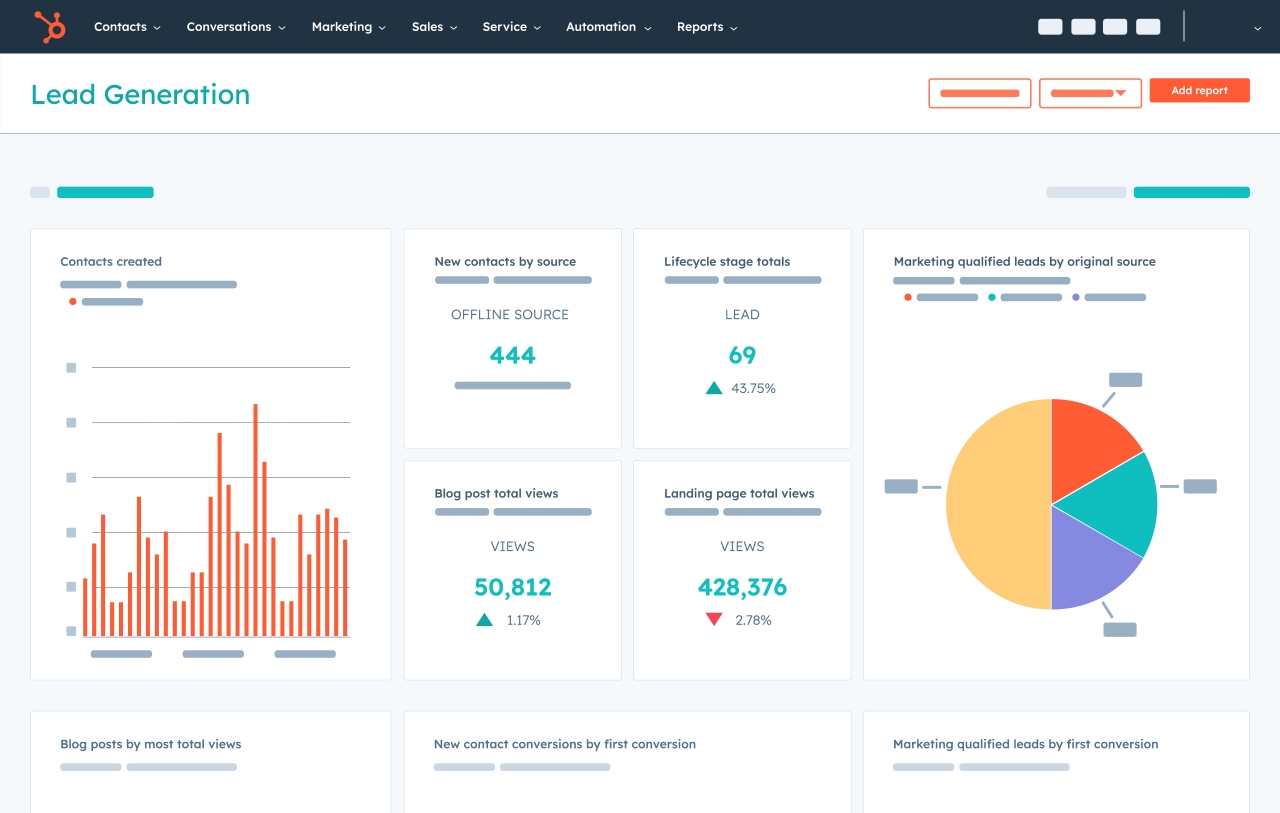 HubSpot CRM is a great tool for addressing organizations and contacts separately and creating lists to filter out what you'd like to target.
By seamlessly combining customer relationship management and sales automation, HubSpot CRM goes a step further and makes it possible to nurture leads and build solid relationships with your customers quickly.
Key features:
Provide API for easy integration with third-party systems
Scalability for eCommerce enterprises with huge quotes, commodities, users, and policies
Organize and keep track of tasks and activities effectively
Manage all that customer data within a detailed dashboard accessible to all team members
Offer integration options with popular applications like Salesforce, Shopify, and Magento 2
Pricing:
Free plan for basic CRM tools

Paid plans:

Starter: $28/month or $303/year (pay upfront)
Professional: $2,493/month or $26,880/year (pay upfront)
Learn more: Integrate HubSpot CRM with Magento 2
Metrilo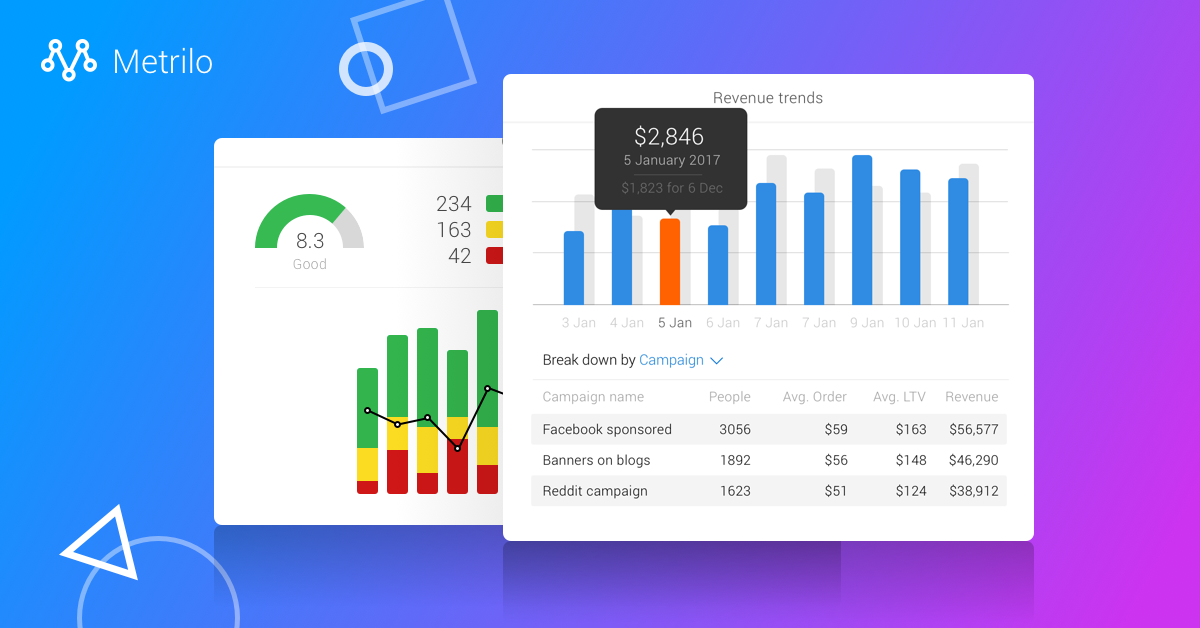 When discussing Metrilo, its standout feature is how this CRM software simplifies the analysis of eCommerce data by seamlessly connecting sales data with various actionable functionalities like email automations, feedback management, customer relationship management, and personalized offer customization, all accessible from a single platform.
Key features:
Easy to segment, track customers' purchase history and observe their on-site behaviors in more strategic, focused ways
Automate reporting on engagement data, sales attribution, and marketing campaign results without manual setup
30+ filters analyzing customer base by their behavior and attributes to create tailored email campaigns
Provide customer retention analysis to understand customers' lifecycle and proactively maintain relationships with them
Pricing:
Essential Plan: $119/month
Pro Plan: $199/month
Premium Plan: From $299/month
Klaviyo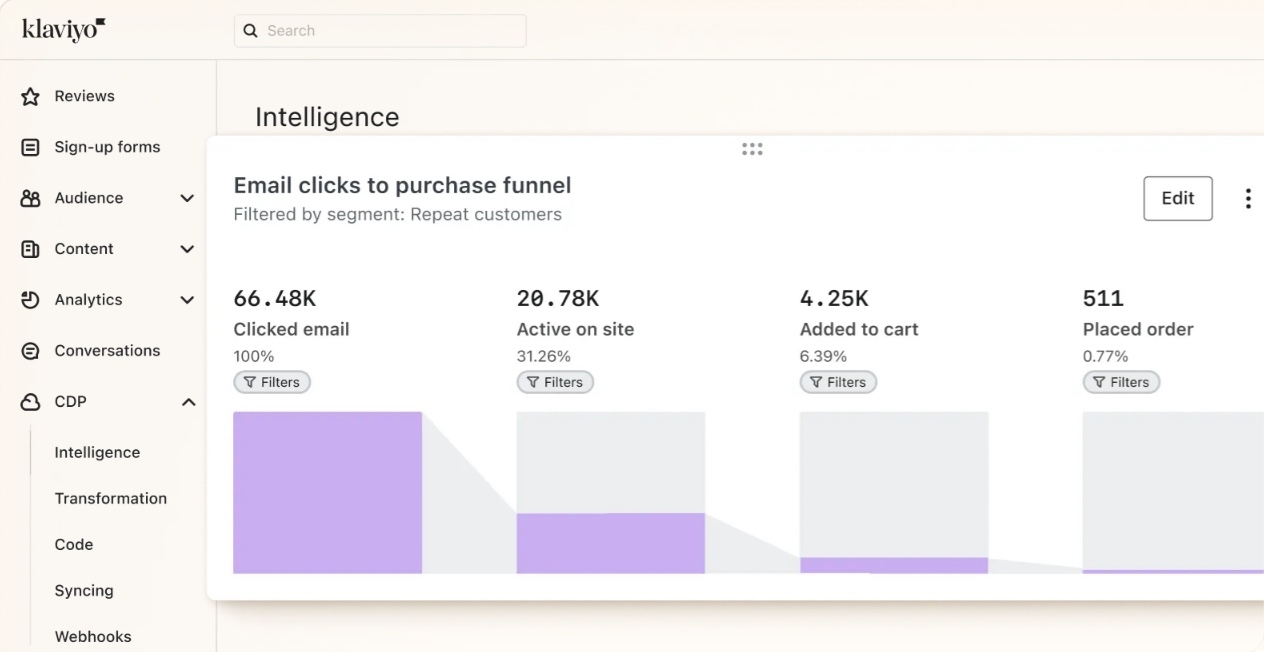 The Customer Data Platform (CDP) on the Klaviyo platform is widely recognized for integrating various tools and technologies, improving marketing operations, and allowing businesses to get more value out of their data. With the help of this platform, marketers can develop tailored, data-driven email and SMS marketing campaigns.
Key features:
Build a complete and in-depth customer database including the customer's profile and other relevant data to target potential customers
Categorize potential sales, engaged subscribers, and others into subcategories to make the dashboard look cleaner
Features for reporting and analytics offer insightful data on the effectiveness of email campaigns
Easy to manage various store accounts under a single account
Duplicate flows across accounts and transfer campaigns using templates that are compatible with all accounts
Pricing:
Free for store with less than 250 contacts
From $20/month for store from 251 to 500 contacts
From $30/month for store from 501 to 1000 contacts
From $45/month for store from 1001 to 1500 contacts
Brevo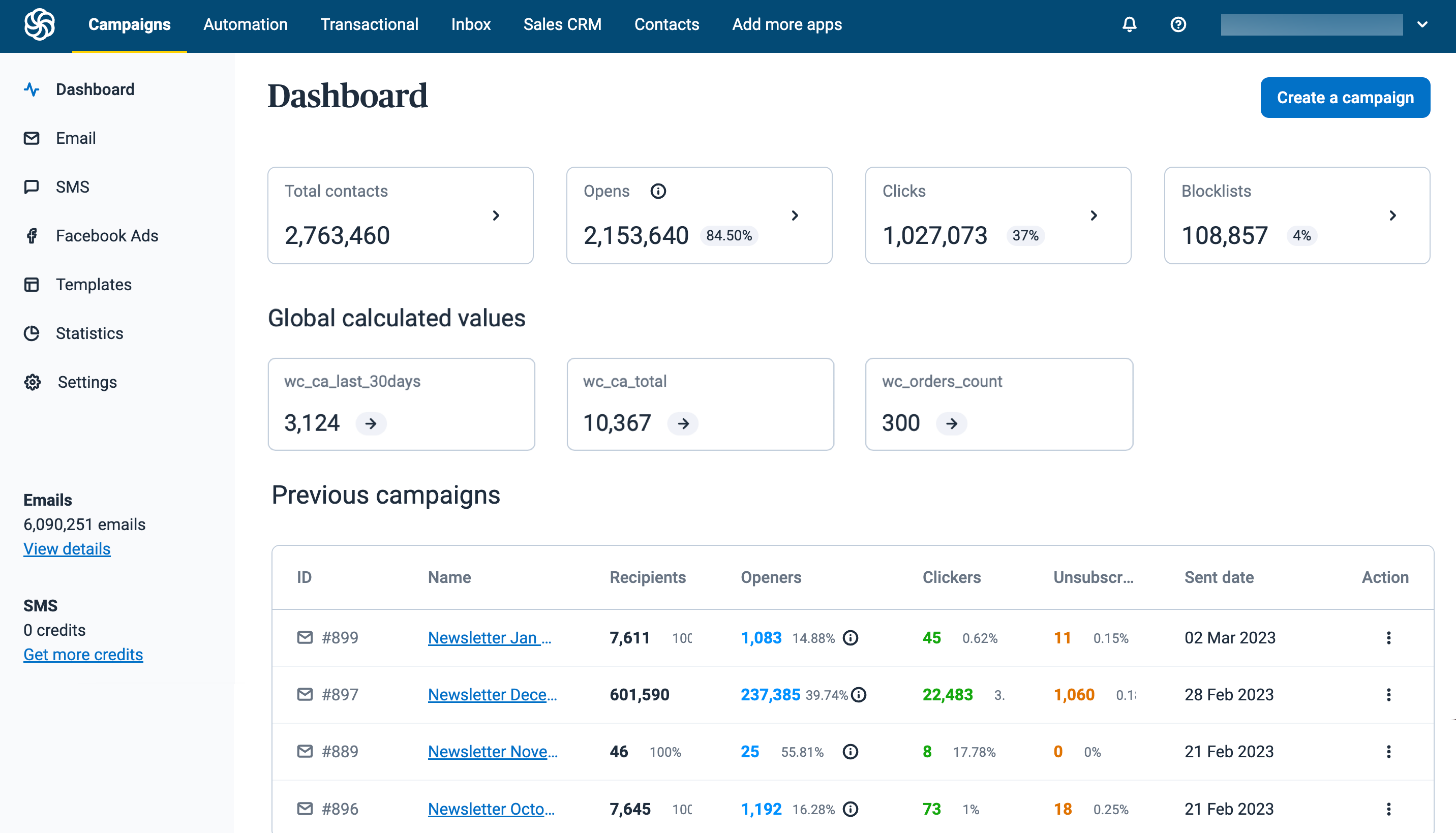 Brevo, formerly known as Sendinblue, is a cost-effective marketing and CRM solution. It assists small and growing businesses in achieving faster growth. Trusted by over 500,000 businesses globally, Brevo is user-friendly and suitable for businesses of all sizes, especially small companies.
Key features:
Run multi-channel advertising campaigns through Brevo SMTP and APIs, and automate marketing activities for timely and targeted messaging
Employ live chat and chatbots to interact with customers in real-time and respond to their questions 24/9
Use a centralized system to manage sales activities from start to finish with visibility into each stage of the process
Unlimited storage of connections for efficient list management
Offers campaign analytics with open/unsubscribe metrics
Pricing:
4 different packages:
Free

Starter

Business

BrevoPlus

- 300 emails/day




- limitless contacts

- $25+/month




- starting at 20,000 emails/month




- limitless contacts




- limitless daily sends

- $65+/month




- starting at 20,000 emails/month




- limitless contacts




- access for multiple users




- advanced statistics

- Custom price




- limitless emails




- limitless contacts




- business-level security




- advanced tools and integrations




- sub-account management
Freshworks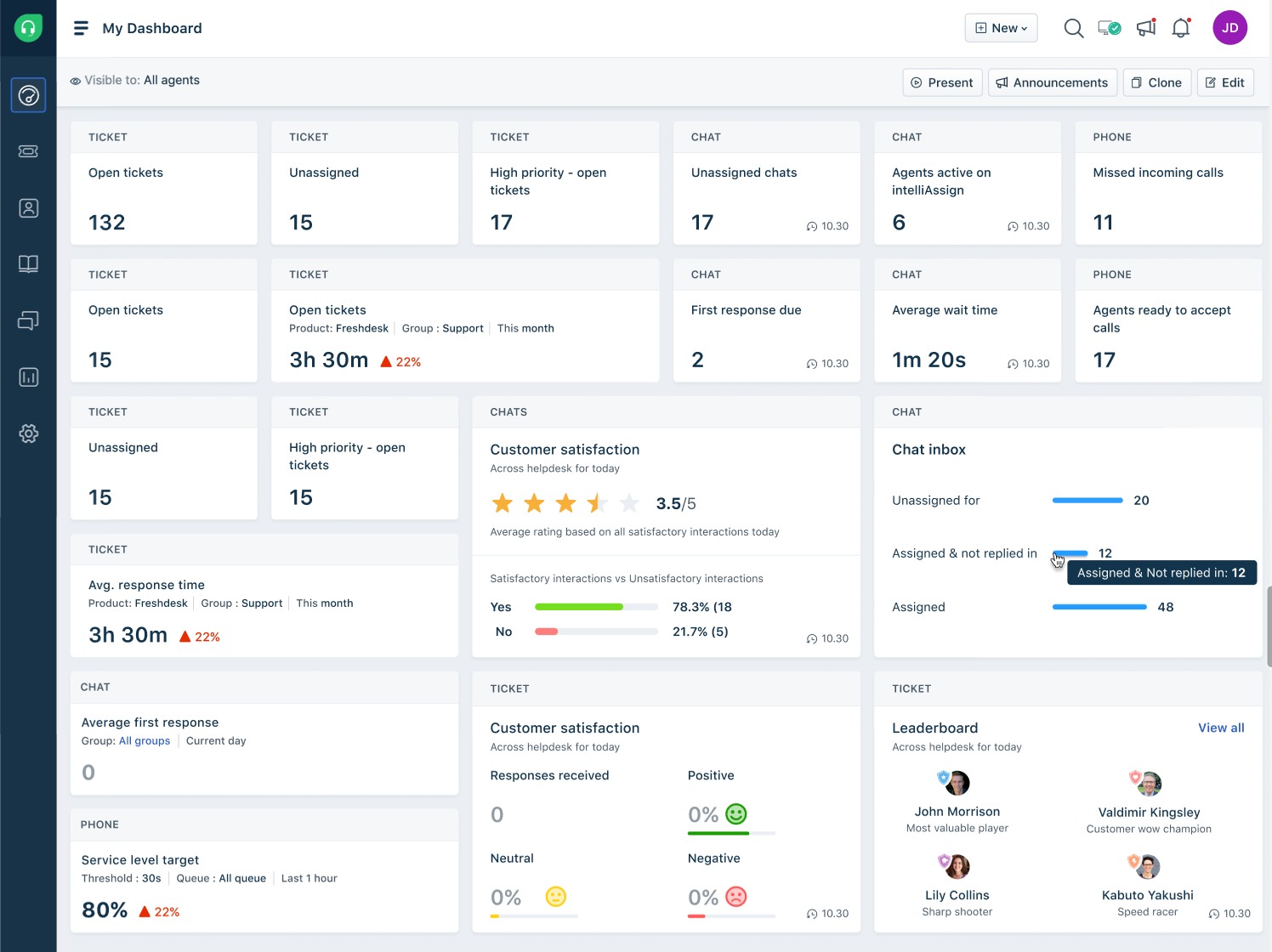 Freshworks is a cloud-based customer service software that strives to enhance customer relationships, increase sales efficiency, and grow revenue across diverse industries.
Key features:
Provide a centralized and comprehensive overview of sales activities for sales managers, allowing for easy monitoring and management of team performance
Accessible on mobile devices, ensuring sales teams can stay productive on the go
Record and analyzes customer interactions by tracking and reporting of sales-related data for better engagement strategies
Sort and group various customer inquiries into categories, give them a priority based on urgency or importance, and then assign each category to a particular team member or department, simplifying the request handling
Pricing:
Free plan: for less than 3 users
Growth plan: from $15/user/month (annually)
Pro plan: from $39/user/month (annually)
Enterprise plan: from $69/user/month (annually)
Copper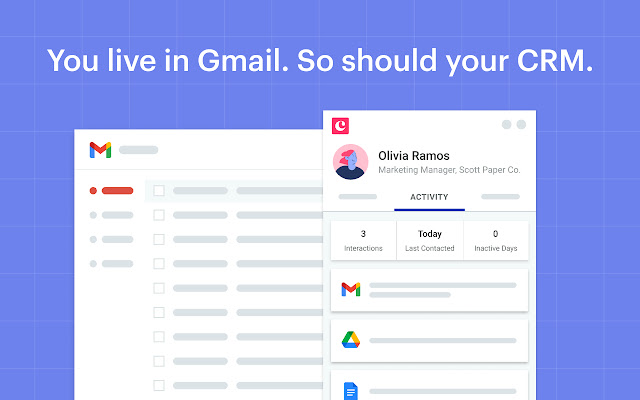 For small businesses who need to manage more sales leads and expand customer connections but don't have time for data entry, tedious admin activities, or expensive tools, Copper integrates with Google Workspace to log all emails and other interactions to the appropriate customer contact.
Key features:
Automate background tasks to keep intricate processes running smoothly without requiring constant attention from users
Collect and arrange all important data into a single, convenient database
Track the sources or specific web pages of potential customers who express interest by filling out forms on your website
Pricing:
Basic plan: from $29/user/month
Professional plan: from $69/user/month
Business: from $134/user/month
Monday Sales CRM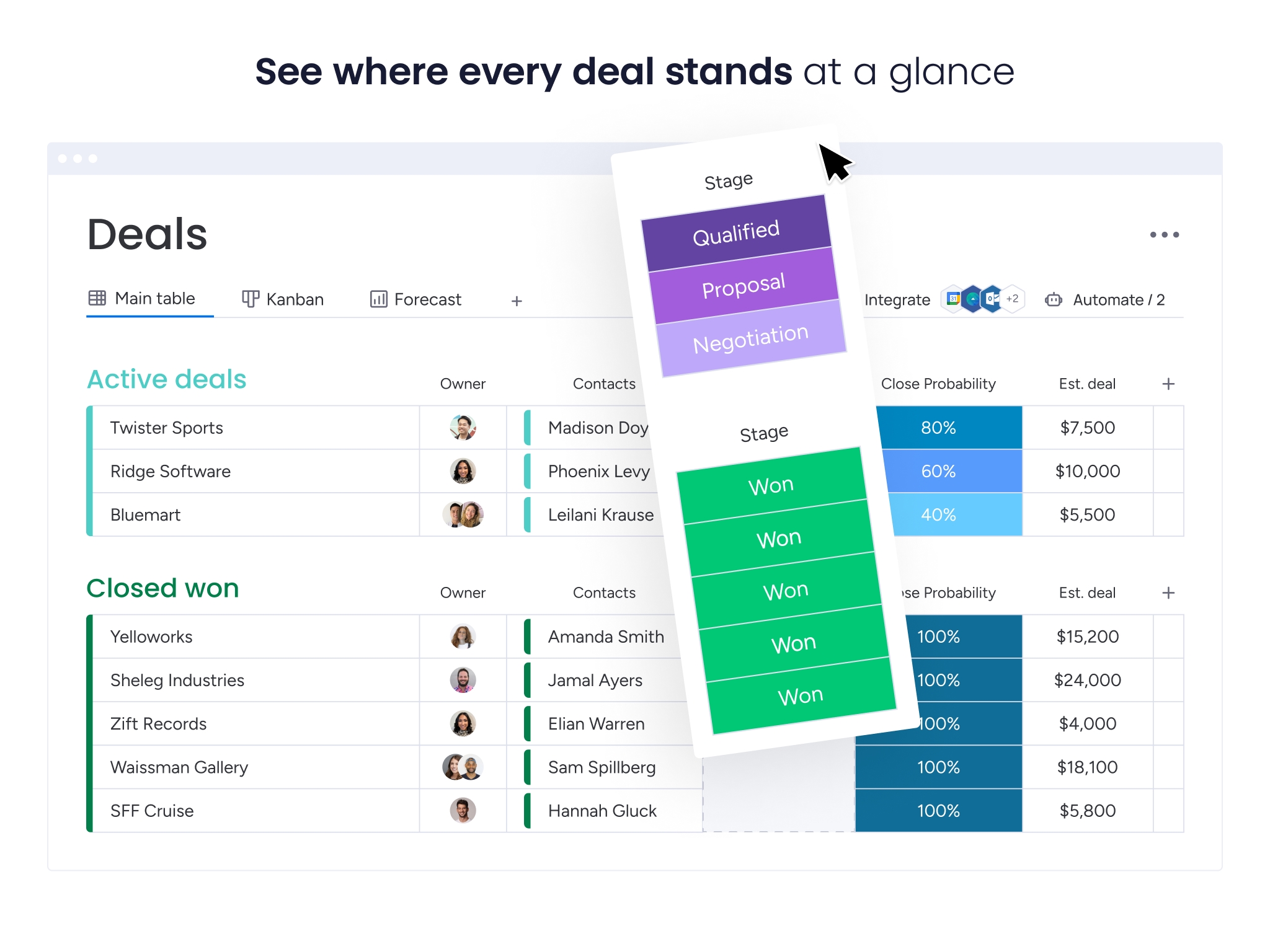 Monday sales CRM simplifies the entire sales cycle for business owners, sales teams, and RevOps. Customer data, and post-sales activities are seamlessly managed within the CRM, connecting all company stakeholders for efficient billing, contracting, onboarding, and more.
Key features:
Secure leads, supervise contact interactions and closely follow the status of every deal to prevent any missed opportunities
Many customization options, including integrations and automations, to arrange processes according to their needs and the size of the business
Provide a sales forecast template to ensure consistency in forecasting process with all the necessary information
Access to Account, Contacts, Deals, and even Activities only requires a single click from customizable dashboards
Synchronize data between boards that works effectively for your needs
Pricing:
Monday's sales CRM offers different packages with a minimum of 3 people (meaning "seat"):
BasicCRM: $10/seat/month
StandardCRM: $14/seat/month
ProCRM: $27/seat/month
EnterpriseCRM: Custom quote
Agile CRM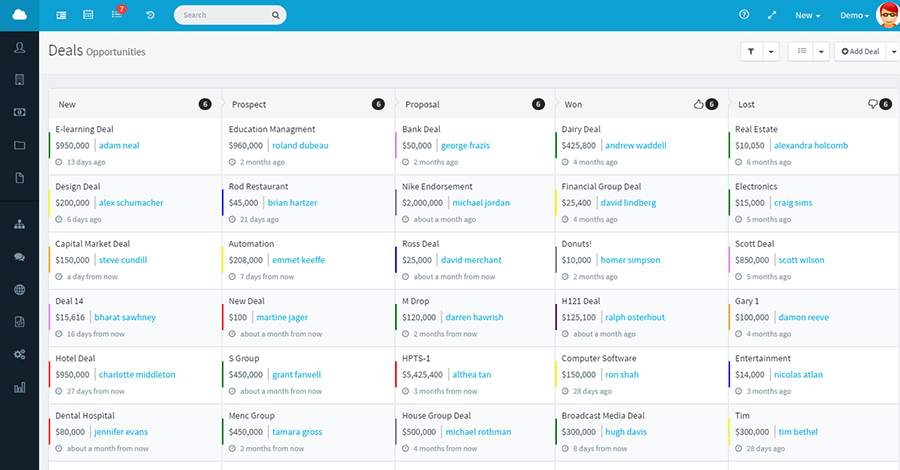 Agile CRM is both powerful and user-friendly. It allows you to easily stay in touch with associates, track transactions, and handle multiple projects with just a few taps. AgileCRM has truly empowered small eCommerce businesses to enhance their sales, service, and marketing operations, enabling seamless daily customer interactions.
Key features:
Have a detailed list of all the customer's information and communication history on one page, arranged in order
Connect to and gather data collected through various other channels, such as email, marketing, or sales applications, and present it uniformly on a dashboard
Send personalized marketing emails to a large group of recipients using the built-in functionality of our product, eliminating the need for extra tools or platforms
Customize and adapt these reports into different aspects to meet specific requirements or changing circumstances
Pricing:
Free for less than 10 users
Starter plan: from $8.99/month
Regular plan: from $29.99/month
Enterprise plan: from $47.99/month, including more than 50 plugins and integrations
8 Criteria for Selecting the Right CRM Software for Small Businesses
Apart from the 10+ best CRM eCommerce software listed above, the market offers various Customer Relationship Management (CRM) solutions with different features and pricing. For small businesses, every investment must strike a balance between cost and benefits. Therefore, small businesses should consider what criteria when choosing software that suits their needs?
Define Necessary Needs Addressed by CRM Software
To do this, ask and answer questions such as:
Do you need to generate more potential leads? If so, focus on CRM software that supports user data analysis.
Does your sales process encounter obstacles? If so, you need robust CRM software for data aggregation and analysis to identify the issues.
Do you want to enhance efficiency between your departments? If so, look for CRM software with the ability to automate as many manual processes as possible.
Evaluate the Maximum Budget
Once the needs are identified, the next step is to consider the cost. As your business is still in the growth phase, the CRM software investment needs to be budget-limited to avoid wasting money and time exploring various price quotes.
8 Considerations for eCommerce Small Businesses
User-friendly and easy to use
Scalability of the CRM eCommerce software
Capability for storing business information
Customization (adding or removing fields of data, adding extra data filtering criteria, etc.) enables businesses to adapt the CRM software to their unique requirements
Integrate, connect, and synchronize with other applications and systems
Automate of workflow processes
Customer support functionality
Access CRM software from various locations and different types of devices
Secure business and customer information
What's important is to identify which features your business is seeking in a CRM so that you can choose CRM software with the corresponding functionality, which will help your business grow and achieve maximum efficiency.
Is CRM E-commerce Software Effective for Small Businesses?
Currently, the global trend in adopting Customer Relationship Management (CRM) eCommerce software is embraced by businesses of all sizes. Nevertheless, there remains a question as to whether small eCommerce businesses truly need to use CRM software and whether it delivers the promised effectiveness.
The answer to the first question depends on the capabilities and needs of the business. As for the question of CRM software's effectiveness for businesses, the answer is a resounding "Yes!".
Finances Online reported that CRM can increase lead conversion by 300%, and IBM's survey found that successfully implemented CRM software can have a ROI of over 245%.
Additionally, 74% of businesses agree that CRM technology improves access to customer data, which is a crucial advantage in today's highly competitive e-commerce environment.
Based on the aforementioned statistics, we can tentatively conclude that CRM e-commerce software can indeed enhance the competitive capabilities of e-commerce businesses, and small businesses particularly require it for their survival and growth.
Conclusion
Imagine your favorite local café, where the barista knows your name and coffee order by heart. Now, picture this café as a bustling online store serving thousands. How can it maintain that personal touch? CRM software steps in, transforming each online interaction into a personalized, memorable experience.
Small businesses will face difficulties when managing vast amounts of customer data. CRM software serves as their compass, tracking purchases, detecting patterns, and predicting preferences. It's like having a crystal ball for customer desires.
Therefore, CRM software isn't optional; it's a lifeline for small businesses. It transforms every interaction into a personalized experience, ensuring success in the digital age.
If you're a small business owner and are looking for effective CRM software, I hope you will find the most suitable one from the list of best CRM eCommerce software in this article!
Related Posts:

Sam is the CEO and Founder of Mageplaza, pursuing a simple and healthy lifestyle. He is a friend, a husband, and a father to two children. As a trainer and an aspiring influencer, he is also a big fan of sports and travel. Sam is exceptionally knowledgeable about e-commerce, especially Magento and Shopify, with 10 years of experience in the field.
Website Support
& Maintenance Services
Make sure your store is not only in good shape but also thriving with a professional team yet at an affordable price.
Get Started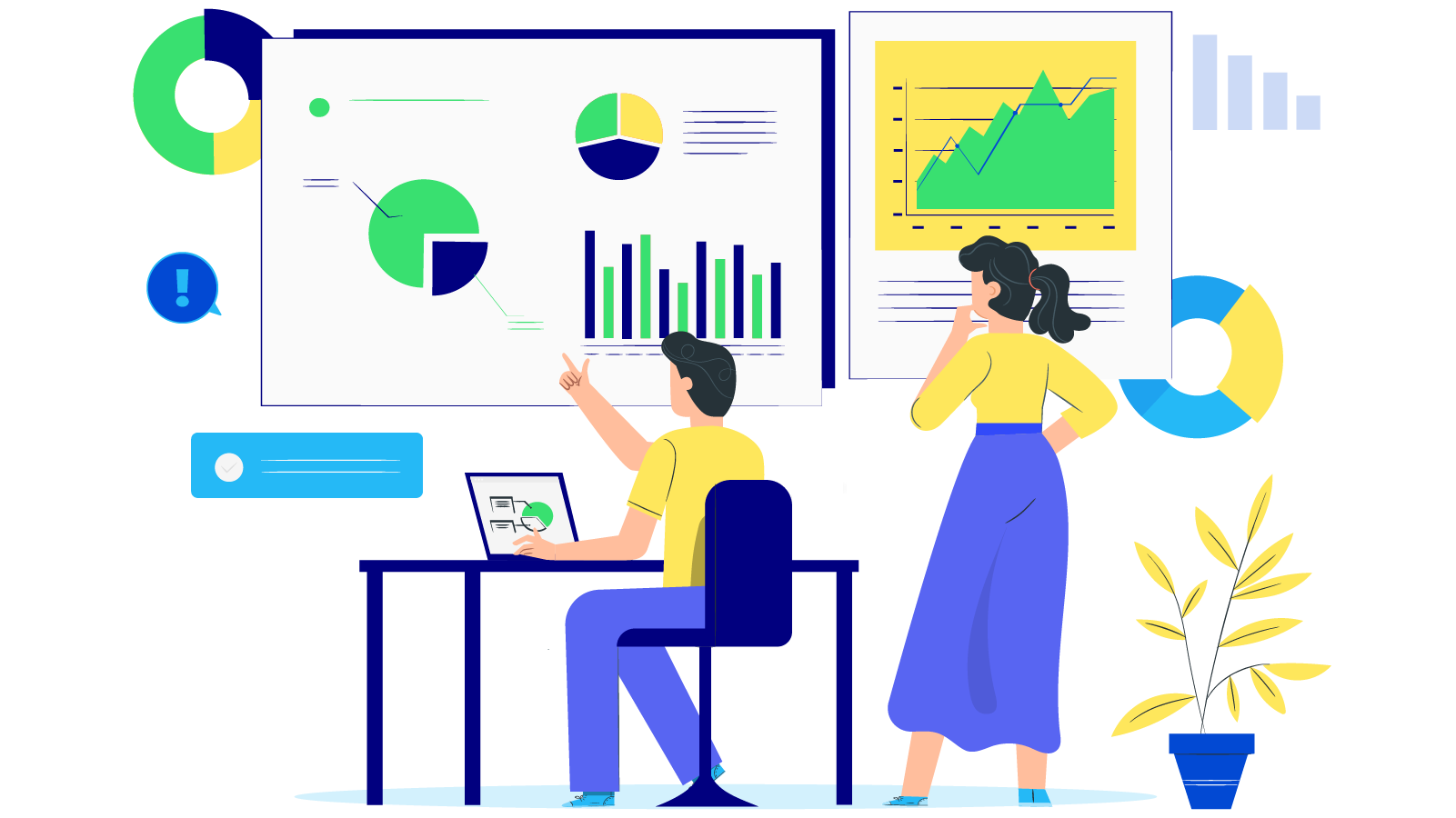 New Posts



Subscribe
Stay in the know
Get special offers on the latest news from Mageplaza.
Earn $10 in reward now!