Top 7 CRM Integrations for Your Magento 2 Store
Experienced E-commerce Agency for

Magento/ Adobe Commerce/ Shopify/ Shopware

Development
Hey store owners, why do you choose Magento to build your online store?
Most people choose Magento for its flexibility, SEO readiness, advanced features, and ability to handle large shops. It can support a huge amount of customer data, product information, and events.
With a client base of more than 270,000 businesses worldwide, Magento has become one of the most sought-after platforms for running and developing E-commerce sites.
Magento is excellent for supporting large stores; however, it's not exactly marketing-oriented. For the best results, we recommend you use Magento CRM software to unify all customer-centric activities and enhance the productivity of your store.
This blog post will show you the top 7 CRM integrations for your Magento 2 store that you shouldn't miss. Let's explore!
Magento Integration Service
by Mageplaza
Connect Magento store with other apps instantly with experts' help
Learn more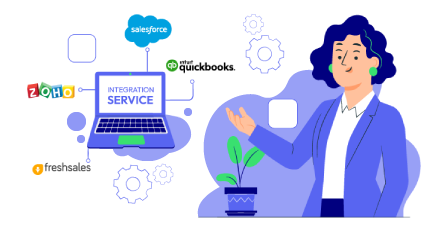 Table of Content
What is Magento CRM integration?
A Magento CRM integration helps you unify sales, marketing, and customer support activities for better business management. It consolidates data of your customers and sales leads in one place from multiple teams.

The integration will synchronize the data from the CRM platform to your Magento store. The data includes products, customer accounts, order history, invoices, etc. As a result, your data is stored in a single repository and managed by a single interface. That'll make the management of your customer relationships easy and enhanced.
Why does your Magento 2 store need CRM integration?
Does your Magento store need CRM integration?
We believe so.
Magento E-commerce sites, especially those in the B2B industry with a long sales cycle, can dramatically benefit from a comprehensive Magento CRM integration. The main reason is that a CRM system can simplify your business operations by integrating all activities into one central platform.
Some key benefits of integrating a CRM platform with your Magento 2 store include the following:
Store & manage customer data. Rather than distribute and communicate customer information amongst various business divisions, a CRM system contains all updated information that anyone can access.

Keep track of customer interaction. Thanks to omnichannel retail, customers are more likely to interact with your brand through various touchpoints. A CRM platform handles the storage of all leads and customer interactions across different sales channels.

Improve inventory management. A CRM platform offers a holistic view of managing your product's demand by providing an in-depth report on stock availability. Team members will get information on crucial sales metrics, such as average order value, customer retention rate, and most recent orders.

Report & analyze new trends. A Magento-CRM integration provides data-based forecasting to help streamline deal-close probability, budgetary expenditure, and much more.

Gain competitive advantage. Manage customer queries efficiently to achieve coordinated and superior information flows within your organization.

Boost productivity. As we said above, a CRM platform unifies all your sales, marketing, and customer support activities. Establishing a process or workflow for team members to follow becomes easier. As a result, it reduces time on all the tedious paperwork tasks and manual work.
Features of Magento CRM software
A robust Magento CRM integration should work as an all-in-one tool that streamlines every sales, marketing, and customer support activity at your store. So, it needs to possess all features to boost the productivity of these functions.
Sales
Move leads from marketing to sales seamlessly
View the deal pipeline and track/move easily
Track emails, calls, notes, and lead progress chronologically
Attach relevant documents to contacts, deals, emails, and companies
Identify the most qualified leads
Marketing
Streamline all marketing channels, such as social media, email, SMS, etc.
Design email templates and run campaigns easily
Track email campaign performance
Customize landing pages to capture prospective leads
Promote web engagement with signup forms, custom popups, surveys, and coupons.
Customer support
Store & organize customer information in one place
Track customer interaction with your brand
Organize and track all support tickets in one view
Automate customer support processes with ticket status, reply, priority, and assignee
Collect meaningful insights and data
Integrations
Integrate with any third-party app and service
Top 7 CRM integrations for your Magento 2 store
1. Zoho CRM
As one of the most well-known cloud-based CRM platforms, Zoho CRM was developed with small and mid-size businesses in mind. This powerful CRM system has empowered more than 250,000 clients in 180 countries by helping them engage with customers, convert more leads, and generate more sales.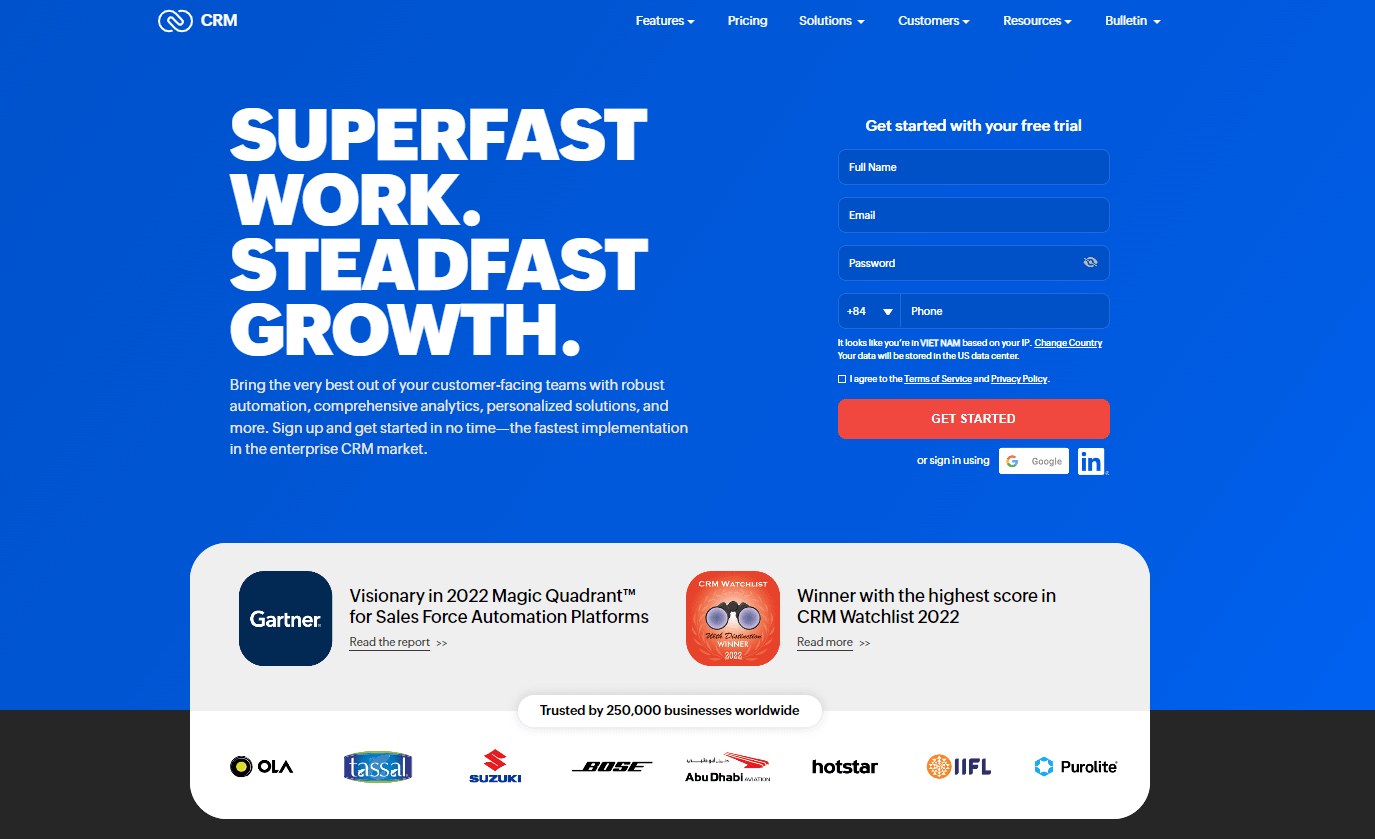 With the mission of helping businesses "sell smarter, better, and faster," Zoho CRM offers a complete set of features and tools for your Magento store to grow exponentially.
Zoho CRM comes with the most basic yet effective functions, from storing data to automating processes and getting real-time reports. The company even introduces an AI-powered sales assistant to help you automate and manage your workflow to the next level.
Highlight features:
Synchronize all data between Zoho and your Magento store
Reach customers across various channels, such as email, live chat, social media, and telephone, from the Zoho dashboard
Automate the marketing and sale process
Streamline the lead nurturing process
Get real-time notifications when someone interacts with your business
Utilize an AI sales assistant to reduce manual work
Set rules to trigger actions and follow up better with workflows
Provide real-time reports and insights on key metrics
Pros:
Simple, user-friendly interface with a minimal learning curve
Strong automation capabilities
Solid email marketing features
Helpful AI-powered sales assistant
A free plan included
Cons:
Some customization is required to start
Some available forms are not optimized for conversions
Read more: How to Integrate Zoho CRM with Magento 2
2. Salesforce CRM
Salesforce is one of the most advanced and professional CRM integrations for your Magento 2 store. The platform has been around for more than 20 years, boasting an industry-leading number of integrations and a strong reputation.
Salesforce CRM offers every feature and tool needed to manage seamless customer relationships at your Magento store. Furthermore, it holds many advanced features like marketing automation, workflow creation and management, task management, and opportunity tracking.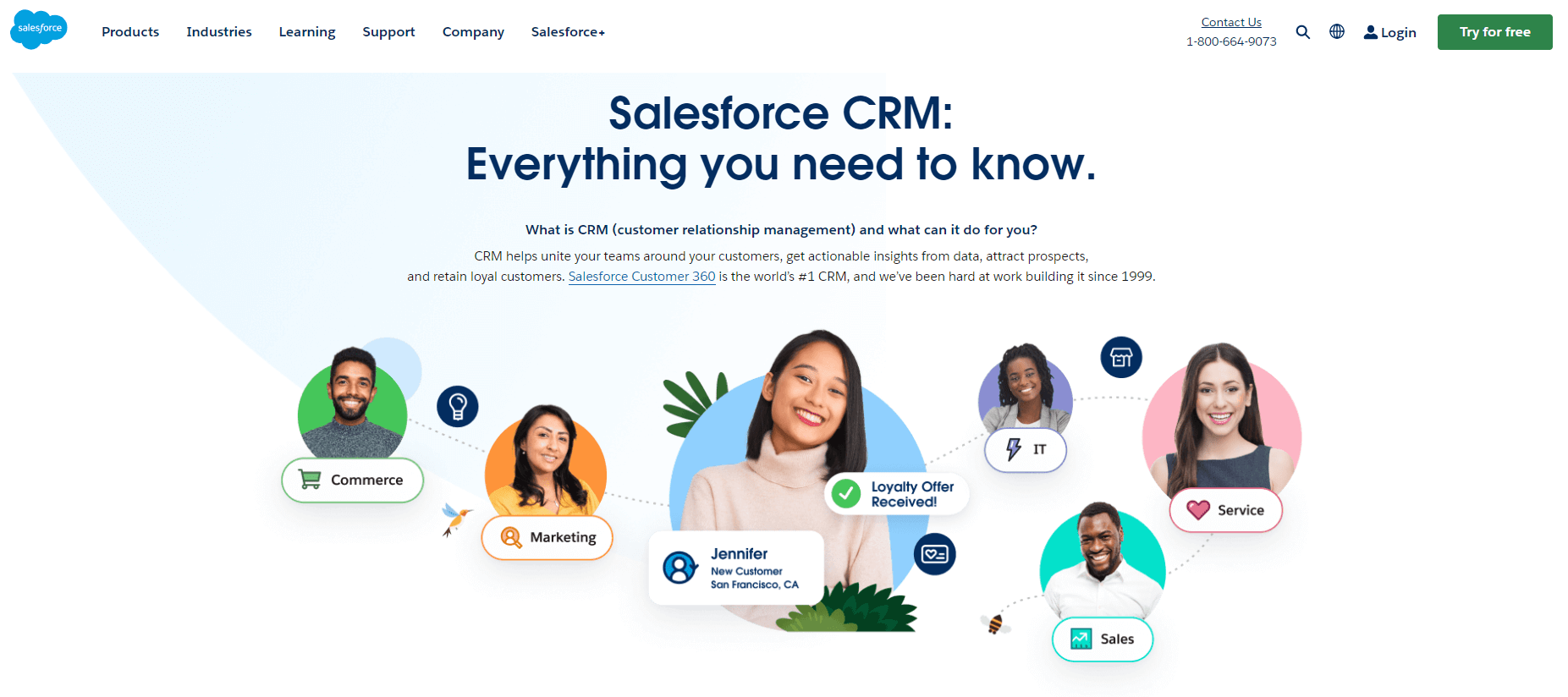 In addition to basic Magento CRM features, Salesforce provides Sales Cloud, Marketing Cloud, Service Cloud, and Commerce Cloud. Each focuses on one particular aspect of your Magento store (e.g., marketing & sales management and further development).
Small and mid-size businesses may find it a bit overwhelming with Salesforce features, but it can be an excellent Magento CRM option if you aim at expanding and scaling fast.
Highlight features:
Synchronize all data between Salesforce CRM and your Magento store
Control all customer details, such as activity history, communications, etc.
Offer advanced CRM features, like marketing automation, contact & task management, etc.
Automate workflows, set up automatic email alerts, and auto-assign tasks
Customize the interface by using dragging-and-dropping or using codes for more customization
Provide real-time reports and insights on key metrics
Pros:
Extensive customization options
Easy to set up and use
More advanced features than other CRM solutions
Numerous integrations
Powerful reporting
Cons:
Expensive compared to other solutions
A bit overwhelming for small teams and businesses
Read more: How to Integrate Salesforce CRM with Magento 2
3. Freshsales
Freshsales is an all-in-one CRM platform that puts the central focus on your marketing and sales efforts. It's a good choice for startups, small companies, and other businesses looking for a decent CRM on a budget.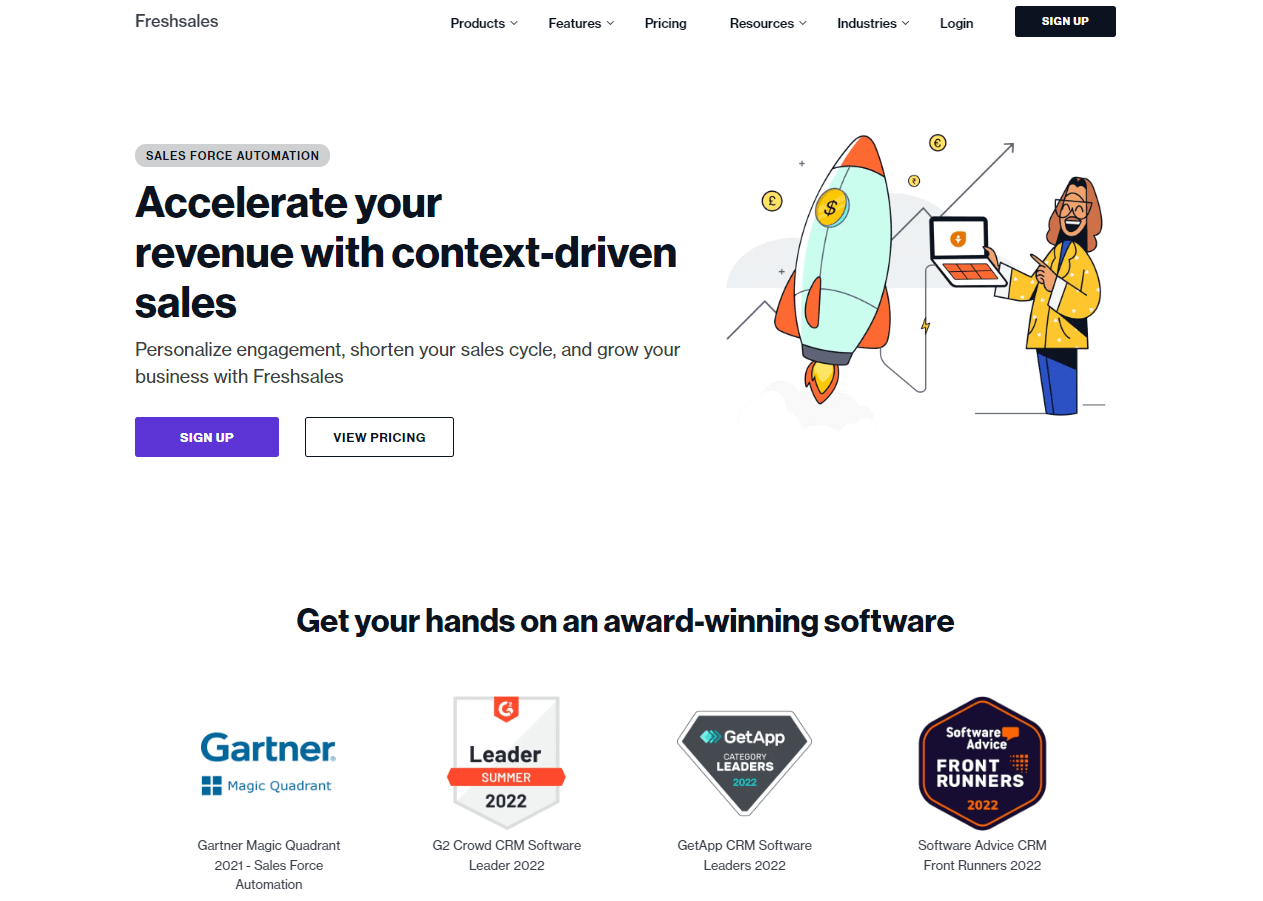 Freshsales CRM offers advanced sales intelligence features and workflow automation. The platform comes with many tools to boost the productivity of your marketing and sales teams, from lead segmentation to follow-up emails.
If you're in need of a Magento CRM integration that can significantly leverage sales and marketing activity, Freshsales is definitely worth your try. It's a simple and lightweight CRM package for SMBs wanting to start and scale in no time.
Highlight features:
Synchronize all data between Freshsales CRM and your Magento store
Deliver seamless customer engagement across various channels with a single dashboard
Set up personalized customer journeys based on actions
Build multi-channel nurture campaigns to target prospective customers
Tailor email templates and campaigns to generate cost-effective leads
Provide dynamic forecasting to improve revenue predictability
Pros:
Extensive customization options
Helpful Ai assistant
Various integrations
A free plan included
Affordable paid plans
Cons:
Per-user limit on file storage
No reports for the free plan
Read more: How to Integrate Freshsales with Magento
4. HubSpot CRM
HubSpot CRM has been on our radar for several iterations and has steadily improved over time. It's tailored for organizing and coordinating campaigns with competent data management and real-time synchronization between channels.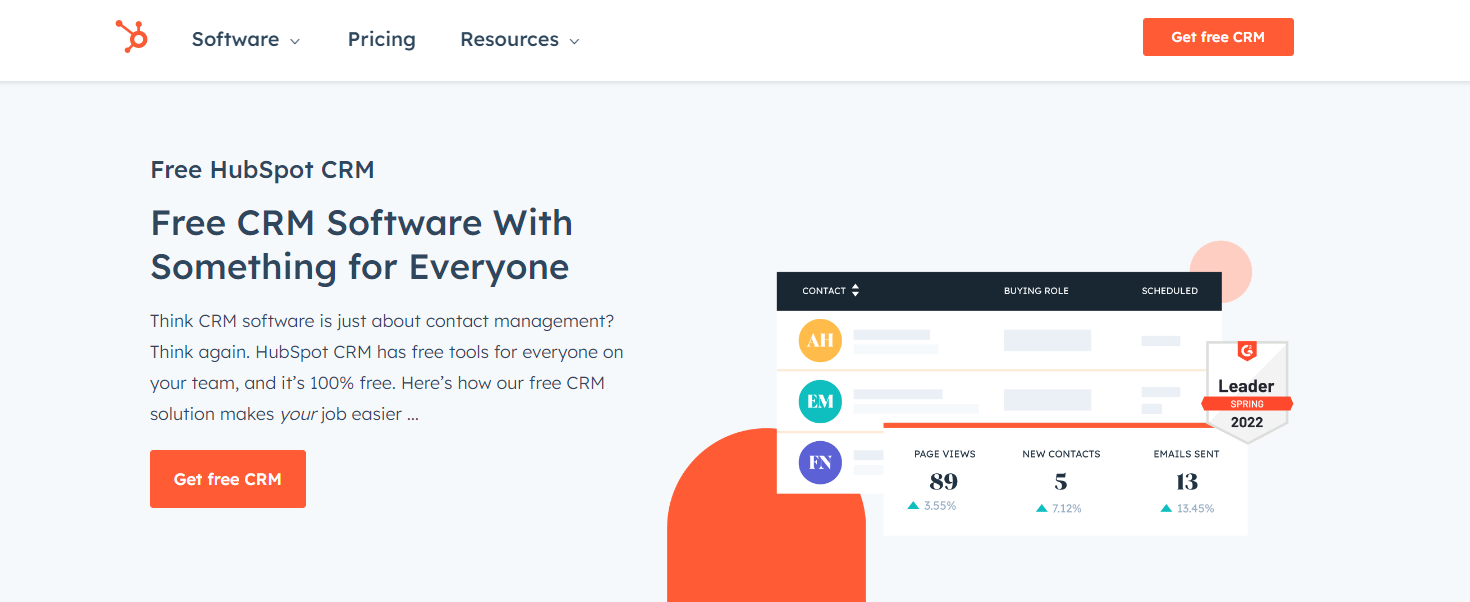 With HubSpot CRM, Magento store owners can set up full sales and marketing funnels, manage data in detail, and make decisions for both long-term and short-term campaigns.
HubSpot CRM comes with three core functional packages:
Sales Hub - support email automation, email tracking, and meeting schedules
Marketing Hub - support marketing automation, lead generation, and analytics
Service Hub - support customer feedback, ticket processing, and knowledge base building
HubSpot is considered one of the rare Magento CRM integrations that offer a free plan that truly works. Its free version provides an all-in-one solution to triumph over all marketing, sales, and customer service aspects of your Magento store.
Highlight features:
Synchronize all data between HubSpot CRM and your Magento store
Set triggers to automate various marketing and sales campaigns
Manage all communications from one dashboard
Get a real-time view of the entire sales pipeline
Track your business performance
Pros:
An intuitive interface
A generous free plan
Robust feature set
Real-time notifications
Various integrations
Cons:
Expensive plan upgrades
Additional costs for added tools
Only one email per contact
5. SugarCRM
Magento store owners can find in SugarCRM all the possibilities they need to communicate with their customers effectively. It's designed to reduce your time and effort on all manual work.
By integrating SugarCRM with Magento 2, you can enjoy complete management of sales processes and storage of all essential data, such as customer information, products, invoices, marketing campaigns, etc.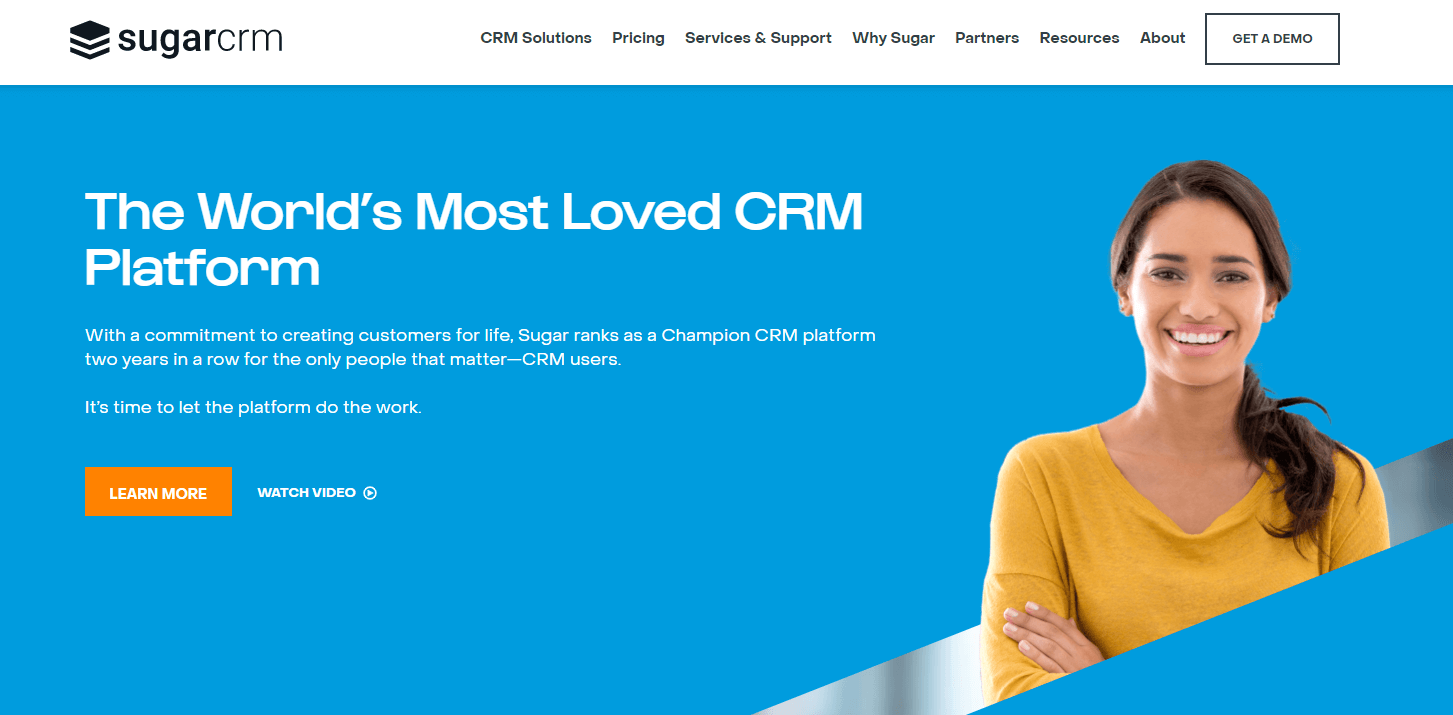 SugarCRM includes three primary categories: Sugar Sell, Sugar Market, and Sugar Serve, focusing on the three most crucial parts of any business. Its business management features seem to be the best Magento CRM integration for mid-level enterprises.
Highlight features:
Synchronize all data between SugarCRM and your Magento store
Enable multi-channel marketing platforms, such as email marketing, social media, etc.
Provide marketing automation & predict the likelihood of converting leads
Map out customer journeys to keep track of customer data and interaction
Offer AI analysis to create highly-targeted, dynamic marketing campaigns
Pros:
Feature-rich
AI-powered data analysis
Various customization options
Useful Dashlet reports
Numerous integrations
Cons:
A bit complicated for new users
Expensive when compared to other CRM solutions
6. Microsoft Dynamics CRM
Last but not least, Microsoft Dynamics is a flexible and affordable Magento CRM integration that you should take advantage of. It allows you to maintain data on counterparties, including interaction history, potential transaction tracking, sales automation, etc.

The most attractive part of this CRM system is creating a client card, which stores contact information and shows tasks to be performed. So, you're provided with information on the value of the client and his/her preferences and use it in various sales scenarios.
Besides, Microsoft Dynamics CRM contains a number of analytical reports for company executives, such as forecasting reports, analysis of sales activities, efficiency evaluation, etc.
Highlight features:
Synchronize all data between Microsoft Dynamics CRM and your Magento store
Let you design personalized customer journeys to increase your chance of conversion
AI function gives you email templates and helps you prioritize leads that need attention
Store information and show tasks with a client card
Contain a number of analytical reports
Pros:
Advanced CRM capabilities
Native integration with Microsoft Office
Multiple dashboards
Available marketing and automation tools
Cons:
Steep learning curve
A bit expensive
7. ReadyCloud CRM
ReadyCloud CRM connects to the most popular shopping carts and marketplaces to bring all your data under one hub. It features virtually unlimited filtering and sorting options, complete with shipping timeline, customer tagging, notes, to-dos and more.
ReadyCloud CRM takes things beyond just a CRM. It offers plugins for a multi carrier shipping software (ReadyShipper X) and an automated returns software solution (ReadyReturns), too. What's more, ReadyCloud also features built-in growth marketing via Action Alerts, complete with predesigned templates to set up automated SMS and email alerts for customers, with the ability to cross-sell and upsell based on customer order history, region and even seasonality.
Highlight features:
Connects to Magento 1 & 2, Amazon, eBay and most other shopping carts and marketplaces.
Instantly exports and organizes data for unlimited filtering and sorting options.
Creates individual customer profiles complete with shipping and order timeline, tagging, notes and more.
Built-in growth marketing tools for SMS and email campaigns.
Multicarrier shipping plugin for automated and built-in USPS discounts.
Returns automation plugin to add Amazon-like returns to any store.
Pros:
Unlimited filtering and sorting
All your sales channel data in one hub
Shipping, returns and growth marketing plugins
Cost effective per user pricing model
Cons:
Per-user fees to add seats
Credit card required after 14 day trial
How to integrate a CRM system with your Magento 2 store
There are two common ways to integrate a CRM system with your Magento 2 store:
Use Magento 2 CRM extensions. These Magento 2 extensions have been developed particularly to connect the CRM system with your Magento 2 store. It auto-synchronizes every update in the database from your store to the CRM system and vice versa.

Use an integration service. You can rely on a trustworthy Magento integration service and let them handle the process for you. The service provider is in charge of everything: analyzing your requirements, investigating the workflow, preparing data, implementing the process, and testing. So, you can save a lot of time and effort. Besides, compared to buying extensions, this option offers higher customization.
Conclusion
A business can't stand on the principles of selling alone; it requires holistic customer acquisition and nurturing strategies to function. So, the need for a CRM platform to complement your Magento site is immediate.
We hope this list of 6 Magento CRM integrations has helped you greatly! Keep in mind to satisfy your customers first, and you'll see rocketed sales in no time!
Haley is a content creator at Mageplaza. When not working, she spends time on travel adventures, books, and food tasting. As growing up, she wants to read, learn, and experience more things to adapt herself to this ever-changing world.
Website Support
& Maintenance Services
Make sure your store is not only in good shape but also thriving with a professional team yet at an affordable price.
Get Started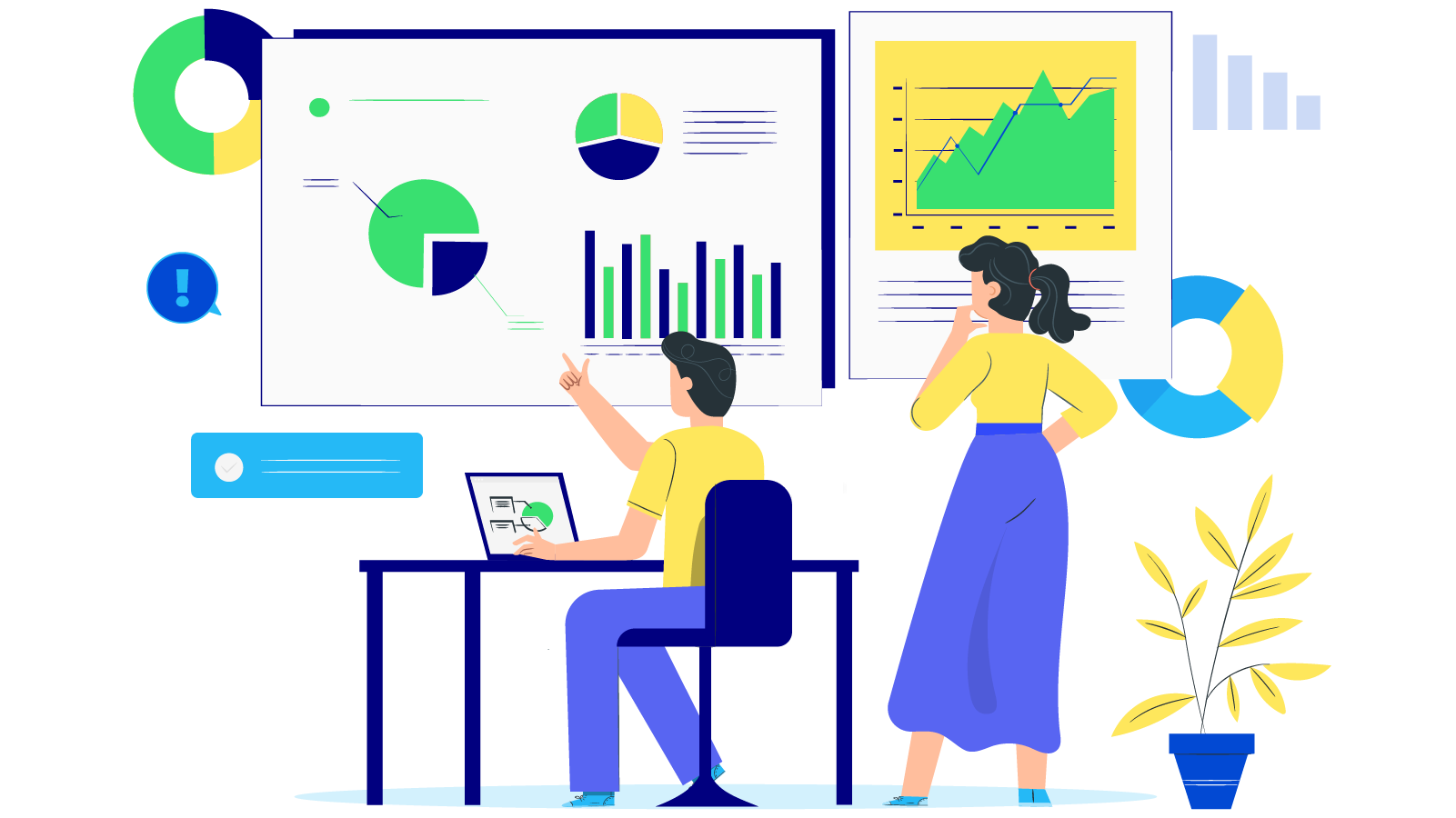 New Posts



Subscribe
Stay in the know
Get special offers on the latest news from Mageplaza.
Earn $10 in reward now!