Battle of Best Magento Themes: Magetique vs. Porto Magento themes
The Most Popular Extension Builder for

Magento 2
With a big catalog of 234+ extensions for your online store
In our today's post, we will provide a contrasting analysis of two Magento themes, i.e. Magetique and Porto. Being created by two different web agencies (Magetique is Magento theme from TemplateMonster Marketplace and Porto is available for sale on ThemeForest), both themes are the best-sellers in their niche. Beyond a shadow of a doubt, Magetique and Porto represent the highest quality web products. (Just have a look at the number of positive reviews these two have already got!)
The question remains, however, which theme to choose if both Magetique and Porto are exceptionally good. Well, as it turned out, there are quite a few factors you have to keep in mind when making a choice between Magetique and Porto. We did our best to demonstrate these factors in the brief overview and the extended explanation of the differences between Magetique and Porto (alongside with their advantages and disadvantages).
A Brief Overview of Differences: Magetique vs. Porto Magento themes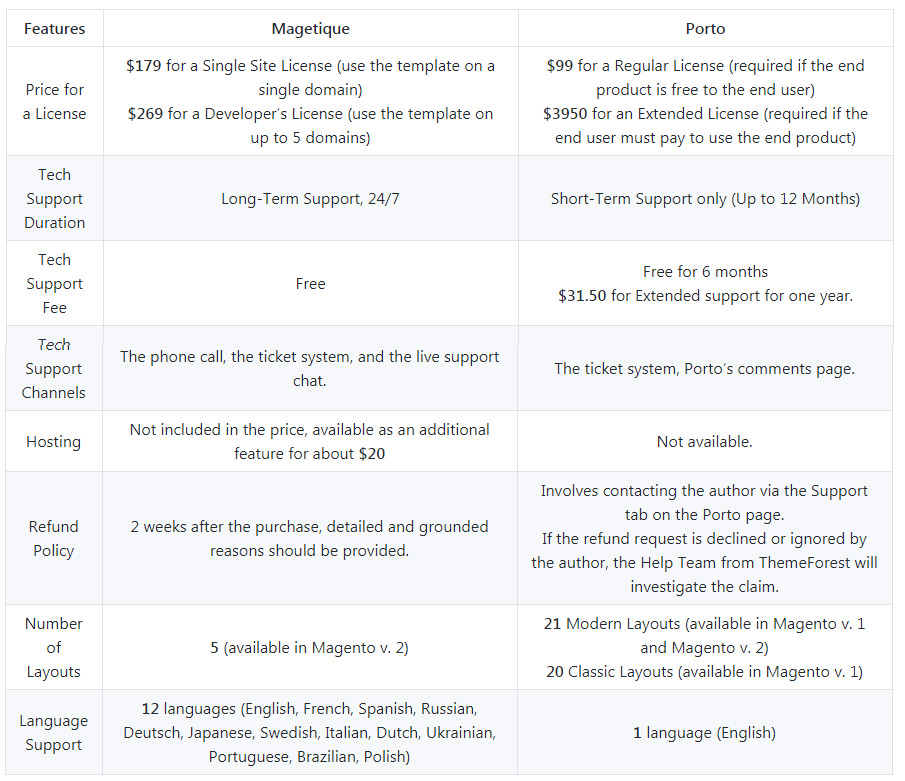 As you can see for the brief summary, the two Magento themes under analysis have distinct peculiarities. Keep on reading to learn more about them!
Contrasting Details that Matter: Magetique vs. Porto Magento themes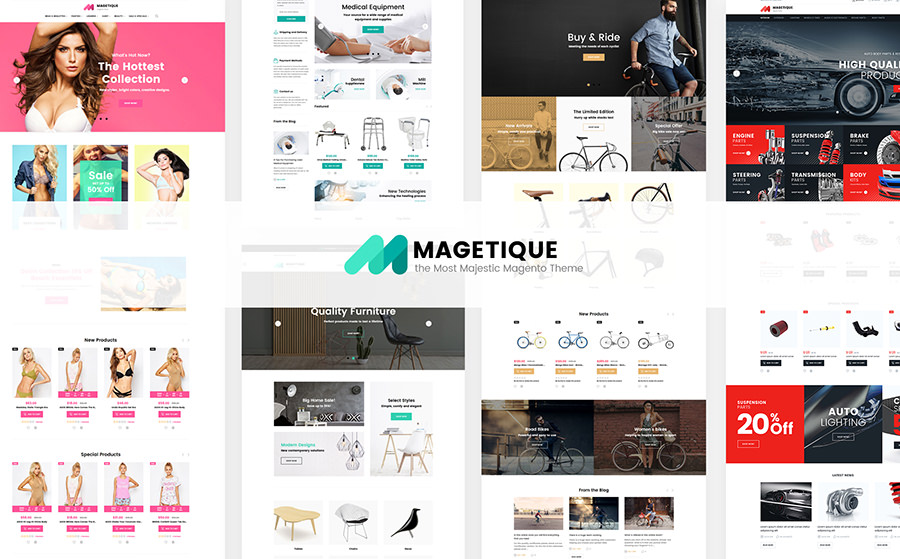 Advantages of Magetique: Advanced Tech Support & Niche-Specific Layouts
1. Magetiques belongs to Magento themes from TemplateMonster, which means that it is backed up with the free long-term tech support. This factor is especially important if you are not a professional web developer and expect to have questions about the theme's installation and customization. As we have already mentioned, the tech support is free and long-term, which applies that you can contact tech support managers multiple times years after the purchase free of charge. In addition, there are different channels you can use to reach tech support team. Depending on the urgency of the issue you need help with, you can choose a phone call, a live chat, or a ticket system. To cut the long story short, choose Magetique if you need a professional ecommerce website, know next to nothing about the web development, or want to get the immediate help in cases of emergency.
2. One more strength of Magetique is its pre-populated topic layouts. Unlike in Porto, every layout (out of five options) in Magetique is niche-specific. Created by top web designers, these topic layouts demonstrate how to structure your content professionally with the specific market niche in mind. When compared to Porto, on Magetique layouts, you will not see the mix of electronics and sunglasses on one page. In other words, the layouts of Magetique look realistic.
The Disadvantage of Magetique: Limited Number of Layouts
Magetique offers only five topic layouts. They include layouts for e-stores that offer car spare parts, lingerie, furniture, bikes (and spare parts for bikes), and the medical equipment. Although these layouts are niche-specific, their number cannot compete with 20+ layouts of Porto.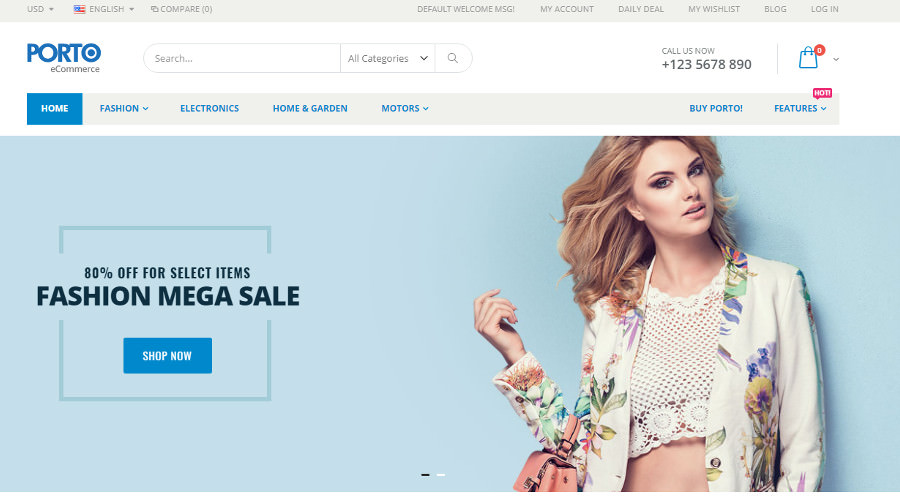 Looking for
Customization & Development Services?
8+ years of experiences in e-commerce & Magento has prepared us for any challenges, so that we can lead you to your success.
Get free consultant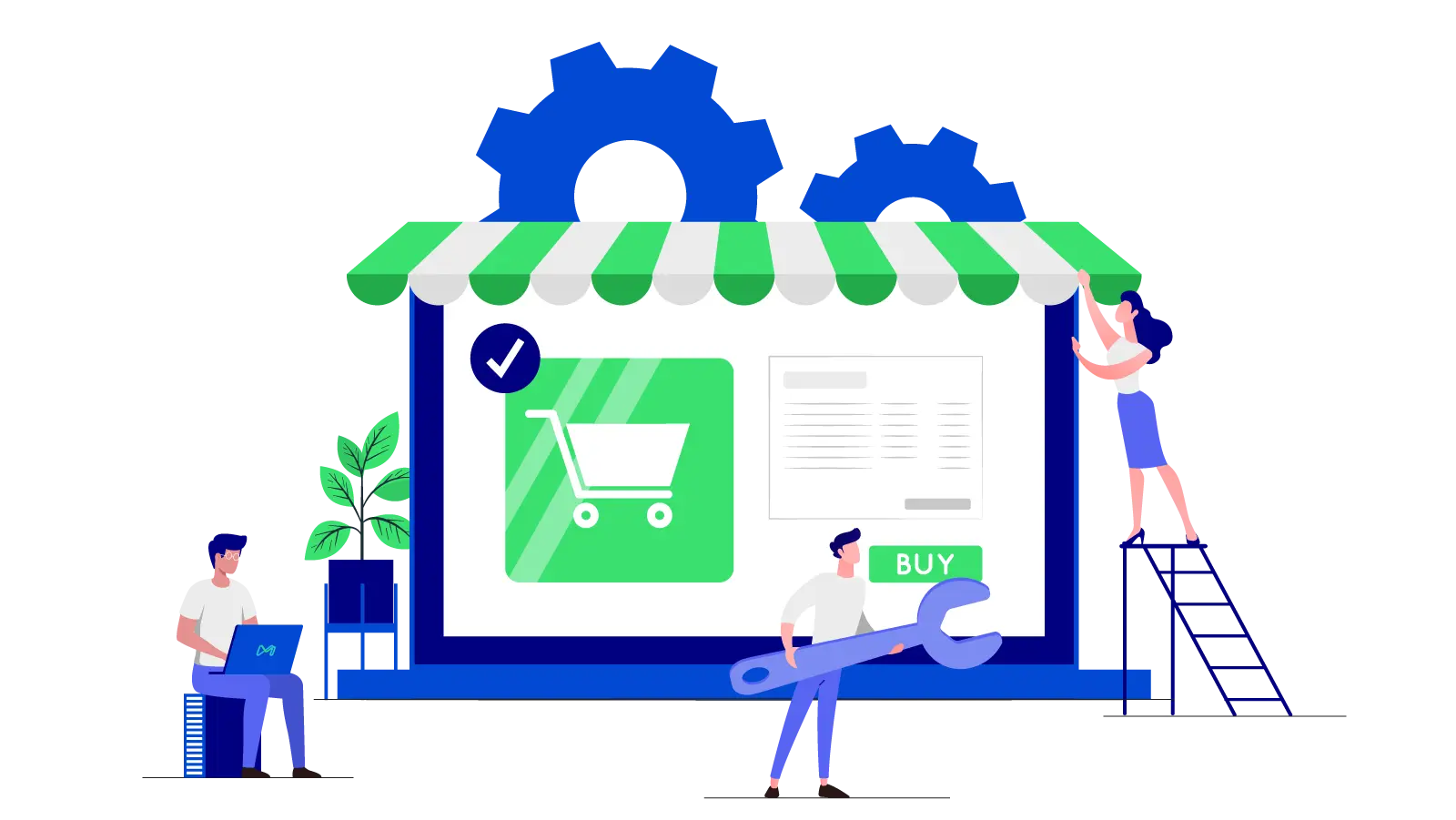 Advantages of Porto Magento themes: Exceptional Choice of Layouts & Real Site Examples
1. The major strong point of Porto is the diversity of layouts that it contains. In fact, this Magento theme offers 21 Modern Layouts (available in Magento v. 1 and Magento v. 2) and 20 Classic Layouts (available in Magento v. 1). Although the layouts are not niche-specific and do not contain the topic content, they do reflect numerous possibilities of structuring your multi-page website.
2. Another advantage of Porto we personally enjoyed is its real website examples. You can actually have a look at websites that are built with this Magento theme after clicking on "Sample Sites" Tab. This way you can see how Porto can be customized and branded professionally.
Disadvantages of Porto Magento themes: Poor Tech Support, Only English
1. As one of Magento themes from ThemeForest, Porto offers the limited tech support. For starters, the tech support does not include services connected with Porto's customization, installation, hosting, server environment, or software. If you choose Porto, you are expected to "…to have a working knowledge of the software platforms and technologies…" (as you can read on the item's support policy page). What is more, the tech support is free only for the first 6 months after the purchase. But even during this time, you are warned that "…(if) you're waiting for an update or fix to an item, it may take several days/weeks for an author to properly fix, test, review and release…" Put simply, if you are not ready to fix your problems yourself, then you may reconsider making Porto your #1 choice.
2. The language support for Porto is available only in English (in comparison to 12 languages applicable to Magetique). Of course, this is a downside only in case if you are planning to go international one day.
To recap…
Although both Magetique from TemplateMonster and Porto from ThemeForest are professional ecommerce Magento themes, they are quite different too. From what we have learned, it seems that Magetique will be a better choice for novices to the web development. Thanks to its advanced tech support and pre-populated niche-specific pages, this Magento theme is more user-friendly and manageable. In contrast to Magetique, Porto seems to be a more appropriate choice for professional web developers. If you can fix minor bugs themselves, you will sure thing benefit from numerous elegant layouts that Porto has to offer. So, now it is your call, really! Choose the best Magento theme and let the ecommerce become your reliable income source for years to come!
Magento Support
& Maintenance Services
Make sure your M2 store is not only in good shape but also thriving with a professional team yet at an affordable price.
Get Started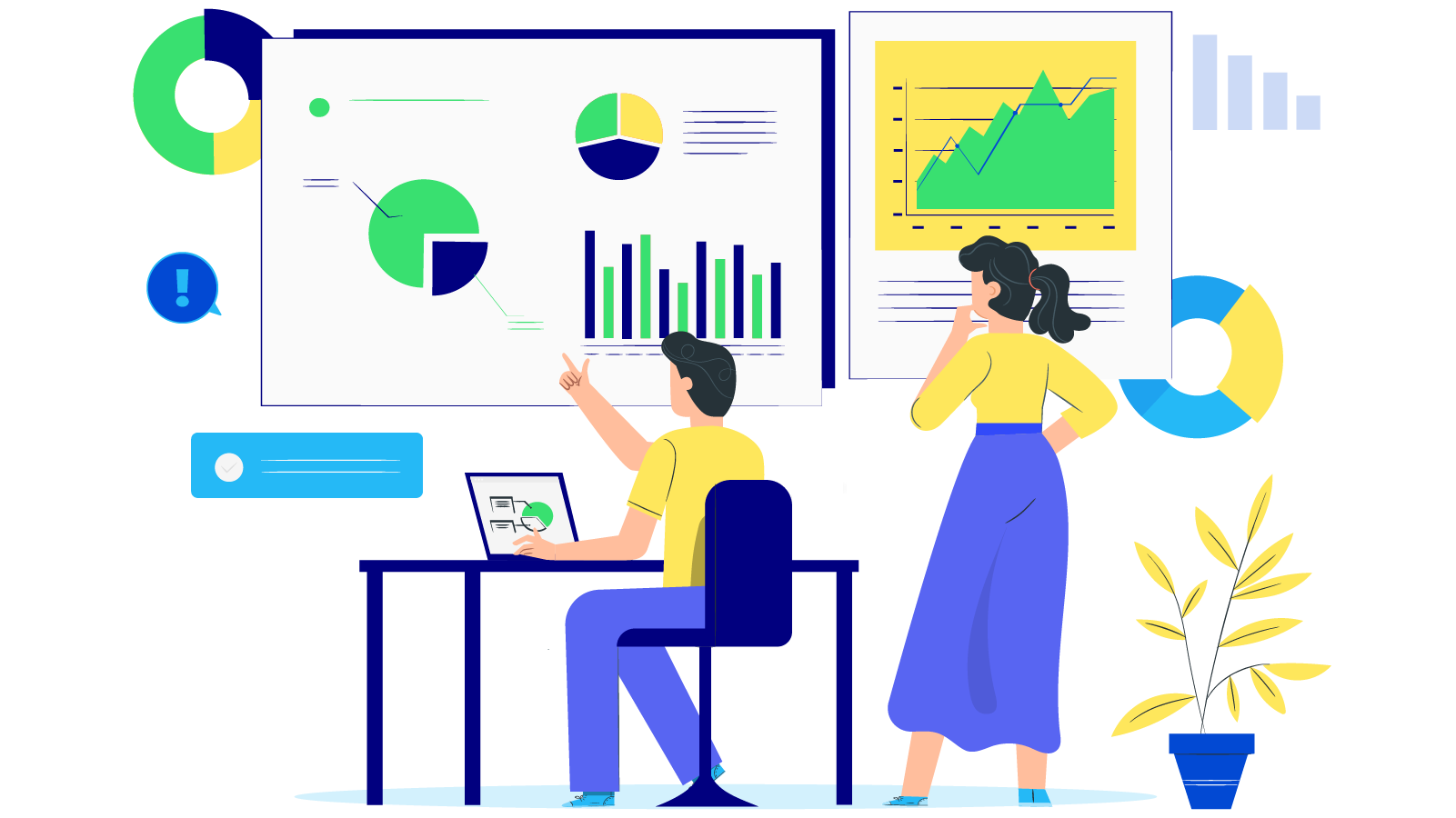 New Posts

Subscribe
Stay in the know
Get special offers on the latest news from Mageplaza.
Earn $10 in reward now!