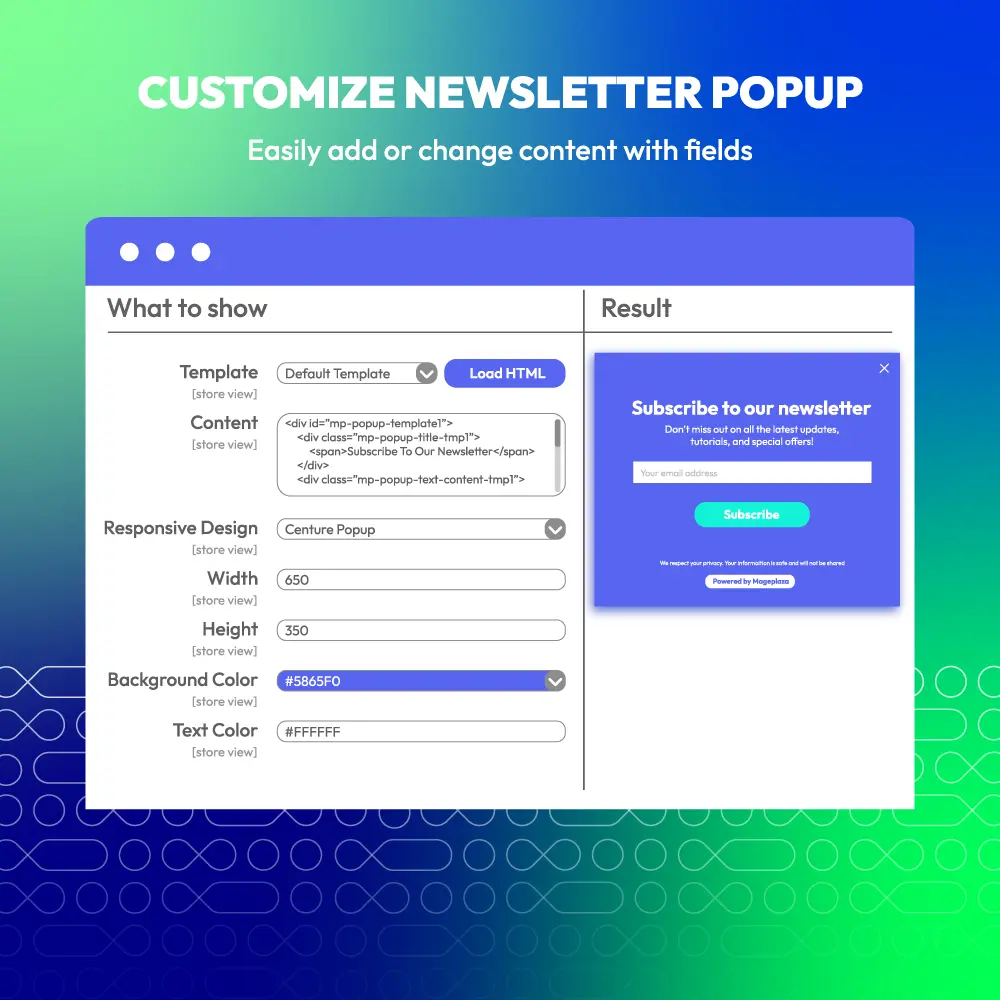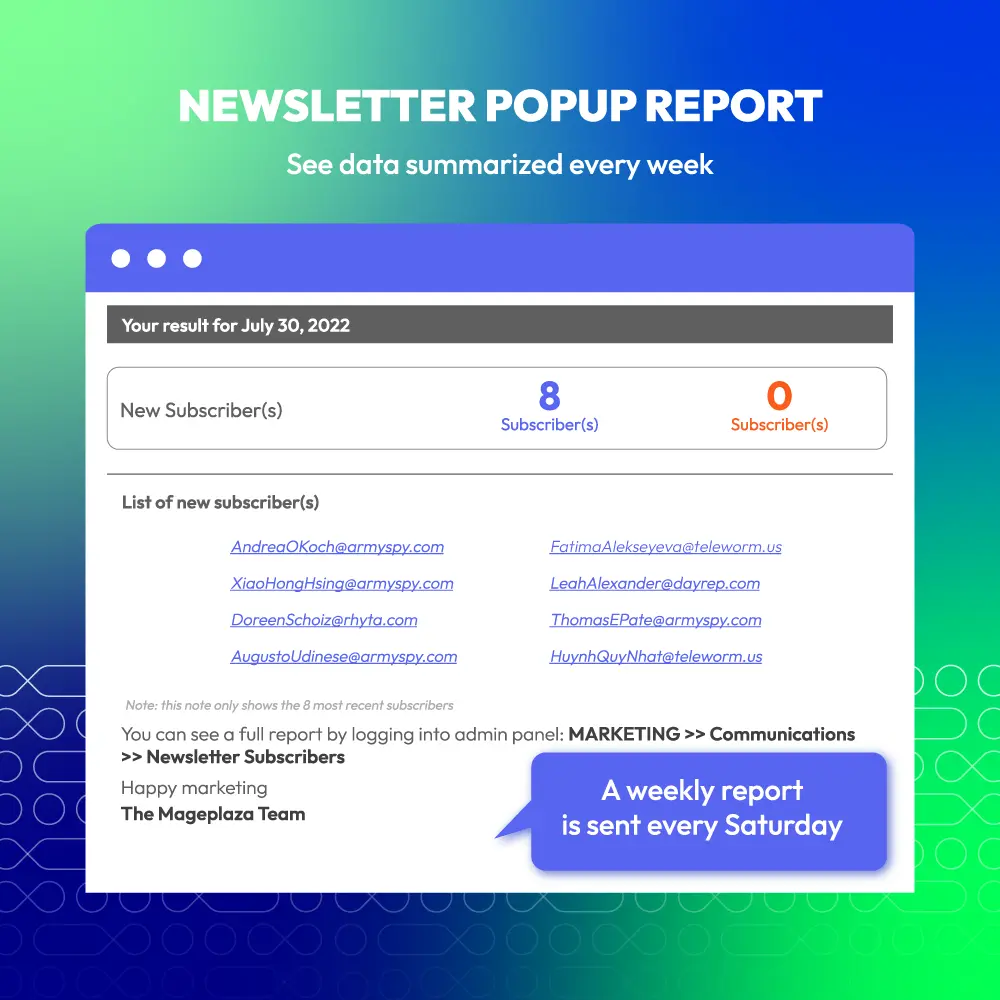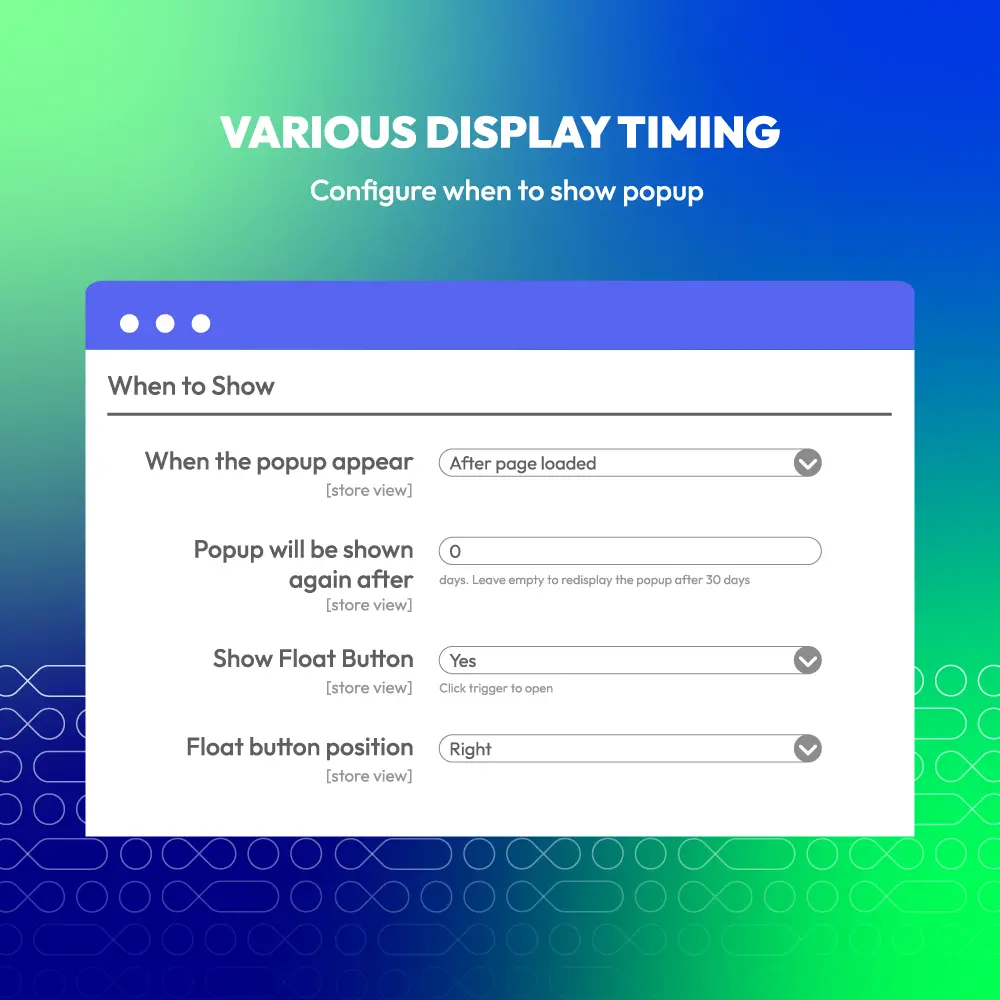 60-day Money Back
Frequent Update
365-day Support
Magento 2 Newsletter Popup Extension
v4.1.4
Magento 2 Newsletter popup is a key solution for Brand awareness and marketing strategies that help inform a great deal of hot and last-updated information from your websites to customers. Online stores get sales increase and generate more loyal customers as consequently.

CE/EE/B2B/Cloud/ Adobe Commerce 2.2.x, 2.3.x, 2.4.x
Chat now
Problems
Since the early time of the Internet, marketers have understood the importance of newsletter, a type of email marketing that helps customers stay up to date with all company's new activities and campaigns. It's so beneficial because it is a highly personal way to build relationships with your audiences. As the trust builds, those audiences are more likely to buy your product
However, the question is: How could online stores reach to as many potential customers as possible? Without a doubt, the principal thing is that the newsletter form must be given maximum visibility on your website besides the attractive design and strong incentive to view the letter's content.
Solutions
Undeniably, the most efficient approach to get many eyeballs on your newsletter is via popup. Popups jump out at visitors, guaranteeing highest attention and ensuring the content gets read. That explains why they're so effective at generating conversions. With Mageplaza Newsletter popup extension, store's admin not only could custom the popup design and create flexibly appealing newsletter content but also, they can set up the time and place to display newsletter popup and many others showing options
Tips: Use the popup sparingly and cautiously not to let visitors frustrating because of overusing popup. However, you can redisplay it after several days to remind customers your news when they come back to your web pages.
Customizable newsletter content
Store admins can build your popups with different goals in mind. It can be the subscription-invitation letter, survey popup or sales promotion campaign announcement.
Adding or changing content to your popups is incredibly easy, with dedicated fields allowing you to fill the gaps whenever and wherever you want. To make sure you're on track, you can preview the changes you're making as you progress.
Newsletter Subscription popup and report
Newsletter popup for Magento 2 helps your store generate more leads by integrating the subscription-block in which customer can leave their emails. These emails will be summarized and reported to the store's admin every week. Instead of waiting for visitors to actively pass on their information at your subscription box, using popups helps boost your email list more quickly and effectively.
Various displayed timing
Newsletter popup also supports a revolutionary exit intent technology that can be activated at the click of a button. Exit intent is one of Mageplaza Newsletter popup' s biggest selling points, ensuring that your visitors will only see a popup when they are about to leave your website. Seeing that some visitors may never come back to your site, this maximizes the value of each visit.
Moreover, admins have a number of different choices for showing newsletters such as displaying popup after the page loaded instantly, or after X% of being on site and even they can set the popup presenting after X% of a scrolling page.
Congratulations popup
After visitors fill in their emails, it is so great if you congratulate them on the firework. It seems like a compliment to your customers which shows how you appreciate their interaction, and make them feel that they are want to be with your store. Newsletter popup can do this, sounding simple, but effective.
Pre-made Newsletter template
Magento 2 Newsletter popup lets you build beautiful and professional popups using a dedicated visual builder. There are three stunning templates to choose from; admin can redesign, custom or use it directly. Also, admin can choose unlimitedly the background and text color of popup and whether showing it in full screen or at the screen center.
AVADA Marketing Automation by Mageplaza (recommended)
All-in-one platform for email marketing that allows you to:
Follow up and convert customers by Automation Campaigns: Welcome series, Abandoned Cart emails, Order follow up, Cross-sell, Upsell emails
Promote your brand and quickly drive sales by sending mass Newsletter Emails
Send your messages to the right people and increase conversions with Advanced Segmentation
Collect leads and deliver promotions with stunning Signup Forms, and Spin to Win
Learn more
Pricing

Choose your suitable edition
Community
Crafted for a great webstore start
$

79

first year
Supports for Magento 2 Community Edition
Enterprise
Great for an enterprise solutions
$

200

first year
Supports for Magento 2 Enterprise Edition
Highest priority support
Easy and stylish pop-up
better set pop-up easy usefull for all page wise and somthly working
Mr
Easy to setup and configure. works well. And its free!
Dhanraj R
-
Verified Purchase
Subscription increased
The newsletter subscription increased a lot and it's all thanks to this free tool. Thank you Mageplaza
GREAT
works as described, and easy to use
Owner
This is a very good extension. Great support. Mageplaza will be my first source for Magento 2 extensions.
Jim Active Medical ID
-
Verified Purchase
Better popup
Mageplaza was very helpful in installing better pop up quickly and answering any questions I had about using the popup. They also help with the little difficult parts of configuring the extensions of my use.
One of the best popup extension
It does what is claims perfectly and the support team is extra helpful if you face any issue on your website. Its much better than many paid popup extensions out there.
Mustafa
-
Verified Purchase
1,000 likes for you
Drake is awesome developer, he has helped me a lot, in the future, I always recommended to buy mageplaza extension and I am very happy for your service
Vardhmankamani2015
-
Verified Purchase
Amazing extension
It's perfect basic and functional excellent I give it 5 stars
Luis Montero
-
Verified Purchase
Awesome popup for newsletter
Finally, I got a popup newsletter like in another ecommerce website, this is so cool, easy to configure, easy to customize, you can set where, how and when to show the popup. Also able to change the template and design of the popup!
Popup here, Popup there!
Here a popup, there a popup, everywhere a popup. Who doesn't like a popup? Yes, they can be a bit annoying at times, but if configured correctly they can be a wonderful, and important, marketing tool. Lucky for us, Mageplaza offers a FREE solution. We are able to have popups appear virtually anywhere on our store, and even with the popular exit intent popup. Thanks again you for another great FREE extension.
Amazing extension
Just found what I was just looking for... Thanks to Magento 2 Popup extension, Pretty useful module to create any types of popup as needed. Thanks a lot for providing it for free.
Vishal
-
Verified Purchase
Better popup Review
Excellent module, although there is still configuration to work as the session management but for a free extension, this is the best. I highly recommend this
Good
The extension better popup is a very good product, it works fine and it is also free. The installation is a very simple and easy configuration in admin.
Harsha
-
Verified Purchase
Just what I needed
While updating myself on the latest Mageplaza M2 extension, I chanced upon this most useful popup plugin. Immediately downloaded and installed it - and, what a treat it is - Just what I needed. Thank you Mageplaza for supporting our community with such excellent extentions!
Perfect module
Even though it's a free extension, the performance of the extension looks like a paid one. We like it. Thanks to Magaplaza. We will definitely look for other extensions as well on your website
Mahesh
-
Verified Purchase
Great module
Great module, fully configurable (and extendible :)) great work Mageplaza Team !!! also recommend other modules from Mageplaza. Thanks
Exellent Module
This is a very good and valuable extension. It's an easy extension to install for everyone who wants a popup on his Magento store. We have no problems with it, also, please make sure to install the Core module of Mageplaza
Good module
I am using this module for Magento 2.1.10 on production. It works so perfectly, this is exactly what I was looking for. Thank you!
Popup that's better
As its name says this is improved popup from Mageplaza team. It works similar to standard Magento popups just with many additional but surprisingly good addons. Keep up the good work!
Marina
-
Verified Purchase
Very useful
I downloaded, installed and used this module very smoothly I recommend it to all Magento 2 owners. Thanks very detailed documentation from your team even though it's a free extension. Keep the great work, Mageplaza team! Thank you guys so much
Mohamad
-
Verified Purchase
Very useful but you can improve condition
The module is easy to install and to manage, you can edit popup with HTML but trigger conditions could be improved since there is no possibility to launch different popups for different pages and as results of different actions but in general if you are looking for a simple module, it's ok.
MaxGat
-
Verified Purchase
Works fine, it's excellent
The extension better popup is a very good product, it works fine and it is also free. The installation is very simple. It is compatible with Magento 2.2.6 Thanks to Mageplaza
Antonino
-
Verified Purchase
Excellent extension
First, I thought it's more important than after I installed this module. I found it's a great extension. Also, their support team is really willing to help at the moment you ask for that.
Abdulrahman
-
Verified Purchase
Very good plugin
It's a very good free extension, but it's so attractive to my customers! This is a must-have module for everyone e-commerce store owner. It will really help you to increase your sales.
Rostyslav
-
Verified Purchase
This extension is helping to increase my user interaction
I recommend to all magento2 owners, it's a must-have extension. Better Popup Exit Intent Popup for Magento 2 helps to customize your exit intent. I have tested on Magento ver. 2.2.6 and it's successful.
Perfect module
Even though it's a free extension, the performance of the extension looks like a paid one. We like it. Thanks to Magaplaza. We will definitely look for other extension as well on your website.
Very useful module
I download, install and use this module very smoothly. Thanks very detail document from your team. Keep great work, Mageplaza team!
Definitely Recommended
Better Popup is so prominent and can be customized. It's definitely worth installing. We modified the wording now as well as changed the automated reply email to reflect our company logo and a customized message.
kavita Bhatia
-
Verified Purchase
Good product with the fast support
I was looking for something else and came across this product. Although it doesn't really serve my purpose, it is a very good product. Keep up the good work! Thank you!
Nice extension
Great, awesome, and nice extension. All my needs were fulfilled with little sort of designing. You can not find the better alternative for this. Everybody needs get fulfilled. Once again, this extension fulfills all demands.
shambhu
-
Verified Purchase
Want to do extension customization?
Custom request
Let us know your requirements
v4.1.4 (Magento v2.4.x)

22 June 2023

Compatible with Magento v2.4.6
Fixed some minor bugs
v1.2.4 (Magento v2.3.x)

13 July 2022

Fixed excluding page error
v4.1.3 (Magento v2.4.x)

13 July 2022

Compatible with Magento v2.4.4
Fixed excluding page error
v4.1.2 (Magento v2.4.x)

30 August 2021

Update composer module SMTP
v1.2.3 (Magento v2.3.x)

22 August 2021

Updated labels & content
v4.1.1 (Magento v2.4.x)

22 August 2021

Updated labels & content
v4.1.0 (Magento v2.4.x)

11 May 2021

Compatible with Magento v2.4.2
Added show message error/success
Fix minor bugs
v1.2.2 (Magento v2.3.x)

10 May 2021
v4.0.0 (Magento v2.4.x)

10 November 2020
v1.2.1 (Magento v2.3.x)

16 July 2020
v1.2.0 (Magento v2.3.x)

27 June 2020

Added auto generate coupon code
Fixed minor bugs
v1.1.1 (Magento v2.3.x)

25 July 2019

Compatible with Magento 2.3
v1.1.0 (Magento v2.3.x)

30 October 2018

Added 4 new designs for popup
Improved code quality & perfomance
Fixed minor bugs
v1.0.1 (Magento v2.3.x)

07 August 2018

Added CSV translation file
Fixed minor bugs
v1.0.0 (Magento v2.3.x)

06 August 2018

Initial release
For store admins
Enable/Disable Newsletter Popup extension
Choose different pre-made popup templates
Flexibly editable newsletter content
Two ways to design popup showing: Full-screen and Center display
Customizable popup' s size: width and height
Enable to change the background color and text color of a popup
Enable showing success box
Allow modifying congratulations popup content
Coupon code offering on the congratulations page
Show firework with successful newsletter integration
Snippet manually insert to define which page to show a popup
Allow showing the popup on specific pages using page URLs
Disallow displaying popups on particular pages by page URLs
Allow popup showing at all pages
Allow showing using exit intent technology
Allow shown after X second on site
Allow instantly showing after the page loaded
Show popups after X% of a page scrolled down
Only re-display popups after X days
Enable/disable floating button showing
Choose the position to display the float button
Receive a weekly report on new subscribers
Features the eight most recent subscribed email addresses on weekly reports
Compatible with other extensions: Reports, Better Coupon, Thank you page.
For shoppers
Click exit the site without quitting the popup
Click on the float button to see the popup
Click on the banner to see the popup
Get discount coupons
Subscribe the store without leaving much information ( email only )
Why choose Mageplaza Magento 2 Newsletter Popup
Mageplaza provides consistent and customer-centric extensions for your Magento 2 store.
We don't sell products for one time. We provide lifetime solutions which help our customers thrive with their businesses.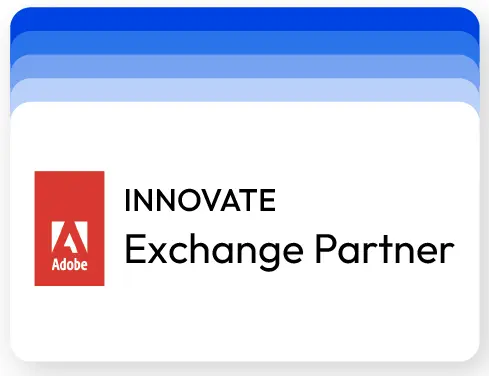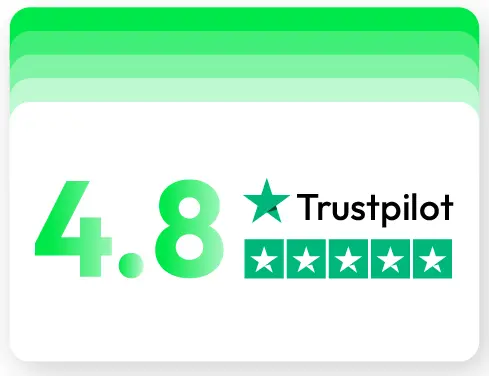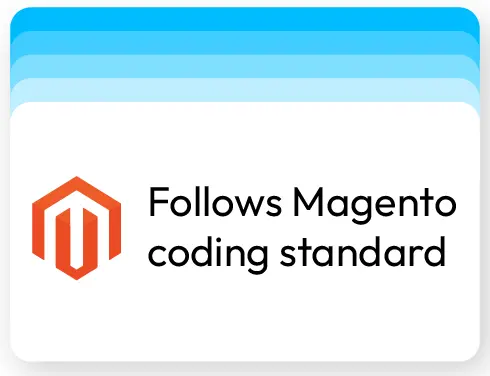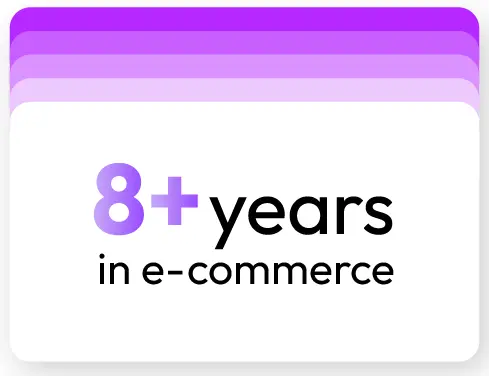 60-day Money Back
Extensive 60-day money-back period. You love it or get a full refund no questions asked.
Extensive Support Timeframe
Mageplaza provides support 16 hrs/day, 5.5 days/week to guarantee the seamless operation of our extensions on your store.
Install via Composer
Simple installation via composer helps you save time and eliminates technical issues during future updates.
Frequent Updates
Intensive update roadmaps ensure great performance, bug-free, highly compatible, and innovative extensions.