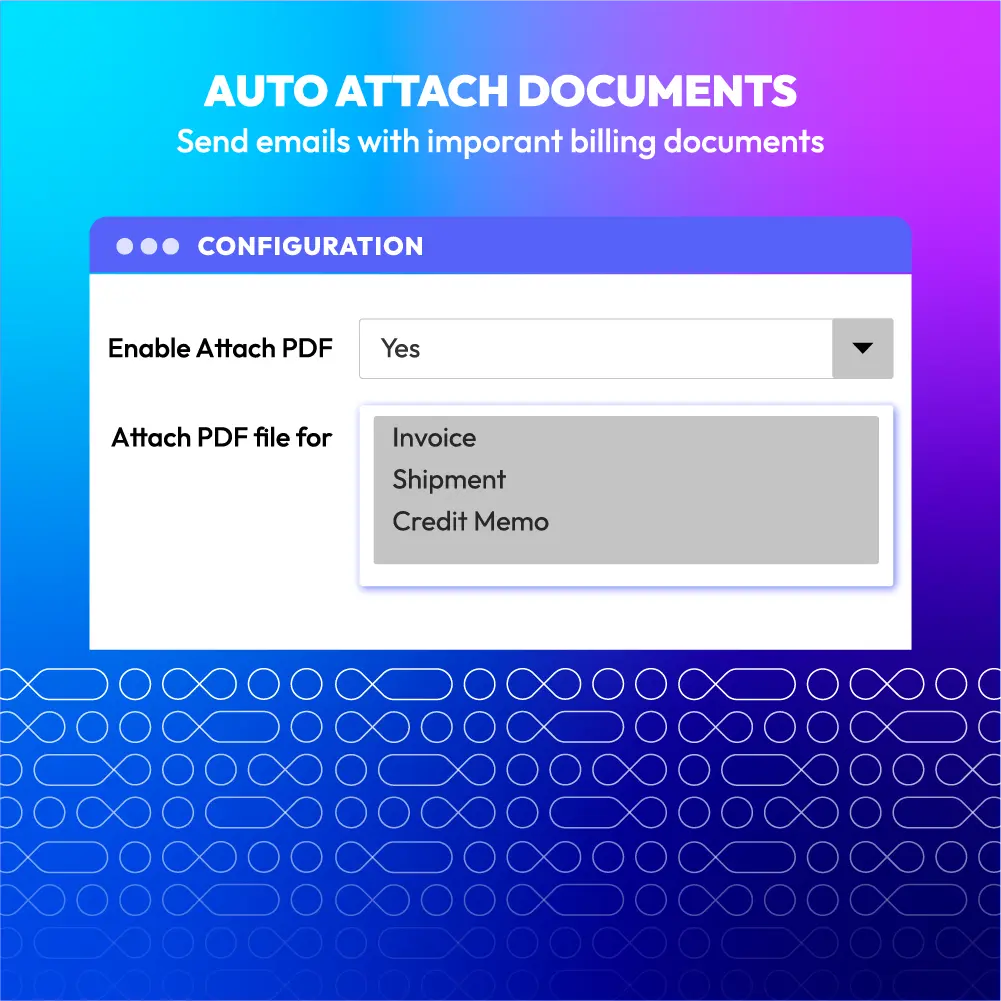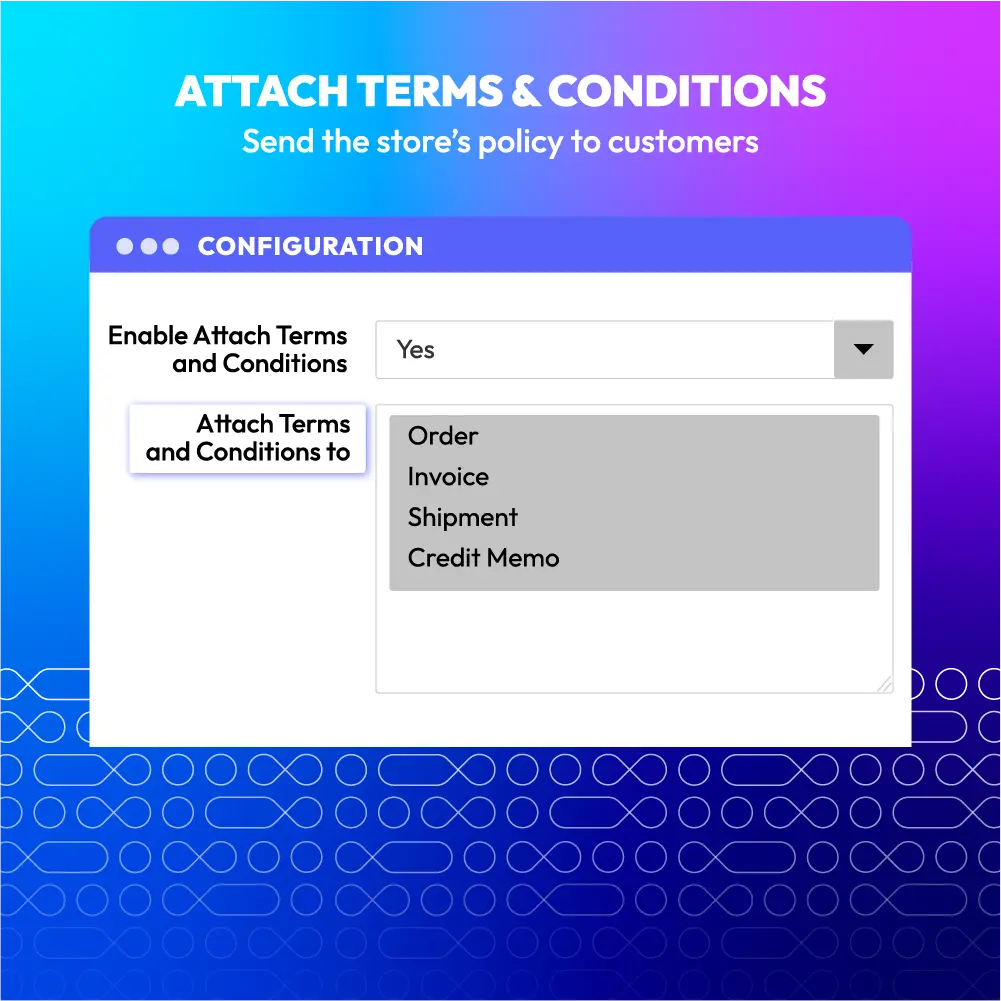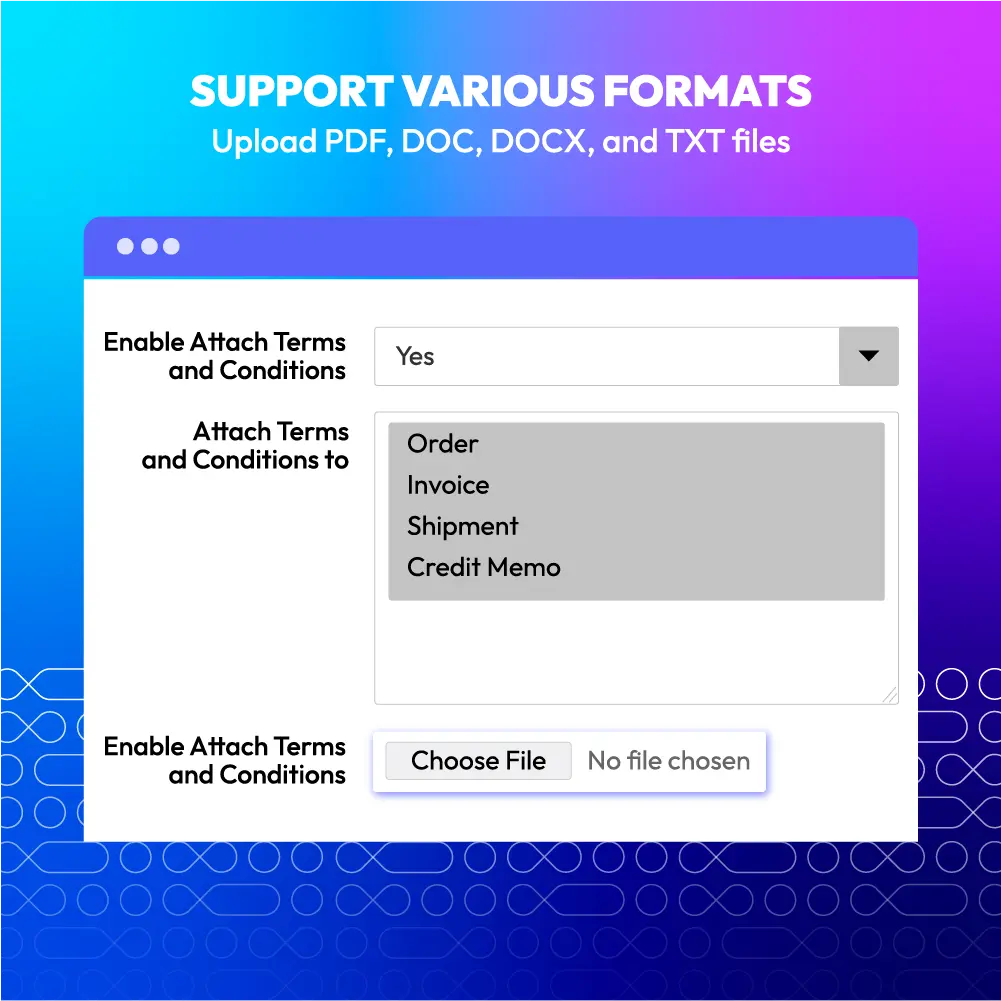 60-day Money Back
Frequent Update
365-day Support
Email Attachments for Magento 2
v4.0.2
Magento 2 Email Attachments extension allows attaching important billing documents as PDF invoice, Credit Memo, Shipment and adds Terms and Conditions to sales emails. This helps customers follow all purchasing information while checking emails from stores.
CE/EE/B2B/Cloud/ Adobe Commerce 2.2.x, 2.3.x, 2.4.x
Chat now
Problems
With default Magento, online store owners are not able to attach billing documents as PDF when they send sales emails to their customers. Instead, shop owners have to send invoices manually when customers make payments. This causes the inconvenience to both sellers and buyers, wasting time and resources.
With this extension, after customers place the order, a sale email will be sent to their registered email with full relevant information. Important billing documents including invoice, shipment, and credit memo in PDF file are also automatically attached to the sale emails to help customers avoid missing any important purchasing information.
Solutions
Speed of Delivery
Cost Savings
Data records
Follow the purchasing procedure
Compatible with PDF Invoice
Reduce fees for postage or shippers
Keep all billing documents in one place
Keep customers upadted
Pricing

Choose your suitable edition
Community
Crafted for a great webstore start
FREE
Life-time extension updates
Technical support is NOT included, please buy support package if needed
Supports for Magento 2 Community Edition
Enterprise
Great for an enterprise solutions
$

200

first year
Supports for Magento 2 Enterprise Edition
Highest priority support
Free
It's free and it does what it promises, that's all I need!
Steven
-
Verified Purchase
EXCELLENT
Very nice extension for Magento 2 email Attached and is totally free
Adrian
-
Verified Purchase
EXCELLENT
I am using a number of Mageplaza extensions, and from my experience they work the best. This extension is included... Free extensions and great support. Highly recommended!
good expensive
Very nice extension for Magento 2 email Attached and is totally free. I am using this extension on our website and this extension works great. Mageplaza is the best solution provider for Magento 2
faraz bashir
-
Verified Purchase
Great extension (free )
The extension is easy to install. Works great. Support is great even for this free extension. Fast response on email. Keep up the good work.
Very nice module
First of all thanks to Mageplaza to make such a valuable module and it's really easy to install and there are nice features in the product. Thank you
Indus valley
-
Verified Purchase
Perfect email attachment
Great extension, it lets you attach files of whatever extension to the emails sent by Magento 2 ecommerce webstore, you can preconfigure the settings and auto send in a second moment (like an invoice, shipment, refund etc.)
Excellent
Great extension. Thank you, this is a very nice product you made, excellent code, well-customized script and all, very very easy to install this extension.
Mohamed
-
Verified Purchase
Thank You mageplaza
first of all, thank you, this is a very nice product you made, great code, well-customized script and all, I installed this module and its working very well,
Mahesh
-
Verified Purchase
Good extension!
This extension perfectly covers functionality that should be native to Magento, seamlessly integrated with the Magento workflow and free of charge. Good job, keep up the good work!
Great Job!
We are really pleased with Mageplaza team! Everything is done correctly and fast. Thank you so much.
Don't see the features you are looking for?
Request feature
Submit your feature requests below
Want to do extension customization?
Custom request
Let us know your requirements
v4.0.1

31 December 2020

Update label & content
v1.0.6

13 October 2020

Compatible with Mageplaza PDF Invoice
v1.0.5

24 July 2020

Compatible with Magento v2.3.5
v1.0.3

19 February 2020

Compatible with Magento 2.3.3
Fixed minor bugs
v1.0.2

27 August 2019

Compatible with magento 2.3
Fixed blank subscribe email error
v1.0.1

18 December 2018

Updated code style & module information
v1.0.0

03 December 2018

Initial
For store admins
Enable/ Disable the extension
Fill Cc and Bcc addresses to send emails to many recipients
Enable/ Disable to attach PDF file
Select billing documents (Invoice, Shipment, Credit Memo) to attach PDF file
Enable/ Disable to attach Terms and Conditions file
Selects billing documents (Order, Invoice, Shipment, Credit Memo) to attach Terms and Conditions file
4 formats for uploading Terms and Conditions file: .pdf, .doc, .docx, .txt
Compatible with PDF Invoice, Product Attachments and SMTP
For customers
Notify stores' policy early via email when making purchases
Notify and easily store important billing documents: Invoice, Shipment, Credit Memo
Follow all purchasing information easily via email.
Why choose us?
Mageplaza provides consistent and customer-centric extensions for your Magento 2 store.
We don't sell products for one time. We provide lifetime solutions which help our customers thrive with their businesses.
60-day Money Back
Extensive 60-day money-back period. You love it or get a full refund no questions asked.
Extensive Support Timeframe
Mageplaza provides support 16 hrs/day, 5.5 days/week to guarantee the seamless operation of our extensions on your store.
Install via Composer
Simple installation via composer helps you save time and eliminates technical issues during future updates.
Frequent Updates
Intensive update roadmaps ensure great performance, bug-free, highly compatible, and innovative extensions.