How to Set Up Magento 2 Configurable Products Preselect?
The Most Popular Extension Builder for

Magento 2
With a big catalog of 224+ extensions for your online store
You are running a website with a significant number of Configurable Products. Your customers take time to select the product attributes and waiting for loading the new outlook of your configurable products. Do you want to provide them a better shopping experience and boost up your conversion rate? If yes, we believe that your store needs a Configurable Products Preselect extension with the advanced features and easy to set up at backend. Now let's see what we have here!
Table Of Contents
How Configurable Product Preselect works?
For each configurable product, there are many attributes accompanied by which require customers to choose each attribute before they can see the completed product. For a lot of visitors, they just want to glance at your stuff to compare the price or the functions in order to shop quickly what they need. However, the process takes more time needed and results in the high bounce rate.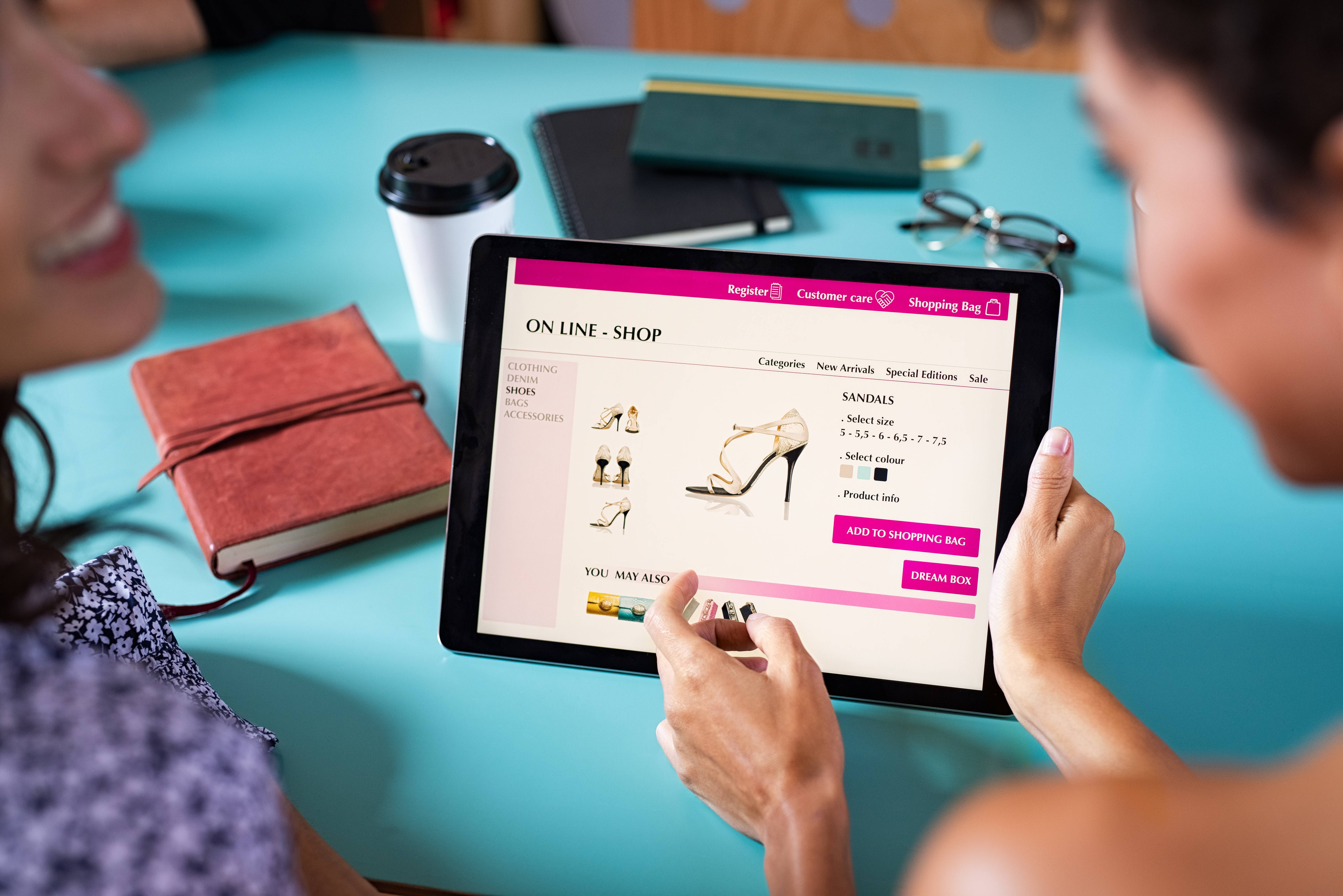 By the Preselect add-on, customers can view configurable product right after access your site. They can view the first attribute set of each product. Or else, they can see the cheapest/most expensive versions, which is depending on the admin setting. Moreover, admin can also set up the Default Preselect Option for each product as their purpose and wishes. They can definitely utilize this function to promo their products. For example, your T-shirt with the blue color has a large number remaining in stock, you can always choose this item attribute to show as a Default option. This helps increase it's selling rate and make your inventory turnover be processed quicker.
Set Up Configurable Products Preselect on Magento store?
By this blog, we will guide you through configuring and setup Mageplaza Configurable Product Preselect module.
Firstly, to download the extension, click here. After having the extension zip file, you need to install the module as the guide here.
Now we will start to set up the useful functions of the module:
Backend Configuration
1. General Configuration
After accessing the Admin panel at backend, please got to Stores > Configuration > Mageplaza Extensions > Configurable Products Preselect > Configuration
You can see the picture here:

Enable: Choose Yes to activate the module. By this, you can go to further configuration.
Preselect Type: Choose one of the 4 Preselect types among the following:

First-option Preselect: Choose this type to allow showing the first attribute set of the Configurable Products as default.
Cheapest-option Preselect: Display the configurable product version with the lowest price.
Most Expensive-option Preselect: Display the configurable product version with the highest price.

Default-option Preselect: If you choose this option, please access the Edit page of each Configurable Product to select the Default option for that product at the Configuration tab. (See more details instruction at Part 2)

Preselect on Category Page: In case the child product has Swatch Attribute, it can be applied on Category page. To have more information about the Swatch Attribute you can have a look here.

Select Yes to turn on this feature
Select No to disable this feature
2. Edit Configurable Product to select Default Preselect Option
If you set Preselect Type = Default-option Preselect, you can follow these steps to set up Default Preselect Option for each product:
Step 1: At Admin Panel, go to Products > Catalog
Step 2: Filter product type = Configurable products
Step 3: Go to Tab Configurations and select a product to set it as the Default Preselect Option.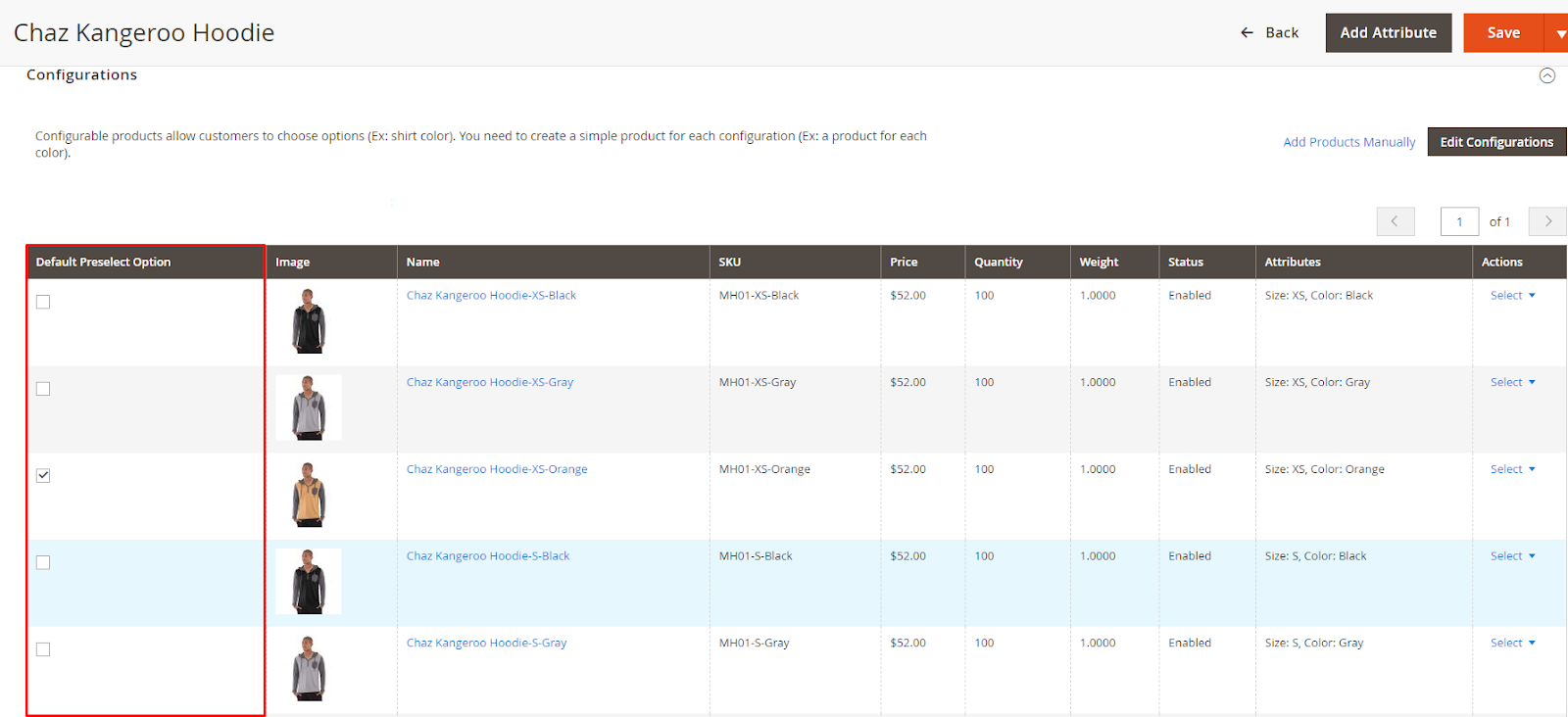 Configurable Products Preselect displayed at Frontend
1. Category Page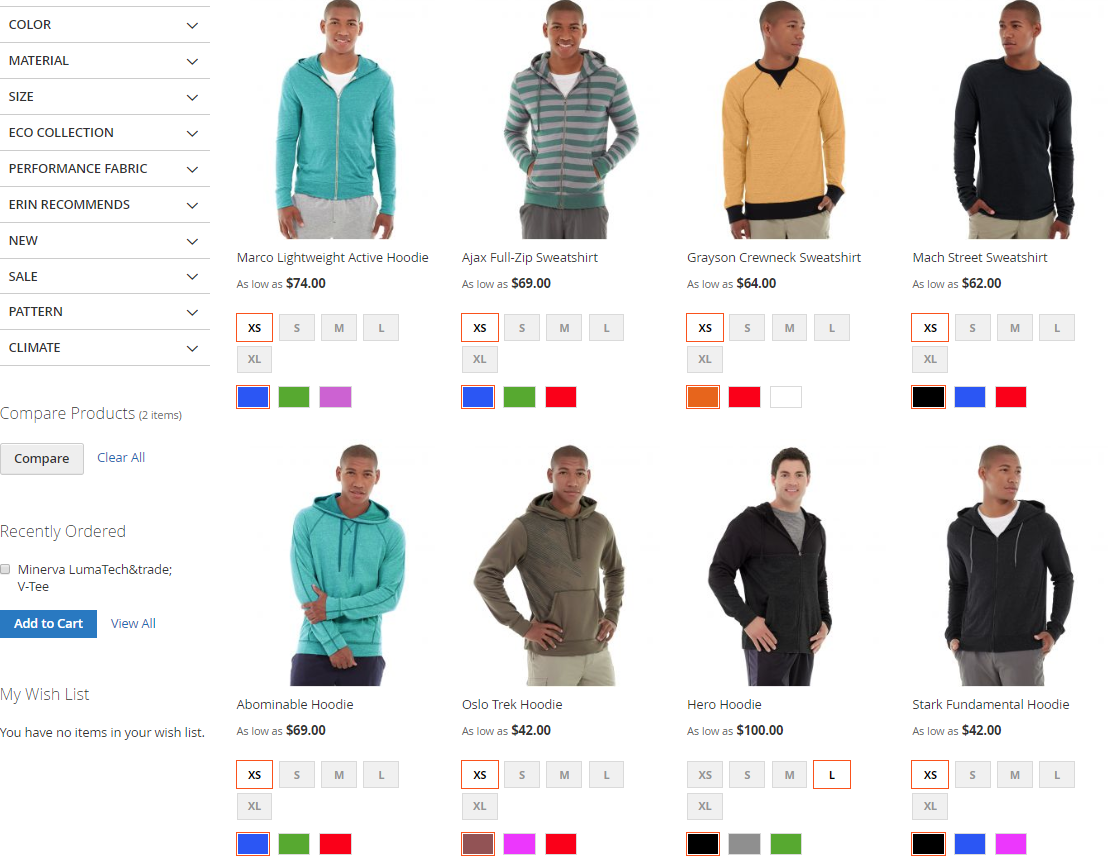 2. Product View Details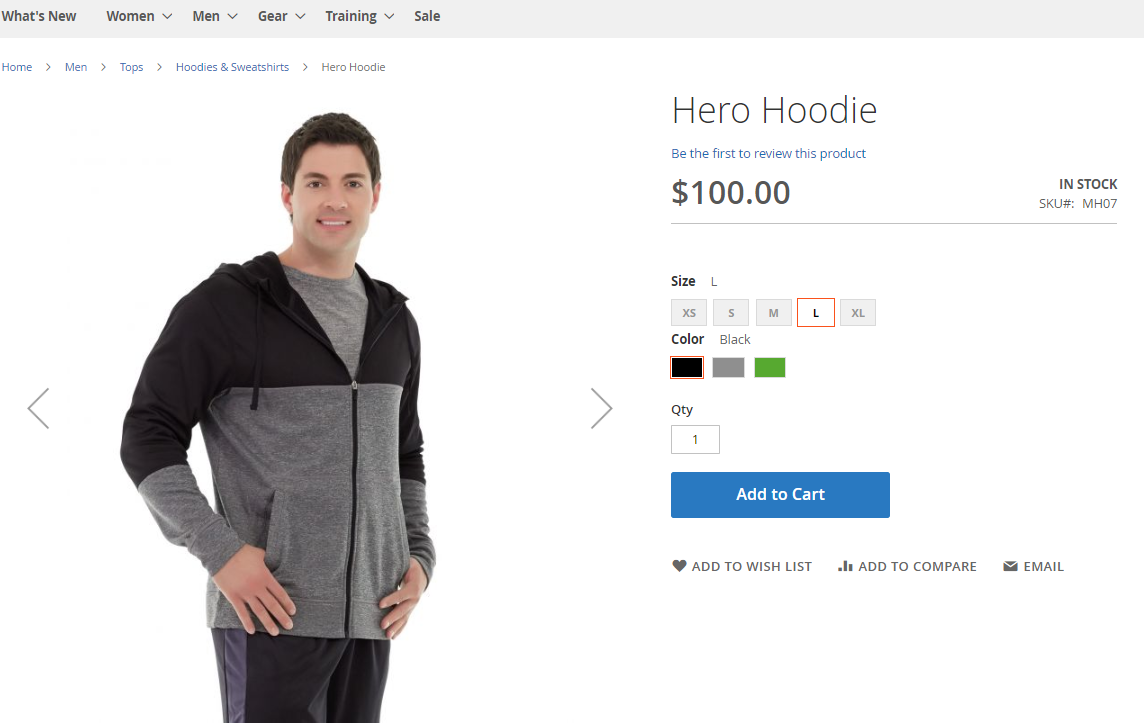 Highlight Features of Configurable Products Preselect
Provide Combination Suggests
Among a variety of options such as size, color, material which are included in configurable products, customers usually feel confused. Configurable Product Preselect is created to help solve that.
In the configurable product, the combination which is suggested will be highlighted using red borders. These noticeable borders would help customers notice and quickly regard it as a recommendation.
Although this feature is quite small compared to others, its value which it can bring for both shoppers and store admins is not that small. It is an effective way to help store owners draw the attention of customers to specific options which they wanted to promote and boost sales.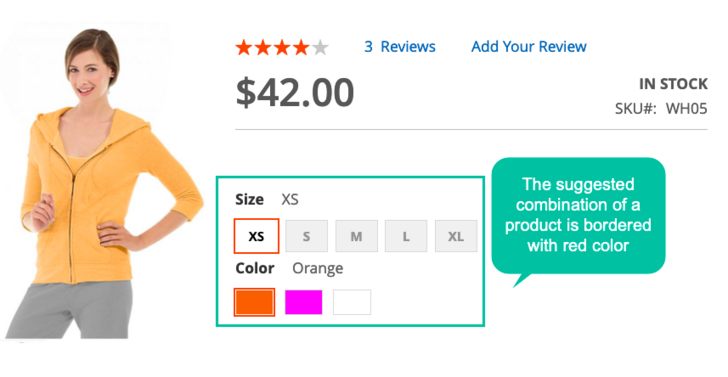 One-click Add To Cart
With Configurable Products Preselect, the selection which is recommended has already been added to the shopping cart of customers. Customers will no longer need to click multiple times to add products to their cart. As a result, a considerable amount of time for shopping can be saved, which would lead to an increase in the shopping experience on your store site.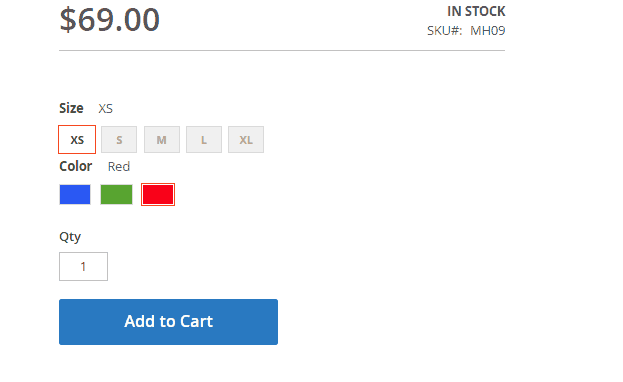 Set First Options As Preselected Ones
With various online stores, each attribute's first option usually the customers' most chosen option. Therefore, many store owners would love to set this as the preselect option to shorten the checkout time of customers. This would especially become effective for stores when customers who are busy as they tend to buy the first options that they see when shopping.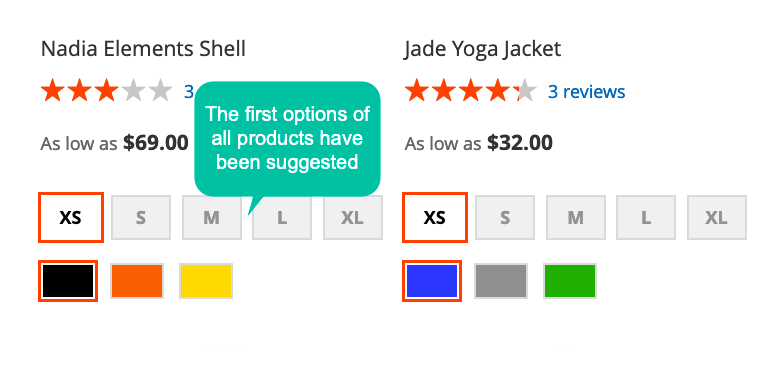 Suggest The Best Pricing Option
With various products, the prices are different for different attributes. Therefore, with this module, store owners can motivate customers to buy more products by suggesting them the cheapest combination, which would help stores increase sales significantly.
For instance, the T-shirt with blue color and XL size will be preselected as its price is the most reasonable among all the attribute selections.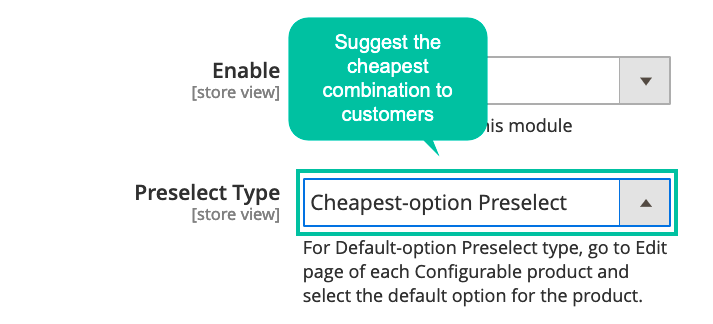 Suggest High-valued Option
Besides suggesting low-price options, in some cases, online stores would want to promote customers to buy a product which attributes have the highest price. For instance, a Red version iPhone will have the highest price as it is a limited version.
In these cases, the highest-price option will be preselected to grab customers attention instantly, which lead them to pick that option.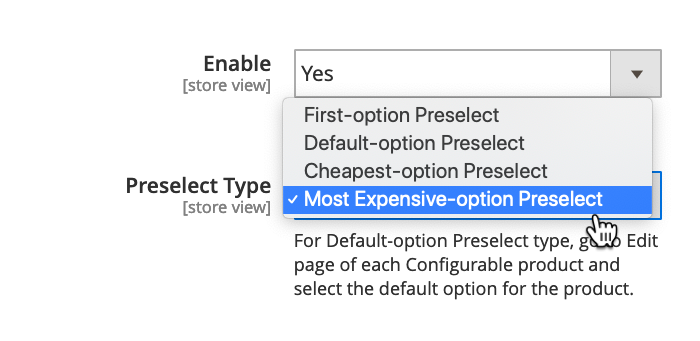 Preselect Type As Default Option
This feature is the solution for stores which want to set preselect options among various products in a flexible way.
From the Catalog backend, the default option for each product can be selected and shown at the storefront as a preselect option to customers.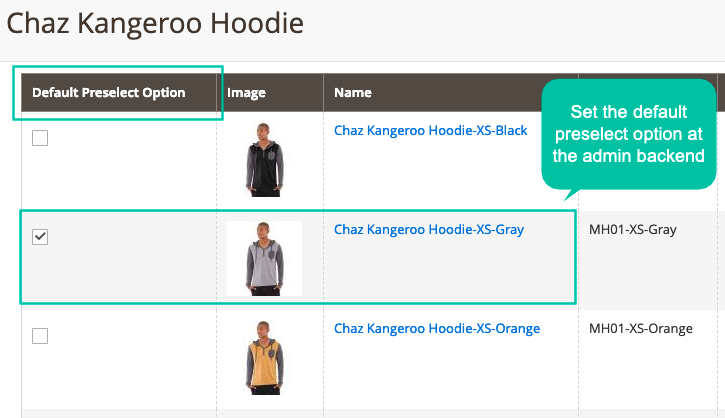 Full Functions Supported by Configurable Products Preselect
For Store Admins
General Configuration
Enable/ Disable the module
Various Preselect type can be selected
Turn on/ off Preselect on Category Page, this is applied with swatch attributes
Configure Default Preselect Option
The default option can be selected at Default Preselect Option column which is in the configurable product's edit page.
For Customers
Be recommended with an option suggestion
Reduce the number of selection steps to add a product to cart
Have superior shopping experience
Final Words
By this post, we hope user can have a good choice for their customer experience on Magento store. With Configurable Products Preselect extension from Mageplaza, stores can suggest attribute combinations to customers including the most popular, the cheapest or most expensive and boost up the sales of specific items. The extension brings huge benefits to both store owners and shoppers.
Visit Mageplaza Configurable Products Preselect
Website Support
& Maintenance Services
Make sure your store is not only in good shape but also thriving with a professional team yet at an affordable price.
Get Started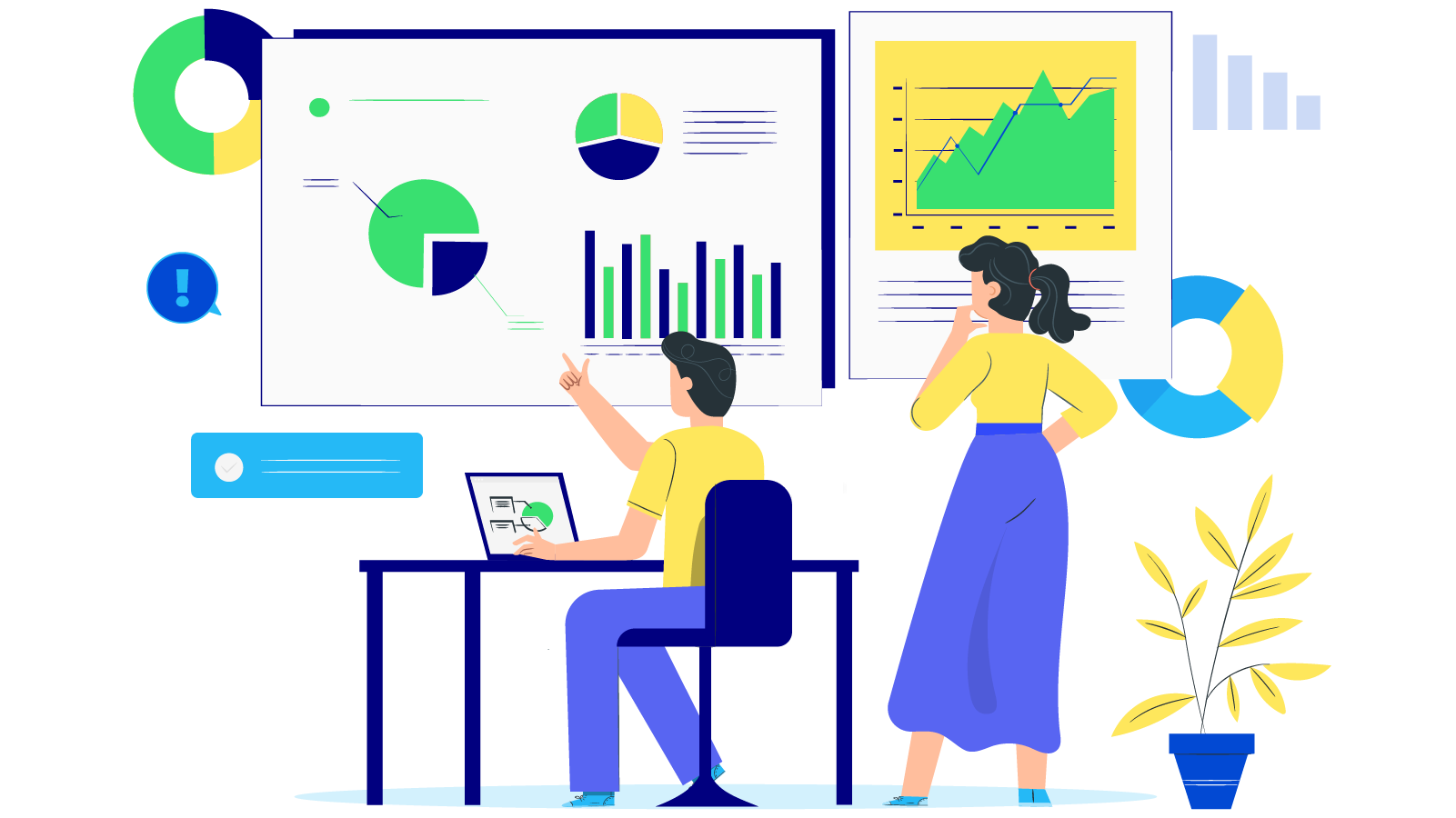 New Posts



Subscribe
Stay in the know
Get special offers on the latest news from Mageplaza.
Earn $10 in reward now!