Top 20+ Best Online Wholesale Vendors / Suppliers
It's no secret that purchasing your goods in bulk from a wholesale vendor/ supplier is an effective way to save your business money.
It's also much easier to do than ever before. Sites featuring wholesale suppliers from the US, Japan, China, India, and other countries are springing up in huge numbers across the Internet.
However, finding the right wholesale vendor/ supplier can take a great deal of legwork and research, with hundreds of websites competing for your attention. Which ones offer the right mix of distributors, functionality, and customer support? You won't know unless you put several serious hours into exploring their features.
Fortunately, we've done the research and compiled the 20+ best online wholesale vendors/ suppliers to help you promote your business.
Let's explore!
Top 20+ online wholesale vendors/ suppliers
1. eBay
Since 1995, eBay has been among the leading USA wholesale suppliers. While you might just think of eBay as an auction site, it is also a great place to purchase items in bulk at wholesale prices.
eBay sells various categories of products from different brands and ships to all parts of the world. Its Product categories include electronics, fashion, home and garden, collectible arts, sporting goods, motor, and daily deals. The platform sells at affordable pricing ranges, and you can trust them to deliver high-quality products. It also connects to millions of sellers and buyers from all around the world.
To find bulk listings on eBay, you need to use the advanced search menu. From the menu, scroll down to the "Show Results" section, then check the box next to "Items listed as lots." If you type a keyword in the search box, bulk listed items will appear at the top of your search results.
However, be aware that not everything available on eBay will have bulk listings. Most bulk listings on eBay tend to be certain types of electronics, clothing, and jewelry. These items can be actually found for incredibly low prices, either from Chinese sellers or through auctions that do not get a ton of bids.
2. Costco
Costco is a name that may need no introduction, though we will give you one anyway. Established in 1983, this American giant is dominating the global wholesaler landscape, with nearly 800 worldwide. While it's known predominantly for its bulk grocery services, it actually offers a vast range of products, from insurance to pharmaceuticals.
Costco is an excellent option when it comes to buying bulk grocery, paper, and plastic items for homes or offices. Costco has nearly everything you can think of available at cut-rate prices, including electronics, clothing, and luggage. Nevertheless, most of the bulk items fall into the food and house supplies category.
One striking thing about Costco is its rapid delivery speeds. Depending on your location and what you ordered, it is possible to receive your goods within two days or even get same-day delivery sometimes.
Costco has built a website for consumers to buy bulk items directly, as well as the Costco Business Center site that focuses on business orders. The business site mainly has products packaged for resale and supplies that would help many small and medium-sized companies.
3. SaleHoo
Established by Simon Slade and Mark Ling, SaleHoo is one of the renowned wholesale websites with more than 8,000 verified vendors and suppliers. Based in New Zealand, it serves not only as a platform but also as a huge community for wholesalers worldwide - housing an extensive range of niche categories and products.
With an advanced search feature and over 1.6 million listed products, SaleHoo allows merchants to explore market trends, find hot-selling products, as well as search for products with a high-profit margin or sell-through rate.
SaleHoo requires its users to pay a fee to access its database of suppliers. There is an annual fee of $67/ year, or you can pay $127 to gain lifetime access. The company guarantees to refund you within 60 days in case you decide it isn't right for your needs. Plus, the platform vets and verifies every supplier and their product quality to ensure authenticity and legitimacy - making the annual or lifetime fee well worth it.
SaleHoo offers 24/7 live chat support to help you with any questions, concerns, or issues that might arise while using its services. There is also an active community forum where you can ask questions and discuss different aspects of E-commerce. In addition, SaleHoo provides training seminars and educational materials for its users, focused on E-commerce, wholesale, and dropshipping.
In short, SaleHoo is a decent choice for merchants that lack the experience or the time to vet suppliers on their own, and are fine with having a smaller assortment of items to choose from and acquire access to 24/7 support.
4. Worldwide Brands
Worldwide Brands (WWB) is one the oldest and most popular wholesale platforms on the Internet. It has more than 8,000 suppliers and 16 million products for you to choose from.
All the suppliers in Worldwide Brands undergo a strict verification process before they can be listed:
The WWB team attends trade shows to find genuine wholesalers
Next, they visit the wholesaler's warehouses
They perform an inspection to make sure they are legitimate before adding them to the directory.
Worldwide Brands updates itself every week with new products and suppliers being added all the time. You can search by product keyword, supplier location, or brand name to find exactly the product types you need. The platform also has an Android and iPhone app, allowing you to look for suppliers on the go.
All suppliers have their own profile on Worldwide Brands, showing their contact information, product catalog, shipping policy, and payment terms. Many suppliers listed in Worldwide Brands have a very low MOQs (Minimum Order Quantities), making WWB an excellent choice for merchants who're looking to order smaller quantities of products.
It will cost $299 to gain lifetime access to the platform. After purchasing a membership, you can access all the suppliers, the community forum, customer support, and comprehensive E-commerce educational materials. You can pay in one lump sum or three monthly installments. Paying in installments ends up being a little bit more expensive at $319 total.
In case you aren't satisfied with your Worldwide Brands membership, you can cancel within 60 days and receive a full refund.
5. BrandsGateway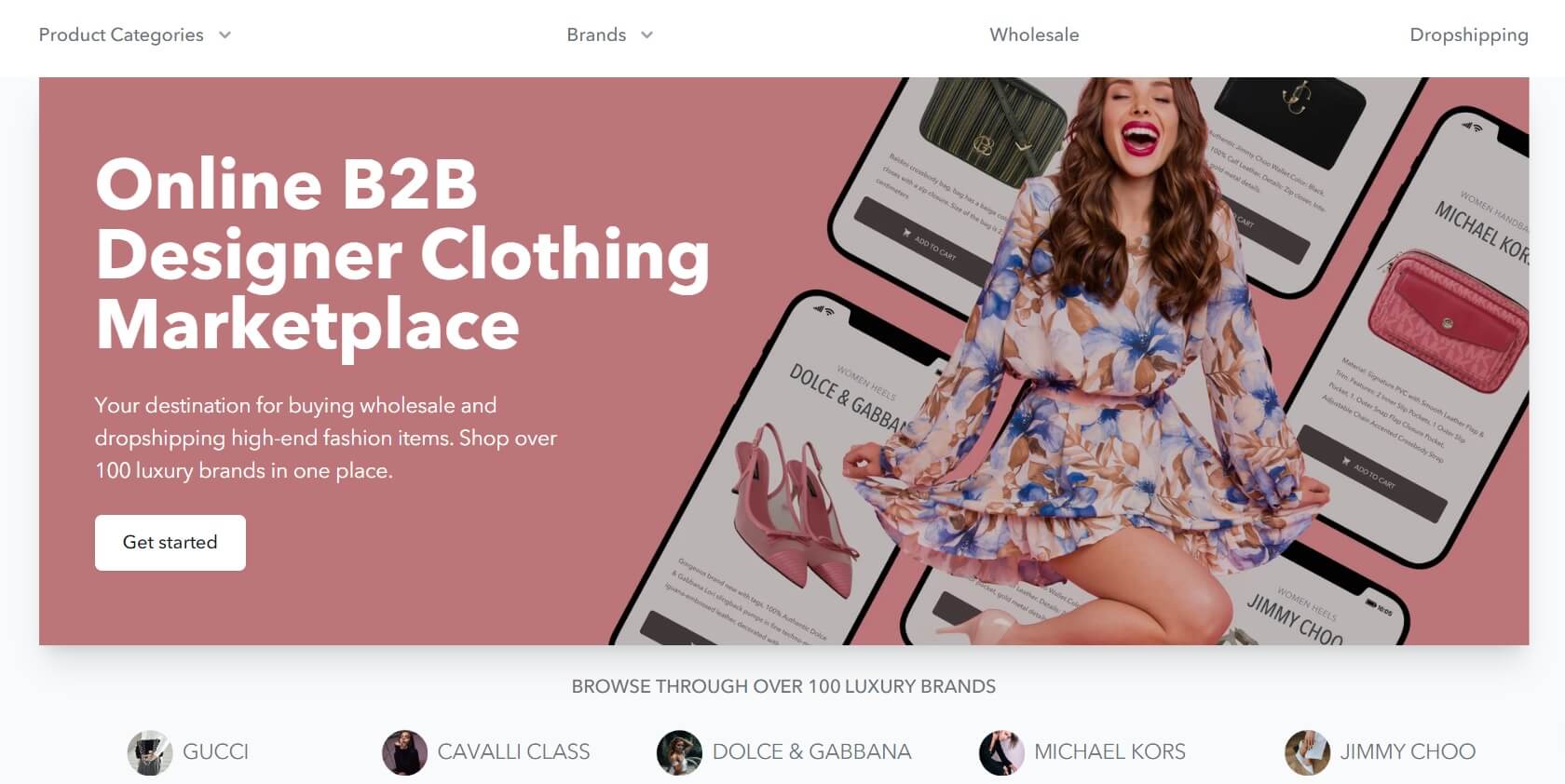 BrandsGateway is a luxury apparel wholesaler that makes it possible to equip your clothing store with only the most superb fashion items of first-rate quality. This supplier offers its B2B wholesale services to all kinds of businesses, providing online, brick-and-mortar, pop-up, and outlet stores with authentic high-end apparel collections created by some of the most distinguished fashion houses known in the clothing industry.
With over 100 luxury brands at their clients' disposal, BrandsGateway allows other business owners to make bulk purchases by selecting from over 15,000 items belonging to the Versace, Prada, Roberto Cavalli, Dolce & Gabbana, and Jimmy Choo's fashion lines, to name a few. Because these brands enjoy high value and flawless reputation, by selling them in their stores, customers can be earning profit margins amounting to up to 250%. Additionally, with new assortment updates available on a weekly basis, clients are constantly kept on track with the most current trending items. Delivery takes no longer than 7 working days, making it possible for customers to stock up their stores' shelves and racks in a quite fast and efficient way.
BrandsGateway is an excellent pick for businesses planning to get into the clothing market and looking for reliable suppliers that can provide them with well-made fashion pieces that guarantee them great sales.
6. Alibaba
Any list containing top wholesaler marketplaces would be incomplete without Alibaba. With millions of items spanning 40 different categories, Alibaba offers the most varied assortment of wholesale products out of all wholesale suppliers.
While Alibaba is a Chinese platform, it lists suppliers from all around the world. With various suppliers and products available on the platform, it is essential that buyers do their due diligence before placing an order. Alibaba makes it easy by giving its users a quick way to gauge the trustworthiness of a particular supplier through their transaction level, reviews, rating, and response rate.
Alibaba classifies suppliers into three categories:
Trade Assurance Suppliers: Most wholesale suppliers fall under this category. The platform guarantees your products will be shipped on time and meet the quality standards you agreed upon with the supplier. Otherwise, you will get a refund.

Gold Suppliers: Any premium suppliers that pass Alibaba's Authentication & Verification and Onsite Check will be categorized into this type.

Assessed Suppliers. This category includes Gold Suppliers that have been inspected by both Alibaba and third-party inspection companies.
Alibaba also offers a Secure Payment service where it holds your money in escrow until you confirm you've received your order. As for payment options, most suppliers offers one or more of these methods, such as:
Letter of credit
Bank transfer
PayPal
Western Union
7. DHgate
DHgate is another popular Chinese online wholesale supplier. Founded in 2004, the platform has been one of the biggest wholesale marketplaces in the world. Thousands of wholesale suppliers sell their products on DHgate, which creates a marketplace that offers millions of products in dozens of various categories.
Many suppliers on DHgate have lower MOQ requirements compared to those on Alibaba, which suits buyers with more moderate budgets. The platform also displays reviews and ratings for each supplier to help make it easier to choose a trustworthy one.
DHgate distinguishes between two types of suppliers:
Premium Merchants. DHgate selects these suppliers based on their sales volume and positive reviews. They should have a very low number of disputes and offer fast shipping.

Top Merchants. Among the highest-rated vendors on the platform, Top Merchants have high annual sales volumes and consistently receive positive reviews. They offer fast shipping and have speedy response times.
DHgate also provides its own version of Buyer Protection, keeping your money in escrow until you confirm you've received your order.
8. Inventory Source
Inventory Source provides access to about 200 suppliers across the US and China. However, most of its suppliers have extensive product catalogs that contain tens of thousands of products, bringing its product count to more than a million. The products span 26 different categories, including electronics, apparel, books, sporting goods, and pet supplies.
It is entirely free to browse the platform, look at all the different suppliers, and check out their products. If you want automated features, like one-click order processing and inventory sync, you will need to opt for one of the following pricing plans:
Inventory Automation ($99/ month): includes supplier integrations, automatic upload of product data, inventory sync, as well as product feed management tools.

Full Automation ($150/ month): includes everything of the Inventory Automation plan, plus one-click order processing, shipment tracking, multi-supplier order routing, and an order management interface.
9. Global Sources
Global Sources is a Hong Kong-based company that markets itself as a one-stop platform for all sourcing needs. As a matter of fact, it is not only an online wholesale supplier but also a sourcing service provider and trade show facilitator.
As a wholesale marketplace, Global Sources lets you browse Chinese-manufactured products from verified suppliers. Verified suppliers carry a badge showing that they have been verified by the company, meaning their licenses along with legal documents are in order (in plain English, they have been deemed as trustworthy).
What's different about this platform is that there is no direct buying mechanism. To purchase units of a specific item, you need to send an inquiry to a supplier and then negotiate things like delivery, shipping, payment, etc. You cannot add products to carts and check out as you can with Alibaba or DHgate.
And as a trade show facilitator, Global Sources lists and helps to register for upcoming trade shows or fairs in China.
Global Sources also has a live chat function that enables you to speed up the purchase process. Plus, Global Sources provides a wholesale online shopping app for Android and iPhone users. That means you can talk to and negotiate with a wholesale supplier at any time.
10. Bwanaz
As a California-based company, Bwanaz has been in the wholesaler industry since 2017 and has already accumulated a significant following. Some of their major partnerships include Walmart, Microsoft, and Bloomingdales.
Bwanaz's passion for supporting local businesses and only choosing to work with the highest quality manufacturers, as well as its wide range of products, are largely the reasons for its success.
With Bwanaz, you can get the following significant advantages:
Available worldwide
Free shipping
Free membership
Wide range of products
Solid returns policy
Minimum order of $50
Product recommendations
3-month free trial for new sellers
11. Michaels
While you might not have heard of it, Texas-based Michaels is actually one of the oldest wholesalers on this list. The platform has been around since 1973, and its success lies in its focus on selling arts & craft goods.
Its products are high-quality and available to bulk-buy, making Michales a favorite with teachers, gift stores, hobbyists, and artists alike. You can find a massive collection of product categories on this platform, such as:
Art supplies
Jewelry and beads
Décor
Baking supplies
Teaching supplies
Crafts and hobbies
Knitting and crochet
Seasonal and holiday
Kids
Besides, Michaels offers you:
Free membership
Free shipping on orders over $49
Order tracking
Bulk-buying
Good range of arts and crafts products
Tax exemption for small businesses
Teacher, military, and seniors discounts
Good returns policy
Creative project ideas
12. TopTenWholesale
TopTenWholesale is a web-based B2B platform, which helps people find the right wholesalers, distributors, importers, and dropshippers. It's also one of the best platforms that you can trust. This is not only because it's the top-rated company in the US, but also because it has got decades of operational experience in this industry.
TopTenWholesale has thousands of verified vendors and millions of products for you to choose from. Like other top wholesale vendors, TopTenWholesale has a supplier verification process that vets the seller's authenticity.
However, the motto of TopTenWholesale is a little bit different. The platform serves more like a community for suppliers and buyers that facilitates rather than just a source that gives information about product listings. That makes it one of the leading B2B wholesale platforms in the US to serve millions of users.
13. WholesaleCentral
The next platform is a B2B wholesale supplier that facilitates both wholesale suppliers and retailers. WholesaleCentral serves as an effective platform for retailers to find suppliers and helps suppliers get more business.
Moreover, the website helps you find hot-selling products by discovering different categories. When you find a wholesale supplier, WholesaleCentral routes you to its site, where you can negotiate with them directly.
Actually, WholesaleCentral is one of the oldest wholesale vendors with countless products and a lot of verified suppliers to choose from. Whether you register as a supplier or retailer, you'd get access to its product locator service and verified supplier list.
However, WholesaleCentral is not for the new players, as one may have to put in a lot of effort to connect with suppliers. It doesn't have a knowledge base or host seminars to help you find and shortlist products for your store. Neither would it offer any guidelines on selecting a source of your stock inventory. To utilize WholesaleCentral to its full potential, you will have to come prepared.
14. ChinaBrands
ChinaBrands is a professional dropship and wholesale platform, which belongs to Globalegrow Group - the biggest cross border E-commerce company in China. With the increase of overseas warehouses, the company has reached more than 250 countries around the world.
ChinaBrands offers a lot of product categories, including clothes, jewelry and accessories, household supplies, and so on. By partnering with ChinaBrands, you can access thousands of weekly updated products from China at the best prices.
The platform auto integrates with more than 20 significant platforms like eBay, Amazon, Shopify, Shopee, Wish, and many more. With over 5,000 specific manufacturers strictly reviewed by the professional QC team, you can buy in bulk whatever you want at the wholesale price with no MOQ limits. ChinaBrands even has a discount point policy and ChinaBrands points accounted as payment.
Plus, ChinaBrands also provides SEO-optimized product descriptions to download and import to your online stores free. Hence, the task of writing product descriptions will be easily implemented, while your online store can get a higher rank, increase more traffic, and convert more sales.
In addition, ChinaBrands also offers a dropshipping service, meaning you won't have any hassle to keep up your own stocks. Instead, you'll be given very low prices and act as an intermediary between ChinaBrands and buyers to gain profit.
With global shipping (Next-Day delivery) and auto-order fulfillment features, your job is only to import products from ChinaBrands, make sales on your store, place an order from ChinaBrands, and finally, ChinaBrands will ship the products to your customer.
15. HKTDC
HKTDC is actually an abbreviation for the Hong Kong Trade Development Council. Founded in 1996, it's a reliable wholesale website with more than 130,000 Chinese suppliers.
In addition to being an online wholesale supplier, HKTDC is also an organization devoted to the economic growth of Hong Kong traders. Headquartered in Hong Kong, the company allows you to attend exhibits, fairs, and conferences. Plus, you can keep up-to-date with the most recent industry news and events.
In terms of buyer protection, the platform tags trustworthy wholesale suppliers as "premium advertisers." These suppliers have been verified for trading activities, factory details, product quality, and product videos. You can also find wholesalers that have been verified by independent verification agencies. You can look for the Dun & Bradstreet check, which indicates that a wholesaler's credibility has been verified by a third-party agency.
However, HKTDC doesn't provide direct logistics and payment services. That means you have to talk to the supplier to finalize the details.
For smaller orders, the platform has a feature called "Small Order Zone," which lets you choose items, add them to the cart, and then check out. In this case, you can choose your preferred logistics partner and see the rates.
You also need to finalize the payment method by discussing it with your supplier. However, for small orders, HKTDC supports payment via PayPal, which means small orders are protected by the PayPal refund policy.
16. TradeKey
Established in 2006, TradeKey has been among the top and reliable Chinese wholesale websites.
On TradeKey, you can find Trust Points, which indicate the seller or exporter's reliability and the level of being legitimate. The Trust Points icon lies next to the seller or exporter's name. You're able to tap on the seller name, then click on the Trust Profile link to the right of the page. From here, you'll see the business type, trust points, joining year, and the number of feedbacks.
From the seller profile, you'll view factory location & size, the number of production lines, R&D (Research & Development) & QC (Quality Control) staff, certificates, registered capital, and export percentage. Then, you can decide whether this is the right supplier for you.
If you negotiate well, you'll have a good deal. You can also discuss with the supplier for information on delivery mode and time. It doesn't support direct picking up of your favorite delivery partner. So, the delivery time will depend on your location & choice of delivery mode.
TradeKey doesn't support a direct buying mechanism where you can add to the cart and check out. So, you need to determine the payment method once you've discussed it with your supplier. In such scenarios, it is always recommended to pay via PayPal because of its buyer protection policy.
17. Made-in-China
Made-in-China is considered one of the cheapest online wholesale websites around. When you compare its pricing with other websites, you can realize that the wholesale vendors on this platform are charging a pretty reasonable amount.
The platform audits the majority of the wholesalers before allowing them to sell on its website. The audit verifies their financial position, quality control, product capacity, product images, working environment, and certificates.
Furthermore, Made-in-China offers you the opportunity to conduct online or face-to-face meetings. This means you can get to know suppliers before you do business with them.
You can also sign up for its Secure Trading Service. This will ensure that the wholesaler gets the payment after you've confirmed receipt of items in proper condition.
Like some of the wholesale suppliers on this list, Made-in-China doesn't allow you to add products to your cart and check out. However, it offers the option to choose a logistics partner from Made-in-China 's logistics marketplace. This marketplace supports direct shipping agents and popular companies like FedEx and DHL.
18. KKAMI
KKAMI is a Korean wholesale website that offers quality fashion for kids. The website is regularly updated to reflect the latest brands and items from Korea.
KKAMI
However, KKAMI does not allow just any brand to list its collection on its platforms. Brands that want to be listed on KKAMI have met the following criteria:
Are proven bestsellers
Have distinctive styles
Make original designs
Offer excellent quality
Are accurate and reliable (e.g., their products have to match product photos)
This means you can be sure that you are investing in high-quality products when you purchase from this website.
KKAMI also takes orders for Korean brands that are not present on its website. You just need to send them an email and tell them what brands you want. KKAMI will then inform you about pricing, MCQ, and so on.
19. SeeBiz
SeeBiz is an amazing B2B platform for manufacturers, distributors, wholesalers, and retailers. Here they can connect with 1000+ verified vendors and shop 650,000+ products. Unlike other platforms that are confined to limited industries and products, it provides you with over a hundred categories to choose from, including:
Apparel
Arts
Electronics
Food and Beverages
Health and Beauty
Healthcare
Home and Garden
Pet Supplies
Sporting Goods
Toys & Games
SeeBiz is the top business networking platform dedicated to the needs of wholesalers all across the USA. It aims to help traditional wholesalers become online juggernauts. Whether you are selling or buying, SeeBiz will always have the perfect vendor for you.
No need to perform cold calls, send emails that go unnoticed, or set up trade shows. Now you can simply display your products on our platform and let the vendors rush in. Also, you can contact the vendor directly through SeeBiz to get the best possible quotes. Join SeeBiz for free and experience the benefits for yourself.
20. Eindiawholesale
Headquartered in India, Eindiawholesale is one of the biggest wholesale websites for retailers and boutique owners of fashion and imitation jewelry.
Its homepage displays various categories of products as well as new arrivals. You can also find everything from handmade earrings to floral necklaces and many more.
Buying from Eindiawhole is fast and straightforward. It allows you to add your items to the cart and check out. The website manages other aspects of buying, such as shipping, buyer safety, and more.
The downside is that there is a minimum purchase requirement of $100 for international customers. Plus, refunds for damaged and missing items will be issued in the shape of store credit (the shipping charges for returns will then be paid by the buyer, as well).
Despite these shortcomings, Eindiawholesale is an excellent resource for wholesale online shopping. The products listed on the platform are unique, and the customer support team is also present around the clock to help you deal with any issues you may have.
21. Super Delivery
Many retailers around the world choose Super Delivery to buy products from Japanese companies.
The website has over 480,000 products and no minimum order quantity. You can actually sign up for free and search items in a range of categories, including furniture, apparel, shoes, and more.
Every listing also highlights the way you can get your order shipped. The estimated arrival for each shipping method is also mentioned. For US-based retailers, FedEx, DHL, and USPS offer the fastest delivery time.
Super Delivery also offers consultation for large orders (those worth $5,000 or more). The best thing is that it is also applicable to multiple purchases. For instance, if you purchased items with a total worth of $10,000 from 15 vendors, Super Delivery could arrange container transportation for you so you can save cross-border shipping costs.
22. Alanic Clothing
Lastly, Alanic Clothing is home to lots of top fashion and sports apparel products. The company is headquartered in Beverly Hills, California, the USA, with a local presence in the UK, Canada, Australia, and more.
The website itself is a wholesale supplier for brick-and-mortar fitness clothing, leggings, T-shirts, and other sports apparel for men, women, and kids. It also enables you to order custom clothing and sell them under your own brand.
The feature that makes Alanic Clothing outstanding is its simple "Request for Quotation" process. You just need to fill out a form with your name, email, phone number, company, country, and desired quantity. The company will get back to you with pricing, MOQ, and other details.
The platform is also considered one of the cheapest wholesale platforms in existence due to its low shipping fees. Orders above $50 are shipped for free, a generous threshold considering the company's working with manufacturers in non-Asian countries.
Best practices for choosing a wholesale vendor/ supplier
The wholesale supplier websites listed above provide you with access to a large number of suppliers all around the world. With a lot of suppliers available, it can be challenging to decide which supplier is the right fit for your needs.
Hence, below are a few tips to keep in mind when choosing a wholesale supplier.
Do your own research
While we've studied and chosen the best candidates, chances are you still want to do your own research. Make sure the supplier you're looking to work with is reliable and reputable.
You can search for reviews on a supplier online and see what other merchants are saying about them. Try typing "[supplier name] + scam" into search engines to check if there are any negative reports on a particular supplier.
Ask questions
When searching for a supplier, you will want to find out as much as you can about them, their products, as well as the way they do business.
So, make sure to inquire about shipment and payment terms, shipping costs, delivery time, as well as any other information you might need.
Prioritize reliable shipping
No matter how excellent a supplier's products or prices might be, that will be meaningless if they can't deliver the products on time. Late shipments can directly result in a loss of sales, an increased number of refund requests, as well as negative reviews for your business.
To avoid this, find a supplier that uses reliable shipping methods, offers product tracking and automated shipping alerts.
Find suppliers with stellar customer support
In case you face up a problem with ordering or receiving a shipment, you will want the supplier to help you as soon as possible. This makes it essential to opt for a supplier with great customer service.
When evaluating a wholesale vendor, check how easy it is to reach their customer support team. Are they available on various channels, including live chat, email, and phone? And do they offer 24/7 support?
Make sure your supplier will be there for you whenever you need them.
Always try to negotiate
Remember that price, MOQs, and shipping terms are not set in stone. Most wholesale suppliers have some wiggle room to accommodate serious merchants that could become long-term customers.
Thus, brush up on your negotiation skills before contacting a supplier, then try to negotiate better terms for your order. At worst, you will get the same terms as everyone else. At best, you can get a much better deal, saving you money, and allowing you to get a better return on investment.
The bottom line
With amazing websites on this list, wholesale online shopping can become a fun experience - and a rewarding experience when you can look for great products for your store.
So, from which online wholesale vendors/ suppliers are you currently buying products for your store? Are you satisfied with your selection? Let us know, and we'll discuss it together!
Website Support
& Maintenance Services
Make sure your store is not only in good shape but also thriving with a professional team yet at an affordable price.
Get Started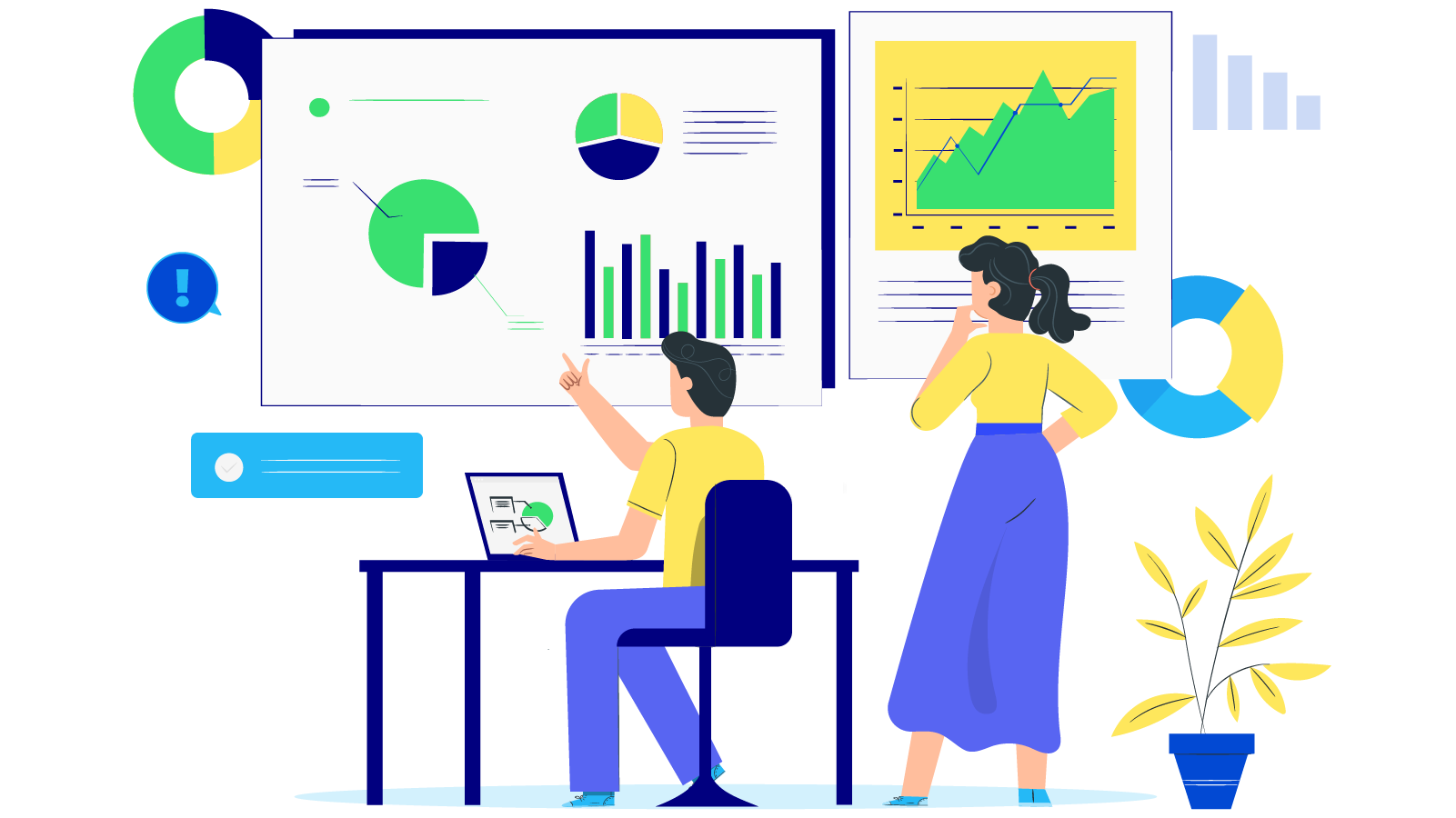 ---
---

Marketing Manager of Mageplaza. Summer is attracted by new things. She loves writing, travelling and photography. Perceives herself as a part-time gymmer and a full-time dream chaser.
New Posts



Subscribe
Stay in the know
Get special offers on the latest news from Mageplaza.
Earn $10 in reward now!