12 Must Have SaaS Tools for Your eCommerce Business
Ecommerce is a business model that refers to the buying and selling of goods using the internet as a platform. It also covers other business transactions such as billing, online auctions, and internet banking.
Ecommerce has steadily grown over the years and traditional businesses find themselves transitioning to doing sales online to stay in the market or even dominate their industry. If you are thinking about starting an eCommerce business, you are on the right track. Experts anticipate that eCommerce will only steadily grow in the years to come.
Of course, it is always recommended that you study data and hard facts before diving into any venture. Here are some eCommerce statistics from Removal.ai that will further prove that there is a future if you do business using the online platform:
By 2022, eCommerce sales are seen to hit $6.54 trillion.

The fastest growing market in the eCommerce arena is that of China, with a total of $672 billion estimated revenue in 2017.

The United States of America comes in second with a cumulative eCommerce market value of $340 billion.

The next country that benefited heavily from the eCommerce format in the United Kingdom with a total of $99 income.

43% of eCommerce traffic is classified as organic Google searches.

By 2040, a whopping 95% of shopping transactions are expected to be done through eCommerce.
Convenience is the main reason why people patronize eCommerce sites. Think about it. Between going to a physical store and shopping anytime and anywhere, the choice is pretty obvious. This brings us to more data, and this time, regarding customer experience relating to eCommerce transactions. Here are more important insights on consumer eCommerce that can be crucial when you are considering the possibility of return on investment for your enterprise:
Generation X dominates the online shopping customers followed by Boomers and Millennials.

Around 51% of online shoppers are smartphone users. Mobile eCommerce shopping is anticipated to grow for up to $3.5 trillion in sales by 2021.

Free shipping vouchers and the visual appeal of eCommerce shops can influence the purchasing habits of customers.

Online reviews matter to shoppers when making a purchase.
If you are now convinced that an eCommerce business is the way to go, the next thing that you need to know is that this business model is more than just putting up a website and a social media page. You also need to incorporate Software as a Service (SaaS) tools to facilitate your business operations.
You might be asking this question right now: What is SaaS? SaaS is a cloud-based service that features software access via an internet connection and web browser instead of the usual install and use process. Most tools in the eCommerce platform are powered by SaaS, so it is not surprising it becomes indispensable when setting up your online enterprise.
To help you in your eCommerce business, here are twelve must-have SaaS solutions that you can use:
1. AVADA Marketing Automation: SaaS for Email Marketing
AVADA Marketing Automation is one of the most modern and innovative tools that streamline email marketing management and result in a good return on investment. It is designed to help eCommerce businesses add more value to their emails and send the right messages to the right customers at the right time.
Di you know that with the $1 you spend on email marketing, you can expect to get back $42 of ROI? Email marketing is really holding the key to success for businesses of all types. AVADA Email Marketing can help you to do that - take your email marketing to the next level and stop wasting your resources with the following powerful features:
Email Marketing automation: Enable you to pre-make a series of automation emails to follow up your prospects from any touchpoint. You can easily understand, engage with customers and convert them into your customers through abandoned cart emails, welcome emails, order follow-up emails, cross-sell and upsell emails.

Email Campaign: Create email campaigns that are not only compelling but also easy for customers to follow. For each campaign, you can send mass emails with different purposes to your prospects. It might be a welcome email to the new visitors or a follow-up email with appealing discounts for your customers.

Segmentation: It's important to segment your audiences before sending emails to them because not everyone wants the same thing. AVADA Email Marketing assists you in building a segmented email marketing campaign. You will be able to send the email to those who most likely to open and read it.

Forms: Collect customers' emails through a smart exit-intent popup to grow your email list. Customers just need to fill in their emails and spin to win the promotions without doing any additional steps.

SMS Automation: Send messages to your audiences in a way more modern and accessible. This feature supports sending messages for abandoned carts, welcome subscribers, order follow-up, cross-sell, upsell, and more. You can also collect the customers' numbers via a simple sign-up form.
2. Shopify: SaaS to Set Up an eCommerce Website
Shopify is one of the best tools there is for building an online store website. It lets you create your own online space to get you started in your eCommerce business. It also provides you with relevant tools to manage your business, find customers, and make sales. If you are a traditional business with a physical store, Shopify is also a great option if you want to move your business online to serve more customers.
Shopify offers a free trial if you want to test it first. The good news is, even solo entrepreneurs can afford their product pricing. Their basic Shopify account costs only $39 per month. You will pay $105 for their regular account. And if your business is already scaling, you can have an advanced Shopify account for $399.
3. Oberlo: SaaS for Inventory Management
Oberlo will introduce you to the concept of dropshipping. Dropshipping will help you manage your store without holding any inventory. The process is this: First, you make a sale. Second, your supplier will send the product from their warehouse to your buyer's location. And that's it!
It's a two-step process that makes online selling easy-peasy. There will be no problem in storage, packaging, or shipment on your part.
4. Grammarly: SaaS for Content / Copy Editing
To make a sale, communication must be clear and concise. Whether you are making your social media or eCommerce content, your copy can get your customer's attention. Clear grammar can get your message across to your potential customers.
Grammarly is a SaaS tool that can help you with this. It is a digital writing assistance software that uses AI and technology to process language and can correct errors and make a better copy for your campaigns.
It has a free version that offers basic grammar correction. Its premium plan lets you improve your writing style, tone, and clarity for only $11.66 per month. For businesses, you can avail of additional accounts for your team for a low price of only $12.5 a month.
5. Slack: SaaS for Team Collaboration
If you have other people working on a project, it is better to get SaaS a cloud-based software that can make communication and working together easier. Slack can offer this service and more.
Slack is a SaaS tool that can help you organize your team by giving you an online space for communicating. Its services include chat rooms, private group options, and direct messaging. Through channels, topics are easily sorted in Slack and you can follow conversations and updates on projects seamlessly. There is an option for free use. Meanwhile, a basic monthly subscription starts at $6.67 a month.
6. Removal.AI: SaaS to Optimize Your Product Photos
Removal.AI is an image editing provider that specializes in automatic background removal. This SaaS tool incorporates advanced imaging techniques and processes so that you can immediately delete the background of any image. This is important when you have an eCommerce website since the visual appeal of online products is crucial to driving sales.
7. Hootsuite: SaaS for Social Media Marketing
If you use social media when marketing, one useful SaaS solution is Hootsuite. With Hootsuite, you can create and schedule social media posts, manage your accounts, and collaborate with others in planning social media campaigns. The starting subscription fee is pegged at $19 per month.
8. Hubspot: SaaS for Sales and Promotion
If you are looking for a SaaS tool that can effectively help you market and promote your eCommerce business, Hubspot is one of the applications to beat.
Hubspot highlights services for inbound marketing, customer service, and sales Whether you run your business solo or with a team, it can help you ease the burden of your business operation with its customer experience management, content management, and social media marketing tools.
9. Sendinblue: SaaS for Email Marketing
Marketers who want to send campaigns by the bulk should consider Sendinblue. This email-marketing platform is not only among the best transactional email services providers. It is more popularly recognized as a budget-friendly choice for automating email marketing, which is a huge factor for small to medium businesses.
The smooth interface with the workflow-based automation feature works seamlessly. It can let you create emails using either the drag-and-drop builder or the modern template options. Both of these features guarantee a quick campaign creation that is relevant and impactful. It also allows segmenting that is effective in target marketing. This will guide you in creating content that exactly aligns with what the target audience needs.
Sendinblue is a noteworthy choice if you are looking for a value-for-money email marketing service. The dynamic personalization, solid API, and advanced segmentation makes it a well-equipped and sophisticated tool for newsletter-type of campaigns.
10. Buzzsumo: SaaS for Content Marketing
As one of the most effective digital strategies, content marketing must be prioritized so that you will be able to determine which content will resonate with your market. Buzzsumo is an effective and user-friendly tool that exactly does that and more.
What makes it very appealing is that it runs in the cloud. This makes it easier to launch anytime you want to work on an idea. It has a powerful search bar that will show you timely online content that is within the context of your topic.
It will let you monitor which content is new and trending, what are the top hashtags being used, and helps you analyze competitor content to give you more room for improving your own. The real-time data and analysis plus the fact that it continuously improves its tools makes Buzzsumo useful in creating fresh content that is most relevant in the eyes of your target audience. The size of your team and how much data you export will determine how much you are going to pay for this must-have tool. It typically charges between $99 to $599, for your reference.
11. Albacross: SaaS for Lead Generation
Generating prospects is a huge challenge for B2B companies. Albacross is a simple tool that instantly captures valuable leads using website traffic and activity analysis. This visitor tracking solution works by using a code or snippet that collects and processes information once it is pasted on the website.
It provides a fast method to turn website visitors into prospects as it can generate all essential data that will let you properly approach potential customers.
Enjoy the benefits of this tool with its 14-day free trial. You have three package choices that range from €99 to €299 per month after the trial period.
12. SEMRush: SaaS for Keyword Research & SEO
Driving traffic towards your website requires hard work and it does not help that competition is getting tougher on the internet. SEMRush offers a quick solution by doing keyword research, competitive SEO research and even researching SEO programs intended for sales prospects.
What SEMRush actually does is to help your organization determine keyword gaps between your website and your competitors'. It is relatively inexpensive with three plans available from $119.95 to $449.95 per month.
13. MobileMonkey: SaaS for Chatbot
Among the many available chatbot platforms on the internet, MobileMonkey ranks high as it helps companies to connect with their customers in real-time. Its impressive API allows you to manage both inbound and outbound conversations in one place.
This would make it easier to simulate a human-to-human interaction which delivers a more personalized experience for the customers.
What makes MobileMonkey more interesting is that it uses AI technology in a whole new level. The responses of the chatbot improve with the progression of every conversation. This makes the company sound informative thus helping with the goal of satisfying the clients.
14. Zonka Feedback: SaaS for Customer Feedback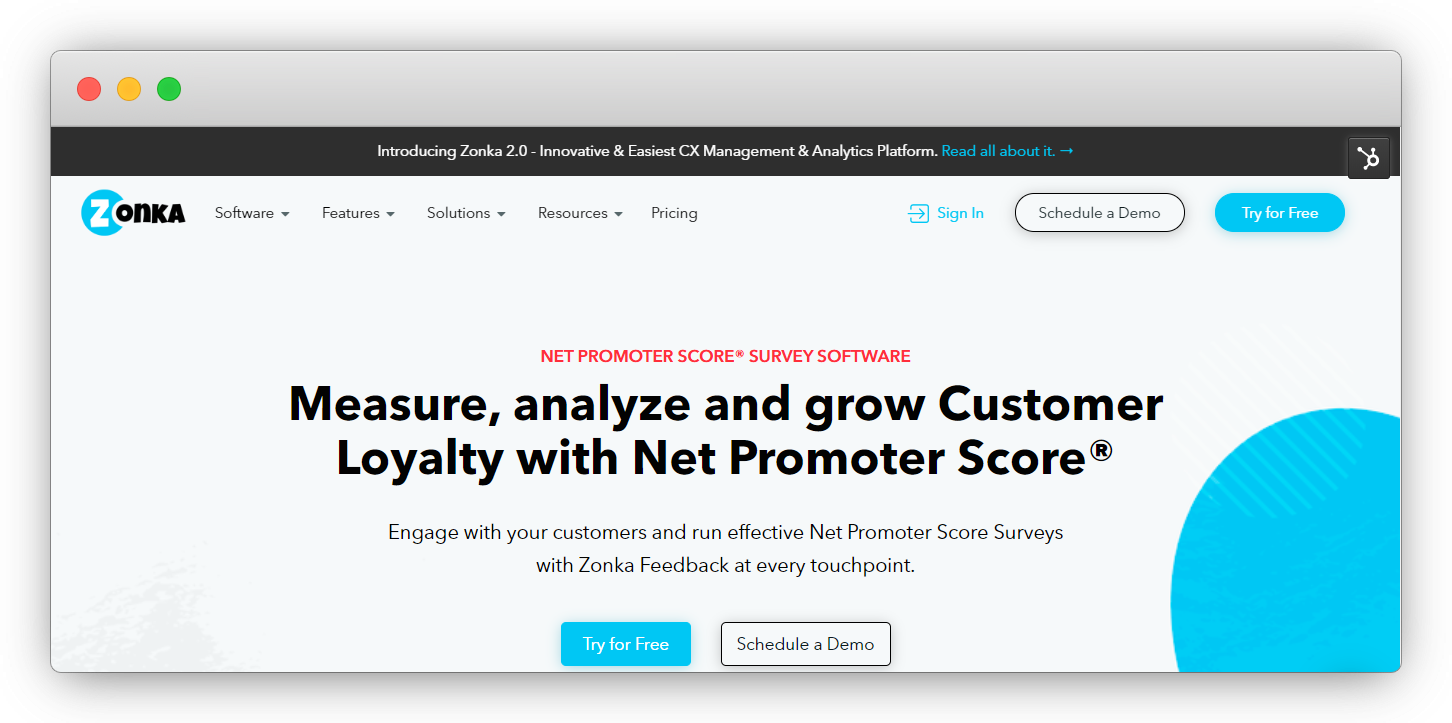 According to Baymard Institute, 69.57% of online shopping carts are abandoned. That means out of every 100 potential customers who were likely to make a purchase, 70 may leave. This happens for a lot of reasons — shipping costs may be too high, delivery dates may be too late, the site may seem untrustworthy and so on.
Imagine how it would change your business approach if you knew why your customers are abandoning their cart? Meet Zonka Feedback — a SaaS software for Customer Feedback for your eCommerce Business.
With Zonka Feedback, you can easily set up multiple feedback forms - website experience feedback form, cart abandonment feedback, post purchase feedback and more. These feedback forms can be triggered on the website at various events like after purchase, at exit intent and so on to get visitor feedback in the moment.
You can try Zonka Feedback for free. Subscription plans start from as low as $39 per month.
15. Appy Pie App Builder: SaaS for No-Code Mobile App Development
If you are looking for a SaaS that can help you create an app without coding or spending months of hard work while investing thousands of dollars in the project, Appy Pie's app builder is the perfect solution for you.
When it comes to app development, most small and medium-sized businesses struggle to acquire funds, time, and skills. Appy Pie's app builder is on a mission to democratize technology by making app development accessible and affordable for anyone with an internet-connected device.
The platform has a drag-and-drop interface that gamifies the entire app development process and makes it easy to try out multiple features in the same app. The app builder has a Lego-like architecture and hundreds of app design templates that let the platform users select a feature block as per requirements like eCommerce, Real Estate, Salon, and more.
Yet another big advantage of using Appy Pie for app development is its affordability. The idea is to bring small businesses and entrepreneurs to the same platform.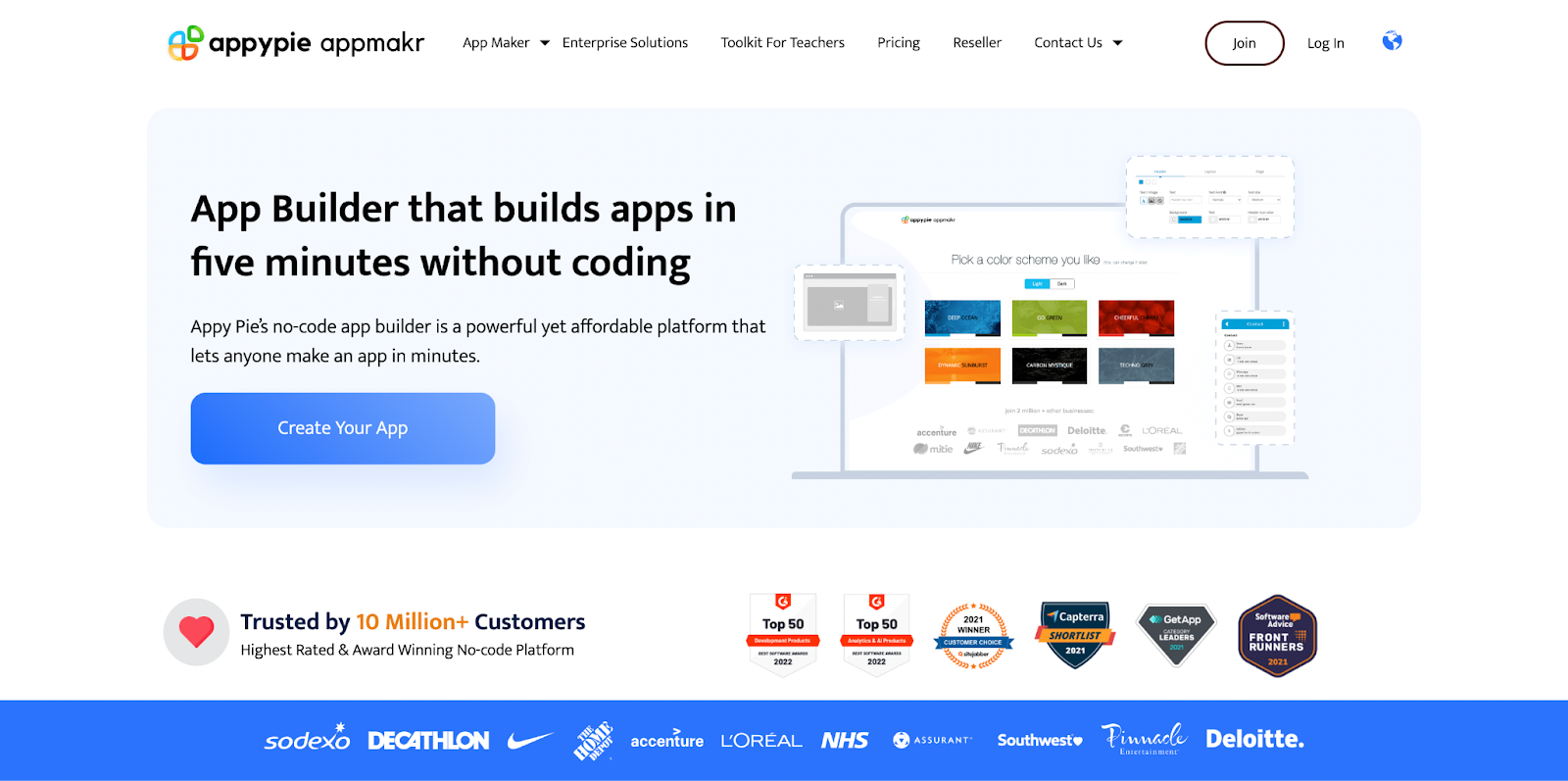 16. Teamly: SaaS for Remote Project Management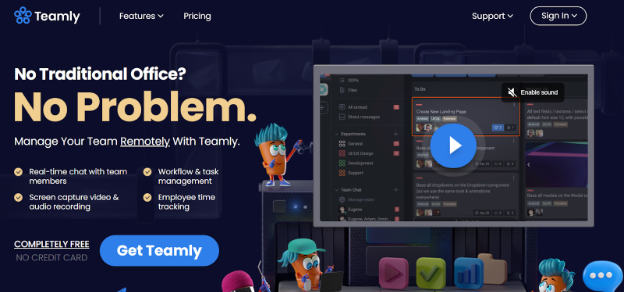 Teamly emerges as a beacon for remote teams, offering a harmonious blend of tools that facilitate seamless communication, task management, screen capture recording, and time tracking. It's not just a software; it's a companion for teams that thrive on collaboration and efficiency, irrespective of geographical boundaries.
With Teamly, teams find a common ground to interact in real-time, organize tasks with intuitive Kanban boards, and elucidate projects with clear screen recordings. It's a versatile platform, adaptable to diverse team structures, ensuring a coherent workflow and secure environment, thanks to its advanced encryption and security protocols.
Dive into the world of organized remote work with Teamly. It's not about the plans; it's about finding the right balance between functionality and simplicity. Whether you are starting with the free plan or exploring the extensive features in the Starter and Business plans, Teamly is here to redefine the essence of remote teamwork.
17. NAKIVO Backup & Replication: SaaS for Data Protection
The NAKIVO Backup & Replication is a highly efficient and automated data protection solution explicitly tailored for Microsoft 365 environments, with complete backup coverage for Exchange Online, SharePoint Online, OneDrive for Business, and Microsoft Teams. Microsoft 365 Backup from NAKIVO is a reliable and effective tool that enables businesses to safeguard their critical data easily. With its advanced features, seamless integration, and automation capabilities, NAKIVO Backup for Microsoft 365 offers a unique and comprehensive solution that minimizes the risk of data loss and ensures business continuity.
Your Turn…
If you are beginning an eCommerce business, investing in different SaaS tools is a good way to start. Knowing what kind of software to use will let you streamline your operations and eventually grow your business.
If you already have an online eCommerce website and are looking for SaaS solutions for specific business needs, try these seven tools and see if they are the perfect fit. Some of these tools have free trials that you can avail. You will not be pressured or deceived to get paid plans until you voluntarily want to.
Business models and business intelligence platforms will only advance from now on and eCommerce and SaaS software are leading the way. Invest today and see your business grow tomorrow.
Author's Bio:
Yen is the Lead Editor of Removal.AI, an emerging image background removal online powered by AI technology to automatically make transparent background from images. It also comes with a basic free photo editor to create graphic design much easier. She loves to write about trends and innovative solutions for the eCommerce, AI/SaaS technology and photo editing industry. She also loves reading books, researching and analyzing web data to write compelling content. Most of her content has been published on different technology websites and publications.
Website Support
& Maintenance Services
Make sure your store is not only in good shape but also thriving with a professional team yet at an affordable price.
Get Started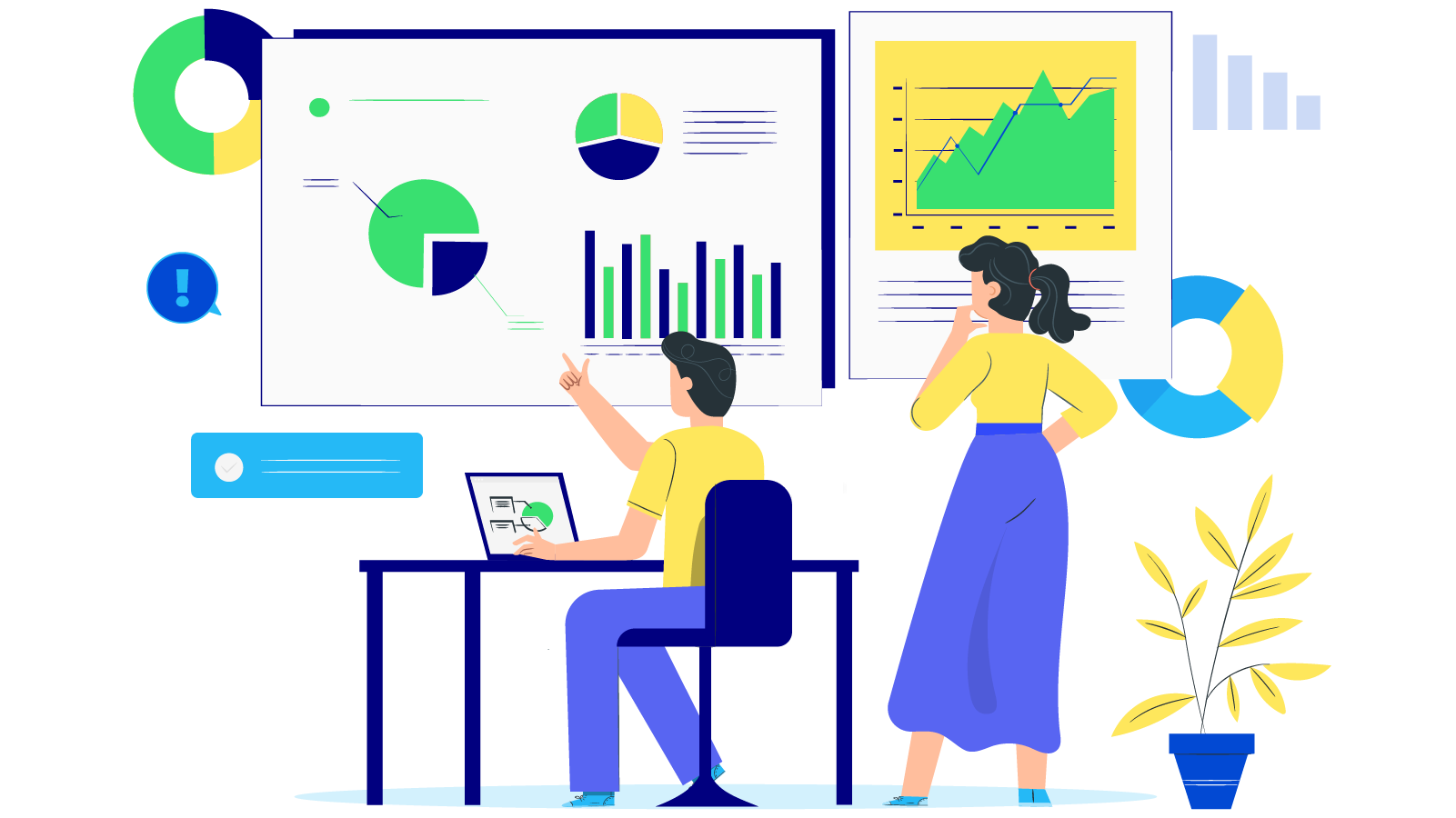 ---
---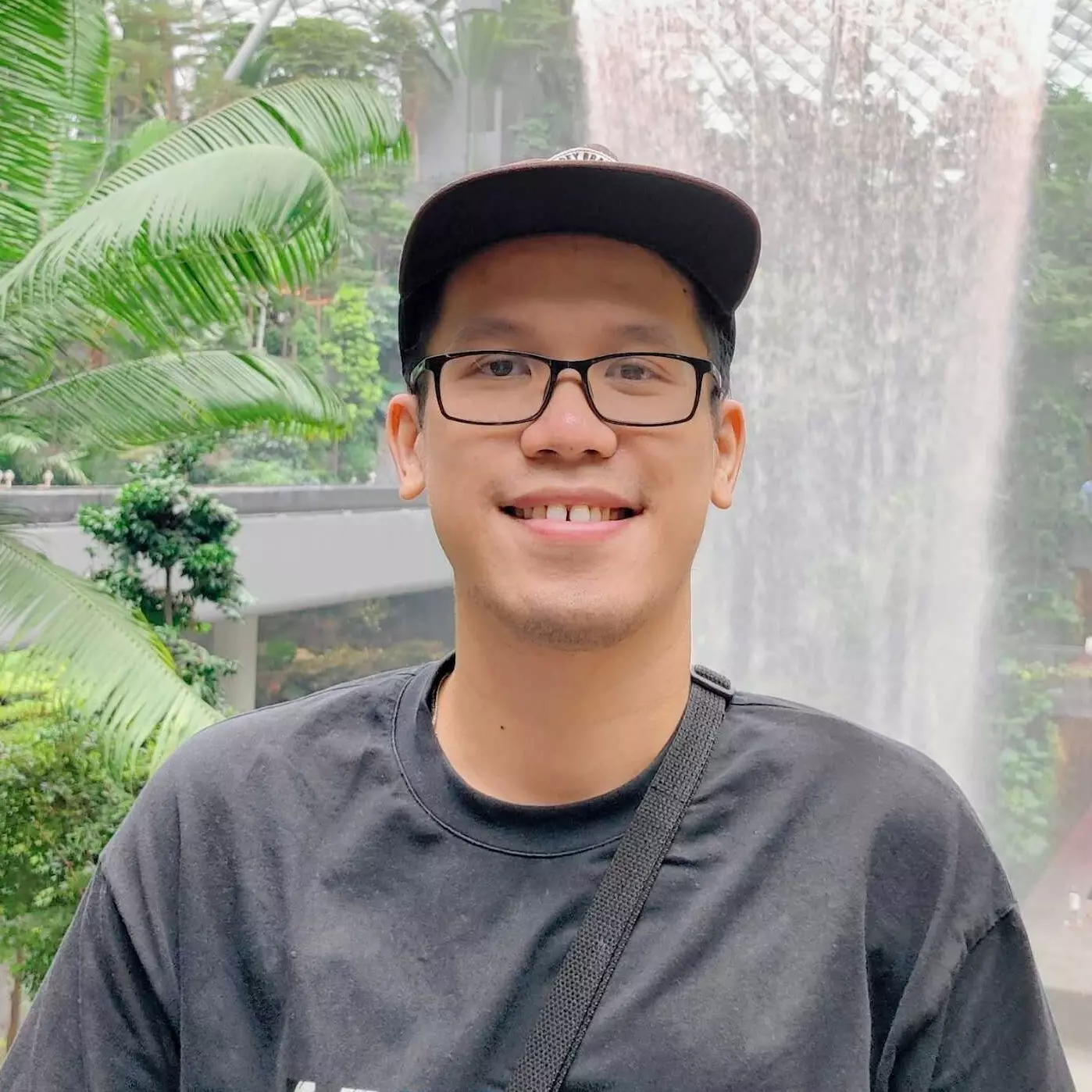 Mike is a content writer at Mageplaza, with a love for video games, gadgets, and software. He has been writing about the industry now for over 7 years. He likes to keep up-to-date with the latest software releases. He's also an avid reader, and he enjoys spending time outdoors with family and friends. When he's not working, you can usually find him playing video games or exploring new outdoor activities.
New Posts



Subscribe
Stay in the know
Get special offers on the latest news from Mageplaza.
Earn $10 in reward now!