How to Manage Return Requests in Magento 2?
The Most Popular Extension Builder for

Magento 2
With a big catalog of 224+ extensions for your online store
Return is an inevitable situation in business. Allowing buyers to return unfavored or defective products is a way to attract and assure the product quality and stores' services to their customers. Online shops can get trouble in return management activity because this process is pretty complicated and affect directly to both sites' benefits. Understand the need, Magento 2 RMA extension is built to help all Magento 2 stores handle customers' return requests and exchanges easier to protect customers will and eliminate business risk.
We will firstly take a closer look to RMA tool, how it works, and why it is beneficial to both seller and buyers. Then comes the recommendation of the trusted vendor providing this solution for your Magento website. 
Main Contents
What is RMA function?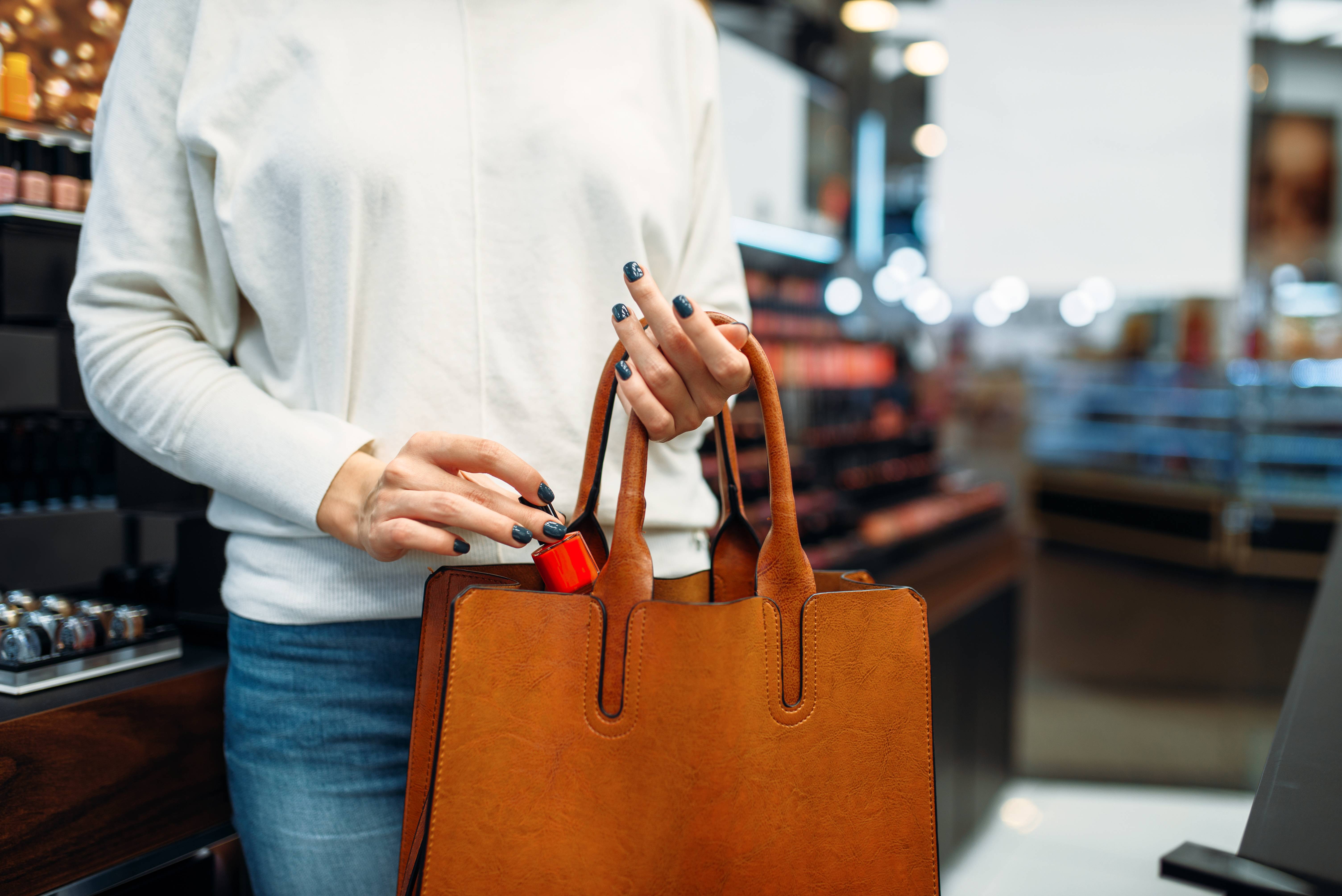 RMA is a short cut of the term Return Merchandise Authorization. This merchandise issued from business to assure customers that they have the right to return, repair, or replacement the items purchased before. The details policy will be published by each store to customers in which they clarify the valid time and conditions eligible to conduct the return requests. Hence RMA will follow these policies to help customers process their requests quickly and accurately. 
RMA is the last chance for vendors to correct their fault or defection before they permanently cancel the order and make the return request. Knowing that returns are costly for merchant and inconvenient for the customers, any return that can be handled will benefit both parties. RMA will offer alternative solutions for this to reduce the loss for both buyers and sellers.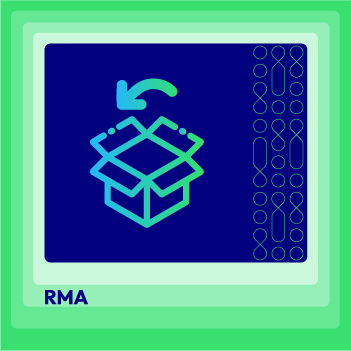 Make return procedure becomes transparent, simple and satisfacting for both customers and store owners
Check it out!
5 Main reasons why online stores exclusively need RMA
We will discuss deeply five main reasons that your Magento stores in need of RMA tool in this part.
Assure customers of product quality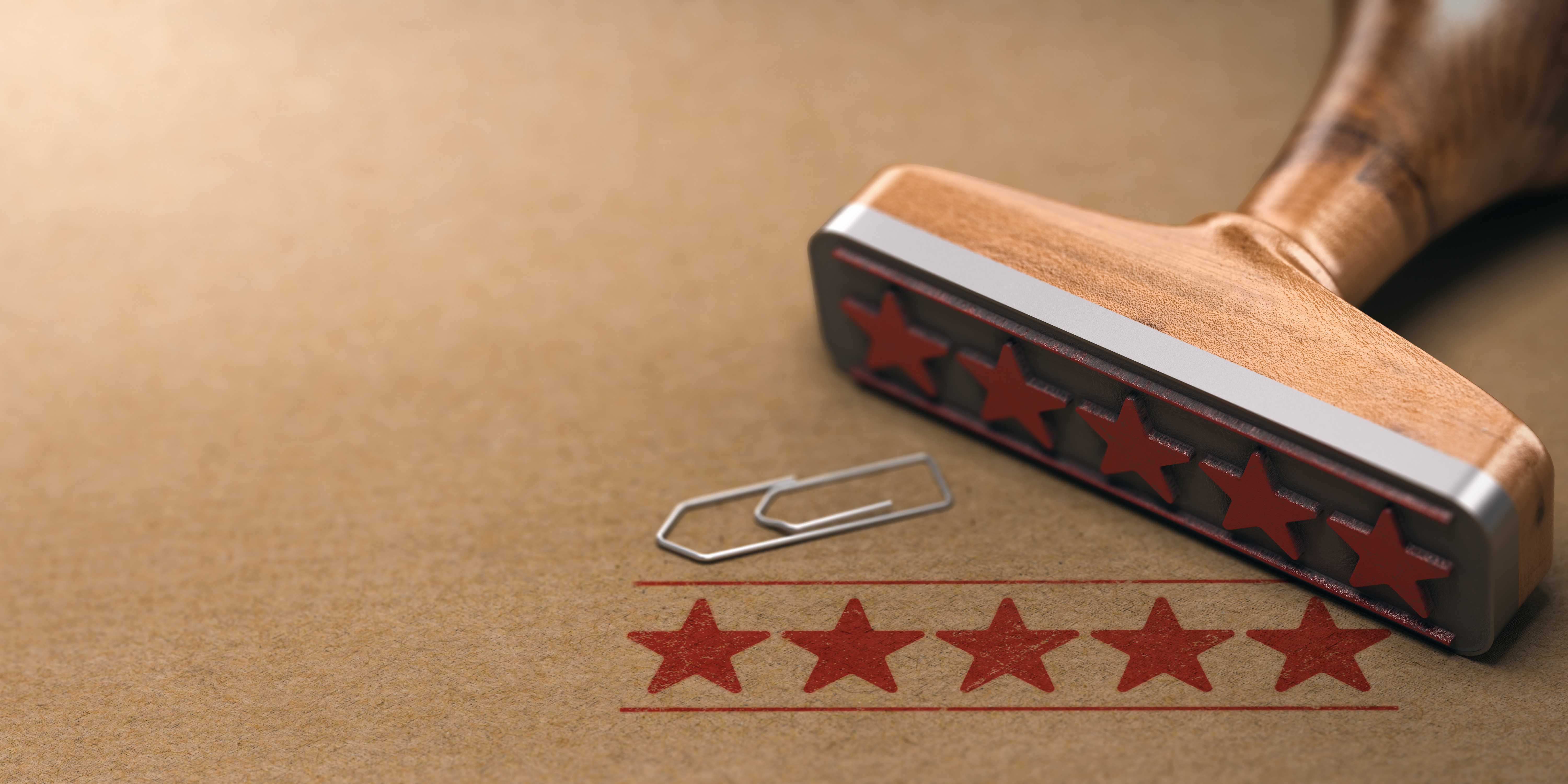 Online shoppers cannot see and try the products before placing orders but only can view pictures, video or reviews of others. This undoubtedly makes online shopping riskier. To eliminate this risk level, return allowance is crucial for every e-store since buyers often have nothing to count on when shopping online.
A return possibility tells customers many things about your store. It can be the feeling of security and trust that they cannot be treated even buying from distant. It also can be the store guarantee for their products and service quality. Customers are likely to interpret the return policy as "We are confident of our products. Let's try it and you will be persuaded". 
Offer flexible solutions for return request
In order to minimum customers' risk and stores' loss, return nowadays can be solved by many alternative solutions. Instead of giving back the items and receive money, customers can choose other options appropriate for specific situations. Replacement can be used in the case customers want another product after receive the previously ordered ones and they just change their mind then.
Choosing to fix items often happens with the broken or defective orders that stores can make sure to recover it in the guaranteed period. Another effective alternative is that the refund amount can be redeemed for store credit used later on your website. This is more beneficial to merchants since buyers only can use the amount on your store and they are forced to make further purchases to use the credit. Naturally, some of them become your long term customers. 
Make the return process a pleasant experience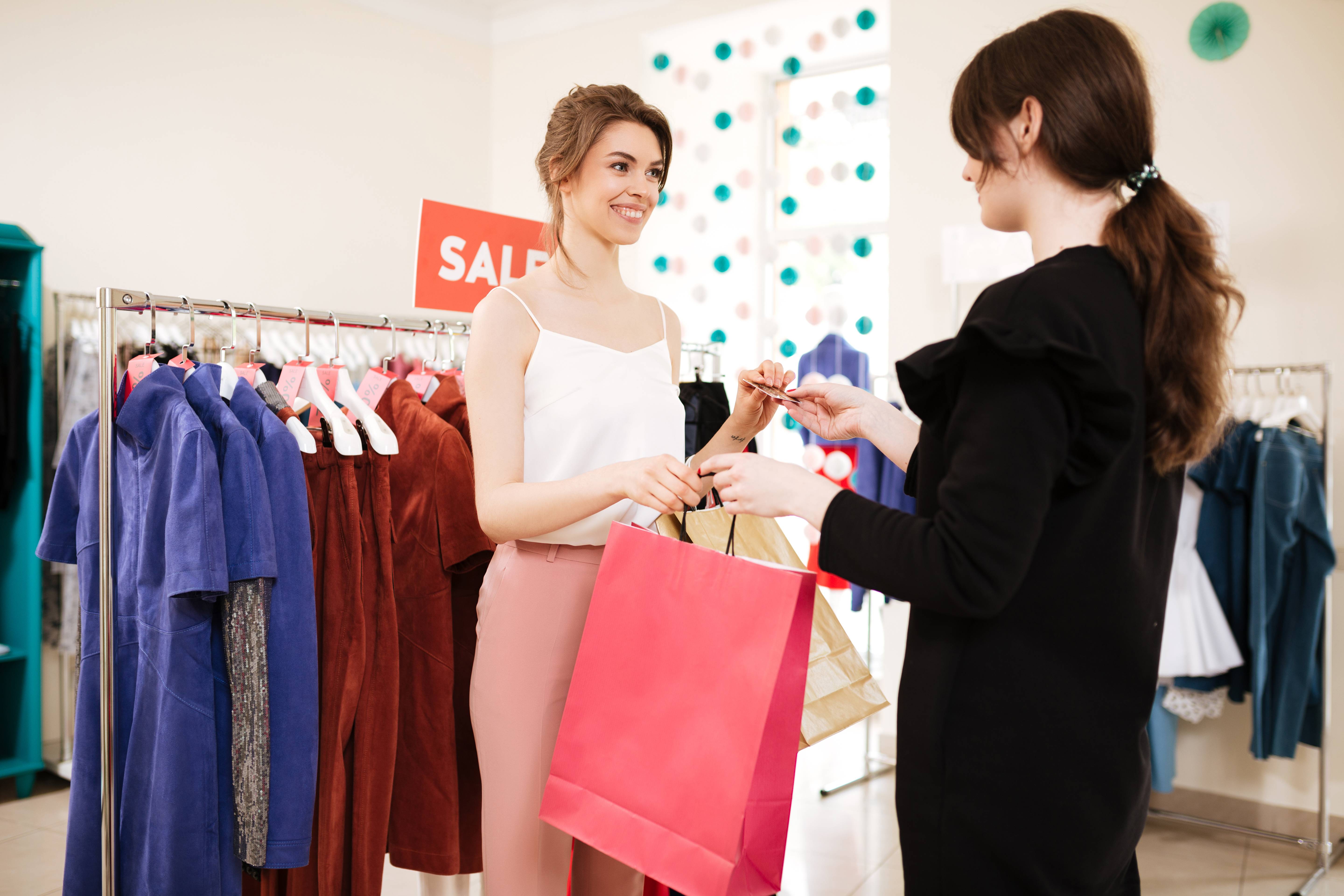 No one can deny that return is unpreventable for sellers, especially online sellers. As customers cannot visualize and try the products in real, sometimes it does not meet their expectations when they receive it. Hence, a return is likely happening in this case.
But how can you make this process seem a negative experience into a comfortable and convenient one? Just offer customers the right to return whatever they want and also talk to them to share thoughts and ideas mutually. You can understand your weakness most when you welcome return customers. At least they give them helpful feedback to improve your products and services better. 
Build store reputation with high customers satisfaction
The last main reason why you need RMA function is to eliminate the negative reviews on your websites by providing customers the tool to communicate and send their bad experience directly to stores. Over time, shoppers realize your stores as a highly trusted brand name with a few bad reviews and a flexible return policy offered. They never have to worry about the risk of online shopping. Bringing a shopping with the joy and free-worry for customers is a mission that any e-stores are forwarding to. 
Save time and cost for e-stores in the long term
Continuing the story above, we all know that return means losing money at that moment. No store owner prefers it. But if you see it in the long run, you will welcome return at that beginning of your career as a lesson to success later. Each return customer is a lesson for your business. Do not hesitate to listen to them, learn from them and turn their not-really-good-experience to the better one.
By an advanced return extension, you do not need to worry about return and complain which are out of your control. Customers can send return requests and leave comments into that request. Only store admin can read it. Now you can do anything such as apologies, giving promotions and compensation or exchanging of the alternative methods of return. That is a great idea to deal with your customers privately. 
How RMA extension help customers and stores process returns effectively
Allows Guests To Send RMA Requests 
RMA module enables customers who don't have accounts on your website to send requests for returning or replacing purchased products with ease. This is a feature that brings convenience to guest visitors. 
This is done thanks to an RMA link which is displayed at the top link or footer link of your homepage. With this link, customers will be able to access and submit the requests conveniently.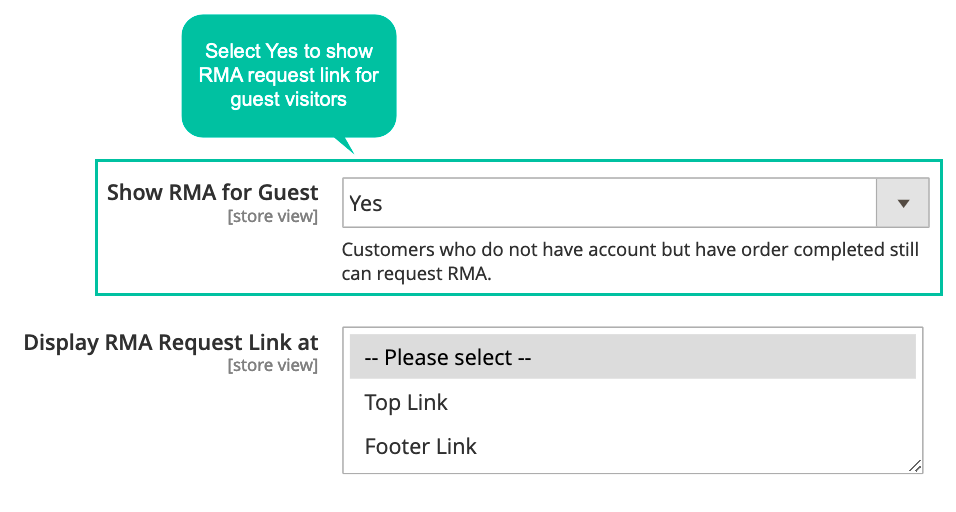 Apply RMA Based On Conditions
You can apply the RMA according to the orders' conditions as well as the products' conditions. 
Customers will be able to use RMA if their orders meet some particular conditions, for instance, subtotal, status, total weight, customer group, purchase point, payment method/ region/ country, etc.
Besides, the conditions can be assigned for each product. The condition will be based on different attributes of the product like SKU, Categories, etc. RMA eligibility rules could be set without any limitation.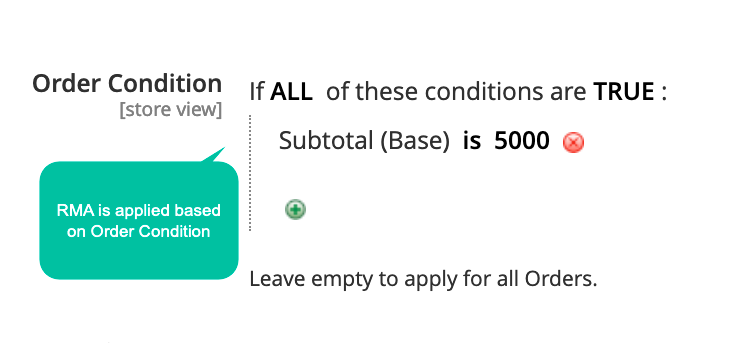 RMA Items Are Selected Flexibility
Mageplaza RMA extension can handles return requests for one item, several items or the whole order. 
After an order is placed, customers can send a replacement/refund request for specific items or the whole order, which makes RMA requests flexible to any buyers. 
At the form of the RMA, there are two options for the customers to choose which are all items and each item. When customers use each item option, they will select one or some items which they would like to replace by clicking on them.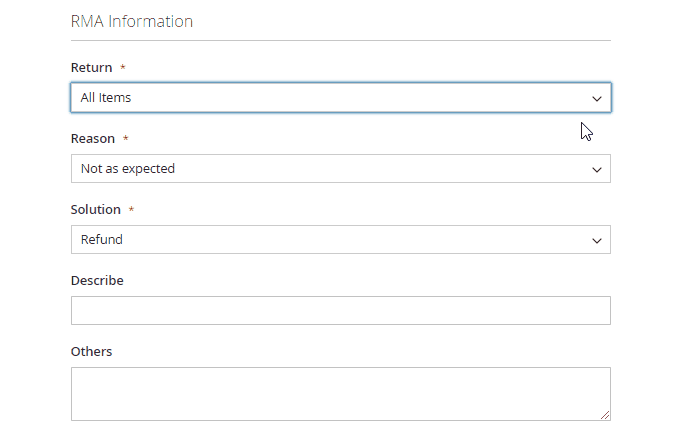 Set Reasons, Solutions For RMA Form
Besides some default order information like Billing Last Name, Email, Order ID, additional fields for RMA information can be created easily. Below is some information which can be included: 
Existing reasons: wrong items, poor quality, change mind, etc. 
Existing solutions: return, exchange, refund, etc. 
Allow/ Disallow customers to upload images as the evidence
Other fields
Customers can quickly pick an option as a reason or solution for their case, which would give them a hand when submitting RMA requests.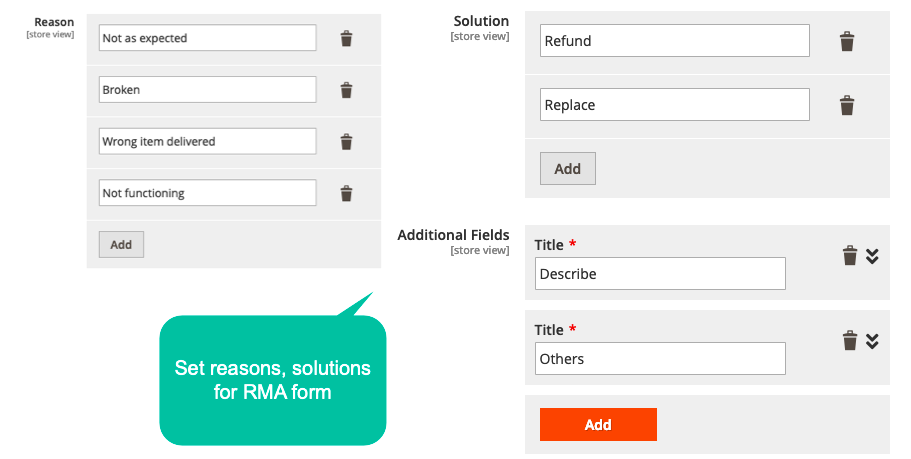 Be Alerted And In Touch Via Email 
Whenever any updates are related to RMA Requests, an email will be sent to both customers and store admins to keep them alert. 
More specifically, admins will be notified instantly as soon as new RMA Requests are raised. On the other hand, customers will receive the email when their requests have been approved or rejected. 
Moreover, discussions between customers and store admins can be made conveniently via email before going to the final agreement. The conversations' transcripts will be saved at the admin backed when requests are closed.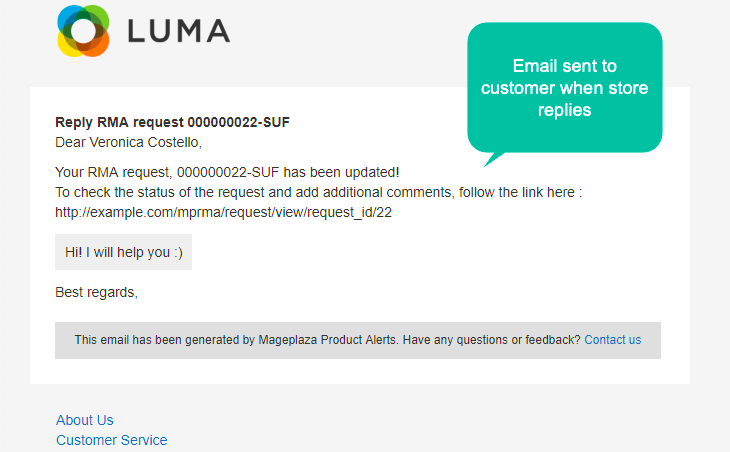 Full features lists supported by RMA extension
For Store Admins
General Configuration 
Enable/ Disable the module
Enable/ Disable displaying RMA for guest customers
Choose display position for RMA link: Top link, Footer link
Choose the page to insert RMA Policy Page
Choose RMA Policy Link's position: Top Link, Footer Link, RMA Request Page 
Set ID Increment Pattern for RMA: Only ID, with prefix/suffix
Request Configuration
Creating RMA for individual items in an order 
Uploading images for evidence
Set allowed attached file formats 
Turn on/ off Google Recaptcha
Choose Default Status for Request 
Choose status which enables a request to be canceled
Choose RMA requests' default status 
Choose RMA status which enables a request to be canceled
Set condition for the order which can apply RMA 
Set the name for admin when replying
RMA Information 
Add existing reasons 
Add existing solutions 
Add extra fields
Email Configuration 
Allow sending notifications via email 
Fill admins' emails to receive emails
Fill templates of the notification email 
Choose templates of emails which are used for admins and customers 
Manage RMA Request 
Choose a new RMA request's status
Allow adding comment
Allow attaching files
Allow Order Increment ID to be inputted
Allow RMA information to be inputted
Make a conversation by sending a reply
All RMA Request can be viewed and edited via a grid
Manage RMA Status 
Set the name for the status
Enable/disable status
Allow adding backend description 
Set allowed actions based on the status: Create New Credit Memo, Reorder, Add shipping label
Set the status's label 
Set the default comment
Manage RMA Rule 
Set an RMA rule's name and description
Enable/disable the rule 
Choose website and customer group
Set the level of priority 
Set apply rule's condition
Set the rule's reason, solution, and additional information
Manage RMA Shipping Label 
Set RMA shipping label's name, status, and description 
Set Shipping Address for returning
Set store views which are applied with the RMA shipping label 
Allow the image to be attached to the label
Insert value for barcode: Order ID, RMA ID
Choose shipping label's information: logo, order shipping address, RMA information, order ID, RMA ID, return shipping address, barcode, print date, request date
Set the level for priority 
Set shipping condition for the label to be applied with
For Customers
Assistance customers in sending a request for refund/ replace specific items or whole orders 
Help customers to reach the best solution by making discussion with the store via emails
Final Thoughts
Prevent returns from buyers is a hard question for e-commerce business since the risk for online shoppers is high accordingly. Magento 2 RMA is introduced to help store owners manage product exchanges and returns from customers conveniently and effectively. With Magento RMA, the return procedure becomes clear, easy, satisfactory for both sites.

Sam is the CEO and Founder of Mageplaza, pursuing a simple and healthy lifestyle. He is a friend, a husband, and a father to two children. As a trainer and an aspiring influencer, he is also a big fan of sports and travel. Sam is exceptionally knowledgeable about e-commerce, especially Magento and Shopify, with 10 years of experience in the field.
Website Support
& Maintenance Services
Make sure your store is not only in good shape but also thriving with a professional team yet at an affordable price.
Get Started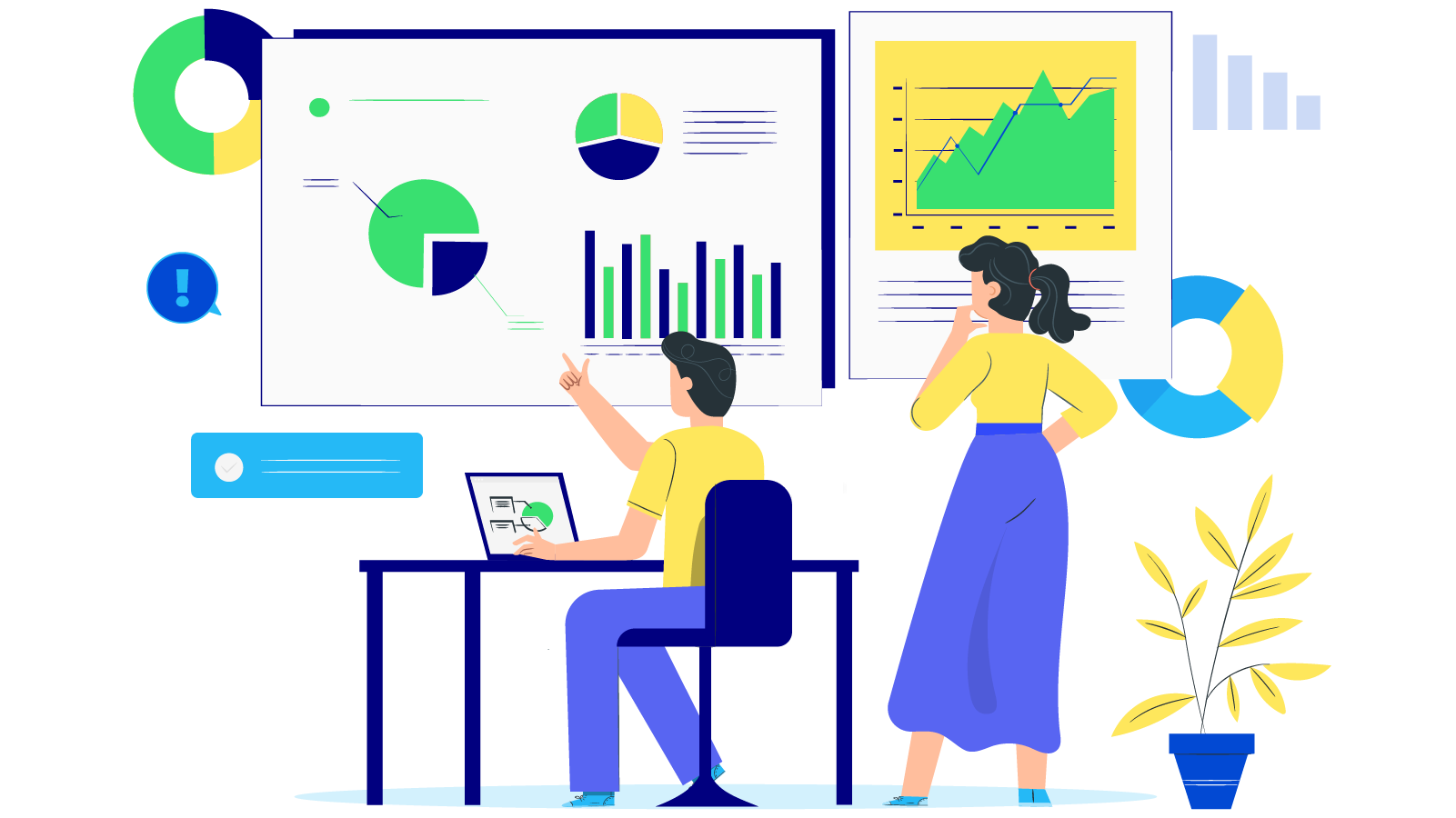 New Posts



Subscribe
Stay in the know
Get special offers on the latest news from Mageplaza.
Earn $10 in reward now!