How to make Daily Deals actually work
The Most Popular Extension Builder for

Magento 2
With a big catalog of 224+ extensions for your online store
Purchasers love flash sales, obviously. The business strategy is common to everyone; nevertheless, not all online stores still conquer this form of sale successfully. Some business doers find it hard to make daily deals really work and convert visitors to customers.
Magento 2 Daily Deal by Mageplaza is regarded as an awesome solution to store owners who face some difficulties in setting deal-of-the-day promotions on the right track. Moreover, the module provides some outstanding features of the sidebar widgets and a countdown timer, dropping customers' decision-making time and boost sales faster.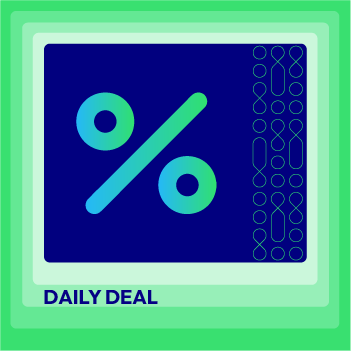 Create FOMO effects with time-limited offers and daily deals, generating a sense of urgency and driving action
Check it out!
Table of Content
What are daily deals?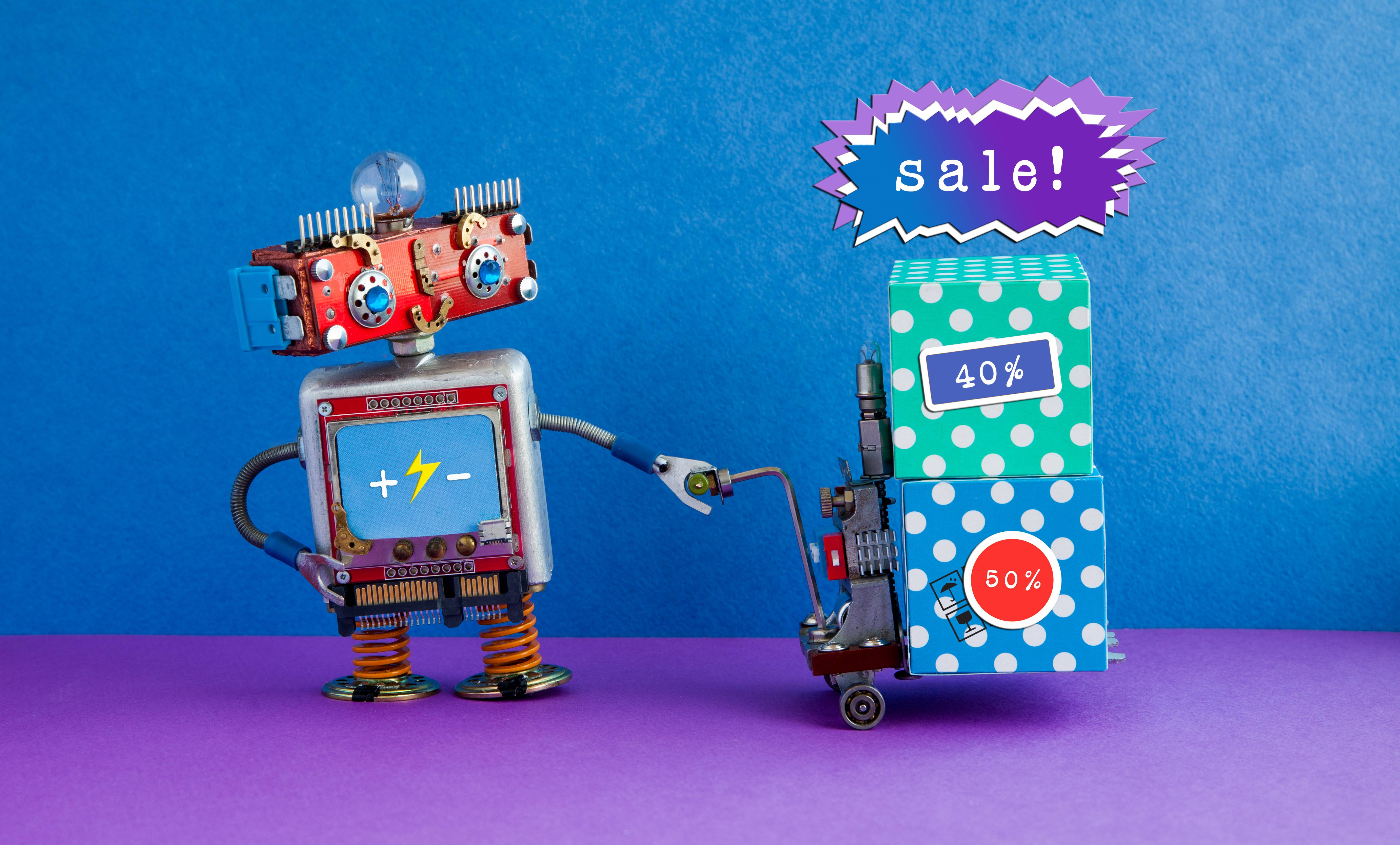 Deal-of-the-day is commonly known as an effective promotion in which e-commercial websites offer products with appealing discounts to customers in limited time.
Advantages of flash sales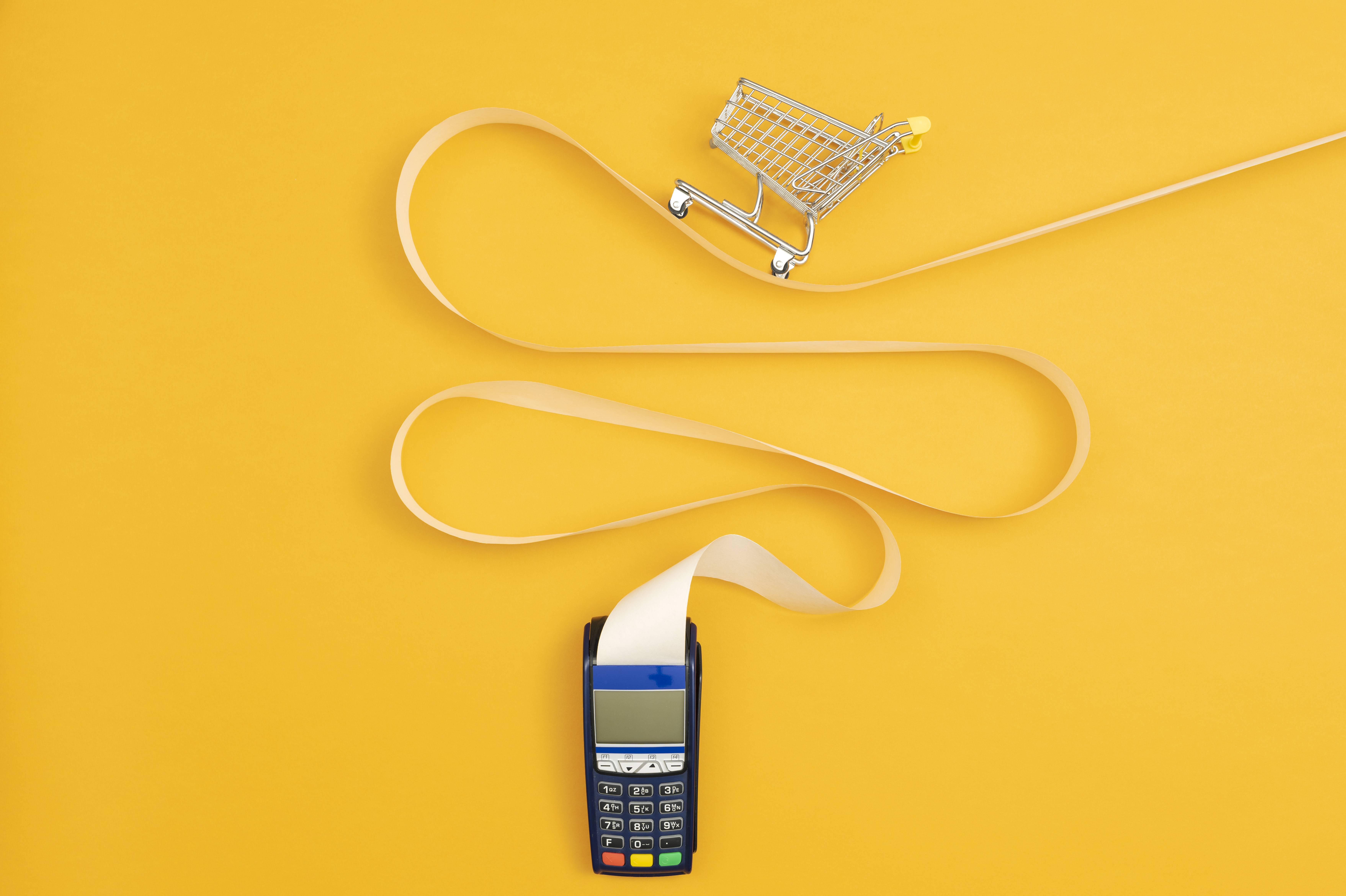 It goes without saying that daily deals are a crucial factor to grow online businesses. Online stores can gain more benefits from flash sales if they actually run:
Raise customers' concerns: Lots of people admit that they actually hesitate when buying something online. Consumers are used to shopping physically and they find hard to place their whole trust to service/ product qualities of online websites. However, daily deals can attract new buyers with appealing discounts, making their first-time shopping greater than what they think.
Convert new customers into loyal ones: Customers tend to continue shopping after experiencing the convenient method of online shopping and verifying service quality. Moreover, users can save money and gain benefits from flash sales, hence they are more keen on shopping online.
Enhance customer involvement: Providing regular daily deals is considered a smart business strategy that attracts a large range of visitors effectively. Other interesting types of discounts like random deals, bestseller deals, and upcoming deals should be offered to draw more traffic.
Boost sales faster: The flash sales with appealing prices help stores access purchasers on a large scale. Buyers absolutely have no hesitation to buy a product if it has a reasonable cost with worthy quality. As a result, the dramatical growth of sales is possible.
Gain lots of brand awareness: If customers feel satisfied with stores' services and appealing daily deals, they will share with other people. It means that purchasers are making free word-of-mouth advertising for shops. Thus, the more people are interested, the more famous stores are
Some tips to make deal-of-the-day promotions work well
Although the daily deal is an effective strategy in business, store admins should operate this promotion on the right track to make sure that it works well. Do not worry if you have no idea about the deals. There are some useful tips for online websites to make the Deal-of-the-day programs run properly:
Prepare for your daily deal promotion carefully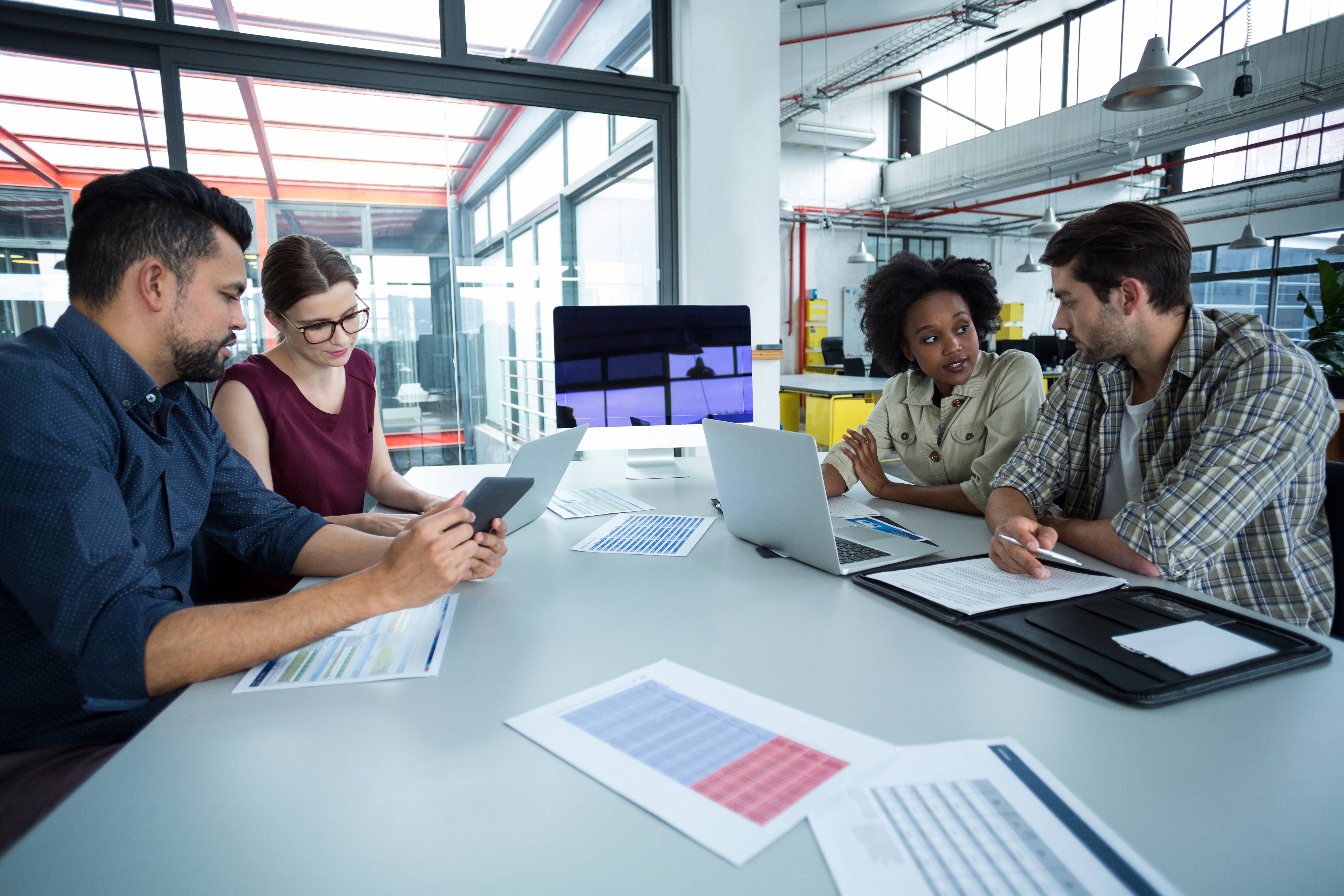 Before starting a Deal-of-the-day campaign, store owners should plan carefully to keep the business headed in the right direction. Determine true costs of products and the real revenue when online websites run the flash sales. You can offer the standard discounts of 10-15% as well as super deals so that the promotion is strong enough to boost your sales over the long term. It is essential to select the potential products that customers are highly concerned to participate in the daily deals. Besides, this is a great chance for shops to sell inventories with shocking discounts.
Create different discount codes for different deal pages

Offering visitors various types of daily deals is a smart way to get them excited with pages. Customers are willing to update information regularly if the pages have lots of appealing deals. Hence, the number of followers contributes more traffic to store sites and it is likely to convert more loyal customers. To make the marketing efforts effectively, some highlight kinds of deal pages are highly recommended:
All deals page
New deals page
Featured deals page
Top-selling deals page
Upcoming deals page
Random deals page
When it comes to Magento 2 Daily Deal extension by Mageplaza, administrators are able to set the URL and name the title for each particular page. Besides, the module enables store owners to put a short link to the deal pages in 3 main positions of the Header, Footer, and Category menu. When users access websites, they immediately view the deals in the menu bar. The various types of deal pages will draw customers' notice without boredom. Furthermore, the Mageplaza Daily Deal is well compatible with other Magento 2 extensions as Coupon Codes, Multiple Coupon, and Ajax Cart, which ensures the smooth process of the Deal-of-the-day campaigns.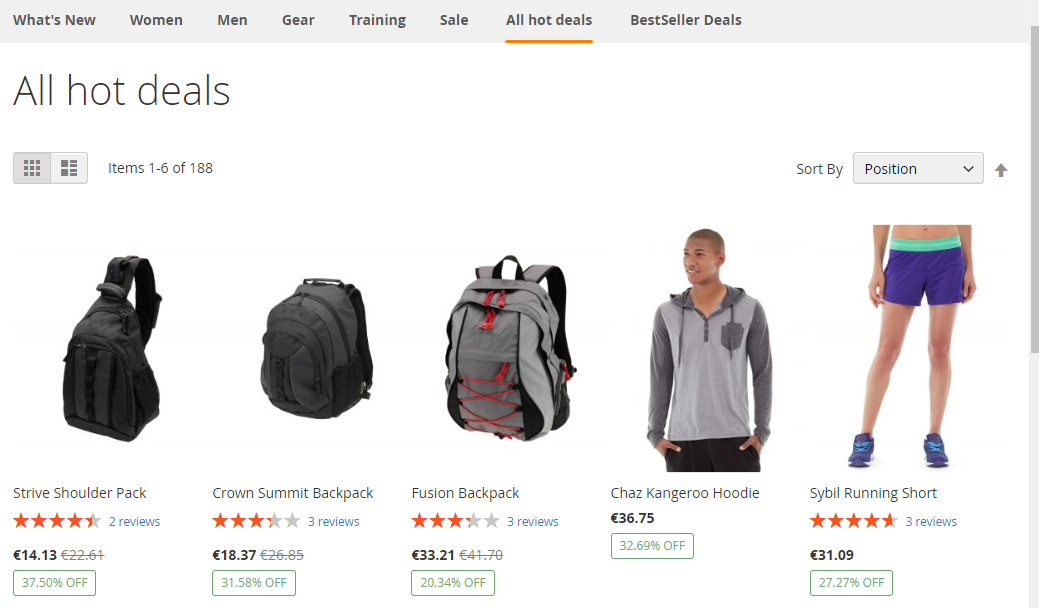 Show consumers the value of discounts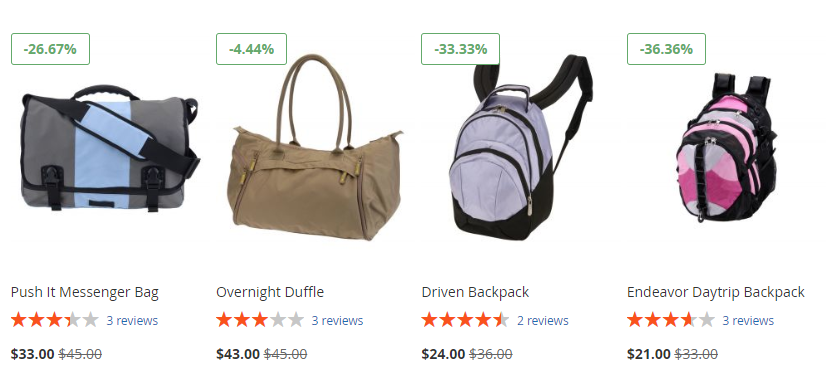 It is important to show related information about products in the deal-of-the-day promotions. The original and deal prices are what purchasers care most. Customers prefer to know how much the discounts are and how much money they can save from the offers. If viewers cannot look for the basic information of the deals, they find it unclear and left the pages without buying anything.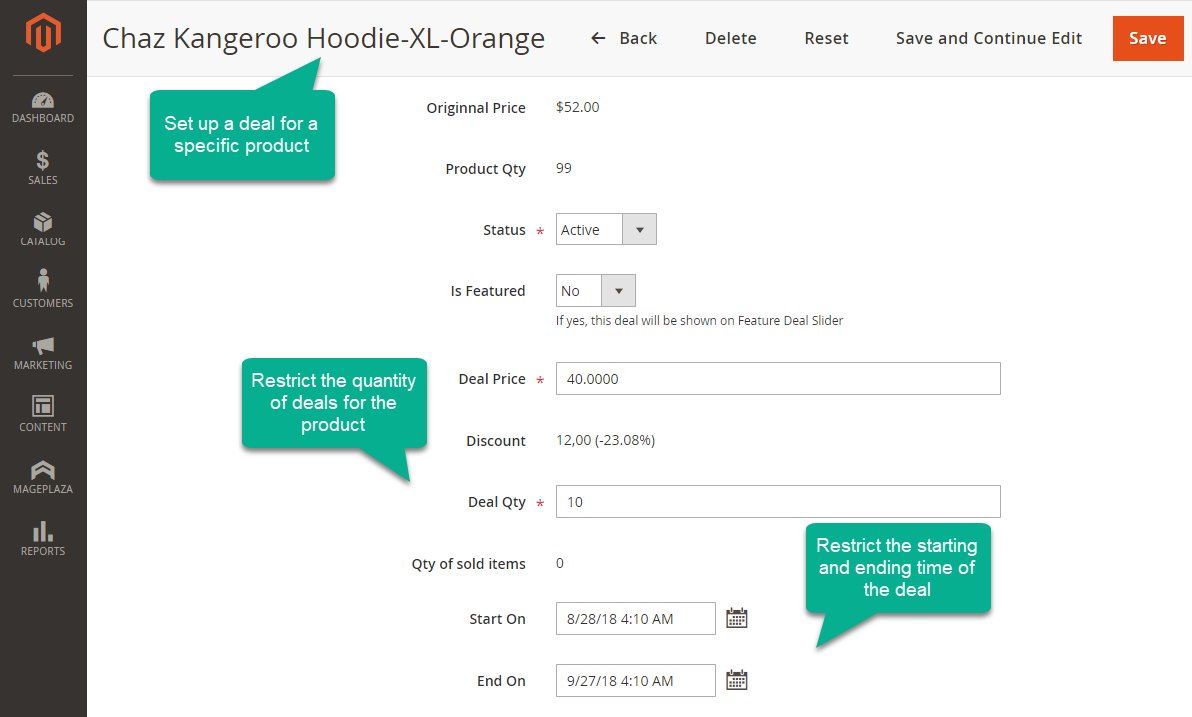 With the aim to reduce admins' pressure on running deal-of-the-day promotions, the Magento 2 Daily Deal extension is released to handle works on the friendly configuration. The module provides fully essential fields of a deal product such as original price, product quantity, discount, the start and end time, etc. Store owners easily set up a discount price and define the deal's quantity. Also, the limited time setting for the daily deal can also be chosen.
Make a sense of urgency
When running flash sales, business doers should give consumers enough time to make purchasing decisions. However, it is necessary to restrict the deal time in order to create an atmosphere of urgency. A tool of countdown timer is actually useful for both stores and users. The countdown clock shows how much time remains until the end of the deal. The function motivates guests to buy items quickly instead of missing out great bargains.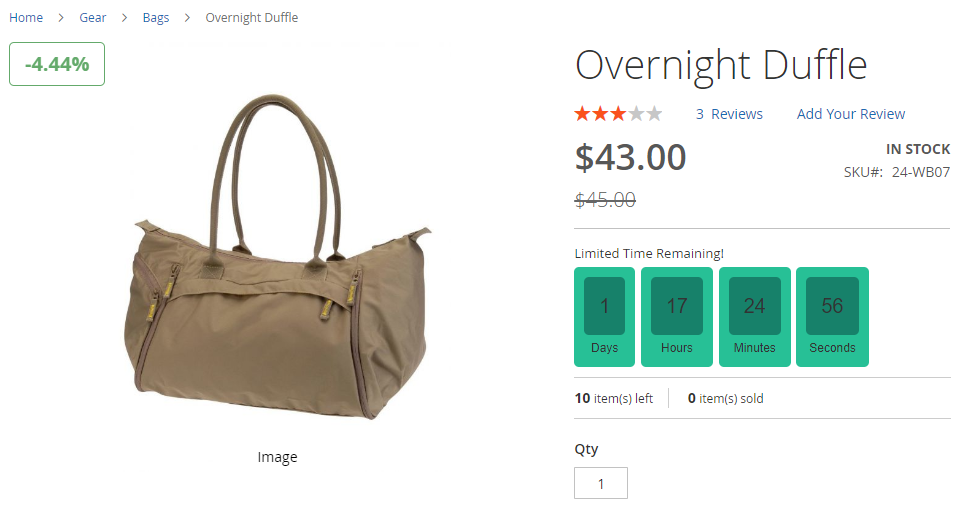 Magento 2 stores find it easy to configure the countdown timer via the Daily Deal extension by Mageplaza. You can be free to choose the colors for the outer and inner backgrounds of your clock. Also, the text color is easily customized via your aim. The attractive clock with limited time puts customers in rush and drop the decision-making time of them. As a result, sales are boosted faster than ever!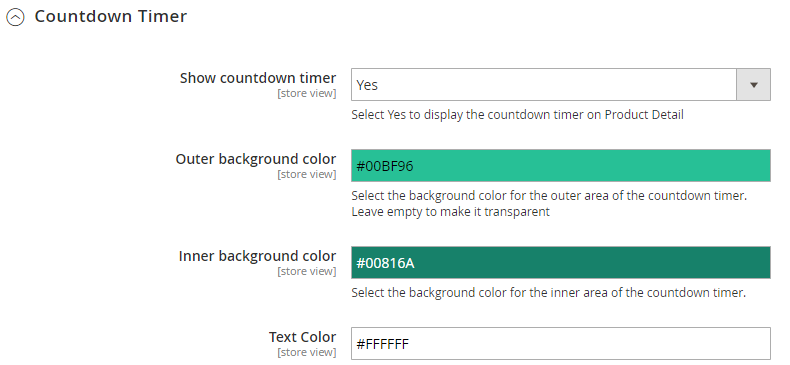 Make the discount stand out by sidebar widgets and float sliders
A sidebar is a widget-ready area where information is displayed on pages with specific purposes. The sidebar widgets should include bestseller deals, random deals, and coming deals to improve the effectiveness of flash sales. Thanks to this function, more users can access the promotion although they have no intention to view deal sites. Hence, consumers quickly put their focus on appealing discounts and do not miss any top-selling products with affordable prices.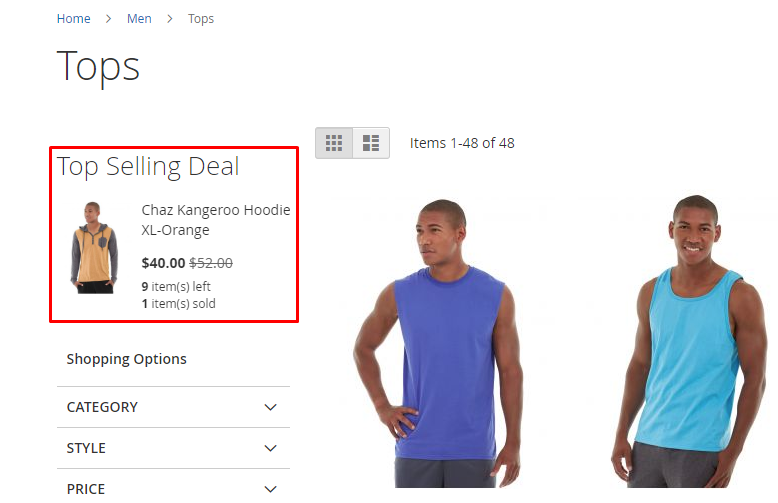 With Mageplaza Daily Deal for Magento 2, stores can customize the widget on the friendly configuration. In addition to creating the name of the sidebar widget, administrators are free to select the position for it and limit the number of shown products in a widget. More importantly, the remaining or sold quantity of each item is available in the block. Shoppers can see how many products are left and make quick buying decisions before they are sold out. Furthermore, the crowd effect will work well when a large number of products are sold. Users feel curious and would like to learn more information and experience it.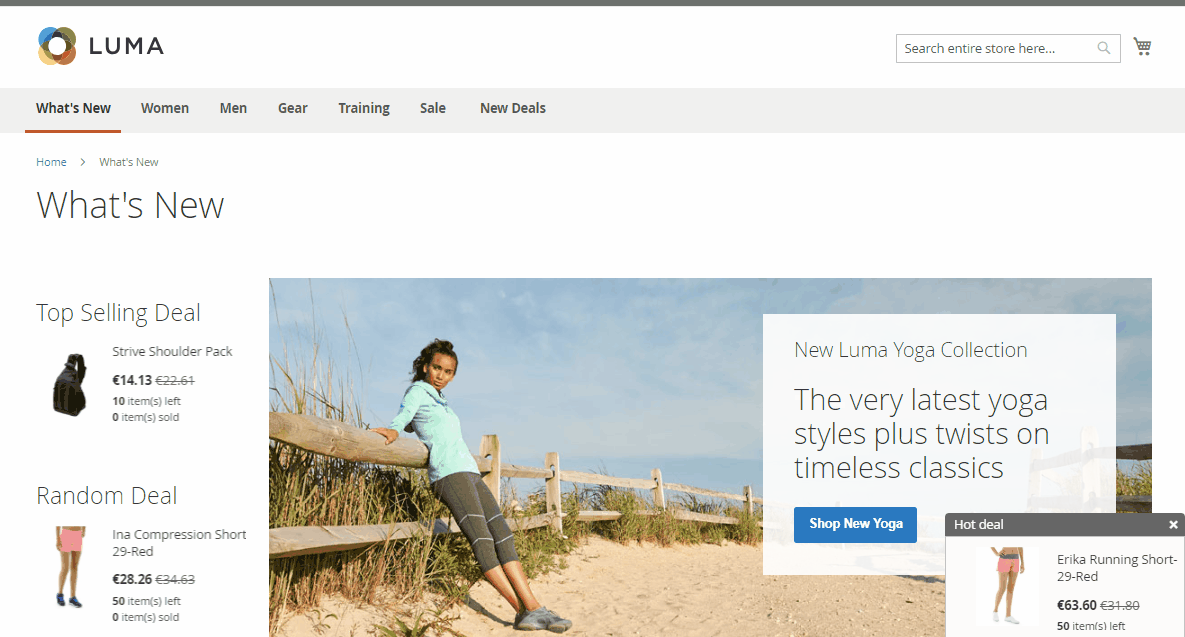 Besides, administrators can capture users' attention via a floating slider of hot deals. The function is able to well adapt to any screen sizes and any devices such as PC, tablets, and mobiles. The extension enables store owners to name the title of the Floating Slider Deal block and select the position for the slider. Also, the maximum number of deals can be restricted. In case shops set the field as 0, the block will display one product deal randomly. To make the floating bar more attractive, admins are encouraged to customize the automatic times of the bar appearance.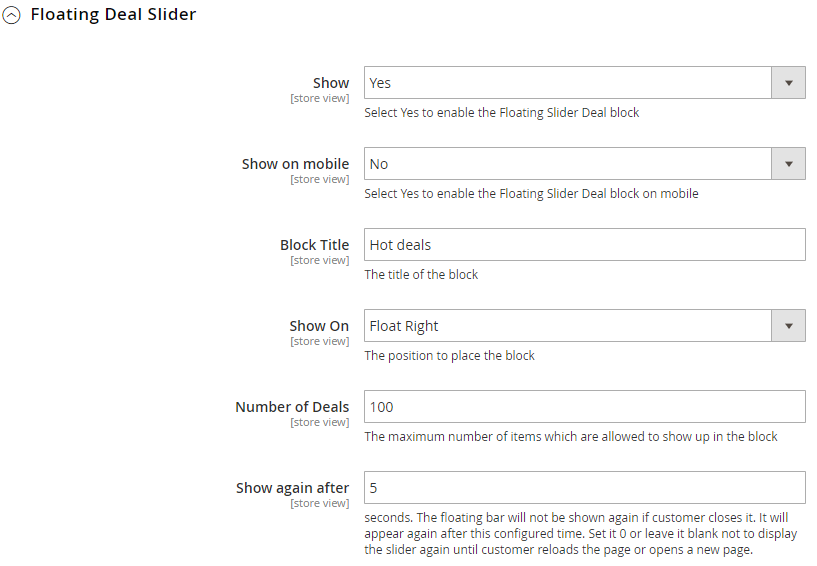 Final words
To sum up, it is undeniable that the deal-of-the-day promotions play an important role in e-commercial businesses. These useful tips above are highly recommended for websites to run flash sales properly as well as make the most of them. If you are looking for an advanced system of the deal of the day, Mageplaza Daily Deal extension is available to support your Magento 2 store. With an array of highlight features, the module allows shops to offer appealing discounts to customers and motivate them to buy without hesitation. Also, the Daily Deal tool assists stores to enhance sales as fast as possible and convert more loyal customers. Experience the extension now to not miss any chances of success.
Website Support
& Maintenance Services
Make sure your store is not only in good shape but also thriving with a professional team yet at an affordable price.
Get Started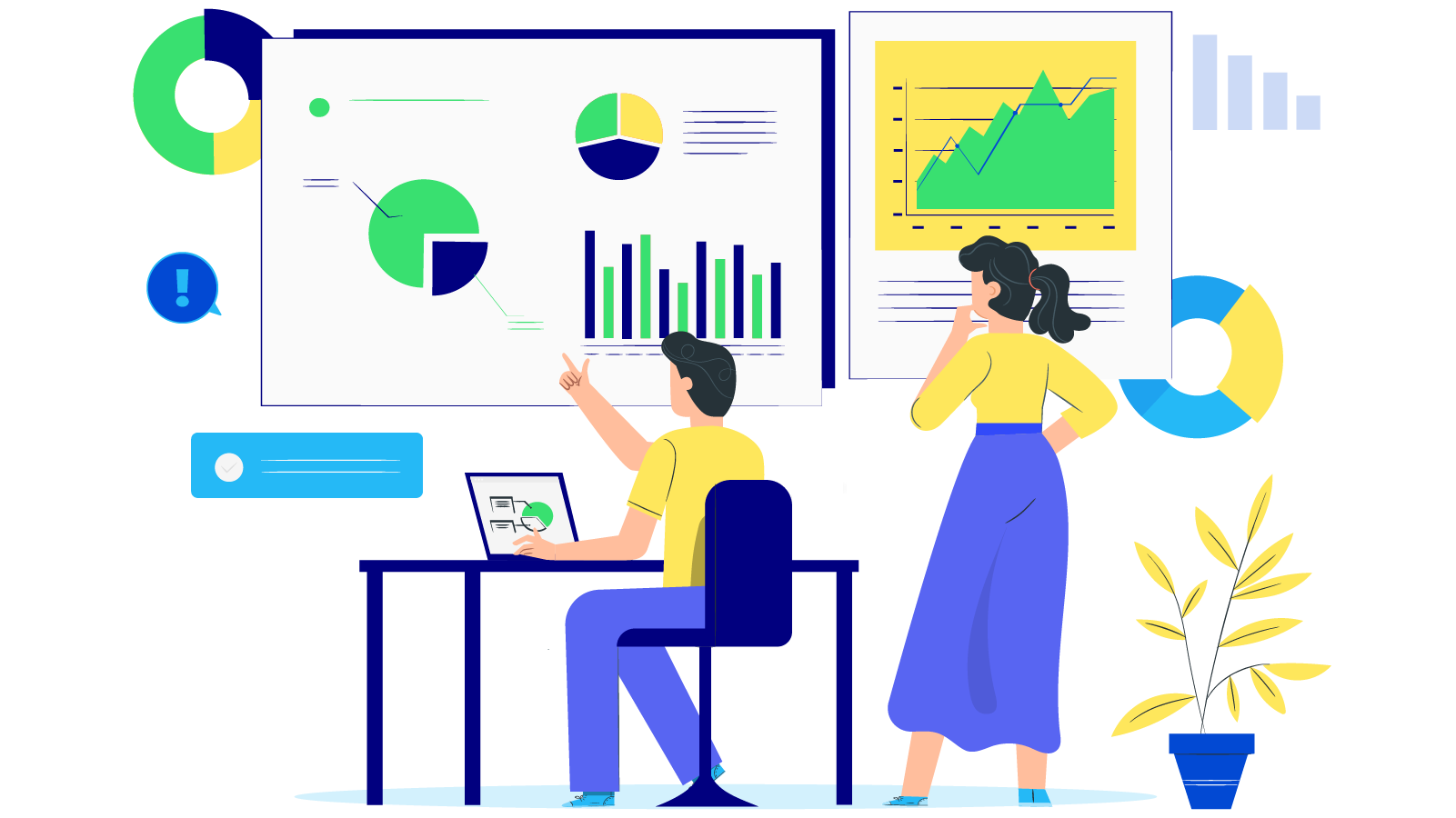 New Posts



Subscribe
Stay in the know
Get special offers on the latest news from Mageplaza.
Earn $10 in reward now!