Magento 2 Image Optimizer comparison - PotatoCommerce, Tinify and Apptrian
The Most Popular Extension Builder for

Magento 2
With a big catalog of 224+ extensions for your online store
Almost all Magento stores face the challenge of improving performance. There are many aspects of the optimization (caching, server capabilities, Magento 2 version, optimization of javascript and CSS code), but in this article, we will tell you about image optimization. The thing is, the size of image files can reach hundreds and thousands of kilobytes, which according to various estimates, can be about 30-70% of the total page size. Thus, image compression can reduce the size of the page in half. It makes optimization of images one of the most effective ways to speed up Magento 2.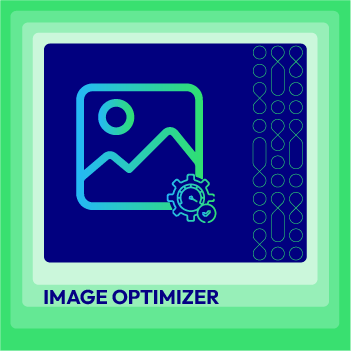 Speed up page loading & enhance the user experience for your store
Check it out!
To choose the tool right is always essential. Let's look at the most popular Magento 2 Image Optimizer extension and compare them.
Magento 2 Image Optimizer by Mageplaza
If you are looking for a free but still have numerous outstanding features, Image Optimizer by Mageplaza is the one for you. This module is a powerful tool that could support you compressing and optimizing images in an effective way.
In detail, with Mageplaza Image Optimizer, the most popular formats of pictures that are used to upload images for products or services such as PNG, JPG, GIF, TIF, and BMP can be compressed easily and conveniently from the backend. Once the images have been lightened, the performance of your store site will surely be improved.
As you might probably know, there are two compression options that are different in image quality and file size, which are Lossless and Lossy. Lossless enables you to retain image quality while reducing the size of the image file. Meanwhile, Lossy will reduce both file size and image quality. With the ability to set the compression level of the Image Optimizer module, you will be able to control image quality and file size with ease.
In addition, you will no longer have to spend a considerable amount of time optimizing images manually, thanks to the support of cron running. This is because when Cron is enabled, both scan and optimization actions will take place automatically and save a lot of time. Not yet, with the automatic scan process, you can easily include or exclude any image directories. By doing that, scanning will surely become time-saving and focusing.
Moreover, it has a backup function that allows you to keeps the original images safely. Therefore, if there are problems in the optimizing process, you can always roll-back any image at any time.
In conclusion, Magento 2 Image Optimizer is an essential method for you to improve the image optimizing process of your store. Install it for free and feel free to contact the technical support team if you faced any issues.
Magento 2 Image Optimizer by PotatoCommerce
This extension is paid but has many advantages. By buying this product you get a tool that automatically optimizes JPG, PNG and GIF images in your store.
PotatoCommerce Image Optimizer works in the background and compresses images automatically (cron), so you will not need to worry about new images on your website as it will be optimized when next cron run happens. The extension has simple installation and clear settings, but it can be installed and configured by PotatoCommerce team free of charge.
Another important aspect is that this extension allows you to create automatic backups of images. Thus, if you do not like how an image looks after compression, you can always roll back it. By the way, PotatoCommerce implemented a handy option to set image compression level.
In addition, you can add some images to a list of exceptions, and so the file(s) will be ignored by cron.
On top of that, this Image Optimizer plugin can be used even on shared hosting. If your hosting provider does not allow you to install additional libraries on the server, it will not be a problem.
Finally, PotatoCommerce Image Optimizer comes with free and lifetime email and tech support, therefore it makes this product an excellent choice for those who want to have a reliable tool; so if there are any problems, then you will not be left alone with your problems.
Tinify Image Optimizer
This product is similar to Image Optimizer by PotatoCommerce, but it has some drawbacks.
First, with this module, you will not get any tech support since it's free.
Second, the module uses a paid TinyPNG service to optimize images. This service is free for up to 500 images, which is not enough for most mid-size Magento 2 businesses. For example, if you have 10,000 products, it is likely that you will have approximately 100,000 images (if we assume that an average product has 10 images; as you may know, Magento 2 platform makes 3 smaller copies of each product image so to load an image of proper resolution when it's necessary). With so many images to optimize the cost will be $265, while the price for 500,000 images will increase to $1065.5.
In addition, Tinify Image Optimizer does not have a feature of an automatic backup.
Image Compressor by Apptrian
Module from Apptrian is free, but as wells as Tinify's module is far behind PotatoCommerce module by features and tech support conditions.
The first thing you notice is a need to install guetzli on a server, but it is not always possible. Secondly, the free product has no tech support, thus you can only install the extension yourself, as well as deal with all the issues on your own.
We cannot overlook the fact that Apptrian image optimization module settings seem complicated and some merchants may have difficulties in configuring the Apptrian extension.
Other Tools
The situation is similar for free Image Optimizers from the Fruitcake and JustBetter (both based on Spatie Image Optimizer), which also require an installation of additional server-side utilities and have no tech support. Besides, most of such tools are console-only, it means that it does not have Magento interface where you can fine-tune an extension.
Comparison of Image Optimization extensions for Magento 2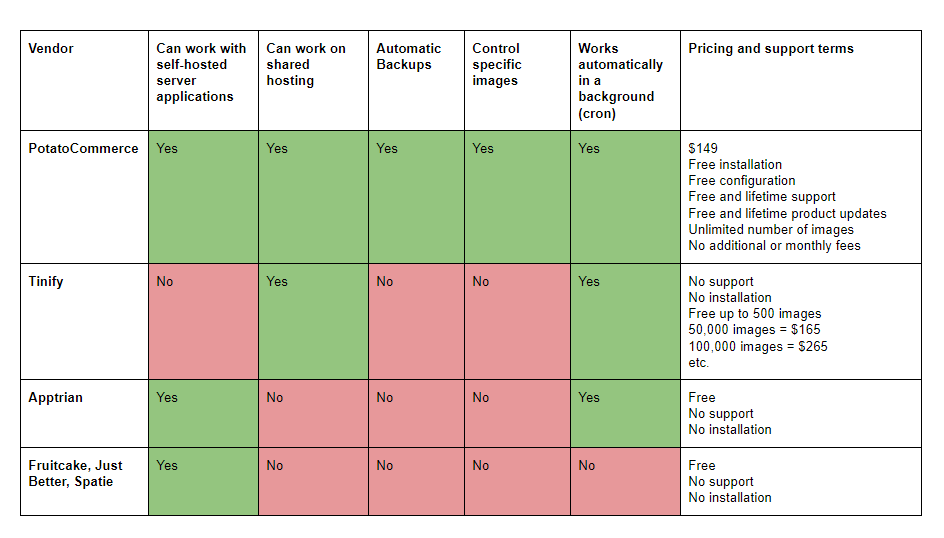 Conclusion
Image Optimizer by Mageplaza is the right choice for those who want a trustworthy tool to make Magento 2 faster, as well as take care of security and be able to get tech support, if necessary.
Website Support
& Maintenance Services
Make sure your store is not only in good shape but also thriving with a professional team yet at an affordable price.
Get Started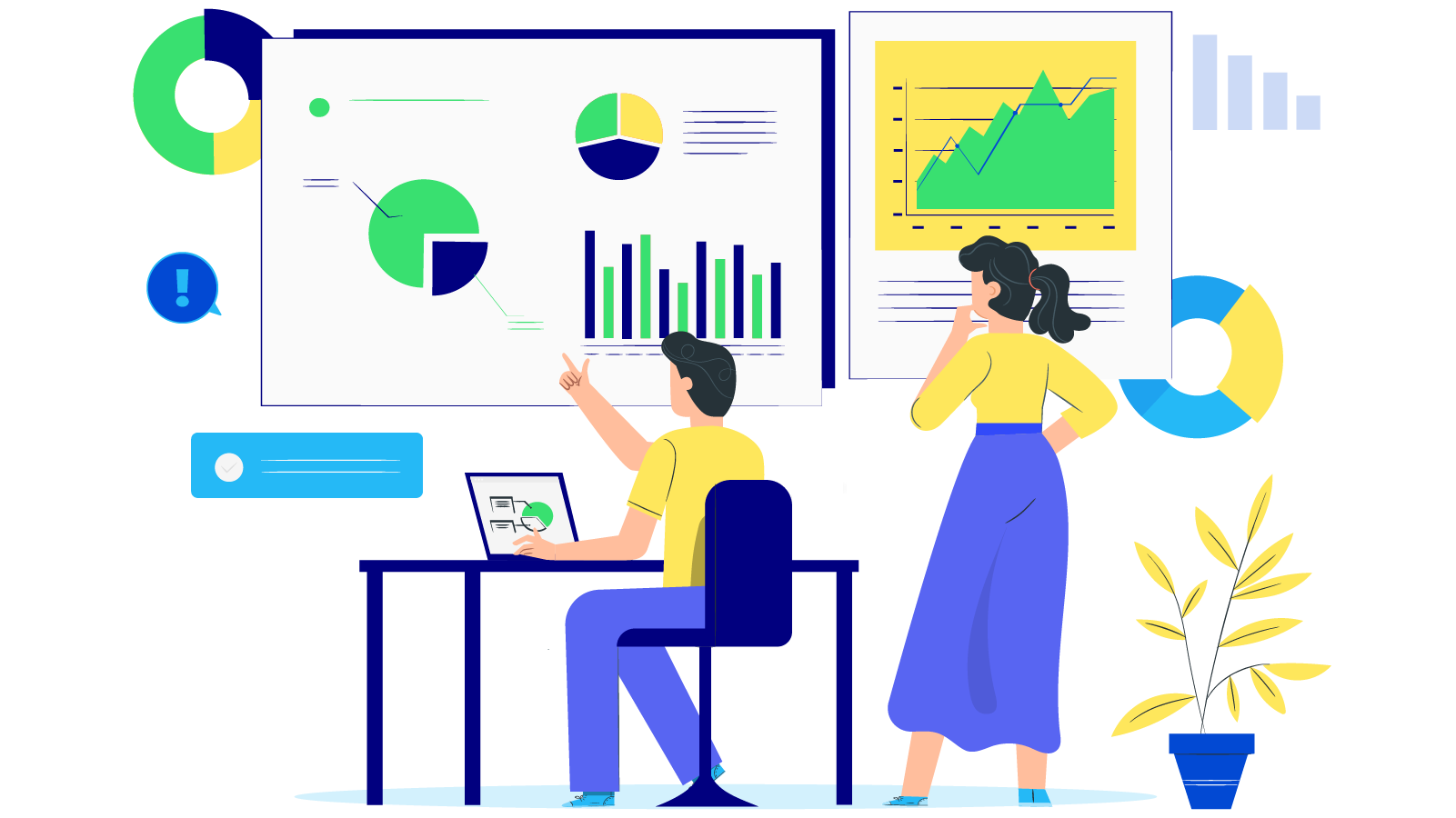 New Posts



Subscribe
Stay in the know
Get special offers on the latest news from Mageplaza.
Earn $10 in reward now!