How to Launch a B2B Multi-Vendor Marketplace Successfully
The Most Popular Extension Builder for

Magento 2
With a big catalog of 224+ extensions for your online store
The term "B2B Multi-vendor Marketplace" may sound unfamiliar to most people, but I believe most of us already use one. For example, when you hail a ride with Uber, you are actually interacting with a B2B Multi-vendor Marketplace. Uber is a platform that connects many drivers with riders and takes a commission from each ride. Amazon is another example of a B2B Multi-vendor Marketplace. Amazon allows unlimited sellers to provide their products on the platform and takes a commission from each sale.
Although the term may not be familiar, we interact with this model daily without even realizing it. These platforms provide a convenient way for businesses to connect with each other, and they have become an essential part of the modern economy.
Let's learn more about this business model and how big companies launch a booming B2B multi-seller marketplace.
Table of Contents
Overview
Single-vendor vs. Multi-vendor marketplaces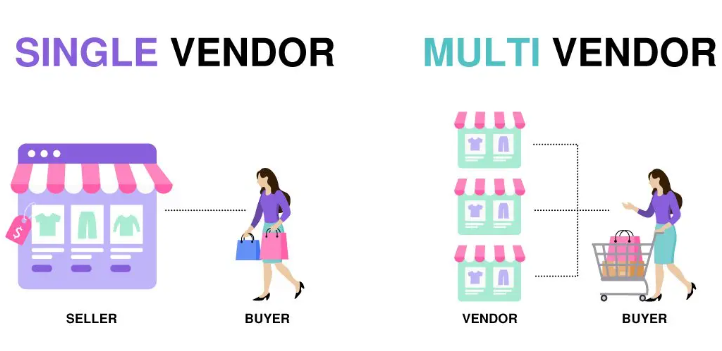 The single-vendor Ecommerce model is a marketplace where only one single seller supplies its items to many customers. Such stand-alone stores typically don't provide a broad range of products or services.
In contrast, multi-vendor Ecommerce stores allow various sellers to gather on one marketplace and supply their goods, meaning customers can purchase from different brands on the same market. Big names like Amazon, Taobao, eBay, Etsy, AliExpress, and Flipkart are all examples of wholesale multi-vendor marketplaces.
Crucial features of B2B multivendor marketplaces
Admin perspective

Complete admin control
Platform product management
Multiple revenue streams
Multilingual & multi-currency
Multiple payment methods
Secure payment gateways
Inventory management
Tax management
Streamlined shipping management

Seller perspective

Request for quote module
Bulk price discounts
Minimum order discounts
Partial payments offer
Real-time inventory updates
Separate vendor store
Main Benefits of B2B Multi-Vendor Marketplaces
Running a multi-vendor marketplace might be something new in B2B, but for businesses that applied this model, things have already been better than those still considering whether to join.
Why? Let's find out the benefits of having a B2B multi-vendor marketplace:
1. Expand Product Options
The multi-vendor marketplace model in B2B involves collaboration and curation. Rather than creating new products, companies can showcase products from various other vendors that complement their own offerings. This approach diversifies their product range without the need for extensive manufacturing.
By partnering with like-minded businesses, marketplace operators can swiftly adapt to changing customer demands. This agility enhances their competitiveness and relevance. The multi-vendor marketplace is a flexible and cost-effective strategy that allows B2B companies to expand their offerings while fostering valuable partnerships in their industry.
2. Raise Web Traffic and Increased Customer Reach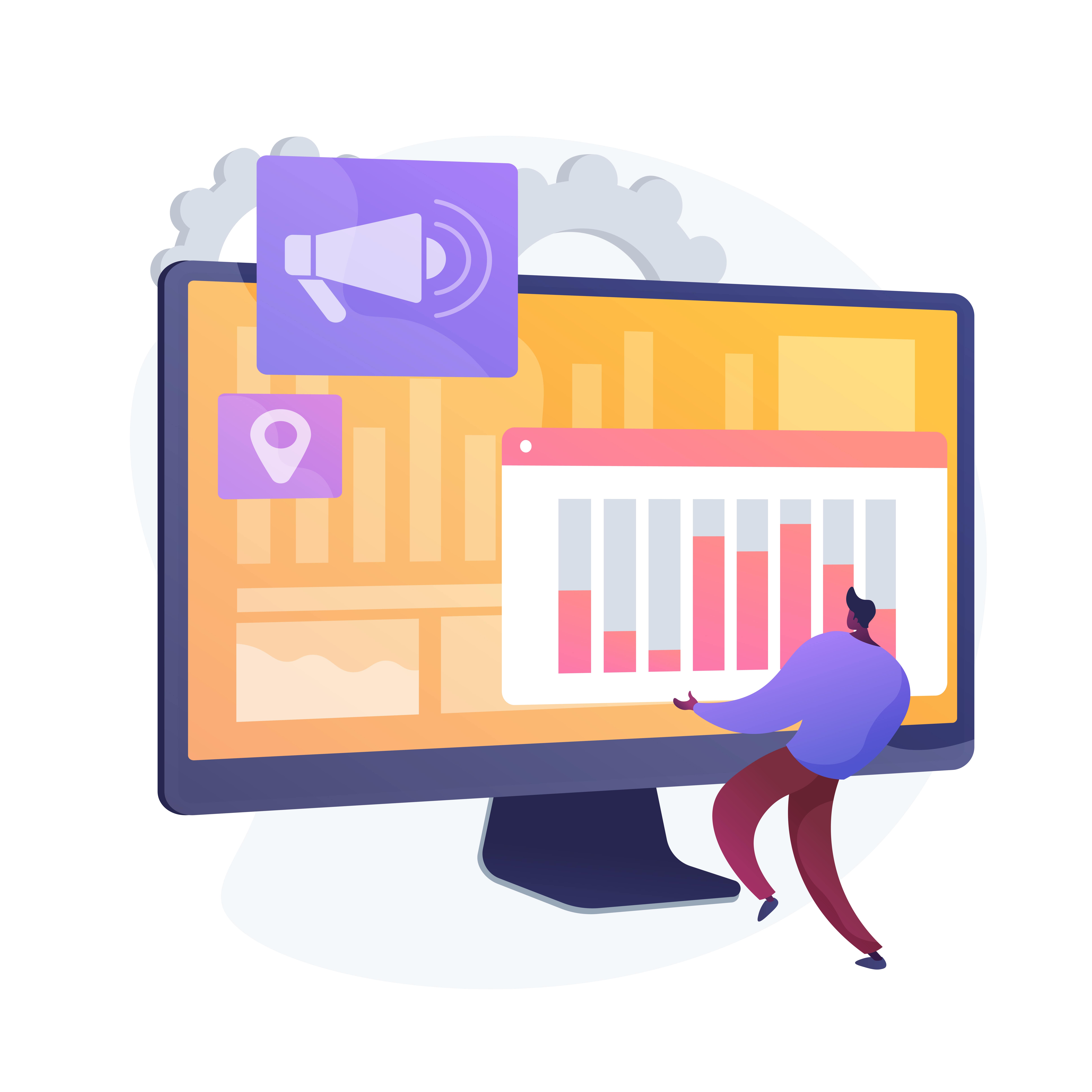 By offering items from various vendors, the marketplace owner can draw more attention to their own product offerings as shoppers review the site. It's a win-win situation. Since the platform administrator shares their buyer's network, they also gain access to other vendor's distinct customer base.
This interdependent mechanism, known as the flywheel effect, explains how this symbiotic relationship between multiple vendors fuels continuous expansion. In essence, a marketplace with a broader product spectrum captures the interest of a larger pool of potential buyers, subsequently encouraging more sellers to join the platform. This flood of new vendors then attracts additional customers, perpetuating the cycle of growth.
3. Improve Customer Experience
Remember that B2B buyers are still retail consumers. Their shopping habits outside of work influence their expectations for company purchases. The growth of Amazon inevitably raised demand for B2B analogs.
Customers get an Amazon-like experience with a B2B multi-vendor marketplace system, which is exactly what most business buyers desire. By exploiting user data, operators may provide consumers with more options as well as a personalized experience.
4. Lower Financial Burden
Not only saving costs for making new products like mentioned above, the multi-vendor marketplace can help sellers save money and grow their business in other aspects. Sellers do not need to invest in a warehouse or hire staff to manage inventory. This can free up the seller's time and resources to focus on other business objectives, such as scaling up their operations efficiently. Additionally, a multi-vendor marketplace can give sellers access to a broader audience of potential customers than they would have.
5. Efficient Logistics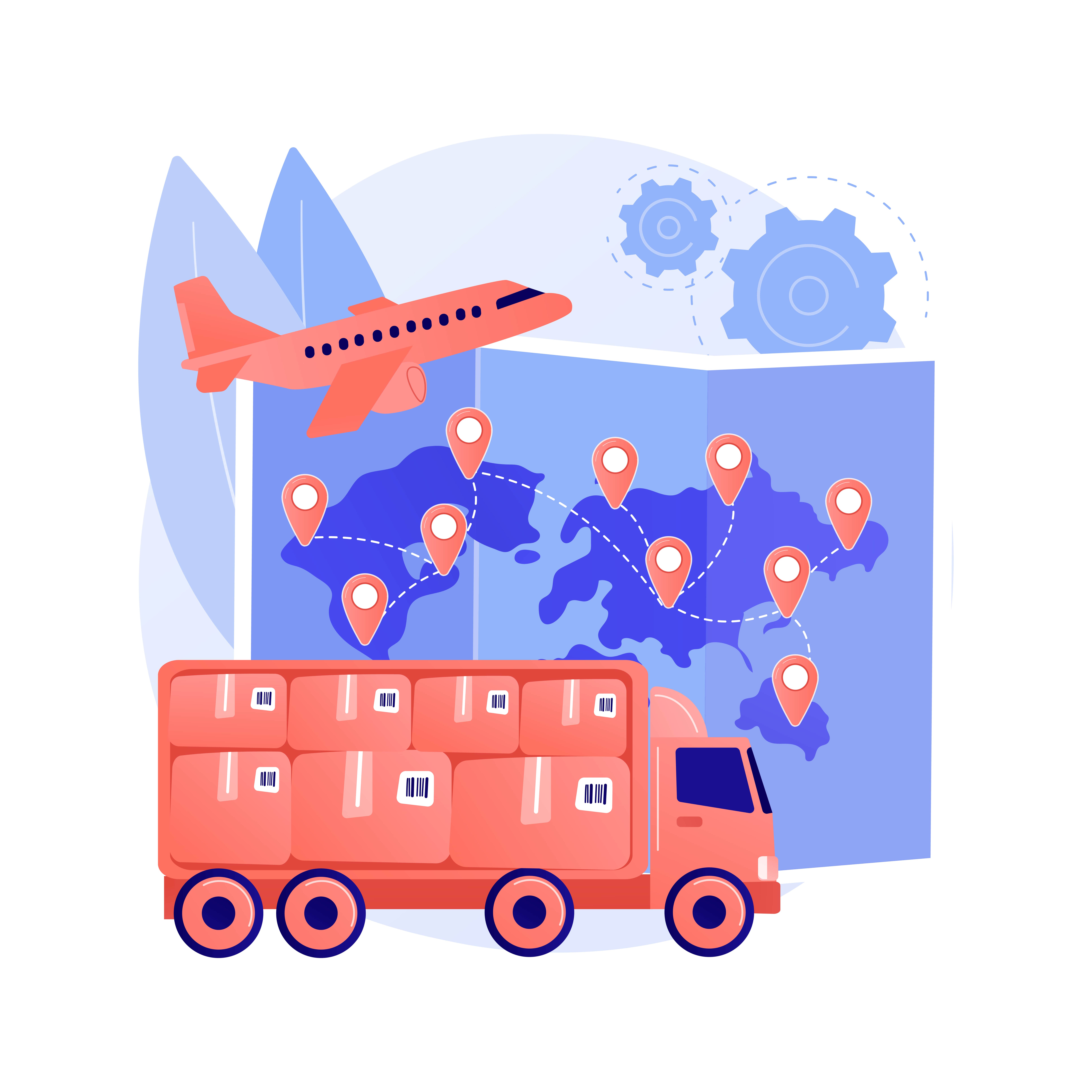 In a B2B marketplace, vendors are responsible for the quality of their goods, while the market is responsible for the logistics of delivering those goods. This mission includes finding the best shipping partners, negotiating the best rates, and tracking shipments to ensure they arrive on time and in good condition.
A B2B multi-seller marketplace can improve logistics efficiency in several ways. First, it can aggregate demand from various vendors, giving the marketplace more bargaining power with shipping partners. Second, the marketplace can use data analytics to identify the most efficient shipping routes and times. Third, the marketplace can provide vendors with real-time tracking information so that they can keep track of their shipments and intervene if necessary.
By optimizing the logistics process, the B2B marketplace can free up vendors to focus on other core objectives, such as product development and marketing. This can improve the efficiency of the entire supply chain and ultimately lead to better overall performance.
Reasons Why B2B Marketplace Will Continue to Be Trending in the Future
The B2B Ecommerce market is significantly growing and is believed to reach $1.8 trillion in 2023. Several key trends, including the rise of B2B multi-vendor marketplaces, are pushing this growth.
Wholesale multi-vendor marketplaces allow businesses of all sizes to sell their items to a larger audience without having to invest in their own infrastructure. This is a significant advantage for small businesses, who can benefit from the reach and visibility of a large marketplace without having to shoulder the costs of running their own website and fulfillment operations.
In addition, B2B multi-seller marketplaces offer a number of other benefits, such as
Increased efficiency: By centralizing the buying process, B2B multi-vendor marketplaces can help businesses save time and money.
Improved customer experience: Buyers can easily compare products and prices from different vendors, and they can often find better deals on marketplaces than they would by buying directly from a supplier.
Increased sales: B2B platforms with multiple suppliers can help businesses reach more audiences and generate more sales.
As the B2B Ecommerce marketplace continues to grow, B2B multi-vendor marketplaces are expected to play an increasingly important role. These platforms offer a number of advantages that help businesses to grow and succeed, no matter what kind of size they are.
The dominance of Amazon Business, Alibaba, and Faire:
These three companies are the leading players in the B2B multi-vendor marketplace space. Their success has inspired other businesses to launch their own marketplaces, and it has also driven innovation in the industry.
The rise of smaller operations:
Smaller businesses are increasingly turning to B2B multi-vendor marketplaces to reach a wider audience and compete with larger companies. These businesses can benefit from the lower costs and increased efficiency that marketplaces offer.
The changing needs of manufacturers:
Manufacturers are no longer content to sell their products to wholesalers simply. They want to own their brands and inventory, and they want to gather more customer data. Wholesale multi-vendor marketplaces can help manufacturers achieve all of these goals.
Overall, the B2B Ecommerce market is poised for continued growth in the coming years. B2B multi-vendor marketplaces constitute a significant driver of this growth, and they offer many pros that can help businesses of all sizes succeed.
How to Build a B2B Multi-vendor Marketplace
There are two ways to start a B2B multi-seller marketplace: building everything from the beginning or going with built-in platforms.
1. Custom Build
Building a custom marketplace from scratch gives the operator complete control over the platform, but it is also the more expensive and time-consuming option. The development process can be complex and costly, and the platform must be constantly updated as technology evolves. This can make it challenging to validate the marketplace and ensure its success.
2. Built-in Platform
A built-in platform is a more affordable and efficient option. These platforms are designed specifically for B2B platforms with multiple suppliers, and they offer a number of features that can help to streamline the development process. However, built-in outlets may provide a different level of customization than a custom build.
The best approach for building a B2B multi-vendor marketplace will depend on the specific needs of the business. A custom build may be the best option if the company needs complete control over the platform, then a custom build may be the best option. However, a built-in platform may be a better choice if the business is looking for a more affordable and efficient solution, then a built-in platform may be a better choice. Here is a table summarizing the pros and cons of each approach:
| Approach | Pros | Cons |
| --- | --- | --- |
| Custom Build | Complete control over the platform | Expensive and time-consuming |
| Built-in Platform | Affordable, quick, and efficient | Less customization |
Ultimately, the best way to decide which approach is right for your business is to consider your needs and budget carefully.
Here are some additional things to consider when choosing an approach to building a B2B multi-vendor marketplace:
The size and complexity of the marketplace
The specific features and functionality that are required
The budget and timeline for development
The level of customization that is desired
You may pick the best strategy for your company and its needs by carefully evaluating these aspects.
Top B2B Ecommerce Platforms for Multi-vendor Marketplace
Magento

Magento is an open-source multi-seller Ecommerce platform. It is designed for both small-scale and large organizations in the retail industry. Magento allows you to edit, create, and manage Ecommerce websites, offering a personalized consumer experience. The platform is easy to customize and allows seamless third-party integrations.
YoKart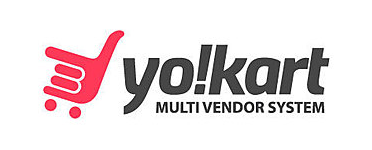 Regarding how to start a multi-vendor marketplace, Yokart stands high. It is a dedicated multi-vendor marketplace platform to quickly launch Ecommerce marketplaces like Amazon, eBay, Alibaba, etc. The platform offers 1-year free technical support and free installation on all packages.
High user interface & attractive design
Multiple payment gateways
Fully customizable & scalable platform
Real-time shipping cost calculator
Product catalog system
RTL language support
Communication between customers and vendors
Mobile apps for customers and sellers
User-friendly dashboards for admin and sellers
BigCommerce Enterprise

BigCommerce is known as a flexible and easy-to-use open SaaS-based option for those who are looking to launch Ecommerce business. The platform was founded in 2009, allowing users to customize a new B2B Ecommerce store easily. The modernized platform enables you to build trendy site designs via unique features like segmenting customers and prices. Moreover, BigCommerce can integrate with other business tools to maximize site performance.
Customizable design themes
Abandoned cart savers
Pre-integrated payment options
Professional SEO tools
Shuup

Shutup is a new entrant in the multi-vendor industry. The platform offers many attractive features that make it stand high on the list of multi-vendor solutions.
Separate vendor pages
Product catalog system
Single checkout
Easy order management
Customizable
Search Engine friendly
Responsive design
CS-Cart

Founded in 2005 in the United States, CS-Cart is a reputable multi-vendor software platform for marketplaces. This option is best for startups and B2B Ecommerce businesses. The platform offers various functions like a customizable storefront, diverse delivery and payment services, an advanced admin panel, etc. Real-time shipping rate estimation Tax management CRM Multi-store management Newsletter and mass notification management
PrestaShop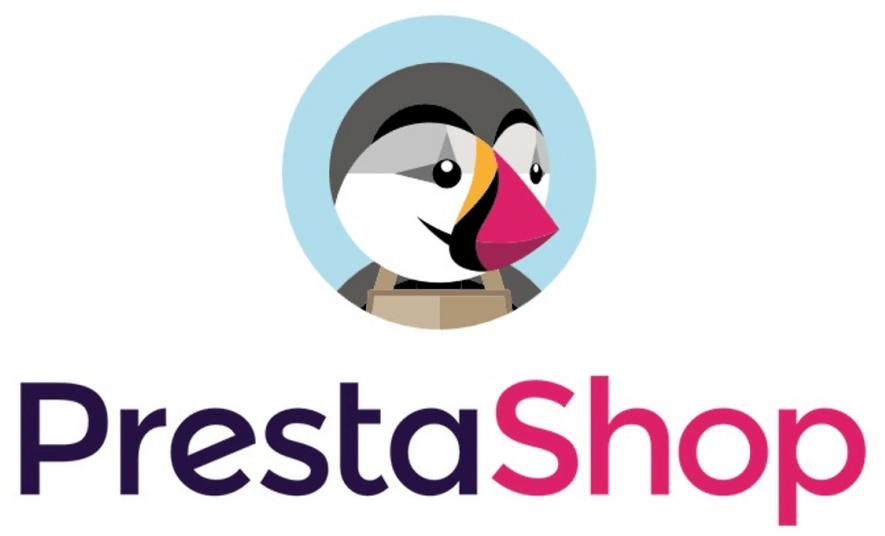 PrestaShop (founded in 2007) is another famous and well-used choice in today's list. It is free, open-source, and downloadable. This option is suitable for medium to large businesses. The platform allows users to build a full-function online store while requiring the least cost. PrestaShop is famous for its highly customizable features, numerous integrations, and robust user community. Inventory management Multi-channel marketing Loyalty programs Multilinguistic Multicurrency Advanced SEO features
X-Cart

X-Cart is a popular open-source Ecommerce platform. With X-Cart, you can quickly start single or multi-vendor stores. Separate vendor panel Communication between customers and vendors Act on behalf of a vendor Individual commission rate for each vendor Built-in layout editor Product catalog system
Conclusion
All the benefits of B2B multi-vendor marketplaces above have proven that this model is a great way to make money. The sooner you join the marketplace, the more advantages you'll have, as there will be less competition, and you'll have more time to establish your business. I recommend building your marketplace on a built-in platform to save time and money, as it comes with all the necessary features. However, custom build is the way to go if you want to build a unique marketplace. Custom build gives you more control over the design and features of your marketplace, but it can be more expensive and time-consuming.

Marketing Manager of Mageplaza. Summer is attracted by new things. She loves writing, travelling and photography. Perceives herself as a part-time gymmer and a full-time dream chaser.
Website Support
& Maintenance Services
Make sure your store is not only in good shape but also thriving with a professional team yet at an affordable price.
Get Started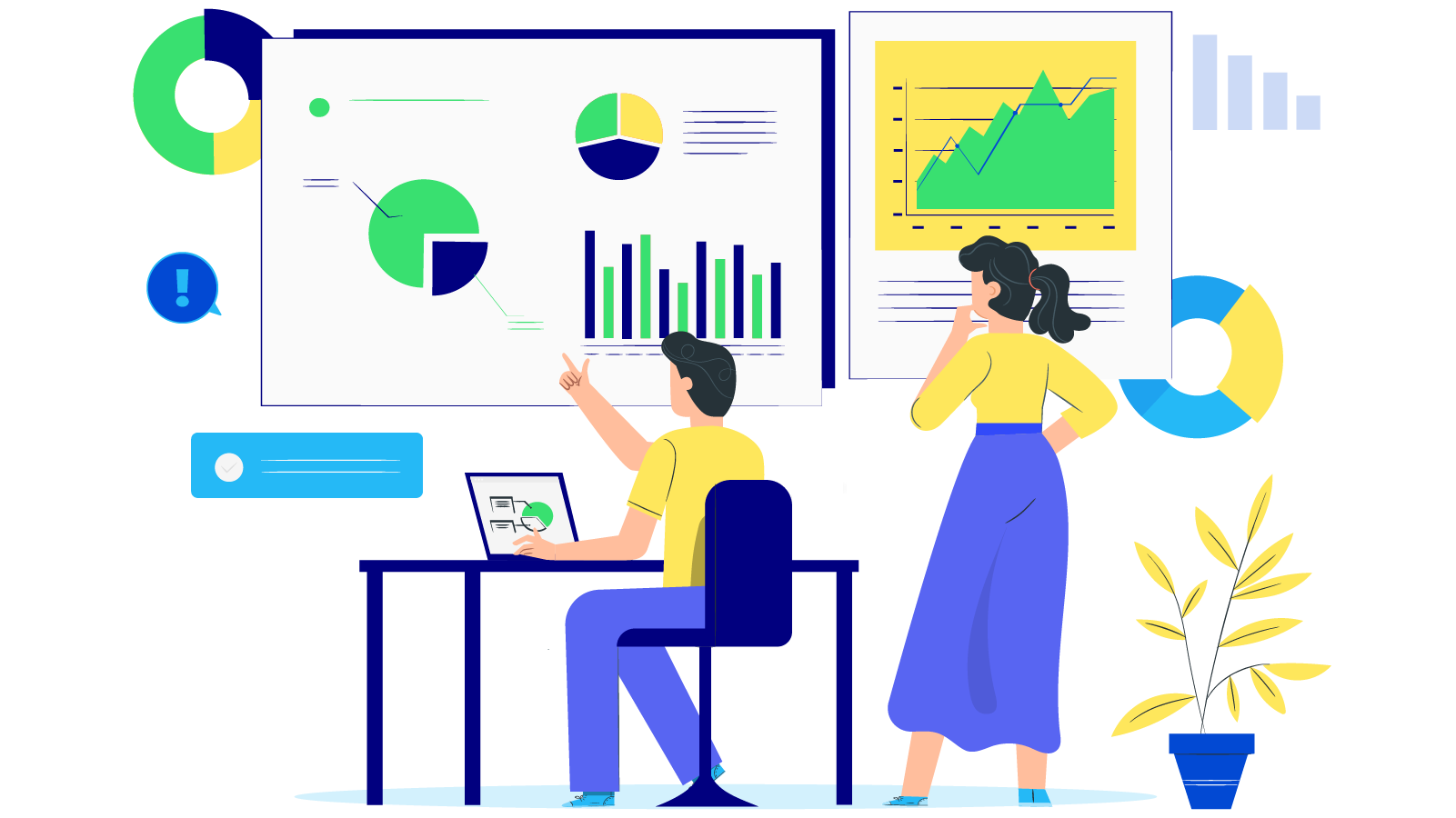 New Posts



Subscribe
Stay in the know
Get special offers on the latest news from Mageplaza.
Earn $10 in reward now!