Tips to be Successful Sell Products on Amazon
The Most Popular Extension Builder for

Magento 2
With a big catalog of 224+ extensions for your online store
Recently, selling products on multiple shopping channels becomes a new trend, which is considered as the must-have integration in the era of information and technology. However, there is not any common one-for-all formula for sellers to achieve success on such those multiple platforms. Choosing the online distribution should be based on market condition, company condition as well as specific target customers.
Beside appropriate shopping channels, managing content and visual communication is also unignorable. Well-managed and attractive product feeds on other searching engines will bring further than expected benefits. This article will mainly focus on how to draw attention and create purchase opportunities, specially written for sellers on Amazon, the 'wonderland' of E-commerce activities.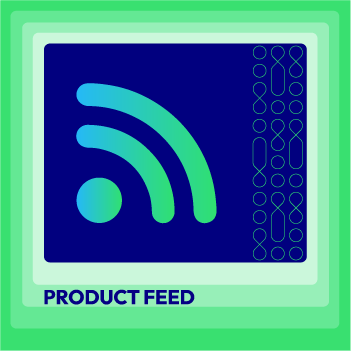 Increase visibility and reach for products on various marketing channels
Check it out!
Table of content
Why do business on Amazon?
At present, Amazon is considered the biggest retail website, where people can buy anything through just a few clicks. Amazon provides a variety of products and services such as free E-postcards, auction sales, as well as millions of books, CD, DVD, toys, clothes, and other consumer goods.
As Amazon is an enormous market with such those bustling purchase activities, many store owners would find their target group of customers, which have a promising buying power in this E-commerce website. Such a big opportunity like this should not be ignored. Hence, store owners someway should know what activities are currently available on Amazon and take this site into consideration. It possibly can bring significant benefits that many people would have never imagined.
What needs to be concerned when start selling on Amazon?
If you are still wondering how to well purchase on Amazon and where to start with, 9 factors below are the topmost problems that should be taken into consideration:
The Buy Box
Amazon Fulfillment
The order of the Merchant Offers List
Well-performing types of merchants
Amazon products association
Shipping methods restriction
Shipping compensation
Reviews
Selling policies
How to be successful on Amazon?
Following is the detailed clarifications for each of the 9 things you need to know before selling on Amazon, you can find the appropriate answer and solution for your wondering below:
1. What is the Buy Box and how does Amazon define featured seller for it?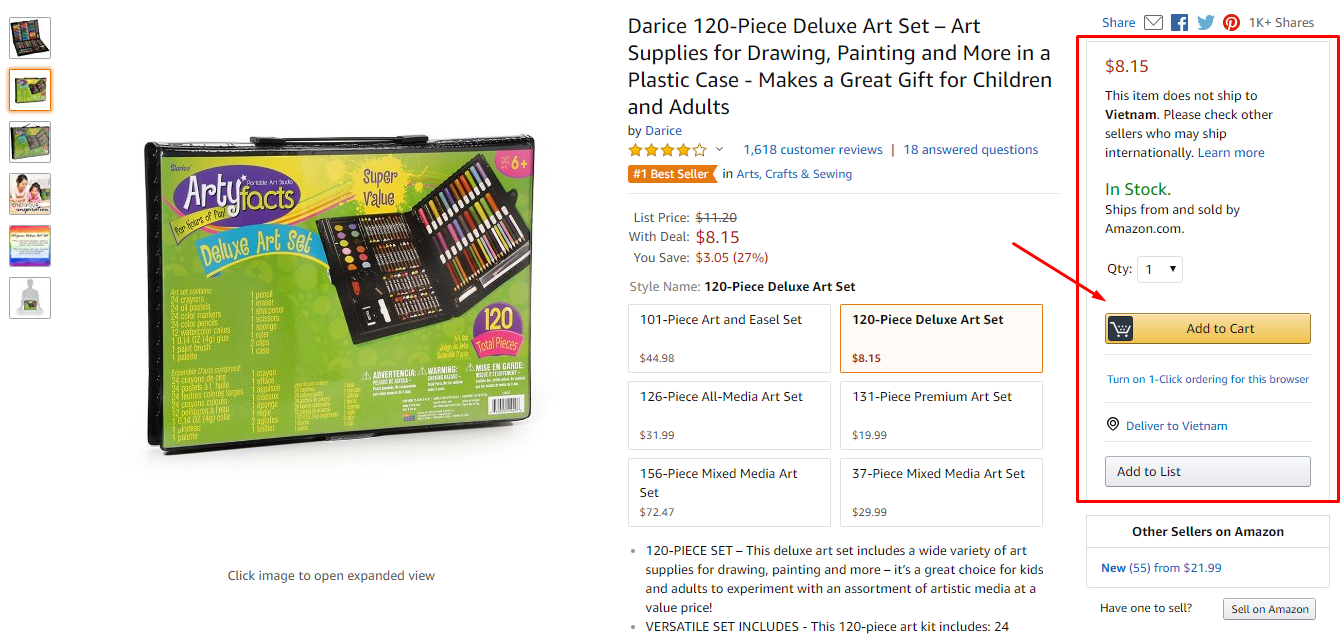 Buy Box is a section on product details page in which the customer can begin purchasing by adding items to their cart. Instead of offering the available merchants list, this Buy Box allows customers to swiftly add the product from the Featured Seller. Amazon has defined this seller to receive the bulk of sales.
As a basic feature of Amazon is multiple sellers can offer the same product, becoming Featured Seller on Buy Box is difficult and requires time, effort or even money investment. Amazon decides who gets the Buy Box by following criteria:
Whether you own a Professional Seller Account or not?
The valuable product positioning.
Your items are in stock?
Buy Box eligibility: Can be checked within your Amazon Seller Central account
2. How does Amazon arrange the order of Merchant Offers List?
Possibly achieving the position in Buy Box is extremely competitive and impossible for your store. However, not everyone has to win such an ideal product placement like that. Millions of sellers still survive and even make lucrative income by purchasing from Merchant Offers List.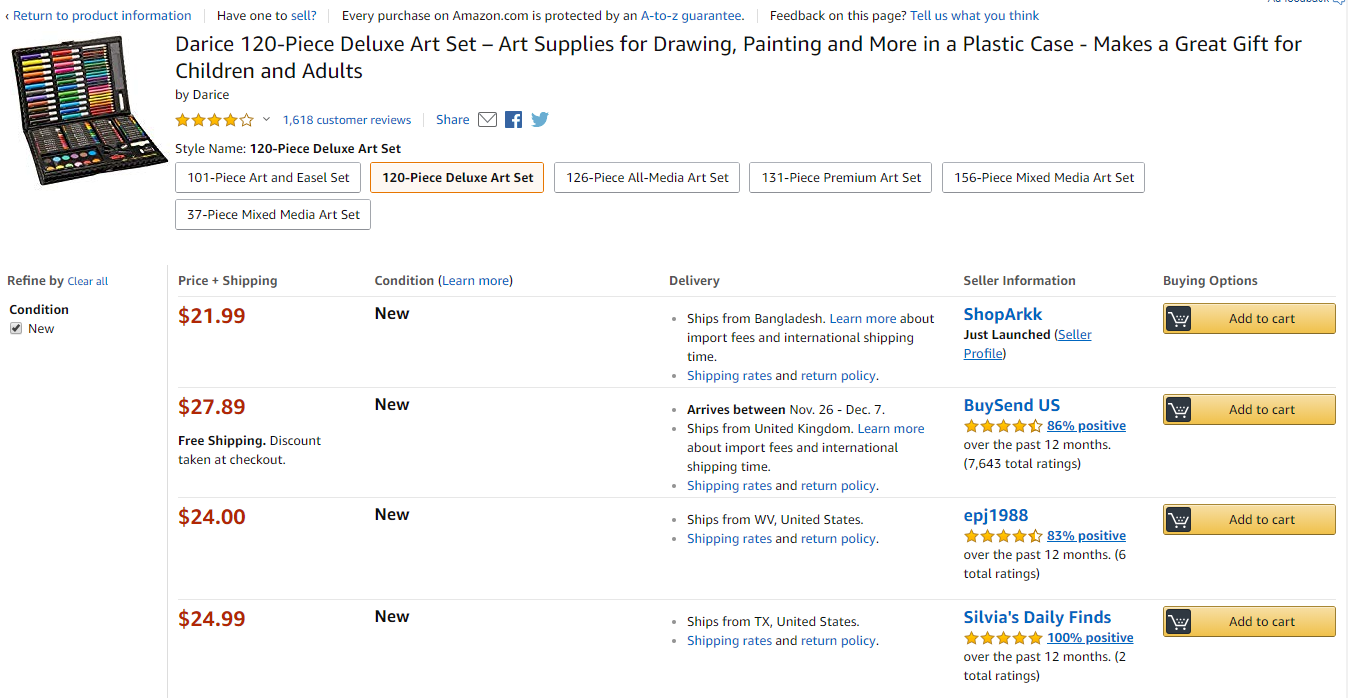 To highly rank on this list, the seller should concern about these following signals:
Competitive Pricing
Competitive Added Value Offerings
How long has the seller launched the business on Amazon
Number of reviews on Amazon
This ranking factors can best perform its own possibility in the long-term process. In case the seller expects to break into the market quicker, here are two shortcuts which can bring the immediate result:
Sell a product which is in low-competition to achieve higher seller ranking at first
3. What is FBA?
FBA stands for Fulfillment by Amazon, which is a program allows you to send your merchandise to an Amazon fulfillment center to be stocked. Then the customer purchases the product from you, and Amazon takes responsibility to do the shipment. This arrangement can prevent you from being overloaded with the massive amount of tasks such as creating invoices, shipping and doing the customer service.
Other unignorable benefits of Fulfillment by Amazon is creating the opportunity to reach Amazon Prime members who have promising buying power. Besides, the FBA program also supports you in gaining the extra priority to win the Buy Box.
You can figure out how to use FBA Here. The article by Amazon Seller Support Center might help you in understand thoroughly about FBA, its optimal practice, and also many other related documents.
4. What types of merchants most benefits from purchasing on Amazon:
Selling unique products
Selling hobby or niche products
Selling refurbished or used products
Notice: Even online store owners who have achieved popularity on Amazon believe that owning independent store URL and fully branded website never should be ignored. This can contribute to credibility and authority, which motivate customers to remember your site, not dozens of other websites out there. It will also help you avoid the Amazon account suspended notifications and build a trustful brand online.
In other words, taking control over own E-commerce website and branding allows your website achieve the full ownership, independent marketing channels, as well as a large number of audiences outside of Amazon.
5. Why the products should be associated with an Amazon product which has already been listed?
In fact, products are allowed to be listed just once on the catalog of Amazon. Accordingly, creating any second product detail page for an existing product will be nonsense, as it is going to be removed soon by Amazon catalog managing system.
What should be done is matching your product with one of the existing product detail pages, this action creates an opportunity for your product to be displayed.
6. How can new merchants overcome shipping methods restriction?
Amazon does not allow new sellers to provide all shipping methods right off the bat. Certain shipping methods only are available when the merchants have established a history of reliable shipment at a slower shipping speed.
Joining FBA is a good way to overcome limited shipping methods, as products in FBA automatically have the right to be in Prime Free Two-Day Shipping program.
7. Why does Amazon estimate shipping cost incorrectly?
Amazon defines the shipping cost according to the seller's origin, the address of the customer and provided the product's weight. However, there exist circumstances that the amount of money which Amazon reimburses does not match the actual shipping cost. In this case, make sure that you have provided the accurate item weight and dimensions.
This allows the system to estimates the appropriate shipping cost. Sometimes, possibly it is necessary to make a special change in your ship pricing. Slight increasing price of a product can help offset Amazon's too low shipping cost estimates. If you have a problem making a profit after shipping cost, probably your pricing is too cheap.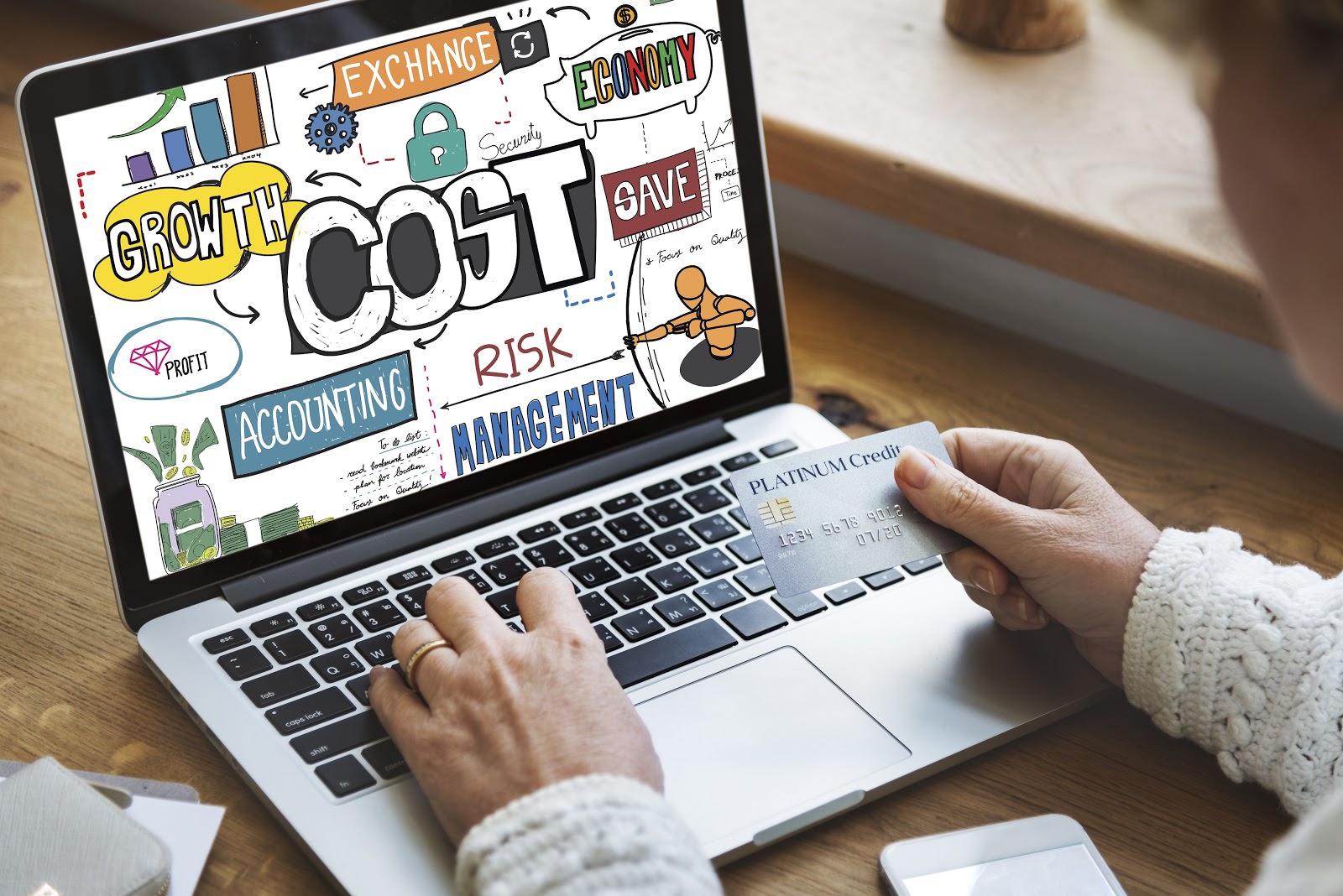 8. How to boost the number of reviews on the seller account?
Remember that sellers on Amazon are forbidden from paying for reviews on Seller Account If any seller does such this unfair engagement, that person is at risk of losing Amazon Seller Account. The only way to achieve review is trying best to satisfy customers by product price, extra offerings, friendly and informative customer communication as well as professional working attitude.
By this way, the customer will have a good experience and vouch for you on their own. In case you face some problems in gaining review on the seller account, this article will show advice to deal with that circumstances.
9. Are there any policies I should look over before I start selling on Amazon?
There are some policies which may directly or indirectly impact your business on Amazon. You may want to review the following policies before selling:
Selling Policies
Shipping policies
Policies and agreements
Product detail page rules
Prohibited seller activities and actions
Final words
Once you determine to sell on Amazon, it is nice to well understand your business condition, and know what you are getting into. Starting Amazon integration is similar to be ready for tons of new opportunities and challenges. The business on Amazon as well as other shopping channels will perform best when you not only know basic knowledge about Amazon but also are aware of available applicable tools and third-party solutions for this. One of those tools is Mageplaza Magento 2 Products Feeds which help you in generating, upload and operating product feed on other shopping channels.
By focusing on your business main needs and purposes, you can push your online business to the next level of success in no time. Have you been ready for an amazing journey on Ecommerce marketplaces?
Website Support
& Maintenance Services
Make sure your store is not only in good shape but also thriving with a professional team yet at an affordable price.
Get Started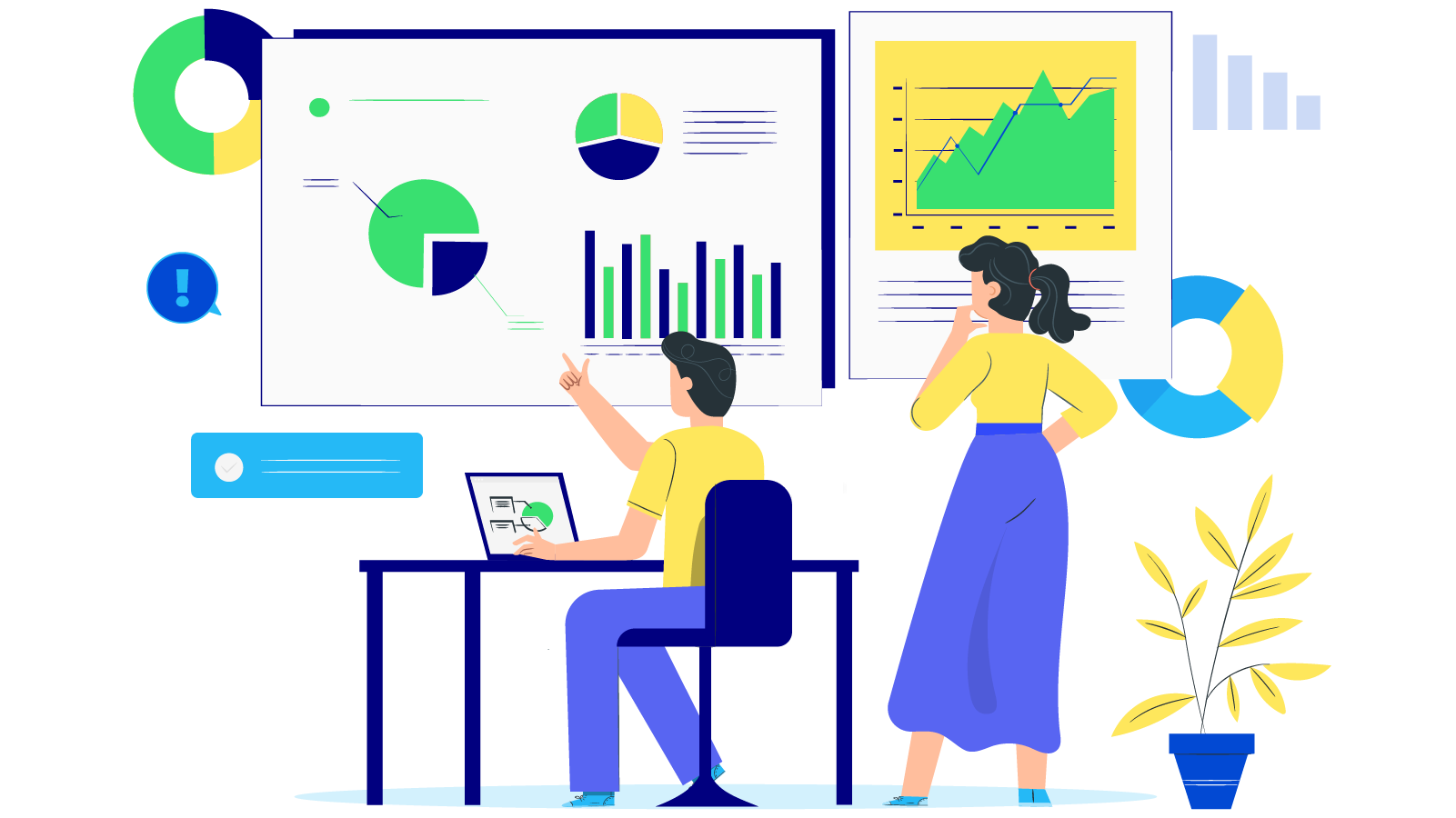 New Posts



Subscribe
Stay in the know
Get special offers on the latest news from Mageplaza.
Earn $10 in reward now!