30+ Best Beautiful Free Stock Photos & Images Websites
The Most Popular Extension Builder for

Magento 2
With a big catalog of 224+ extensions for your online store
Photography has been a crucial part of any design as optimized images and photos not only help beautify your design but also help speed up the page load of your website. Fortunately, high-quality Free stock photos and images do not have to come hand in hand with high price tags. To prove it, we pick of 30 best free stock photos, images and videos shared by talented creators. From excellent working offices to stunning scenery, we are sure you will find what you want with the help of this impressive list.
These photos are released under the Creative Common Zero license (CC0) or equivalent custom license, meaning you can use them freely for non-commercial and commercial projects.
Do you want a jump right into to the list 30 best free stock photos, images & videos shared by talented creators? Go ahead!
Table of contents
Related Posts
1. Pixabay - Stunning Free Images to Use Anywhere
Website: https://pixabay.com/
The interesting point of Pixabay is that although it accepts submissions from anyone, it has professional curators who manually review all images. Therefore, Pixabay has a vast and varied library of free and high-quality images. There are over 1 million high definition images released under Creative Commons Zero (CCO) license. It means that you can freely use them without asking for permission or giving credit attribution, even for commercial projects. Pixabay is now owned by Canva, a large and very reputable online design platform. Hence, you can end up free photos that are safer and higher-quality than many others. With a handy search feature, Pixabay helps you to easily and quickly find the image that satisfies your need.
2. Freepik - Beautiful Free Stock Photos & Vectors and PSD
Website: Freepik.com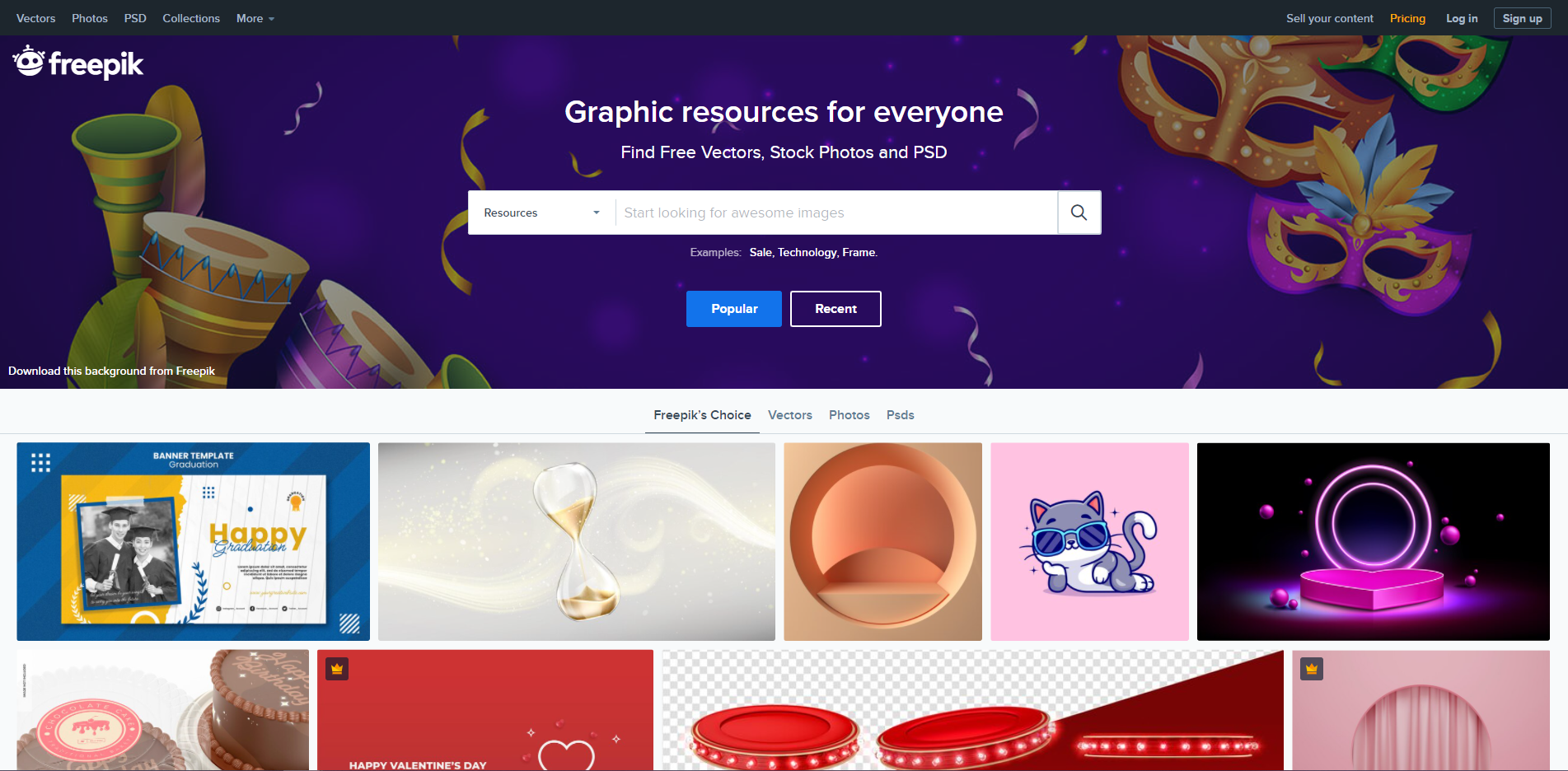 Using free stock images is a great way to add value to your website, whether for your blog or product pages. But there are some things to consider when choosing which stock image websites you'll browse first. The optimization level of the images, for example, will have an impact on your website's loading times.
There are dozens of stock image websites out there, and exploring them all for the perfect images can be overwhelming. In this post, we compare over 30 of the most popular free stock photography websites, to compare the quality of their images, the size of their libraries, and the number of images they offer.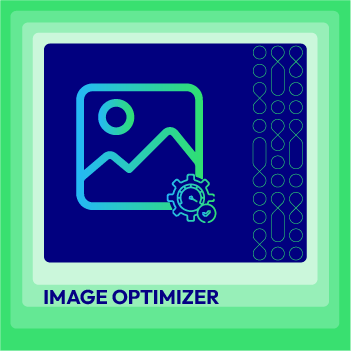 Speed up page loading & enhance the user experience for your store
Check it out!
3. Pexels - The best free stock photos & videos shared by talented creators
Website: https://www.pexels.com/
If you want to get the beautiful and super current images, Pexels is the proper choice for you. All of the photos provided Pexels are released under the Creative Commons Zero (CC0) license, meaning that they are free for both commercial and personal usage without attribution required. There are ten new stocks added daily, and each photo also includes metadata as well as details such as size, aspect ratio, shutter speed, camera, etc. Pexels offers high quality and totally free stock photos taken by talented creators and photographers all around the world. The website also aggregates photos from other sources such as Little Visuals, Pixabay, Gratisography and many more to provide the most high-quality photos for you.
4. Unsplash - Beautiful Free Images & Pictures
Website: https://unsplash.com/
With over 1,000,000 free, high-resolution photos from 100,000+ photographers and creators, Unsplash becomes one of the most reliable sources for stock images. All of the stocks on Unsplash can freely be used for both non-commercial and commercial purposes. More precisely, Unsplash allows you to download, copy, modify, distribute, and use photos from Unsplash for free without permission from or providing credit to the photographer or Unsplash. The striking feature that makes Unsplash outstanding from others is its Collection section. Website users can easily create collection by curating photos they come across. If you want several similar images of a particular theme, these collections may make you satisfied.
5. Picjumbo - Free Stock Photos & Images
Website: https://picjumbo.com/
With millions of downloads since its inception in 2003, Picjumbo is one the most exceptional high resolution, commercial-ready, free stock images depository sites. This website offers over 2000 images from Vicktor Hanacek, a pro stock photographer, covering food, nature, business, technology, fashion category, to name a few. Also, there are a lot of fantastic photos added daily, which are free and available for your personal or commercial usage. To get instant access to all super-exclusive photo collections and other extra benefits, you can join premium memberships with starting $9.99 per month.
6. Kaboompics - Free stock photos
Website: https://kaboompics.com/
If you target young audiences via social media and you need free, bright, aesthetically pleasing images, Kapboompics is here to help you. All you need to get started is clicking the DISCOVER FREE PHOTOS button at the top of the homepage. Interestingly, Kaboompics also organizes some images by photoshoots, which make your content alluring with several shots of the same object or scene. There are thousands of excellent and high-quality photos covering a variety of different scenarios in Kaboompics. Users can freely use them for both commercial and non-commercial projects.
7. Depositphotos
Website: https://depositphotos.com/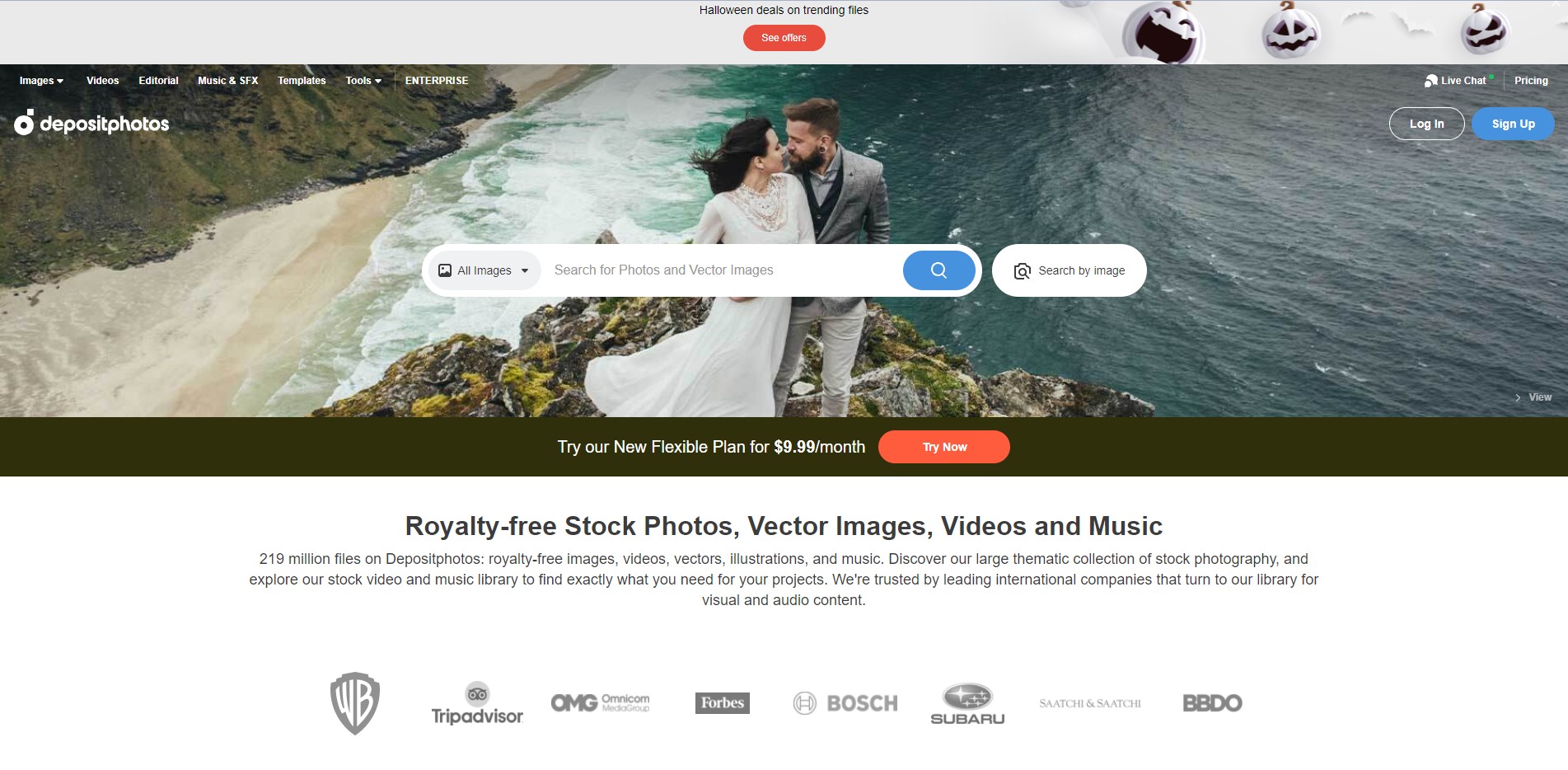 If you want to boost your creative projects with top-notch visuals, get ideas for your next marketing campaigns, or find inspiration for your designs, go to the Depositphotos website. Depositphotos is a popular stock content platform that provides royalty-free photos, illustrations, vectors, music, and videos. Their rich library now contains over 215 million files, and more than 100,000 creators are contributing their works to the platform daily. With flexible subscription plans, affordable pricing, and AI photo search, Depositphotos makes high-quality visual content accessible to everyone.
Depositphotos breaks down stock photography stereotypes and cliches by curating thematic collections with trendy, distinctive, and authentic visuals. On Depositphotos, you can quickly find what you're looking for. With smart search, you can quickly find relevant files. In addition, Depositphotos features a collection of 70,000 free photos.
The platform also hosts a blog with Depositphotos creative projects, the latest industry news, trends, and interviews. The platform is known for its expertise in photography, design, and marketing. Many professionals regard Depositphotos as an industry expert due to its annual Visual Trends Report, seasonal color trends, creative palettes, and thematic collections.
8. Negative Space - Beautiful Free Stock Photos
Website: https://negativespace.co/
Negative Space offers lots of trendy and free stock images of various subjects and styles. With its continuously growing collection of images, you are likely to find valuable shots for your designs. The outstanding feature of Negative Space is allowing you to search for the photos by your favorite colors, copy space positions, or categories. All of its photos are gathered from contributors after the submission process and image review. Therefore, these photos have high quality and free usage for even commercial projects.
9. Death to Stock - Authentic stock photos for non-stock creatives
Website: https://deathtothestockphoto.com/
Getting noticed how difficult it was for businesses, bloggers, and creators to find free and premium images, two photographers, Allie and David, founded Death to Stock website. With a somewhat strange name, this website is the perfect place to find thousand first-class images and other creative content to garnish your webspace in the best possible light. Unlike other sites mentioned in this article, Death to Stock will freely send a fresh new pack of photos to all subscribers every month. If you have some extra budget to spend, this website also offers a premium membership for starting $12 per month billed annually or $15 month to month. Interestingly, a percentage of the profit from paid membership is invested back into photography trips and other creative plans to keep the digital resource move forward.
10. Freerange - Totally Free Commercial Photography and Textures
Website: https://freerangestock.com/
Freerange is a varied library with galleries and collections available to download and use for free. All of the photos on Freerange are directly from a pool of its in-house photographers and a talented community of external contributors. The images given directly by Feerange originate in two ways. Firstly, they are digitally photographed on Canon DSLR cameras. In another way, they are a high-resolution Nikon scan of an original 35 mm side. Hence, each photo in Freerange is high-quality and extremely appealing.
11. LibreShot Free images - Free images even for commercial use
Website: https://libreshot.com/
When thinking about free stock photos website, Libreshot is a must-know website. LibreShot comes with thousands of stunning, impressive, and free of charge photos. All of them are taken by Martin Vorelm - a great photographer and SEO consultant, so their origin is guaranteed. The photo collection of Vorelm includes unique selections such as crisp architectural shots, vibrant florals, etc. You can freely use these stocks for both commercial and non-commercial purposes. While images are grouped into different categories, it is recommended for you also to use the search box and follow tags to find what you need with ease.
12. Fancy Crave - Free Travel Photos for Content Creators
Website: https://fancycrave.com/
What makes Fancy Crave stands out from other websites listed in this article is that it strongly focuses on realistic travel photography and in general, a very modern aesthetics style. All the photos on Fancy Crave are available to download and use for free, but they are also pretty and trendy. The photographers only require you to never advertise the images as your own, and provide attribution whenever you can. With two new photos added daily to make website move forward, Fancy Crave is likely a bookmark-worthy resource for impressive photos. If you want to get instant access to exclusive, authentic travel photo packs, join the Premium membership with $9.99 per month.
13. New Old Stock - Vintage Photos from the Public Archives
Website: https://nos.twnsnd.co/
Who can resist a great vintage and historic photograph? New Old Stock offers the ultimate "Throwback Thursday" content with hundreds of vintage photos from public archives. The collection of New Old Stock comes with a wide range of situations and subjects. It is safe to use images on New Old Stock for blog posts and hero images. However, you need to read the license details before you use these images for any commercial projects. You can use all the photos on New Old Stock for your social media engagement like increase Facebook followers. Don't forget to subscribe to New Old Stock's newsletter and get beautiful vintage images straight to your inbox. The minus point of New Old Stock is that it does not allow you to filter photos in anyway.
14. Pikwizard - High Quality, Free Stock Photos for commercial use, with no attribution required
Website: https://www.pikwizard.com/
PikWizard offers a stunning library of over 1 million stock images and videos across a broad range of subjects with a balanced mix of artistic and commercial styles. Photos on PikWizard are released under two licenses: Free and COO. A COO license means you are free to use it for any purposes. If images are published under Free license, you must ask for the permission of the photographer who retains the copyright to use the image for free. Hence, you must read the license details carefully and double-check the image before using it. It is not required to provide attribution to photographers, but it is appreciated if you can.
15. Life of Pix - Free high resolution photography
Website: https://www.lifeofpix.com/
Leeroy Web Design Agency and its community of talented photographers have come up with Life of Pix, which is home to hundreds of authentic and high-resolution stock photos. With no copyright restrictions, the excellent photos are free for both personal and commercial usage. Another exciting feature of Life of Pix is the weekly photographer highlight. Each week, Life of Pix chooses a great photographer and share ten of his/ her photos on its website and social networks. On a side note, if you need royalty-free videos, clips, and loops, Life of Vids, the sister site of Life of Pix can meet your needs.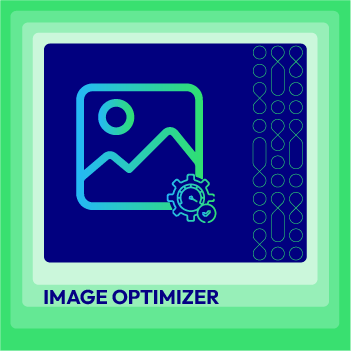 Speed up page loading & enhance the user experience for your store
Check it out!
16. Gratisography - Free High-Resolution Photos
Website: https://gratisography.com/
With a fun-loving and quirky style, Gratisography is one of the most exciting free stock photo sites. It does not offer thousands of images for you to browse through. However, Gratisography comes with free high-resolution and most creative photos which you will not find anywhere else. If you are looking for odd images which bring your content to life, Gratisography is a great place to start. The unique and different photos on Gratisography fit in Instagram posts or other visual communications for young audiences. There are many new awesome pictures added weekly and are available to use for free.
17. StockSnap.io - Beautiful Free Stock Photos (CC0)
Website: https://stocksnap.io/
StockSnap.io is founded by two entrepreneurs, and also developers of graphic design tool Snappa, Christopher Gimmer, and Marc Chouinard. This website has thousands of free, high-resolution images with a trendy, modern, and authentic style, covering various popular subjects. StockSnap.io crowdsources images, but also have their own network of talented photographers. Many pictures are added weekly, and all photos are free from copyright restrictions. Hence, they are incredibly proper for social media, blogs as well as for advertising and other commercial projects.
18. Startup Stock Photos - Free Tech Stock Photos
Website: https://startupstockphotos.com/
As its name suggests, Startup Stock Photos mainly focuses on startups and business environment photos, with the plus of diversity and an authentic style. Whether you are a blogger, developer, designer, or everyone else, this website offers a variety of content for you to skim through. If any image sparks your interest, easily download and decorate your website with it. Startup Stock Photos was founded by a small group of photographers who decided to share photos already taken by them. All images on the site are available under CCO license so that you can use them for free. One catch is that there is no search tool feature, so it can get a bit hard to find what you want here. However, it is worth to spend a few minutes on scrolling to find the trendy and super useful images for your site.
19. Travel Coffee Book - Sharing beautiful travel moments
Website: https://travelcoffeebook.com/
Travel Coffee Book is a great website where you can find the vibrant and colorful photos of cityscapes and countryside. Most of the images evoke feelings of exploration and freedom. All pictures are available under CCO license, so you can do whatever you want with them. Besides, below each photo, there is additional information about the location and the gear the photographers used. Interestingly, Travel Coffee Book also allows you to submit your travel photos to the website and share your beautiful travel moments to other users.
20. Burst - Free stock photos for websites and commercial use
Website: https://burst.shopify.com/
Powered by Shopify, a leading e-commerce platform, Burst offers thousands of free and high-resolution images covering different areas and topics. With a search feature and several categories, you can easily find the images to strengthen your content. The outstanding point of Burst is that there is a vast selection of business-oriented photos such as retail, money, product photos available on the website. Hence, Burst can help business or entrepreneurs make better products, websites, and marketing campaigns. Besides, Burst also provides a lot of tips for you to get your business started.
21. Foodiesfeed - Food Pictures, Free Food Photos
Website: https://www.foodiesfeed.com/
Just like the web address suggests, Foodiesfeed is a niche to go when you need to find some food photos to spice up your content. Great food-related photo selection will likely make you crave for food while browsing through this selection. Whether you are a restaurant owner, food blogger, or anyone else, you can find beautiful and realistic food photos and freely use them without any restrictions. If you scroll down to the bottom of the page, you can filter the images by the three most popular tags such as coffee, cake, pizza.
22. Picography - Gorgeous Free Photos (CC0)
Website: https://picography.co/
Picography might not be the biggest free stock photo website, however, all images available on the page is strikingly appealing to the eye. If you are looking for spectacular and dazzling images of nature and other scenery, Picography is your niche. Also, all the photos are under COO license, so you can use them for free without any attribution requirement. With the helps of an easy-to-use search feature and a category dropdown, it is easier for you to find the image you want on Picography.
23. ISO Republic - Free High Resolution Photos & Videos
Website: https://isorepublic.com/
ISO Republic offers curated collections of the high-resolution CCO stock images and videos that are free for both personal and commercial usage. Although this website does encourage attribution to the creator of work, it is not required. For those wanting more exclusive free stocks, ISO Republic invites you to subscribe for newsletters and receive the latest downloads delivered to your inbox. You can use the search box, view categories, and popular tags to find what image you want with ease.
24. Splitshire - Free Stock Photos
Website: https://www.splitshire.com/
Founded by Daniel Nannescu, a gifted photographer, Splitshire provides a ton of trendy images with high quality and great commercial value. This website eliminates troubles you have when finding the right photo for your site, adverts, blog posts or any other project. All of the images on Splitshire are released under custom license, similar to CCO, meaning free usage for commercial projects with a sensitive use clause. Legally speaking, these photos are very safe because you know the founder is the copyright owner and you can directly address extra rights requirement.
25. Jay Mantri - free pics, do anything (CC0)
Website: https://jaymantri.com/
Although Jay Mantri only has a small number of images and is run by a single person, it makes up for in quantity. This website is an impressive gallery of free, high-quality, and breathtaking photos. Jay Mantri does not offer a searching function. However, It is worthy of spending a few minutes on scrolling through the website to find the original, unique, and exclusive image for creating an eye-catching web appearance and turn heads. All photos on this website are released under the CCO license, meaning you can use them for free without any restrictions.
26. Rawpixel - Free Stock Images, Vectors & PSD Mockups
Website: https://www.rawpixel.com/
RawPixel is a super trendy library, full of authentic and high-quality images that are likely to fit your social, and visual market in general. Sourced from qualified contributors with careful submission reviews, RawPixel is proud itself of having the varied and vibrant collection of stock photos around. All the images on the website are published under custom license, meaning free usage for commercial purposes but with sensitive use clause - no resale. RawPixel limits five downloads per day from its free collection. However, if you want to have unlimited downloads, join Premium memberships. The excellent point is 10% of your membership fee will be donated for an international charity organization.
27. Stokpic - Unlimited Royalty Free stock photos and images For Commercial use
Website: https://stokpic.com/
Stokpic is founded by Ed Gregory, the talented photographer with a real passion of giving his beautiful and high-resolution photos for free. All images on Stokpic are available under the custom license. You can freely use them in any means you want, except for redistributing. Strikingly, Stokpic provides ten new photos to its subscribers every two weeks. It is better for you to on that mailing lists and never miss fresh and amazing photo packs. You can view his latest 100 images or browse through a range of categories such as fashion, nature, and transport to find the perfect fit.
28. MMT Stock
Website: https://mmtstock.com/
MMT Stock offers a wealth of free, high-quality stock photos, videos, and templates for commercial usage. All images are taken by Jeffrey Betts, a designer, a photographer who wants to share his love of photography to the world. The majority of MMT photos covers nature and workspaces topics while there is a significant absence of people photos. The images and videos on MMT are available under CCO license, meaning that it is safe and free for you to use them for any purposes. So why not to take advantage of them?
29. Reshot - Uniquely Free Photos
Website: https://www.reshot.com/
Reshot is a massive gallery of handpicked free stock images available for both commercial and non-commercial usage. In other words, you can freely download, copy, modify, distribute, and use these photos. Reshot sources its pictures from a community of amateur photographers who are willing to give you the best images to meet your needs. This website is created explicitly for startups, freelancers, and anyone else who are sick of tacky photos.
31. Stockvault - Free Stock Photos, Images and Vectors
Website: https://www.stockvault.net/
Founded in 2004, Stockvault offers thousands of free stock photos, ready-to-use web layouts, and logos, crowdsourced from photographers and artists around the world. What makes Stockvault stand out from others is the number of free textures they have - over 14,000. All free stocks on Stockvault are available under three types of license, including non-commercial, commercial, and creative commons zero (COO). It is better to check the license for each Stockvault image before using it.
31. Styled Stock - Free styled stock photography
Website: https://styledstock.co/
Styled Stock is a small selection of free, elegant, and versatile photos with feminine style and modern concept. This website also offers advanced features such as a color filter and specified categories. Therefore, you can easily find the photos you want. Although it is not very clear to know who runs the site or owns the images, it is clear that you can use them freely in commercial projects. However, image copyright is still held by its author.
32. Rgbstock - free stock photos
Website: https://www.rgbstock.com/
In 2010, a group of talented photographers and graphic artists, lead by Jay Simmons, created Rpgstock. This website has over 100,000 free, high-quality, dazzling stock photos satisfying most needs of users. These images are sourced from photographers or graphic artists and are reviewed for quality standards. Rpgstock follows a custom license that grants free usage for commercial projects with a sensitive use clause and prohibition for resale.
Final Words
That is our massive list of the best and safest websites offering free stock photos and images. With different levels of legal safety, commercial value, image quality, and a variety of topics, each one of these websites have something worthy for you to consider. Check out the list and download awesome free stock photos that you can use for commercial project safely!
Which one are you trying first? Do you know a website we have not listed? Do not hesitate to leave comments below and we will review it!
Website Support
& Maintenance Services
Make sure your store is not only in good shape but also thriving with a professional team yet at an affordable price.
Get Started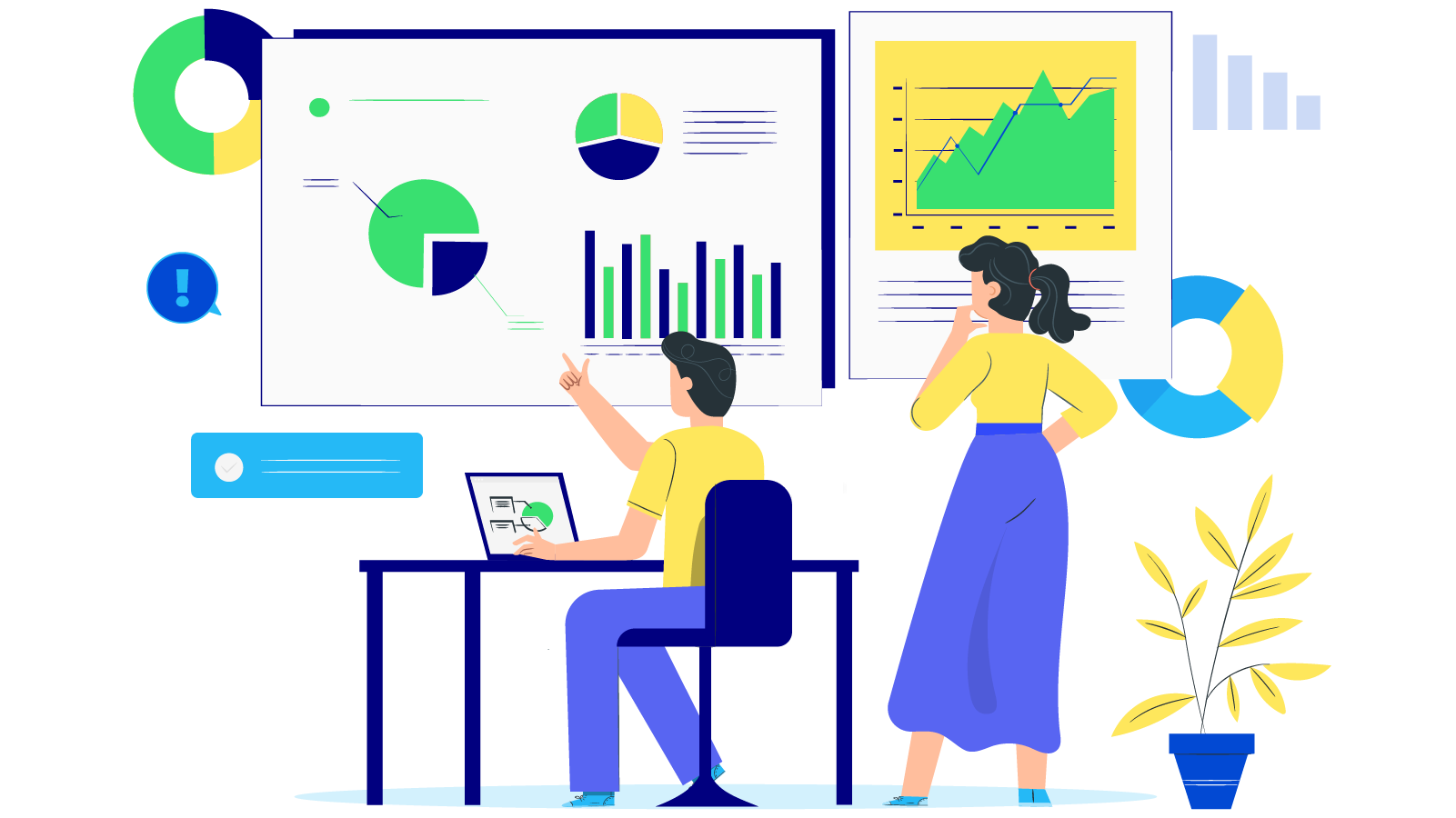 New Posts



Subscribe
Stay in the know
Get special offers on the latest news from Mageplaza.
Earn $10 in reward now!